Last Updated on December 14, 2022
DON'T PANIC! HERE ARE THE BEST LAST MINUTE ELF ON THE SHELF HIDING SPOT IDEAS WITH LITTLE TO NO SUPPLIES!
These last second elf on the shelf hiding ideas will save the day- or rather the morning- when you realize you
forgot to move the elf.
Ugh! Aren't those the worst? You quickly grab the elf in hopes that you can think of some last minute ideas before your little ones come barreling down the stairs. Problem solved! I have put together the most epic list to lessen your stress level this holiday season. Trying to come up with a fun idea while super tired isn't ideal, so I've taken the thinking out of it for you. Pin these clever ideas below to make sure you are prepared this holiday season!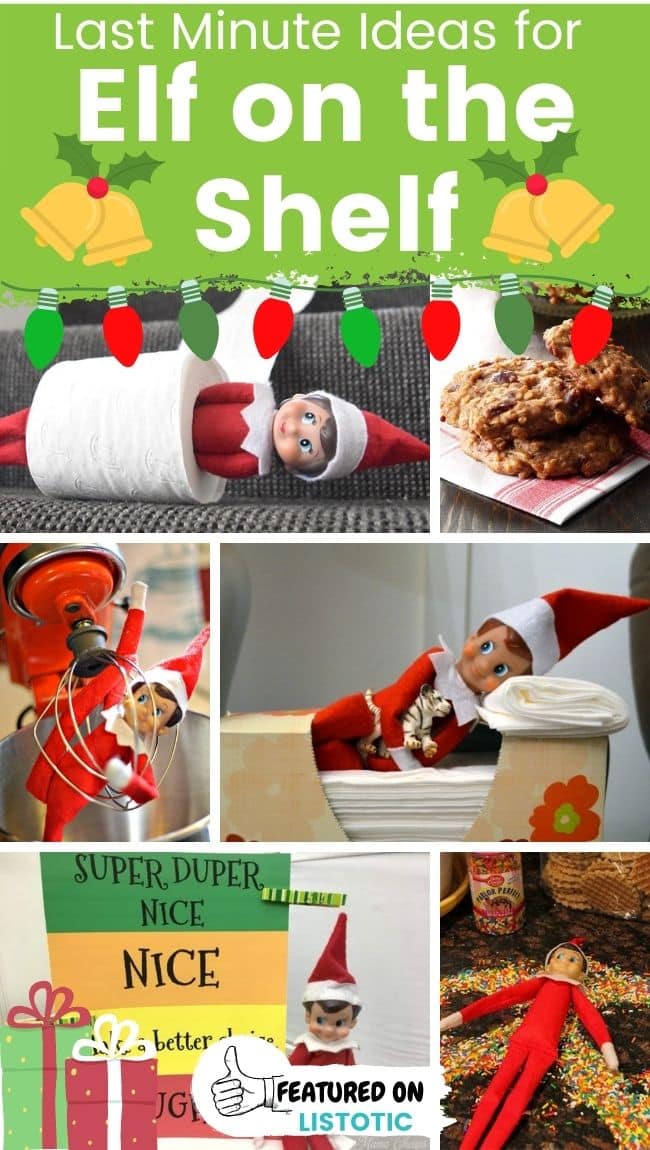 QUICK AND SIMPLE HIDING IDEAS, STAT!
Throughout the Christmas season there will come a time when you will be laying in bed about to close your eyes and BAM, it hits you, you FORGOT to move the Elf! Don't fret! I've got you covered. Below are 16 last-second & FREE Elf on the Shelf hiding ideas that need no supplies or use items you already have around the house. Most of these ideas are very simple and effortless to pull off.
1. ISOLATION HOUSE
Under the current circumstances, what better way to embrace this unusual time than making sure your elf quarantines upon arrival. New for 2020, this Elf Isolation House is the perfect way to have your elf self isolate for 14 days to ensure they are healthy when they arrive from the North Pole. This is a great DIY project to allow you to quickly "self-isolate" your elf when you may have forgetten to move him!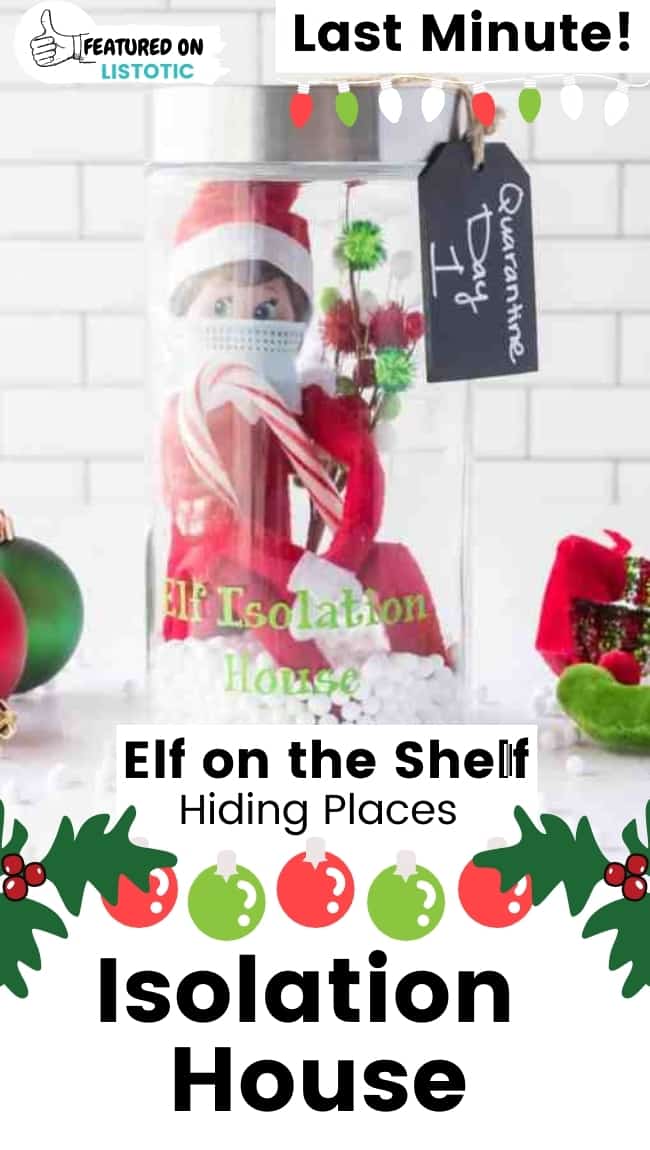 Source: Simplistically Living
2. SPRINKLE ANGEL
This is such a fun way to place your Elf on the Shelf. My boys thought this was hysterical when they discovered our very own Elfie this way. However, this of course led my sons into asking for sprinkles to eat at 7 in the morning!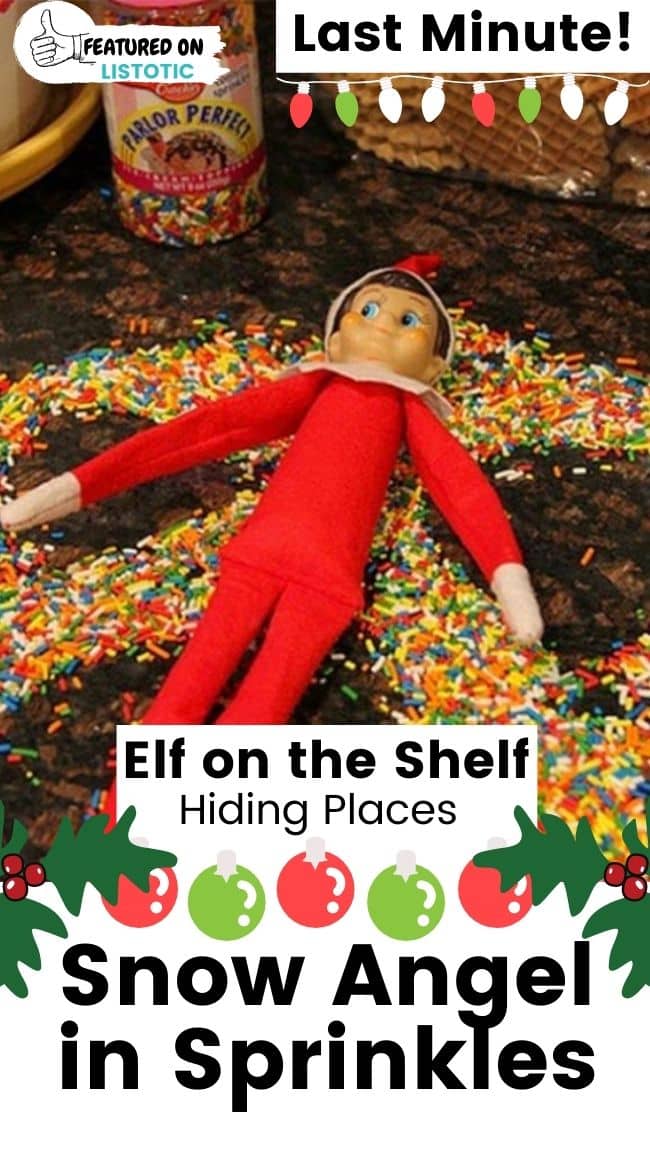 3. ROLLING DOWN THE STAIRS
This last-minute rolling down the stairs idea is an easy and quick way to place that Christmas Elf when you have forgotten. It looks like he got himself into quite the predicament and ended up rolling his way down the stairs. Good thing the TP shortage is over because this would have been a painful task to do a few months ago! Maybe you have a few rolls left of the "not so good" kind. 😉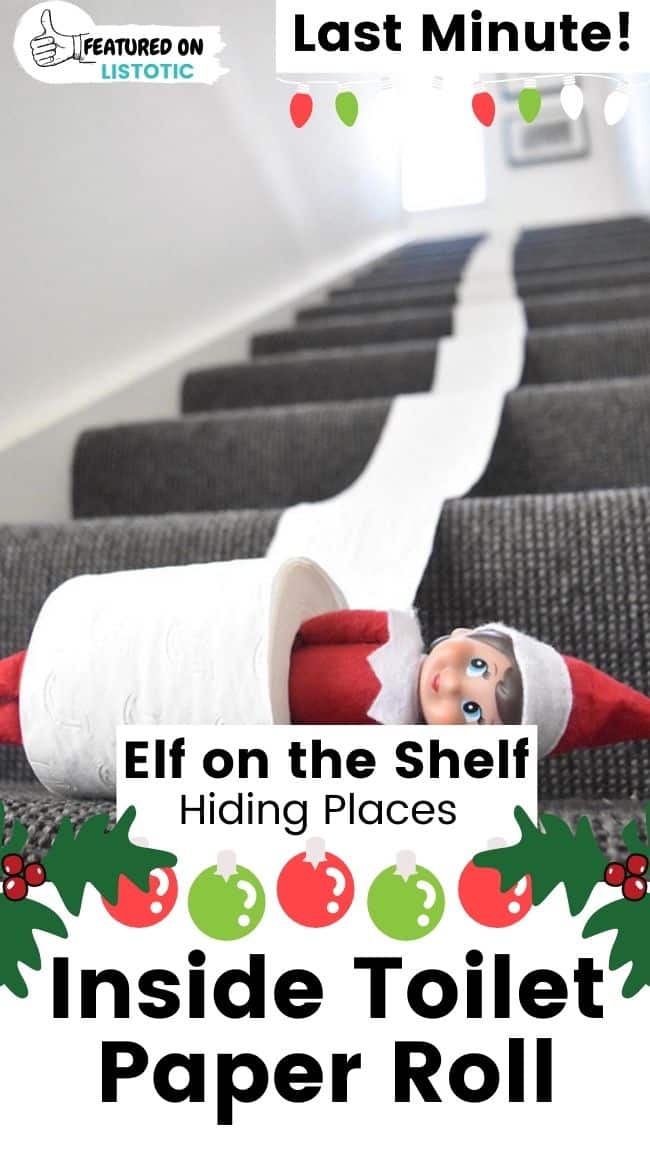 Source: Mum's Grapevine
4. Shoe Shoe Train
All aboard the "Shoe, Shoe," train! Line your shoes or kids shoes back to back to create this fun train inspired idea led by your very own Elf on the Shelf! Cute and perfect for last-minute placement. Stick this idea in your back pocket for when you are in a hurry and need to do something creative yet quick! It is such a fun and unique Elf on the Shelf hiding idea. To put it briefly, this shoe train idea is great since the Elf can be such a "sneaker!"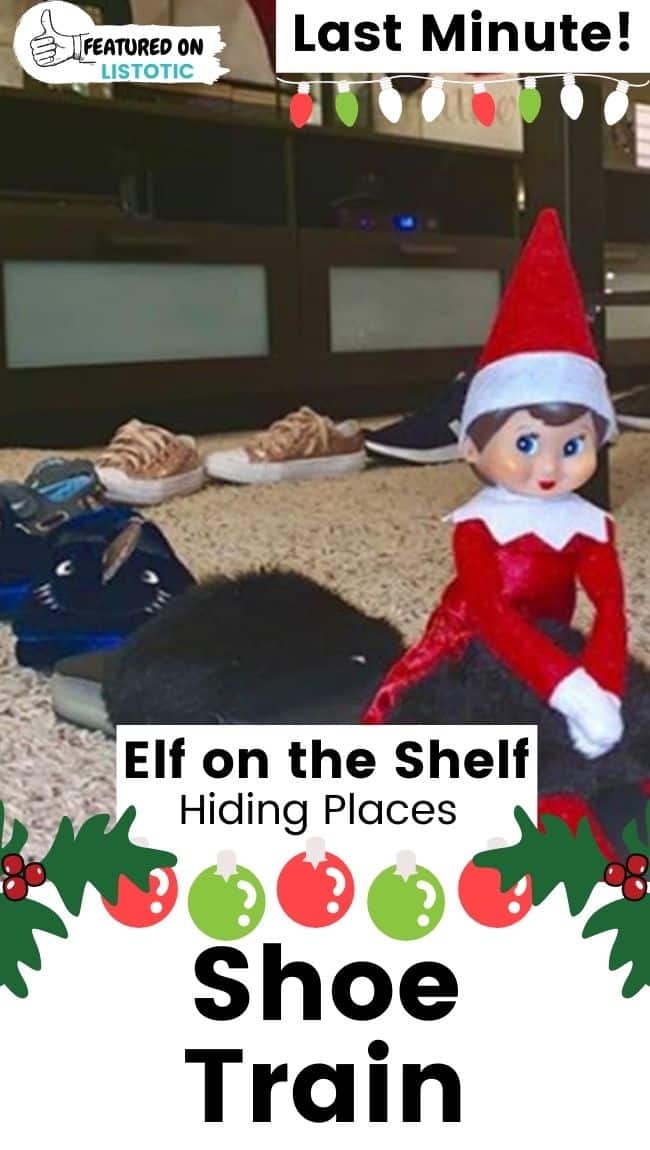 Source: Instagram/aquarehla
5. LAST MINUTE PRINTABLE NOTES
This is a great idea for when you have exhausted all of your creative efforts and you are tired of trying to figure out what to do with that darn Elf! Simply print off one of these little elf on the self notes at the beginning of the season and hide them somewhere you have access to quickly and ultimately your sanity has been saved!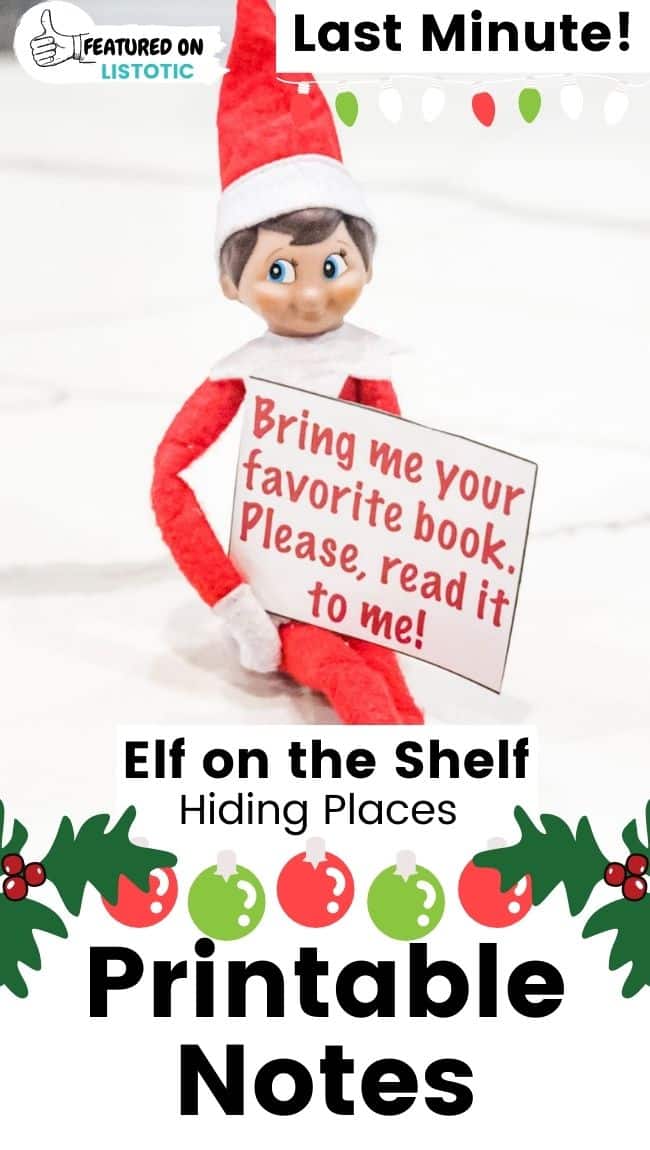 Source: Mom Envy
6. SHARPIE ART
That silly Elf did it again! There is no doubt that when you combine an Elf and a few minions, trouble will follow. Did you know that Minions started out as bananas? Grab your sharpie and draw Minion faces on those bananas and sit your guilt-free looking Elf next to them holding the marker. The culprit will be clear and as a result, laughter will ensue when they discover what their innocent Elf has done. This Sharpie Art idea is easy and a speedy last minute idea!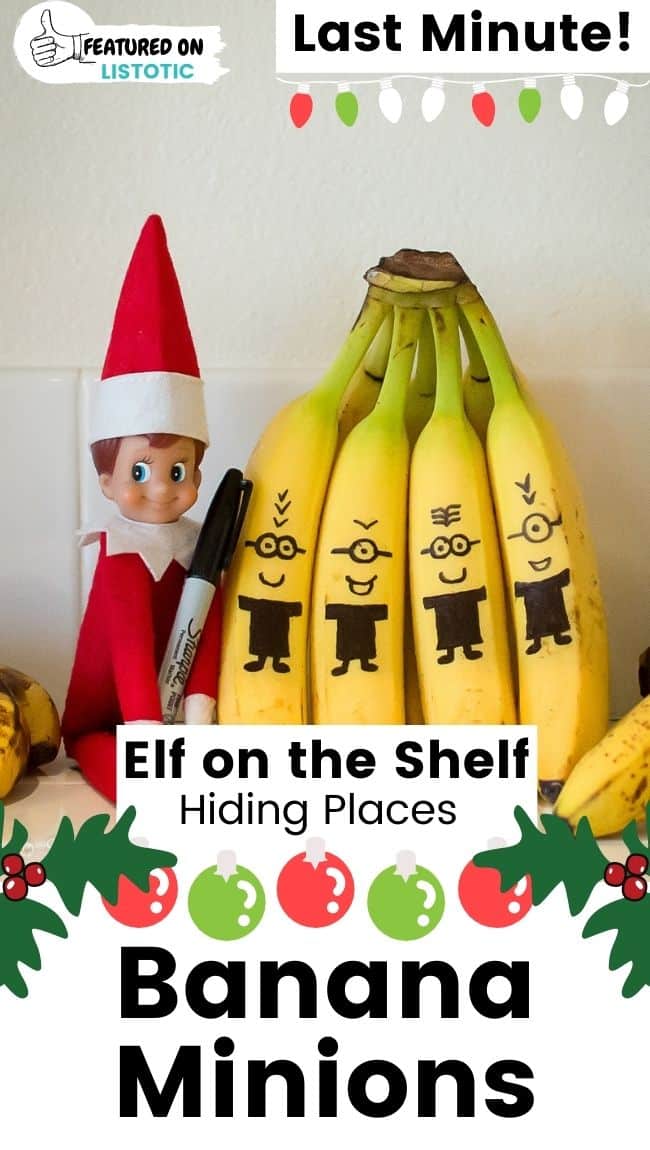 Source: California Unpublished
7. CAUGHT ON THE DECOR
Gasp! The kids are fast approaching and that Elf is in the SAME spot he was the night before. Quick! Toss him on some décor and you're good to go. Anywhere will do. I have been known to set him on the Christmas tree, on top of our stocking holders, or even inside our decorative lanterns. Consequently, this move tends to be my go-to when I have completely forgotten and have seconds to spare! Caught on the decor is a go-to move for a lot of frazzled Moms and Dads!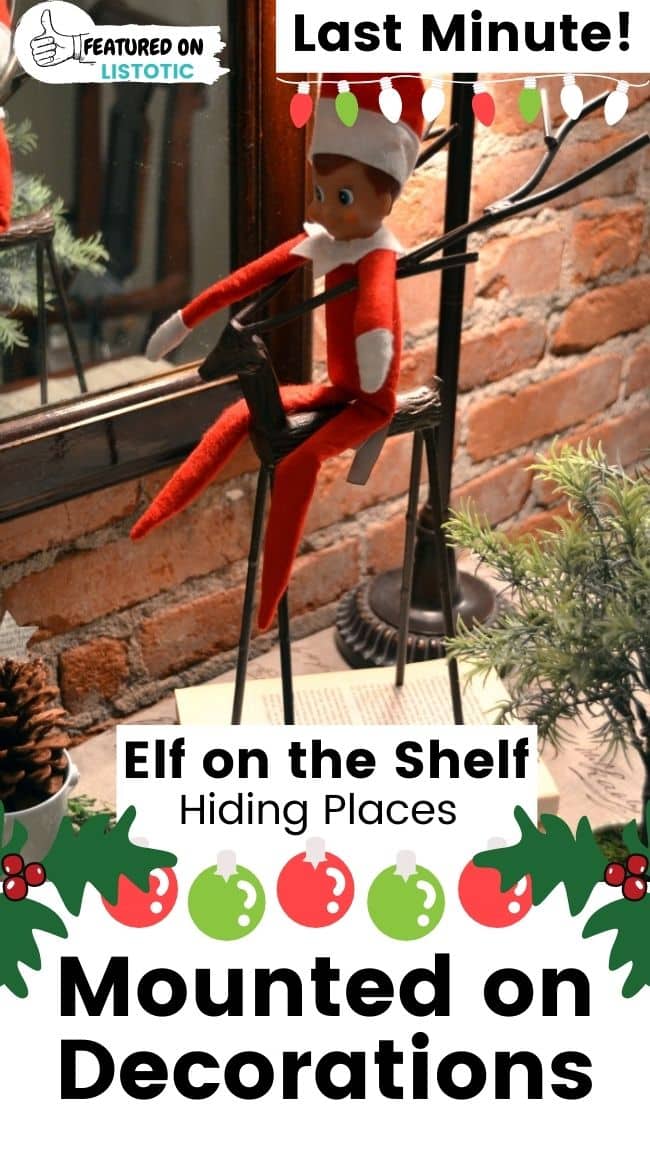 Source: Home Stories A to Z
8. STUCK IN A MIXER
What has that darn Elf gotten himself into this time? This would be a super cute idea if you laid cookies out next to him as if he made them the night before or you could place the ingredients or a recipe out next to him so he can get in on the baking! More importantly, don't forget your magic Elf gloves so you can safely remove him without removing the Christmas magic! Check out this idea here.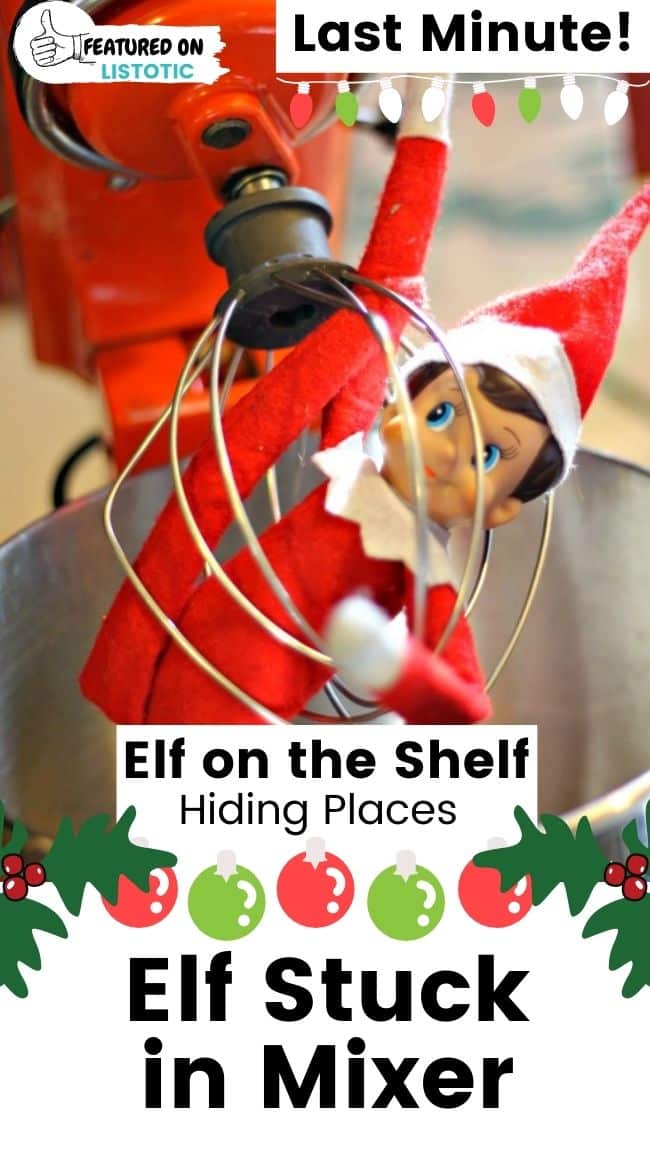 Source: Frugal Coupon Living
9. TISSUE BOX
That sweet and innocent Christmas Elf has taken up residence in your tissue box. Everyone needs a place to rest and it looks like Elf on the Shelf has found a cozy spot to lay his head. Don't forget to place a tiny sized toy for them to cuddle up with! This Tissue Box idea is adorable and will be sure to bring some giggles out first thing in the morning.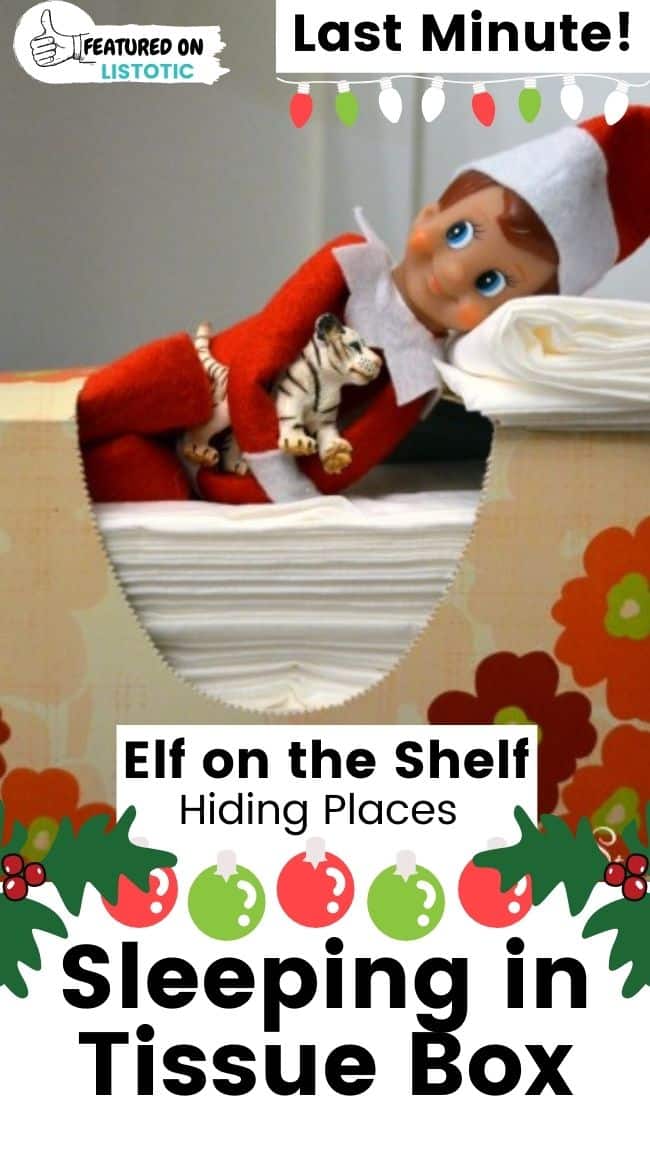 Source: Home Stories A to Z
10. CAMOUFLAGE ELF
Washable markers are the perfect way to camouflage your little Christmas Elf. If you want to take it a step further, for instance, dress your Elf in camouflage clothing and then have a deer or bear figurine in close proximity. This idea will indeed amuse my boys who love to hunt! Hide your Camouflage Elf in the tree and you are set!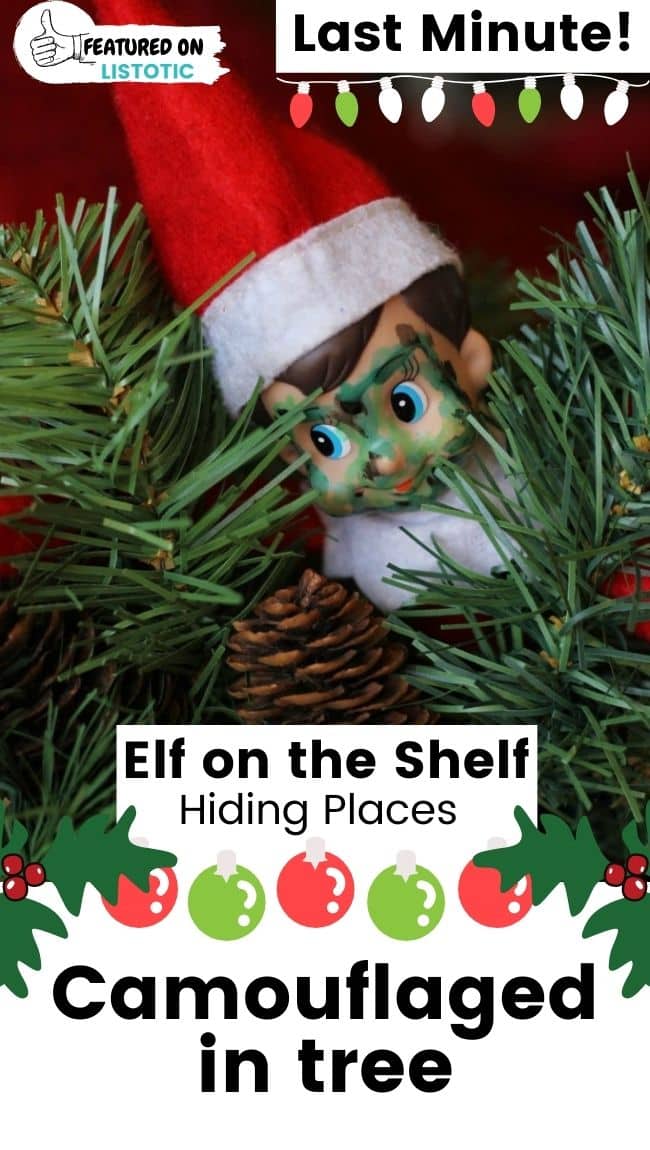 Source: Frugal Coupon Living
11. SHOTGUN RIDER
Looks like someone took a late-night cruise with Barbie! This is a great last-minute Elf on the Shelf hiding idea. Any vehicle will do, in my case, it would be a tractor or a train. Last, add a shotgun rider and you are all set! A teddy bear or Barbie will do!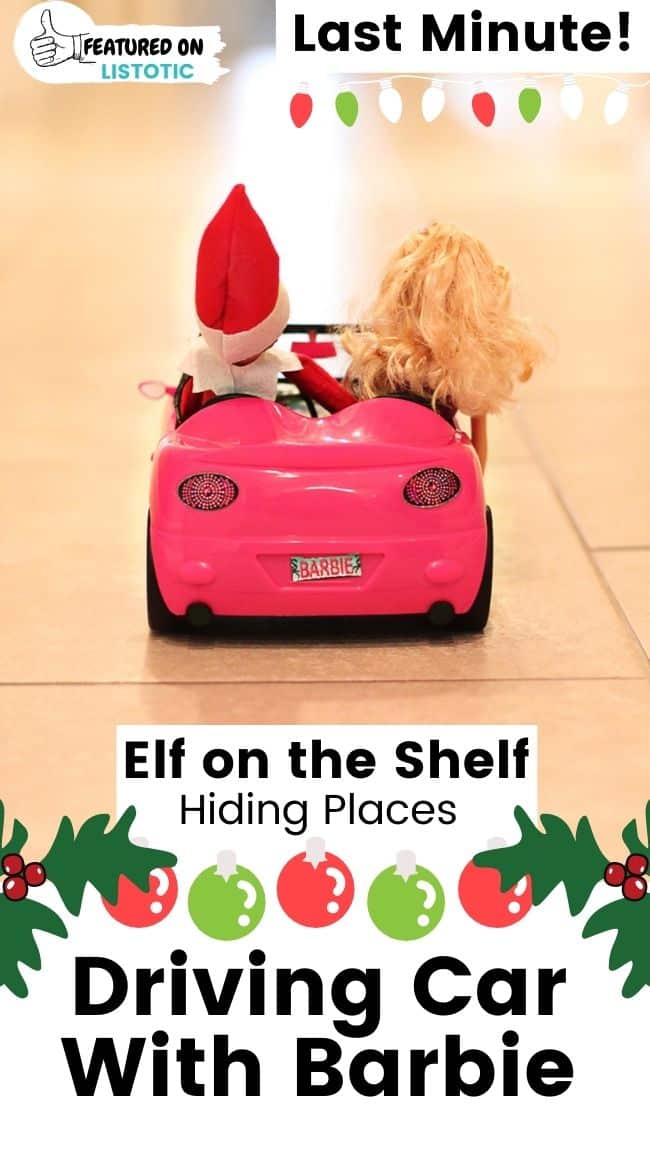 Source: Lil Blue Boo
12. DRY ERASE SILLY FACES
This innocent looking Elf is not so innocent when it comes to sprucing up those family photos. Be sure to use a dry erase marker and not a permanent marker unless you're looking for a year's worth of laughter. The Dry Erase Marker idea is a classic and comes in clutch when you're short on time!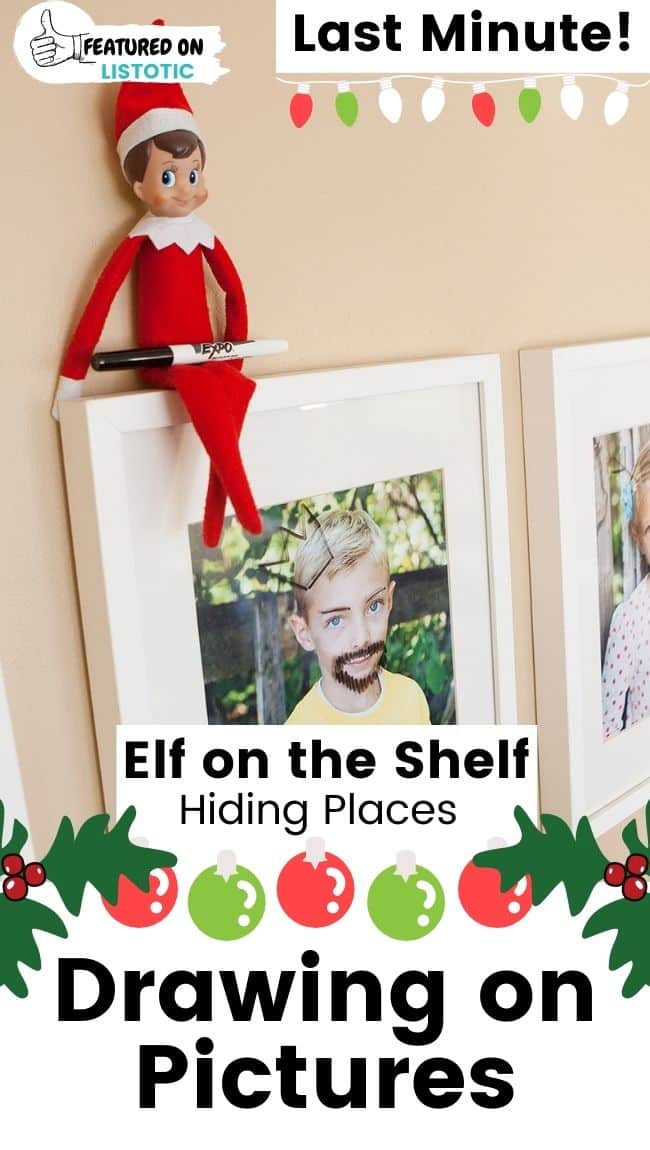 Source: Simple As That
13. HIDING IN THE FREEZER
Nowhere to put your Elf? As a last-ditch effort to be creative, toss him or her into the freezer. Ask your child to help with breakfast like getting their favorite frozen chocolate chip waffles out of the freezer and *gasp* that silly Elf is hiding in the freezer!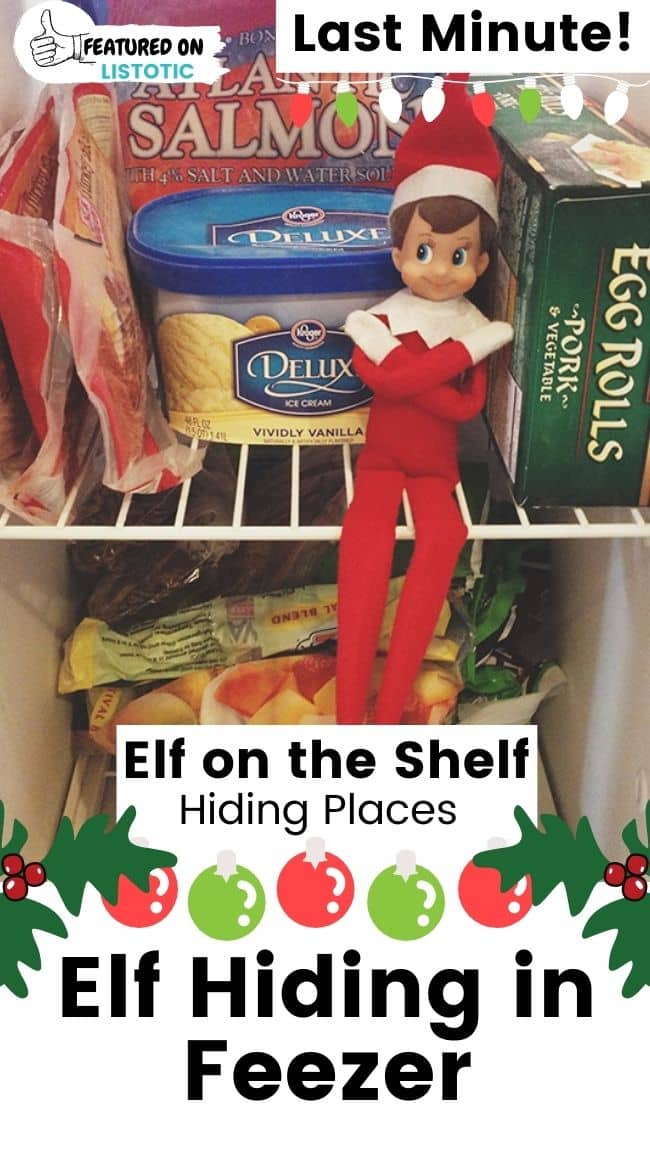 14. NAUGHTY & NICE METER
Need some positive reinforcement in your house? Print off this handy Naughty and Nice meter from Mama Cheaps. This chart may help your child to make better choices not only because their Elf is watching but also because they report back to Santa each night. This will give them the opportunity to get in the green before he reports back. This would be a perfect Elf on the Shelf idea for toddlers!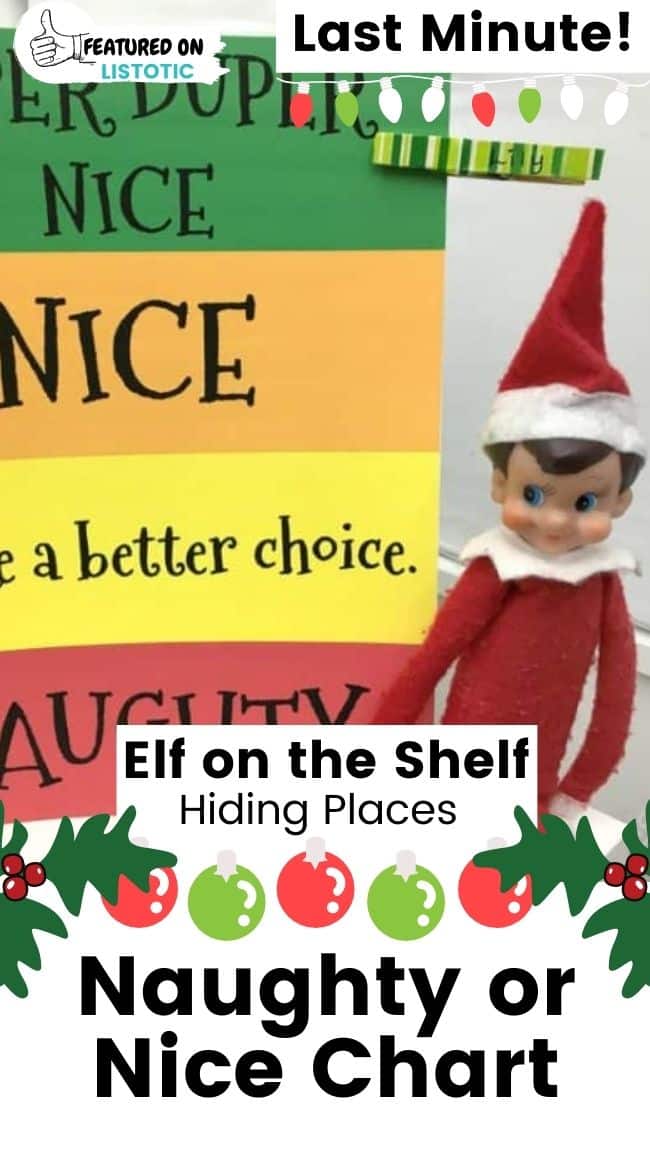 Source: Mama Cheaps
15. FLOSSING ELF
This one makes me laugh because my oldest son "flosses" all the time. I think he will get a kick out of this idea. If you don't know what "flossing" is, it is a dance where you twist your hips in one direction while swinging your arms in the opposite direction. Think of patting your head and rubbing your stomach type of situation! It's actually difficult to do. I have no doubt this Flossing Elf will ensue lots of laughter.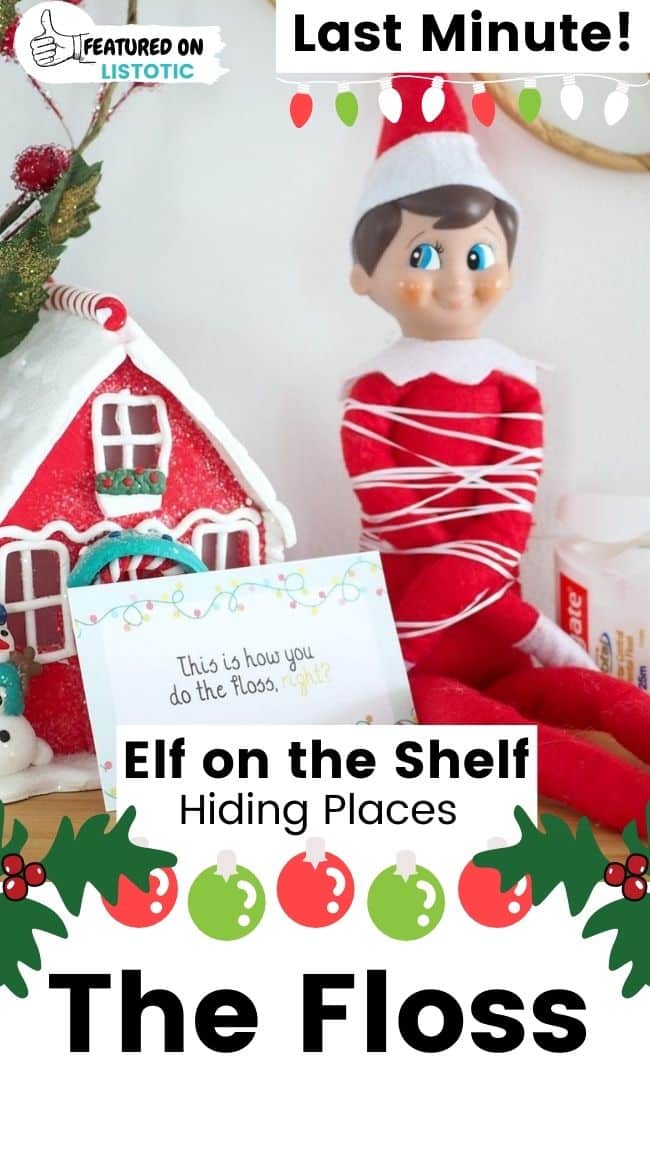 Source: The Organised Housewife
16. CHRISTMAS TOY CHALLENGE
With Christmas right around the corner, this is a great way to help clear away those toys that your children no longer play with making room for the ones they are about to receive. This Christmas Toy Challenge is also a great way to pay it forward reminding your children that it's better to give than to receive.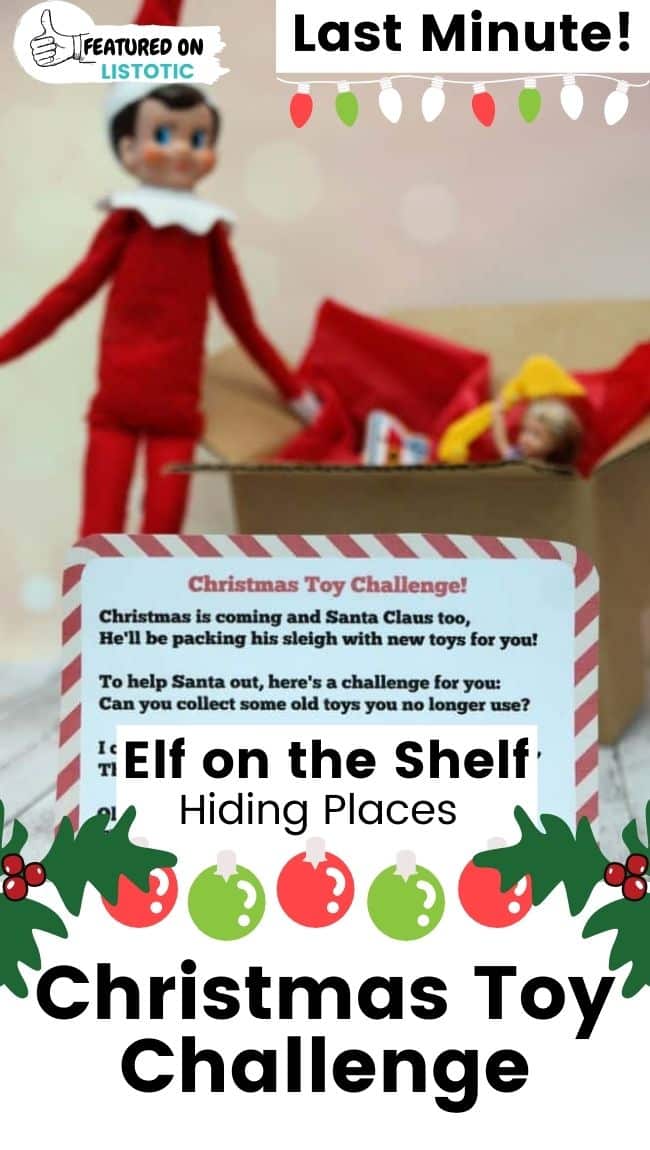 Source: Mama Cheaps
Here at Listotic we love to celebrate Elf on the Shelf. Make sure you Pin, Pin, Pin because you will want to stay prepared for these ideas each Christmas season. We have many more ideas and our goal is to make it easy for you to come up with simple and effortless Elf on the Shelf ideas.