Last Updated on October 29, 2021
THE CHRISTMAS ELF IS ON IT'S WAY! GET INSPIRED WITH THIS EASY COLLECTION OF ELF ON THE SHELF HIDING SPOTS.
They're back! It's almost the time for those mischievous Elves to make their return! Which means you better start pinning and bookmarking these new Elf on the Shelf ideas STAT! Elf on the Shelf has become a holiday tradition for many families including my own. Throughout the seasons I find myself researching fun and creative ways to pose the Elf. I've rounded up some of the best ideas out there to not only make your children laugh but to get toddlers, children and even adults in on some fun activities this holiday season. Below you will find a list of clever places to hide an Elf on the Shelf to give you a much-needed head start for this year's silliest game for grown-ups and kids!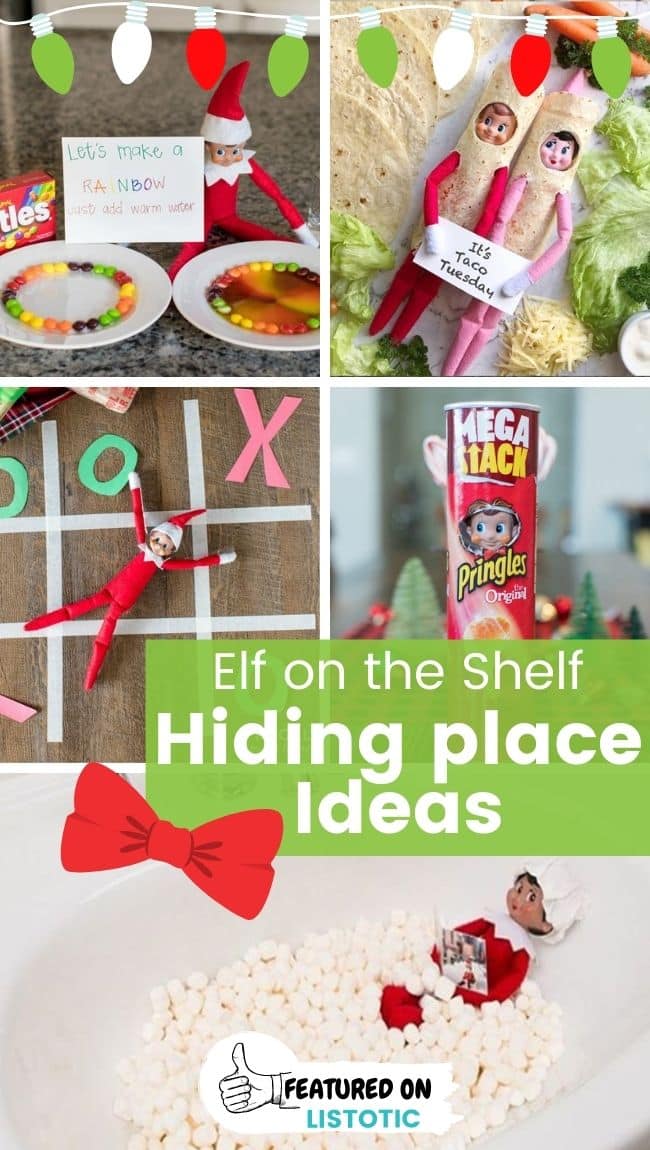 First things first, if you do not own your very own Elf on the Shelf or need to replace your Elf, head over to Amazon to grab one quick! Time is ticking! Plus, check out this Elf on the Shelf Shopping Area.
What Should We Name Our Elf?
Now that your Elf has arrived, you need some cute Elf on the Shelf names! After all, that's how they get their Christmas magic! Get inspired by your surroundings. How about Holly, Tinsel, Kringle, or Snowflake? A name is important! After all, your Christmas Elf will be visiting your home every year! Download and print our FREE Elf on the Shelf name idea printable and gather together as a family to pick the name just right for your Elf.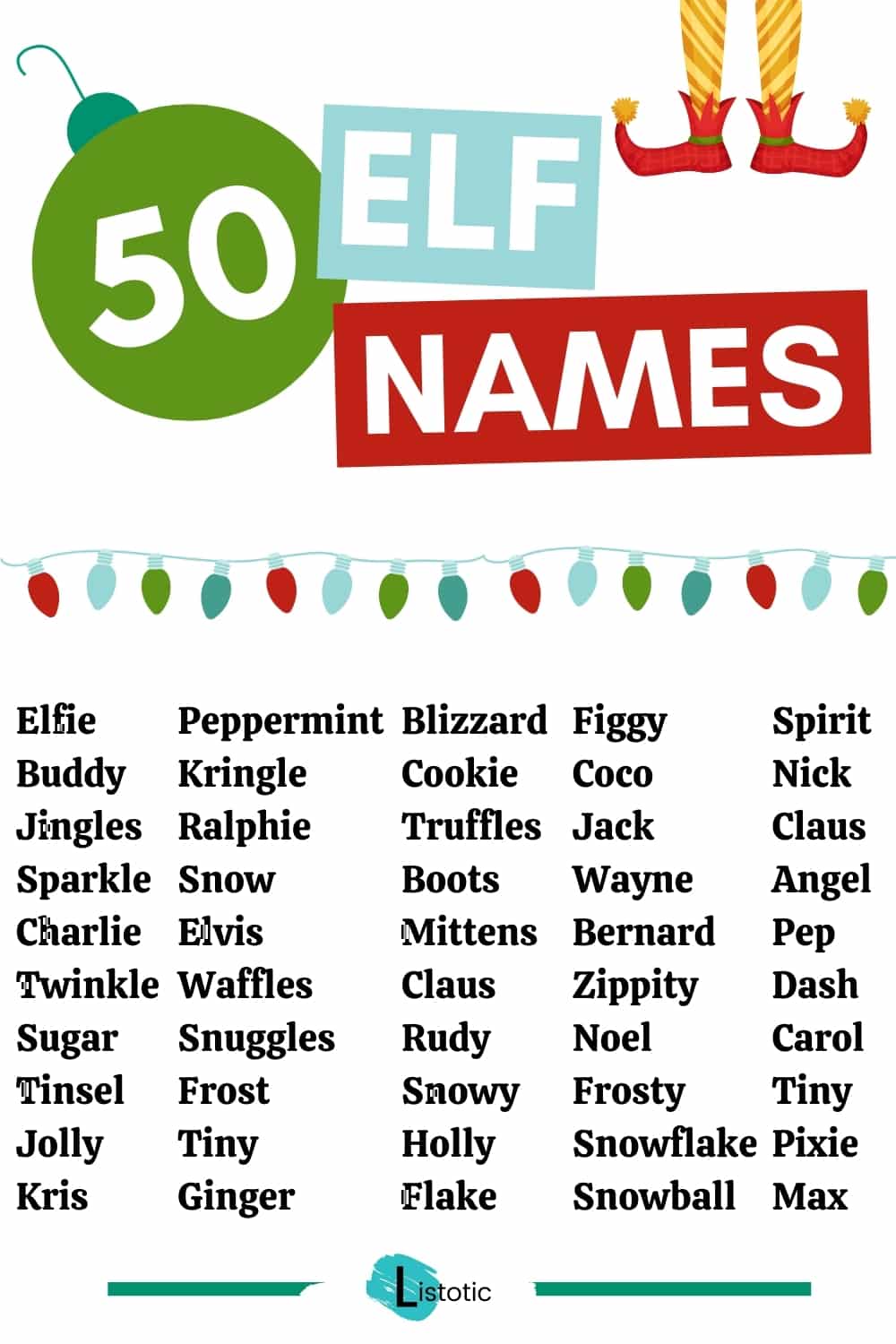 Where Should I Hide the Elf on the Shelf?
The possibilities are endless! There are so many fun and clever places to hide your Elf on the Shelf. This time of year always creeps up on me which means this year is finally the year I am going to be prepared! And my plan is for these ideas to be easy, quick and cheap to accomplish! Without further ado, below are some of my top places to hide your Elf on the Shelf.
1. RAINBOW ACTIVITY
If you only choose one activity, let this be the one from this list! This fun rainbow activity is a hit with all children, toddlers and even us adults. Let the magic of the season start with this fun idea. If your children love rainbows, this activity is going to wow them! This Elf on the Shelf idea is one of our favorites during any time of the year. Pin this idea now!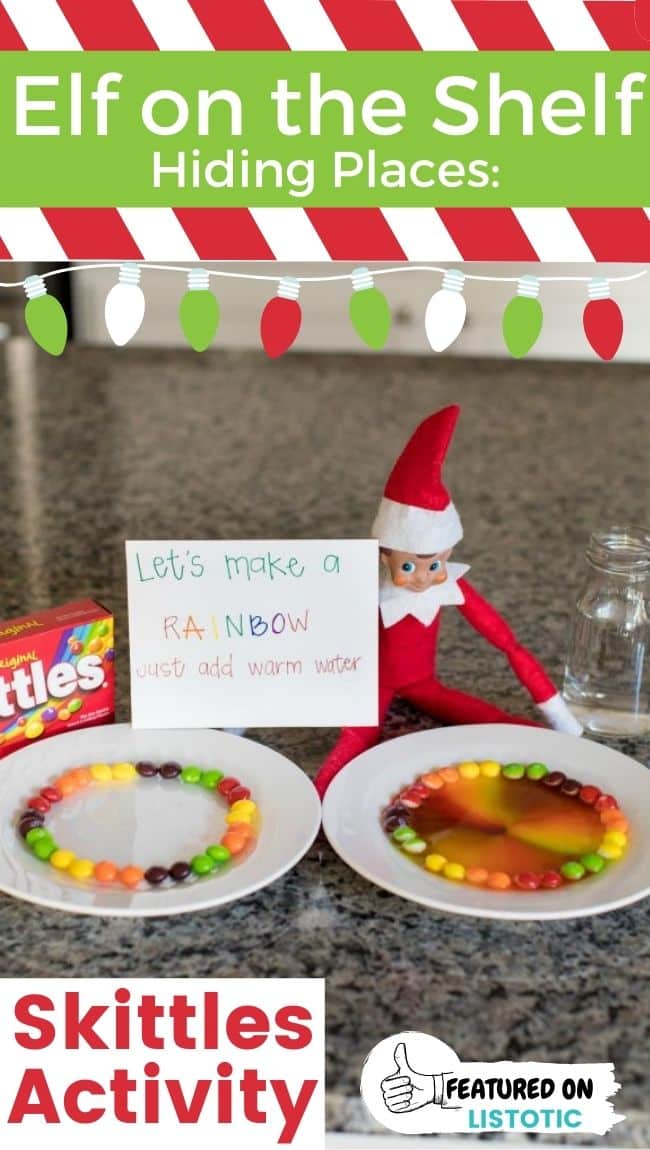 SOURCE: FRUGAL COUPON LIVING
2. WRAPPED UP IN HOLIDAY PAPER
This Elf on the Shelf idea is super simple and only takes a few minutes to scrap together. Not to mention, it's a great use of those wrapping paper scraps. Dress him up in a hat, shirt, or pants by using leftover wrapping paper scraps. This idea from A Few Shortcuts is an immediate winner!

SOURCE: A FEW SHORTCUTS
3. ELF UNDER SURVEILLANCE
This is a clever way to get your child to be well behaved while their Elf is in town! I think this would come in handy when my kiddos are playing outside. This is a good reminder to stay well behaved because the Elf is always keeping an eye out for good behavior! Learn more about the Elf Surveillance details now.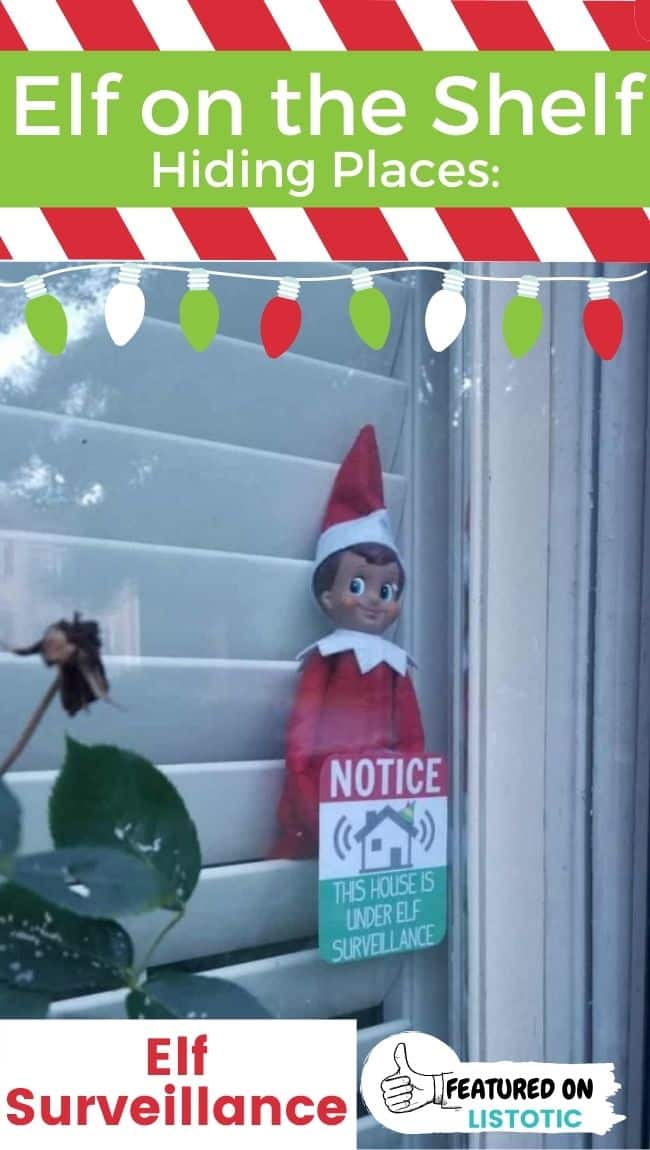 SOURCE: FRUGAL COUPON LIVING
4. TIC-TAC-TOE ELF GAME
Look what the Elf brought in! This idea is a hit for those who love a good ol' game of Tic-Tac-Toe. Get your game face on because this easy activity only requires a few items. I am all about finding easy yet creative ways that won't stress me out too much this season. For that reason, this Elf on the Shelf Tic-Tac-Toe game is at the top of my list to recreate this holiday season. This is at the top of my list for Elf on the Shelf hiding places!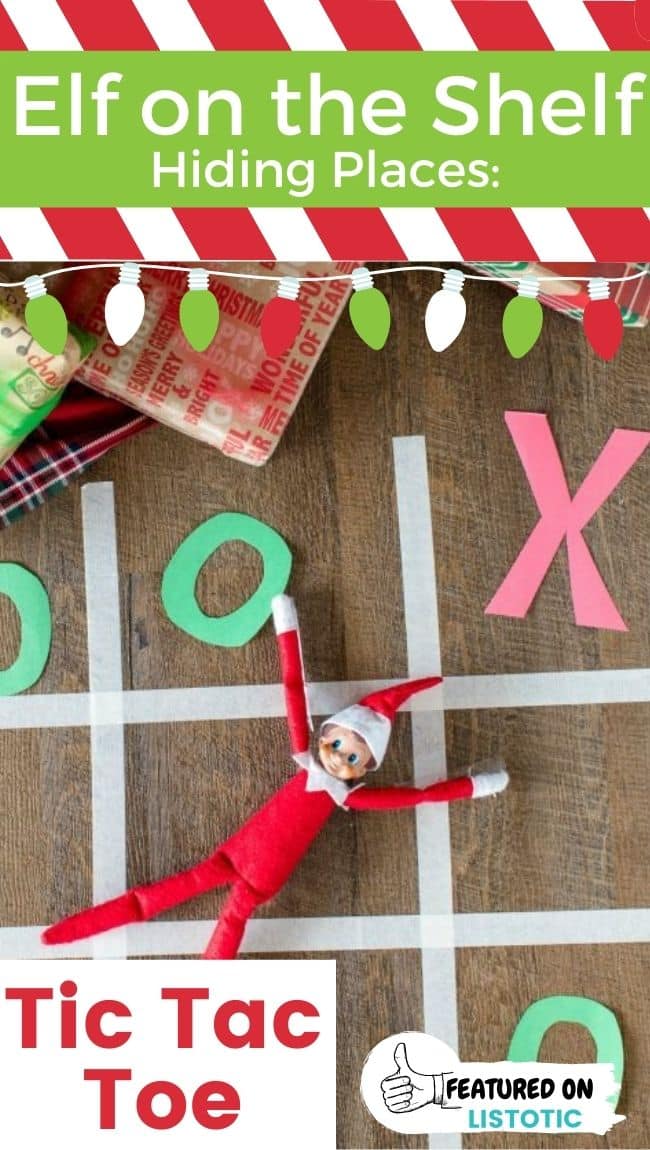 SOURCE: FRUGAL COUPON LIVING
5. HIDING IN A PRINGLES CAN
This idea is gold! You could also use your child's favorite cereal box as well. It is a fun surprise when you open the pantry door to discover that silly Elf has made his way inside your favorite cereal box or chip container. This Elf on the Shelf hiding spot is such a silly surprise!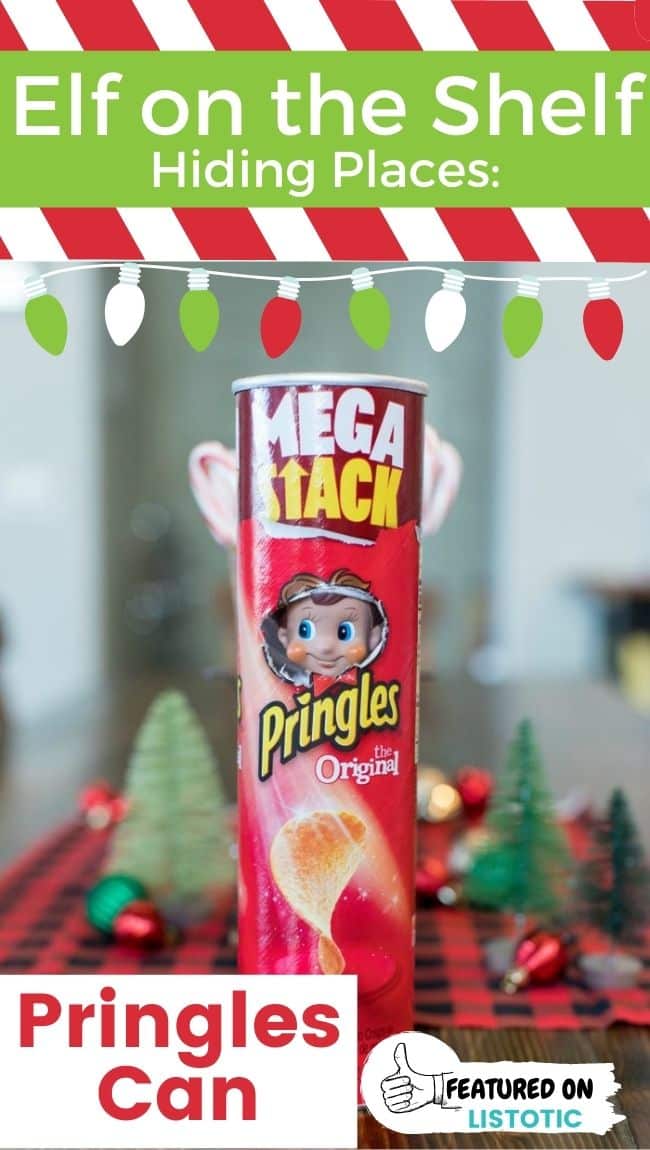 SOURCE: FRUGAL COUPON LIVING
6. FRUITY ENSEMBLE
Orange you glad your Elf assembled the choir for some fruity tunes? I absolutely love this idea. Who knows, maybe this will get your picky eater to try a new fruit! Wishful thinking? If you are anything like me you've watched The Home Edit's new show "Get Organized" on Netflix and you have an abundance of clever stacking accessories in your pantry like the one used in this photo. As shown below, you can repurpose your stacking containers to place your fruit!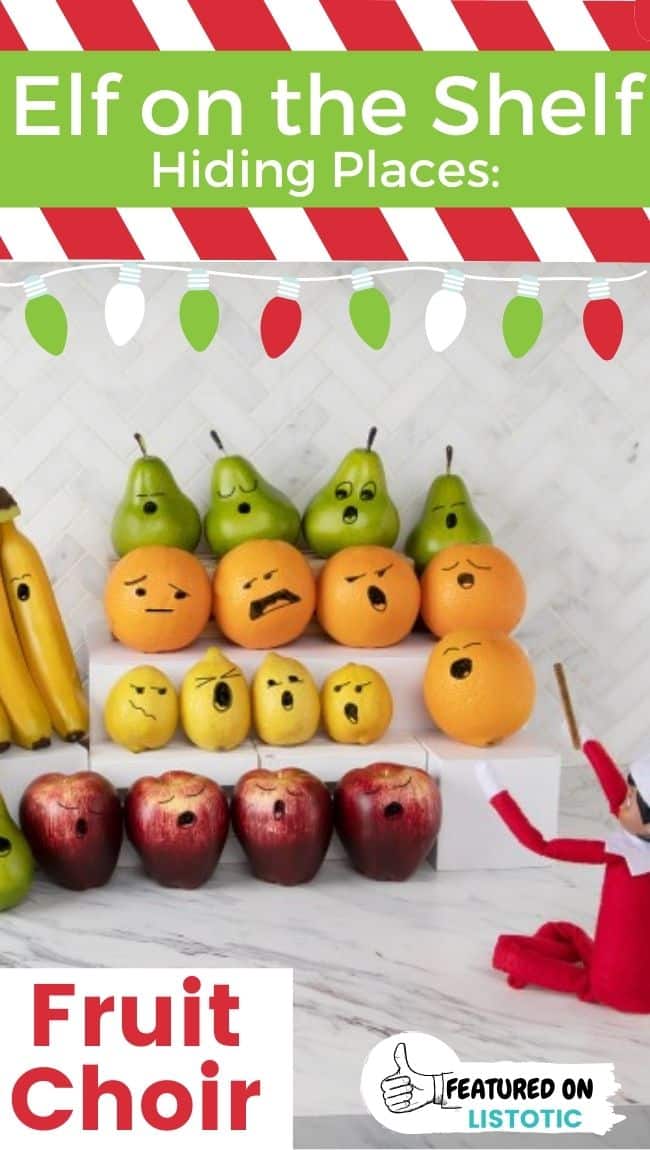 SOURCE: ELF ON THE SHELF
7. TACO TUESDAY
Now, this is my favorite idea! I'm not going to lie, this one made me laugh out loud. Why not make Taco Tuesday even more enjoyable by letting your Elf participate in the fun? Celebrate Taco Tuesday or any dinner involving tortillas with this hysterical yet fun idea. Head over to Her Family to discover this idea and many more!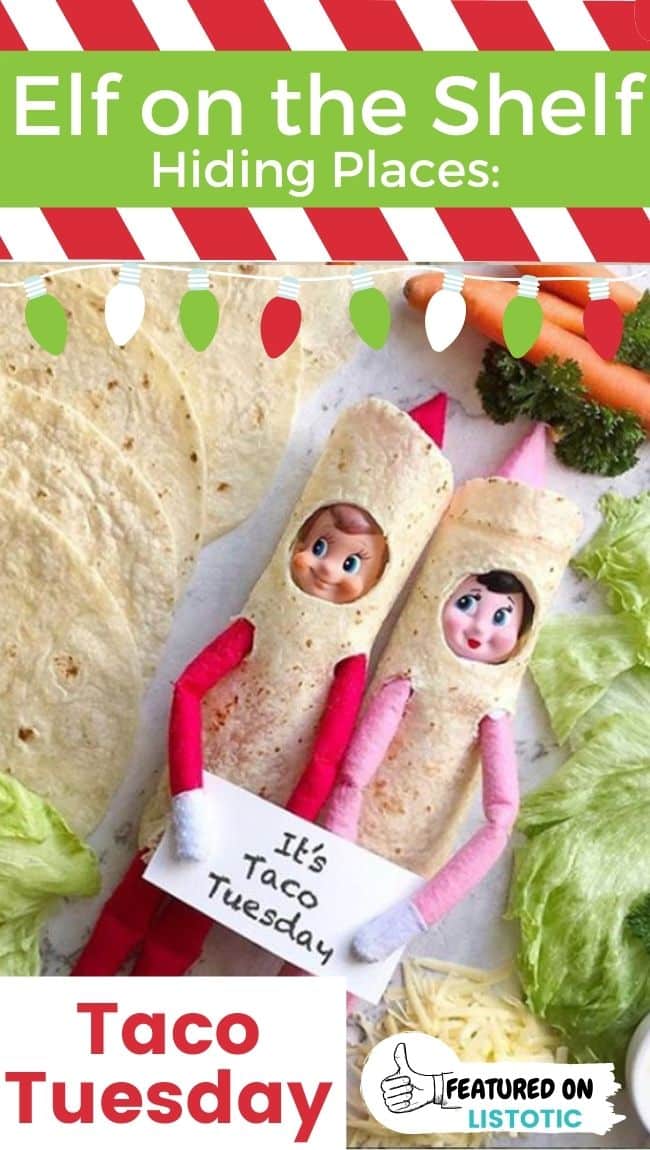 SOURCE: HER FAMILY
8. MARSHMALLOW BUBBLE BATH
This little Christmas Elf helped himself to a relaxing marshmallow bath while the kiddos were asleep. He looks like he's having quite the enjoyable time reading a teeny tiny magazine. Your toddler or even older children will indeed get a laugh out of this one. Even a little elf needs a spa day! Head over to Elf on the Shelf's Instagram page for this idea!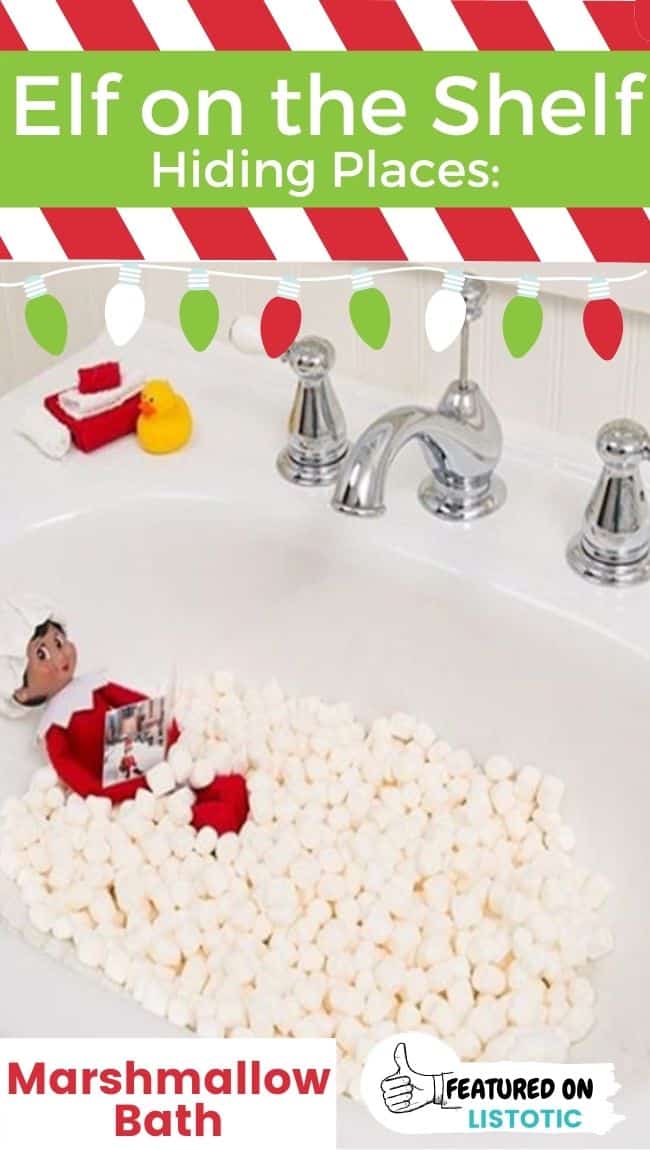 SOUCE: @ELFONTHESHELF/INSTAGRAM
9. MINECRAFT ELF
This one is perfect for the kids in your life who love video games like Minecraft. Most importantly, this Minecraft themed Elf on the Shelf setup is a fun way to combine something they love with a holiday tradition. My eight year old would find this particular idea rather amusing! Check out the idea here!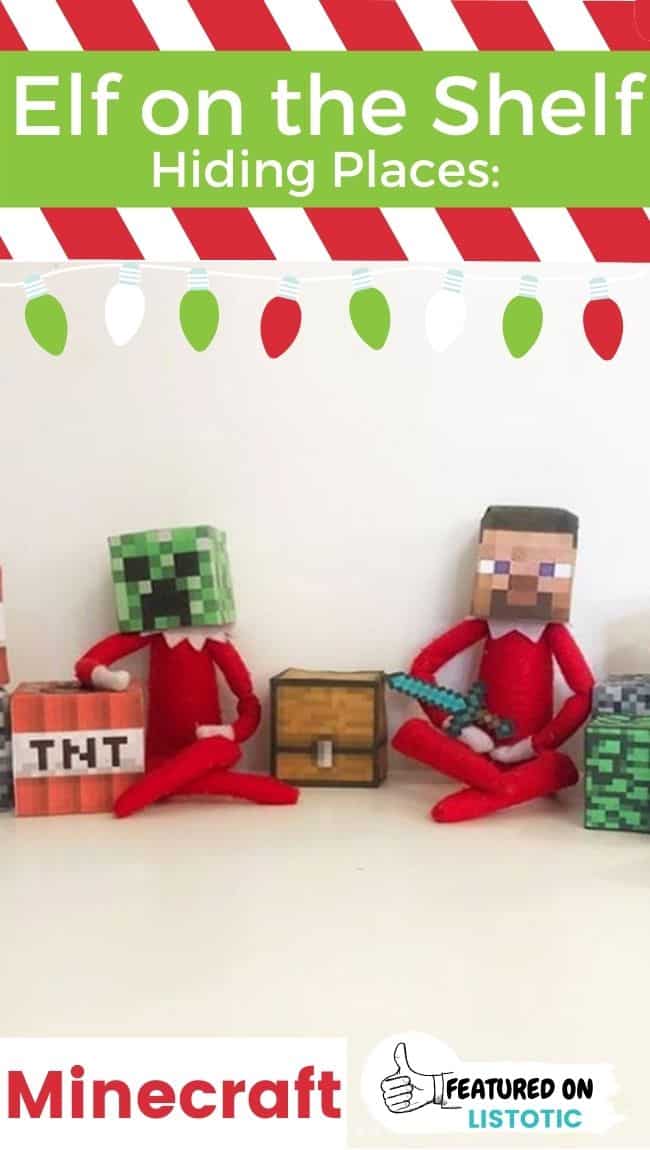 SOURCE: THE ROBERTS FAMILY ELVES
10. ELF AT THE MOVIES
When you're feeling lazy or just can't think of another over the top way to place your Elf, then look no further than this idea. Plop him down on the couch in front of the remote and bam, you've got yourself a remote hogging Elf! You could even turn the TV on to a Christmas movie and leave out a bag of popcorn to pop as a fun surprise.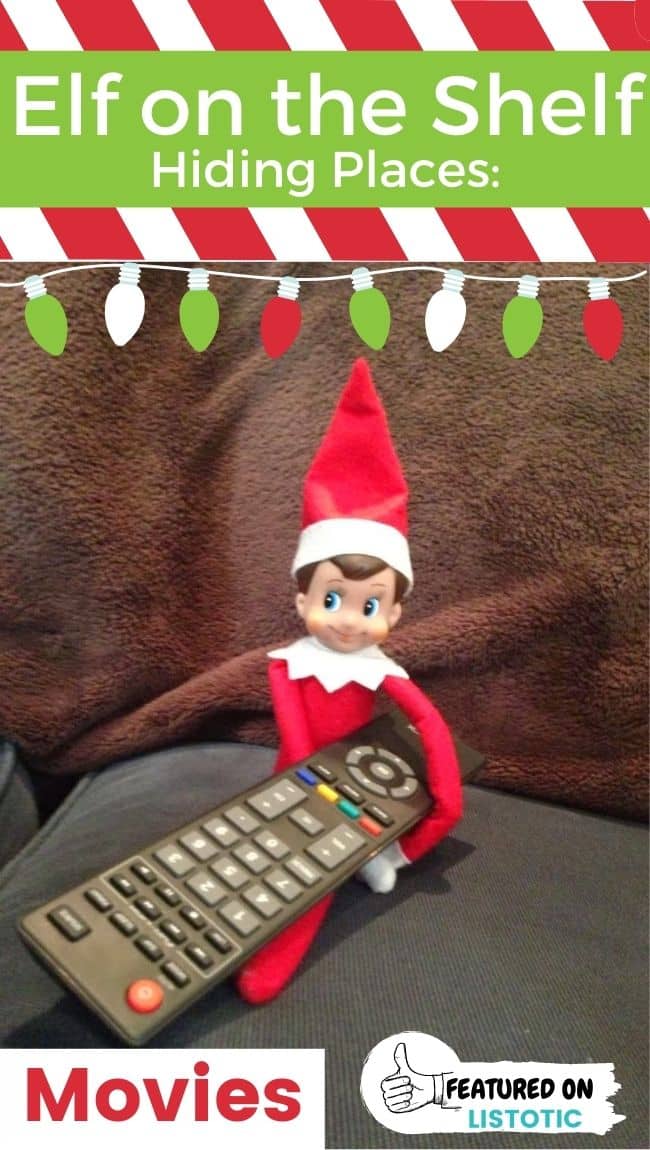 SOURCE: THE ORGANISED HOUSEWIFE
11. TP SNOWMAN
This has to be the cutest indoor snowman idea I've ever seen. This idea will spark creativity in your toddler or young child to go out and build a snowman of their very own. This Elf on the Shelf Hiding place idea is a huge hit with all children! Not to mention, it's such an easy way to stage your Elf, especially when you're running low on time. Speaking of running low on time, check out some other last second places to set up your Elf when you're in need of quick and clever ideas!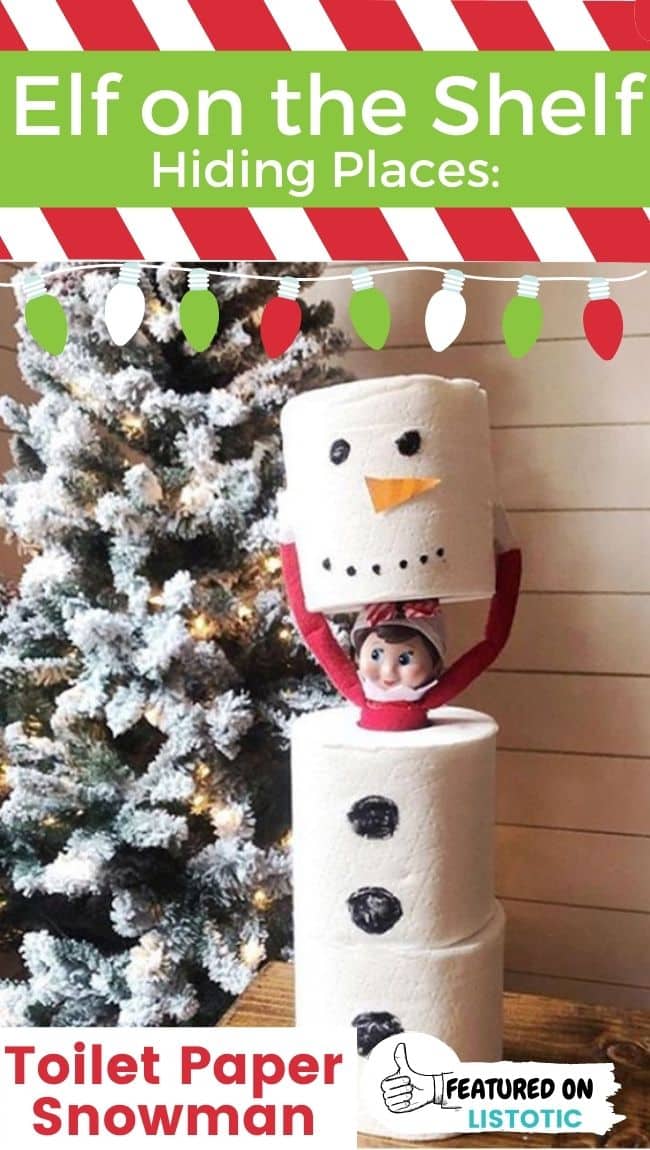 SOURCE: @KAITSTOECKEL/INSTAGRAM
12. ALL TIED UP
Uh oh! We have a hostage idea! The green army men detected an intruder! Get those little army men out of hiding and use them in your set up with your Christmas Elf! Who knows, maybe your kids will start playing with those neglected green army men again. We did this last year with our Elf, Ralphie and my boys suddenly began playing with their army men again.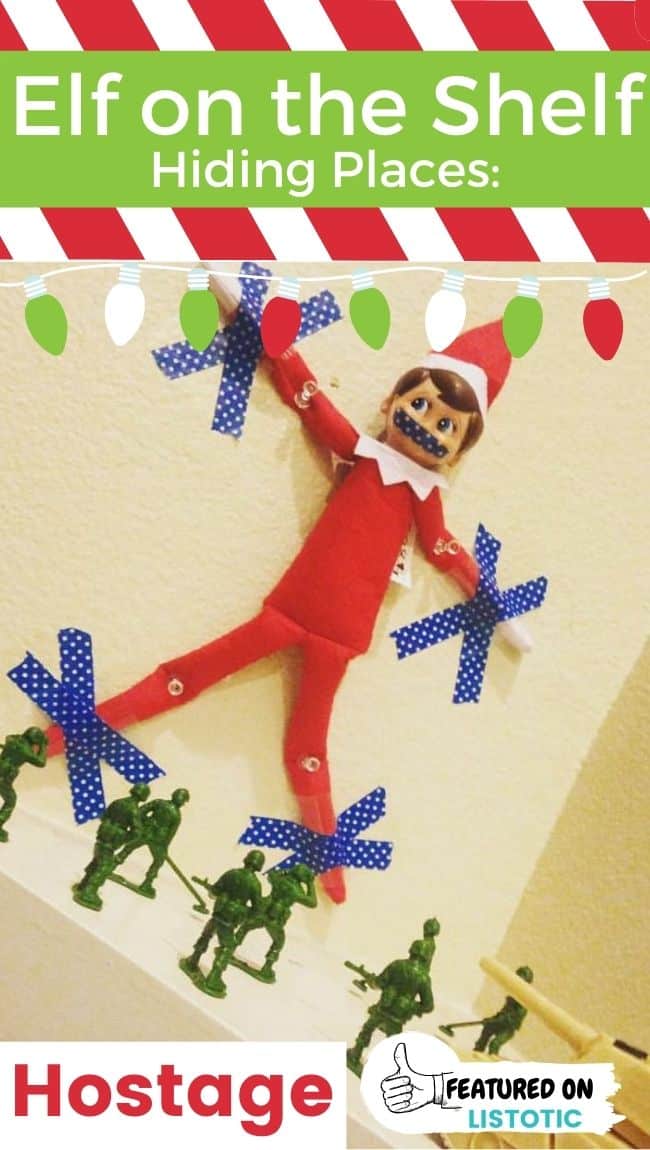 SOURCE: PATCH