Last Updated on May 26, 2021
Microwave Puppy Chow Recipe with Crispix is a classic peanut butter snack mix.
A peanut butter snack mix with Crispix cereal is seriously one of the easiest no bake snacks out there. There are a lot of reasons to love this Crispix puppy chow recipe. 1) Very few ingredients. 2) Ready in less than 10 minutes and 3) it makes lots of servings. Not to mention my kids go crazy over this microwave puppy chow stuff and I have to admit, so do I! Don't worry if you are out of powdered sugar because I'm going to show you how to make powdered sugar at home.
Microwave Puppy Chow with Crispix is one of the easiest no bake snacks out there!
Disclaimer: This recipe for PEOPLE not pets, "puppy chow" is just a cute name for this fun kid-friendly snack mix.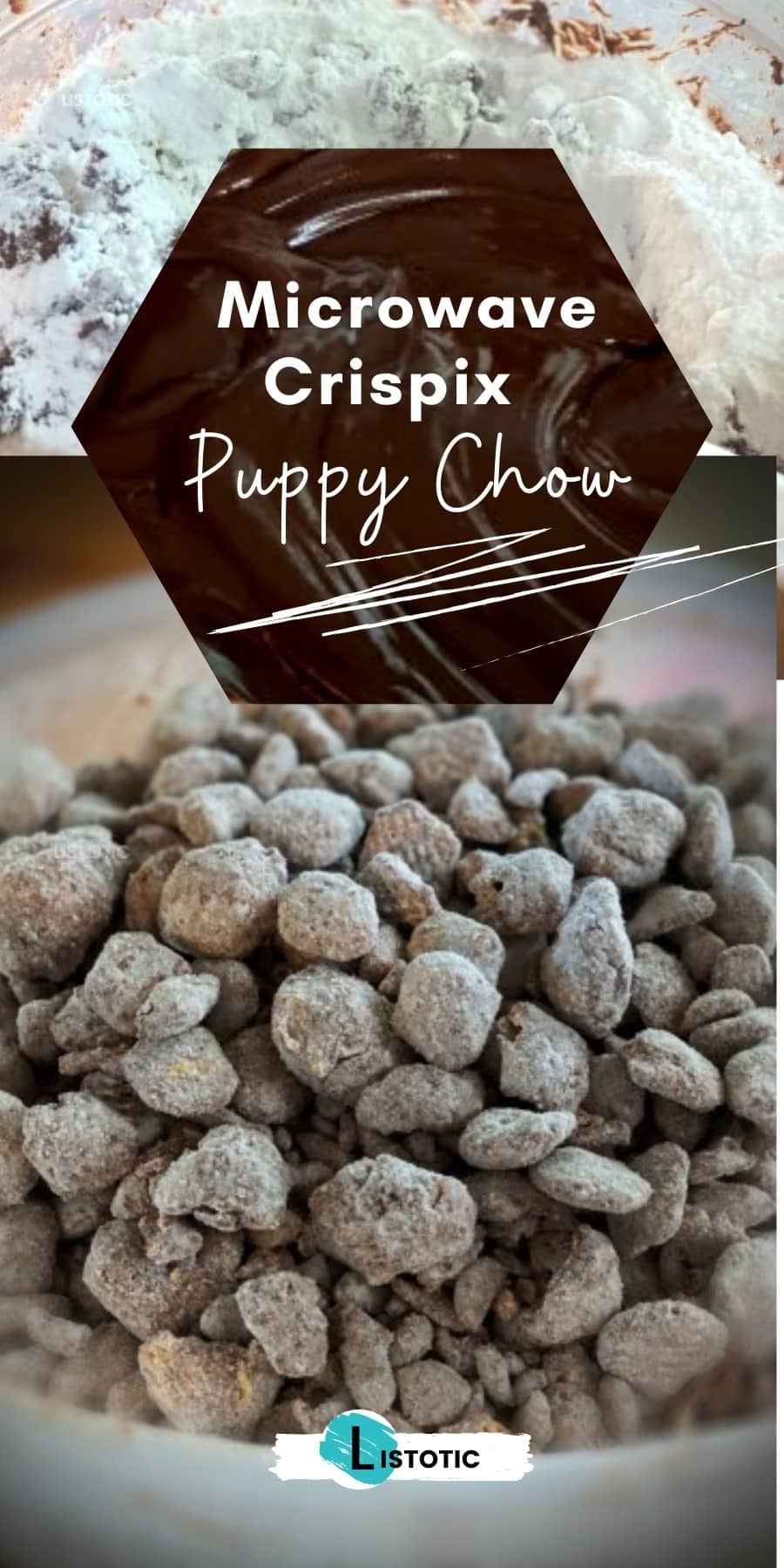 This post contains affiliate links. Please see our Disclaimer Policy.
Along with this peanut butter snack mix recipe I'll also be sharing with you how to make powdered sugar. Because yes in the middle of writing this recipe for you I found that I did not have enough powdered sugar!
How to make powdered sugar is way easier then I thought it would be!
To whip up some homemade powdered sugar (because it didn't make it on the shopping list), start with regular granulated sugar. Half a cup of regular sugar equals 1 cup of powdered sugar. Then simply take your granulated sugar and throw it in your blender, food processer, or like in my case… Cuisinart smoothie maker for about 20 seconds or until it has the same look and feel as store-bought powdered sugar…
yep that is it, folks.
How to make powdered sugar is as simple as blending up regular sugar in less time then it would take you to find your keys, not to mention the time it takes to run to the grocery store.

I can't believe how many times in the past I have decided on not making a recipe because I didn't have powdered sugar. This is a life hack I think anyone with a kitchen should know about.
Spread the word about homemade powdered sugar!
If you want more information about how to make your own powdered sugar check out this from grandbaby cakes. Jocelyn clears up some questions like whether you should add corn starch to your homemade powdered sugar or not.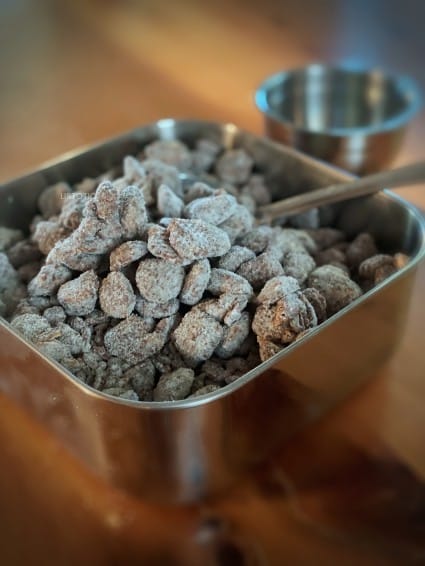 How to make Crispix puppy chow in the microwave… because, who doesn't love no bake snacks!!!
Ingredients:
10 cups Crispix Cereal
2 cups mini semi-sweet chocolate chips
1 cup creamy peanut butter
4 cups powdered sugar
½ cup of softened salted butter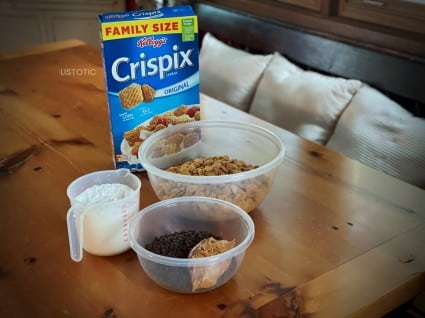 Instructions:
Measure out your Crispix cereal into a large bowl, preferably one with a tight-fitting lid.. you'll see why later.
Place your chocolate mini semi-sweet chocolate chips and peanut butter in a bowl and microwave on half power for 30 seconds. Stir and repeat this step.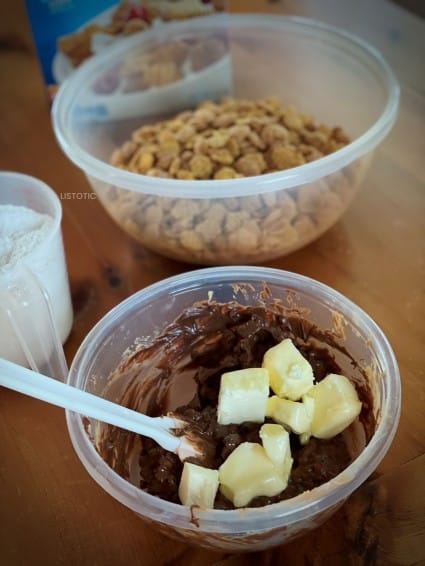 3. Add chopped butter to the bowl of chocolate chips and peanut butter
4. Again, microwave for 30 seconds on half power, stir, and repeat. You should start to see the mixture coming together and the butter helps to make the chocolate and peanut butter melt and become easier to stir.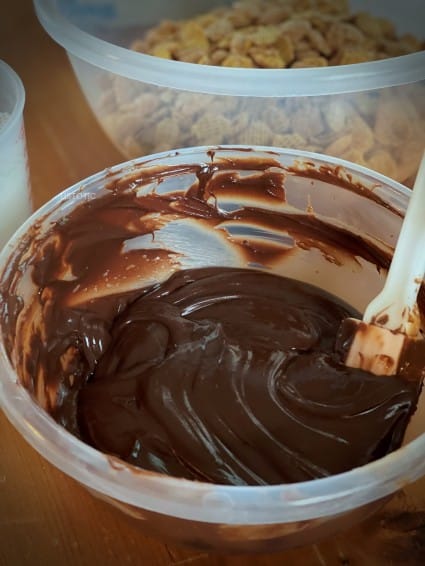 Note: do not overcook the chocolate chips, butter, and peanut butter. It's better to take it slow and microwave just a few seconds at a time until it becomes easy to stir and drips off the spoon. If you do accidentally cook it too long you will know because it won't be the smooth consistency you need for coating the Crispix cereal. Your best bet if that happens is to start over with your Crispix puppy chow, unfortunately.
Do not over cook the chocolate and peanut butter
Dump the melted chocolate mixture on top of the Crispix cereal. Stir gently until all the Crispix cereal is completely covered in the chocolate mixture.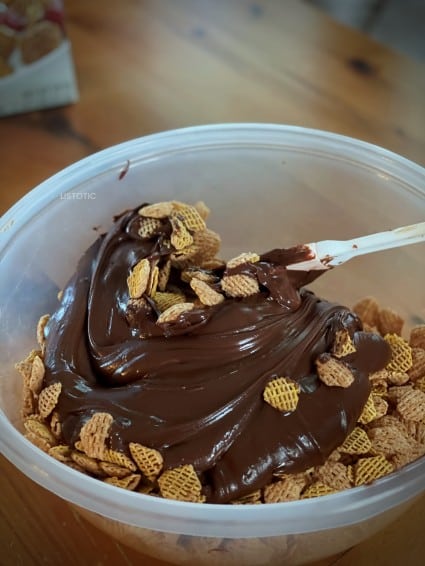 6. Add the powdered sugar to the bowl and place a tight lid on top of the bowl.
Don't even try to stir the powdered sugar, you'll end up with powdered sugar everywhere.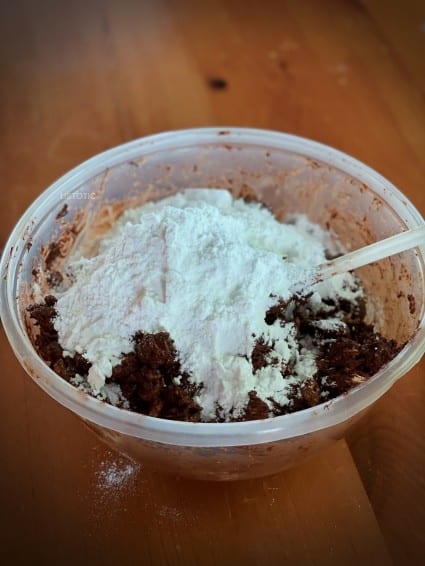 With the lid secured on top shake the bowl of chocolate-covered Crispix with the powdered sugar, keep shaking until you can hear the pieces are getting separated by the powdered sugar coating. The powdered sugar coating to each of the pieces is what gives this recipe its name: Crispix puppy chow. I suppose because it resembles dog food in a dish… weird, but kids love it.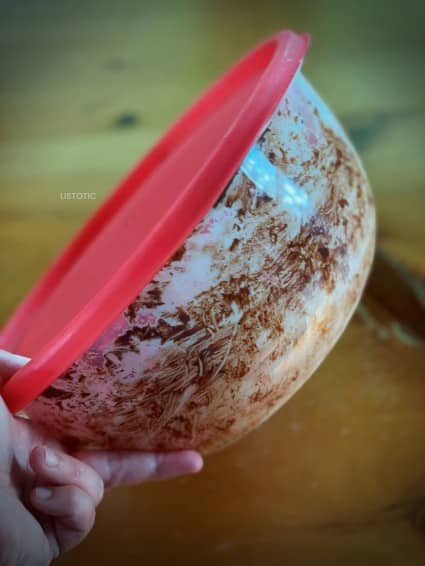 Go ahead and take a peek. This might be the point where you need to use a spatula to scrape the sides of the bowl
Note: I had to add more powdered sugar after I took my first look because there were still several chunks that didn't get separated.
When all the pieces are coated your job is done. Now, Let it cool or dig in. I prefer to put it in the freezer for a while, so the chocolate sets up right away.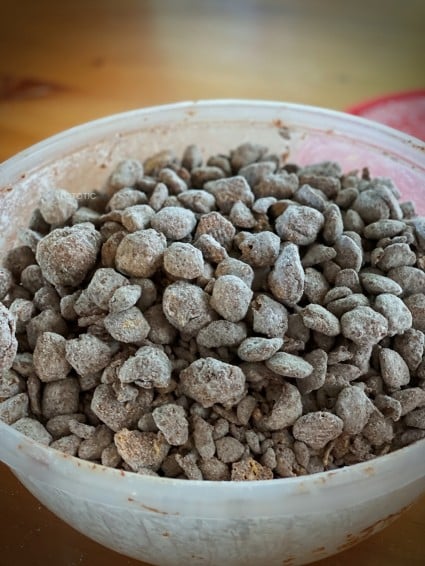 The simplest way to serve microwave Crispix puppy chow is in disposable dixie cups because of their size and because of their convenience.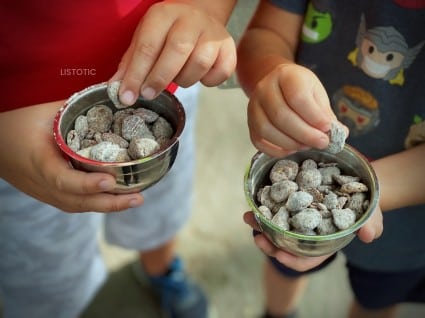 But, if you were going to serve this a kid's party I would definitely recommend you purchase a new metal pet dish, wash it of course and then add a scoop. You can't beat putting Crispix puppy chow in a doggy dish when it comes to a birthday party. So, here are some fun ways to dress up your puppy chow at your next kid's party.
Be sure to save this easy recipe on Pinterest!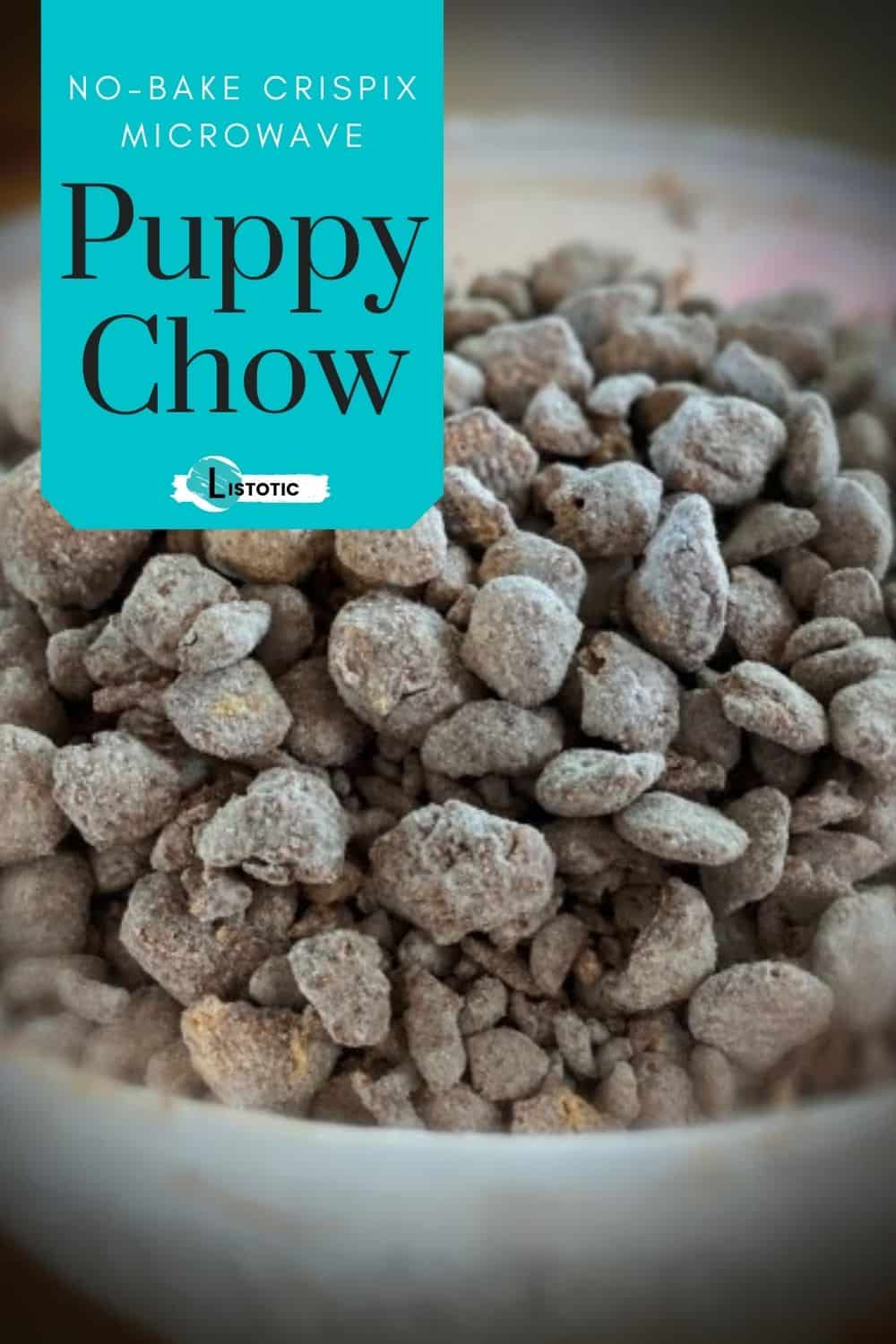 If you like this easy no bake snack, you will love how easy it is to make this Dollar Store Snack Mix.. just mix and it's ready!
Try an appetizer from Listotic.