My family's favorite kid-friendly appetizer is an easy cream cheese fruit dip!
Searching for dips for fruit recipes? It's impossible to pass by this cream cheese fruit dip. Also known as cream cheese apple dip, it goes perfectly with a variety of fruits and snacks. For example strawberries, pineapple, grapes, Nilla wafers, graham crackers, and more pair perfectly with this cream cheese fruit dip. Thus, the reason it is a kid-friendly appetizer!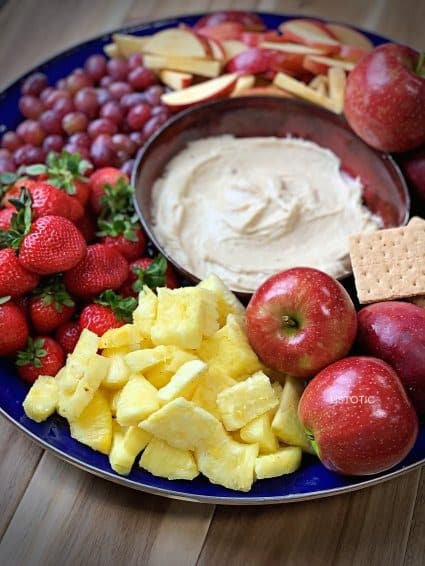 It's truly a classic – cream cheese fruit dip recipe. My mom would make this for birthday parties, holidays, and picnics. When I became a mom myself, it was surprising how easy it is to make with only 4 ingredients (that I keep on hand). I am able to whip this up in minutes because of the minimal ingredients and easy steps. This fruit dip is a kid-friendly appetizer and is truly budget-friendly. Because not only is the dip just 4 simple ingredients, but apples are generally affordable all year.
What is your go-to party appetizer? I choose a kid-friendly appetizer that is still budget-friendly.
I love bringing the fruit or fruit and veggie tray to the holiday party. Fresh fruits and veggies at the holiday table provide color and healthy options. At times purchasing fruits and veggies can get expensive, especially if you are trying to fill a platter. But I have some tips and tricks for keeping your fruit and veggie tray affordable.
Money-Saving Tips for Bringing the Fruit Tray
My first tip for a fruit and veggie tray on a budget is this fruit dip! Stock up on cream cheese when it's on sale since you can freeze it. See here how to freeze cream cheese. This recipe can cost as low as $3.00 and it can certainly serve a crowd.
Next, for saving money tips for your big fruit and veggie tray… add apples. Apples are affordable all year long. Also, you can stock up with big bags, and they keep for months! To offer a variety of fruits and veggies, place apples in several areas to fill in gaps. Fruits like raspberries and strawberries can be costly if they aren't in season. And since they are small, they also don't help to fill in the spaces of a large fruit tray. Placing a couple of different varieties of apples or a sleeve of graham crackers helps fill in the tray. Filling the larger spaces of the tray with less expensive produce can be a budget-friendly way of providing a crowd with an eye-appealing fruit tray.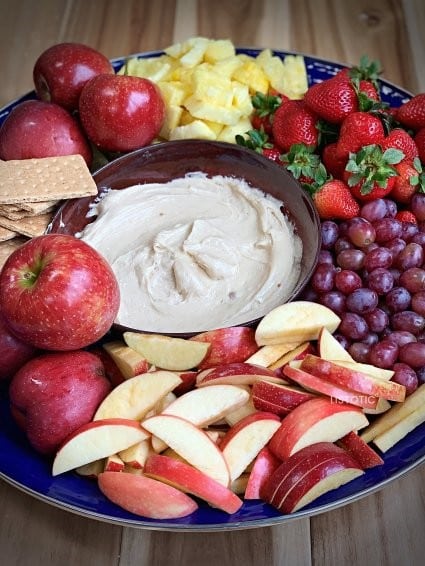 One last money-saving tip…shop for seasonal fruits. You can use this Seasonal Food Guide to help you. Find fruits, veggies, and herbs that are in season and thus more affordable.
Cream cheese apple dip is the perfect party appetizer fruit dip. Kids and adults go crazy over this easy fruit dip.
Ingredients
8 oz of room temperature softened cream cheese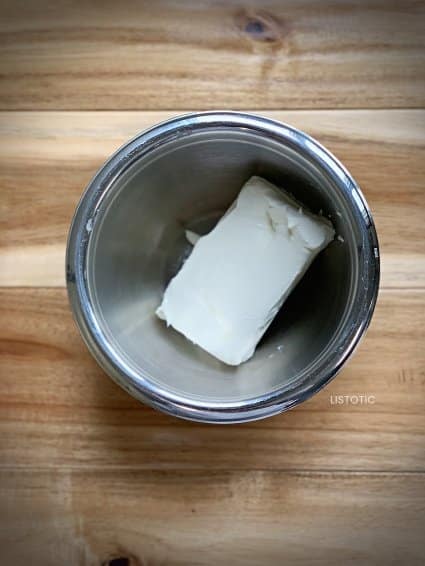 ½ cup of powdered sugar or granulated white sugar
½ cup of brown sugar
1 tablespoon vanilla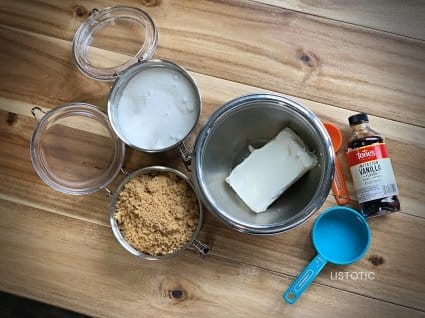 Instructions
Add all the ingredients to a bowl.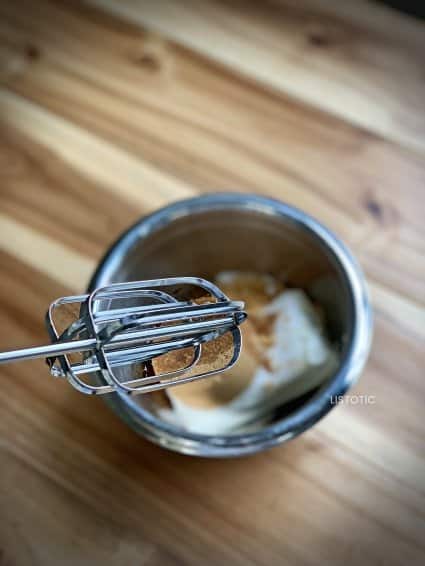 Mix with an electric mixer until smooth.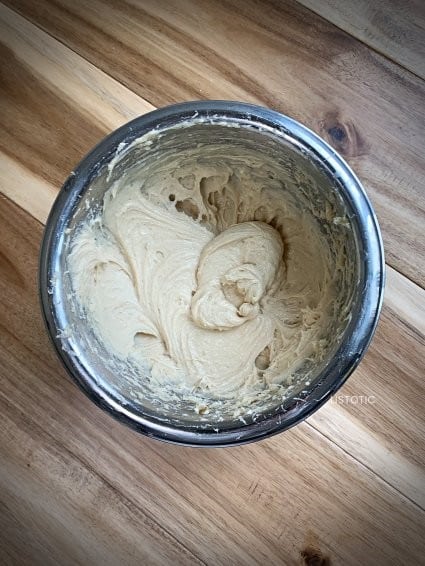 Refrigerate 30 minutes or more before serving.
Notes:
This dip can keep for several days in the refrigerator. So, you can make it ahead of time to stay organized for a party.
I like to use powdered sugar whenever possible. Powdered sugar makes it fluffier. But white granulated sugar is just as good.
Let the cream cheese get to room temperature. If you want to know how to soften cream cheese in the microwave just check out the dill pickle roll-up recipe. It is super simple!
Certainly one of the most versatile dips for fruit recipes. Serve this dip with apples, strawberries pineapple, and grapes nilla wafer cookies, or gram crackers. My kids love this dip as a dessert with Scooby-Doo gram cracker cookies!