Updated on

Sweet Chili Cream Cheese Dip Recipe – It'll Have You Coming Back For More!
This sweet chili cream cheese dip was a rare find for me, but Ohhhhh Soooooo Gooooood! One of the key ingredients is Captain Rodney's Boucan Glaze. I found it at my hometown retail shop. The shop owner suggested I try it, and it was unbelievable!
I can't remember any time that I have served this where I had any leftovers (except when it is just my husband and I and we can't possibly eat the whole thing in one sitting). There is a recipe on the bottle when you purchase it. However, I've made a few upgrades.
This post contains affiliate links. Please see our Disclaimer Policy.
Sweet chili cream cheese dip is one of my favorite dips around the holidays since it is a warm appetizer. One year, I stopped by the shop to pick up a bottle and they were out of stock. Luckily, I found it on Amazon where I can purchase it all year long. The Addictive Sweet Chili Cheese Dip makes for a great appetizer for every holiday.
Sweet Chili Cream Cheese Dip
INGREDIENTS
1/2 cup Miracle Whip
8 oz Cream Cheese
2 cups Grated Sharp Cheddar Cheese
2 green onions (chopped)
6 Ritz Crackers (crushed)
1 cup REAL Bacon Bits (or cook your own bacon)
1 cup Captain Rodney's Boucan Glaze
INSTRUCTIONS
Mix Miracle Whip, cream cheese, cheddar cheese, 2/3 cup of bacon (keep 1/3 back to sprinkle on top after baking), green onions and 1/2 cup Captain Rodney's Boucan Glaze.
Place in a greased quiche pan.
Top with cracker crumbs and bake at 350 degrees for 15 minutes.
Remove from oven and top with remaining bacon bits and glaze.
I wait with anticipation as I mix the glaze in with the Miracle Whip, cream cheese, cheddar cheese, onions, and bacon bits. Even though the original recipe called for mayonnaise, I use Miracle Whip, because I like the extra zing it offers.
A Few Tips To Making Sweet Chili Cream Cheese Dip
Tip #1: After the sweet chili cream cheese dip comes out of the oven, I will pour as much glaze as needed to create a thin coat of glaze on top of the bake – even if that means more than the 1/2 cup I have set aside. Then, I sprinkle a coating of bacon bits on top.
Tip #2: If you are taking this dip to another location, it's best to wait to put the glaze on the top until you get to your destination, because if you do it while it is still warm, and the dish tips at all, the glaze can run out of the pan. Believe me, it is a sticky, gooey mess to clean up.
Tip #3: Serve warm or refrigerate and serve cold. If you are lucky to have any leftovers, the dip gets better with age. So, refrigerate overnight and enjoy it just as much the next day! You can even warm it a little to get it back to a softer consistency which makes it easier to dip with your crackers.
Tip #4: Since I am gluten-free, I will use gluten-free crackers for the crumb crust, too. That way, I can indulge right along with everyone else. Yum!
Check out our favorite crackers that go great with this sweet chili cream cheese dip.
Easy – No Mess Crushed Crackers
When it comes to crushing crackers, it can be very messy. I used to roll them out on a piece of tin foil then pick up the tin foil and fold it in half. Finally, I'd lift the tin foil to pour the crushed bits into my recipes. The rolling pin was always a pain to clean up because it was covered with a thin film of crushed crackers.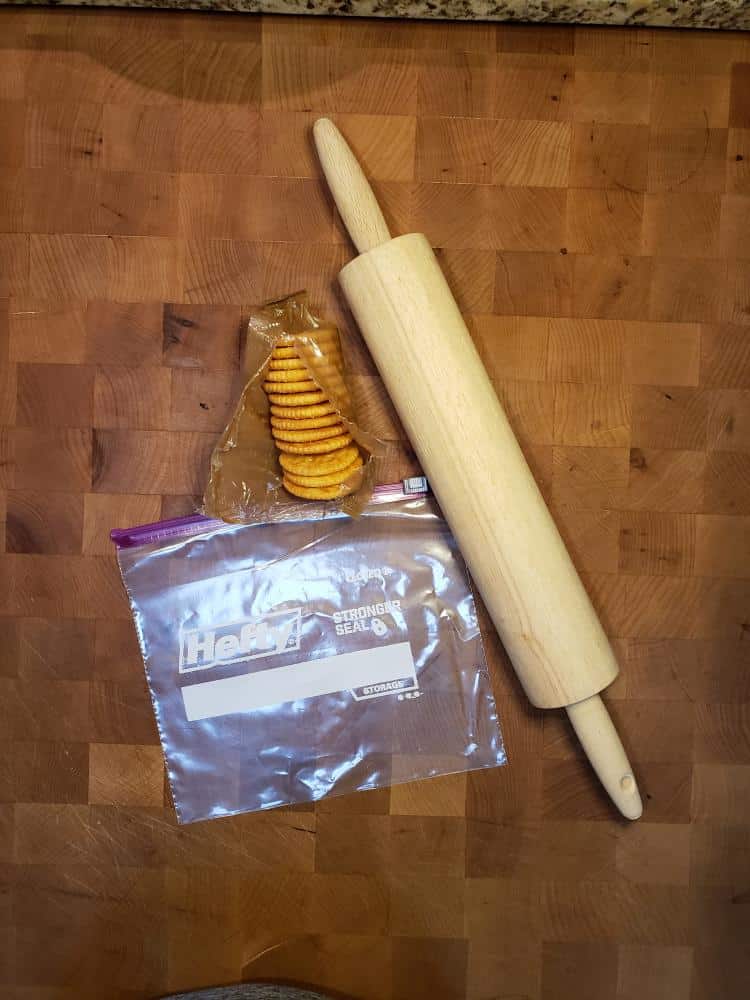 Then, I discovered Hefty zipper bags. What a quick, clean way to crush my crackers! I put the crackers in a zipper bag, push the air out, then zip it shut. Grabbing my rolling pin, I simply roll the crackers while in the bag. Ta-da! I have crushed crackers and a clean rolling pin.
Enjoy!