Last Updated on November 3, 2021
Christmas Book Advent Calendar Countdown for Kids!
One of my favorite Christmas countdown ideas! It is a book advent calendar. I wanted this to be an option for Elf on the Shelf arrival ideas. It worked and the kids loved it! This Christmas countdown activity has become a holiday tradition. It is a book Advent calendar so, kids can countdown to Christmas day.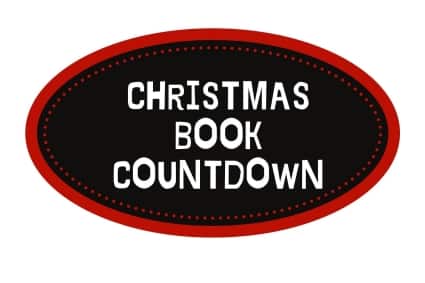 How does a Christmas book countdown work? Each day kids unwrap a numbered gift holding a Christmas picture book. Parents can read that book to the child before bedtime. The Christmas picture book can be new or old! I like to do a mixture of both.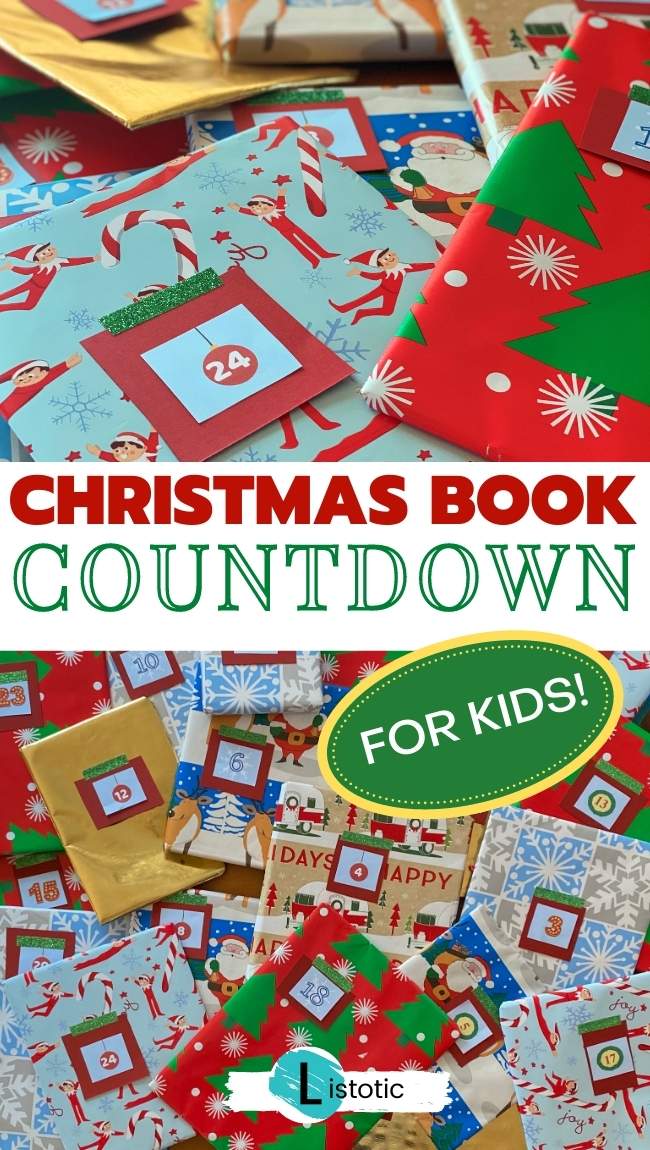 Our Elf on the shelf sets up our book Advent calendar each year. But, you can certainly do this even if you don't need elf on the shelf arrival ideas!
Remember you don't HAVE to use this for Elf on the shelf arrival ideas. But it's a fun one to get the Elf involved.
Needed materials are listed below for this Countdown to Christmas for kids!

Book Advent Calendar Materials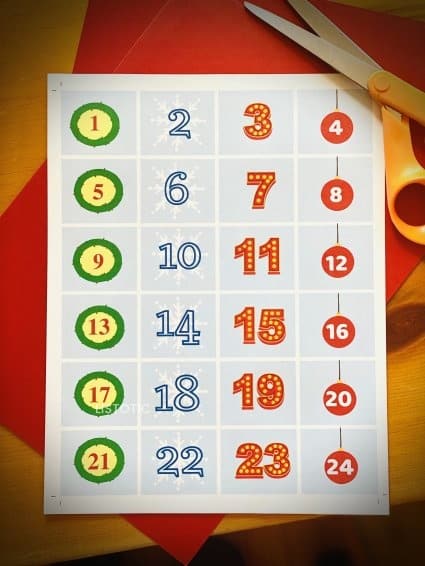 Instructions for Christmas Countdown Activity
1. First of all, you are going to want to prep this Christmas countdown activity before December 1st. Especially, if you're using it for Elf on the Shelf arrival ideas.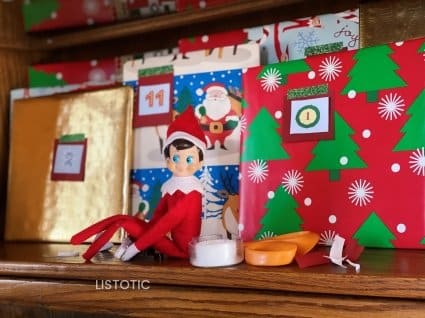 2. Place the books in the countdown order. I like to choose books that talk about the Christmas day preparations first. As Christmas day gets closer, pick the books that give meaningful lessons. For example, our countdown Christmas week is a mixture of biblical stories and the adventures of Santa.
There is no right or wrong way to do this!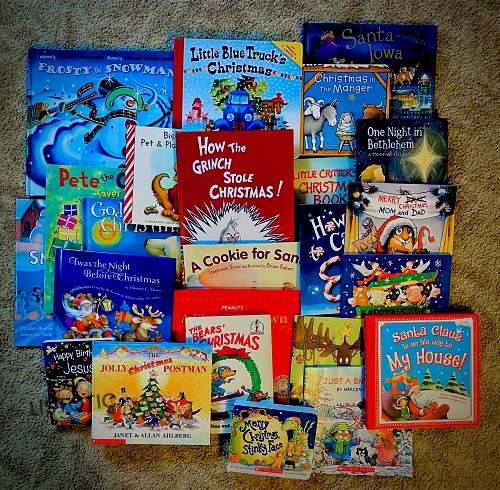 3. Trim out the numbers in this free Christmas book countdown printable. Or make your own numbering system. Are you getting a late start? Begin your countdown wherever you are at. The same goes for all Christmas countdown ideas.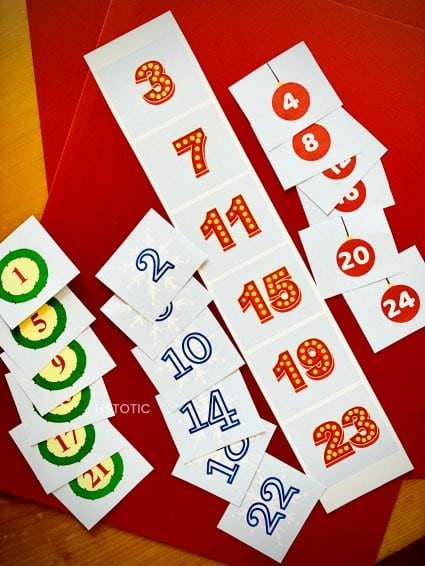 4. Wrap each Christmas book. You can either use all the same wrapping paper or use all different papers. It is a great use of partial rolls of wrapping paper from last year.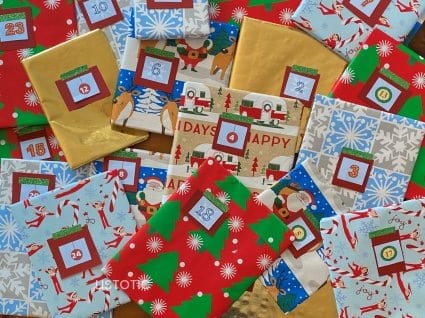 5. While you wrap each gift, attach the corresponding number. Remember the kids will start at 24 and work their way to number 1. Book number 1 gets read on Christmas Eve.
For example, save the traditional picture book such as: "The night before Christmas" for number one in the book Advent calendar.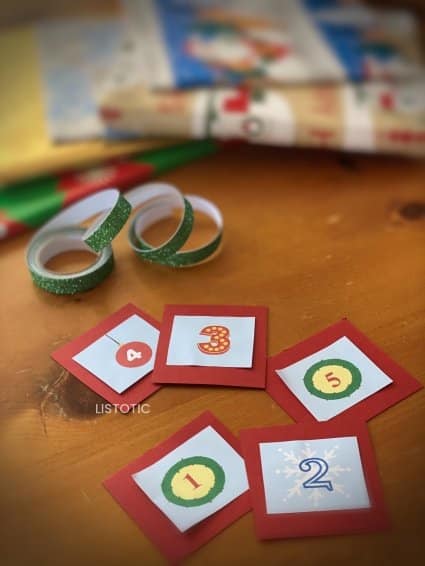 6. Order the books and choose where you would like to display the book countdown. Since this one of our Elf on the Shelf arrival ideas. The Elf chooses a place next to the Christmas tree. Attach your Free printable countdown to Christmas sign!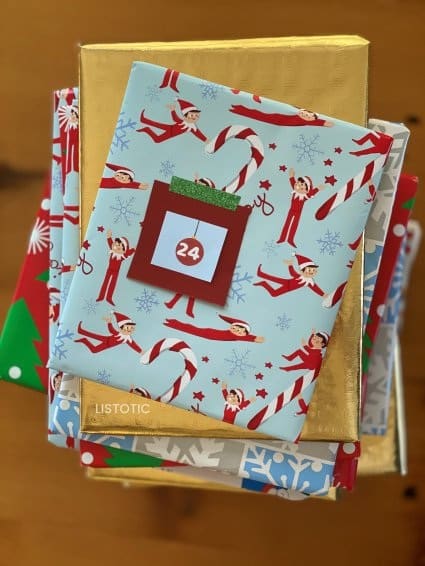 Tips and Tricks:
Need to find the right picture book Christmas countdown ideas? Click here. I list each of my favorite Christmas picture books!
Another way of organizing a book Advent calendar is stacking biggest to smallest. You can then turn the stack of books into a Christmas tree with a bow on top!
At first, when our Elf on the shelf brought this idea of a Christmas countdown activity, I worried. Would my kids think each of the wrapped gifts was something brand-new? I thought they would be disappointed when they found the books we owned already. But, to my surprise, it was fun for them. Soon they tried to guess which book it would be next. Then they would yell out "I remember this book! This one is my favorite!"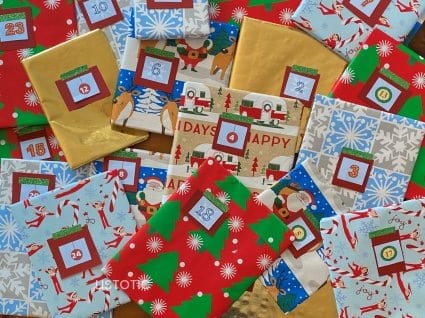 Mix in a few new books with this book Advent calendar for Christmas countdown ideas. Again if you need some help with finding new Christmas books check out this list.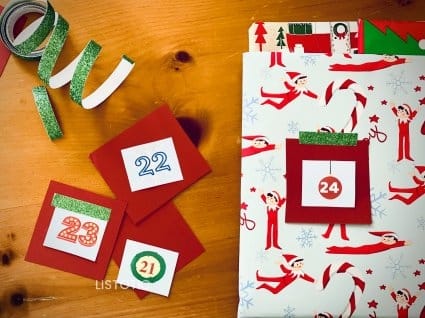 After the holidays are over, try storing away the Christmas books rather than putting them back on the bookshelf. It helps make the magic of the Christmas countdown activity come alive once again the next year. It is helpful because they recognize the books but haven't seen them since last year.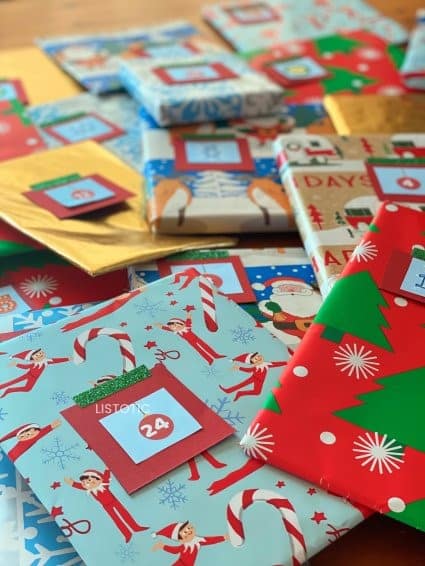 When we decorate for the holidays some Christmas picture books are usually missing. It must be because the super sneaky Elf on the Shelf has taken them for his Elf on the Shelf arrival idea!
Christmas Book Advent Calendar is also a Great Elf on the Shelf Arrival Idea!
Our Elf even went out of his way to bring books from Nana and Grandpa's house for the book Advent calendar this year! We will see if the kids recognize them!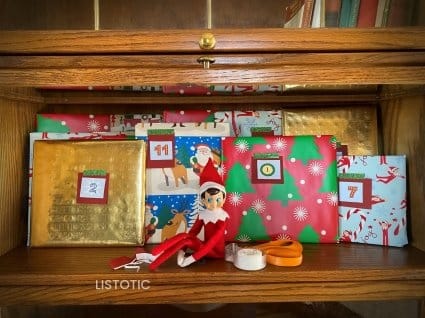 My kids love this Elf on the Shelf arrival idea. So, make sure to save this Christmas countdown idea on Pinterest. In fact, see all of Listotics Elf on the shelf Pinterest Board Ideas! Use Christmas book Advent calendars year after year for your kids, students, or Grandkids!