Last Updated on December 26, 2022
Easy holiday treats everyone will love!
Every year families get together and have a baking extravaganza making holiday treats. And, boy, is it an extravaganza! I look forward to this every year, spending either the day or week making these holiday staples. So, it's not uncommon to end up with A LOT of leftovers allowing me to gift them to family members, friends, teachers, daycare providers, and our bus driver!
In case you're overwhelmed, below you will find a nice mixture of goodies, some with only a few ingredients you can whip up in no time! Check out my list of 14 family favorite treats that made the cut this year, plus a peppermint plate to display them on. Enjoy!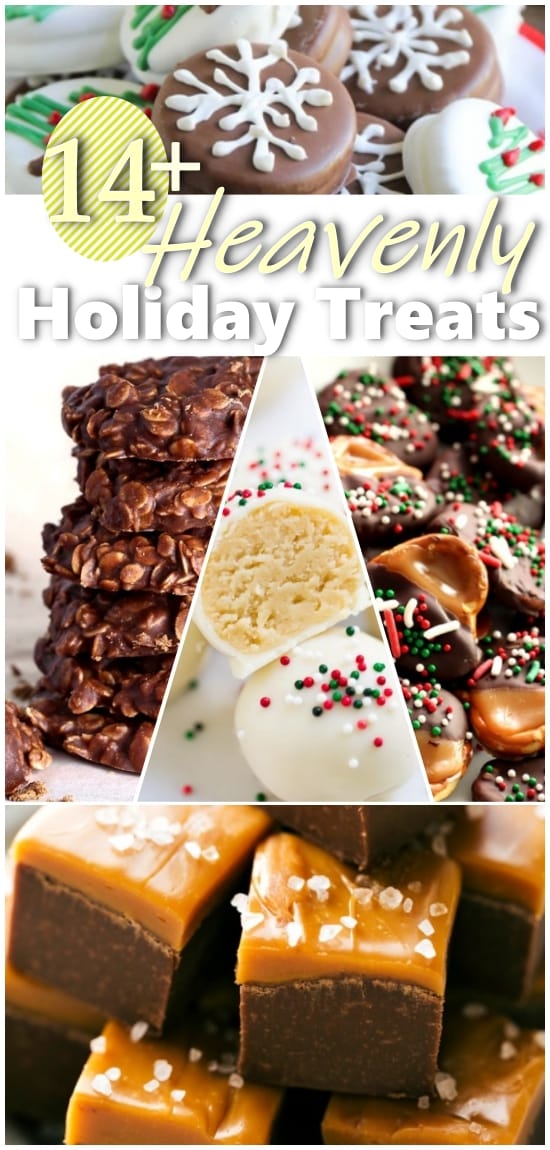 This post may contain affiliate links. Please see our Disclaimer Policy.
1. Peanut Butter Balls
Peanut butter balls are a favorite holiday treat in our house! My husband could eat his weight in these and let's not kid, so could I! I love these because they have an added crunch with the Rice Krispie cereal. Add that finishing touch with crushed up peanuts, sprinkles or drizzle of chocolate.
Head over to Mom On Timeout to get the recipe. These dry very quickly, so I highly recommend using a dipping tool, such as a fork or these handy assorted dipping tools.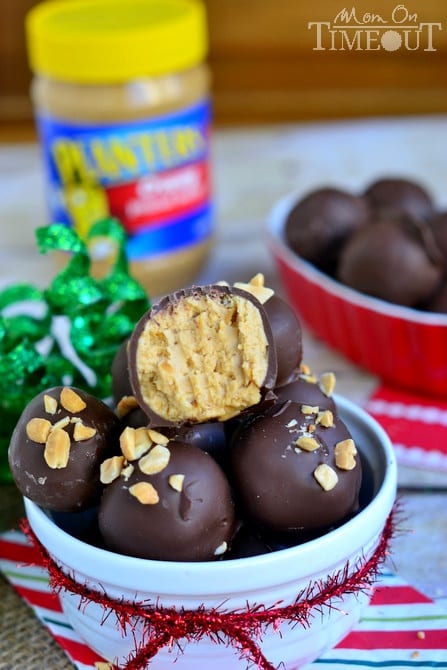 2. Lemon Shortbread cookies
I once had a dear neighbor bring me a tin of lemon shortbread cookies after we moved into the neighborhood, and I'm pretty sure they didn't even last a day! Can you tell I have a sweet tooth? Surprisingly, lemon shortbread cookies are simple, quick and delicious and only a few ingredients! I love Rosemary's blog because she shares authentic Italian recipes that not only look beautiful but sound delicious. It will make you wish you had a seat at her dinner table! Here is her recipe for these amazing cookies.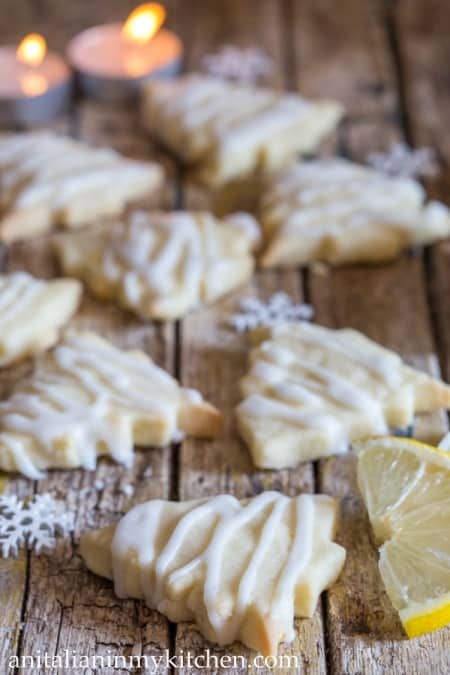 3. Chocolate Covered Peanut Butter Ritz Cookies
Chocolate covered peanut butter Ritz cookies are so, so simple! You can decorate them in a variety of ways to add some variation in color to that cookie tin! And, they taste amazing! Head over to Tastefully Eclectic for the recipe.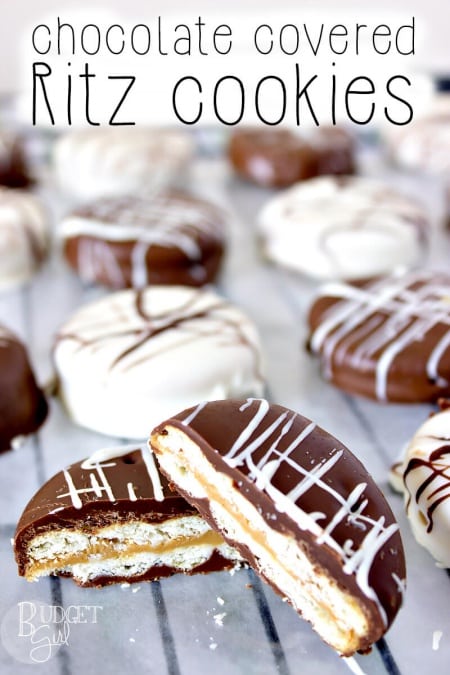 4. 5-Minute No-Bake Chocolate Oatmeal cookies
No-bake chocolate oatmeal cookies have been a classic holiday treat for me growing up. They melt in your mouth and again they are SO easy! Can you see a theme here? 😉 I love easy, quick recipes. My boys will devour these if I leave them within their grasp. Head over to Sugar Apron for the peanut butter version of this no-bake cookie recipe pictured below.
P.S. If you are not a fan of peanut butter and want to try these cookies minus the peanut butter make sure you check out our Non-peanut butter Chocolate Oatmeal No-bake Cookie Recipe @ Listotic.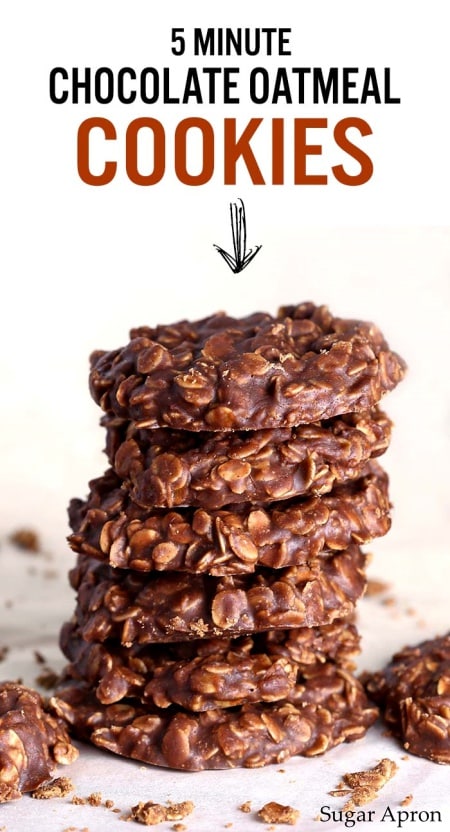 5. Peanut Brittle
A Christmas staple! Peanut brittle will add that special crunch of sweetness that will stand out from your typical cookie/fudge recipes. If you are a fan of Old Fashioned candies, then you will want to make this homemade peanut brittle from Cincy Shopper.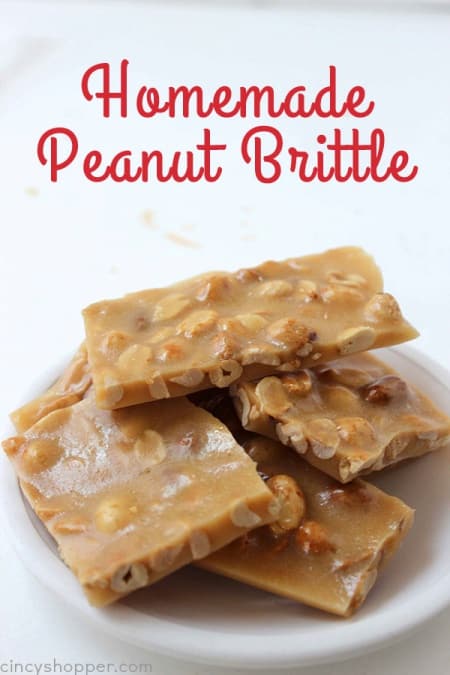 More Holiday Treats!
6. Chocolate Peanut Clusters
Two ingredients, ya'll! That's it! Dry Roasted Peanuts and Chocolate bark and BAM! You have a quick and easy holiday treat! Add some mini marshmallows, crushed up pretzels, chocolate chips, sprinkles or even toffee to spruce it up! Check out the recipe over at Dinner At The Zoo.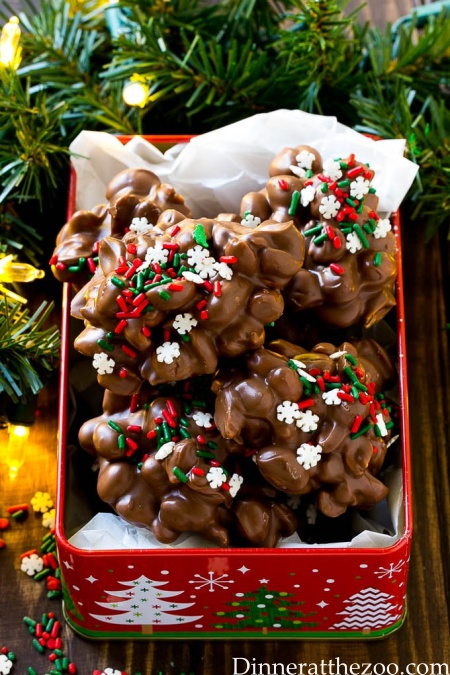 7. Salted Caramel Chocolate Fudge
You can't go wrong when it comes to fudge during the holiday season, because it is essential! This is one of my favorite fudge recipes. The best part? 5 ingredients and a microwave are all you need! Thank Chelsea from Chelsea's Messy Apron for this recipe because let's face it, we do not want to spend hours in the kitchen! These will surely impress! Check out the recipe.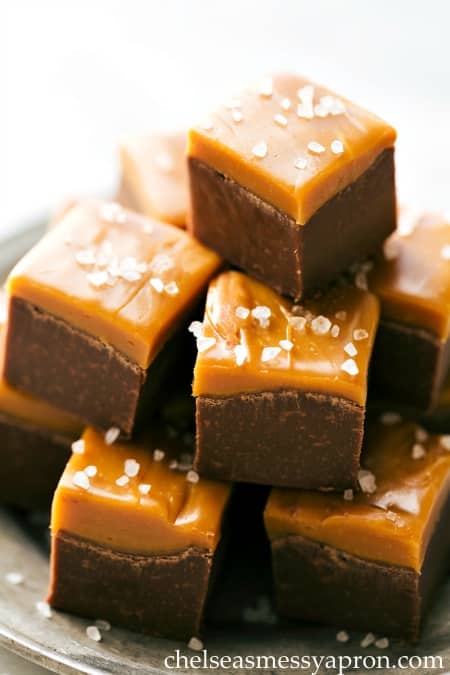 8. Sugar Cookie Truffles
With only 4 ingredients, you'll have a sweet treat for the holidays! Jamielyn delivers a delicious melt in your mouth recipe over at I Heart Naptime.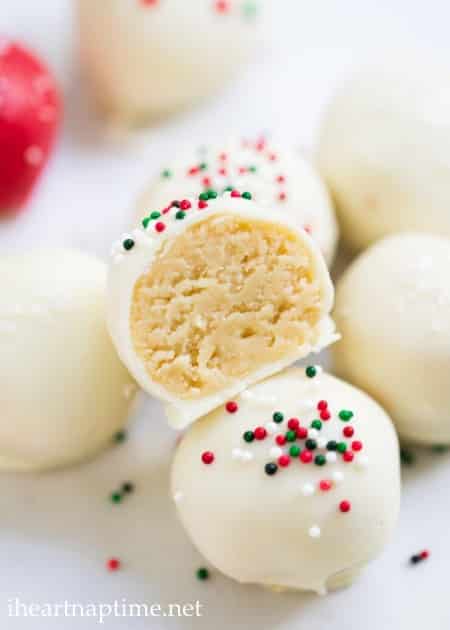 9. Chocolate Caramel Pretzel Bites
Do you have any caramel and chocolate lovers in your life? Then they will love a gift basket filled with these delicious bites. They are so festive with the sprinkles! If you don't gift them, watch out, because you won't be able to keep these around for very long. This recipe is a crowd favorite over at Anna's house. Get the recipe from Crunchy Creamy Sweet.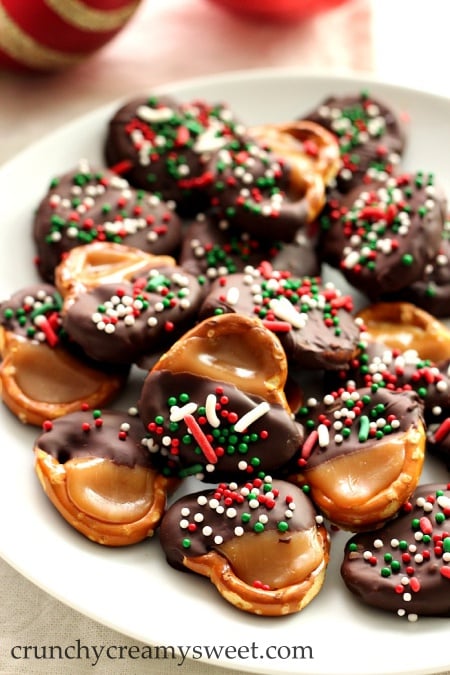 10. Homemade Turtles
I love candy turtles, even better homemade turtles! Growing up, these were always on my Christmas list! So, go get cooking with this recipe.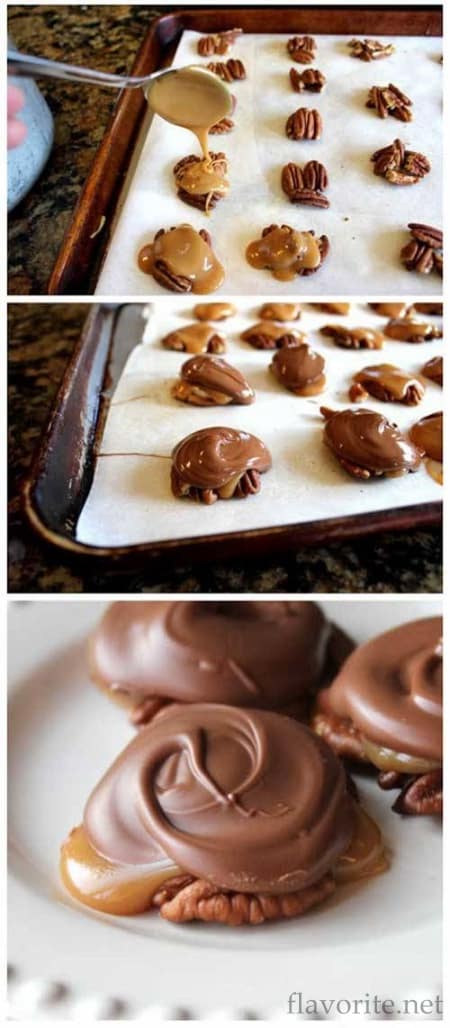 And, Even More Holiday Treats!
11. Peanut Butter Cup Pretzels
During the holiday season, you can purchase a bag of holiday pretzels (stockings, trees, stars, bells) for an added festive look. The finished product will look great in a cellophane bag that is perfect for quick gifting! Check out the recipe from The Gunny Sack. Aren't these cellophane bags fun for the holidays?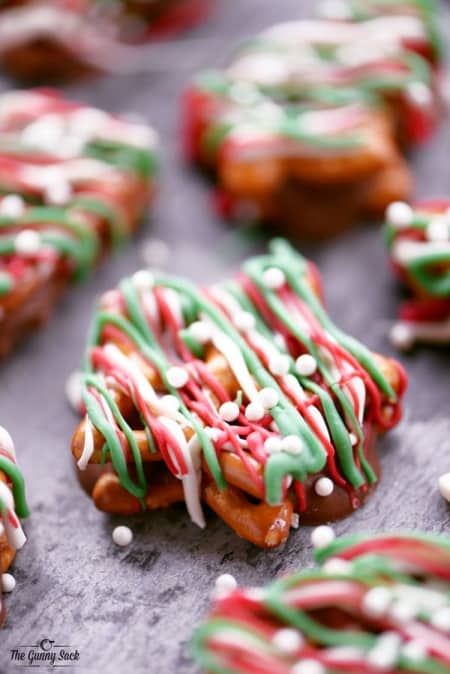 12. No Bake Coconut Snowball Bites
Now, aren't these a great idea for that Holiday candy exchange you have fast approaching? No-bake snowballs take 5 minutes to make and taste just like candy. Head over to For The Family for the recipe.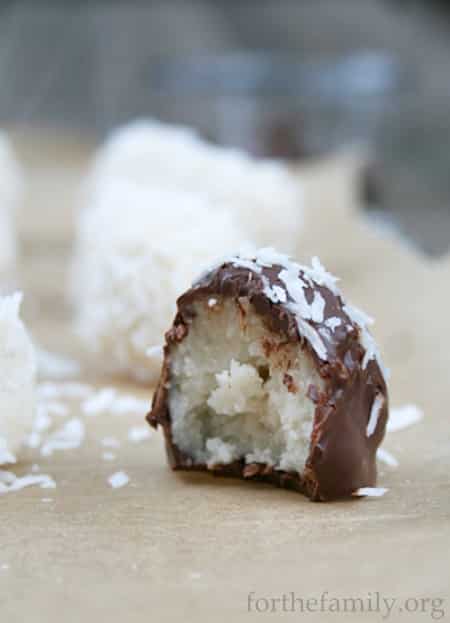 13. Chocolate Crinkle Cookies
I am obsessed with these cookies! If you haven't tried them, then you need to! The crinkle cookies are rich and light and oh so good! Plus, you can also spruce it up by adding mint extract. Get the recipe from Simply Recipes.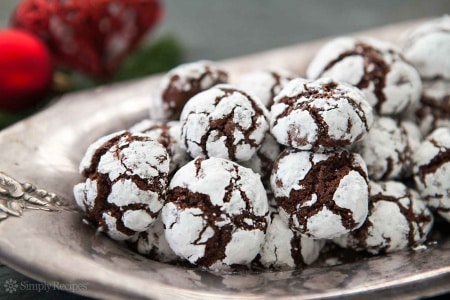 14. Oreo Dipped Snowflakes
What's better than Oreo's? Oh yes, Oreo's dipped in chocolate of course! Consequently, these are a must on my baking list. Head over to I Heart Naptime for the recipe.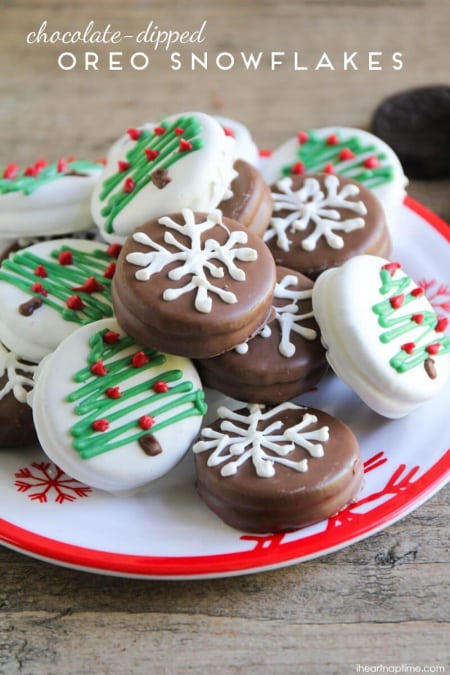 These festive reindeer cupcakes are a simple and easy diy dessert. I mean look at how adorable these are? They taste even cuter than they look! I love the idea of having your own little herd of reindeer but don't forget that special red nose reindeer, Rudolph!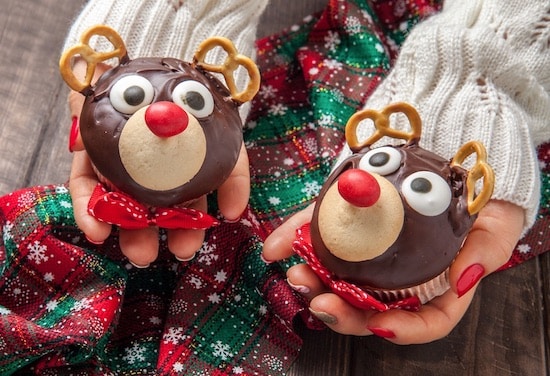 These melting snowman cookies are adorable and are a sure way to cheer up your Christmas plate! They would make a great cookie for that Christmas cookie exchange! They are also extremely simple to make.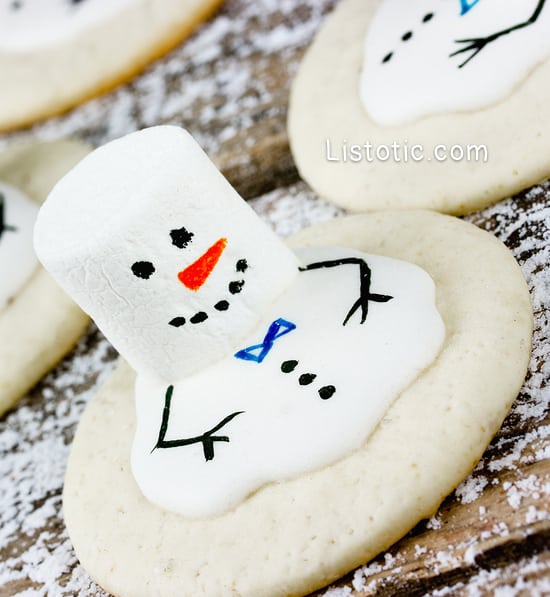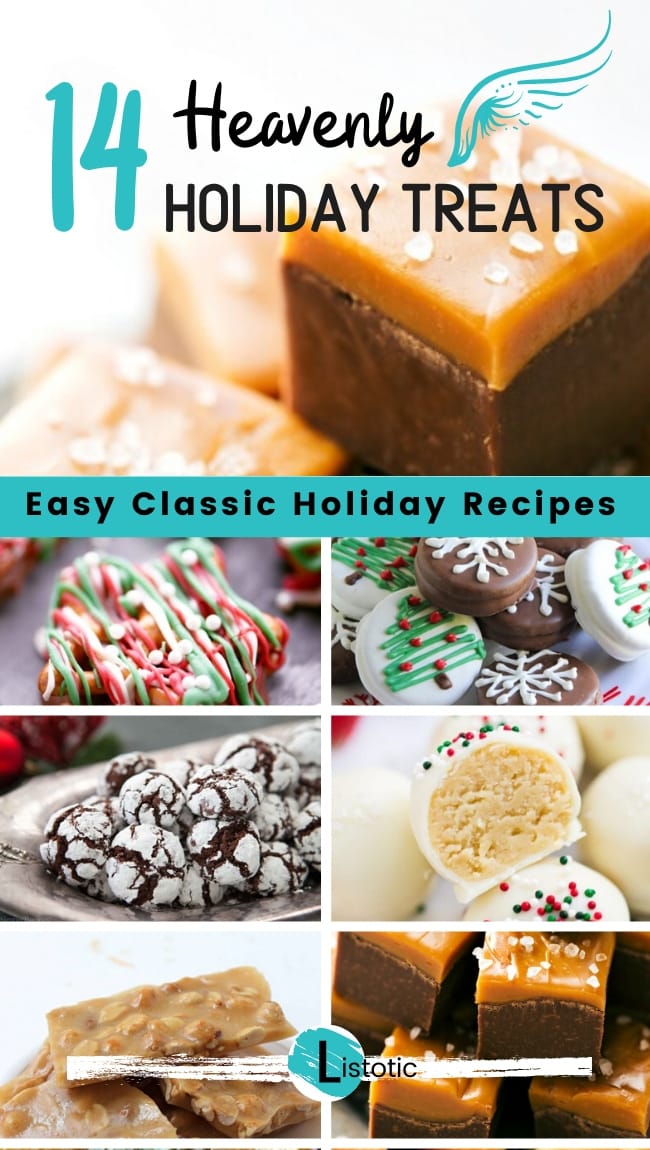 Contributed by: Andrea
Once you've made these delicious holiday treats, you need a creative way to display them for all to see and enjoy! Try out this quick holiday mint plate made from peppermints.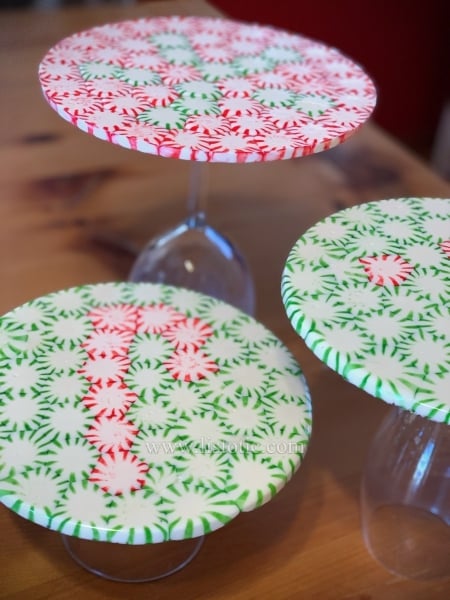 18. Need a way to package all of these yummy goodies for a gift?
Check out my favorite gift options here: