Last Updated on September 12, 2023
Nothing screams fall like a classic pumpkin roll recipe with cream cheese filling! This pumpkin roll cake is so easy to make, you'll want to make this recipe many times over this fall. This easy pumpkin roll recipe is genuinely so simple! Do not be fooled by the rolling part- it is surprisingly easy and quick making you look like a master in the kitchen. Everyone will ask you for this pumpkin dessert at future holiday get-togethers!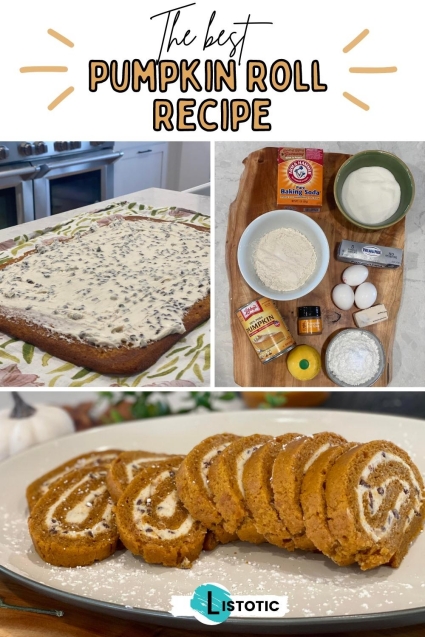 This post contains affiliate links. Please see our Disclaimer Policy.
Why you'll love this recipe!
This pumpkin roll recipe with cream cheese frosting is perfect for any fall gathering. It is the perfect combination of pumpkin and cream cheese.
How do I keep my pumpkin roll from cracking?
This is an important step. Make sure you roll your cake prior to cooling. As a result, it will help prevent your cake from cracking. The first time I made this recipe, I made the mistake of not rolling the cake up prior to cooling. As a result, it ended up cracking with every roll. Instead, roll the pumpkin cake first prior to cooling to ensure it will not tear.
Do I need to refrigerate my pumpkin roll?
Yes! You will need to refrigerate your pumpkin dessert since it does have cream cheese as the filling. In my opinion, it tastes better served cold.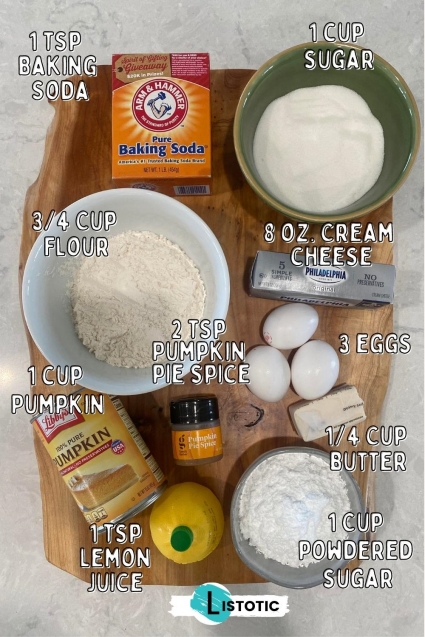 Additions
Another simple way to change up the recipe is by adding mini chocolate chips to the cream cheese filling. I love the added crunch and the richness the chocolate chips add to this pumpkin roll recipe! I mean, who doesn't love a little chocolate in their dessert? You could also add 1/4 tsp of cinnamon to the cream cheese mixture for an added fall spice taste. As a result, you will end up with a delicious fall pumpkin dessert!
How To Make This Pumpkin Roll Recipe
Step 1:
Preheat oven to 375 degrees. Generously spray a jelly roll pan with sides or line the pan with parchment paper. Set aside.
Step 2:
In a large bowl combine flour, sugar, baking soda, pumpkin pie spice, baking soda, pumpkin, eggs, lemon juice, and vanilla. Mix until well combined.
Step 3:
Evenly spread the pumpkin cake mixture in a prepared jelly roll pan with sides. Bake for 15 minutes.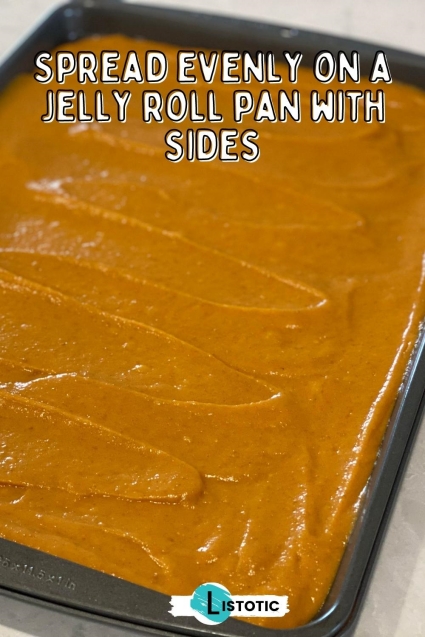 Step 4:
While the cake bakes lay out a thin kitchen tea towel and dust it with ¼ cup powdered sugar. Set aside a large cutting board for the dusted cake transfer.
Step 5:
When the pumpkin dessert cake is finished baking, simply use the tip of a knife to run along the edges of the cake to allow for easy transfer to the tea towel.
Step 6:
Carefully flip the dusted tea towel on top of the baked cake, dusted side against the cake. Place the large cutting board on top of the tea towel. While using oven mitts, flip the cake onto the cutting board.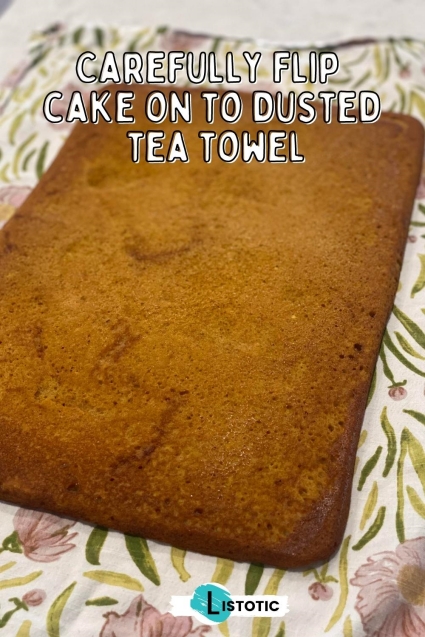 Step 7:
If you used parchment paper, gently peel it away and discard. With a small sifter lightly dust the top of the pumpkin cake with powdered sugar.
Step 8:
Carefully begin rolling the pumpkin cake from one end to the other until completely rolled. Transfer to a cooling rack to allow the pumpkin cake roll to completely cool.
Filling
Step 1:
While using a mixing bowl and a handheld mixer, combine softened cream cheese, vanilla, and softened butter until smooth, about 1-2 minutes.
Step 2:
Reduce the mixer speed to low and gently add the powdered sugar. Next, increase the mixer speed to medium and continue mixing until completely smooth. Cover and chill in the refrigerator until ready to fill the roll once cooled. Remove the filling from the refrigerator 10 minutes prior to assembling the cake roll.
Assembling the Cake
Step 1:
Once the pumpkin cake roll is completely cooled, very slowly and gently unroll it.
Step 2:
While using a silicone spatula, gently spread the cream cheese filling onto the pumpkin roll cake evenly. Avoid spreading the mixture to the edge of the cake.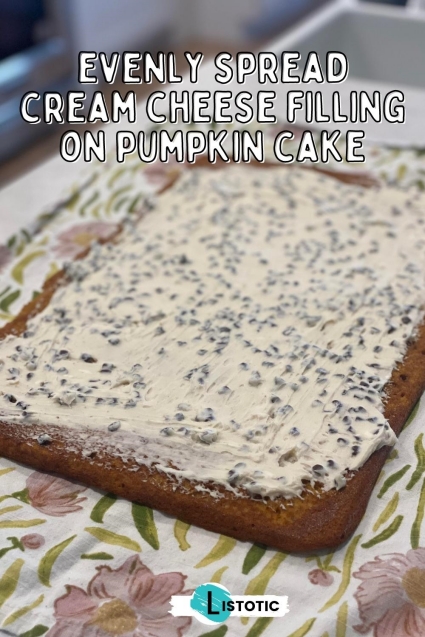 Step 3:
Once the filling is spread, start to gently fold the pumpkin roll with even pressure until completely rolled. Wrap the pumpkin roll in plastic wrap and place it in the fridge for 3 hours or overnight to ensure the pumpkin roll will hold its shape.
Step 4:
Prior to serving, unwrap the pumpkin roll and slice it with a serrated knife. Dust with powdered sugar and serve!
Serving Suggestions
Top with mini chocolate chips or serve this pumpkin cake roll with whipped cream or vanilla ice cream. As a result, you will have an amazing pumpkin dessert!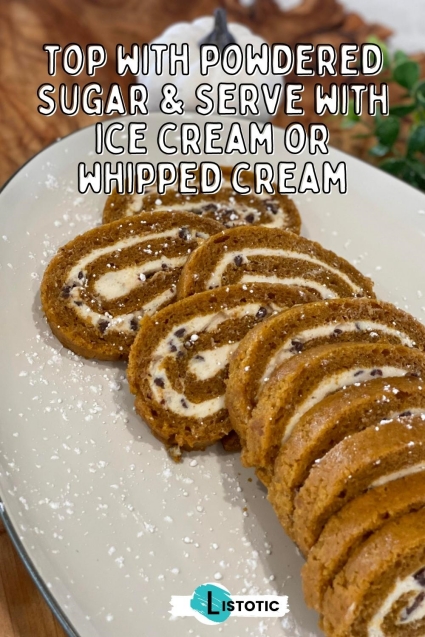 Storage Suggestions
FRIDGE: Store any leftovers of the pumpkin roll cake tightly wrapped in the refrigerator for up to 7 days.
FREEZER: You can freeze the plastic-wrapped, uncut cake for up to 3 months. Be sure to wrap aluminum foil around the plastic-wrapped pumpkin roll prior to freezing. And wah-lah you'll have a perfect fall pumpkin dessert for future gatherings!
Recipe:
Print The Most Delicious Pumpkin Roll Recipe
Author:

Prep Time:

10

Cook Time:

15

Total Time:

25 minutes
---
Description
The easiest classic fall pumpkin roll dessert with cream cheese frosting! 
---
For the cake:
1 tsp vanilla
For the filling:
1 8 oz package cream cheese, room temperature
1/4 cup butter, room temperature
Optional: mini chocolate chips added to the cream cheese filling
---
Instructions
Preheat the oven to 375. Mix all the cake ingredients and pour into a greased jelly roll pan or cookie sheet with sides. Bake for 15 minutes. While baking, get a hand towel, piece of linen, or other cloth and dampen it, then sprinkle with powdered sugar. When the cake is finished baking, you are going to let it cool for a couple of minutes, then flip it onto that towel. Roll up the cake and the towel from the short end and allow to cool for 20 minutes.
(This will help it keep that rolled shape once you fill it.)
 While it's cooling, beat the cream cheese and butter together, then add vanilla and powdered sugar. Unroll the cake and towel and spread the filling evenly across the cake. Roll back up, this time without the towel, and wrap tightly in plastic wrap before refrigerating. Serve chilled, cut into 1/4″ slices with more powdered sugar sprinkled on top, if desired.
---
Notes
Do not forget to roll the cake before cooling.
Add mini chocolate chips to the cream cheese filling for an added crunch
Add cinnamon to the cream cheese filling for a fall-spice dessert
Another favorite fall recipe is this amazing Apple Crisp dessert! Check out this microwavable cinnamon apple crisp recipe if you're in a pinch and want something sweet. It's my go-to when I need a quick dessert.