Last Updated on June 11, 2020
You might find this to be a bit strange, but there isn't any ACTUAL Butterfinger in this fudge. So why is it called Butterfinger Fudge? Because it tastes just like it! Just like most fudge, it's super-rich and extremely satisfying.

13. Oreo Owl Cupcakes
Ok, there aren't any actual instructions needed for these adorable owl cupcakes. As long as you know what an Oreo is, I think you can figure it out. I just get store-bought chocolate cupcakes, and then I'm only left with the fun part– assembling the cute little owl face! The only bad thing about these cupcakes is figuring out what to do with the non-frosted side of the Oreos? I guess you'll just have to eat them. By the way, a candy corn or M&M nose also looks super cute in place of the orange frosting!

14. Halloween Fruit Snacks
Healthy Halloween snacks aren't always something to get excited about, but if you're creative enough, the kids will eat just about anything that is as cute and fun as these ghost bananas and clementines! Just use your imagination when serving snacks and meals to the kiddos around the holidays. Sometimes it's the little things that will get you the biggest smiles.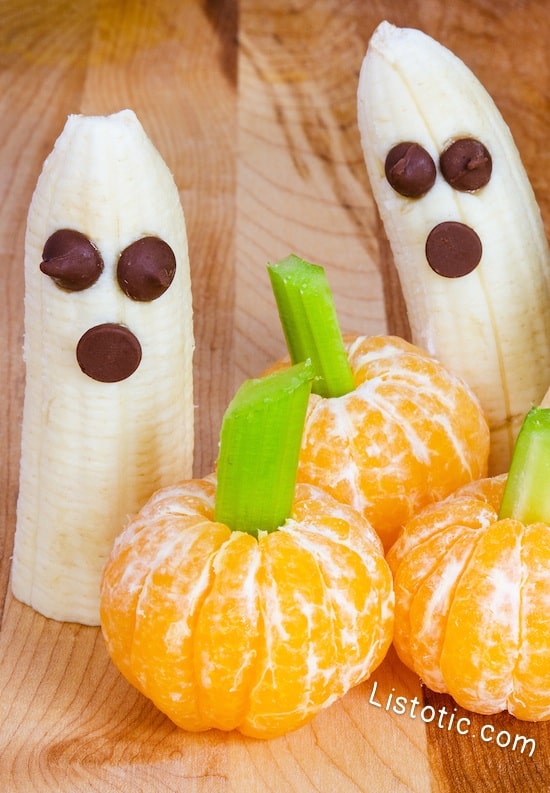 View the entire list of Super Easy Halloween Treats for Kids and Adults.
---