Last Updated on November 13, 2021
3. Peanut Butter Oat Squares
This quick, no-bake 3 ingredient treat is just too good to pass up! My kids love them, and I certainly don't feel guilty eating a few squares myself. Yeah, they have some sugar but they're also full of fiber and protein– certainly better than the store-bought squares!
Kick it up a notch with mini chocolate chips! 🙂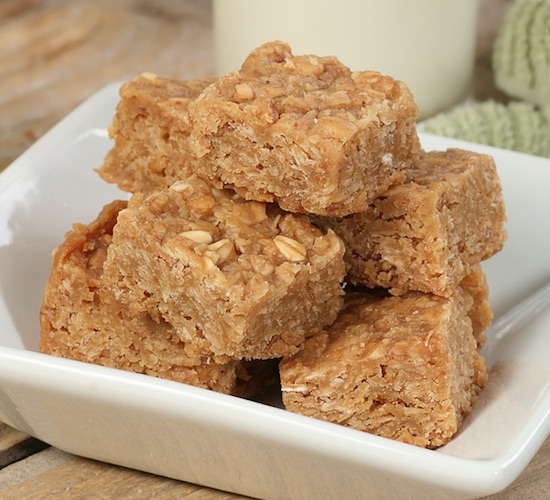 Print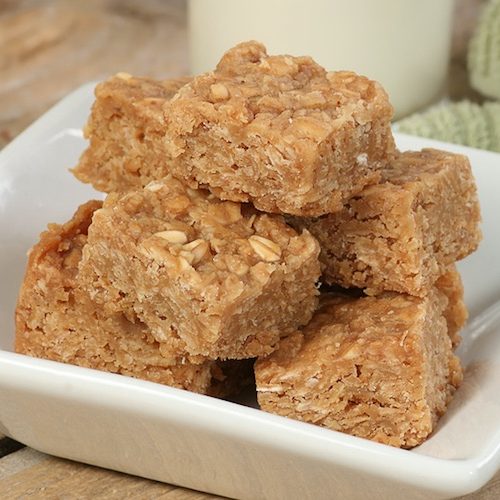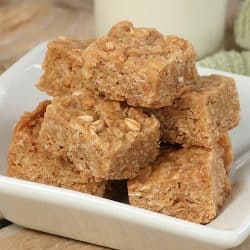 Peanut Butter Oat Squares
Author:

Prep Time:

15 Minutes

Cook Time:

1-2 Minutes

Total Time:

About 20 Minutes
---
1 cup

peanut butter

3 cups

oats

1/2 cup

honey
---
Instructions
Line a 9×9 pan with non-stick foil, or regular foil as long as you use a non-stick spray.
Melt the honey and peanut butter together until it's smooth enough to mix with the oats. I do this in the microwave for approximately 1-2 minutes because it's faster, but you can also melt it on the stove top if you'd prefer.
Combine the mixture with the oats (start off with 2 cups and slowly add the rest as you may need less depending on your peanut butter and honey brand), and then mix well.
Pour it into your prepared pan, and then store it in the refrigerator for a few hours until it's set enough to cut into squares. You can store them in the refrigerator to keep them firm, or leave them out if you like them soft and sticky.
---
Notes
Unfortunately, this recipe doesn't work as well with natural peanut butter (the stir kind), so don't try it. I'd much prefer natural peanut butter, but it doesn't really melt or hold things together for me, although I've had reviewers that have said it worked for them. I suppose it really just depends on the brand.
Try substituting the oats for Cheerios or other similar cereals.
Feel free to mix in other things like peanuts, flax seed, or mini chocolate chips. If you do decide to add chocolate chips, sprinkle them on the top after it cools for 5 minutes instead of mixing them in because they will melt.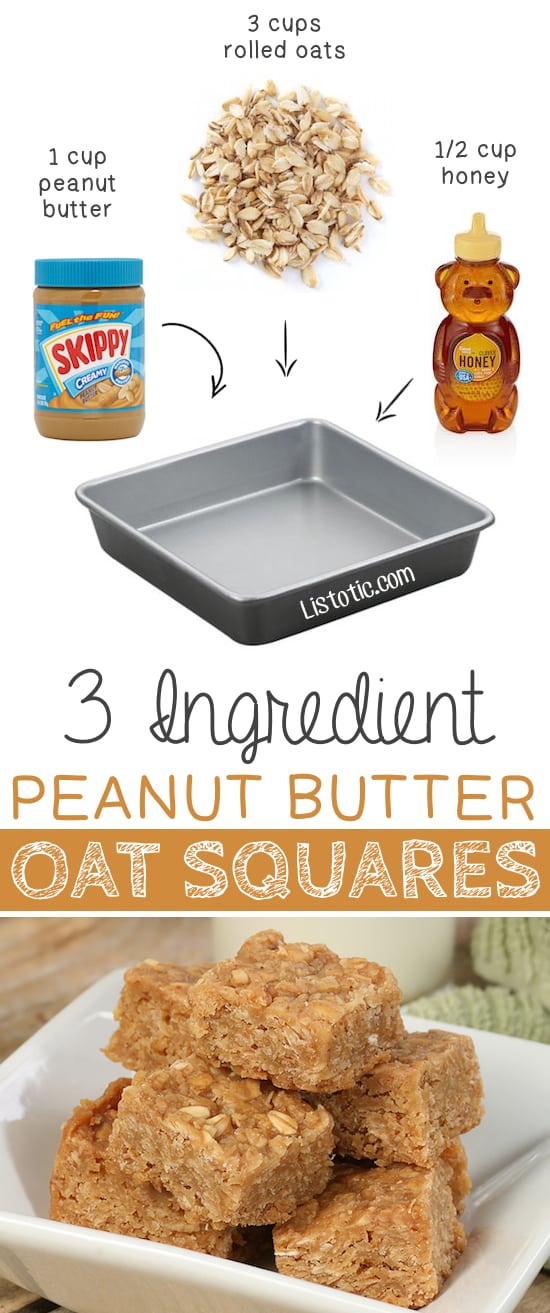 ---
Images Below Link To The Full Instructions
---