Last Updated on November 4, 2021
It's a new tradition – delivery driver snack signs!
Yep, it's true delivery driver snack signs are a new tradition and I'm all in! Do you tend to get a lot of packages around the holidays? If so, consider setting out a "Thank you, delivery drivers." This is a popular gift-giving trend for the season. All it takes is a sign and a basket of goodies. And guess what? You are in luck because I made it easier for you to participate. Save yourself some time with a free delivery driver porch snacks printable.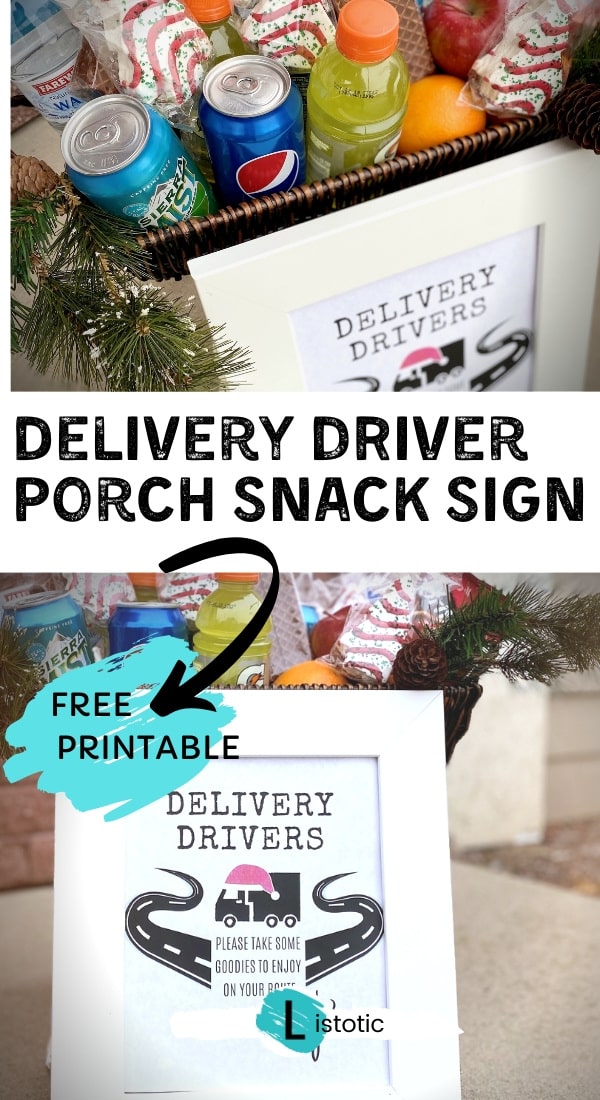 Holiday packages start arriving at my door month of September. They continue until my Holiday shopping is complete. (Which is around Dec 24th!) So, we have a delivery truck visit at least 1-2 times a week!
I know I'm not the only one who gets this many UPS and FedEx visits! So, social media has helped to spread a new holiday tradition. A Holiday tradition of setting out a delivery driver snack sign with goodies. Just watch this delivery driver's excitement when offered a simple kindness.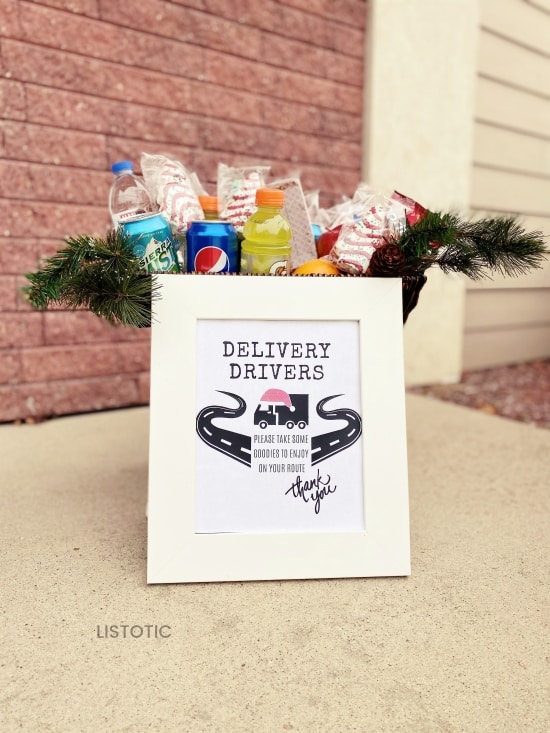 To help show your Delivery Driver Appreciation this holiday season, I have a free printable for you!
How to set out a Delivery Driver Snack Sign
First, print the delivery driver snack sign.
Next, place it with a few healthy snacks or tempting goodies outside your door.
Finally, watch and see the smiles with each delivery! Your busy delivery driver will surely appreciate the kindness. Especially in the crazy-busy weeks leading up to the holidays.
Simply place this note outside your door with a basket of handy snacks, water, soda, something healthy or candy!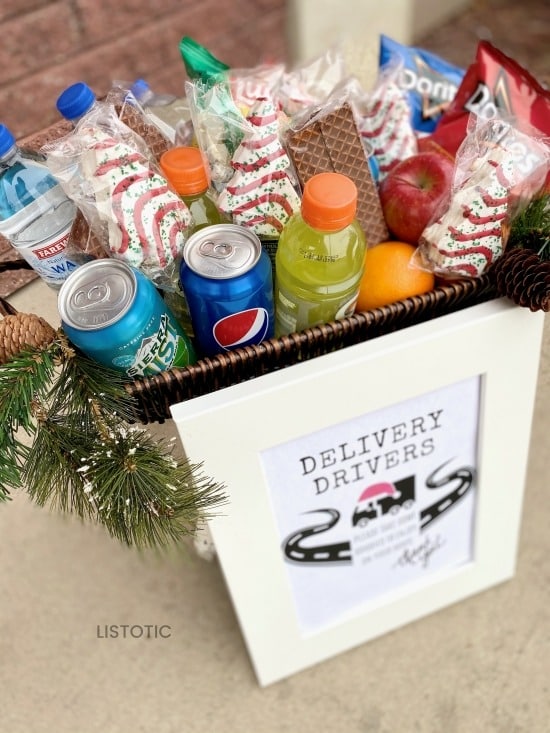 Click Here to print your delivery driver porch snacks printable for free.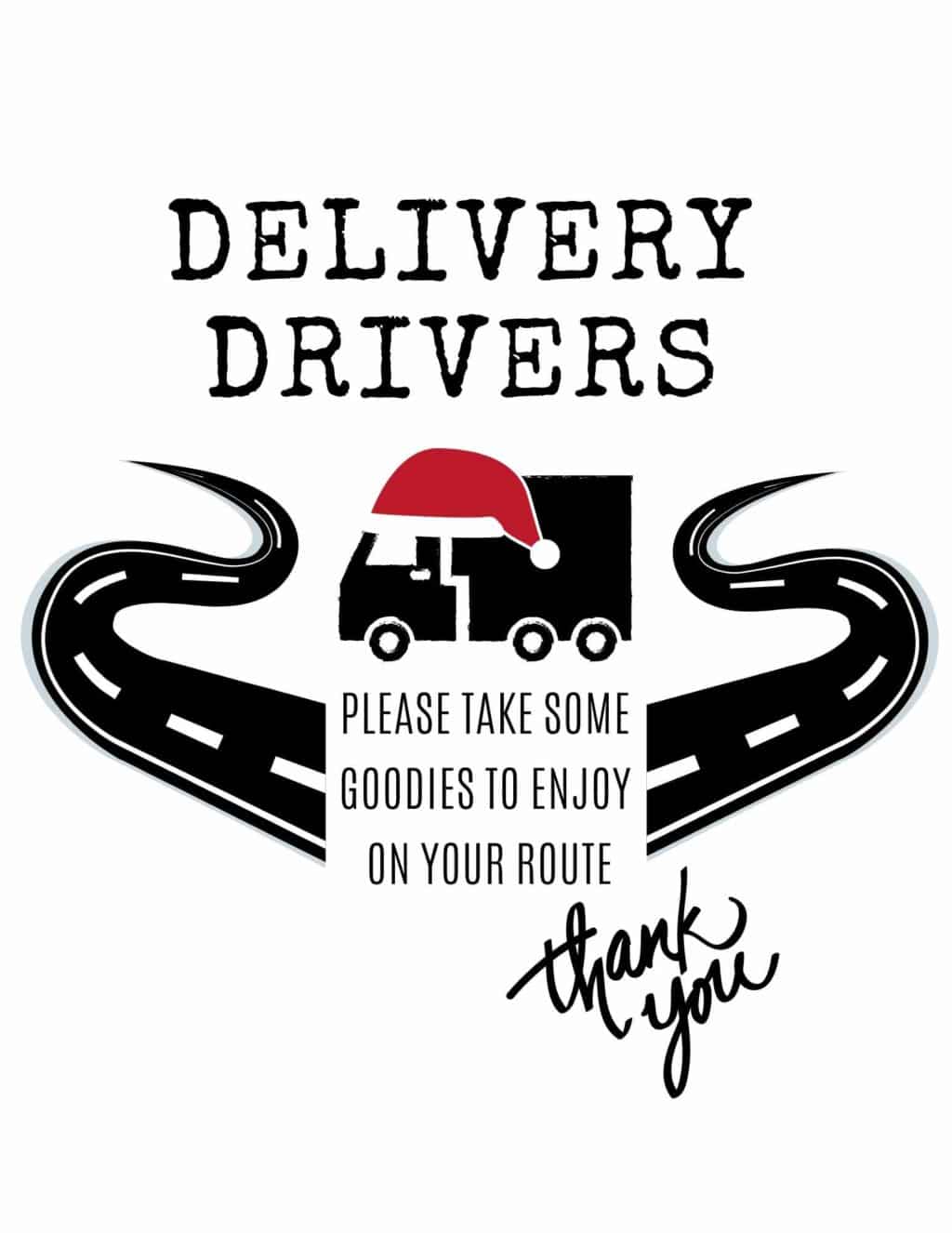 Are you wondering, do delivery drivers take items out of the goodie basket? The answer is yes, they certainly do! I had 3 delivery drivers show up within an hour of placing the basket outside the door. They all happily took a snack from the basket. I was so happy! (and I think they were too!)

What goodies to do add to the basket?
So, what goes into your delivery driver porch snack basket? I did a variety of snacks that tend to go over well. Soda, water, Gatorade, chips, fruit, and holiday treats. But it's up to you! The most important part is that you are saying "Thank you, delivery drivers!"
I love all the parts of the holiday that help us spread joy to others because that is what it is all about. Happy Holidays and Merry Christmas from the ladies at Listotic!