Last Updated on November 1, 2023
Ghost Cupcakes and Ghost Cookie Recipes… because Decorating with Ghosts for Halloween is foolproof.
When it comes to Halloween, you can really get a big bang for your buck when you go with ghost cupcake ideas. Face it, Halloween is all about the treats. From Edible Halloween Cupcake Toppers to Nutter Butter Ghost Cookies and this post is going to get spooky quick.
Let's run through some fun (but more importantly EASY) ideas for Halloween Ghost cupcakes and Cookies ideas. When it comes to the Ghost theme for Halloween you can't get much easier. Ghost Costumes and Ghost Decorations are easy to DIY plus the Ghost treats are foolproof! Here are some super easy Halloween Ghost Cupcakes and Cookie decorating ideas.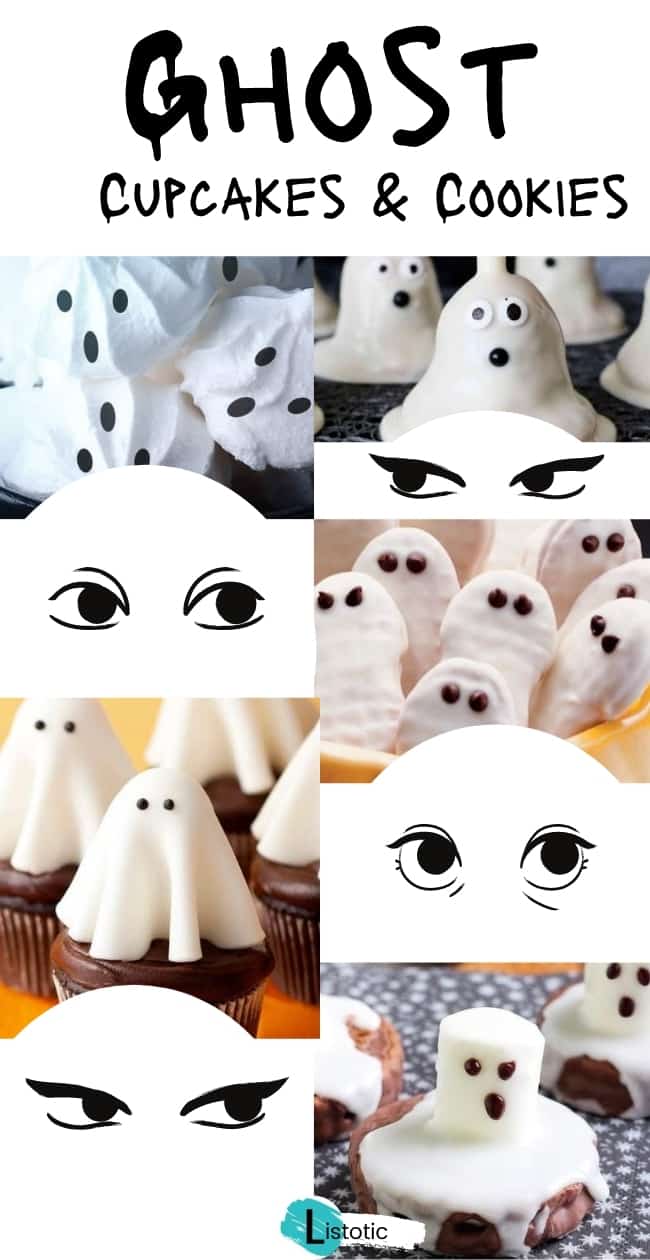 Get your Halloween heebie-jeebies with these ghostly Treats!
You don't even have to make the cookies for this easy Halloween Ghost Cookie idea. Just purchase chocolate cookies like Oreos, marshmallows, and frosting and get going on these ghost cookie treats. They look really impressive but aren't hard at all to make.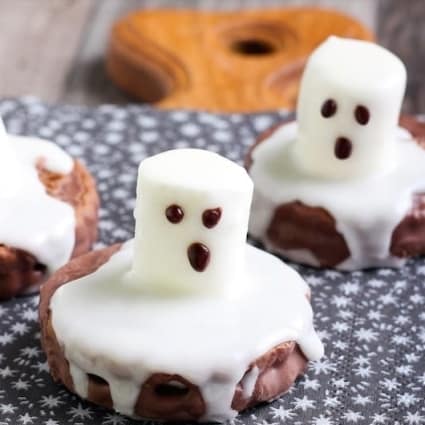 Source: Listotic
Only 3 ingredients are needed for this fun decorated Ghost Cookie Recipe. How much easier can this get? A Box of peanut butter filled cookies plus two other ingredients that you most likely already have in your house? I'm guessing you'll have these whipped up in 15 minutes especially if you have some little ones helping you! You can easily turn this idea into some Ghost Cupcakes by just sticking the bottom end of the Nutter Butter Ghost Cookie into the top of a frosted white cupcake.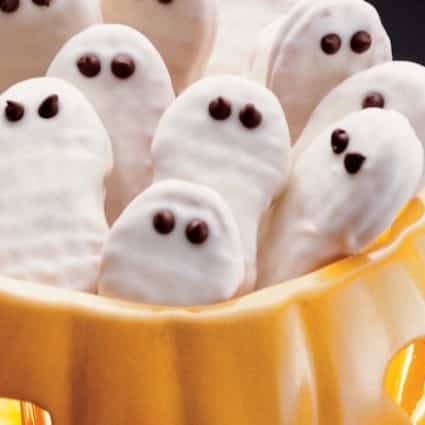 Source: Pillsbury.com
Dum Dums and fondant make these Ghost Cupcakes super spooky and fun. Again… don't worry if you don't feel like baking because you can purchase some chocolate frosted cupcakes for this idea. I know the idea of fondant sounds way too fancy. But you don't have to be a wedding cake chef to use it. Imagine the kids' surprise when they not only get a Ghost Cupcake, but they also get a dum dum lollipop! Bring on the candy!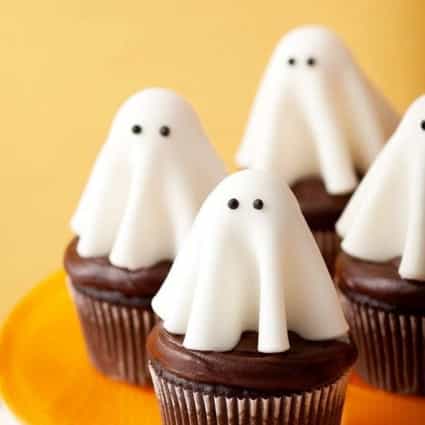 Source: Tarateaspoon.com
First of all, kids love cake pops and I have to say as a mom so do I! Not only are they handy finger food dessert that doesn't usually end up in a whole bunch of crumbs all over the floor but they are also fun to eat. Because anything on a stick is fun to eat! I like the way These cake pops are upside down and can be shaped to look like a ghost or you can do the regular ball shape and let the frosting make the white puddle around the bottom of your Ghost Halloween Cake Pops.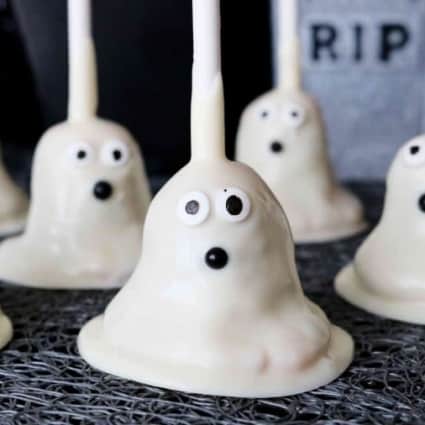 Source: The Anthony Kitchen
Edible Halloween Cupcake Toppers are the solution to your simple Halloween Ghost Cupcakes. These Ghost Meringues are the easiest idea yet. Just purchase the premade Meringues (I recommend the meringues at Trader Joes) and add some eyes with edible food coloring markers. Top your cupcakes with these simple edible ghost cupcake toppers and just listen to all the OOOhhh and Ahhhs or is that BOOOO and AAIEEEEEE?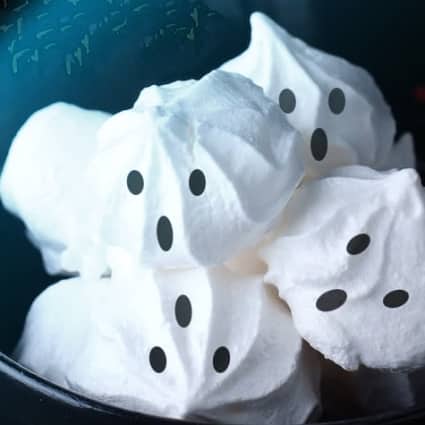 Source: Listotic