Last Updated on April 10, 2023
From Easter breakfast to Easter Brunch to casserole recipes to prepare for Mother's Day, Thanksgiving or as an everyday meal this list is packed with tons of flavor and a number one requirement- something easy and quick to prepare! So, avoid playing short-order cook and scroll below. You'll discover some incredible traditional staples and some recipes with a simple twist on a classic! Below are our top recipes that made the cut.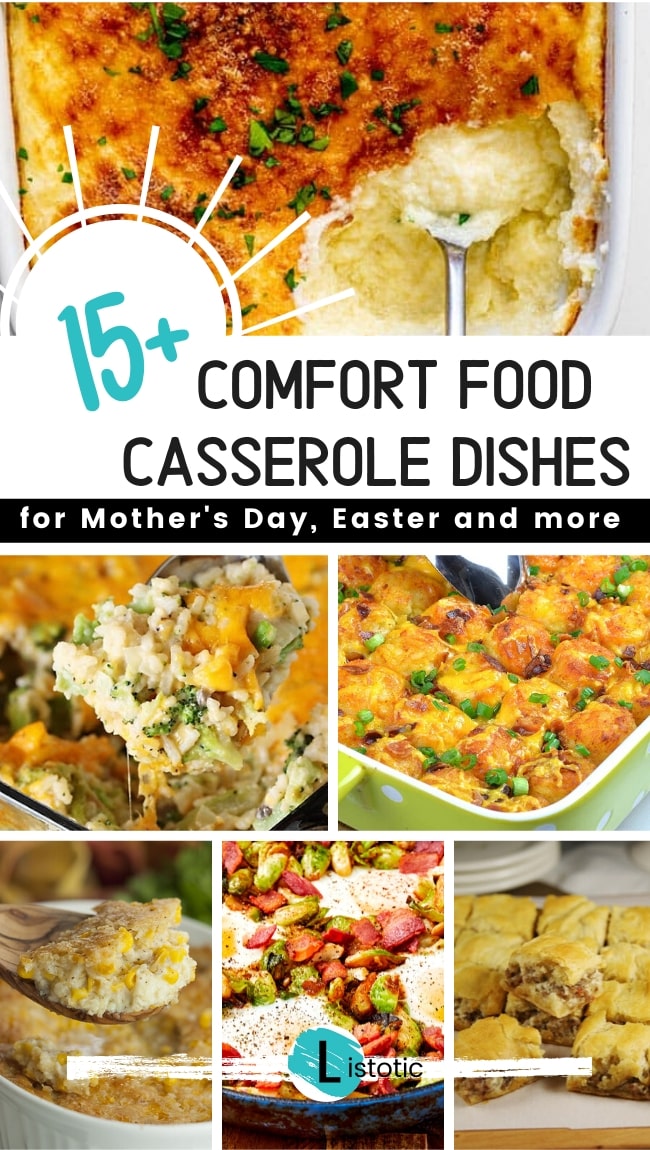 1. Spinach Feta Strata
This looks so fancy and is super simple to make! Using croissants as the bread portion in the brunch casserole recipe sounds divine! Who knew a handful of simple ingredients could make such a decadent dish? I may have to make this a regular at home. Head over to Taste of Home and try it for yourself. Pin this recipe ASAP so you don't forget about it!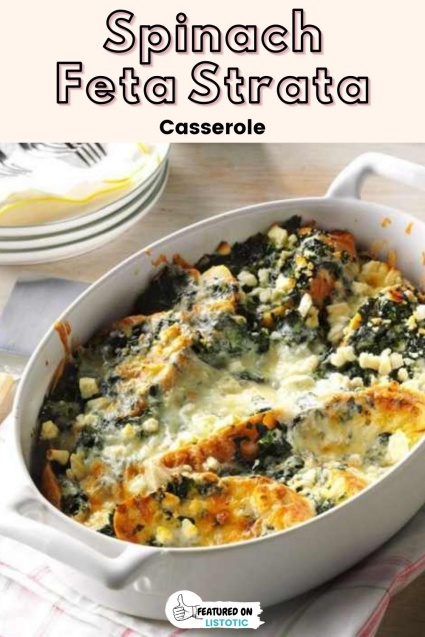 Reach out to us on social media and let us know what your favorite casserole is! We'd love to hear the story behind it!
2. Blueberry Mascarpone French Toast
Look no further if you want something special to serve your family or guests. It's great because the blueberries are perfect during the spring and early summer. I personally love any kind of fresh berry. Whatever you decide, this breakfast dish is going to make a statement! Get the recipe over at Taste of Home.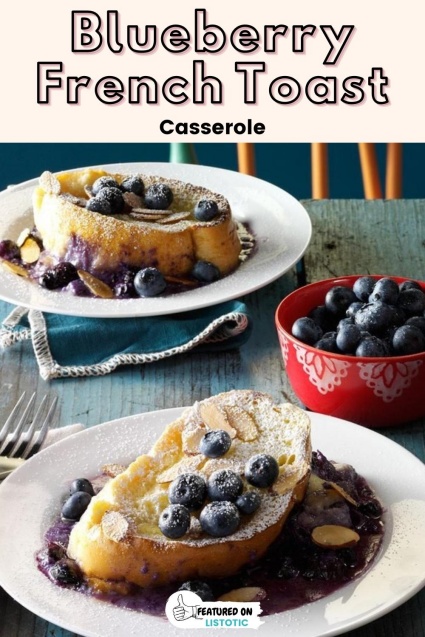 3. Crescent Sausage Bites
This casserole recipe is always a favorite! As tasty as they are, they are super easy to make. With three simple ingredients, you can make a batch of these in no time. In addition, they are always a hit anytime I have served them. These are a great go-to recipe to have tucked away in your head!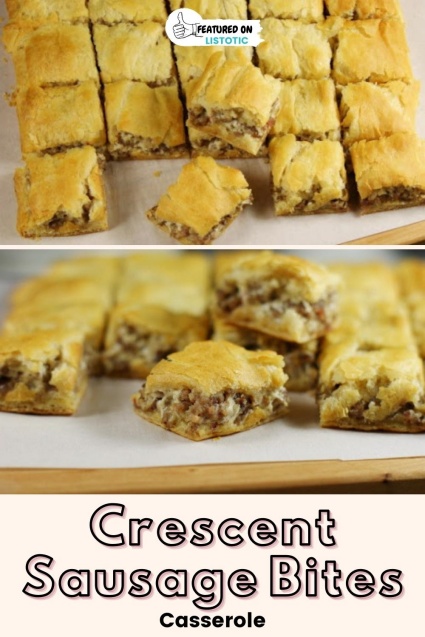 4. Cheesy Hash Brown Casserole
Something about this dish always brings back memories over the holidays. Additionally, it's a classic in so many homes. If you're looking for all the comforts of home, this dish will provide just that! With only a few simple ingredients it is easy to whip up in a pinch. So, go check out this recipe courtesy of Shugary Sweets!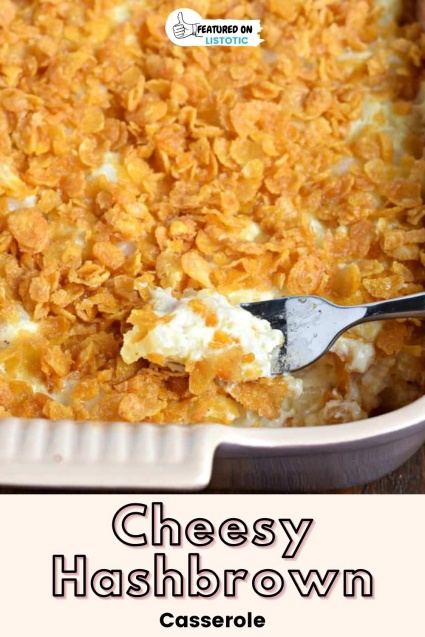 5. Broccoli & Rice Casserole
This is one of my favorites as well because it's perfect for Christmas, Thanksgiving, Easter, or every day. This is comfort food at its best! It is creamy, rich, and cheesy and the perfect dish to serve at potlucks, church suppers, holiday dinners, and more! If you've never had Broccoli + Rice casserole, this is the recipe to try!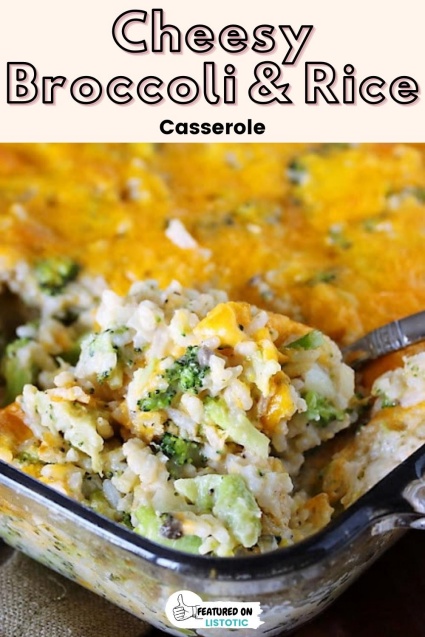 6. Smoked Gouda + Cheddar Potato Ham Casserole
This recipe had me at 'Smoked Gouda!' If you're like me, then this recipe is a must this Holiday season. Easter seems to always consist of classic dishes like ham, deviled eggs, green beans, and one of my personal favorites, potato and ham casserole. This Easter casserole has fun and updated twist on the classic! Check it out over at Buy This Cook That!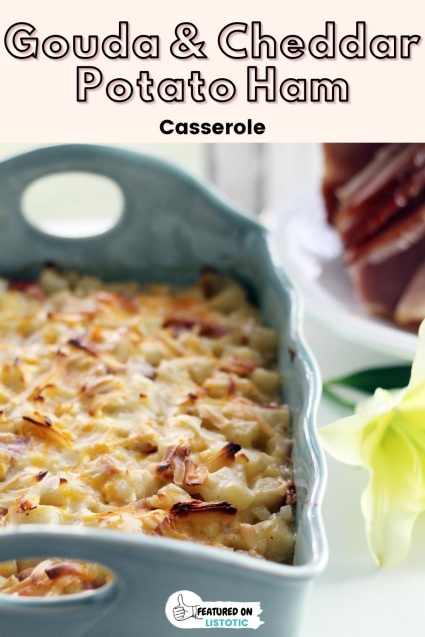 7. Everything Bagel Make Ahead Breakfast Casserole
This is everything I've been dreaming of for a spring casserole dish. This would be perfect for any occasion because this dish requires little to no effort in the morning. Pop it in the oven and you're an hour away to some heavenly bites.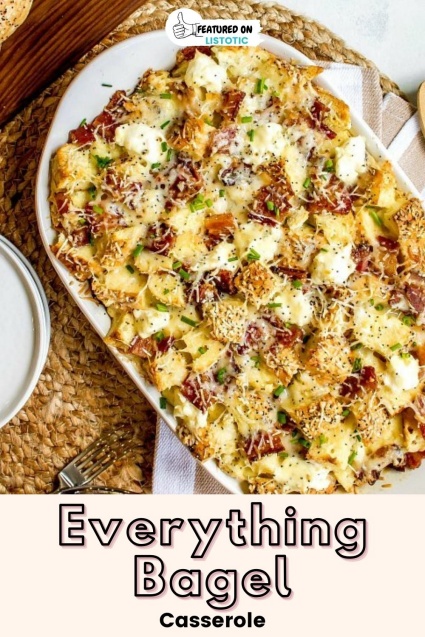 8. Old Fashioned Creamed Corn Casserole
This Old fashioned Creamed Corn Casserole has been a staple at Easter. It is the perfect side dish, really to any meal. It's filling, creamy and the perfect pair when it comes to the main course especially a honey ham. I'm making myself hungry just typing this!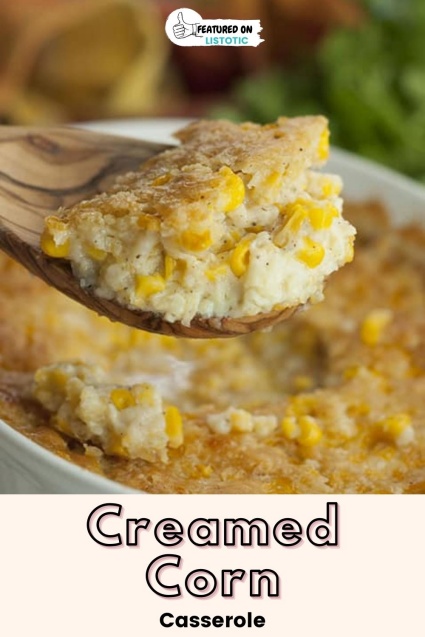 9. The Best Corn Casserole
When it comes to corn in a casserole, count me in! In addition, it's one of my favorite sides in the summer. I love freezing sweet corn and using it in multiple different recipes and this one is no different! Head over to Plain Chicken for the recipe!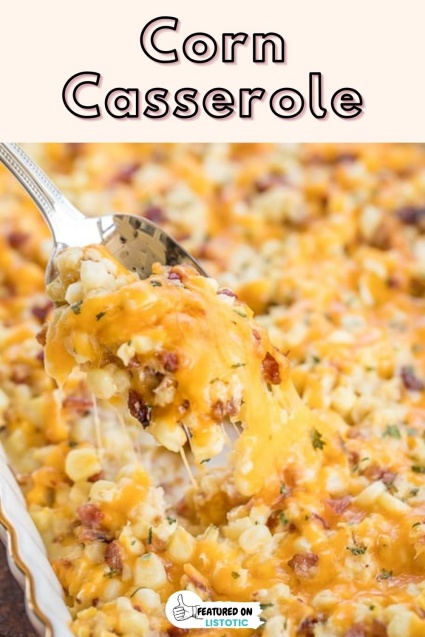 10. Brussel Sprout Hash
First off, Corned beef hash is one of my favorite breakfasts! I love the twist on this dish because it includes brussel sprouts! Mix it with some eggs and you're set! I personally am a huge brussel sprout lover. In my eyes, they are the perfect vegetable. You can whip this up in a skillet in less than 45 minutes! Then, add bacon and eggs and a few seasonings and enjoy! So, check out the recipe over at Delish!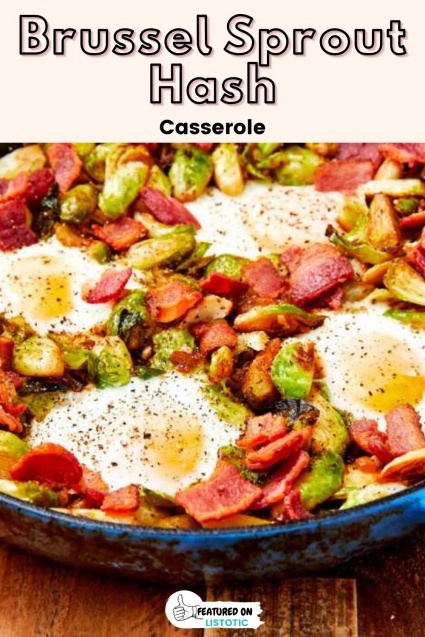 11. Tater Tot Breakfast Casserole
Tater tots are always a hit with kids! As a result, this tater tot breakfast casserole with sausage, bacon, and eggs is super easy, and you can even prep it ahead of time as a breakfast, lunch, or weeknight dinner for the family. I especially love it as a dish to make for the holidays! Check out the recipe over at OMG Chocolate Desserts!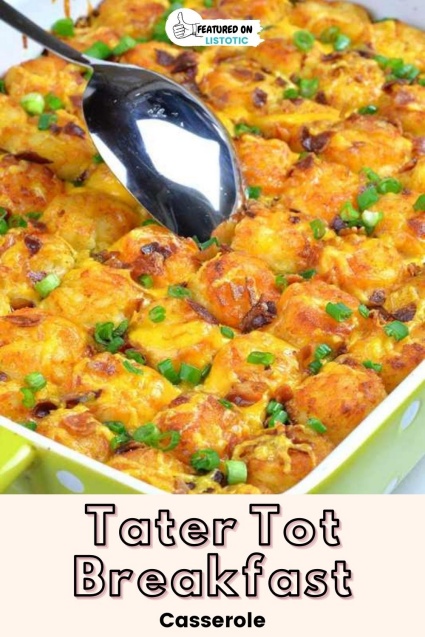 12. Cracked Out Mashed Potato Casserole
First, this make-ahead Cracked Out Mashed Potato Casserole is filled with all the comfort foods including cheddar cheese, bacon, cream cheese, ritz crackers and more! Second, it is a crowd-pleaser for any occasion because it goes with just about everything- chicken, burgers, steaks, pork. Not only is this recipe super delicious, but it is also super easy to make! Head over to Plain Chicken to get the details!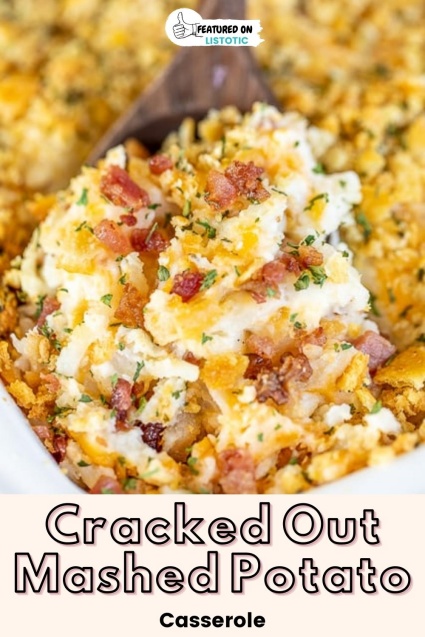 13. Overnight Breakfast Enchiladas
The best part about this dish is not only is it easy to put together but that the filling is made with shredded hash browns! Once they bake they turn into this melt in your mouth creamy hash brown goodness. Seriously they are so good! Don't take my word for it, make them for your next get-together! Food Folks and Fun have the recipe!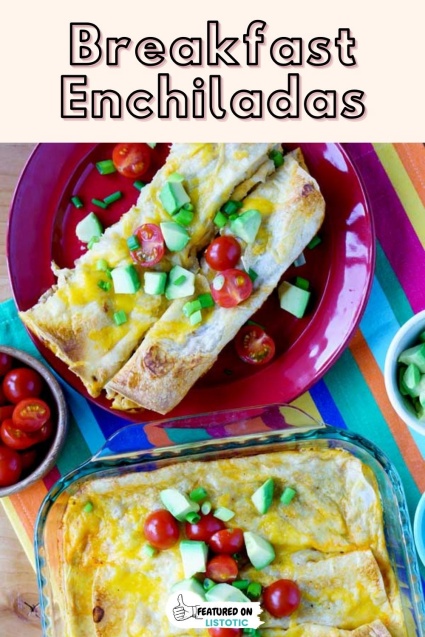 14. Cheesy Grits Casserole
If you have yet to try a classic grits casserole recipe, let this be the one! This Cheesy Grits Casserole made by Jocelyn over at Grandbaby Cake is so decadent and creamy, you will be wondering why you haven't made them sooner! Don't let grits intimidate you-they are easy to make with this simple step by step recipe. Jocelyn gives you expert tips to create the best grits casserole just to your liking. Get the recipe over at Grandbaby Cakes!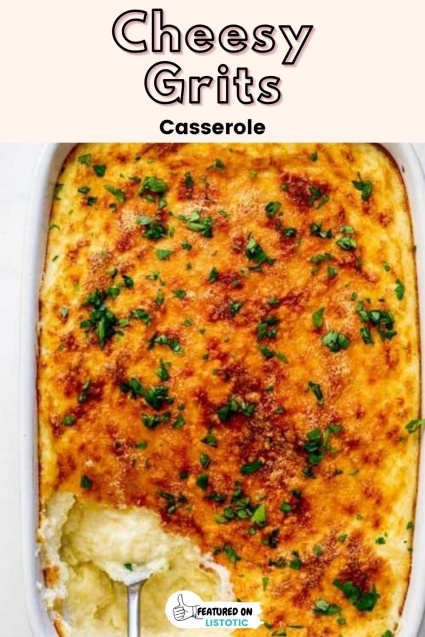 15. Cheesy Potato Casserole Recipe
Always a favorite- Cheesy Potatoes! This is my go-to quick, always have ingredients on hand casserole recipe! Everyone loves it and it always hits the spot, because with three types of cheeses it is packed with a great combination of flavors. You can even make this ahead of time and freeze it for later! Great tip courtesy of Stephanie: Split the potato mixture between a few foil pans and cover them with plastic wrap and foil before popping them in the freezer, so you have an easy and flavorful side dish ready and waiting!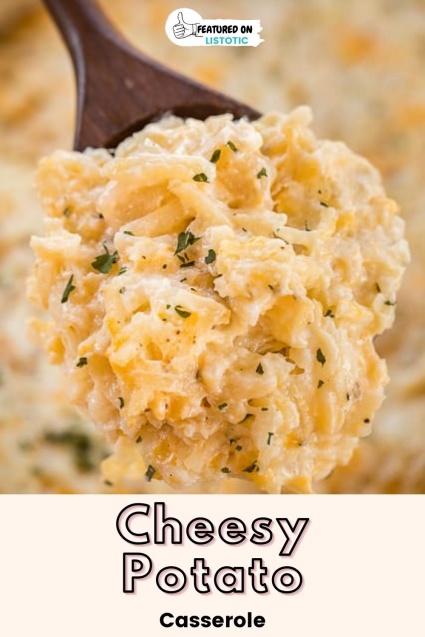 16. Sweet Potato Casserole Recipe
This Sweet Potato Casserole is a great traditional side with the flavors of the pecans and sweet potatoes showcased perfectly. It's almost like eating dessert! Likewise, it is the perfect side dish for Easter, Thanksgiving, Christmas, you name it. Such a comforting dish with its brown sugar, a hint of cinnamon, butter, and pillowy soft marshmallows to top it all off. So, get the recipe over at Spend with Pennies!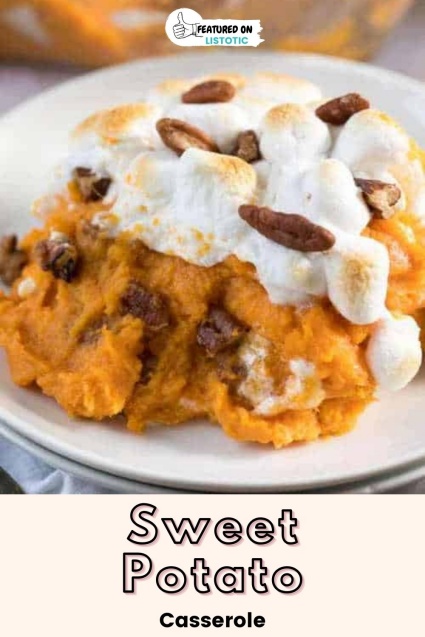 Blessings to you!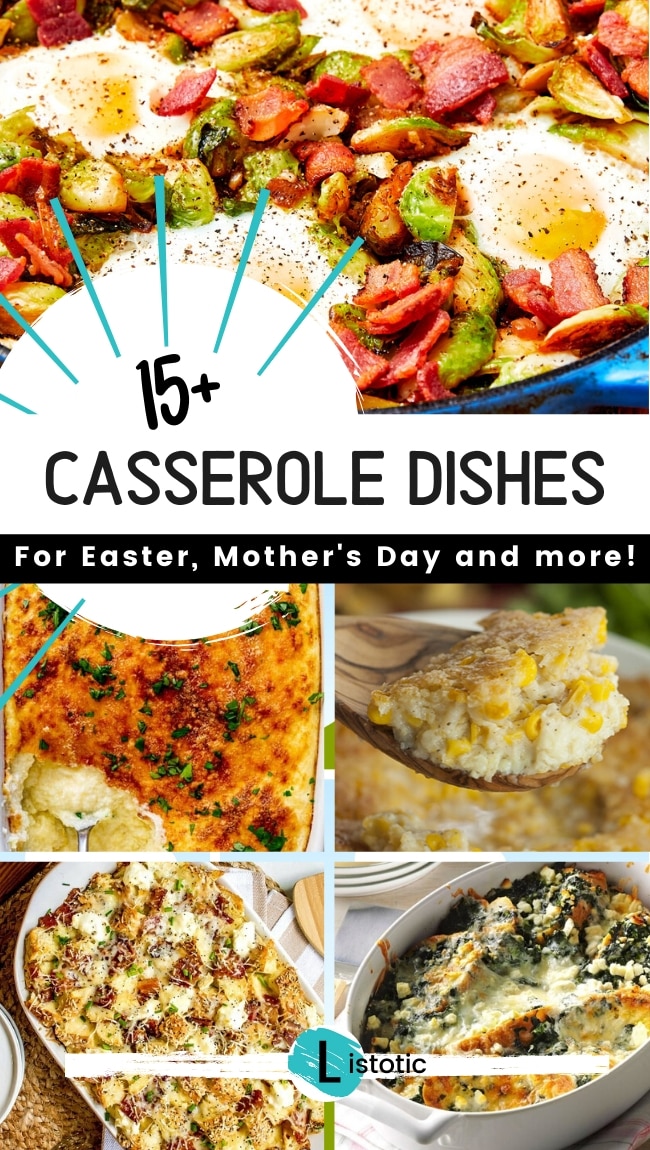 Try these other great recipes from Listotic!