Last Updated on June 15, 2021
Who doesn't love french toast? French toast recipes can range from simple breakfast recipes to borderline dessert, and that's why it's one of my favorite foods. This is a list of a wide variety of unique french toast recipes that are sure to be the only ones you'll ever need. With mother's day on the way, anyone of these recipes will be sure to bring a smile to her face.
Listotic is featuring 25+ french toast recipes that just so happen to be…
the only french toast recipes you'll ever need.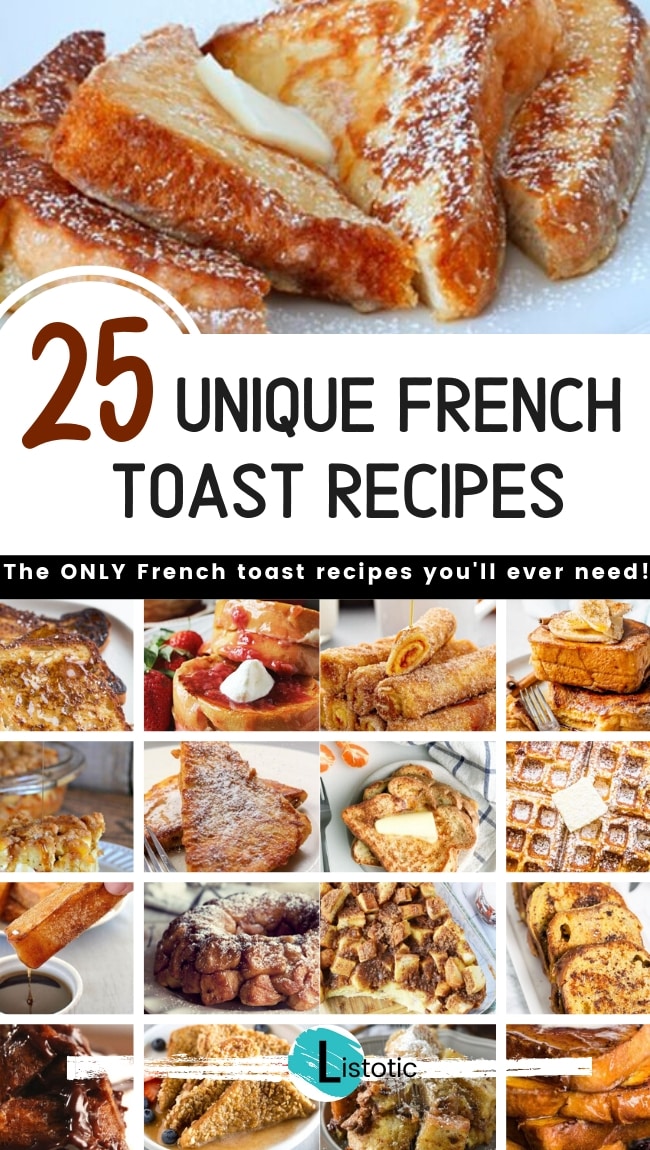 This post contains affiliate links. Please see our Disclaimer Policy.
1. Easy Country French Toast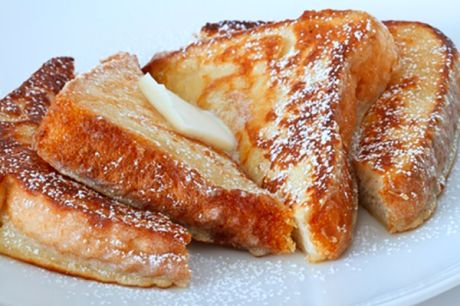 Simple recipes that don't require lots of hard work to be delicious always tend to be my go-to's. This recipe definitely falls into that category. As the title suggests, it has a very hearty country feel to it. You'll feel like you're eating a professionally cooked plate of french toast at a five-star restaurant. Check it out here at Country Recipe Book.
2. Strawberry Cheesecake Stuffed French Toast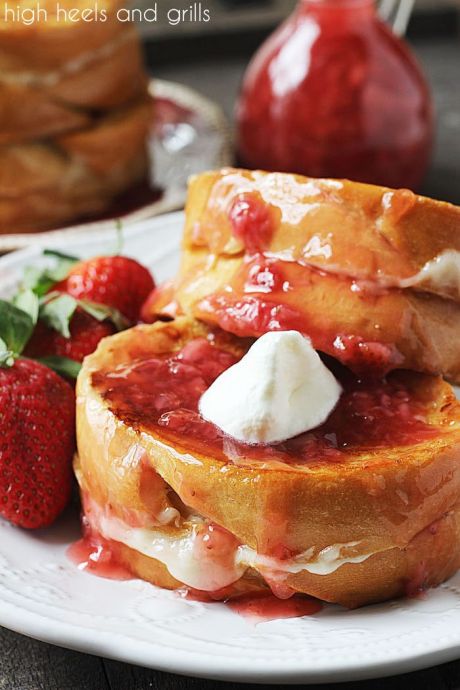 With Mother's Day on the way, show that special woman in your life how much you love her with this french toast recipe. It's a lot more simple than what you would normally expect from a recipe like this one, and most of the ingredients are already in your cupboard. This recipe takes comfort food to a whole new level. Find it here at High Heels and Grills.
3. Pumpkin French Toast Roll-Ups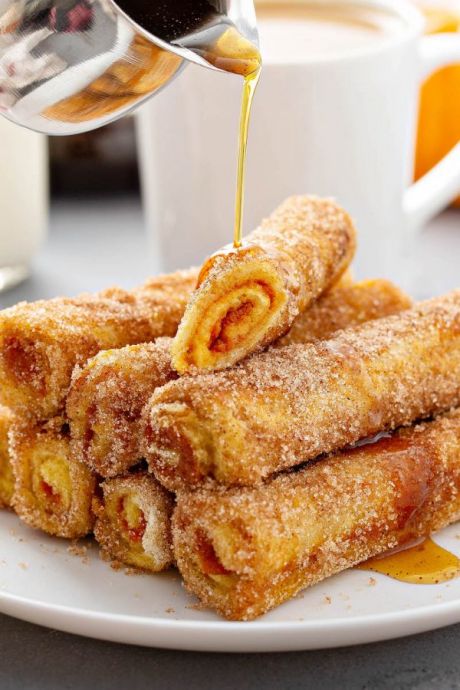 We may not be in the fall season anymore, but hey, you can't put a season on delicious flavors like pumpkin spice. This recipe takes french toast and pumpkin pie and rolls it up into one delicious breakfast that the whole family will enjoy. For a recipe so good looking, it's a mystery how it's so simple. Visit The Novice Chef to find out more about this recipe.
Want more French Toast Recipes… ok click next and read on!
4. Death by Chocolate French Toast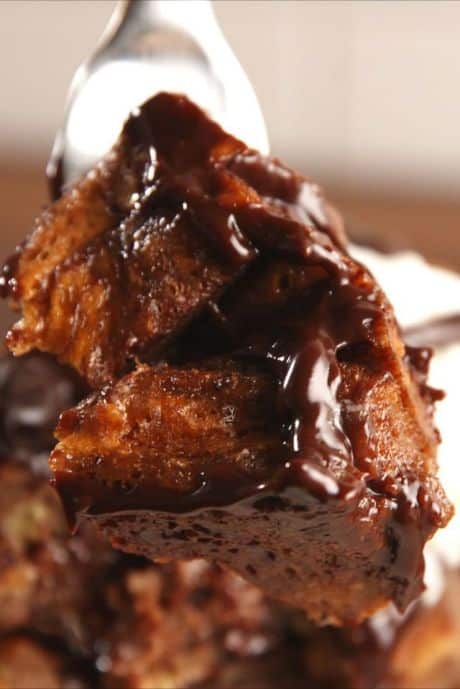 Source: Delish
For all you chocolate lovers out there, this one's for you. While this one requires a bit more effort, it's definitely worth it to satisfy your chocolate cravings. This french toast is stuffed and topped with chocolate ganache, chocolate chips, and whipped cream. Find it over at Delish.
5. Coconut Crusted French Toast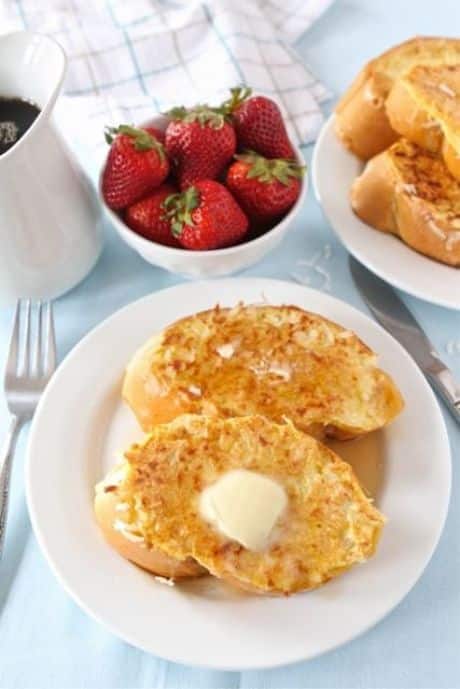 Source: Two Peas and Their Pod
French toast and coconut for sure don't sound like something you would see every day next to each other, but after seeing this recipe, you're going to wish it was; and it's a lot more simple than it seems. It's sure to be the highlight of your morning. You can even top it with fresh fruit. Head over to Two Peas and Their Pod to find out more about this recipe.
6. Overnight French Toast Casserole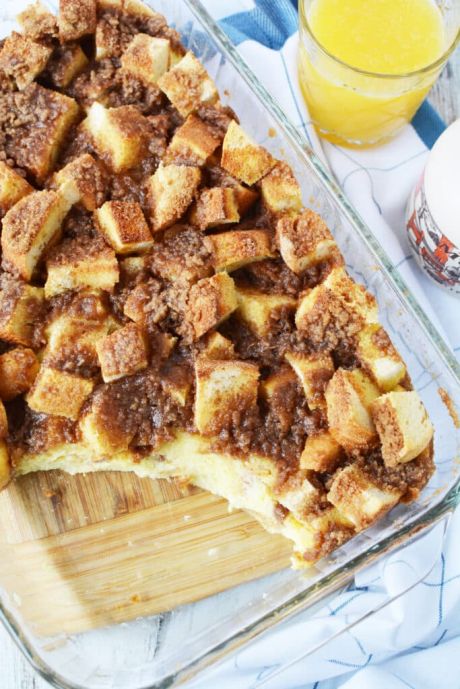 Finding a good french toast casserole recipe is hard, but I believe this one is perfect. It's so simple, and you probably already have all the ingredients in your cupboard. And, if you need to make it in a cinch, the overnight soak is not necessary. Check it out at Lady and the Blog.
7. Crockpot Apple Cinnamon French Toast Casserole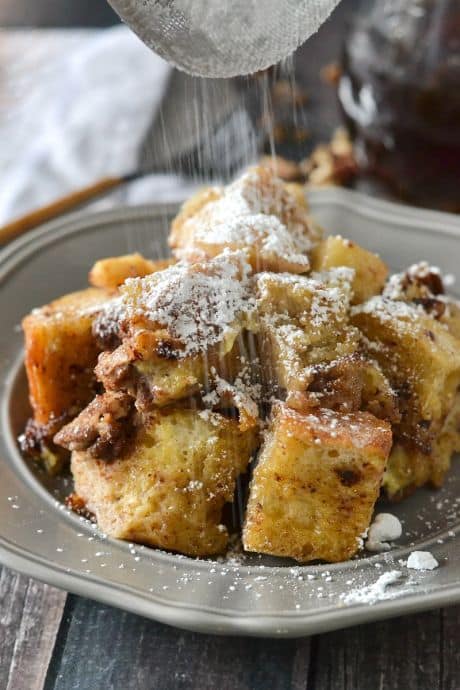 Yes, you can make French toast recipes in the crockpot folks!
Because who doesn't love crockpots? Normally when you think of french toast, you think about french toast made in a skillet on the stove. Crockpot french toast doesn't usually come to mind, but after reading into this recipe, you won't be able to think about anything else. Also, it's apple cinnamon. How can you pass up on that? Read more about it at Mother Thyme.
8. Baked Banana French Toast with Pecan Crumble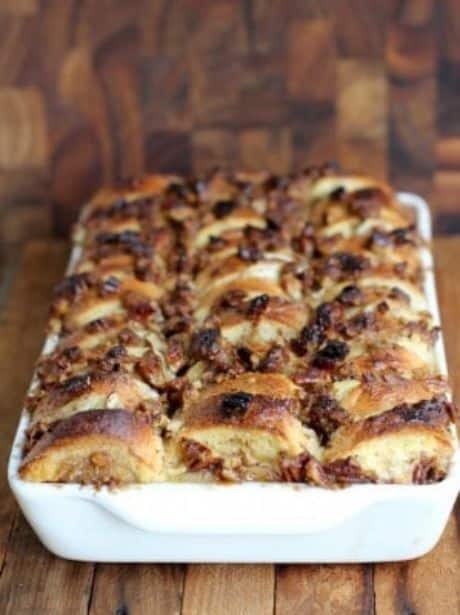 Bananas and french toast are like a match made in heaven. Top it all with pecans and syrup, and you've got a delicious breakfast bake that the whole family is sure to enjoy. Baked french toast is so easy to make, and it puts a delicious twist on regular french toast. Check it out here at Inquiring Chef.
9. Blueberry Cream Cheese Stuffed French Toast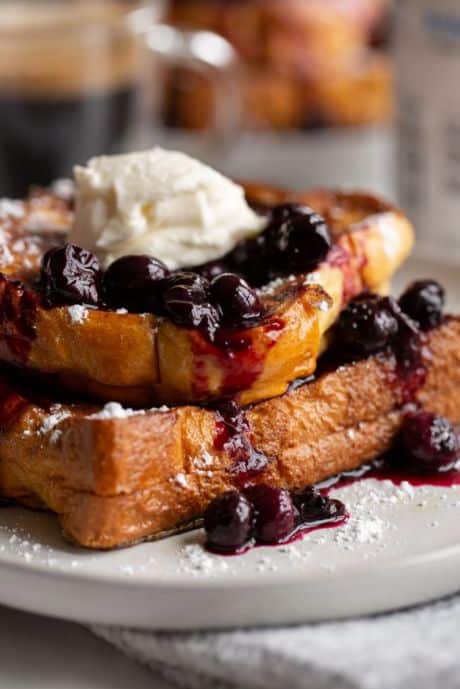 It seems like you can pair french toast with any berry and the results will always turn out fabulously. Blueberries are definitely compliant with that statement. You'll feel like you're eating dessert for breakfast with this recipe, and who doesn't want to do that? You could probably even just serve this as a dessert, it's so sweet. Find it at Away From the Box.
Give you more unique French toast recipes? Ok coming right up!
10. Bacon Stuffed French Toast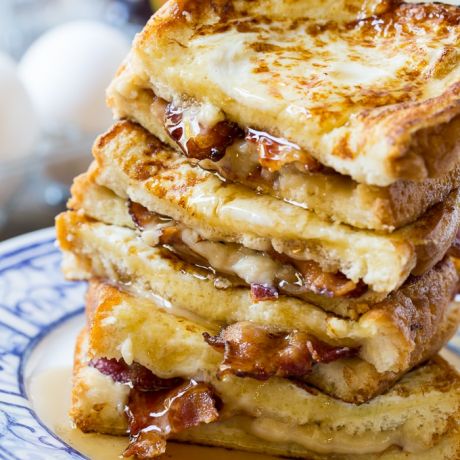 Source: Spicy Southern Kitchen
Find the best combination of sweet and savory with this recipe. It combines two amazing breakfasts to make an even better one. I would eat bacon with every meal if given the chance. Find out more about this recipe at Spicy Southern Kitchen.
11. Crunchy French Toast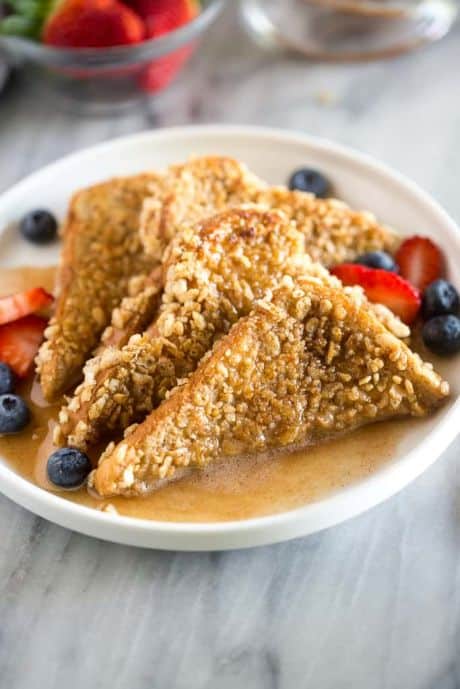 Source: Tastes Better From Scratch
Sure, you've eaten crispy french toast before, but what about crunchy? Adding that extra Rice Krispies crunch to your french toast can be the key ingredient you never knew you needed. It's so simple! Find out more at Tastes Better From Scratch.
12. Almond-Crusted French Toast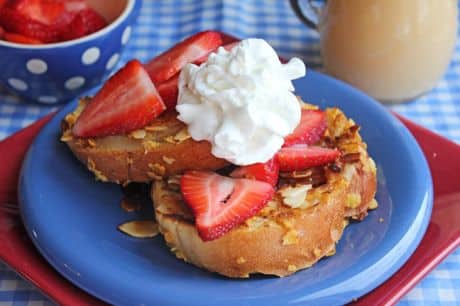 I love almonds, and pairing almonds with french toast is simply a game-changer. This recipe is sure to be the highlight of your morning, and you probably already have the ingredients on hand. Top it with buttercream syrup and strawberries! Find out more at Jamie Cooks it Up.
13. Creme Brulee French Toast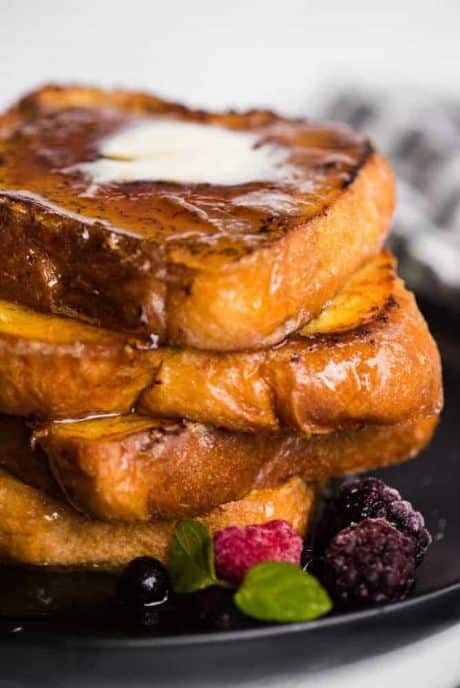 Wait, Are these French Toast Recipes for breakfast or dessert?
French toast has never sounded more delicious. You'll feel like you're eating out at a five-star French eatery when you eat this french toast. The combination of creme brulee and french toast results in a thin layer of caramelized sugar on the surface of the toast. Delicious! Find it here at The Recipe Critic.
14. Churro French Toast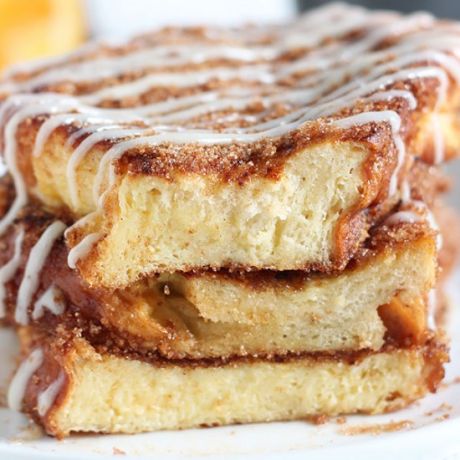 This recipe combines delicious churros and french toast. It even includes instructions for a cream cheese drizzle to top it with. Combining your desserts and breakfasts may not be the healthiest idea ever, but it sure is a tasty one! Find out more at Handle The Heat.
15. Peaches and Cream French Toast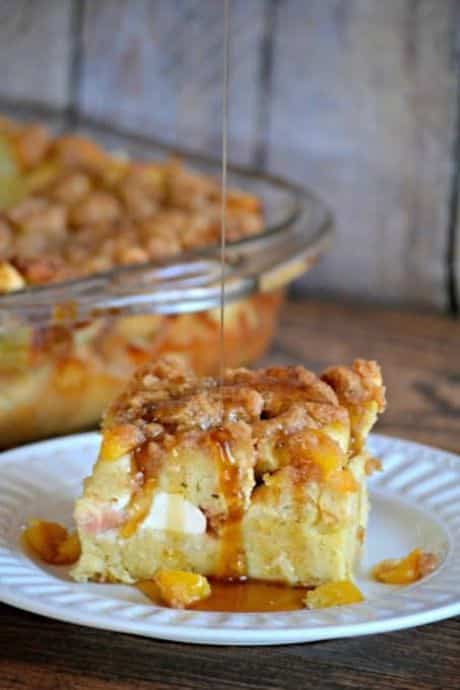 Source: 365 Days of Baking and More
Fruit makes all French toast recipes even better!
French toast just goes so well with fruit. In fact, I feel like a majority of breakfasts could benefit with a little bit of fruit, savory or sweet! Peaches have always been one of my favorite fruits, and combining them with french toast sounds absolutely amazing. Find out more over at 365 Days of Baking and More.
16. Caramel French Toast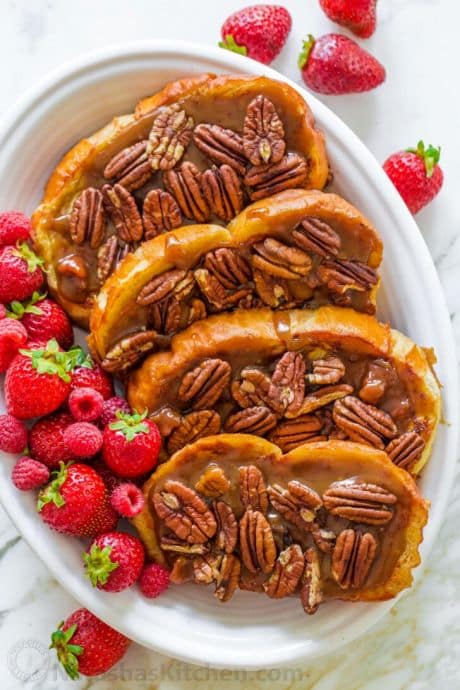 Who doesn't love caramel? As Well as caramel, this recipe also includes pecans and bacon. Guaranteed, this recipe will change your whole perspective on french toast. Caramel is a delicious and unforgettable addition to your classic french toast recipe! Find out more here at Natasha's Kitchen.
17. French Toast Waffles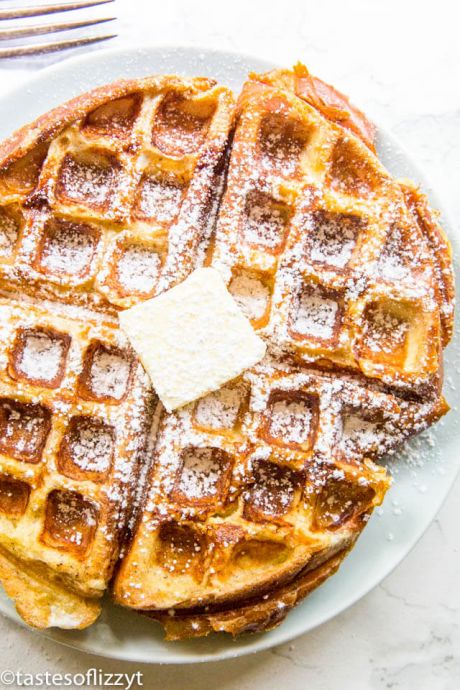 Anything you can make in a waffle iron is a win in my book. It's just so convenient. Making french toast in the waffle iron certainly is a game-changer. Top it with powdered sugar, syrup, fruit, or even brown sugar. Find it here at Tastes of Lizzy T.
18. Eggnog French Toast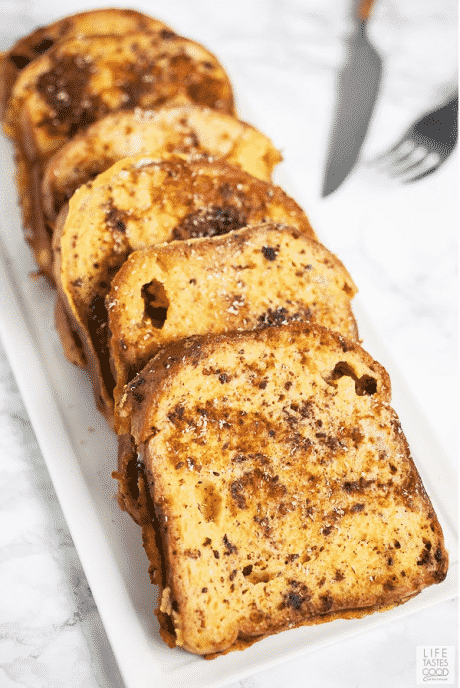 Turns out you can use eggnog as much more than a festive drink. It has the potential to make mind-blowing french toast! It may not be December anymore, but you can still fall in love with this recipe year-round. Find it here over at Our Life Tastes Good.
19. Cinnamon French Toast Sticks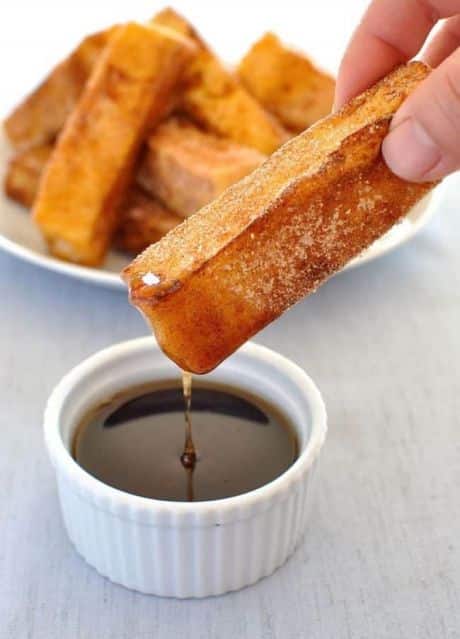 French toast sticks are the perfect shape for dunking in syrup. One of my personal all-time favorite finger foods. These aren't the nasty french toast sticks you'd find on your lunch tray in grade school, though; they're far tastier than that! Find them here at RecipeTin Eats.
20. Cannoli Stuffed French Toast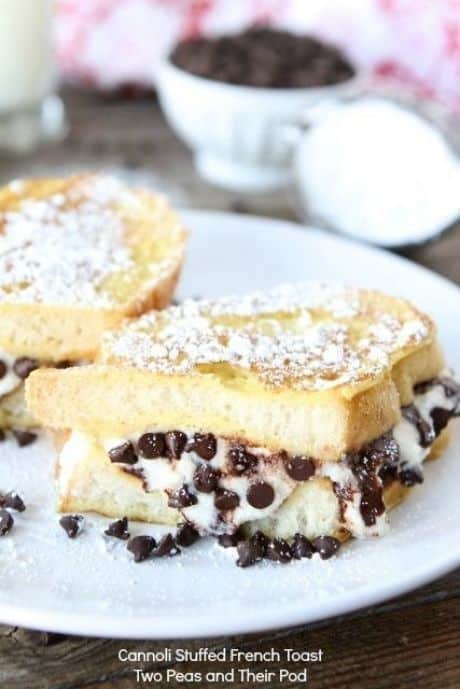 Source: Two Peas and Their Pod
You won't even need syrup with this french toast recipe, it's so sweet.
Consider making this as a breakfast in bed for your sweetie, or just eat it yourself. It's sure to become one of your favorite recipes. Find out more at Two Peas and Their Pod.
21. Vegan French Toast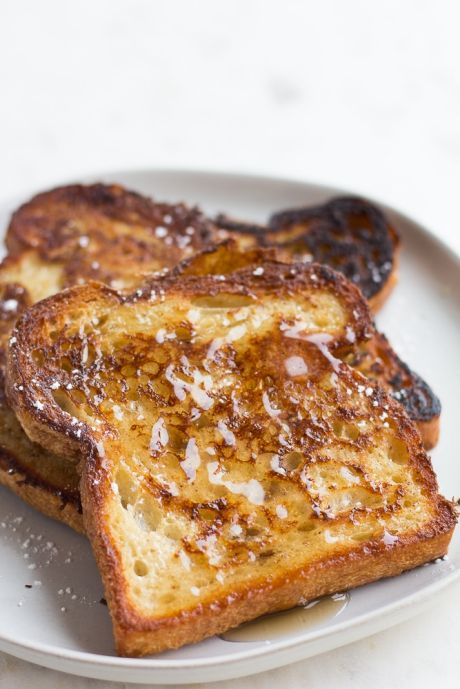 Vegan recipes don't tend to be as good as the original recipe, especially with french toast, because a key ingredient in the batter is eggs. There's a secret ingredient that replaces the eggs in the batter, and it actually shocked me a bit. I'll let you find out more about this shocking egg substitute and recipe over at Nora Cooks.
22. Keto-Friendly French Toast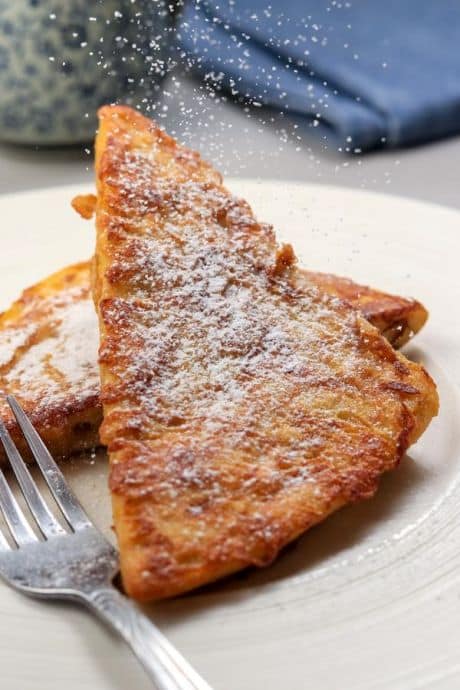 Following a keto diet can be challenging, especially with the lack of bread. Fortunately, there are lots of substitutes out there for your favorite recipes that include bread, including this french toast recipe! And it's a lot more simple than it sounds. Find out more at Kimspired DIY.
23. Peanut Butter Stuffed French Toast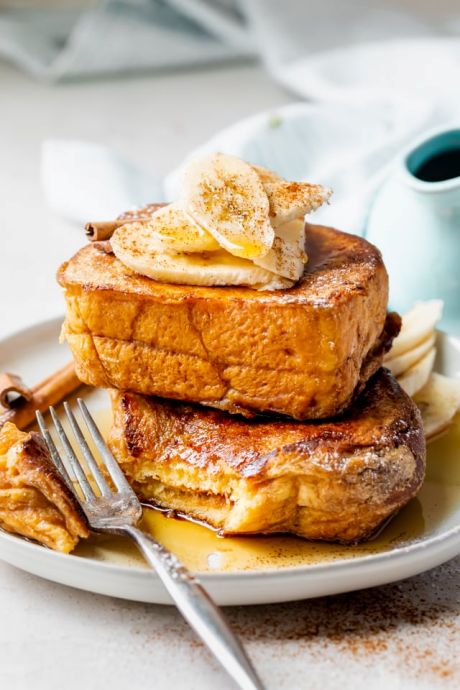 You'll never look at French toast recipes the same again.
This one is for all you peanut butter lovers out there. This delicious brunch recipe truly is a game-changer; you'll never look at french toast the same again. Find out more at Feel Good Foodie.
24. French Toast Monkey Bread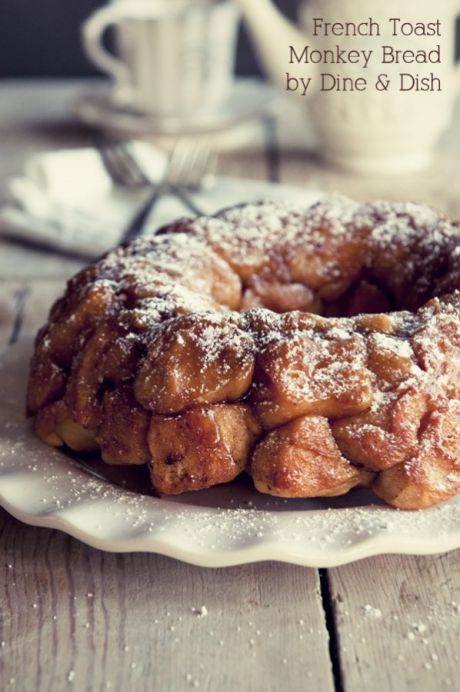 This French toast recipe has a special ingredient you wouldn't expect!
I for one love monkey bread. Combining it with french toast looks absolutely delicious. One of the key ingredients in this recipe is coffee creamer, which I thought sounded pretty good. You can find out more about this pull-apart recipe here at Dine and Dish.
25. Gluten-Free French Toast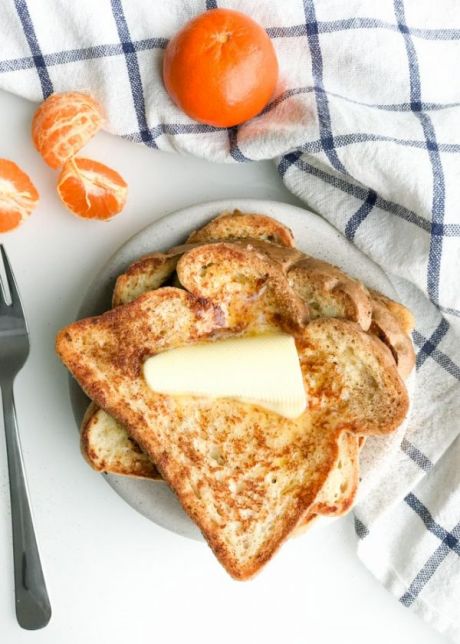 Whether it be a diet or a gluten allergy, this french toast is for you! And, you probably have all the ingredients on hand. A gluten-free diet can't stop you from enjoying a delicious slice of french toast! Find it here at Veggie Balance.
So, from bacon to chocolate I think we've got all your French Toast Recipes covered right here! But don't lose these recipes! Make sure to PIN this page for all your future french toast needs.