Last Updated on June 9, 2020
You can relax now; I've found the best foaming bubble bath that won't bust your budget!
Life is hectic. Especially when you are juggling raising a family, working, staying healthy, and trying to maintain a social life. Hectic schedules lead to anxiety. Stress and anxiety lead to health problems. The best way to reduce stress is by practicing healthy ways to relax.
I have the simplest and affordable way to reduce stress. It's a simple bubble bath! Sure, a trip to the day spa, girls weekend away and hiring a nanny/housekeeper are fabulous ways to destress – if that is an option for you. But when I have a tight budget and only 30 minutes to change my "Mom-tude" (Definition: mom with a bad attitude because she is stressed out!) I treat myself with the best foaming bubble bath to relax and unwind for a moment.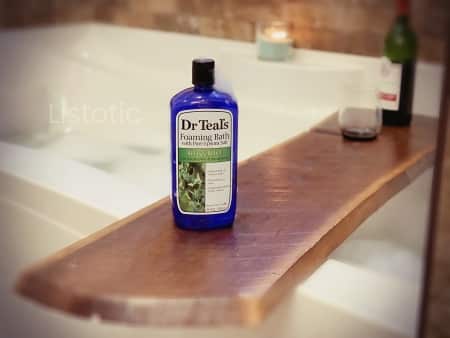 This post contains affiliate links. Please refer to our Disclaimer Policy.
Best foaming bubble bath that is luxurious and bubbly!
I found the best foaming bubble bath product that won't completely drain my budget. It is Dr. Teals foaming bath with pure Epsom Salt. I can always count on it to make the most luxurious bubbly, foamy bubble bath when I need stress relief. I love this bubble bath because the bubbles stick around for the entire bath! Not to mention the added essential oils for aromatherapy and muscle relieving Epsom salt!
My favorite Bubble Bath product is Dr. Teals Foaming bath.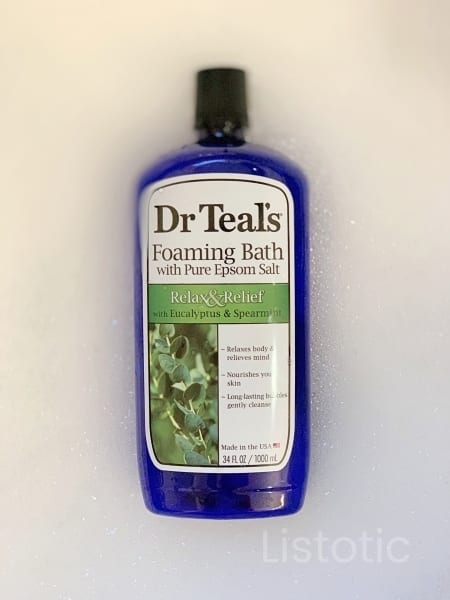 Here are 12 more ideas and tips to make your best foaming bubble bath experience even more relaxing!
Treat yourself to a tidy bathroom. While your bath is running take a couple of minutes to clear off the counter, replace the towels and wipe the sink. Don't get carried away, just take a few minutes to make it look like a more inviting space.
Use a washcloth or tea bags to put over your closed eyes while you are soaking in the tub. Tea bags help reduce puffiness. Read more here about using tea bags on your eyes.
Prior to getting in the bath, use a facial scrub or exfoliating scrub on your face.
Use a leave-in conditioner or hair mask while you are soaking. Not only will you leave your bath feeling relaxed, but you'll also have clean skin and silky smooth hair.
Epsom salts. Dr. Teals foaming bubble bath already has some pure Epsom salt added but I also love to add the Dr. Teals soaking solution Epsom salts.
Essential oils. Aromatherapy is proven to provide physical, mental and emotional health.
A cup of tea or glass of wine to help unwind in the bathtub.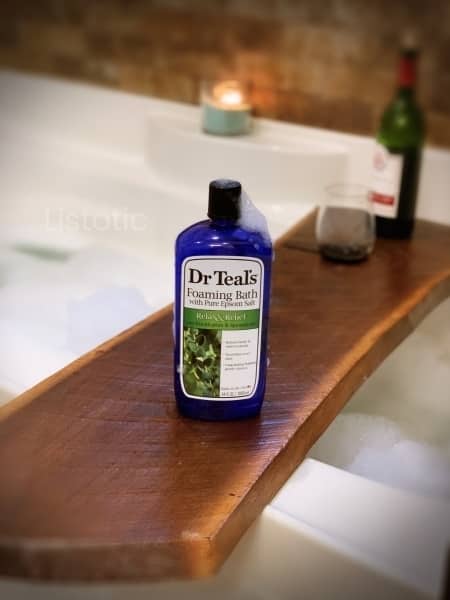 Music, audiobook or favorite podcast to distract your mind from all the to-do lists and thoughts running wild.
Candles, some soft light from a candle or two really improve the ambiance. Use flameless battery operated candles if you are unsure about the safety of a real candle.
Bath pillow. You can buy one for a reasonable price on Amazon or a large retail store.
Warm water. It's really hard to relax if you are cold. Make sure your water temperature is warm and will stay warm for your soak.
Have your comfy robe and slippers ready and waiting for when you get out.
Even More Great Tips
More great tips on creating a relaxing bubble bath experience can be found at Pure Fiji.
If the ingredients in Dr. Teals Foaming Bath do not agree with your skin here Harpers Bazaar has several hypoallergenic bubble bath products to recommend.
I'm sticking with my favorite product Dr. Teal Foaming bath because life is hectic and having a foaming bubble bath without popping my savings keeps my "mom-tude" in check!