Last Updated on October 12, 2021
18 time and money-saving family photo outfit ideas and family portrait tips
Are you making family photo outfit ideas harder than they need to be? Check out these 18 time and money-saving family portrait tips.
Finding perfect family photo outfits is challenging. Especially when you think everyone should be matchy-matchy. I have had over 10 years of portrait photography experience and can tell you it's easier than you think! You don't have to step foot in a store to find the right clothes for family portraits. I've put together a list of 15 simple do's and don'ts for family photo outfit ideas. Follow these tips and you will be able to get the right look for your family photos. Moreover, the extra money you saved not buying new clothes you will get to spend on prints for your wall!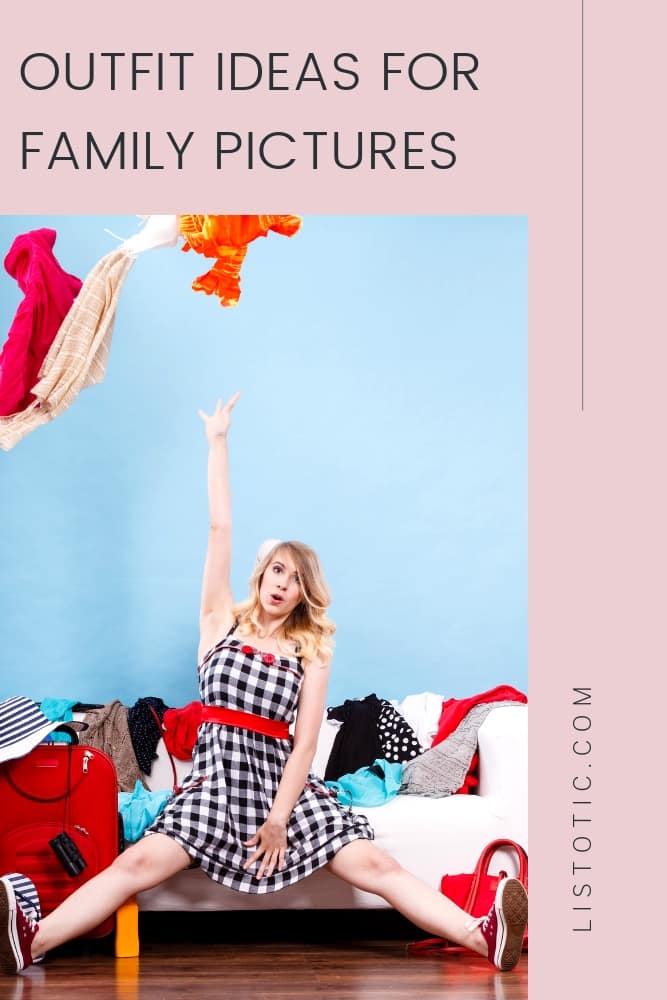 1. Dress Casual
Trending portrait styles are casual and candid so why not make it a little easier on yourself? Dress yourself and the family casual. Dressing casual opens your closet up to lots of options. There is a good chance the kids (and your husband too) will be better behaved if you let them wear some of their favorite jeans and t-shirt. Mandating a uniform of new khakis and an uncomfortable tie might be asking for problems depending on the mood of your family. A casual outfit idea might be dark jeans & favorite comfy light colored t-shirt, sweater or sweatshirt.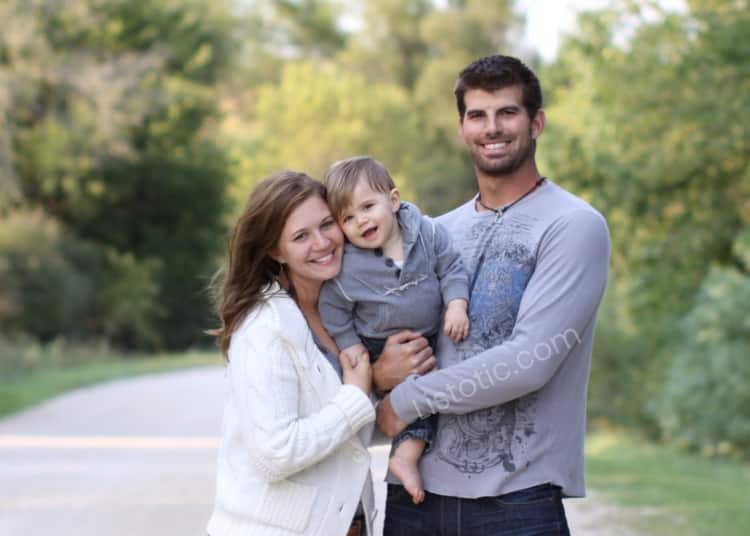 2. Dress comfortably for the best smile
Your family will be the most photogenic if they are in their comfortable clothes and SO WILL YOU! You and your family should wear clothes that YOU KNOW look good and feel good too. Comfortable pieces of clothing are not necessarily going to come from a store. Most likely they are going to come from the dirty laundry pile… of course, you should wash your clothes before a photo session. Photographers might not always give you a comfortable pose but at least you can be comfortable in the clothes you choose for family pictures.
So get your family's comfortable outfits figured out and read more stress-free family photo tips here.
3. Dress memorable
Why not put your kids in those outfits that you love to see them in? Kids grow up so quickly! Capture your family at this moment in time. Dress your babies in outfits you want to remember for that stage of their lives. When my boys were babies I would dress them for pictures in classic blue jean overalls. By the time they were three years old, they had grown out of wearing those jean bib overalls. I'm so thankful to have portraits of them in those favorite outfits. Remembering my boys at that stage in their life comes more naturally to me because they were wearing clothes in the photos that I can vividly recall.
Dress memorable to recall babies life stages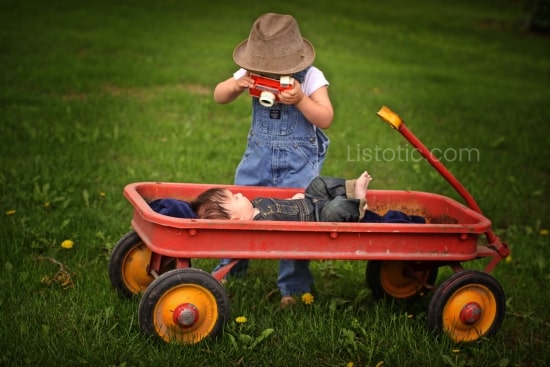 4. Dress simply for less stress!
If you run into a snag in your family photo outfit planning; try to simplify the problem. For example, if you don't know what shoes everyone should wear for summer family pictures – take them off! If you're not a fan of bare feet (or it is wintertime) politely request your photographer to try not to get your shoes in the photos. Most photographers will be fine with this request. Your photographer might have a way to pose you or crop the photo later so that shoes aren't seen. The simpler the outfit the less stress you will have. Moreover, less stress equals a better photo session and better photos!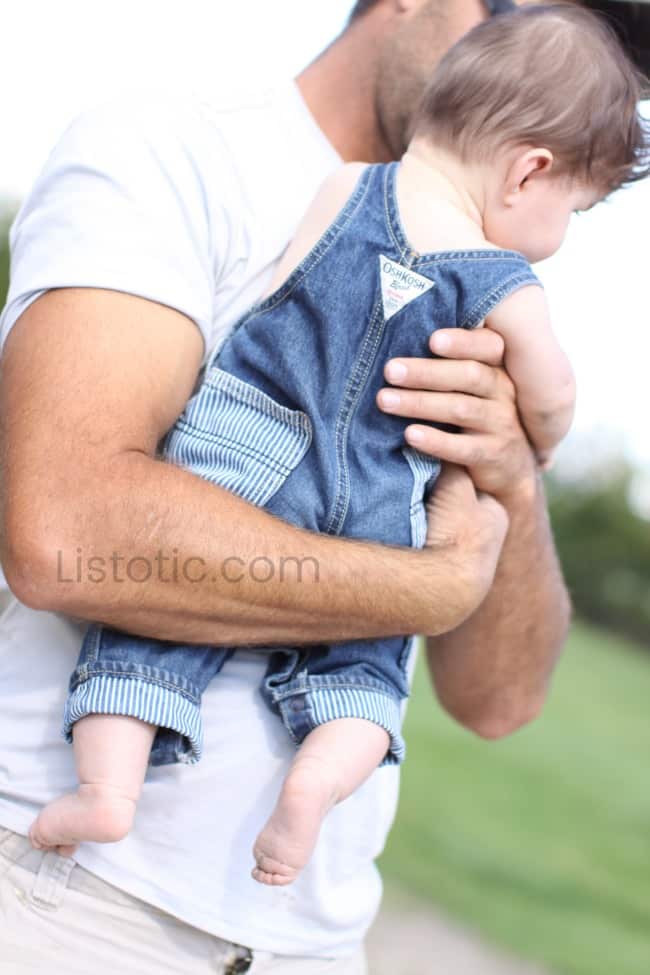 5. Focus on faces and avoid distractions.
Wear solids and/or small patterns if possible. Bold, colorful patterns or dark and light stripes are distracting in a photo. It's OK to have a small pattern but big patterns will distract from the faces. Remember, your goal of a family portrait is to capture the face, not outfits. Choose tops that have a simple neckline and complement your family's faces.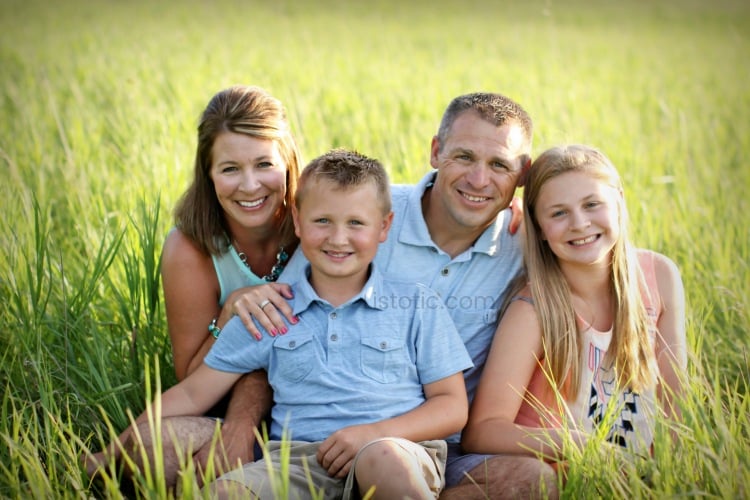 6. Don't think too hard about it.
Think of picking out an outfit as picking out "play clothes." The main goal of family photos is to have fun and get lasting memories. Capturing moments while interacting with your family. Capture the most beautiful images while you are playing around. Let your clothes enhance the memories, not get in the way of your fun.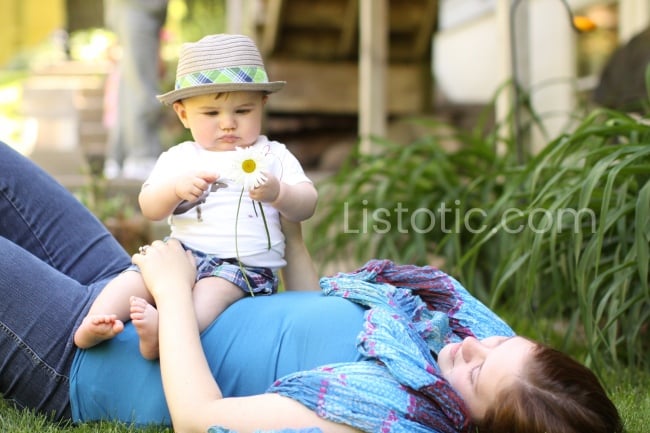 7. Wear white or neutral colors.
When you are in doubt, some plain neutral-colored shirts will work great with the correct outdoor lighting. Neutral colors are white, black, beige, brown or ivory. There are two things to remember when everyone is wearing the same neutral-colored tops.
Remember lighting
your photographer should make sure the lighting is appropriate for the color choice. Wearing white tops in a super shady area can make the image temperature look blue and cold. Wearing all blacktops in a bright sunny area can add too much contrast especially for families with lighter skin tones. Too much contrast is distracting in a portrait.
Add Character
Remember to add some character in some small way to each person's outfit you are not too matchy-matchy. Adding character could be changing the style of the shirt, adding accessories, wearing different types of pants/shorts or skirts.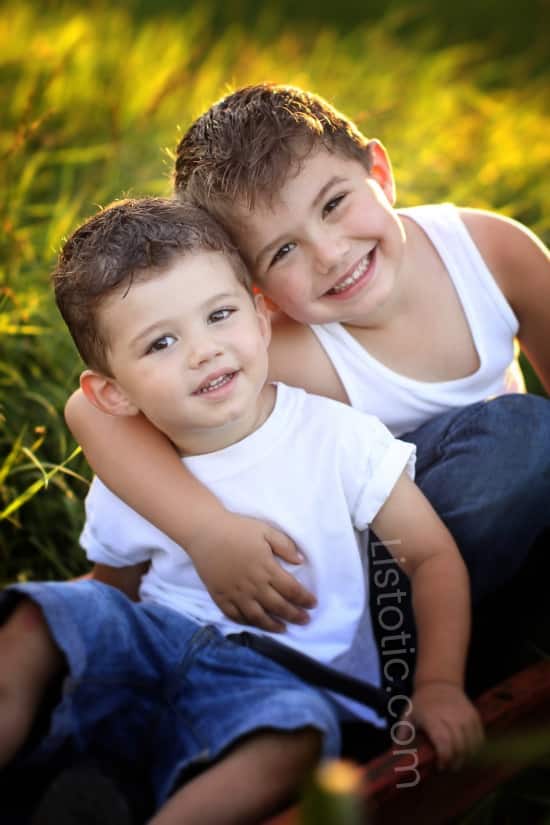 8. Find something in common
Add character or boldness to truly personalize your family photo. What does your family have the same? Sports team gear, Cowboy boots, fall flannels, summer tank tops…. Is there something you all have in common when it comes to your wardrobe? I'm a mom of boys, so we all own some sort of vintage t-shirt, ball cap, and blue jeans. Don't go to the extreme here… just something SIMPLE that brings you all together but in a small way.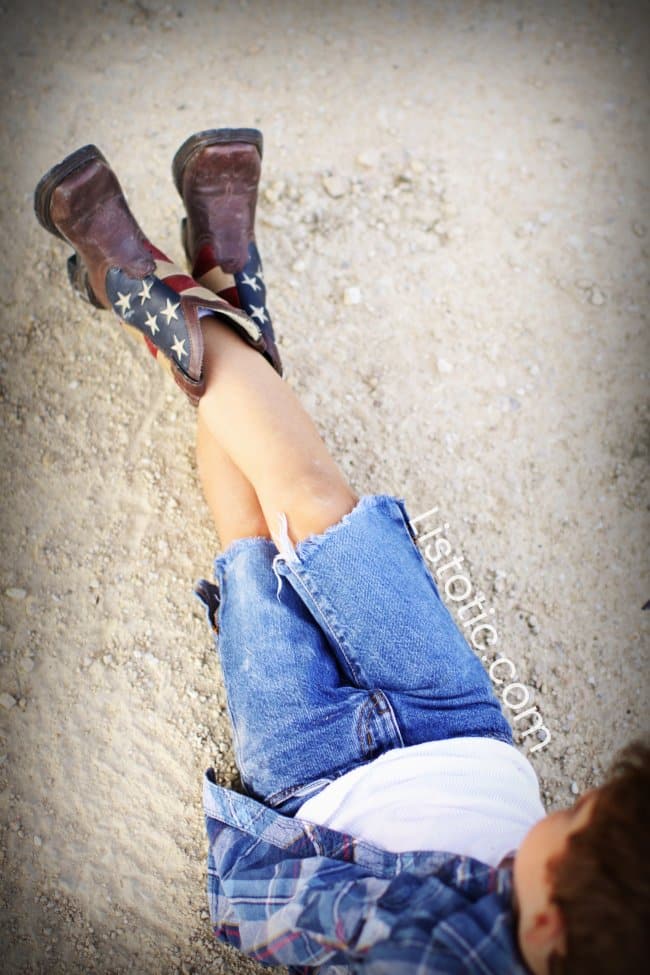 9. Start with the hardest to dress first
Coordinating outfits is like putting together a puzzle. Kind of like finding the corners of the puzzle before you fill in the middle. You might want to start with the most difficult person to dress. So if your teenage son has the most limited wardrobe then start with his outfit first. Chances are; if you start with your hardest to dress you will be able to fill in the rest more easily.
finding outfits for family photos is like piecing together a puzzle
I'm talking about clothes being puzzle pieces figuratively speaking, but we could also look at this literally. Try laying the articles of clothing out on the bed to see if your pieces are matching. In this image on Cara Loren's blog, she has perfectly pieced her family outfits together for pictures. Each family member is wearing a different color and style but fits perfectly together.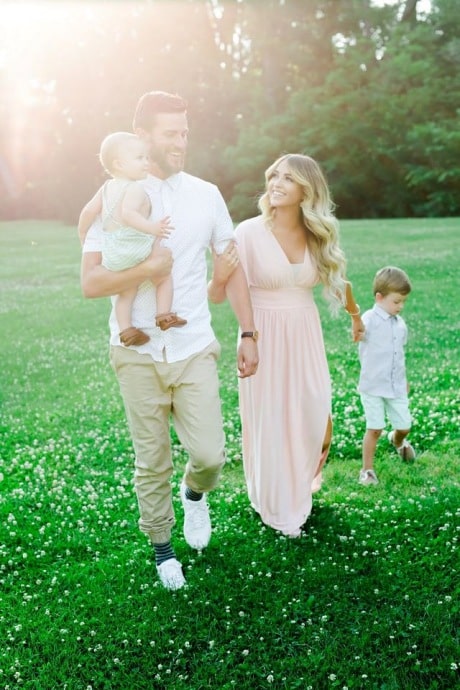 10. Utilize a wedding, holiday, or special event.
You might not realize it, but many families dress in complementary outfits to gatherings such as weddings and holidays. My boys call it "getting handsome" when we have a wedding, or holiday party to go to as a family. Coordinating outfits for a special event is a great way to approach family photos. It's a huge time saver! Taking a family photo when everyone is getting fancied up anyhow is a win-win for all! Be sure to read the tips from Erin at Caffeine & Cuddles on how to get the perfect family photo.
Make family photos a WIN-WIN for all!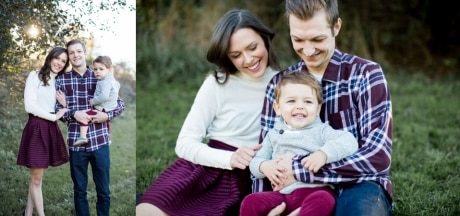 11. Black and White!
This is my favorite tip because I love black and white photos. The stress of color combinations dissipates when you are transferring the photos to black and white. When you are planning outfits Focus on textures instead of colors. Then when the session is complete ask your photographer to give you your photo options in black and white.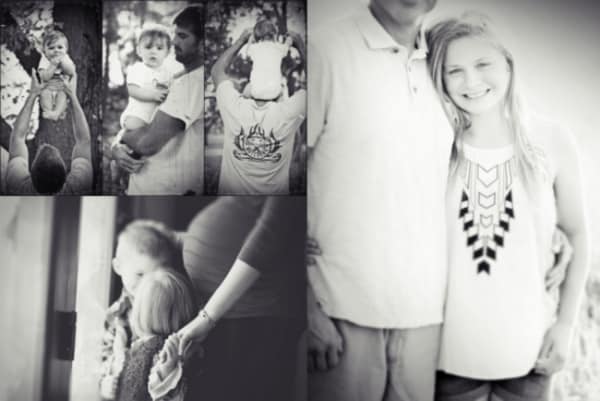 12. Dress in the same color family but not the same exact color
A "color family" is related to the color wheel. There are 3 types of color families. 1. Warm colors 2. Cool colors 3. Neutral colors. Warm colors are pinks, reds, oranges, and yellows. Cool colors are blues purples and greens. Neutral colors would be gray, ivory, white, black, beige, taupe. Keeping outfits in the same color family but not the exact same color is a beautiful way to coordinate your family photo outfits with minimal stress.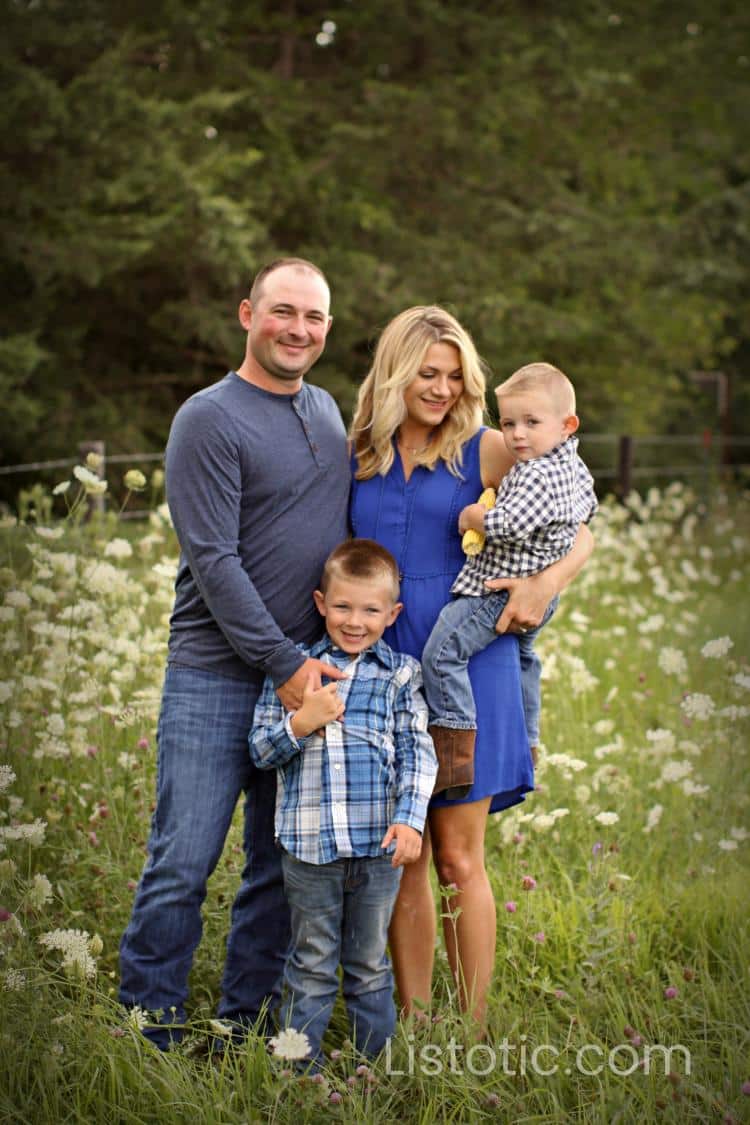 13. Consider Adding layers
Clothing items like zip-ups, shrugs, jackets, hats, scarfs, vests, flannels, sweaters, suspenders, or ties can pull together several outfits. Adding layers to your clothing adds texture and interest to your photo. Start everyone out with a basic outfit then add layers for each person that will look good side by side without overdoing it.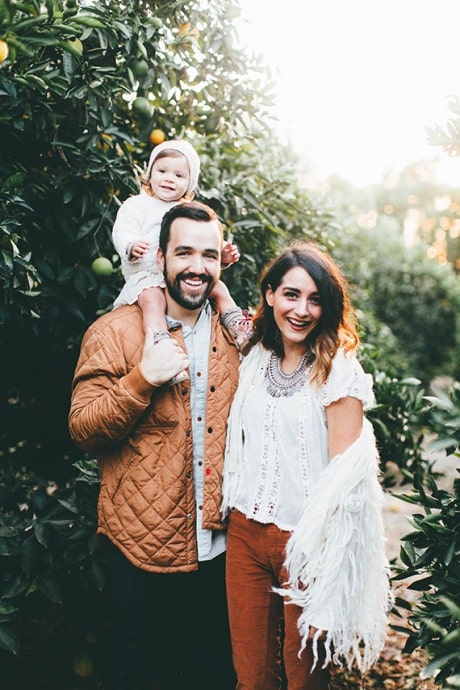 14. Use a prop
Like the blanket used in this simple yet gorgeous bird's eye view of a family snuggling together. This photo by photographer Allison Corrin simply uses a prop to help bring everyone together. Small props or even big props are great photography tools. I love using old pickup trucks as props. (Old pickup trucks are not always an easy prop to find though if you don't live in the Midwest – luckily I have access to several!) Get creative! Using a prop can unite the whole family photo without needing to match clothing.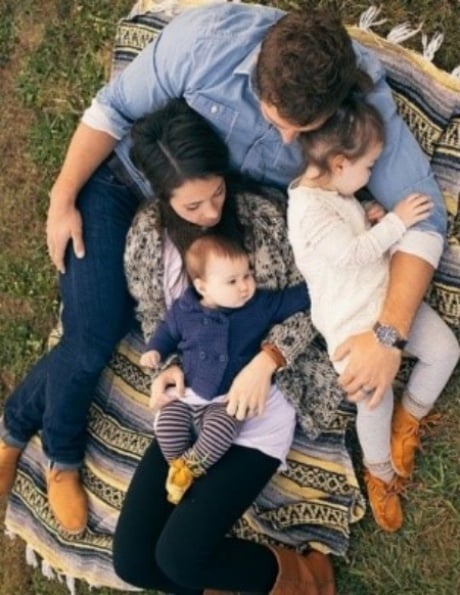 15. Dress for the season
In Autumn wear sweaters and puffy vests. Summer is perfect for sundresses and tank tops. Spring is a great season for rain boots and fun umbrella shots. Winter is time to get out those adorable winter hats and cozy scarfs. Check out this article on Shutterfly for a ton more fun family photo ideas. The possibilities are endless. Just make sure you are having fun!
Keep it simple and seasonal!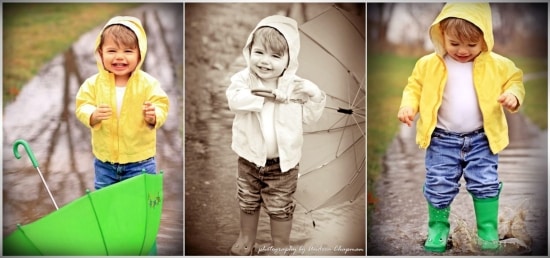 16. Dress for the beach
If have a specific location you are planning to dress for it is easier to find the right clothes to suit that location. If you were taking the family to the beach what would you find for everyone to wear? I'm guessing Comfortable, flowy, light-colored simple clothes? Perfect! go with it! Nothing says casual and comfortable like beach attire.
What would you find for the family to wear to the beach?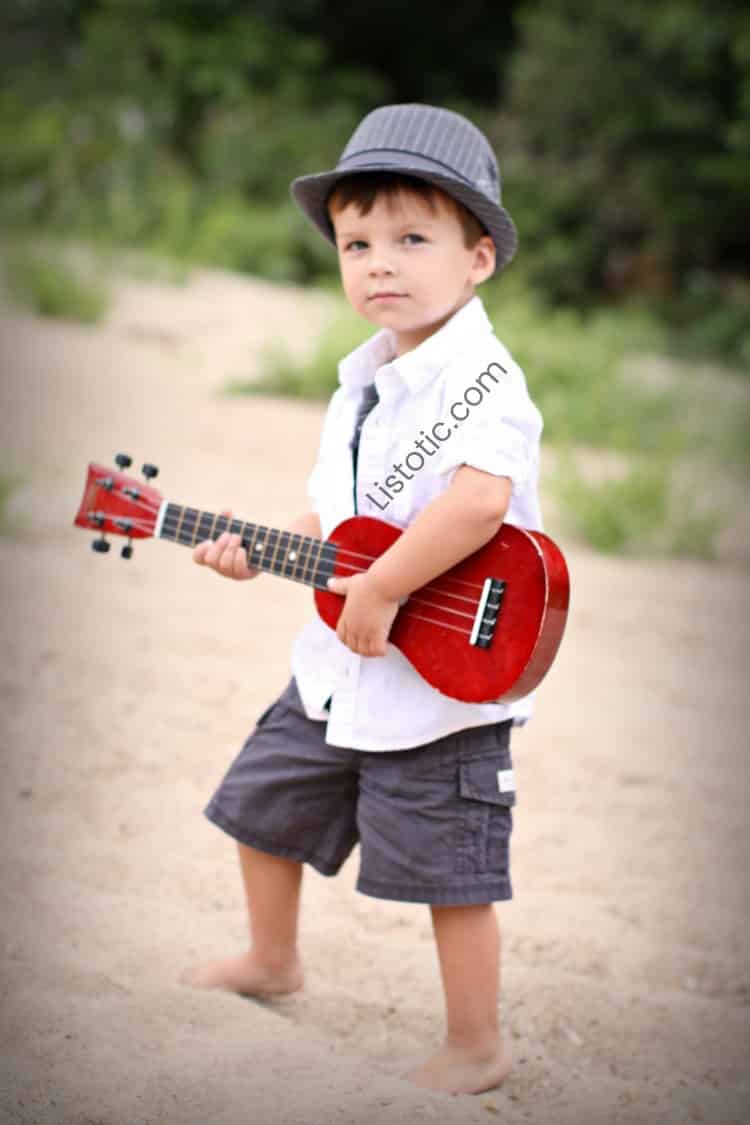 17. Don't wear big contrasting stripes
One thing I can tell you NOT TO WEAR in your family photo is large horizontal dark and light stripes. The human eye is trained to look for the busy area of the photo first. Thus, viewers are looking at a striped shirt before the faces in your family photo. I found some stock photos below that might help you see how large stripes can be distracting. Contrasting stripes distract your eye from the faces in the photo. So, a group shot where there are 5-10 faces to look at; stripes will be too obstructive.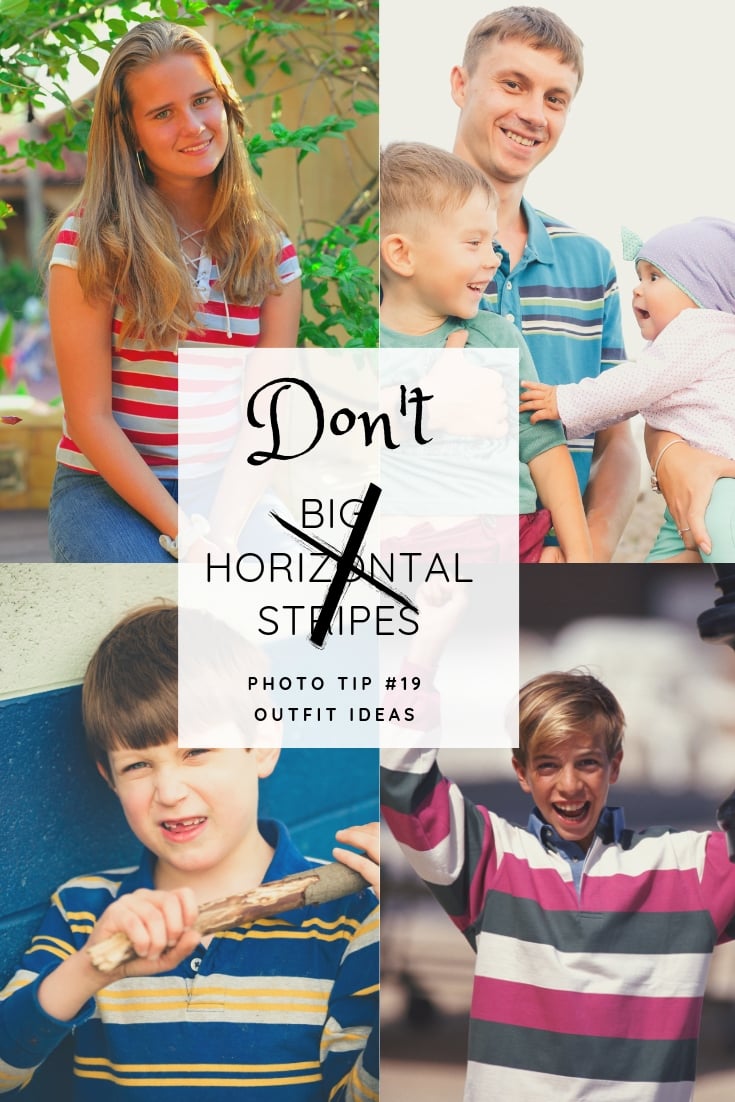 18. Simplify your background.
Especially If you're going to wear bright colors and patterns you'll want to keep your background simple. Backgrounds should enhance the colors you wear and frame your pose well. Photographer Tip: make sure all the family member's heads are below the horizon line as this can also be a distraction in a portrait. Read more about keeping heads away from the horizon line in this article 17 Do's and Don'ts for your large group photo.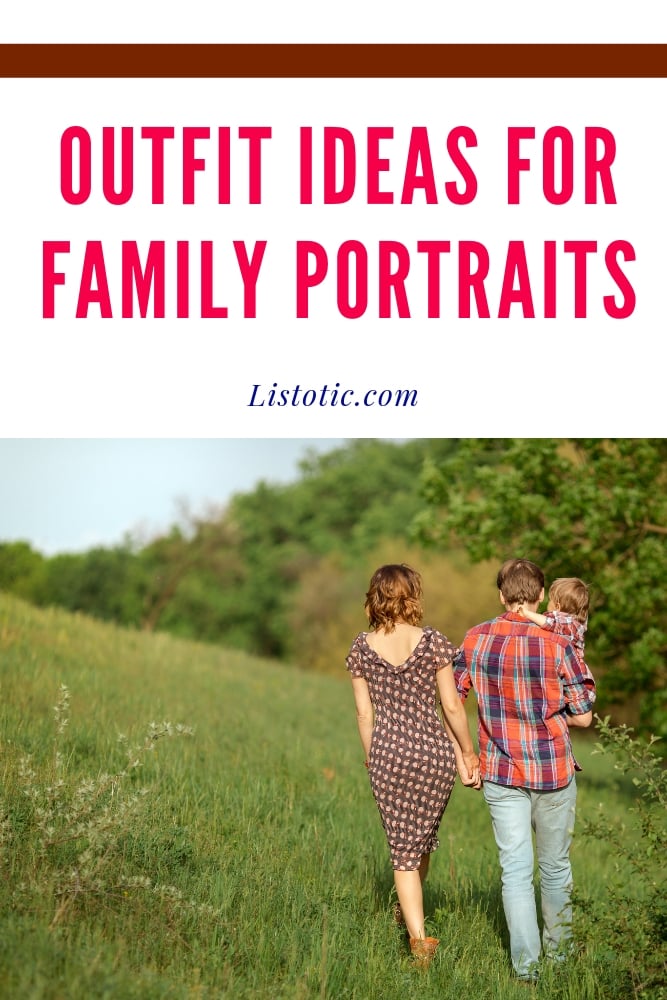 ---