Last Updated on May 13, 2021
Every woman wants to be beautiful! And some of us will spend countless hours trying to look our best, but most of us are making beauty mistakes that we had no idea were all wrong! I'm certainly guilty of a few of these.
Beauty really is in the eye of the beholder, and I truly believe that we look our best when we are confident and feel like our best self, so don't change a thing if you love the way you look, as some of these are my personal preferences and own opinions on beauty.
If you like this post, you might also like this list of 32 Makeup Tips & Tricks That Nobody Told You About.
1. Knowing How To Use Your Concealer
Which do you apply first, your concealer or foundation? It seems like this question is somewhat of a debate because I've read a little of both on some of the most popular beauty blogs. I've always applied my foundation first, otherwise it seems redundant to apply concealer only to have the coverage wiped away with the application of your foundation, so in this case, as long as your concealer is blending in well and giving you the coverage you want, do whichever works for you!
On that note, here are a few things you may be doing wrong with your concealer:
Too much in a targeted area. Instead, layer! Apply a small amount over your blemish, give it a chance to dry, then apply another layer. Continue layering if needed. For the best results, use a setting powder in between layers to prevent it from wearing off.
Using the same concealer for every job. Guilty! Every color has a different job. A peach-toned concealer is best for under-eye circles because it cancels out blue shadows. A green-toned concealer cancels out red (pimples and blemishes). Use it for your first layer and then finish with a concealer that matches your skin tone. Yellow-toned concealers are best for evening out your skin tone (larger areas).
Not taking advantage of its many benefits. It's not just for covering blemishes and under-eye circles! I've made this handy pictorial to show you how to truly take advantage of your concealer. Hope this helps!

2. Using The Wrong Color Eyeliner
Unless you have a darker skin tone, I feel that black eyeliner can be a little harsh, and perhaps best saved for a night out. A light to dark brown looks best on light to medium skin tones, especially if you have blonde hair, and green or blue eyes.
Whichever color you choose, take this advice from Cosmopolitan and select a lighter, more subtle color for your bottom lids (if any at all). Keep the liner off of your water line and use a nude pencil there instead to open up your eyes. Also, most women look best with eyeliner only applied to the outer 3/4 of their eyes. There's no reason to trace the entire eye! It doesn't look natural.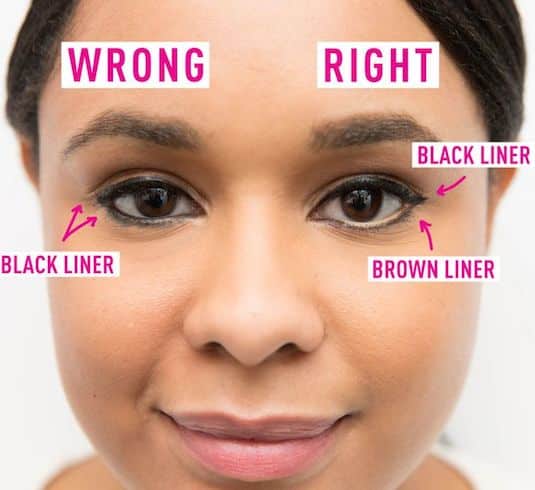 3. Sleeping On Your Side
This is from personal experience, and let me tell you, my husband has had some good laughs at my attempt to prevent sleep lines in the last few months. I've always been a side/stomach sleeper (so cozy!), and one day last month woke up to see wrinkles on my chest that took hours to go away. I came to the realization that these would some day be permanent. Nooooooo!!
My first thought was, "There's no way I'm sleeping on my back", so instead, I used my handy Google Search Bar to see if there were any other alternatives. The first thing I found was a simple little pillow called the Bosom Buddy. Easy enough! I immediately ordered one, confident that I would never have to worry about chest wrinkles ever again.
The thing about this little pillow is that it doesn't stay in place unless you wear a tight tank top to bed to keep it in its place. Not a problem for me because that's usually what I wear anyway. But, unfortunately it didn't work 100%. It helped a little, but I still noticed lines in the morning (probably from it falling out of place), so I went on another hunt for something that would solve this dilemma of mine.
A Great Solution to Sleep Lines
Found it! A Silicone Pad you can slap on your chest and wear to bed every night. This is going to be great! It actually worked pretty well the first few nights, but after only a few days it loses its stickiness, causing it to fall off in the middle of the night. I then decided it was probably best to wear the Bosom Buddy combined with the silicone pad for extra wrinkle protection– this is when my husband stopped laughing (What, is this NOT attractive?!). It may have also been when I started wearing anti-wrinkle pads all over my face that he decided I had taken it too far.
Ok, fine, I'll give this sleeping on my back thing a try. I can't live with all of these added nightly routines for the rest of my life. The first night I didn't sleep much and kept finding myself rolling over onto my side, but I quickly found a simple solution for that, and have been sleeping comfortably on my back for the last few weeks. In fact, I now prefer my back!
Making the Switch to Sleeping on Your Back
Here are a few tips if you want to make the switch: Put a pillow under your knees to support your back and keep you from rolling over. I found this to be very comforting for some reason. You may also need to switch out for another pillow (you can actually buy a pillow made especially for back sleepers), but I think the idea here is that you don't want a pillow that is too hard. I have a down pillow that seems to kind of cradle my head, so the sides of the pillow rest up next to both sides of my face.
Keep in mind that it may take a few weeks or more to get comfortable on your back, but if for whatever reason you're not sleeping well on your back, it may not be worth it. Lack of sleep causes wrinkles, too! They're inevitable, but if I can delay them by even just a few years, I will obviously go the lengths to do so.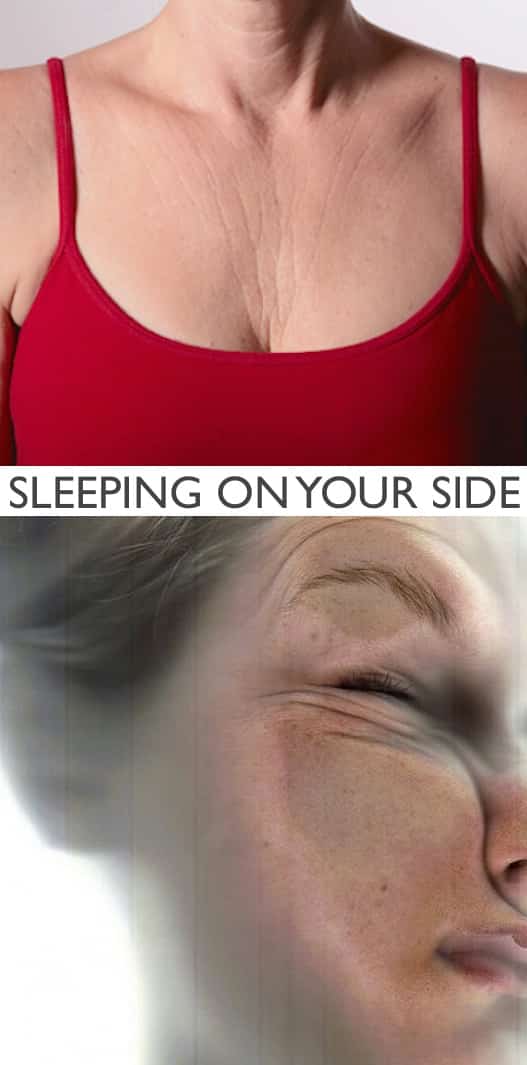 5. Tacky Lipstick 
Don't get me wrong, the right shade of lipstick can instantly give you a confidence boost, but a bright, unnatural color isn't attractive on most women when combined with heavy eye makeup. If you do decide to make a bold choice, keep the rest of your makeup simple. A bright lipstick combined with smokey eyes and flushed cheeks can look more clown-like than pretty.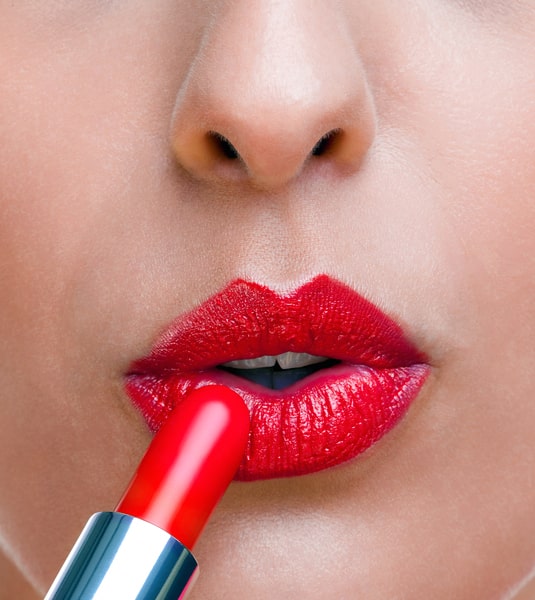 6. Long, Flashy Fingernails
This may be more of a personal preference, but long fingernails (and toenails) have never been my thing. I get visuals of witches and bear claws every time I see them, especially the pointy, almond-shaped nails that I've been seeing a lot of lately. I don't understand the idea behind spending hours in the salon to have your fingernails poked, sawed, and ultimately covered up with acrylic and glue when we have natural beauties that don't take nearly as much effort.

7. Wearing Bronzer All Over
If you're bronzer-challenged like myself, you may be surprised to know that this stuff is not meant to be swept all over your face. The idea is to apply it to the areas where the sun would naturally hit. Stick to the outer edges of your face– the top of your forehead, cheekbones, and jawline. When done correctly, you will actually be drawing the number 3 on both sides of your face.

8. Drawn-On Eyebrows
I've only been filling in my eyebrows for the past few years (they seem to be getting sparser as I age), and I have done a lot of experimenting with different products. The last thing I want is to look like I've drawn them on! This is a common mistake because it can be quite difficult to get a natural look– there really is an art to this makeup stuff!
The first thing I tried was an eyebrow gel, but found it very difficult to apply without it looking like a hot mess. It certainly didn't give me the natural look I was going for, so I switched to a brow pencil instead. Better! But I still had to be very careful not to have harsh lines.
The Perfect Eyebrows
A few weeks back, I came across an article through Pinterest about using an eyeshadow combined with an angled brush to fill in eyebrows instead. That sounded like a better way to get the natural look I was going for, so the next time I was at Target I went on a hunt for a matte brown shadow that I thought might work, and stumbled instead across this Eyebrow Cake Powder before I even had the chance to look at eyeshadow. YAY! It's basically the same concept but with everything you need all built in to one little compact.
I now use it everyday, and LOVE it! It has two different shades of powder so you can blend to get the perfect color, and a wax to keep your brows in place. There are also six different shades to choose from (blonde, brunette, auburn, black, dark brown, and taupe).
I've found it to be fast, easy, and completely natural looking! I couldn't resist sharing my new favorite makeup find. I hope this helps in your pursuit for the perfect eyebrows!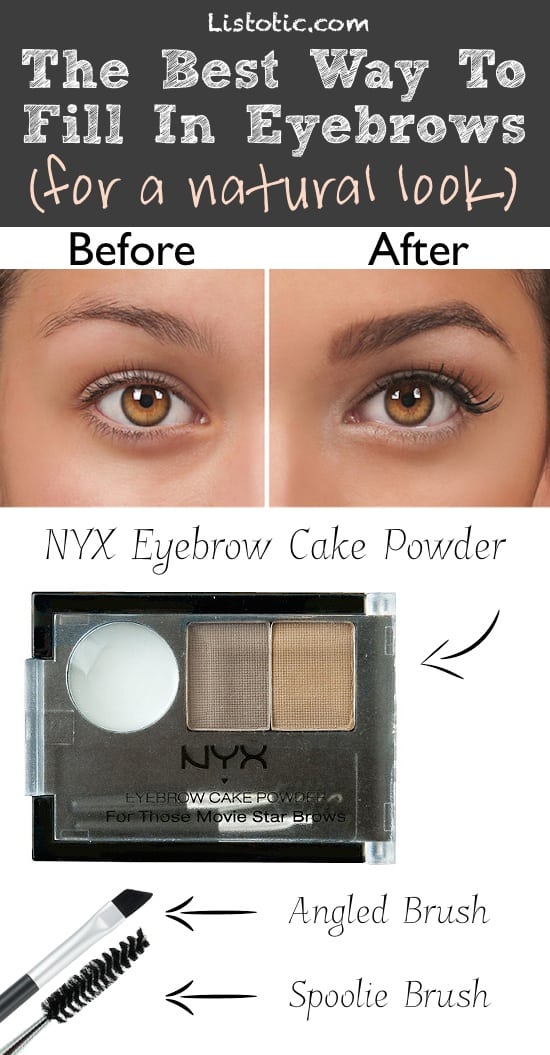 9. Fake Eyelash Abuse
I think just about every woman wants long, full and beautiful lashes. This is why we crimp, curl and apply mascara almost every day. If there is one thing in my makeup drawer that I couldn't live without, it would definitely be my mascara, but at some point falsies and extensions took over, and now a lot of us look like we have spiders crawling out of our eyes. Not to mention the adverse reactions, hygiene risk, and the damage they can do to your natural lashes.
For special occasions, lash extensions or falsies can look stunning when done right (especially for pictures). My only point with this is to encourage women to be their natural selves, and not feel the need to keep up with the girl next door.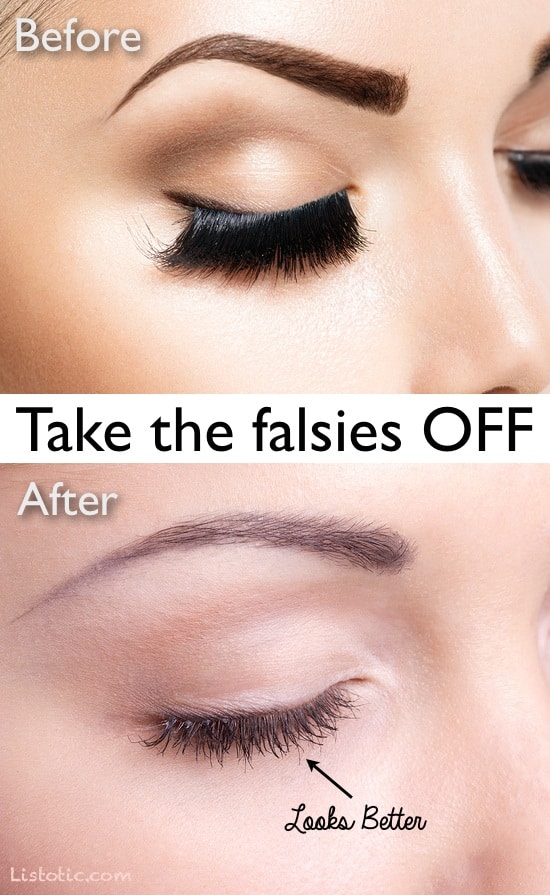 10. Wearing Lipliner All Wrong
One of the biggest beauty blunders that most women don't realize they're doing is not blending makeup properly. Harsh lines are the last thing you want if you're trying to achieve a natural look. Eyeliner is a popular one (my biggest pet-peeve), but lipliner is second on the list.
A lot of women wear lipliner to keep their lipstick from bleeding, but the harsh line that shows up once your lipstick starts fading isn't pretty. The easy solution to this is simple: Blend, baby, blend! Check out the details and more info on this subject here.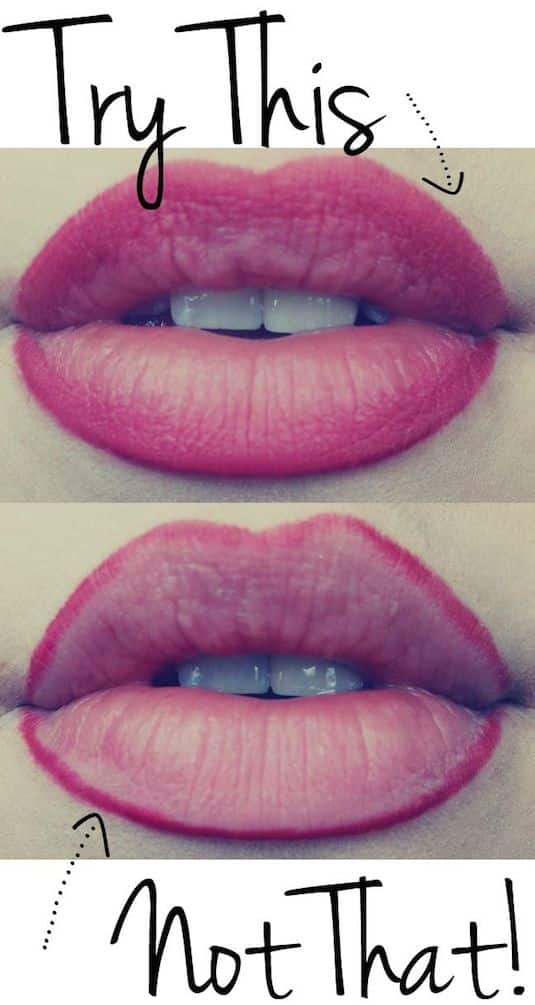 11. Misuse of Dry Shampoo
I feel like dry shampoo is now the 8th wonder of the world! The idea of putting powder in a can to absorb oil is just plain genius. It's torture having to wash, dry, and style your hair every day, and dry shampoo has saved many of us countless hours under the heat of our hair dryer.
The first time I used dry shampoo, I was a little disappointed, only to find out that I was just doing it wrong. My biggest blunder was not waiting for it to absorb. Now I spray it on and let it sit in my hair while I do my makeup, and by the time I'm finished, my hair looks better than it did after being freshly washed the day before.
Here are a few things you may not realize your doing wrong with your dry shampoo, and how to fix them! Every girl should be able to take advantage of this miracle in a bottle.

12. Over-Washing Your Face
Beauty starts with great skin, and sometimes we just plain overdo it when it comes to washing. Everyone has a different skin type, and some of us are older than others, so there are many factors involved, but if you find that after applying your foundation you can see flaky, dry skin…. stop washing so much! Let your natural skin oils moisturize for you.
It's important to wash before bed to remove makeup, but you can skip the wash entirely in the mornings, or do what I do and use baby wash. It's gentle enough to make you feel clean without robbing your skin of its natural oil. Did you know that you can also use baby wash once a week to wash your hair to get rid of build-up? It works just like a clarifying shampoo, but at a fraction of the cost.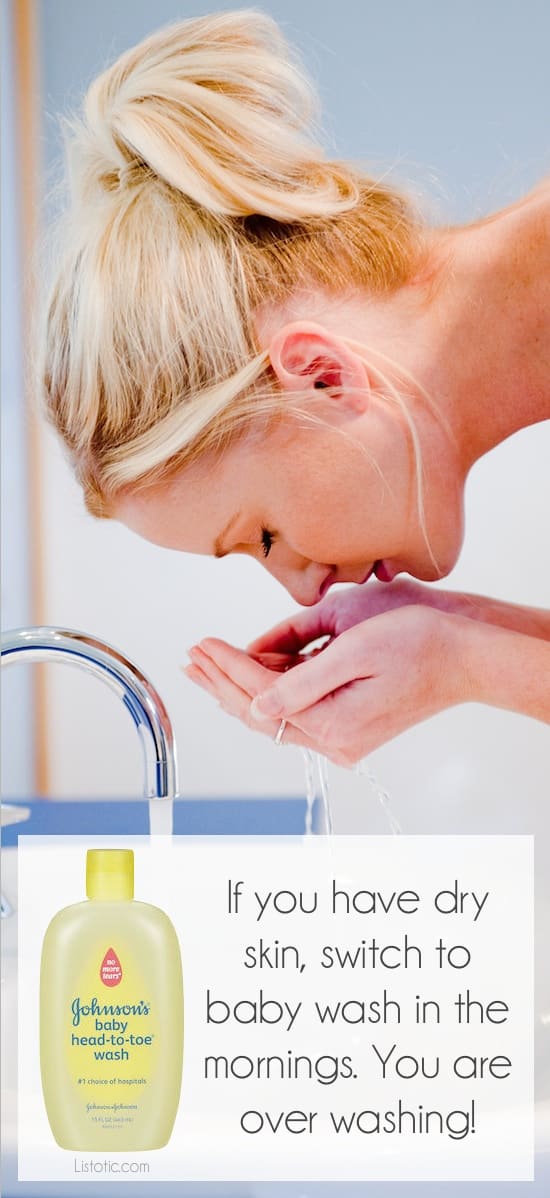 13. Wearing Face Powder
Face powder is great for locking in your makeup and getting rid of shine, but this stuff can really age you! It magnifies wrinkles and any hair/peach fuzz you may have. Most women don't need face powder at all, but if you like to use it to keep the shine down (I use these), use powder on your T-zone only (nose and forehead). As you get older, it should become less and less part of your morning makeup routine.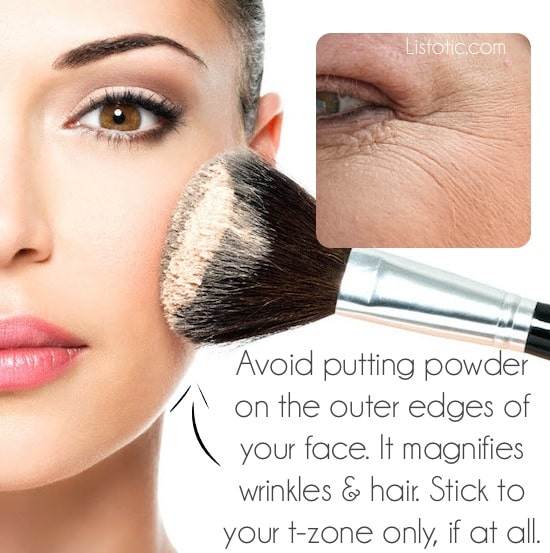 14. Wearing Waterproof Mascara Every Day
Waterproof mascara is great for the obvious reason that it stays in place all day, but it's also a lot harder to remove and has more chemicals than you would probably care to know about. Not only does the everyday process of applying and removing it take a toll on your lashes, but the list of ingredients can cause your lashes to slowly wither and die. In short, save your waterproof mascara for the summer months only, and only on days where you think you might need it.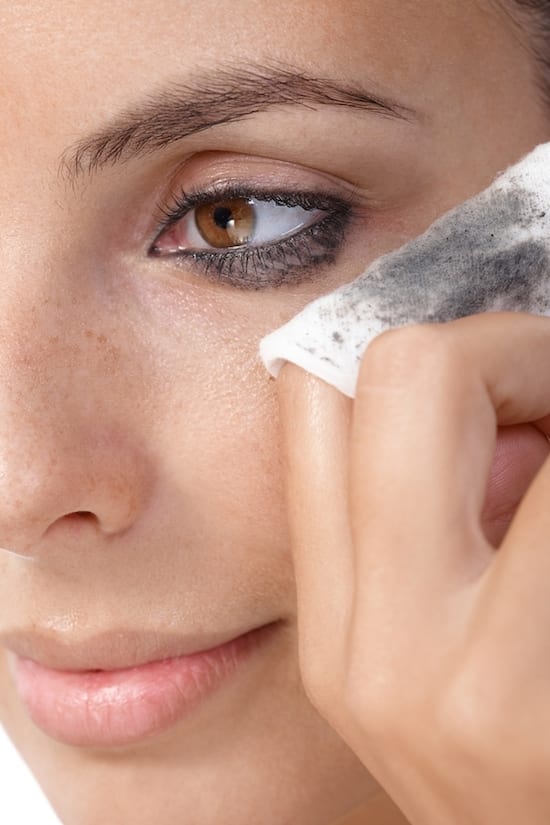 15. Applying Makeup In The Wrong Lighting
Most of us use the unnatural light from our bathroom mirror to apply makeup every morning. And this is fine if you've already applied and tested your makeup by a window, but if you haven't taken a look at your makeup lately somewhere other than your trusted bathroom mirror, you might want to get on that. Some of you may be surprised to see that your foundation, eyeshadow, or lipstick isn't quite as flattering as you had hoped.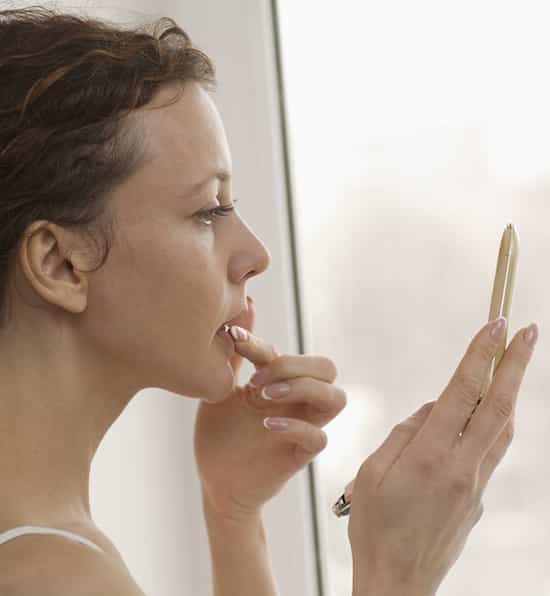 16. Too Much Foundation
Foundation is meant for covering up uneven spots, not to be worn as a mask. In fact, unless you're wearing something rather light and sheer, it's not necessary to cover your entire face. Instead, only apply it where you need it– nose, cheeks, under-eyes, etc. A lot of women use it to cover up blemishes, but that's what concealer is for!
Aside from applying too much, it's just as important to make sure you're wearing the right color. If you're looking for a good foundation (I've tried just about all of them), MAC Studio Face and Body Foundation is my favorite! It provides a low-medium coverage in a natural satin finish. The great thing about it is that it's made to build-up, so you can apply a single coat for a natural day-time look, and apply more coats if needed for a night out. Visit a makeup counter to get the perfect shade. I wear the N3 and have a light-medium skin tone.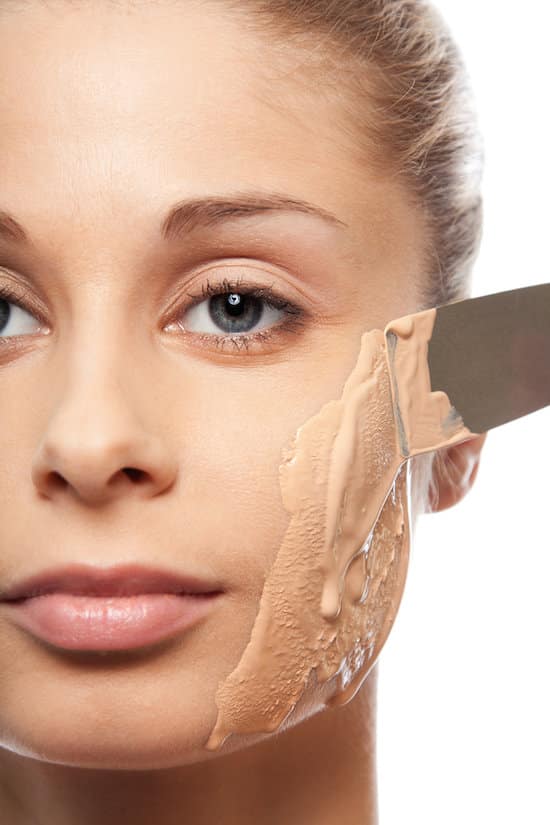 17. Too Much Shimmer & Glitter
I've always been drawn to the shimmery eyeshadows over the matte– maybe because they look so much prettier in the compact?! But to be honest, a shimmery or glittery eyeshadow that covers the entire eyelid and brow area can be overwhelming, especially if you have oily skin. Too much shine!
Save the shimmer for the inner eye area only, and use a matte eyeshadow for the rest. I've always felt that a nude shadow or a shadow a few shades darker than your skin tone is best. White or pearl eyeshadows look unflattering and clown-like to me.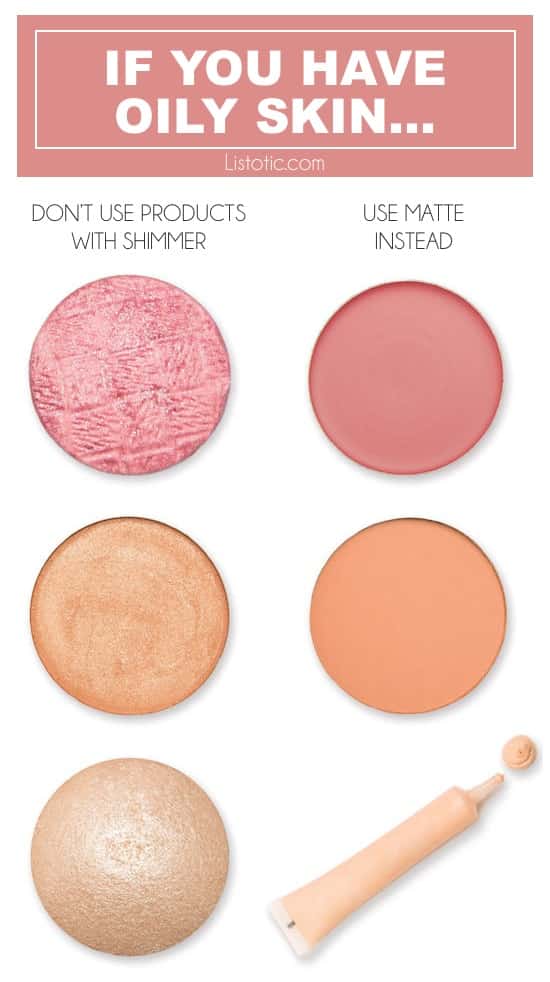 18. Too Much Perfume
One spray is too much! Perfume and cologne have always been offensive to me, and I think a lot of people feel the same. Not only is it a huge turn-off, but it can also cause headaches and allergic reactions. You should only be able to smell someone if you've got your nose snuggled up right next to them, not from across the room.
I honestly don't think people realize they're doing this because they slowly become nose blind to their own smell. If you're not sure if you're wearing too much, ask a friend or somebody you trust. Either way, a body mist (less concentrated) is a much better option, if anything at all.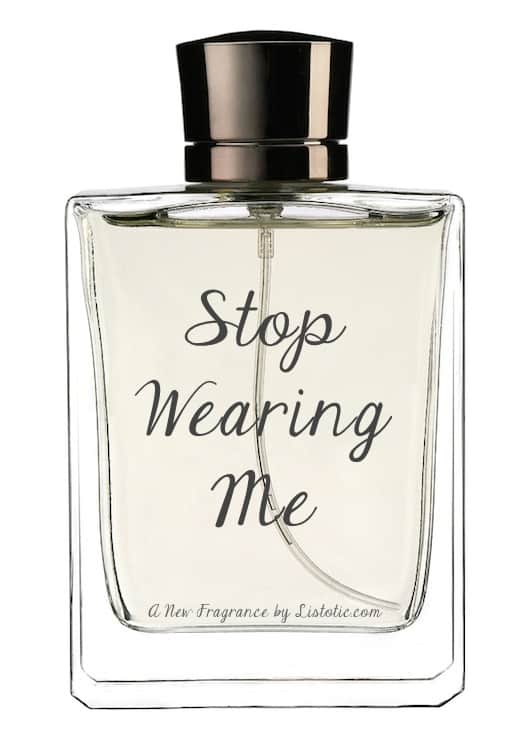 19. Stop Doing This One Thing
I'm not sure why or how this happened, but the inseam of shorts have slowly gone into negative numbers over the years. When the pockets started showing, was that not a sign that we've gone too far? I personally feel that shorts should be at least 3 inches below your "stuff", but perhaps I'm just turning into an old prude! What do you think, classy or trashy?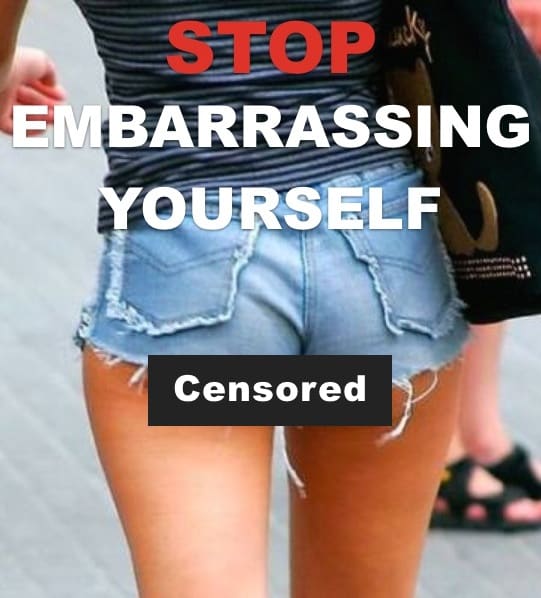 20. Falling Prey To Beauty Trends
A beautiful appearance will last a few decades, but a beautiful personality will last a lifetime. We naturally want to fit in, and because of this we tend to fall victim to beauty trends that take over our life! You can only be the best version of yourself, so don't get too caught up in your physical appearance.
As a joke, I tried to make a contouring pictorial that looked ridiculous, but it actually turned out to look just all of the other ones floating around Pinterest. Ha! 🙂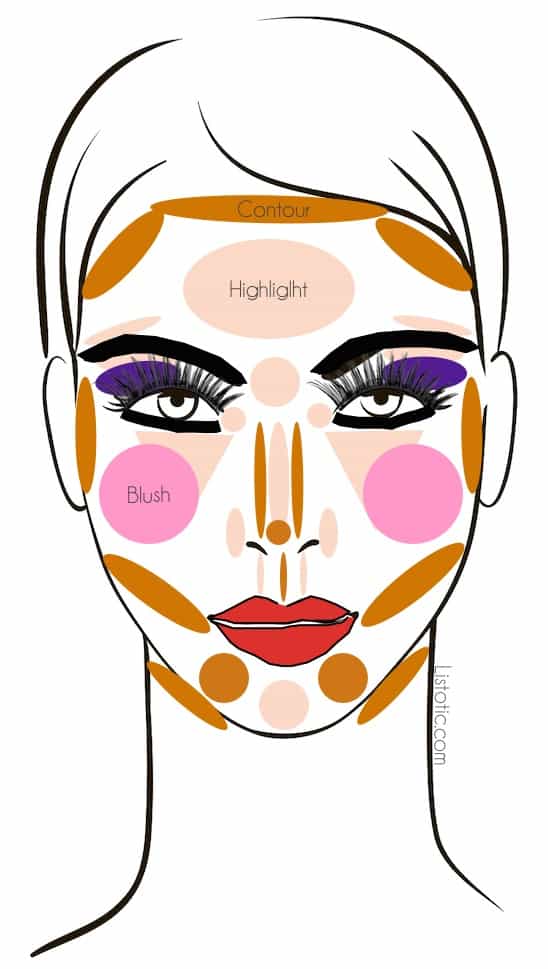 But before making fun of this trend, I figured I'd better give it a try. I spent $35 on the makeup and brush for this contouring experiment (it was actually kind of fun, I laughed at myself the entire time) and look how amazing the results are!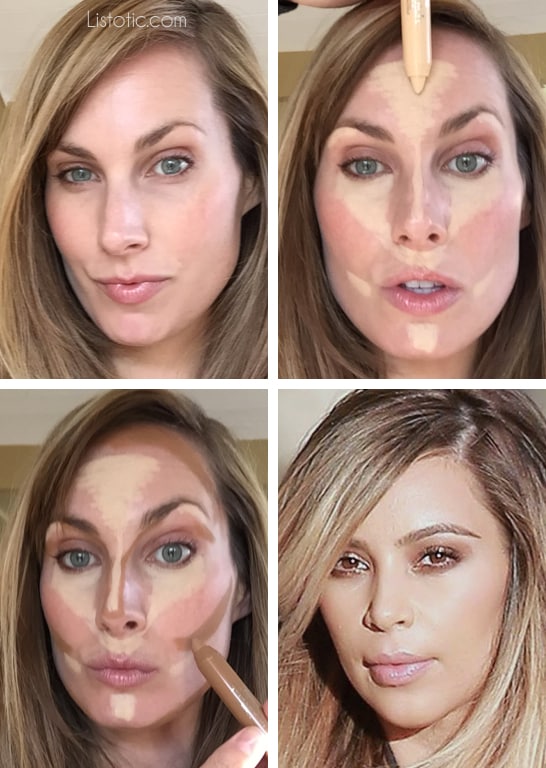 Kidding! That's obviously not me unless contouring can also change your eye color. 🙂 Now, to be honest, I thought I looked a lot better in the after photos, but in real life I looked ridiculous! My husband said it looked like he could scrape several layers off of my face. I understand the idea of using a contouring guide to sweep on a little bronzer, but unless you find yourself at a photo shoot, it's a bit excessive to apply this much makeup. Although I'll probably never bother to contour again, I did have a lot of fun!