Last Updated on October 31, 2022
Easy homemade Halloween decoration ideas
It's already that time of year! You know, when we decorate our homes with ugly, terrifying homemade Halloween decorations. Ah, Halloween house decor, I love it! I try not to be too distasteful, but there is just something strangely fun about having creepy things dressing up my home; even if I only get one month!
My kids enjoy the projects more than anything, so I try to make a few things every year from home. Although I enjoy being all artsy and stuff, I also like quick and easy. It should be FUN, right!? I've rounded up a few of my favorite DIY Homemade Halloween decorations that the adults and kids will love even a Halloween Doll house! They are all pretty painless but also very effective.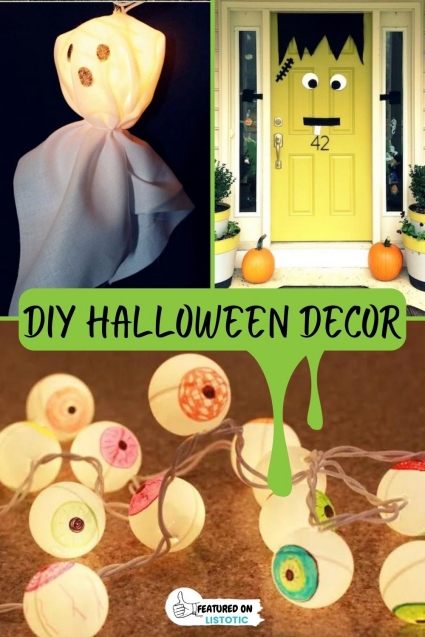 This post contains affiliate links. Please see our Disclaimer Policy.
Easy to Assemble Homemade Halloween Decorations
1. Glowing Eyes
Toilet paper rolls and glow sticks? Well, yes, if you want to scare all of the cute little trick-or-treaters. Of course you do. Just hide them in your bushes, shrubs and trees, and watch as your glowing eyes terrorize the neighborhood. Keep this idea in mind as you scroll to idea 22 the Halloween doll house.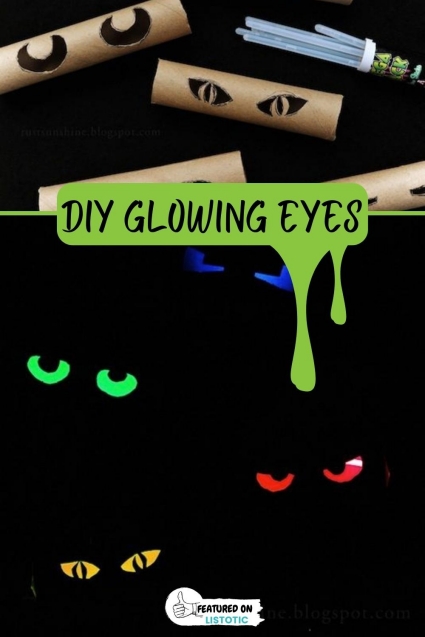 2. Eyeballs in a Tree
What better way to give your trees a little personality? The hardest part of this project is getting them up in the tree (that's what husbands are for), but the rest is quick and easy! Just go check out Anna's Instructions (you can buy the plain white beach balls here), or even buy these giant eyeball beach balls if you'd rather take the easy way out. 🙂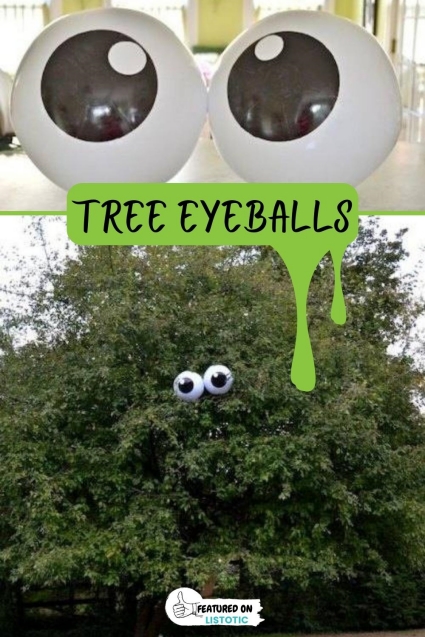 3. Bloody Handprint Clings
What's Halloween without bloody handprints all over your windows and mirrors? Make them yourself with Elmer's glue and red food coloring! They cling to just about any smooth surface. I like this idea for the inside of a glass front door and surrounding windows. Creepy!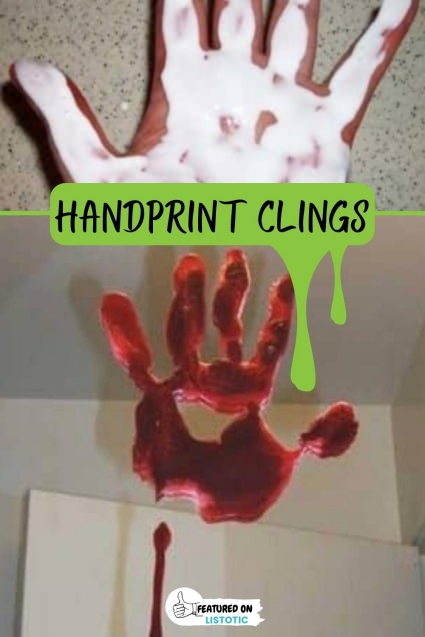 4. Wall Spider Web
Quite impressive, I must say! Yarn, double sided tape and Karen's hilarious instructions are all you will need to pull off this faux spider web. Oh, and maybe a few spiders, too.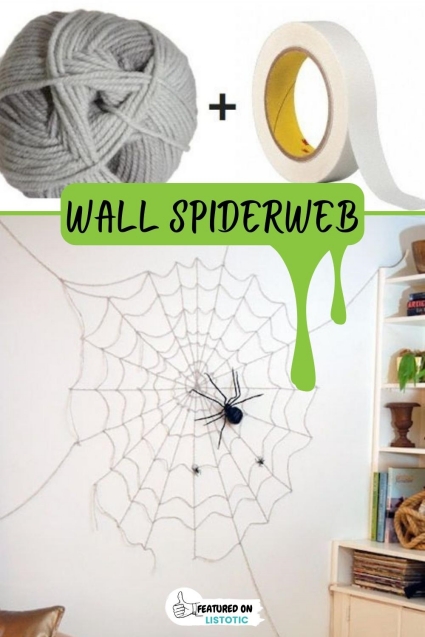 5. Silhouette Lamp Shade
You've already got the lamp, so why not add a few silhouettes to spruce up your Halloween decor? It really doesn't get much easier or cheaper than this! And, you probably already have the supplies on hand. Check out the full details for this project over at Young House Love.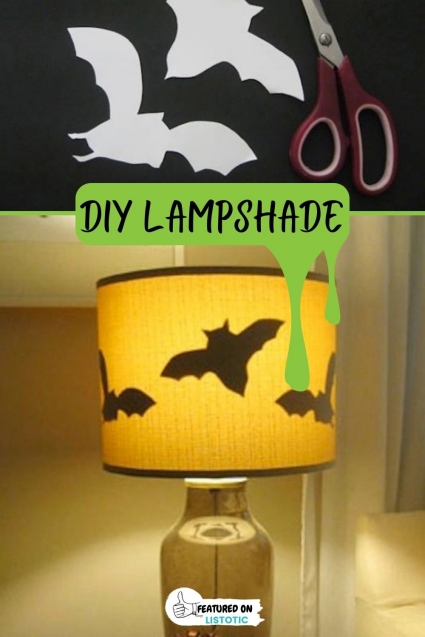 6. Illuminated Ghost Garland
Adorable in the day AND night! These mini ghost lights are constructed with a strand of white lantern lights covered in white fabric. They almost look like something you could buy at Pottery Barn. I love the way they turned out! You will find the full instructions here.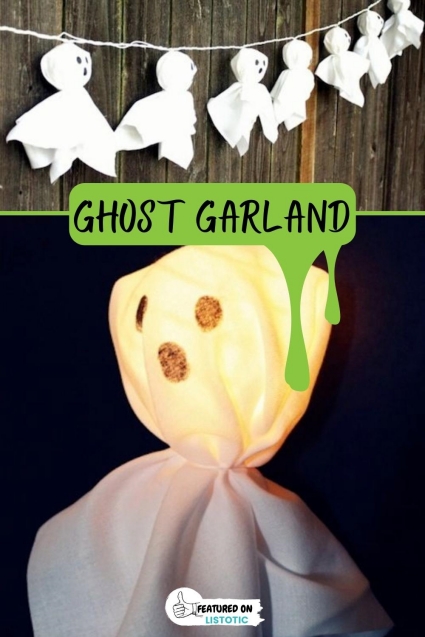 7. Monster Face Archway
Now, THIS is an entrance fit for Halloween. This project is fairly simple with very few supplies, but just look at how effective it is! When attached to an archway, it gives the appearance that you're entering a monster's mouth. Very cool!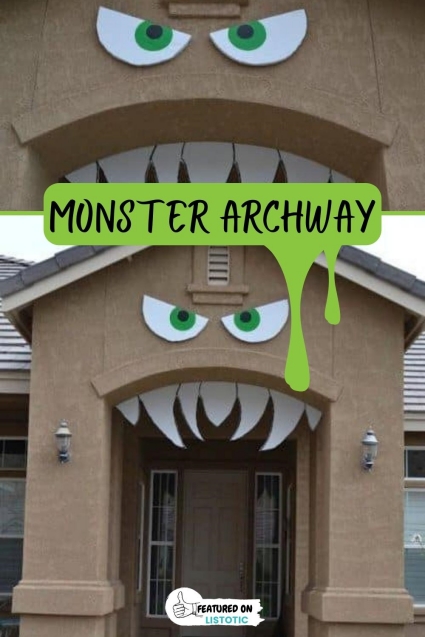 8. Dancing Lawn Ghosts
For this project, simply poke a styrofoam ball through the top of a white or green, tall garden/fence stake or spray-painted dowel, and then cover it with white fabric or cheesecloth. Lightweight fabric will pick up in the wind more, giving them the illusion that they're dancing. If your fabric is on the sheer side, you might want to use a couple of layers.
Make several of them and place them in a circle with the fabric corners tied together. You can secure the fabric over the styrofoam with hot glue and a few white push pins in the very top for extra security. They look really cool dancing around a tree or faux fire pit!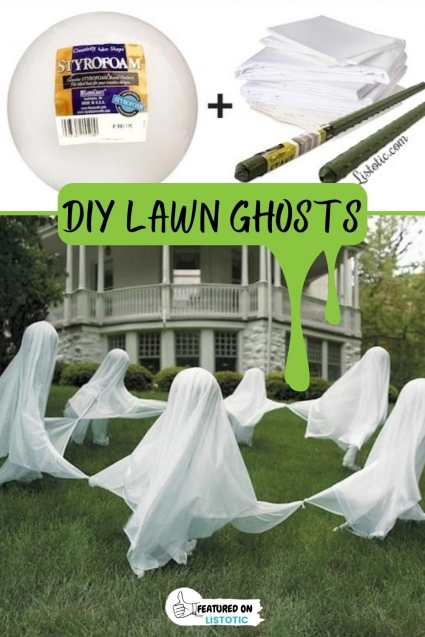 9. Hanging Bats
These are made from black craft foam and fishing line so that they'll withstand even the wettest of weather! Hang several of them in a tree for a spooky little bat colony in your front or back yard. It's simple enough that the kids can do most of the project themselves. Read the full instructions and get the bat template over at HGTV.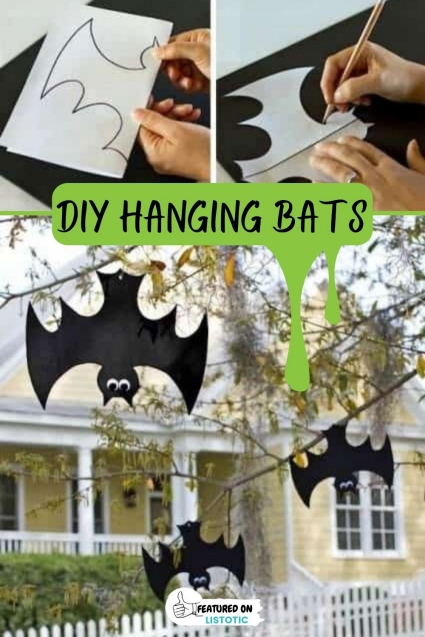 10. Halloween Luminaries
Grab your mason jars because this Halloween Décor craft is a great way to upcycle those old mason jars just sitting around the house. Create Halloween Luminaries out of your recycled mason jars and some festive paint. Simply add a tea light and light the way for trick or treaters with your homemade Halloween luminaries. These would look great in your Halloween house See the step-by-step tutorial for making this easy Homemade Halloween décor here.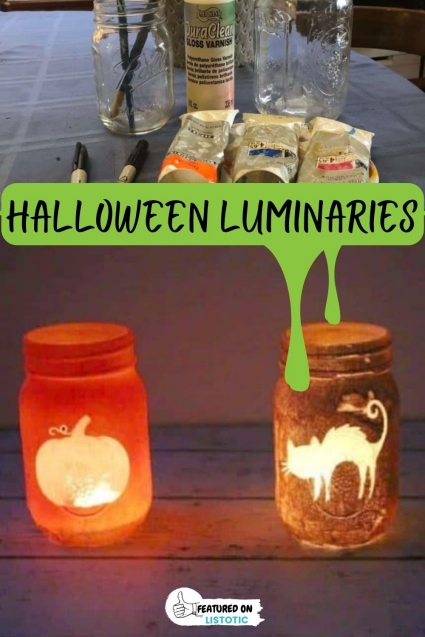 PLUS, MORE Homemade Halloween Decorations!
11. DIY Halloween Door Mat
Customize your own Halloween door mat with just about any stencil! You can spruce up an old door mat or buy one with a blank canvas. Just surround it with a few pumpkins, and you've added a touch of subtle festivity to your front porch. Check out the full instructions here.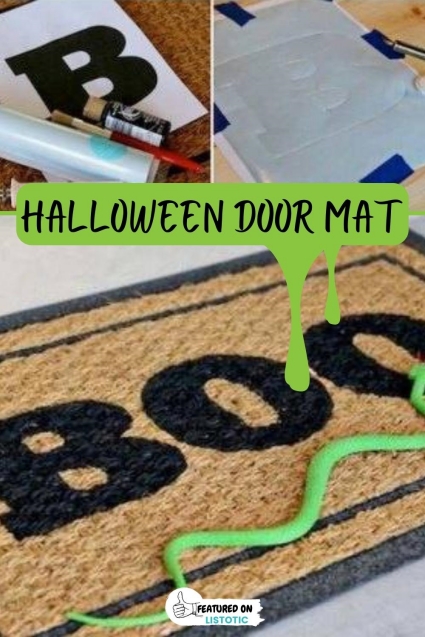 12. Huge Black Spider
Start Halloween night off right by greeting your trick-or-treaters with a huge black spider! It's an easy, terrifying homemade Halloween decoration. I like this idea for a large shrub or bush covered in spider webbing. A milk jug (with the top cut off and cleaned thoroughly), black Duct tape and black pipe insulation is all you will need to make this eight-legged friend.
Tips:
You can also use spray painted styrofoam balls in place of the milk jug (one large for the body and one a little smaller for the head).
Glue feathers from a black boa all over the body to make it hairy!
Cut small triangles out of the pipe insulation where you want the legs to bend, and then use duct tape to secure it in a bent position.
Use ping pong balls or large googley eyes for the eyes, and add detail to the body with paint if you'd like.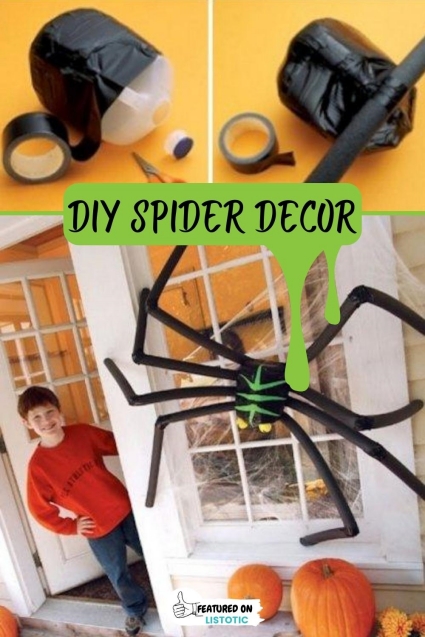 13. Frankenstein Door
I'm not suggesting that you paint your door green, but this Frankenstein door is too cool! The project itself will cost you under a buck, and for the ease and low cost, it sure does create a big impact! Check out how it was done here.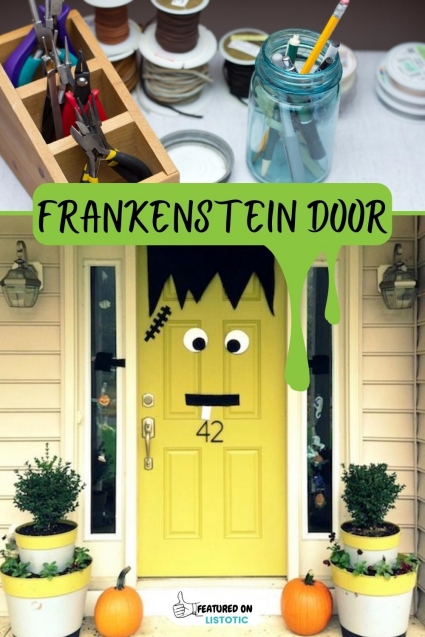 14. Trash Bag Spider Webs
You don't even have to bother leaving the house for this super cute and thrifty Halloween craft. A few black trash bags and scissors will do the trick! They look really cool hanging in front of the window, and they create a nice silhouette in the window at night. Check out the instructions over at Fast Forward Fun.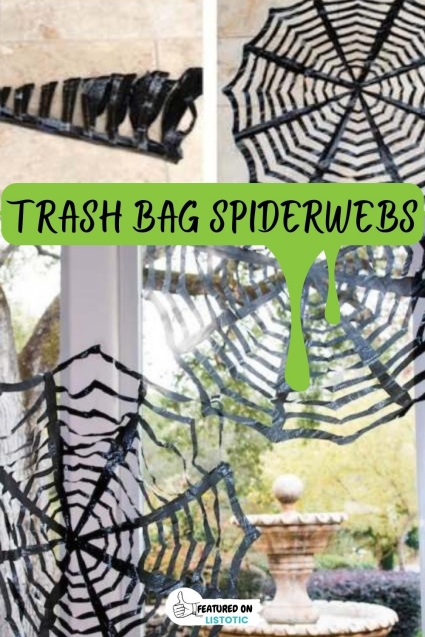 15. Mice Silhouettes
Place these little critters running along your baseboards, adorning your staircase, and running up the walls! Just black paper and double-sided tape! It's super easy with this free template from Martha Stewart.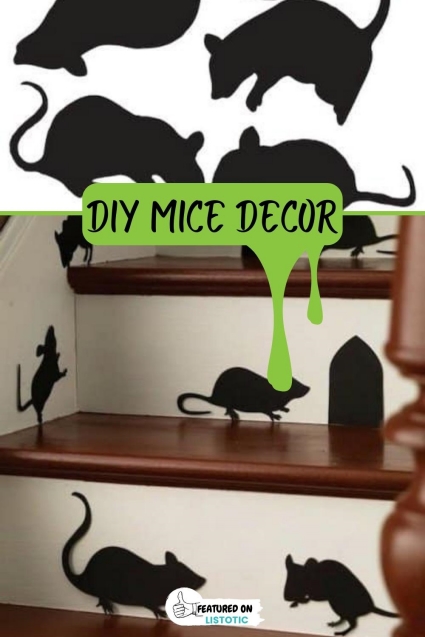 16. Halloween Window Decor
If you want something that really stands out this Halloween, then I have a suggestion for you! Yep, window silhouettes because they are easy and really impressive! You can purchase them at party stores or make your own cut-outs on black paper or cardboard. There is also a large selection to choose from on Amazon. I purchased a few of these a couple of years ago. After it's attached to the window with a bit of tape, then all you have to do is turn your lights on! I'm going to do some experimenting on the windows by my front door this year with blackbirds and tree branches.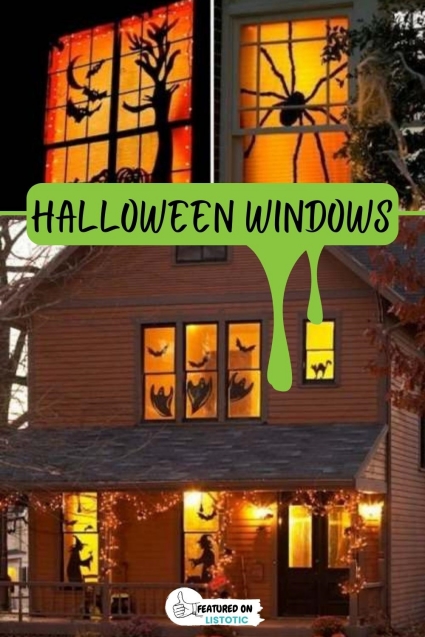 17. Movable Mummies
These creepy yet adorable little mummies are made with just 2 simple materials! They're so easy to make, even the kids will have fun putting them together. You can assemble these homemade Halloween decorations as little or as big as you would like, and then add them to your Halloween decor. They're fun to play with too! Check out the full instructions over at Fabbri Designs!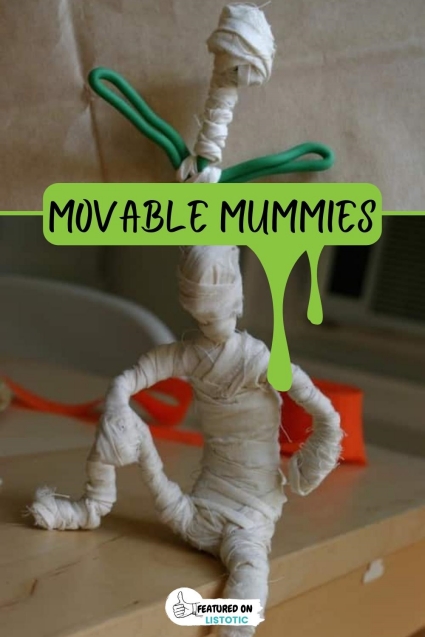 18. Pumpkin Porch Light Covers
It's doesn't get much cheaper than this! Head on over to the Dollar Store. Then, pick up a few plastic pumpkin pails, do a little bit of creative cutting, and voila! You've got yourself an easy Halloween decoration for your front porch. So, head on over to Instructables to see the full instructions.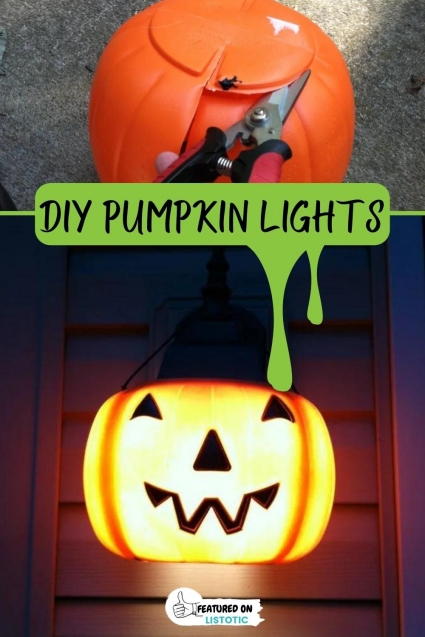 19. DIY Eyeball String Lights
These eyeball string lights are a super fun way to decorate your porch for Halloween! Simply get the family together then be creative drawing creepy eyeballs onto ping pong balls. Check out more pictures and the full instructions over at Landee See Landee Do! She has a clever way of easily getting the ping pong balls onto each light without them falling off.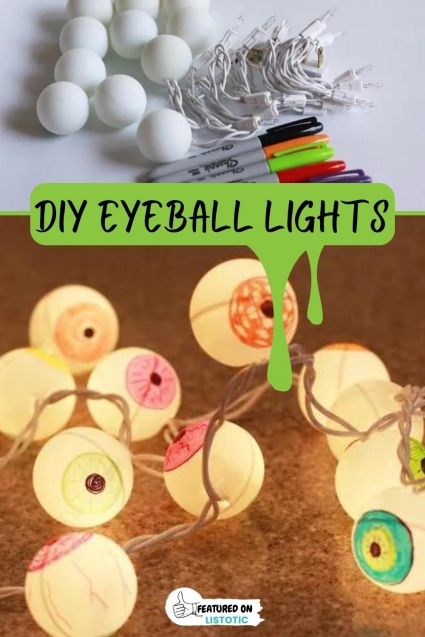 20. Illuminated Ghosts
Light up your porch with these easy DIY illuminated ghosts! Unfortunately, the source for this (craftymisadventures.com) has let their domain expire, but the instructions seem self-explanatory. Simply wrap string lights around a tomato cage, then top it with something round such as a styrofoam ball, cover it with a sheet (or any thin white material), glue on felt eye cut-outs, and voila! What an easy homemade Halloween decoration!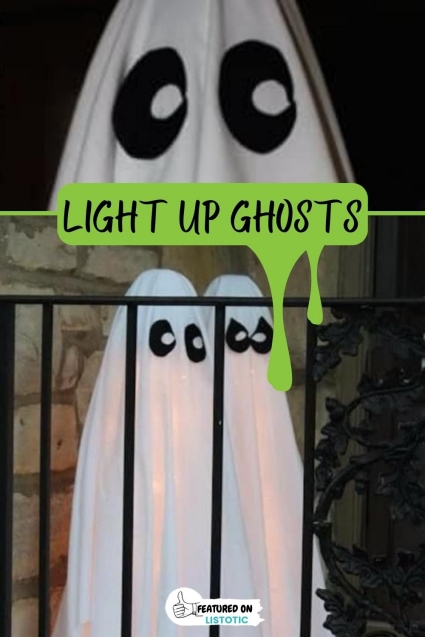 21. Floating Witches
What a wicked party idea! Floating witch hats for your Halloween party décor is such a creative idea. I knew as soon as I saw this awesome DIY idea from R & R At Home I need to share it here. I cannot believe how easy this is but what a fun impact it makes to your Halloween home décor. The floating witch hats make it feel like you are being surrounded by an especially witchy crowd for this creepy holiday. See the full instructions at randrathome.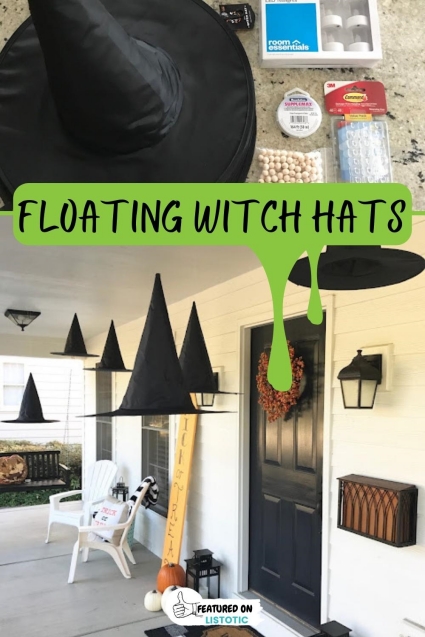 22. Halloween Doll House
I might be a little obsessed over this DIY Halloween Doll House. What a transformation! I think I love it so much because it is so unique and has an eerie Halloween feel when it is done. The creativity from Samantha Browning for her Haunted Halloween dollhouse is something to be majorly impressed with. She even detailed the tiny creature's eyes red on this Halloween dollhouse. Turn your old dollhouse into a featured Halloween decoration in your home.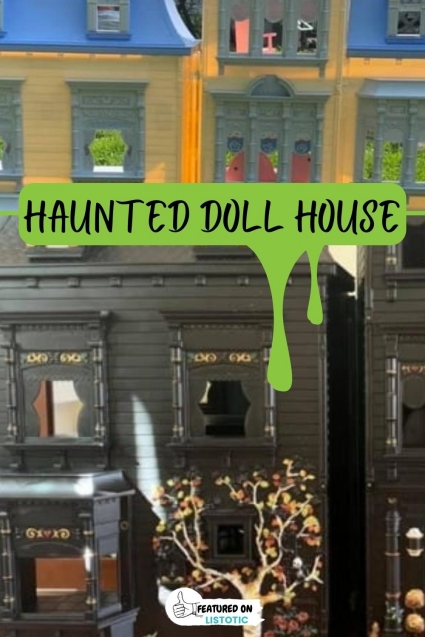 23. Halloween Centerpiece
What a lovely way to dress up your party tables. Such a simple and inexpensive Halloween flower arrangement! Just take some ghost marshmallow peeps, candy corn, and some fresh or fake flowers. You can put a small vase inside a large vase. Then fill around it with the candy so your flowers and candy do not mix. We love this idea from Pockets filled with posies because it is so easy, inexpensive, and super fun to make too!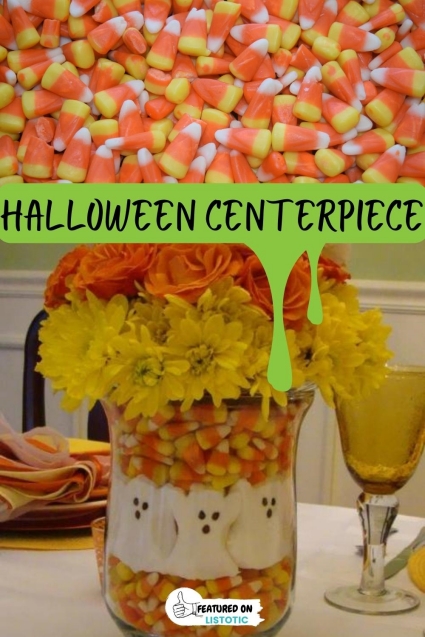 So we hope you were inspired and intrigued by these Halloween decor ideas. Because we sure had a great time sharing them with you! Be sure to join our email list and get new creative ideas every month!