Last Updated on February 9, 2023
The whole point of going on vacation is to relax, right? Don't let packing stress you out! With this in mind, I created a list of clever packing ideas. These items will make packing your suitcase that much easier. I have the travel accessory must haves you need to make traveling much more efficient. When it comes to travel packing solutions, look no further. Check out all of my travel essential items and packing ideas!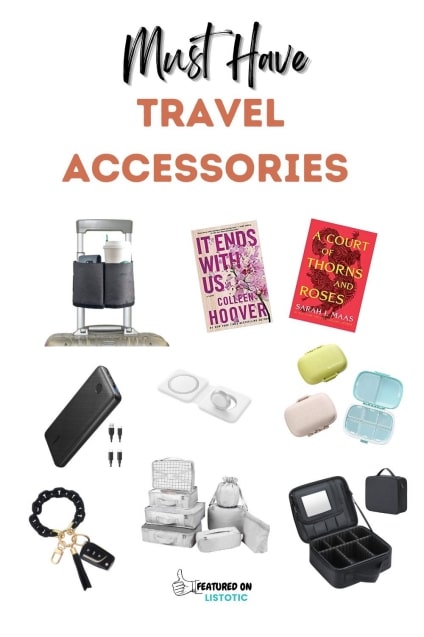 This post contains affiliate links. Please see our Disclaimer Policy.
Must have travel items to make traveling simple and easy
1. Travel Cosmetic Bag
First, this black travel cosmetic bag has enough space to store your makeup and cosmetic accessories such as makeup brushes, eye shadow, nail polish, makeup palettes, and even bath supplies for travel. This is one of my top travel must haves!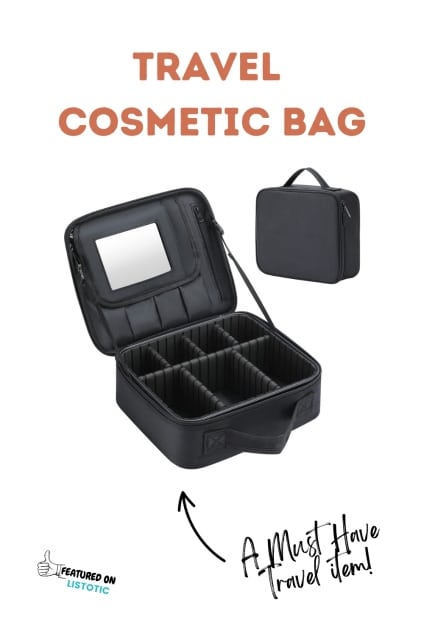 2. Travel Makeup Bag Set
Second, this travel clear makeup bag set is the perfect cosmetic bag set. I love the transparent toiletry bag that holds your travel-size toiletries, and liquids in one place, making it easy to find toiletries at a quick glance! This is a travel essential!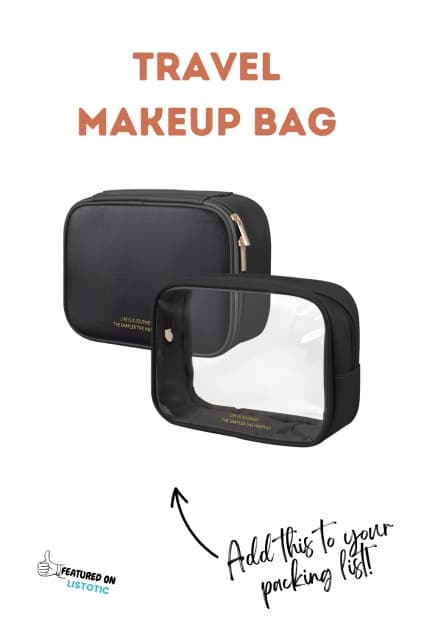 3. Luggage set
You'll indeed find a favorite color when it comes to choosing a luggage set. Additionally, they are available in 20 colors. While I prefer black, the two-tone shades are great for spotting your luggage during baggage claim!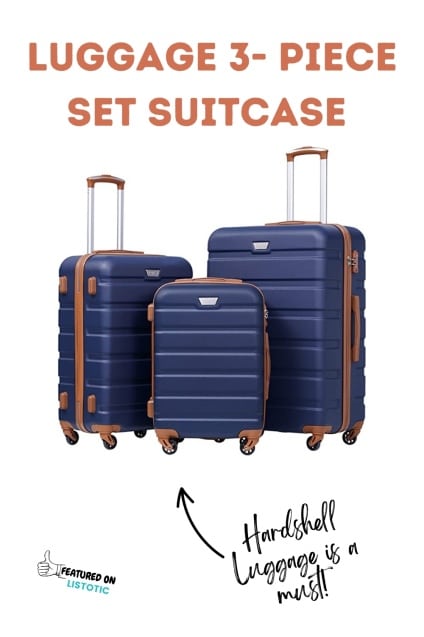 4. Quilted Tote bag
This quilted black tote bag is the perfect carry-on. It can double as a purse or tote bag. With its soft and waterproof material, it is sure to be a favorite travel accessory! It is my go-to bag for packing snacks, toys, and extra clothes. It's just an all around great tote bag!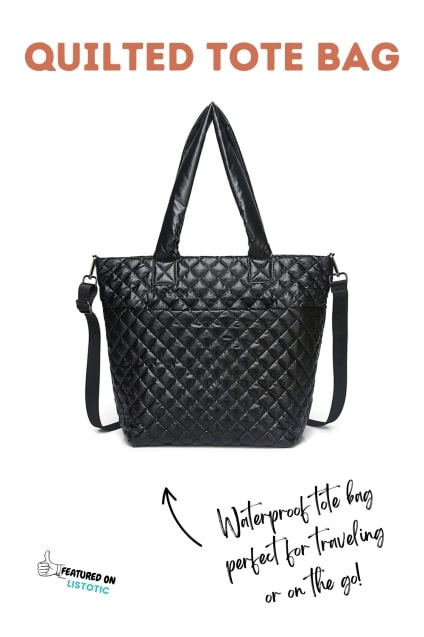 5. Luggage Sleeve
This luggage sleeve is great for holding your phone or drink. Travel effortlessly and free your hands with this adjustable travel cup holder. This is a travel essential for keeping your hands free, especially when you're traveling with children.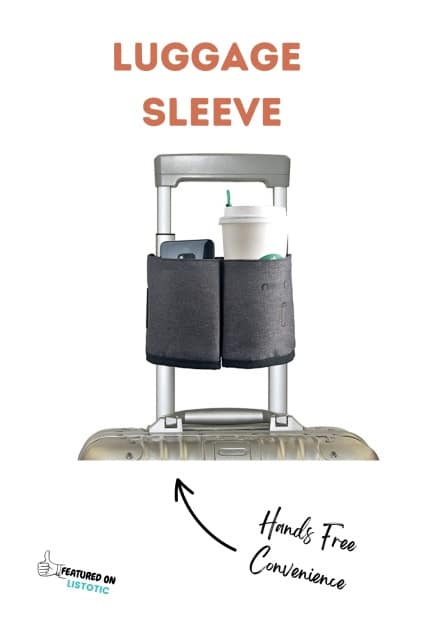 6. Pillboxes
This 3 pack pillbox set is perfect for traveling. This pillbox set can be put in your purse or pocket easily. Each of these pill containers is printed with the week date and AM/PM icons to avoid mixing up, and each tray is divided into AM & PM Additionally, this flat pillbox set offers a slim and portable design to take up less space yet keep your medicine or vitamins neatly and discreetly organized. Any of these are great solutions for traveling with medications and vitamins. This is a must when it comes to packing ideas!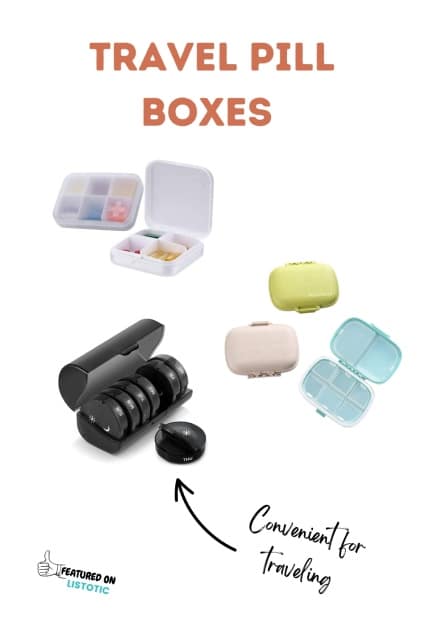 7. Lululemon Belt bag
I always get questions about how much my lululemon belt bag holds; truthfully, it is a lot! Consequently, it has a decent amount of mesh pockets for organization. When it comes to packing ideas, I always include my lululemon belt bag for a more convenient way to carry my things versus a large purse.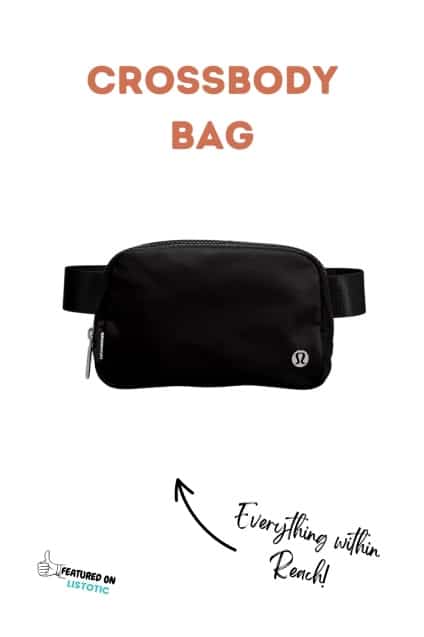 8. Slim Zipper Wallet
Next, this slim zipper wallet not only has 6 card slots but also includes a wrist strap and lanyard. It fits perfectly in my lululemon belt bag and is slim enough to take up virtually as little space as possible. It is the perfect travel accessory!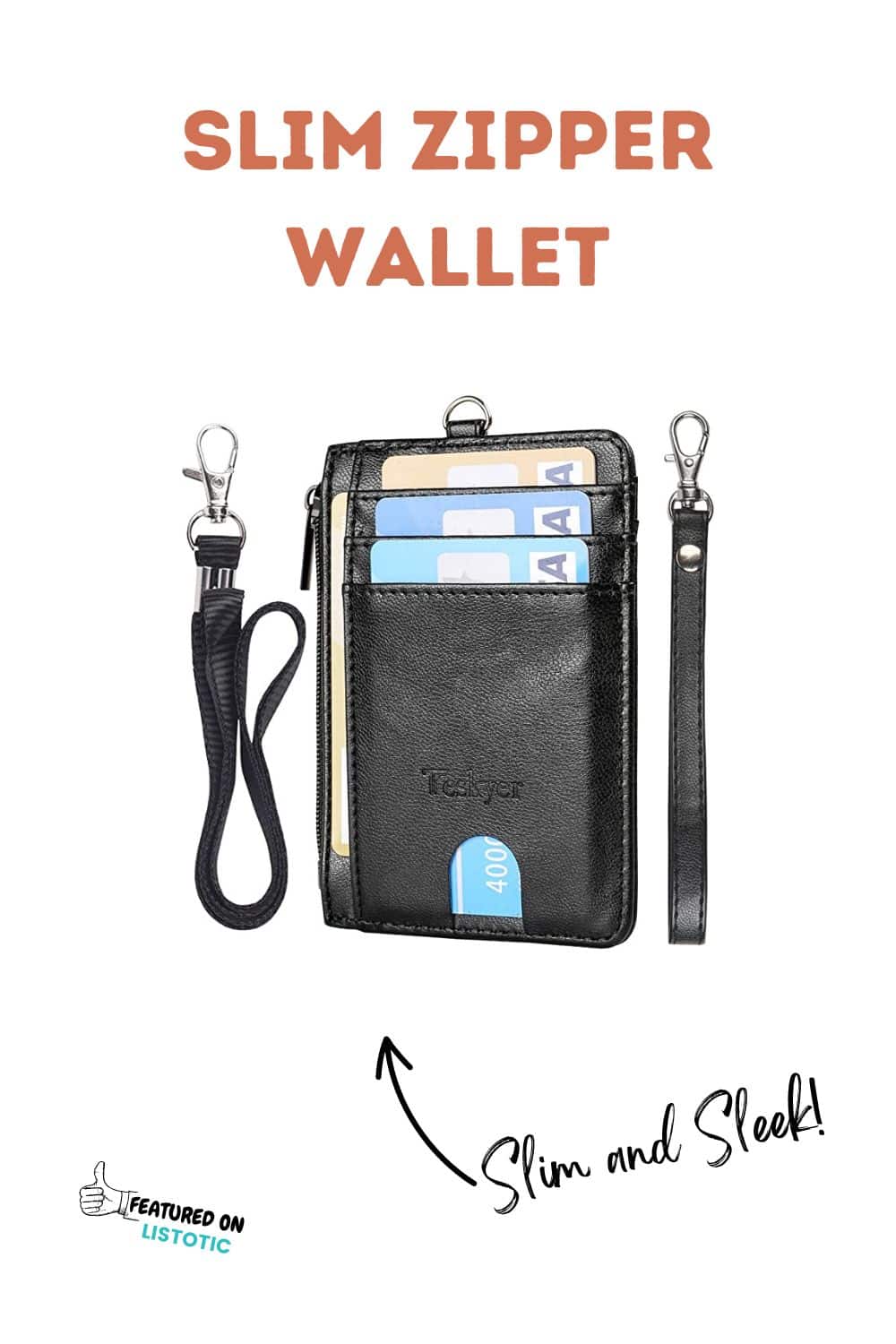 Travel Packing solutions to make your Packing Ideas effortless
9. Wireless Charger
A great option is this Anker wireless charger It provides 5 charges for iPhone 12, more than 4 full charges for Samsung Galaxy S10, and over 2 and a half charges for an iPad mini 5. This charger comes in handy when you're on the go!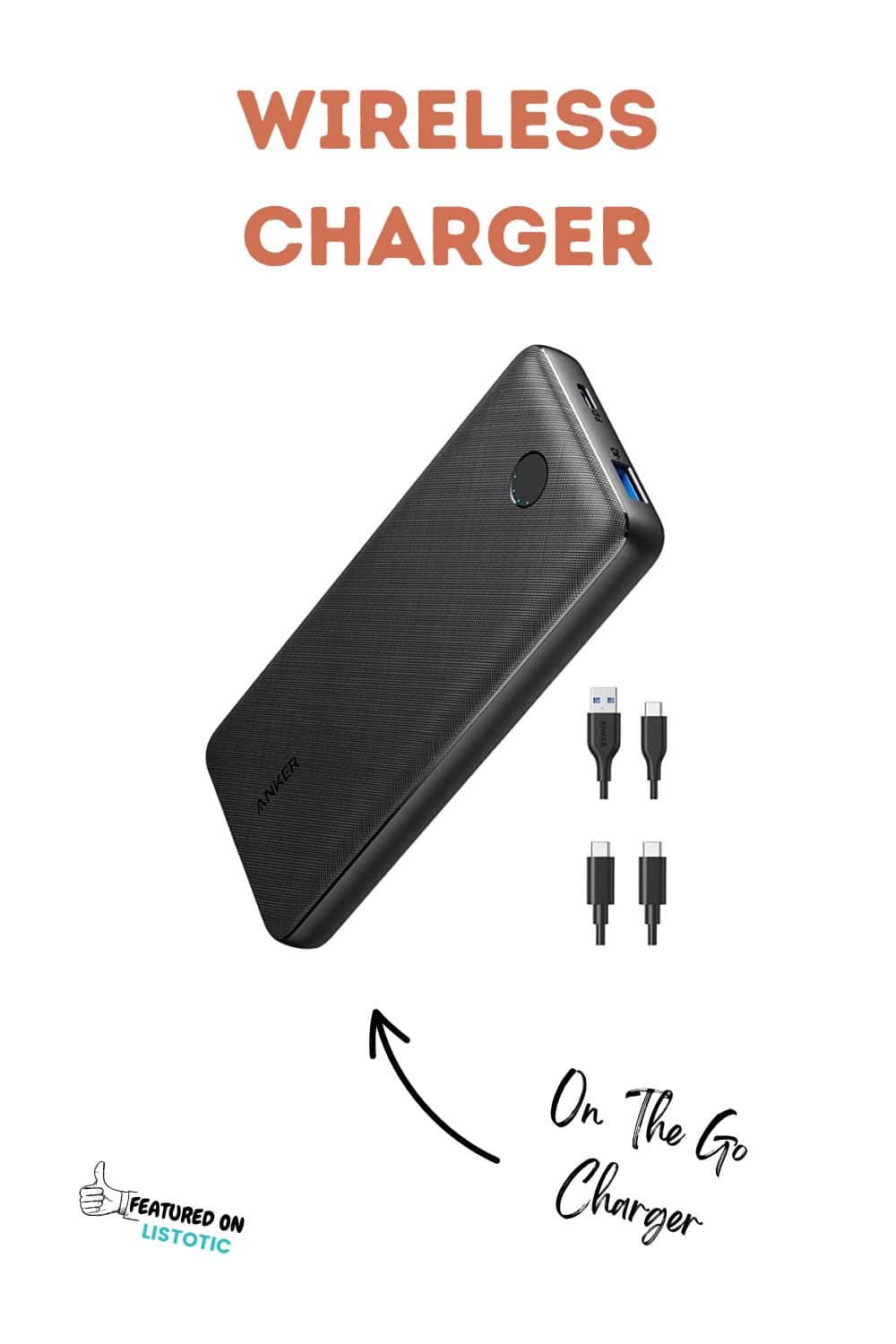 11. Duo Charger
This MagSafe Duo Charger charges not only your phone but also your wireless charging case for AirPods, and other Qi-certified devices. Just place your devices on the duo charger and a steady, efficient charge begins on contact. The charger folds together neatly so you can easily take it with you wherever you go. This makes a great travel packing solution.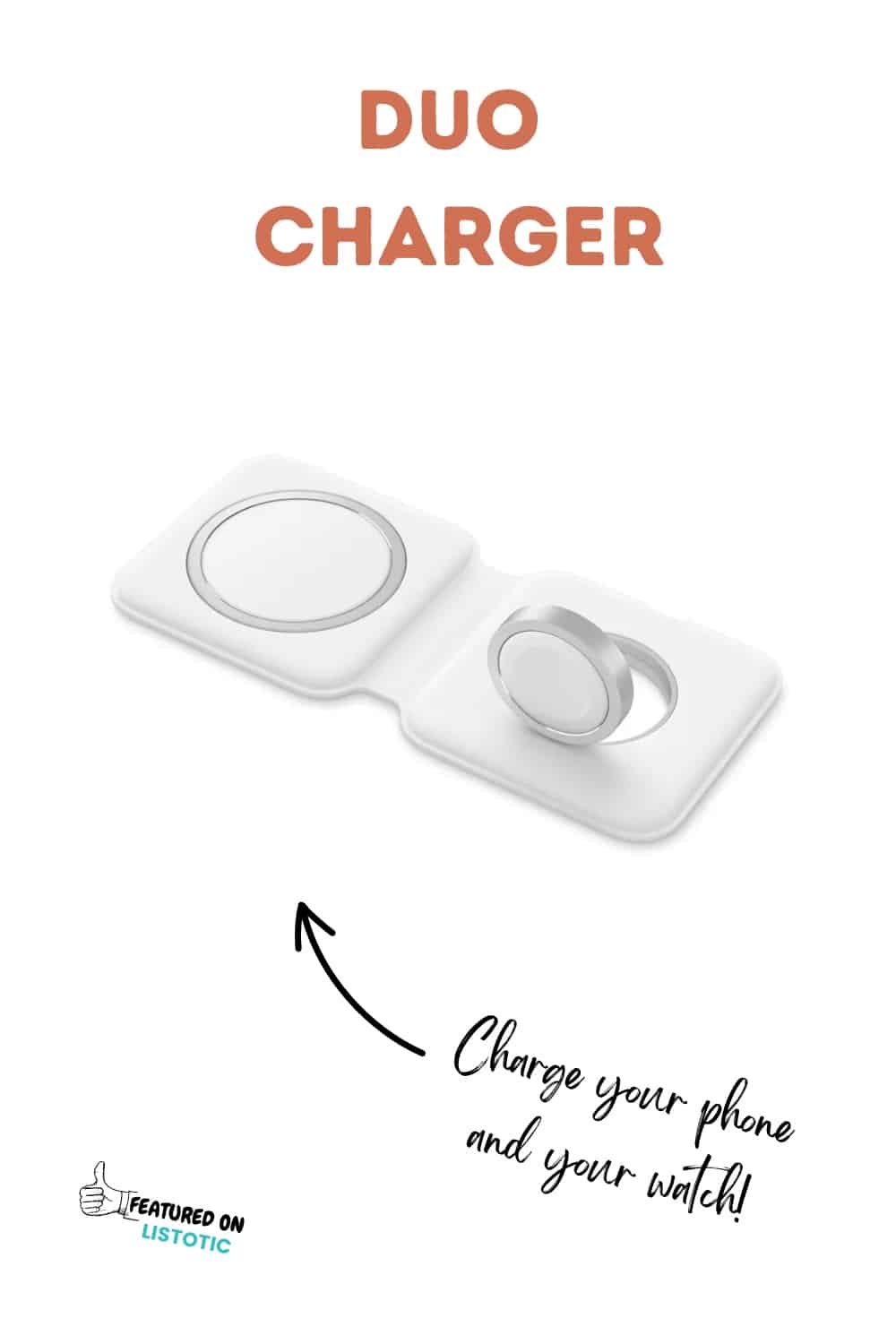 12. Tile
This Tile mate is great for keeping an eye on your checked bag's location. I've heard stories of people losing their bags and it gives me peace of mind knowing where my bag is at all times with the Tile Mate attached! This is a must have travel accessory and a great packing idea!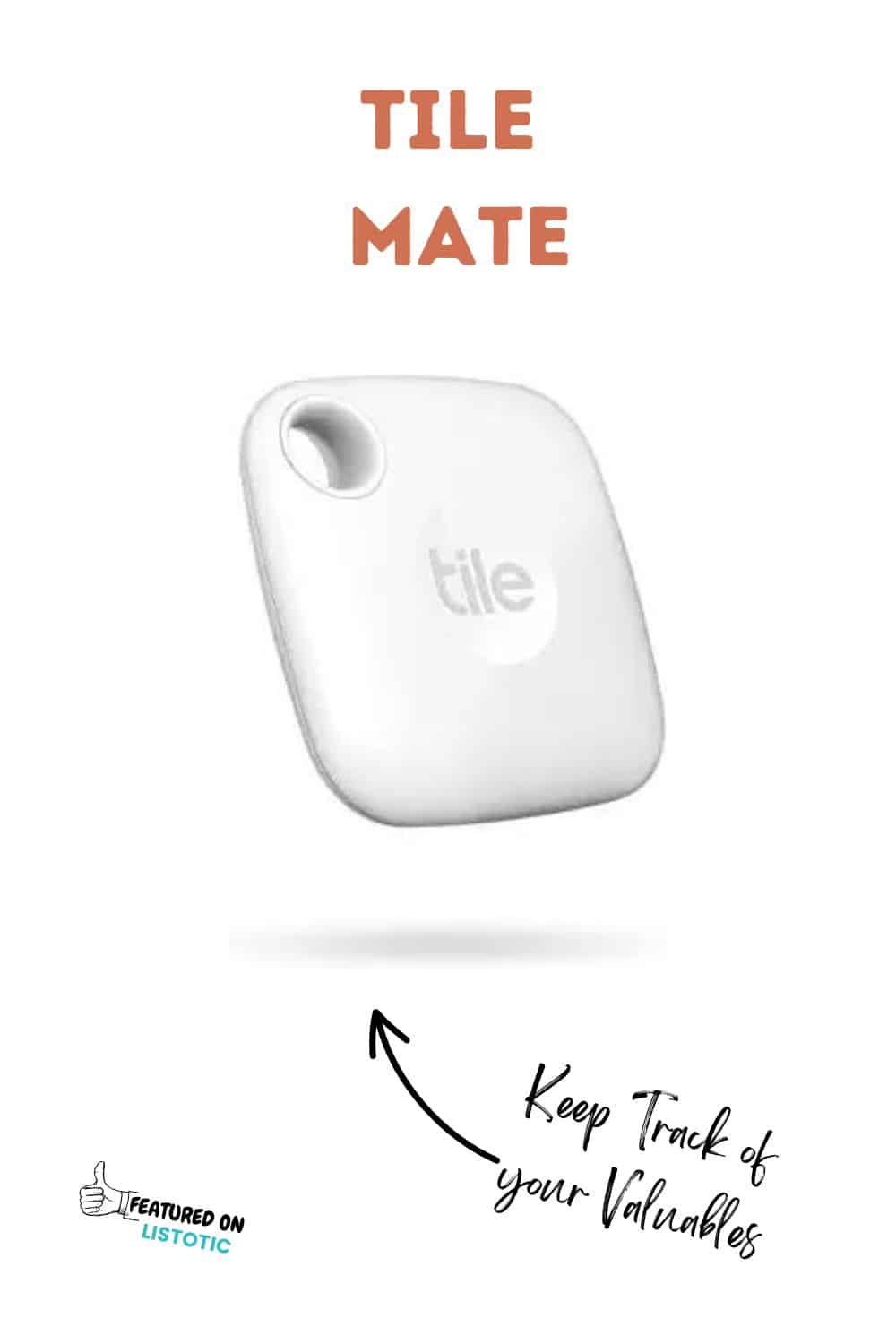 A must have item when it comes to packing ideas
13. Travel Cubes
These packing cubes are a lifesaver when it comes to being organized. Certainly, this is one of my favorite packing ideas! Personally, I love organizing my suitcase. Additionally, it comes in a variety of colors and for a limited time, you can receive 10% off with the discount coupon. This a clever idea when it comes to travel packing solutions.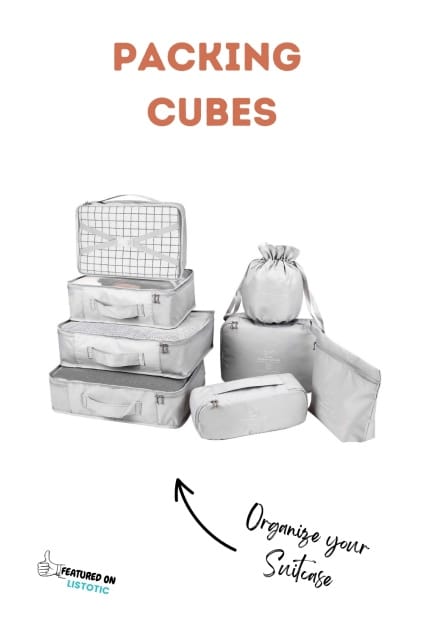 14. Travel Containers
I love these silicone travel bottles! It includes soft silicone travel containers neatly packed in a quart-sized, clear, zippered bag which makes it super convenient to keep your shampoos and lotions organized.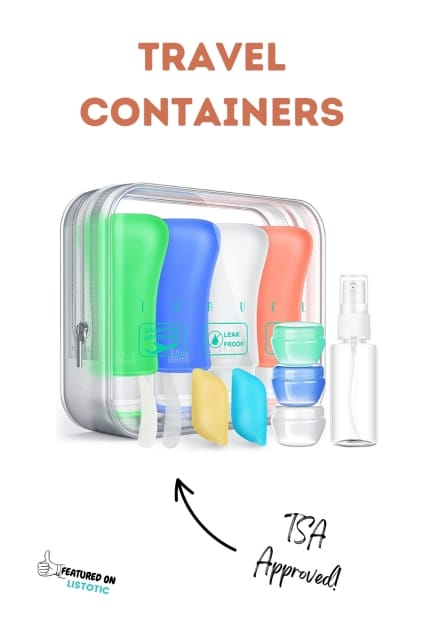 15. Chunky Keychain
This chunky keychain is great for wearing around your wrist or to keep your keys in one place, therefore, allowing you to find them easily while traveling or on the go! Not something I considered when it came to packing ideas, but it does keep your keys together for easier access.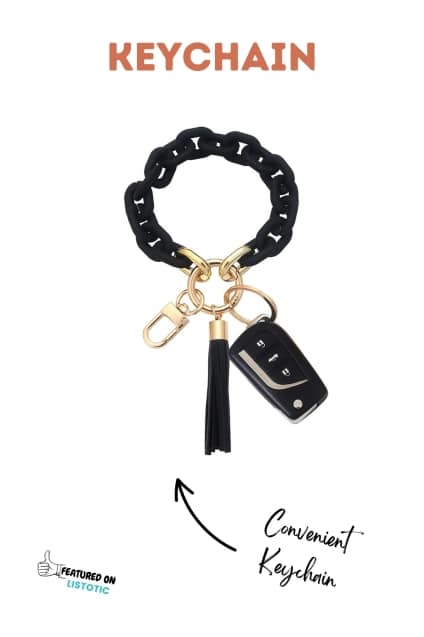 16. Tablet
Having a tablet for not only watching shows to pass the time but also for reading books is a game changer for flights. Additionally, the battery life on this iPad is great and the size is perfect for watching all my favorite shows and movies on.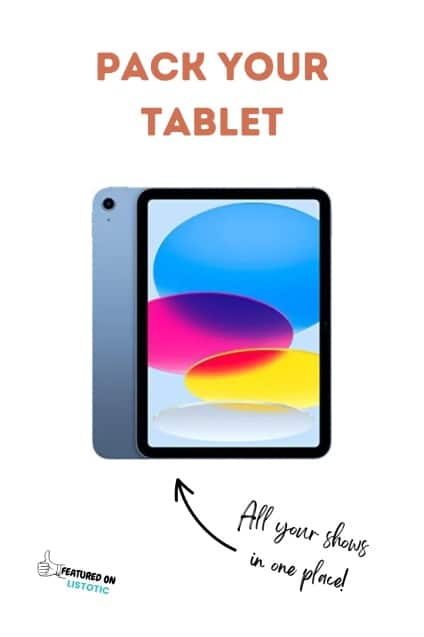 17. A Good Book
Now, I know you can download books to said advice above but I love flipping the pages of a book. Colleen Hoover's books are a huge hit right now and let me tell you, they are worth the hype! My favorite has been Verity or It Ends With Us. Another great option is the A Court of Thorns and Roses series. I haven't been able to put these books down since I started them!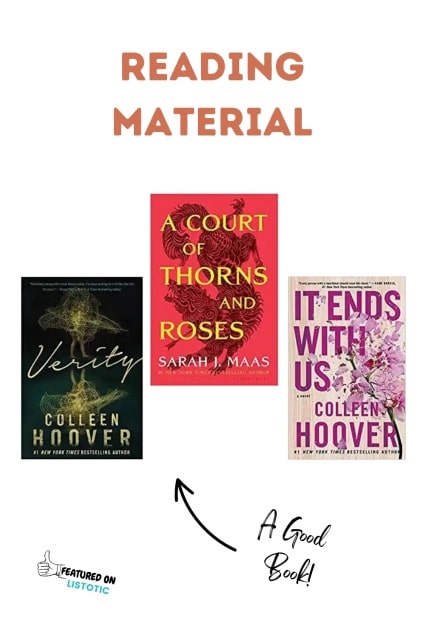 Need help staying organized, booking hotels and flights, and navigating your way around a new city? Check out the best travel apps for your upcoming trip or if you need some helpful driving tips to keep your road trip more enjoyable, check out some helpful tips.