Last Updated on June 11, 2020
TOP 10 Items to Add to Your HOT TOPIC Online Shopping Cart For Moms
I'm sure you are dying to know what a Mom in her thirties puts in her HOT TOPIC online shopping Cart? Thought so… Keep reading.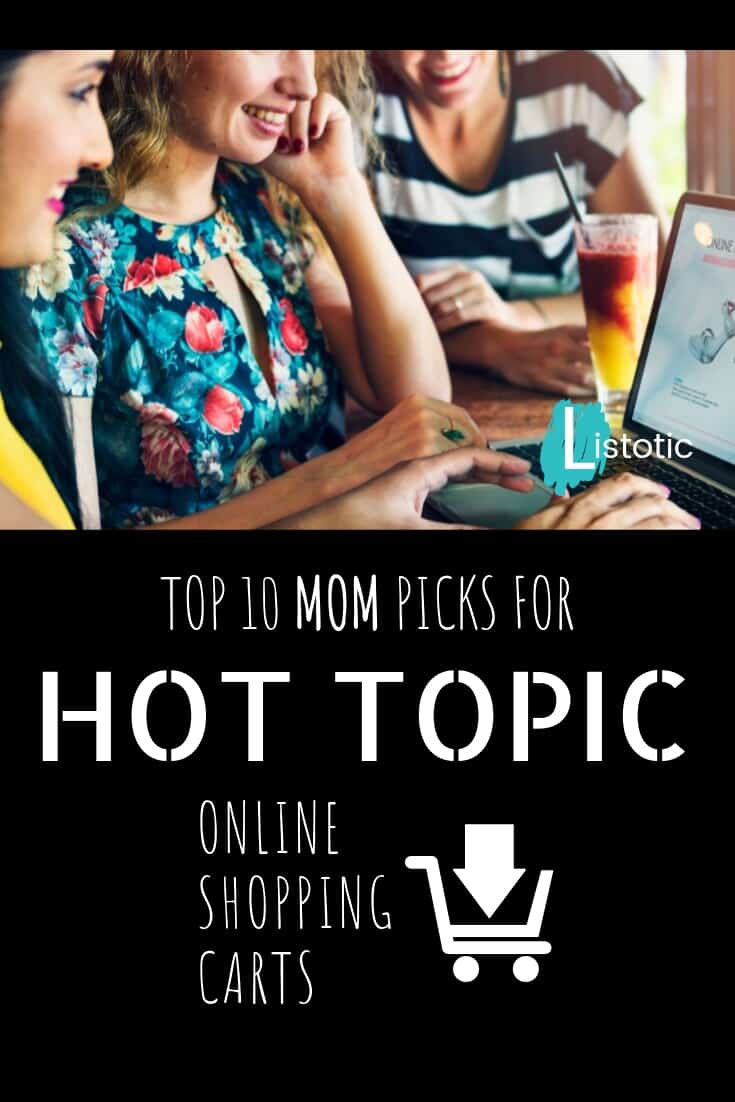 This post contains affiliate links. Please see our Disclaimer Policy.
REWIND to the Year 2000
I'm a teenager. My biggest worry is if I will run into that cute boy in the food court. I have to push the number buttons on my Motorola cell phone 3 times to get the right letter in my text message. I'm wearing low rise boot cut denim jeans as I walk through the doors of HOT TOPIC. Playing over the store's speakers is the song Just a Girl by No Doubt. I can smell the new flavor of cucumber melon lip-smacker gloss. At 16 years old, I was on a shopping trip for a stylish new belly button ring, and a summer halter top to wear on Friday night to Super Skate. If I was lucky, I would also snag some glittery butterfly hair clips; because I was growing out my bangs.
FAST FORWARD to Today (Year 2019)
Now, I'm 35 and a mom of young boys. I meditate because social media triggers my anxiety. My worries range from an apocalypse to if my lunch is low carb and gluten-free. I just placed an online order of laundry detergent. Amazon guarantees it to be delivered to my house later today. I can tell my iPhone to text my husband without even picking it up. I'm wearing black leggings because that's all I wear these days.
The closest mall still has a HOT TOPIC store playing music by Gwen Stefani. But I don't have time for a shopping trip. I've got to get my two boys to flag football practice. So, while I wait for practice to get done, I decide there is some time for a little online shopping. Using my Apple iPhone, I add a few items to my Hot Topic Online Shopping Cart.
Hot topic online shopping makes me feel like a teenager again. Yet their products are practical for everyday life as a Mom too!
Top 10 items to add to your HOT TOPIC online shopping cart from your iPhone
1. Beetle Juice Tee
Beetle Juice, Beetle Juice, Beetle Juice? If you were born sometime between 1980-1990. The Beetle Juice movie was most surely part of your childhood or teenage years.
Thanks to online streaming this movie still holds popularity. What does this mean? Throwing on a beloved HOT TOPIC Beetle juice t-shirt won't expose your age. However, it begins to show when your t-shirt is paired with some Doc Martins and cargo pants.
2. Hi-Rise Jeggings
Remember the sweatpants and shorts with the words scrolled across the back? Like CUTE or JUICY? Maybe someone should market black "mom" leggings that say HANGRY or CAFFEINATED? Well, until those are available… I'm digging these HOT TOPIC Black Destructed Ultra Hi-Rise Jeggings. They are for sure going into my Hot Topic online shopping cart.

3. Coffee Mug
For many moms, the day starts with a cup of coffee. For this mom… I'm lucky to be dressed for the day, drinking my second cup of coffee. Around the third cup of coffee, things are really cooking and I'm making some progress on the day. This mug seems accurate for people like me. I'm thinking this would make a great gift for the Scary mom in you your life.
4. Can I rock this shirt? Yes! I'm totally adding this to my Hot topic online shopping cart.
I can remember singing Queen's "We Will Rock You" getting off the school bus to walk up the driveway to my babysitter's house. This song will never get old… I think my kids know all the words too, and I love that we can sing this classic Queen Song together.

5. Pop culture No-Show socks
HOT TOPIC has the widest variety of No Show socks I have ever seen. I can't decide between all these retro pop culture no-show socks. Needless to say, I'm planning to wear these with my mom leggings while I whip up breakfast before school.

6. Polly Pocket Eye Shadow
NO WAY! I love Polly Pockets! Now, this takes me back. BEST. 1990's. TOY. EVER. But seriously, how fun is it going back in time with this Polly Pocket Eye Shadow Palette. Getting ready for work just became more fun.
7. Darth Vader Waffle Maker
Most mornings my 8 year old wakes up in a chipper and in a bright mood. But some mornings, he can show the "force" of a "darker side"! I'm thinking if I add this Darth Vador waffle maker to my Hot Topic online shopping cart, I will prevail! I'm feeling confident it is the key to pulling him into the right galaxy on those bad mood mornings.
8. Fierce Mom Hoodie
I like to remind my boys and husband who is REALLY in charge around the house. This hoodie puts it all out there. Just like a PINK song. Plus, my boys might think it's kinda cool that I have Marvel action figures on my sweatshirt. Bonus cool points!
9. Harry Potter Water Bottle
Being an adult, means I have to ask myself questions like… have I drank enough water today? Instead of… I wonder which shoes I should wear to the party tonight? Well, I found a way to drink my water and still feel the "magic" of being young.
10. Fashion Gold Sloth Necklace
When I first saw choker necklaces were back in style, I was first like… duh, that is so 1999! But, then I saw some super hip moms wearing them and pulling the look off big time. This style never worked on me as a teenager… but that didn't stop me from trying it! (and failing miserably) So, I've come to realize longer necklaces are more my jam. This HOT TOPIC online shopping cart score is perfect. Check out this "drop it like a sloth" necklace.