Last Updated on October 23, 2019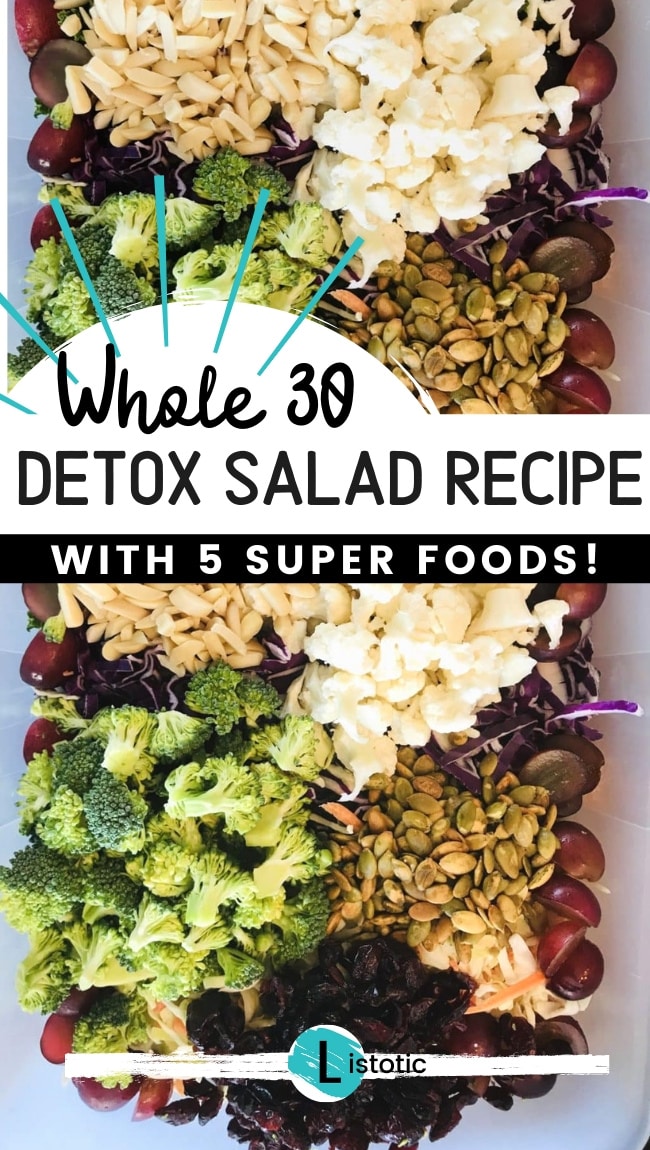 Packed with 5 Super Foods
I randomly came up with this detox salad recipe one day as I was scrolling through different kale salad recipes. Finding news ways to get lots of green superfoods in my diet on a regular basis is always a plus. Superfoods like broccoli, cauliflower, pumpkin seeds, almonds and of course kale! Sometimes you need something more than just a regular salad. This is also a slight variation to a broccoli grape salad my mom makes. You can make this one up ahead of time and eat it all week long, take it to a holiday gathering, potluck or BBQ.
Detox Salad Recipe
Ingredients
2 cups of kale torn into tiny pieces
2 cups of red cabbage
1 cup cauliflower cut into small pieces
1 cup broccoli cut into small pieces
2 cups of coleslaw/carrot mix (pre-packed)
1 cup red grapes halved
1/3 cup pumpkin seeds or sunflower seeds
1/3 cup slivered almonds
1/2 dried cranberries or craisins
Optional: diced bacon, shredded brussel sprouts, red onion
Dressing
1/2 cup Primal Kitchen avocado oil mayo
1/2 lemon
1/4 tsp thyme
1/4 tsp dill
Directions
Wash, clean and chop the salad ingredients and combine in a large bowl.
In a small glass bowl add 1/2 cup mayo and squeeze 1/2 of a lemon. Stir and add thyme and dill. Continue to stir until a smooth consistency.
Pour over top of salad mixture and stir.
Enjoy!
Certainly, feel free to mix things up with just a few modifications, you can add blueberries, hemp seed and flaxseed for an even stronger antioxidant boost. Meanwhile, check out this list of superfoods from Teamiblends and create your own detox salad for a healthier lifestyle. In short, eating whole foods is the foundation of a Whole 30 diet. For more information about eating a Whole 30 diet and to read about Lisa's journey, check out Lisa McQuillen's website lisamcquillen.com.