Last Updated on October 7, 2021
I couldn't be more excited to share this unique beer cocktail recipe. It tastes as good as it looks!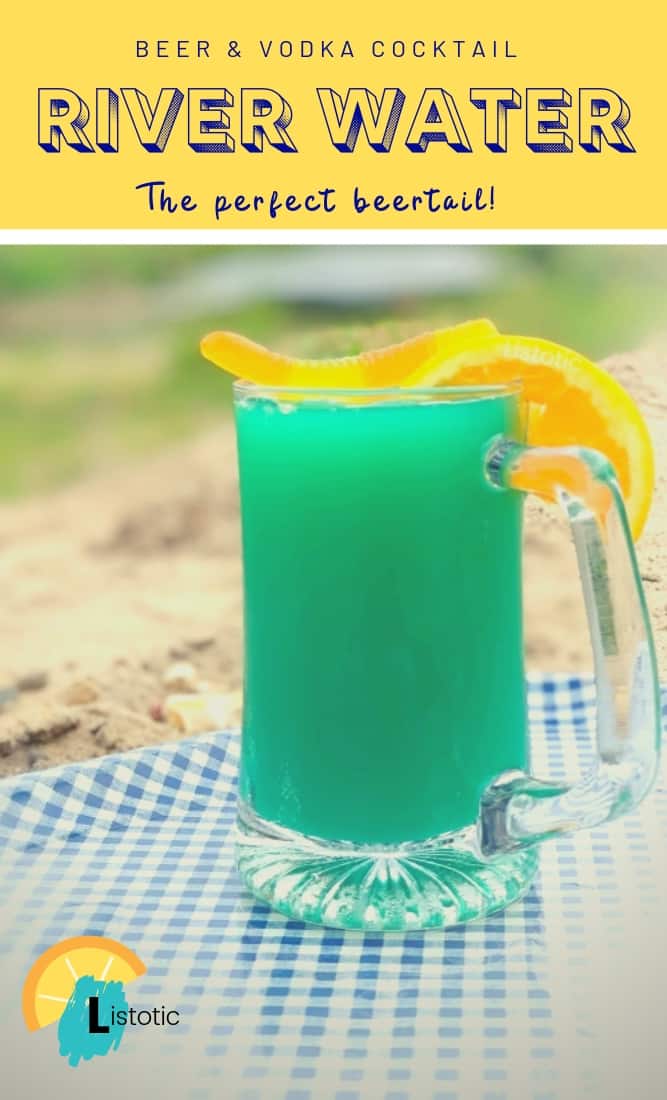 I really like beer. I've had a relationship with beer since college like many other people. Beer is so popular; it makes its appearance at pretty much every party that allows alcohol.
In the fall it is at football games, family reunions, Halloween parties, and Thanksgiving dinners.
In the winter beer is chilling outside the garage for holiday parties and new year's celebrations. Grocery store shoppers have lists include that 4 letter word; B-E-E-R!
Calling all spring breakers
Spring break really puts beer up on a pedestal. As all the college students flock to the sunny beaches and swim-up bars to have some fun.
We should just call summer the height of the beer season. People who don't care to drink beer must still admit that beer is a summer staple. In the summer beer gets loaded into coolers and packed for camping, boat rides and pool parties.
Therefore, even non-beer drinkers can't deny that beer is popular all year long! There is even a National Beer Day every year on April 7th!
I really love beer; that is why I love this beer cocktail!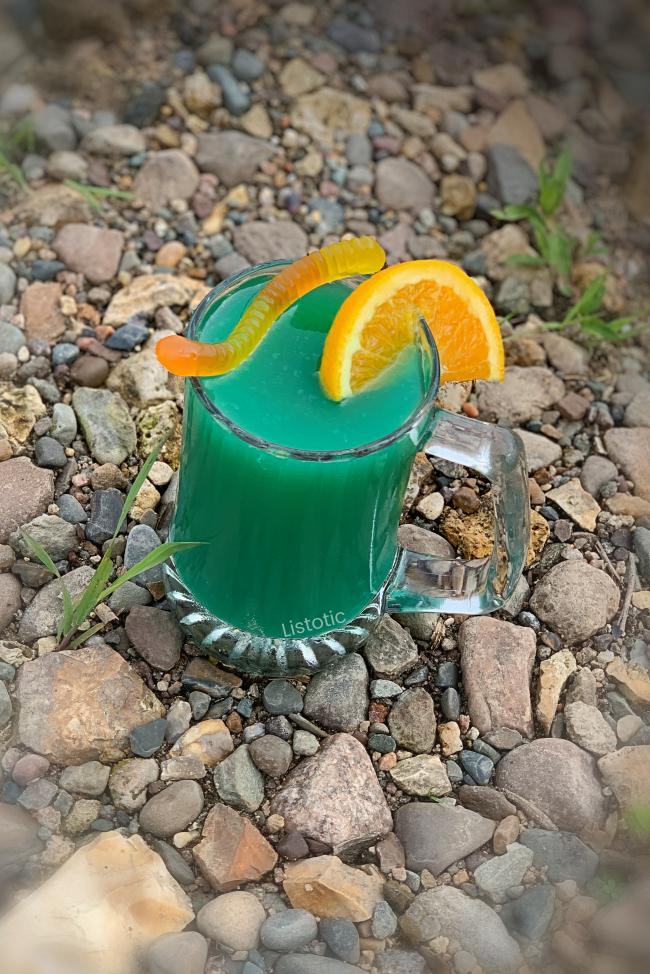 Concocted by accident this beer cocktail will catch your eye and satisfy taste buds. River Water beer cocktail got its name as a result of its bluish/greenish color upon adding the blue curacao. River water Beer cocktail is a cocktail recipe to save for a hot summer day or a Fall campfire.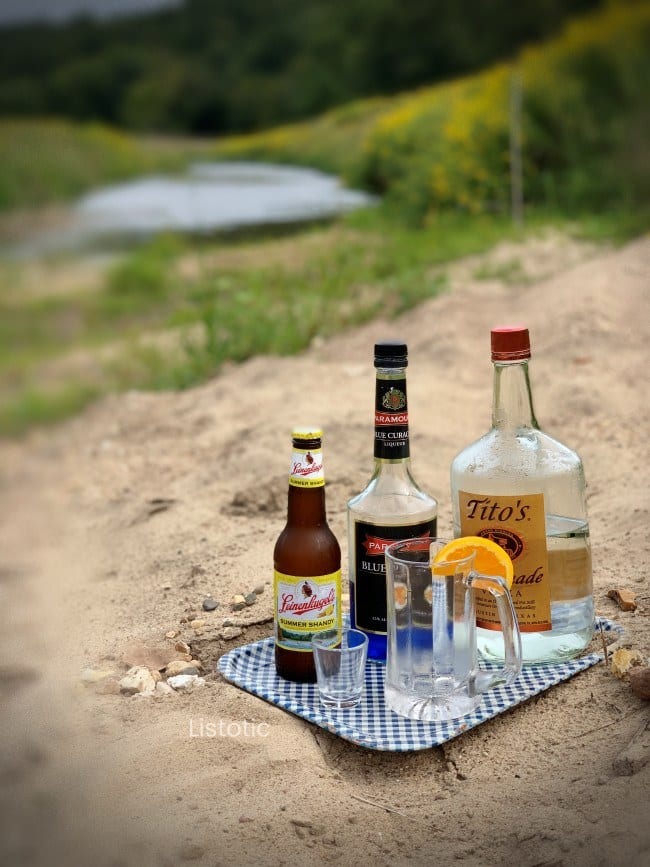 Ingredients
1 shot of orange juice
Can/bottle of beer (ale or lager)
1 shot of blue curacao
1 shot of vodka
orange slice (garnish)
1 gummy worm (garnish)
Instructions
Start with a frosty glass mug or a double-walled freezer mug. If you do not have a frosty mug you can add ice to this Beertail.
Combine the one-shot of orange juice, one shot of vodka (optional) and one shot of blue curacao liquor to the base of your glass.
Fill to the brim with your choice of ale or lager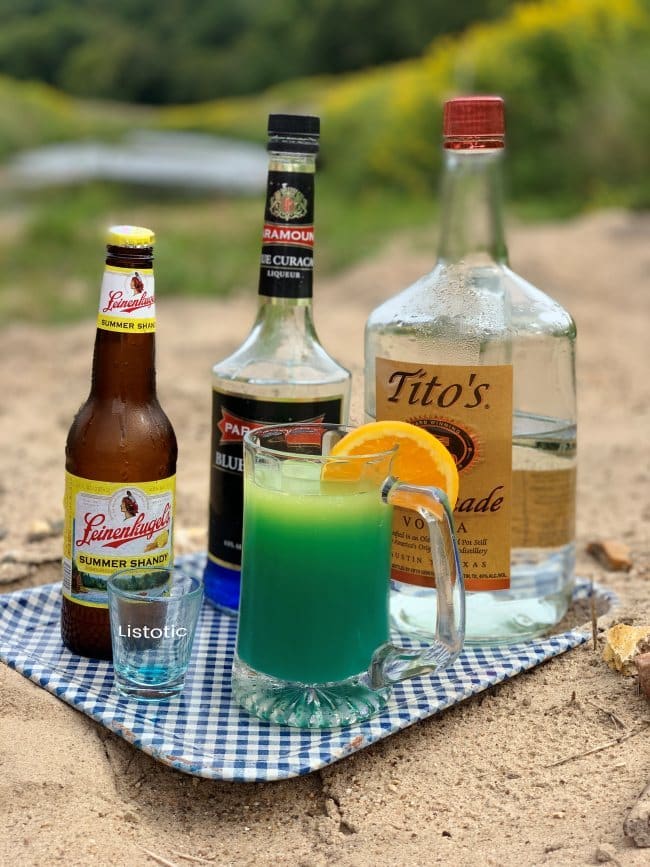 Stir, the drink will become a beautiful bluish-green color.
Garnish with an orange slice and gummy worm.
Garnish your River Water Beer Cocktail with a Gummy Worm
Notes
You could certainly take this cocktail potency down by skipping the Vodka. I guess it depends on how long you want to sip on this beer cocktail. I've tried it both ways and decided the shot of vodka is a good fit for me!
If you do not have a frosty mug to pour your Beer Cocktail just add ice cubes to your glass.
I like Leinenkugel's Summer Shanty or a Blue Moon with this beer cocktail recipe. I've also tried this recipe with different brands of lagers like Coors Light, Michelob Ultra, and Natural Light! I'm confident it would mix well with a sour beer or IPA if you are already a fan of those types of beers anyway. I definitely do not recommend a porter, stout or any dark beer. Dark beers have plenty of flavor all on their own.
To get the full effect of how good this Beer Cocktail recipe might taste on a sandy shoreline just watch this short video…
This Beer Cocktail Recipe Will Be Your New Favorite Fancy Cocktail
Friends will enjoy the beautiful teal color that the blue curacao liquor and orange juice create when combined. If you are not familiar with blue curacao it is a sweet orange liquor you should get to know. Especially if you enjoy fancy cocktails. Don't forget to pair this cocktail with a classic party appetizer like Dill Pickle Roll-Ups.
Curacoa is a citrus-based liquor. Its citrus-like flavor comes from the Laraha citrus fruit that grows on the island of Curacao hence where it gets its name. With a sweet orangish flavor and distinctive blue food coloring, Blue Curacoa is a fabulous cocktail mixer.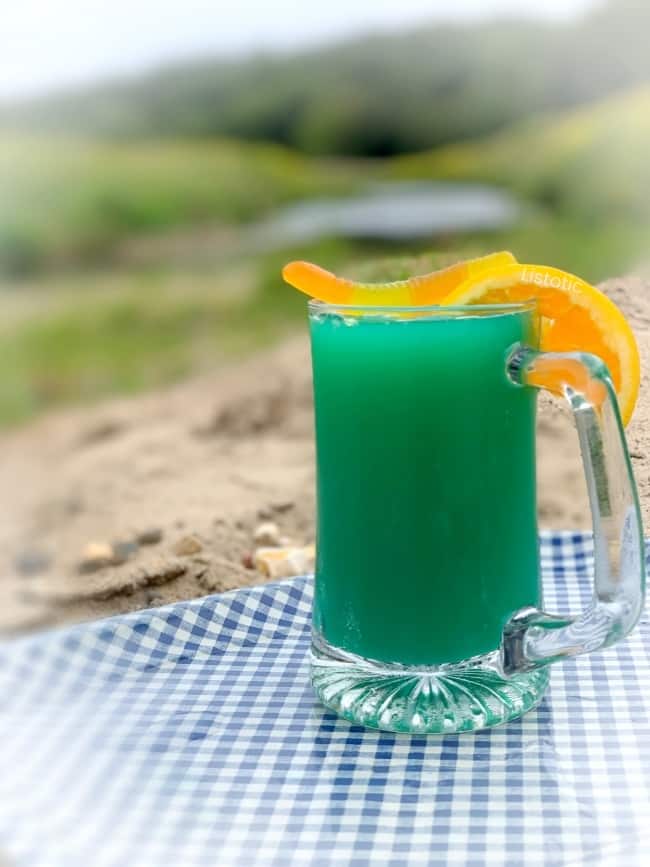 I'm lucky enough to have some natural streams, rivers, and creeks to run to on a nice day but if you can't find one for yourself you are welcome to enjoy this view while you sip on your "Beertail" Beer cocktail.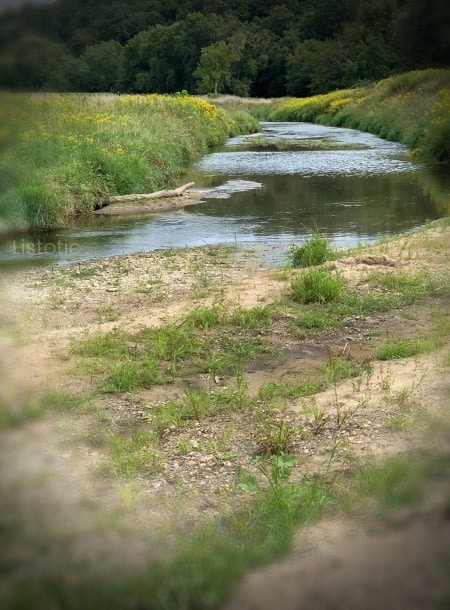 Enjoy this view while you sip on your "Beertail" Beer cocktail
Not only is this cocktail a great recipe for a summer day at the riverside. It's the perfect cocktail recipe for a fun fall Halloween party. The gummy worm and blue-green color make this an interesting cocktail to serve up for a fun Adult Halloween Party. You can gross out your Halloween guests by telling them you scooped this cocktail straight up from the river bank and even caught a worm along side it!