Last Updated on June 12, 2020
Skinny Cocktail Recipe with Vodka and Blackberries has a refreshing twist of cucumber mint and lime!
I'm guessing you're here because you saw the words Skinny-Cocktail-Recipe… am I right? If you are anything like me, you enjoy a few cocktails every night now and again, but feel guilty about the amount of calories that seem to go down so easily, especially when you have a habit of eating an entire bag of potato chips after a few drinks because you forget that you're supposed to be on a diet. Well, now I'm not sure where this is going.
I've been experimenting lately with vodka cocktails because I've discovered that it's one of the better options when it comes to your health. Not drinking at all is probably the best thing you can do for your health but that's just boring. So, it's 5:00 somewhere if you are ready for a cocktail give this Skinny Cocktail Recipe a shot. (hehe..get it? a shot of Vodka that is)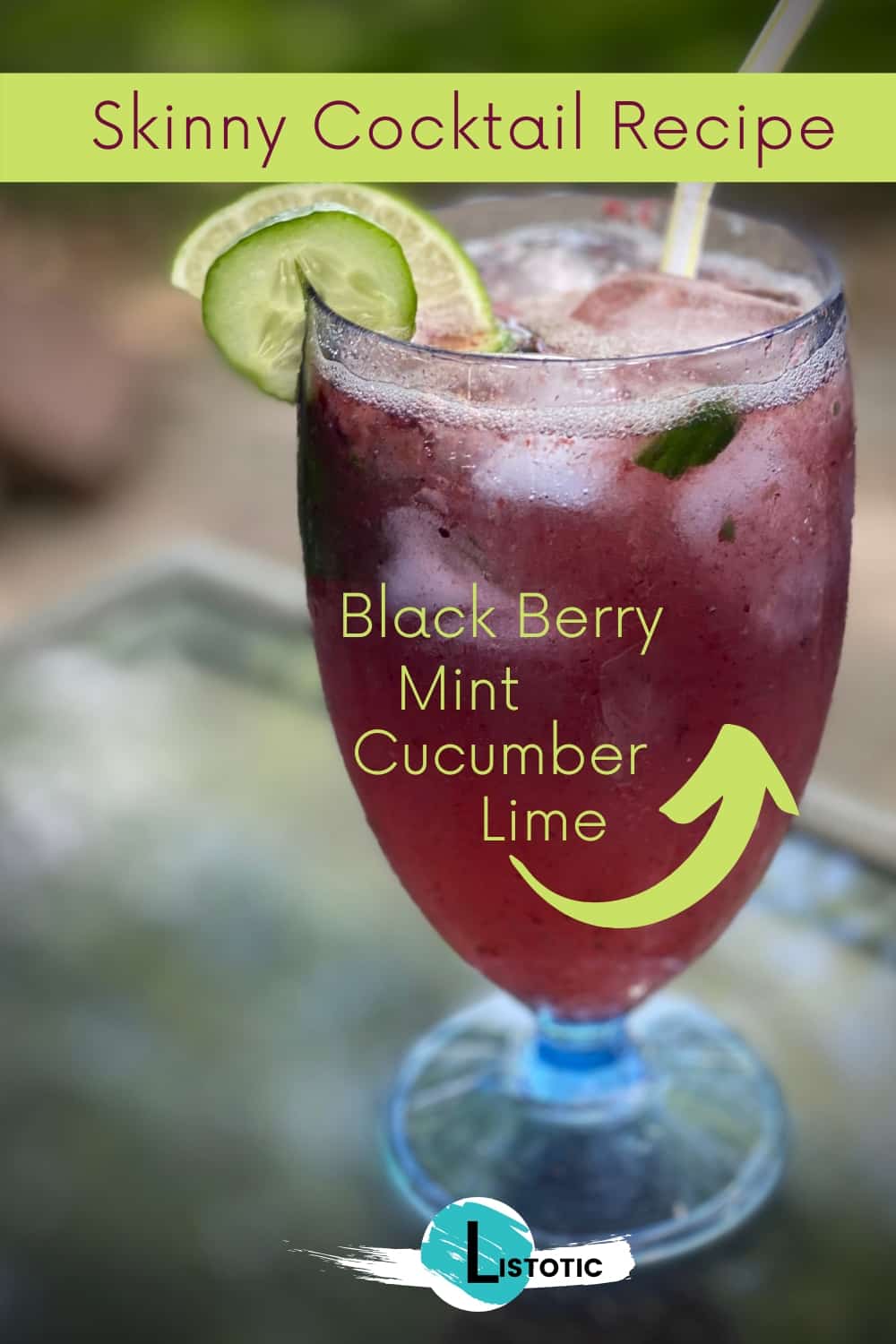 On my quest to find a few drinks that were low calorie but yet enjoyable to drink, I found that the LaCroix sparkling waters were the best mixers! They're also calorie-free with no artificial sugars– not sweet at all, but the unique flavors make up for that. The blackberry cucumber in this Skinny Cocktail Recipe is obviously my personal favorite, hence why I've decided to kick it up a notch with fresh fruit, veggies, and herbs! Plus of course vodka. If you aren't a fan of cucumbers try it without. But, if you do like cucumbers you are going to love this refreshing skinny vodka cocktail recipe.

Print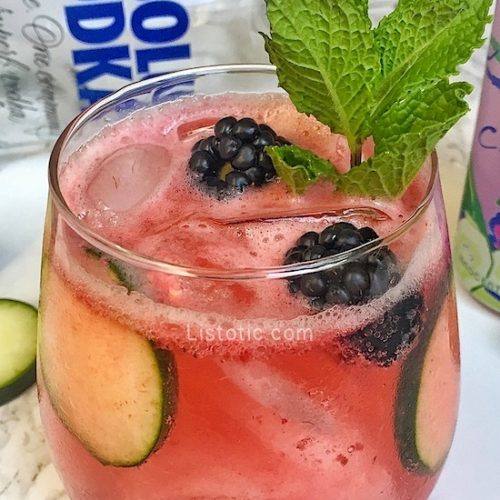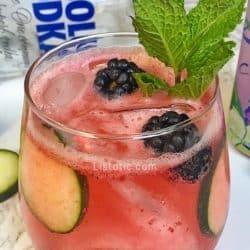 Skinny Cocktail Recipe
Author:

Prep Time:

5 Minutes

Total Time:

5 Minutes
---
Vodka
LaCroix Blackberry Cucumber Sparkling Water
Fresh Blackberries
Cucumber
Mint Leaves
Fresh squeezed or store-bought lime juice
---
Instructions
In a food processor or high quality blender, puree a small handful of blackberries, 3-4 large slices of cucumber, a few sprigs of mint, and 3-4 tbsp of lime juice until well blended. This should be enough to make about 4 drinks (just barely enough for me), so adjust accordingly.
Fill an 8-12 ounce glass full of ice and add 1.5 ounces of vodka. Some times I add like 3 ounces, though.
Top with approximately 1/2 a can of LaCroix Blackberry Cucumber Sparkling Water.
Add 1-2 tbsp of your awesome puree mixture and stir well.
Garnish with fresh blackberries, sliced cucumber, fresh mint and/or a slice of lime. (optional, but your drink might be ugly without it.)
Drink and enjoy! I double dog dare you to try and only have two one. I've never succeeded. 🙂
---
Notes
Blackberry seeds DO NOT puree well, so if you think that tiny, hard yet chewy chunks might bother you in your drink, puree the blackberries first and then separate the seeds out with a small strainer before pureeing the rest of your ingredients. I usually don't bother with this step because I'm lazy (unless I'm making it for a crowd of picky people).
A favorite of mine is lots of citrus in my cocktails, so I usually dump a huge load of it in my glass. I kind of LOVE the Santa Cruz brand of organic lime and lemon juice because it made my life so easy. In fact, I add it to my tea, water and cocktails almost daily. You can find it on the top shelf of the juice aisle in most grocery stores.
So, you may have noticed that I just got done making this and that I MAY or MAY NOT have tested out a few of them to ensure quality.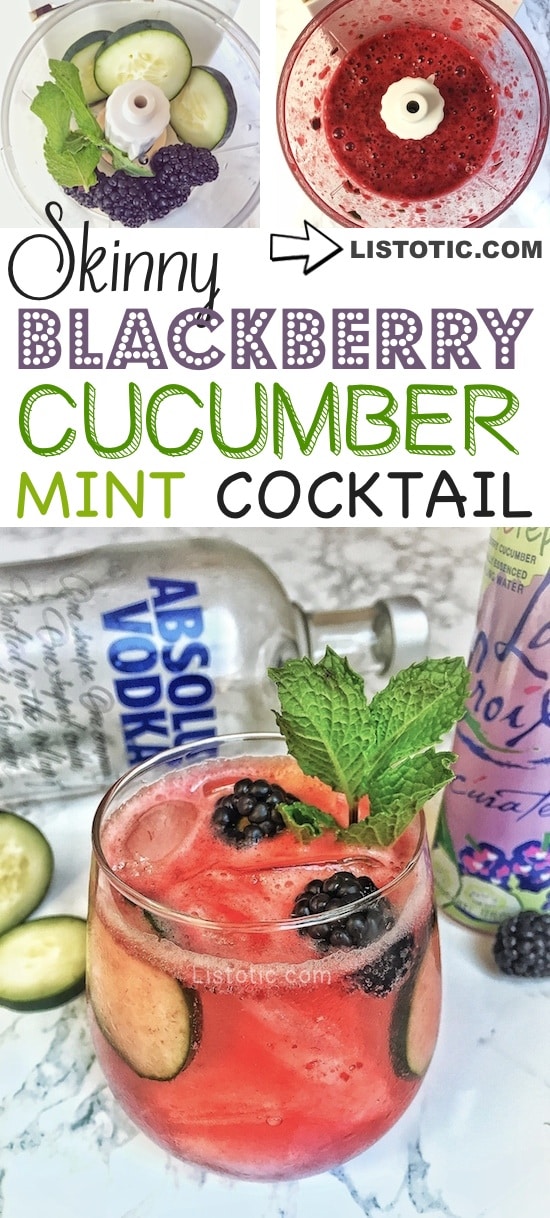 Cucumbers are truly some of the best foods of summer. If you like this Skinny Cocktail Recipe with vodka and cucumbers you will also love this cucumber veggie dip recipe. Check it out!