Last Updated on October 7, 2021
Easy Dip Made with Knorr Vegetable Mix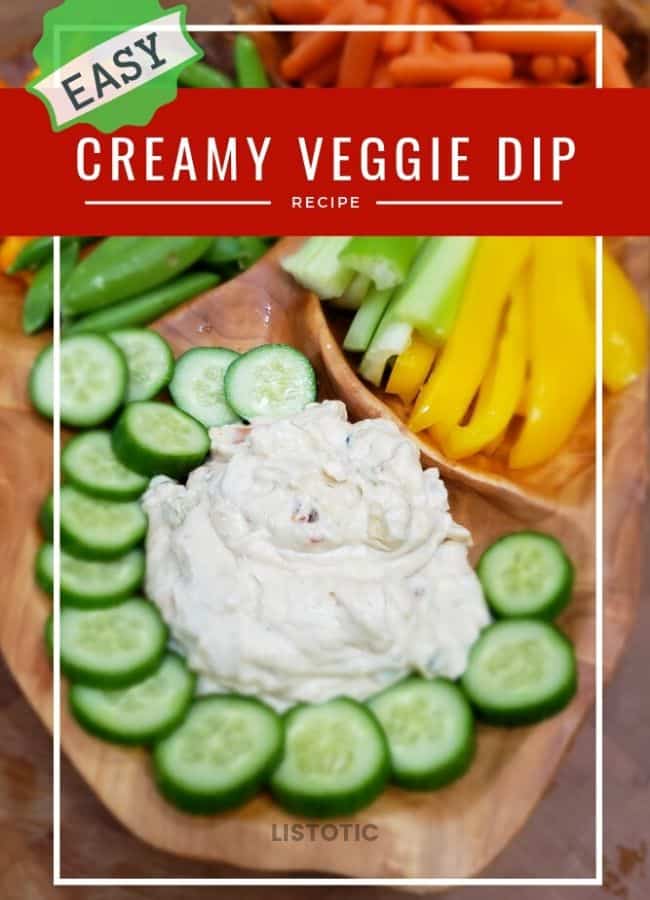 Lucky me! I entertain nearly every weekend in the summer months and over the holidays. It might be friends, extended family, neighbors, or even total strangers who happen upon our home while canoeing the river that runs through our property. No matter who might come calling, I try to keep some staples on hand for a quick snack – like this creamy Knorr veggie dip.
A variety of peppers, carrots, celery, tomatoes, snap peas, pickles, olives, cucumbers, broccoli, cauliflower, etc… are all staples in my kitchen. And, my favorite go-to dip is Knorr's Vegetable Recipe Mix.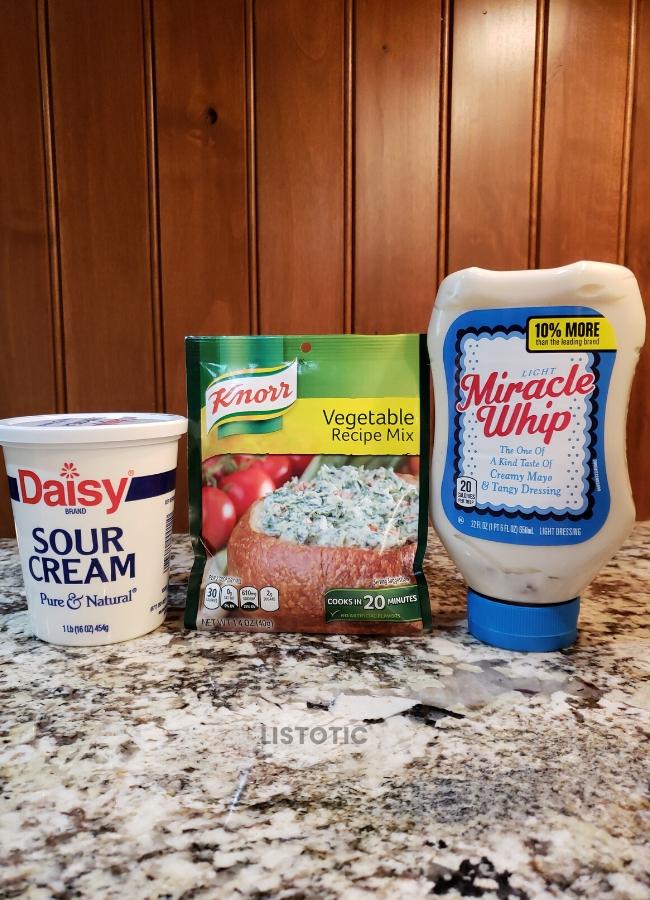 Are You Really Supposed To Follow the Directions to a Veggie Dip Recipe?
The Knorr package lists 6 ingredients for the recipe, but I regularly make it with just 3 ingredients (Knorr Vegetable Recipe Mix, Miracle Whip and sour cream) and most everyone loves it. Full disclosure: I have never made this dip as described on the package.
You might find it works better for you. The truth is, I never have all of the ingredients on hand that are needed for the full recipe. Most of my guests say it is pretty good the way I make it, so why change? Right?
TIP: Mix the sour cream and mayo before adding the Vegetable dip mix. Because this keeps the dry mix from ending up on the bottom of the bowl.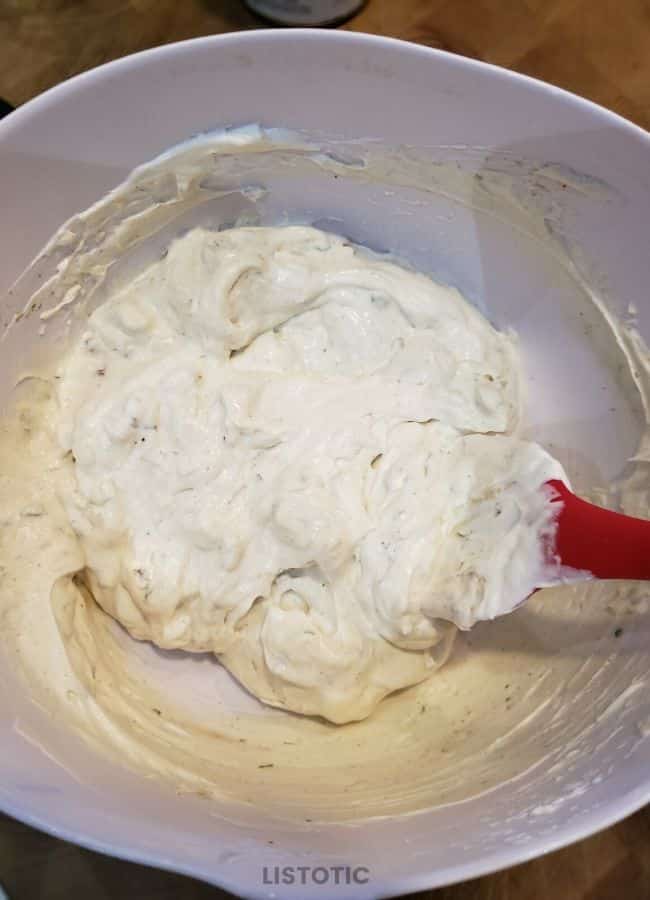 Creamy Knorr Veggie Dip
INGREDIENTS:
1 package Knorr Vegetable Recipe Mix (usually found near the soup mixes – think Lipton Onion Soup mix)
16 oz container sour cream
1 cup Miracle Whip (or Non Fat Greek Yogurt)
Note: My oldest son has commented that he thinks there is too much sour cream in it. So, while writing this article, I see Knorr recommends nonfat yogurt as a substitute for sour cream. I don't have any on hand that hasn't expired. Oops! Nothing new in my kitchen. I'll have to try it another day and let you know how it went. Nonfat yogurt would be much healthier than sour cream!
TIP: It is best if you can make this dip ahead and let it sit overnight. The dried vegetable pieces in the Knorr Vegetable Recipe Mix soften overnight, but in a pinch, I have mixed it up and served it right away.
TIP: I like to mix in one bowl and then transfer to the serving bowl because mixing causes a messy bowl and doesn't look good for presentation purposes.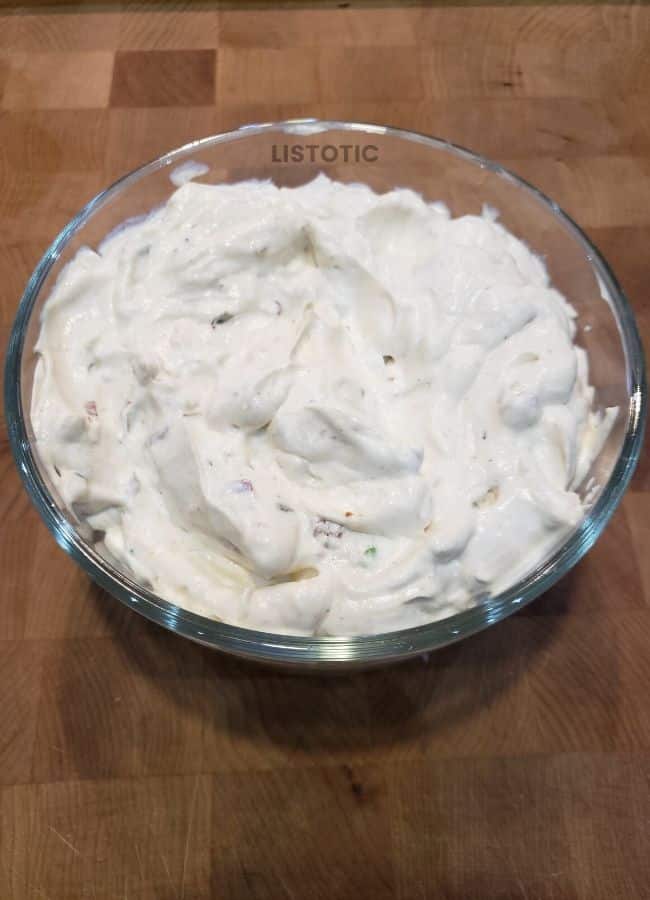 FOLLOW UP: I have made this with Chobani's Non-Fat Greek Yogurt. Very tasty, and much better for you. Highly recommended!