Last Updated on June 11, 2020
DIY Easter Eggs with Colorful Shrink Wrap Sleeve Designs in the Instant Pot
I'm going to make a prediction… soon the large packaging companies will be adding directions to boxed foods, craft kits, and recipes that include how to make it with the instant pot.
I called it! Remember you heard it from me first!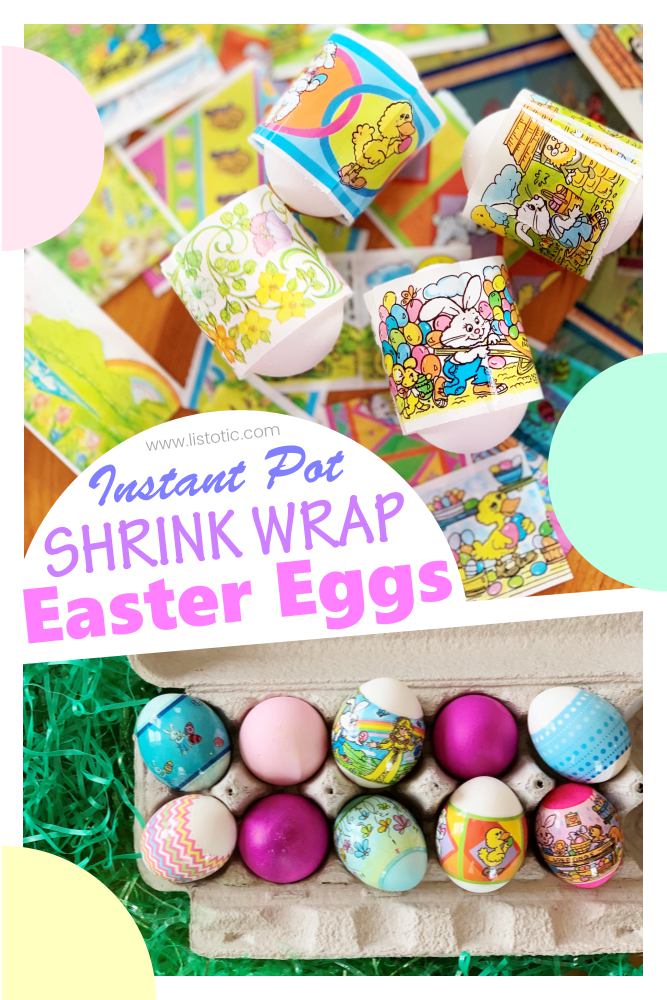 Did you know the colorfully designed shrink wrap sleeves that come in the Easter egg decorating kits are super easy using the instant pot?
Shrink wrap sleeves are just one more quick step after you hard boil your eggs.
When you use the instant pot, this process is a total of 8-10 minutes to take a raw egg to a colorful decorative hard boiled Easter egg.
Start by hard boiling your eggs in your instant pot. Here are two ways I recommend hard boiling your Easter eggs in the instant pot.
I'm Egg-static about how easy this is!
Directions for adding the shrink wrap sleeve
Remove dyed or non-dyed hard boiled eggs from the instant pot to cool off in a cold water bath or cooling rack.
Remove trivet from instant pot and double check there is still 1-2 cups of water in the base of your instant pot. Add more water if needed. The bottom of the instant pot should have at least an inch or more water covering it.
Put your instant pot on the Sauté setting
Place the shrink wrap sleeves around the cooled-hard boiled eggs. I have found that the shrink wrap sleeves that come in the Easter dye kits are sized to fit around a medium sized egg, not the large or extra large size that you can get in the grocery store.
The water in the bottom of your instant pot should be at a simmer now from the sauté setting. Using a tong, place the egg with the shrink wrap sleeve already around it into the pot, and gently set it down into the simmering water, rolling it side to side for approximately 8-10 seconds. The sleeve should tighten around the egg quickly.
Using the tongs quickly remove the egg out of the simmering water and back into the cold water bath, cooling rack or straight into the refrigerator.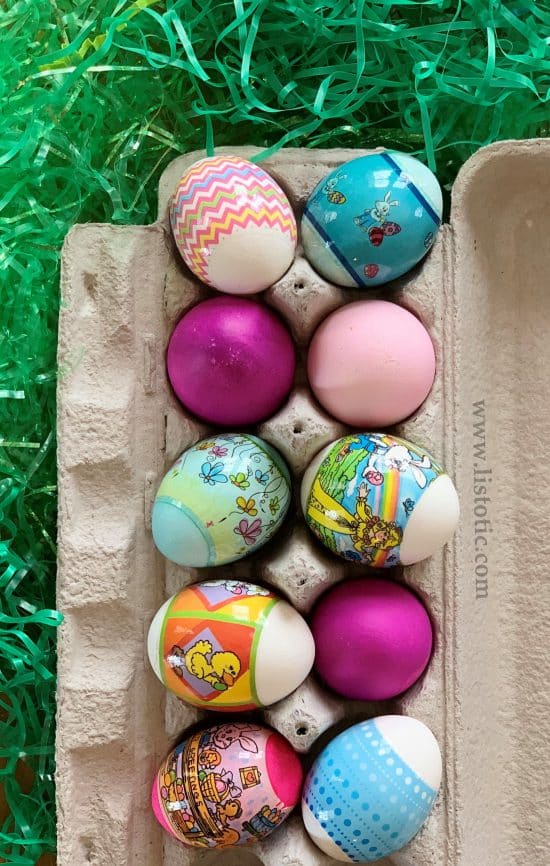 Bonus – Save time
The bonus to using your instant pot to add the shrink wrap sleeves to your Easter eggs is it takes less time getting the water to temperature for the sleeve to shrink wrap and your instant pot is already on the counter, plugged in and ready to go from when you hardboiled the eggs minutes earlier.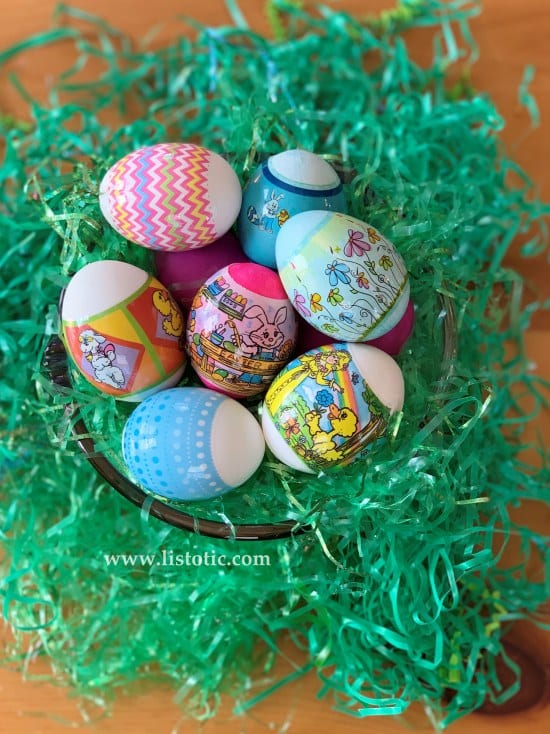 Fun idea for packing a school lunch or on the brunch table!
I've always loved the colorful shrink wrap sleeves, because they add to the Easter egg dying kit. But, if you want to do this for other times of the year, check out these really cool egg shrink wrap sleeves that are not Easter themed.
Detailed Floral Patterned Egg Sleeve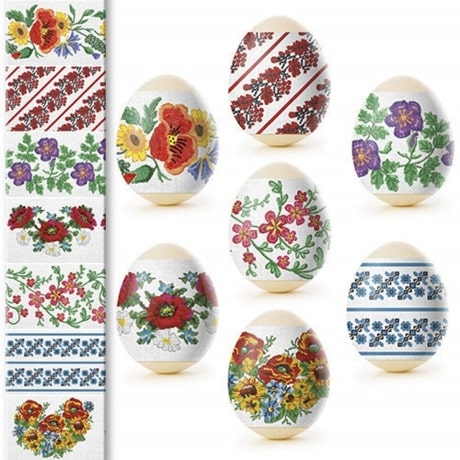 This post contains affiliate links. Please see our Disclaimer Policy.
Amazon Prime Eligible
2 our of 5 Stars Amazon Reviews
detailed Russian / Ukrainian / Polish Christian Easter eggs shrink wraps
Each set will help you decorate 7 eggs
Product Dimensions 3 x 3 x 0.1 inches
Verified Purchase Review "Quality and so pretty!"
Cartoon Happy Jungle Animal Egg Sleeves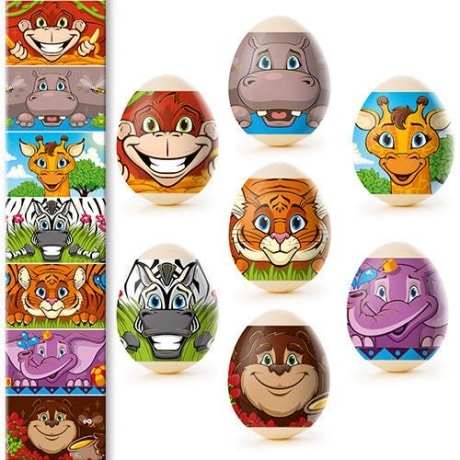 FREE Shipping – not eligible for amazon prime
Easter Egg Wraps Thermo Heat Shrink Sleeve Decoration
7 pieces to decorate 7 eggs
Shipping Weight:3 ounces
Summer flowers and colorful birds Egg Sleeves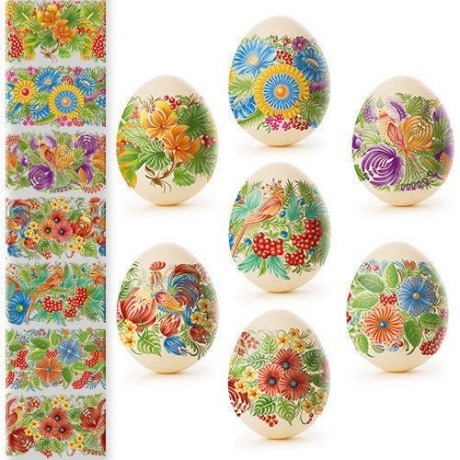 Amazon Prime Eligible
Ukrainian Heat Shrink Wrap Sleeve Decoration Easter Egg
One kit fit to decorate 7 eggs
3 x 3 x 0.5 inches
4 Star review on Amazon
Verified Purchase Review: "very pretty design looking exactly as shown on the website"
What a fun way to liven up a packed lunch or set out for a family brunch!