Last Updated on April 26, 2021
These beginner-friendly DIY nails are so gorgeous and mind-blowingly simple!
Just starting to dabble in nail design? Then this list of DIY nails is perfect for you! Some nail tutorial looks are super complex and hard to pull off, which can be frustrating. But, look no further! Our list contains the best beginners nail art tutorials.

Check them out so you can get the look easy at home!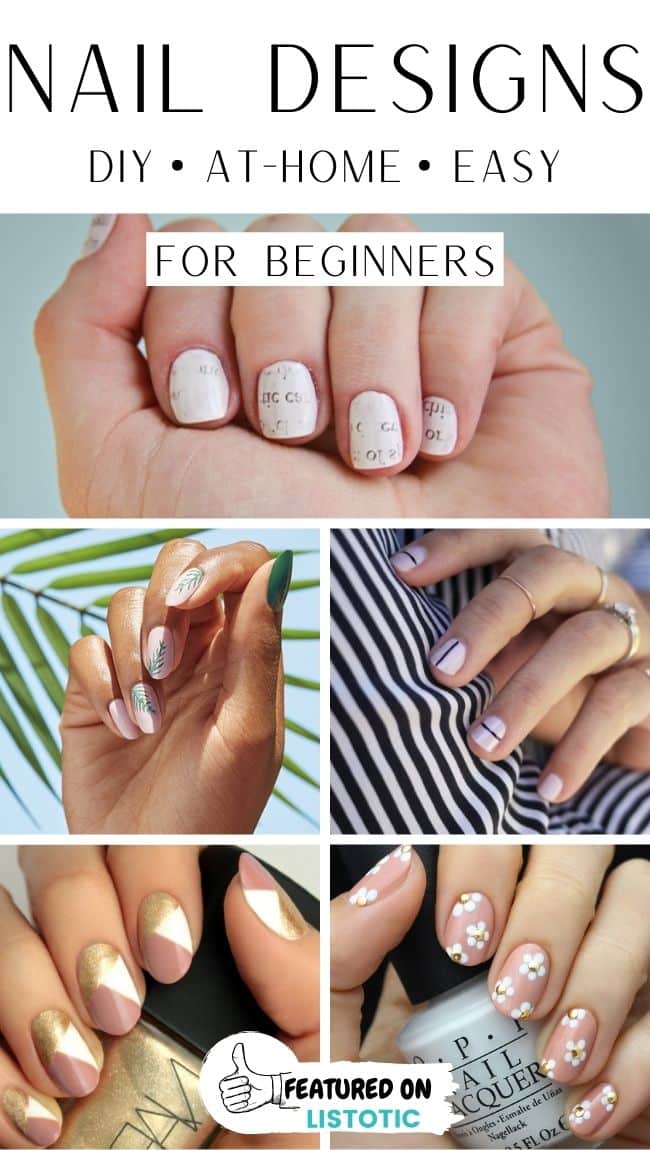 While painted nails are pretty it's not always healthy for your nails. Using all-natural nail products will help prevent damage. It is best to use honest, transparent, and non-toxic nail polish brands for optimal healthy nails. This guide for fingernail care is full of tips to keep your nails healthy. Know what to watch out for to avoid problems such as infections. If you struggle with keeping your nails white, check out Listotic's nail whitening tips and tricks.
Products You Need:

1. Ombre Nail Design Tutorial
Blending nail polish to make a smooth gradient might sound like quite the task at first. But this tutorial using a makeup sponge makes it a cakewalk! Just about anybody could follow these instructions. Read the easy instructions to make beautiful, eye-catching ombre nails with a beauty wedge. You will be sure to wow your friends. Plus, you can use any color! They're the perfect nails for any occasion! Find the full tutorial and steps over on the She Knows Ombre Tutorial.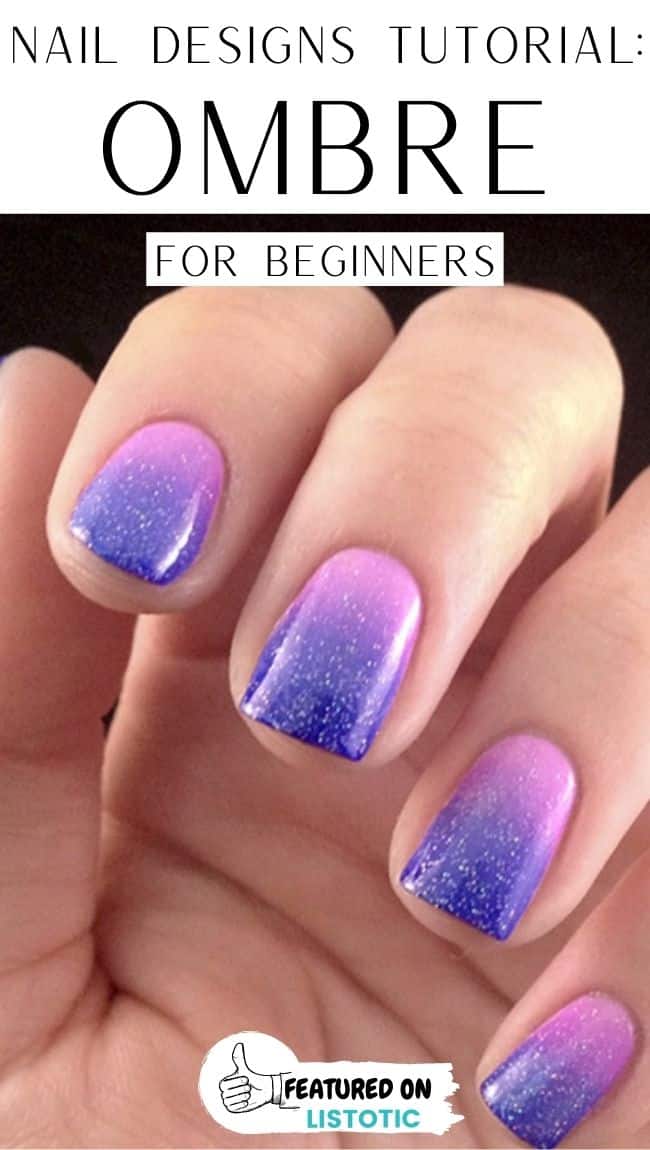 2. Pink and White Flower Nail Tutorial
These pink and white flower nails are perfect for spring and summer parties! The delicate flowers will add a lovely feminine touch to any outfit. Furthermore, you won't believe how simple they are to apply. Any beginner could pull off this look with little to no hassle. Click over to see Lulu's flower nail design tutorial!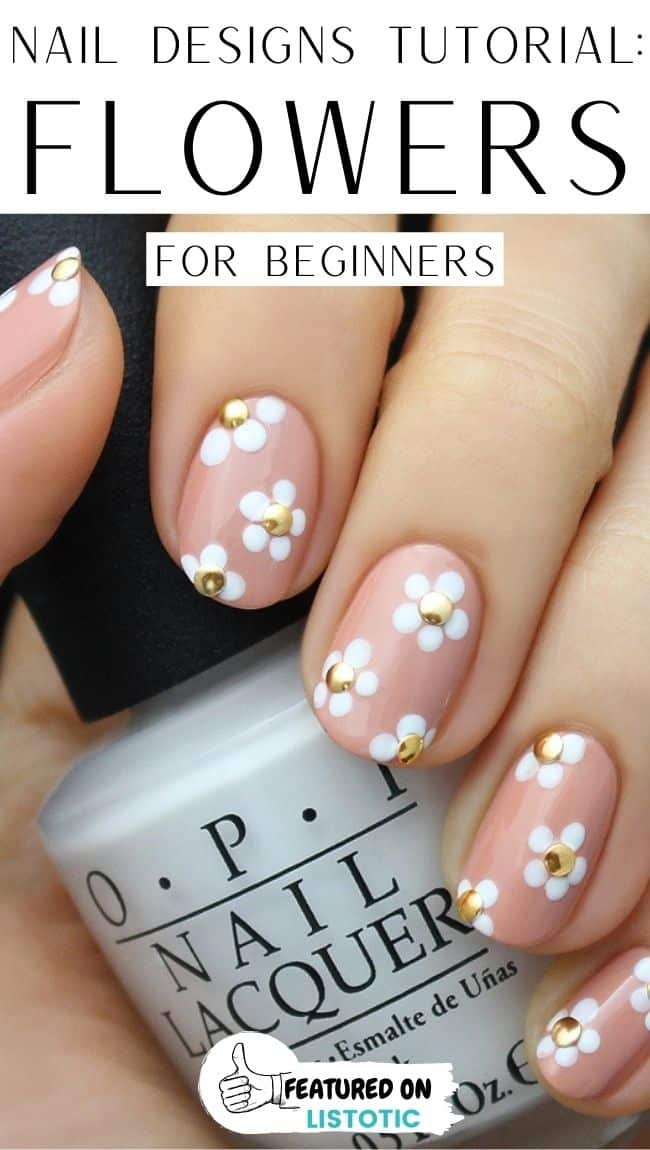 3. Hairspray Splatter Nails
Looking for crafty nail tutorials? Then these vibrant hairspray nails are perfect! Yes, we said hairspray! They're fun, creative, unique, and easy for beginners to apply. So fun! See Crafty Ninja's hairspray nail tutorial for step-by-step instructions.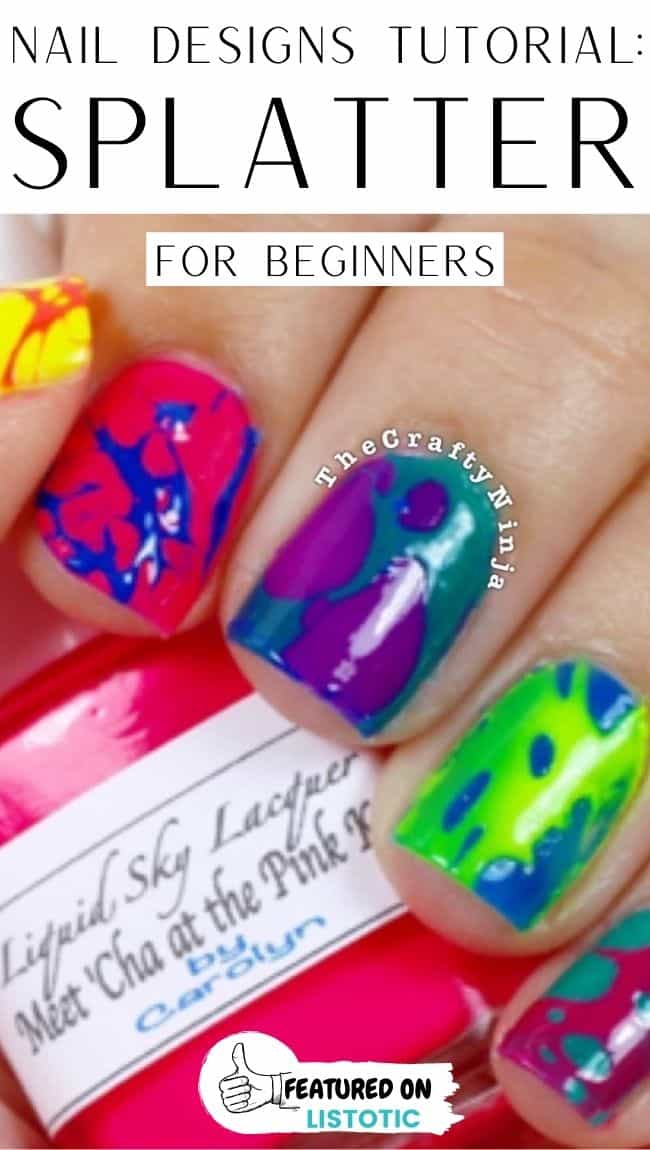 4. Turquoise and Gold Stone Nails
Check out the gorgeous golden cracks on these turquoise and gold stone nails. A DIY nail tutorial makes for a fun but elegant look! It is mind-blowing how easy it is to apply. Use it with any color! These nails are perfect for any type of party or gathering. But they also work great for casual wear. Click over and learn how to apply The Beauty Department's turquoise and gold stone nails.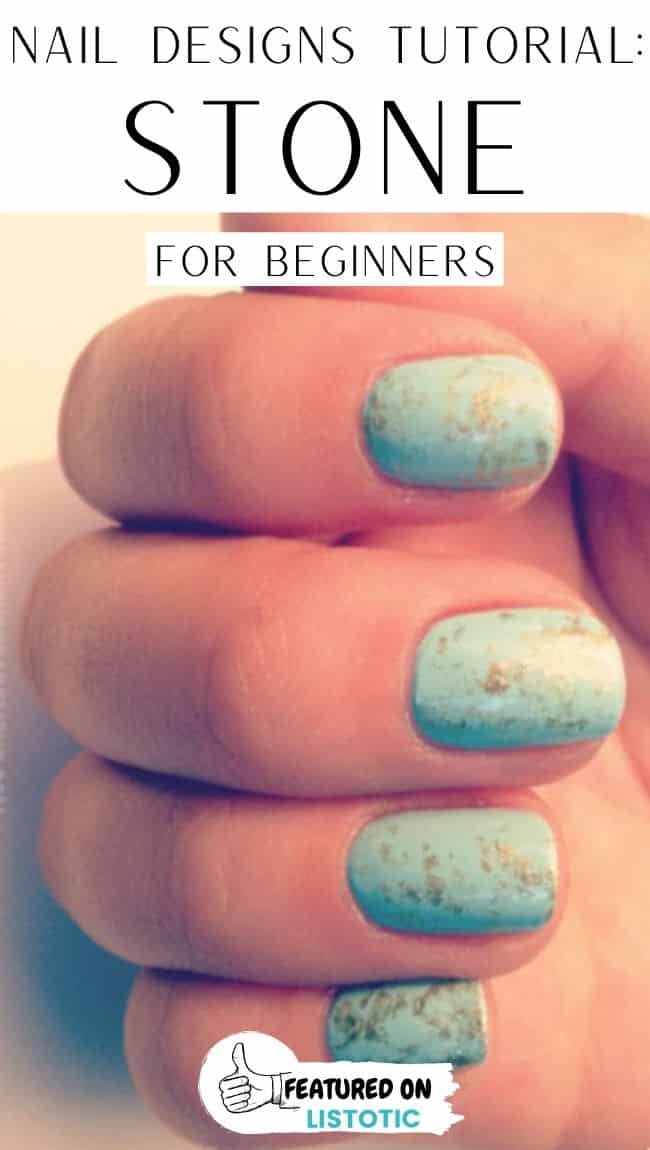 5. Watermelon DIY Nails
This watermelon nail design just radiates summer vibes! They're bold, colorful, creative, and so beginner-friendly! Minimal nail tools are needed to create this cute summer nail art. Click over to see The Nailasaurus watermelon nail art instructions.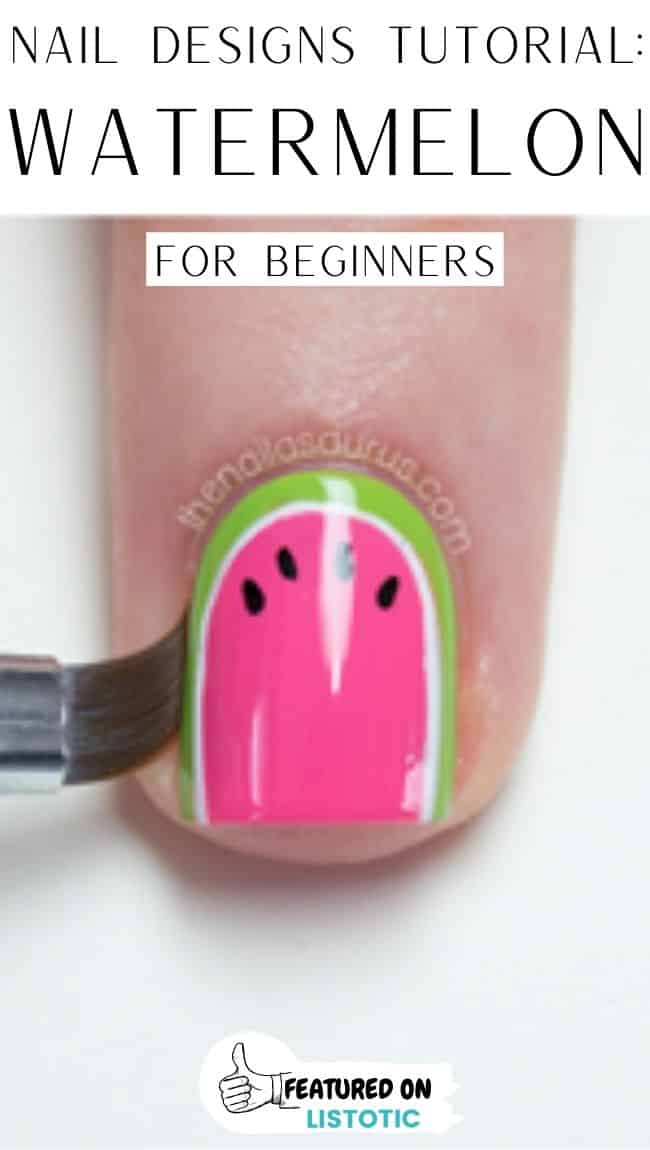 Products You Need:

6. Chevron Accent Nail
Thinking of a more clean line nail art design? Then this tutorial on chevron accent nail might be just what you're looking for! It's perfect for adding a subtle pop of pattern onto any look. This design is beginner-friendly and requires only a few materials. Click over to see how to do chevron nails on Polishpedia!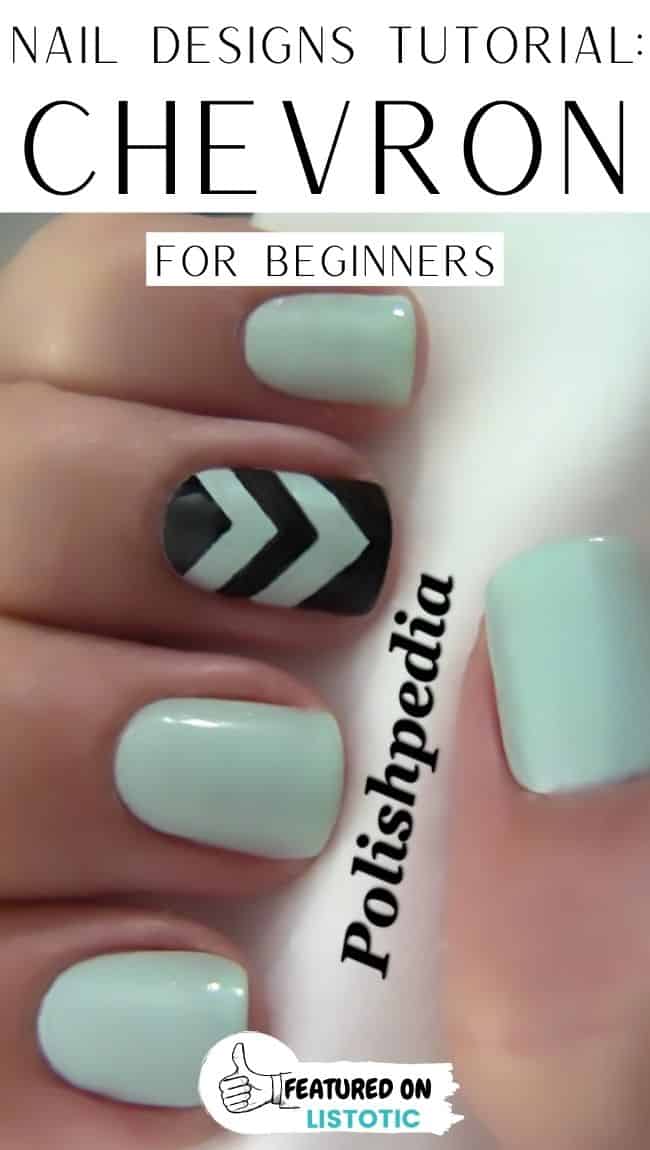 7. DIY Tibi Nail Art
Another minimalistic design! You can't go wrong with simplicity. These subtle nails are perfect for everyday wear. Easy for any beginner or seasoned nail artist to apply. Click over to the tibi tutorial on Honestly WTF.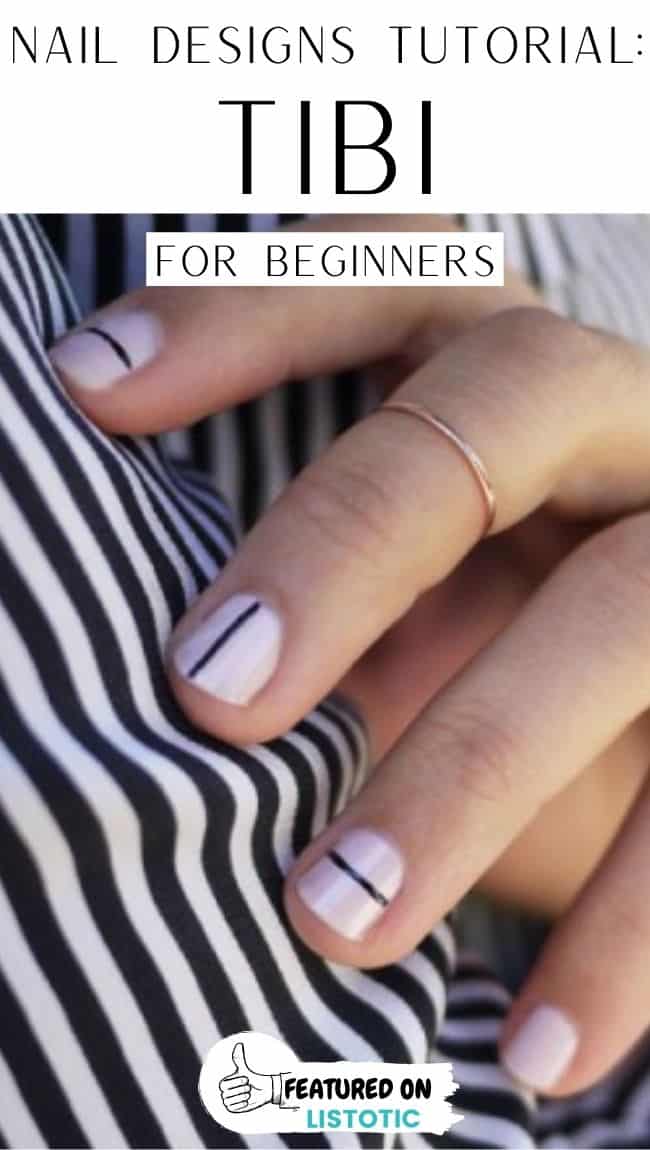 8. Holograph Foil Manicure
Add a little bit of holographic flair to your nails with this holographic foil manicure! The choices with this nail look are truly endless. You can use an unlimited amount of color and foil shape combinations. So many creative ideas! Learn more over on A Beautiful Mess how to do Holograph nails.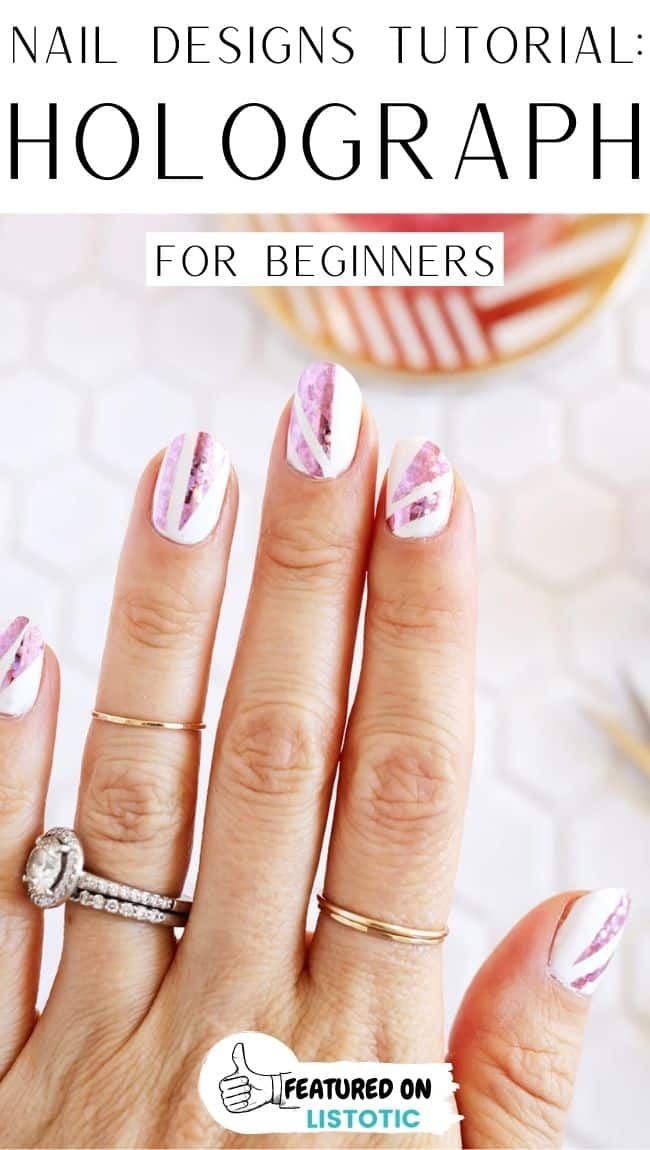 9. Metallic Sharpie Nail Art
It doesn't get much simpler than this metallic nail art tutorial; furthermore, since this look only really requires a base coat, a topcoat, and a Sharpie (you can find metallic Sharpies in several colors here) materials shouldn't really be a problem; no fancy tools required. Just about anyone can recreate this look! Additionally, you can create virtually any design you can think of. See the details for The Beauty Department Metallic mani!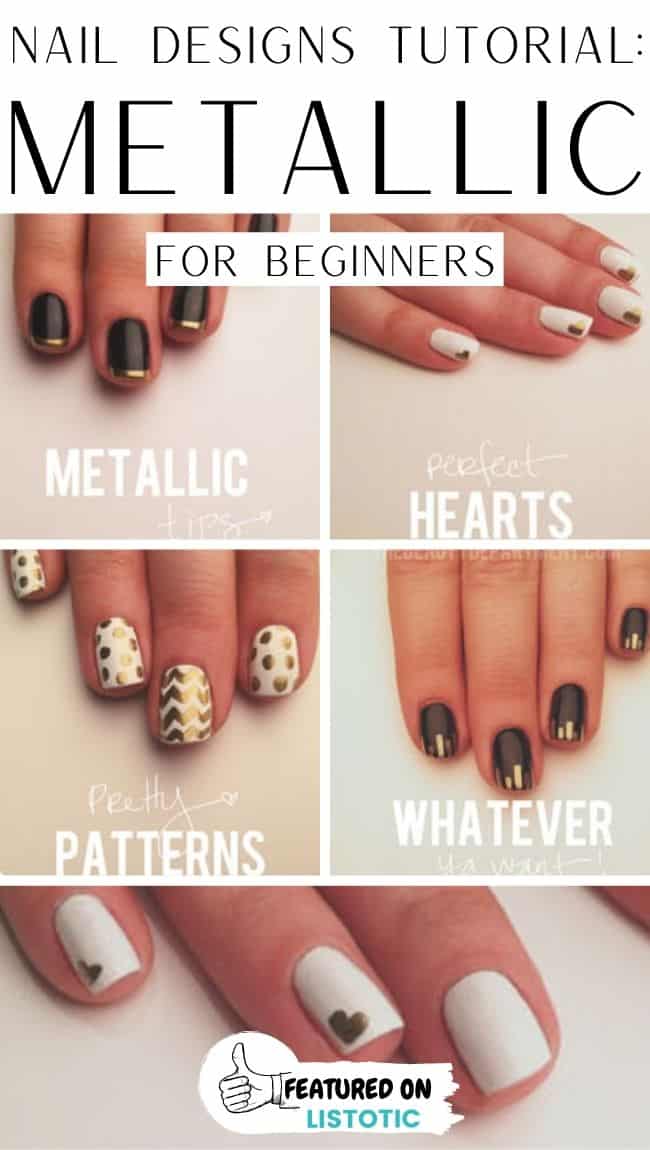 10. Pink and Gold Geometric Nails
These geometric nails are so gorgeous and clean looking! Furthermore, this tutorial makes it so easy to recreate this look! Additionally, if you're more of a beginner, you could probably even use tape as a way to keep the lines clean. See the full tutorial over on Lulu's Geo nails!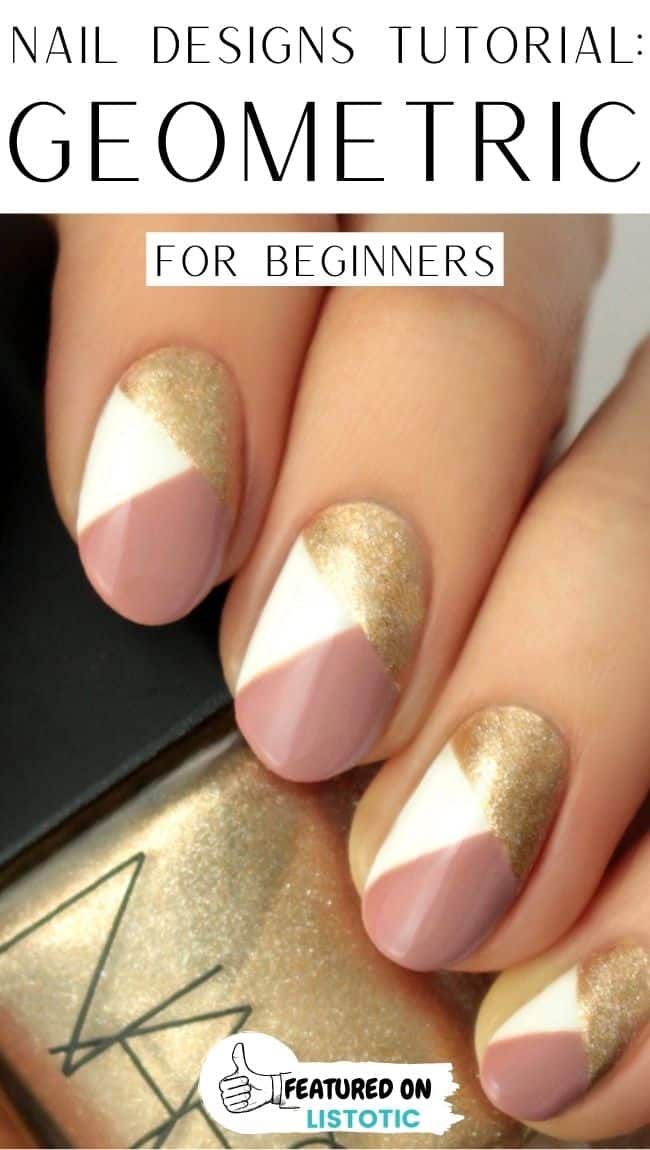 11. Perfect Half-Moon Mani
This clever trick is perfect for achieving the perfect half-moon manicure every time, guaranteed! Additionally, all you'll need to follow this tutorial are some binder reinforcements, which you probably already have lying around the house. Or, if you don't, you can pick some here. Get the full tutorial over on Seventeen to do a half-moon manicure!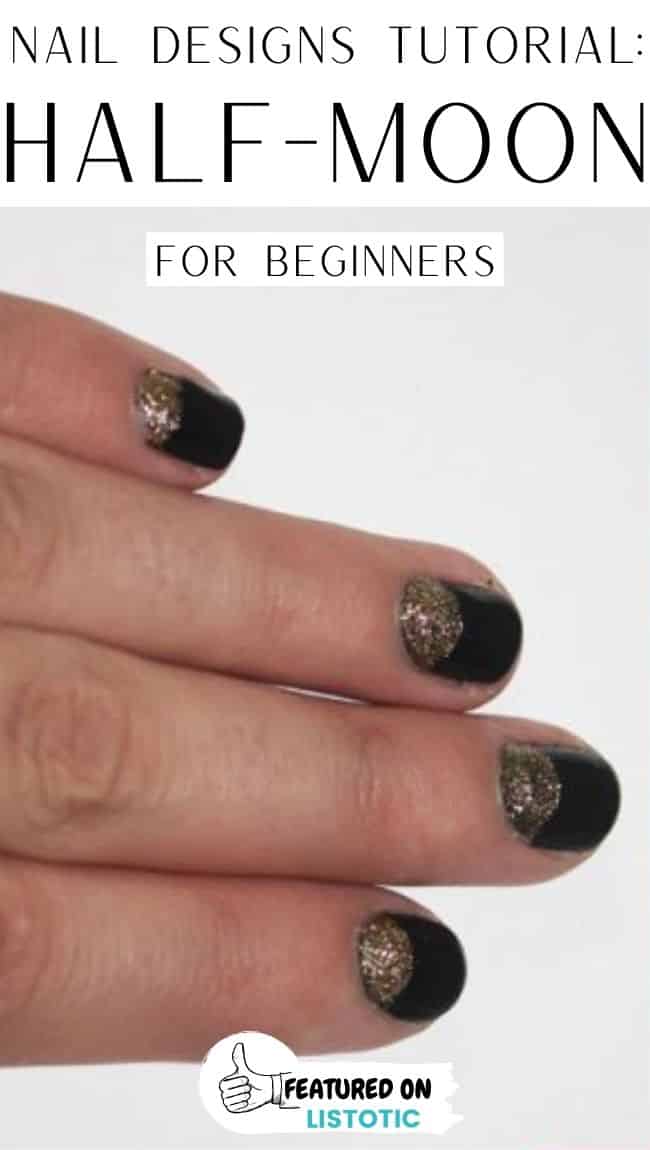 12. Ombre Heart DIY Nails
Aren't these heart nails adorable? They're just like French tips, except in the shape of hearts. Plus, they're super easy to apply! Additionally, they're the best beginner's nail art; any beginner could follow this tutorial without any issues at all. Furthermore, you could follow this tutorial with any nail polish color if you'd rather go for something other than pink and red. The cutest beginner's nail art! See the full tutorial over on A Beautiful Mess to make ombre heart designs.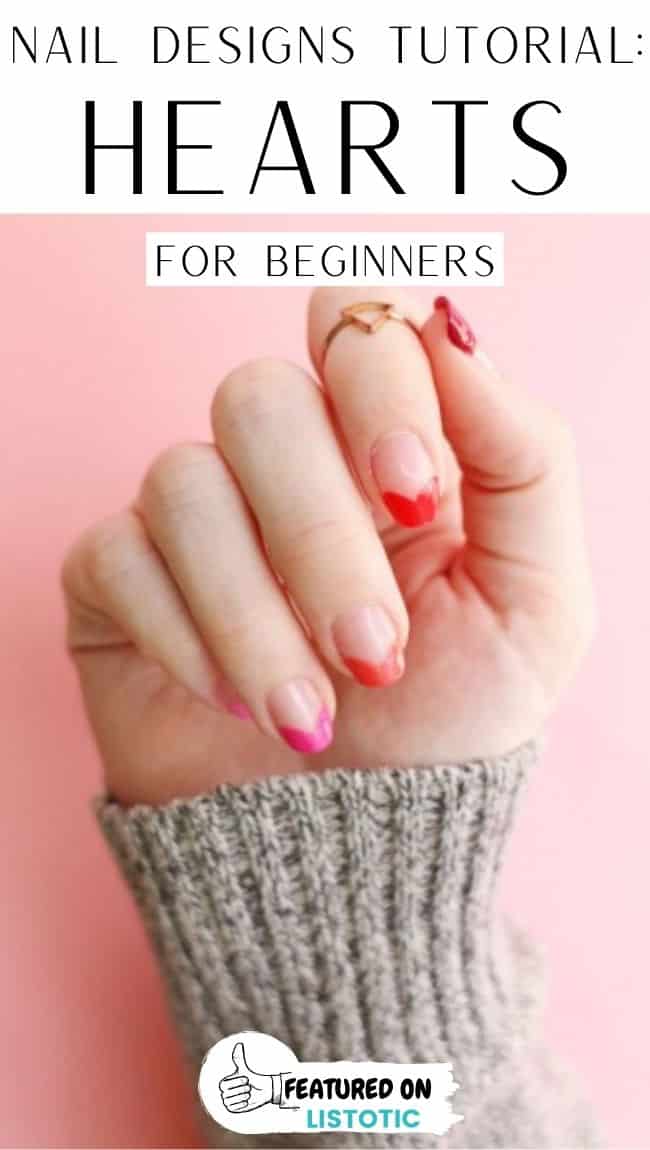 13. Newspaper Nails
These newspaper nails are so artsy and unique! They're the best beginner's nail art. Furthermore, all you'll need is a copy of your local newspaper and some plain rubbing alcohol. It can't get any easier than this to recreate these gorgeous and creative DIY nails! Find the instructions over on How Does She for newspaper nails.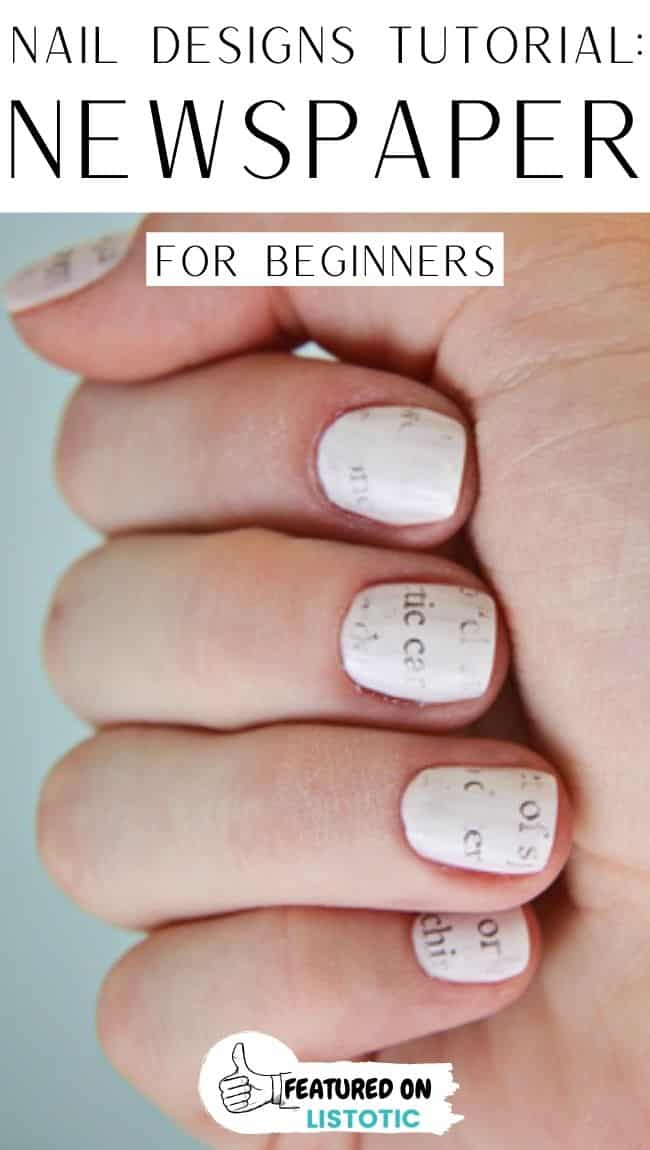 Products You Need:

14. Hollywood Palms
These nails are the perfect way to prepare for the summer; furthermore, the palm leaves may look super complex, but you won't believe how incredibly easy they are to apply! This beachy manicure is perfect for vacations. Find out how to apply them over on OPI palms nail design!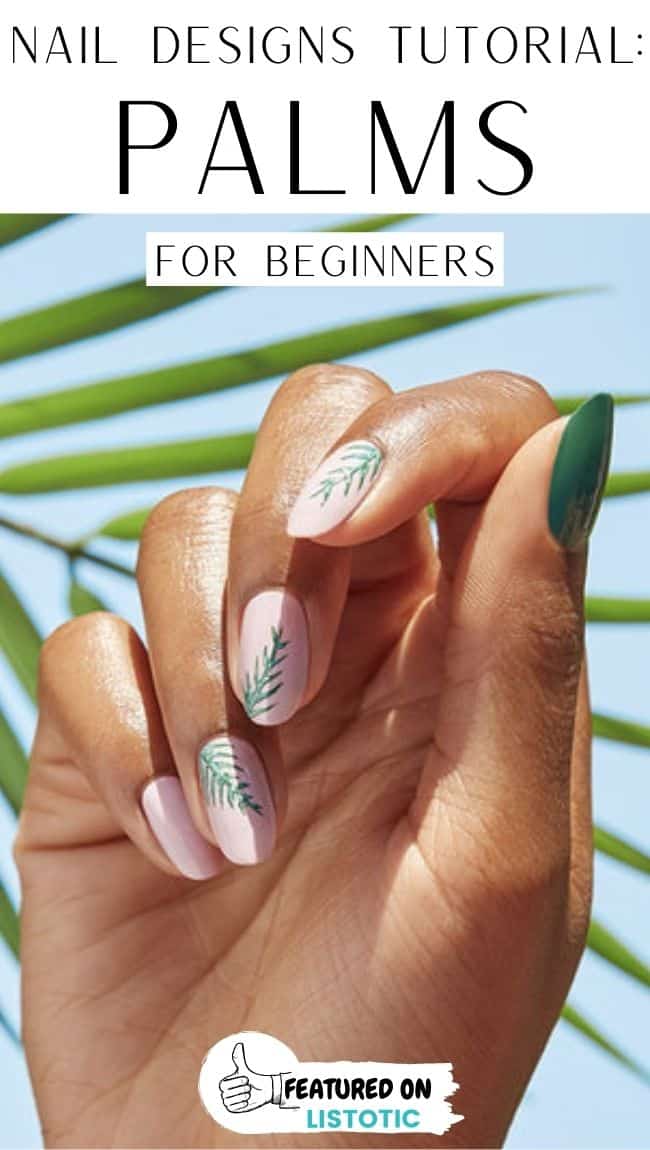 15. Poolside Daydreams
The fun bright colors on these Poolside Daydream nails make for a gorgeous nail design that's perfect for this spring or summer! Furthermore, you could definitely swap out the original colors for something else if you'd like to go for a different aesthetic. Additionally, if you don't feel like repeating this pattern on all your nails, this design would work great as an accent nail. See the full instructions over on OPI to make poolside nails!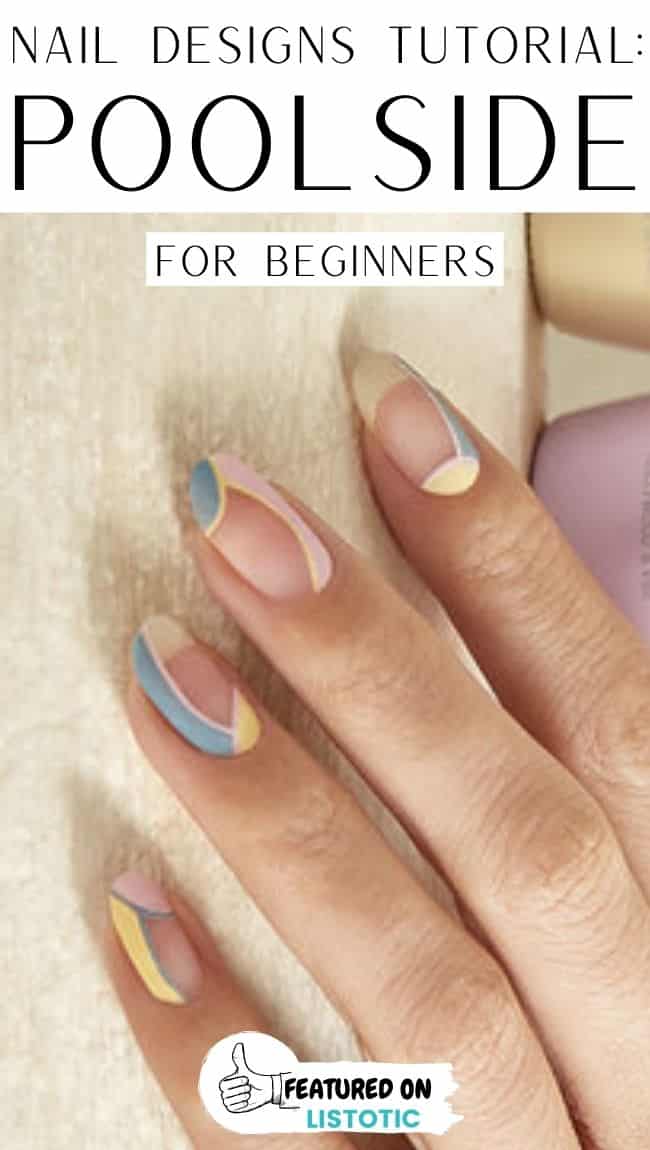 If you liked these Beginners Nail Art Ideas you'll also love this list of Easy Hairstyle Tutorials.