Last Updated on April 12, 2021
Celery Flower Art is Fun and Easy for Kids or Adults!
You must try this easy flower painting craft idea for kids of celery flower art. Celery rose print art and craft ideas can be done at home any time of year but I especially love it in the winter and spring when there aren't' always real flowers growing outside but we want pretty flowers! If you have ever cut off the stem of a celery plant and thought "isn't that beautiful" you must give this a try.
This celery stamping craft is great for kids or adults. I have done this activity with seniors at the nursing home as well as with preschoolers in my home. It is a great art and crafts activity for any age. The results are always spectacular. When you lift the celery stem off the paper you never quite know what the result will be and that's what makes this so fun.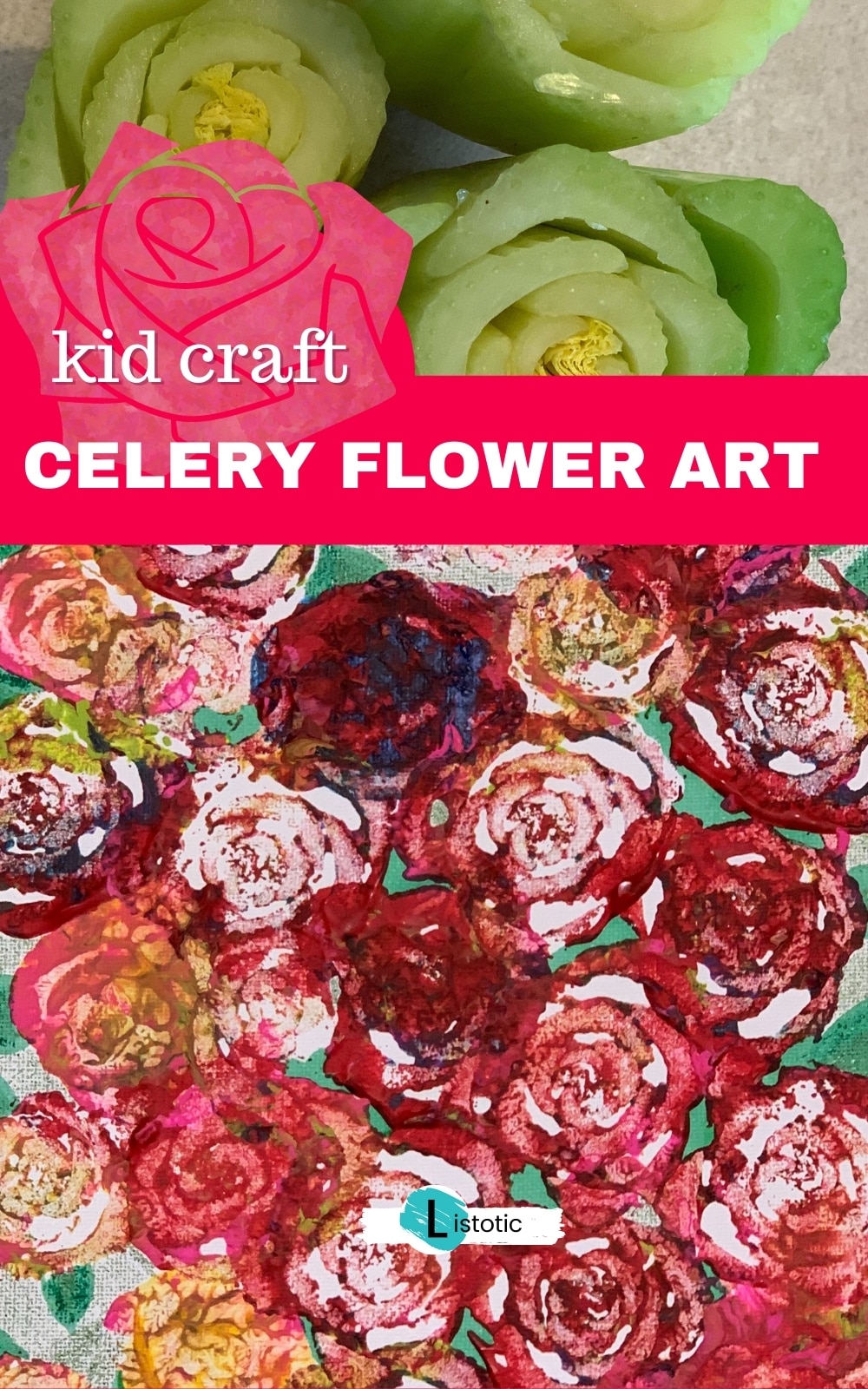 How do you make celery flower art?
You might not be obsessed with vegetable art. But there are some real reasons I absolutely love this celery rose print art craft idea for kids.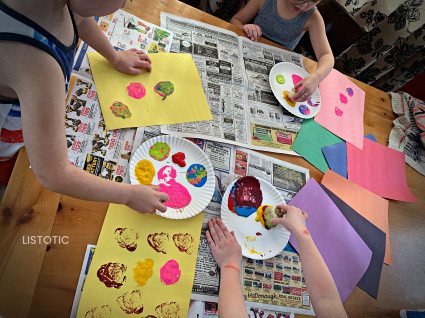 Some perks to this craft project include:
First of all, celery flower art doesn't take very long. Super quick setup and completion.
Secondly, it only requires 2 materials most of which you probably already have at home.
Finally, it very inexpensive. Not only is it budget-friendly it also doesn't cause a lot of waste. In fact, you'll probably have some healthy snacks ready to go as soon as you are done! Win-win.
Materials:
Celery stalks. Either one stock for each artist or one stock for each color.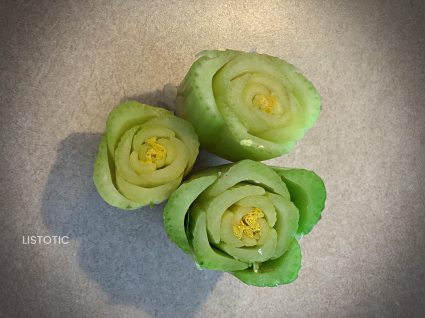 Paper. Something thick enough to hold the paint of the celery flower print. I like construction paper or blank artists' canvas if you plan to display them afterward.
Paint. With kids, I make a point to use washable paint but any thicker paint like (acrylic paint) would work too.
Instructions:
First, you'll want to cut off the stem of your celery stock and let it dry on a paper towel. If you have impatient artists waiting, you might only let them dry for 10 minutes but if you could leave them out on the counter for a few hours it to dry it will help the celery hold the paint better when doing the celery flower stamping.
When the clearly stalks have dried. Layout some newspaper under the cardstock or canvas mounts.
Squirt some different colors of paint into a tray or plate for little fingers to find.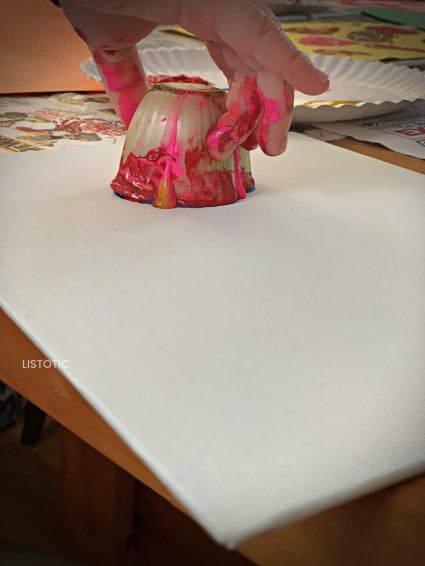 Use the celery stamps to make celery rose prints.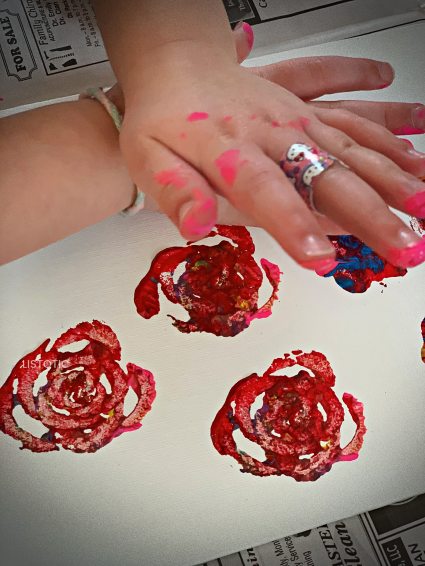 Optional: use green paint or another art medium to add leaves to your celery rose print. I used a combination of crayons and brush markers to make the leaves around the roses.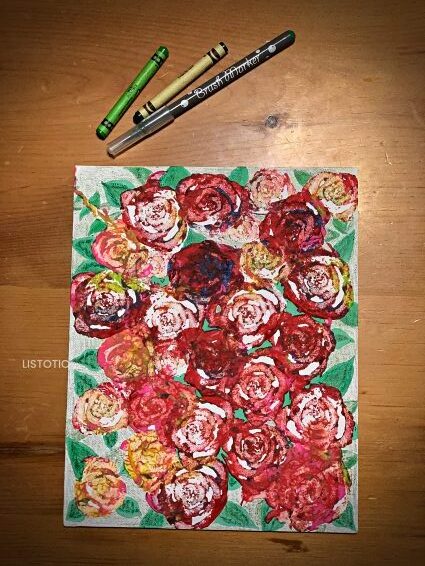 Notes:
Make sure the artists roll up their sleeves and possibly wear a smock for this celery flower craft. Using your hands to stamp usually ends up in some paint where you don't mean it to go.
You could also try using ink pads. I haven't tried it myself but I've wondered if something like that might work well. Especially since you are using the Celery as a stamp.
For easy flower painting practice, stamp the celery on scrap paper before applying the paint to your final canvas mount.
Using a brush marker for details of the leaves around the roses adds a lot of dimension to the artwork.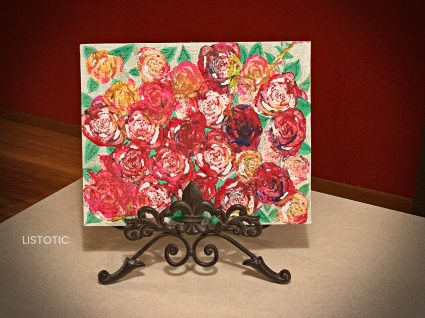 If you love this easy flower painting idea you are going to really enjoy this list of easy fun crafts ideas for kids.