Last Updated on October 12, 2021
Falling in love with these AWESOME boy Halloween costume ideas!
Yep! It's that time of year again. When you little boy or girl changes their mind every hour of the day of what they are going to be for Halloween. I have spent countless hours looking through Pinterest and Amazon at DIY boy Halloween costume ideas. Just hoping my son can finally narrow down what he really wants to be this year! You are in luck because Listotic has another list of some of the best homemade boy Halloween costume ideas (if you haven't already checked out our popular list of Quick & Easy Kids Halloween Costumes you might want to do that too!). So you can end your search now because it's time to get this checked off your list of things to do!
This post contains affiliate links. Please see our Disclaimer Policy.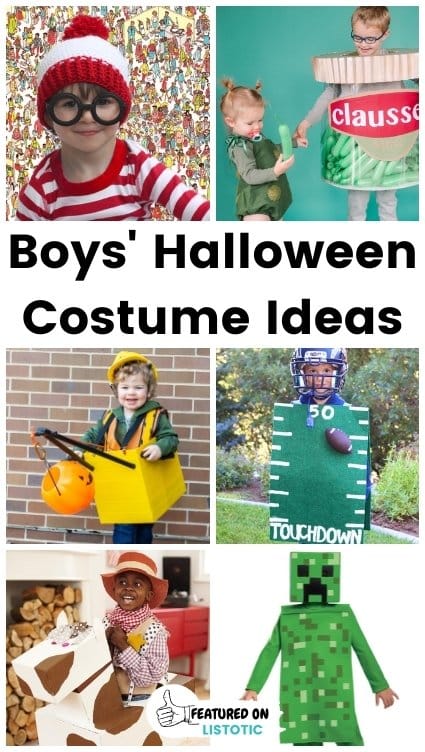 1. DIY Cowboy and Horse
This one-of-a-kind Halloween costume will make your wild west boy's trick or treating extra special. From the felt cowboy hat to the DIY cardboard horse, your boy will look and feel like a true cowboy on Halloween. Check out Made for Mums step-by-step cowboy costume instructions and details. If sewing isn't your thing, here is a great Cowboy costume courtesy of Amazon.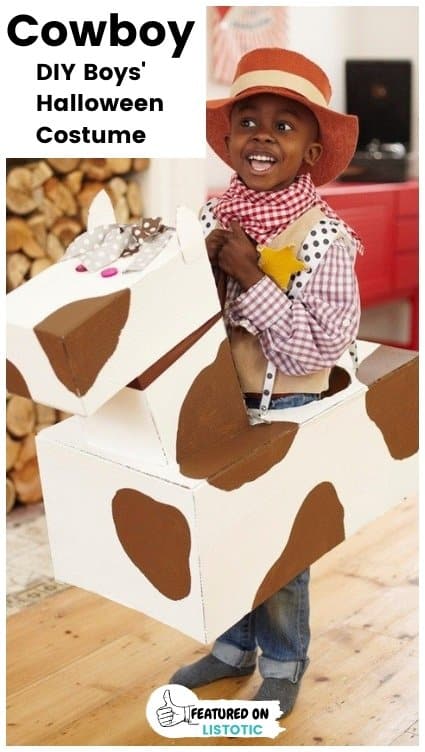 2. Haunted House
This DIY Haunted House is a great last-minute idea that is simple and easy to put together. This DIY boys costume also gives you the freedom to make this their very own. For example, you can add a few orange pumpkins, a few more spooky bats, or maybe some lighting details. Get the instructions over at Oh Yay Studio!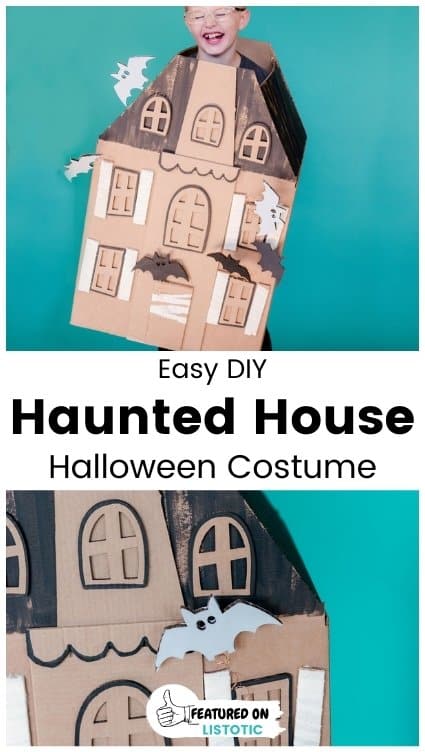 3. Where's Waldo? DIY Costume
If you know how to crochet, then this DIY costume is calling your name! My two older boys recently discovered their love for the Where's Waldo books. Surely, this DIY Where's Waldo costume will be perfect this year. Head over to Repeat Crafter Me for the step-by-step instructions.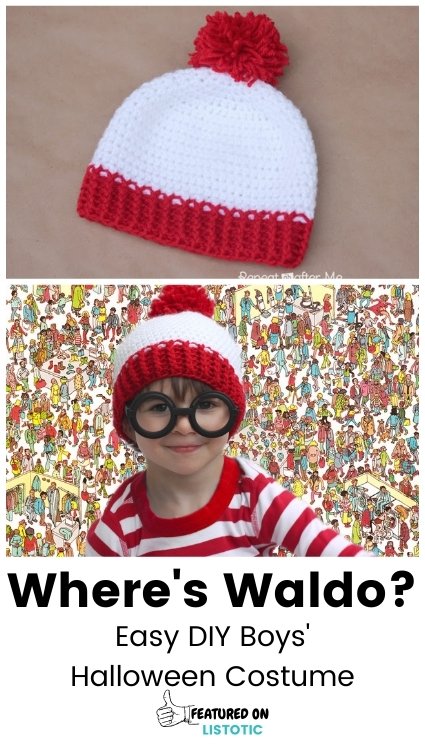 4. Pickle and Jar – girl or boy Halloween costume ideas
This has to be my favorite sibling Halloween costume yet! This costume is perfect for your little pickle and especially fitting if they love pickles. Your little ones will
look like a big dill when ringing the doorbell. Head over to Oh Yay Studio for more inspiration and to customize it to your liking.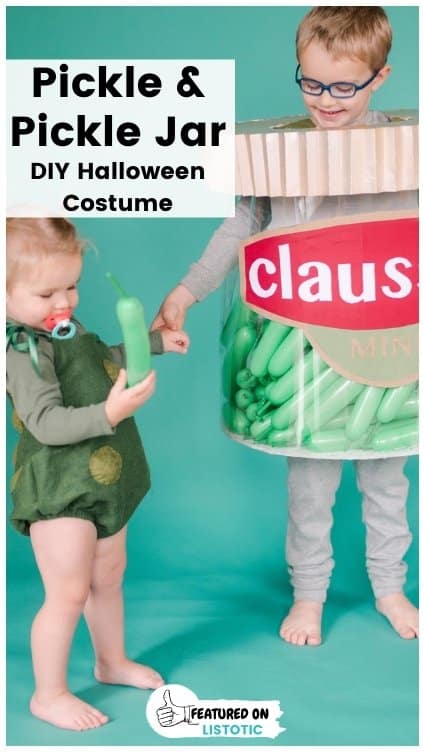 5. Football Field and Player DIY Boy Costume
You've seen plenty of football player Halloween costumes but have you ever seen a Football FIELD costume? Clearly, this costume is sure to be a touchdown on the streets! Design Dazzle has the instructions for your football lover.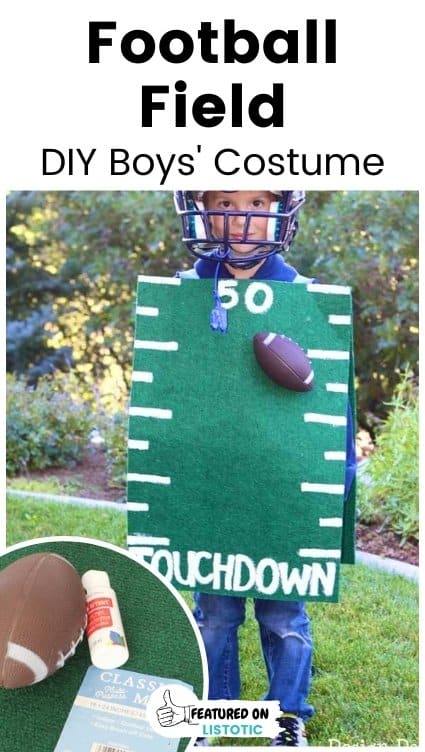 6. Lucky Penny Homemade costume
This is a showstopper of a homemade boy costume! Shine up your DIY skills and create this one-of-a-kind Lucky Penny Halloween Costume. Also, this costume would be a perfect fit if your name is Lincoln. Check out the details over at The Merry Thought.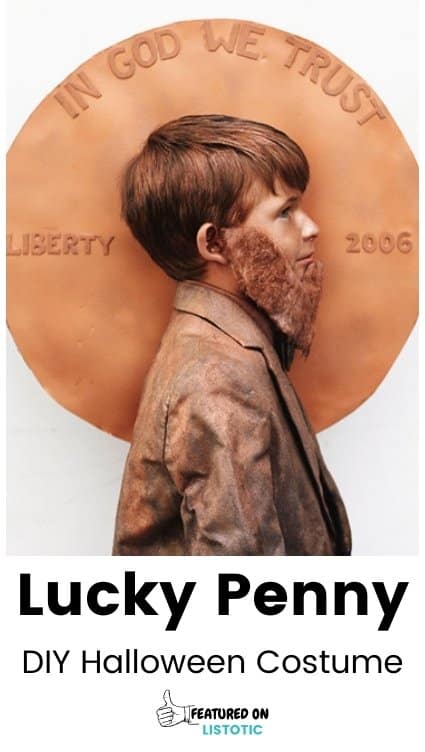 Like many, my boys are obsessed with the video game Minecraft. A Minecraft creeper costume is a quick way for your child to become one of their favorite green critters. You can pick up this costume on Amazon or make it yourself out of cardboard boxes and different colors of green paint.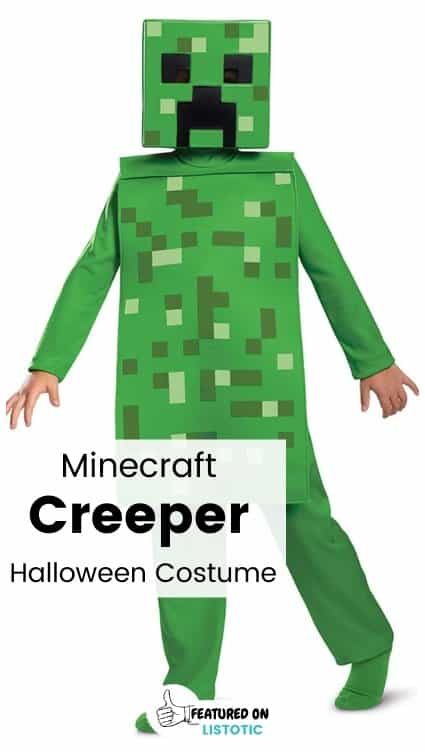 8. Forky from Toy Story
Any of the Toy Story movies are a hit at my house. I'm guessing I'm not alone. Forky in Toy Story 4 has to be one of the most unusual Toy Story characters of all. I liked how Karen with Desert Chica made this adorable but easy Forky DIY boy costume. Not only is this an easy homemade boy costume but it looks like the real character! Check it out here.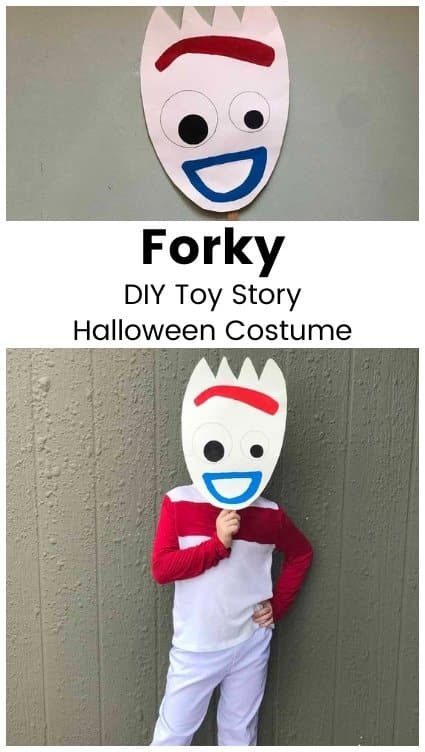 9. Army Green Toy Soldier Boy Halloween Costume Idea
Small green army guys are one of those toys that span from generation to generation. Grandparents won't need to ask, who are you dressed up as? For this Halloween costume because they will recognize it from their years past. It would be super fun to do a group costume of different positions with friends. Rebekah made this costume look like the real deal. Check it out at Wild Ink Press.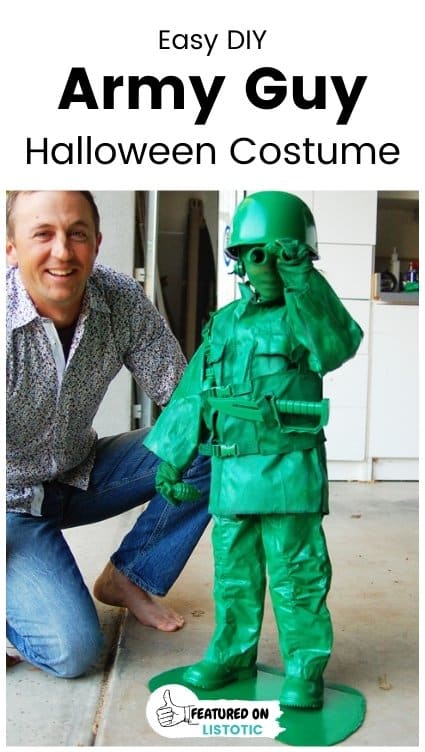 10. Construction Crane Operator Boy Costume
Aside from costume might be hard to get in and out of the vehicle, I love it! But if you are just heading down the block from your house it is truly perfect. There is even a spot for the candy! Any child who loves to play with construction toys will enjoy this fun boy's Halloween costume. Find the details to make this costume on Scratch and Stitch.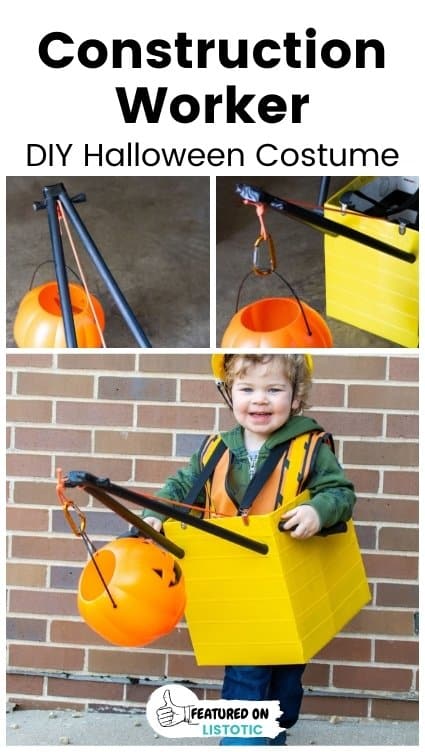 So, find anything in this list of ideas? Because I sure did for my boys! We certainly hope you enjoyed this list of Boy's Halloween Costume ideas. Be sure to save your favorite ideas on Pinterst and check out more Halloween ideas on Listotic.