Last Updated on July 16, 2020
Today, I will teach you how to make a vintage sign frame the effortless way, yet still manage to make it look half way decent. This tutorial is for lazy people that like to make cool things without having to do a lot of work or research
This post contains affiliate links. Please see our Disclaimer Policy.

My husband found this vintage "No Dumping Allowed" sign at a local antique store one day, and thought it would be cool to hang it in the guest bathroom (he has good ideas sometimes). The only thing we were missing was a frame, but unfortunately, we are both too lazy to use a miter saw or follow any real directions, so I would suggest that you Google "how to make a frame" before following my lousy instructions. I have no idea what I'm doing.
How to Make Vintage Sign Frame
SUPPLIES:
4 pieces of scrap wood large enough to make a frame around your sign. Originally, we were going to use wood from a pallet that we found, but

my husband

we measured and cut it wrong, so we bought a few cheap fence boards instead.
The metal thingies in the picture below (you could probably just go to Home Depot or something and ask them for metal plate thingies that have holes for screws).
Sawtooth picture hangers
Kinda short screws
A sign or picture of some sort (you can find vintage signs on Amazon and possibly your local antique/thrift stores)
INSTRUCTIONS:
Measure your sign with a tape measure, and then cut the wood accordingly. You can figure it out.
Screw in the metal plate thingies to hold your frame together.
Next, nail in the picture hangers onto the back of your frame. You should probably measure first.
Put nails in the wall, and hang the frame up around your sign.
Hopefully it's straight. If not, start over. You may need to find another frame tutorial.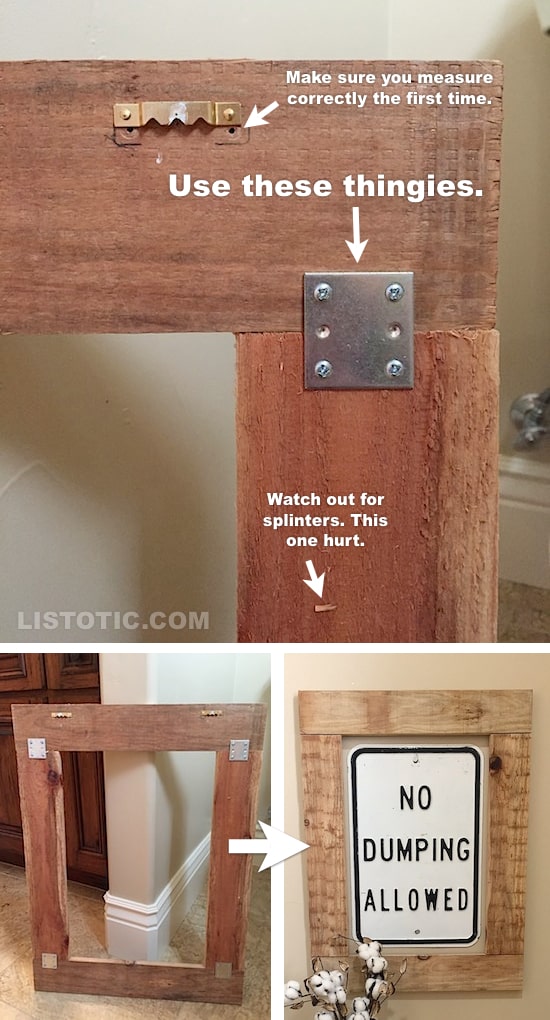 Alright, I'm not a genius or anything, but this frame (shockingly) turned out pretty darn incredible. In all seriousness though, you don't really need to have a "perfect" frame if you're going for this vintage, rustic look like me. In fact, you may be able to skip all of the instructions above and just use gorilla glue. Let me know if it works.