Last Updated on October 29, 2021
Hosting a March Madness Viewing Party Just Got Easier with a List of Favorite March Madness Party Ideas for Adults and Kids!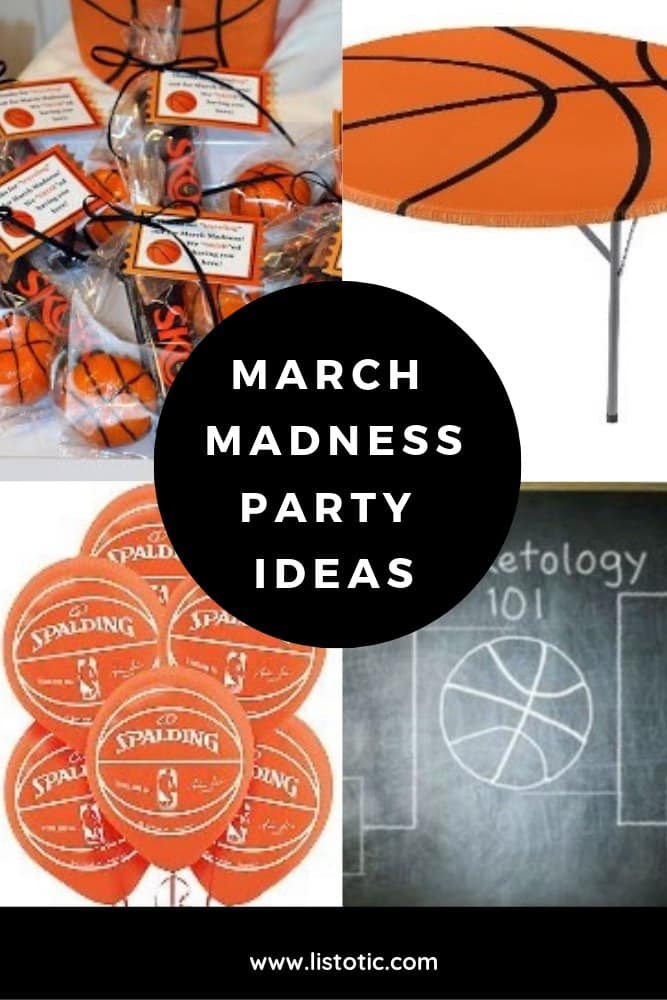 I'm going to just say it how it is…. I'm only a fan of basketball during March Madness NCAA Tournament time. Yep! I am ignorant to college basketball until I see those organized graph of lines in the NCAA bracket charts getting distributed among friends, family and coworkers.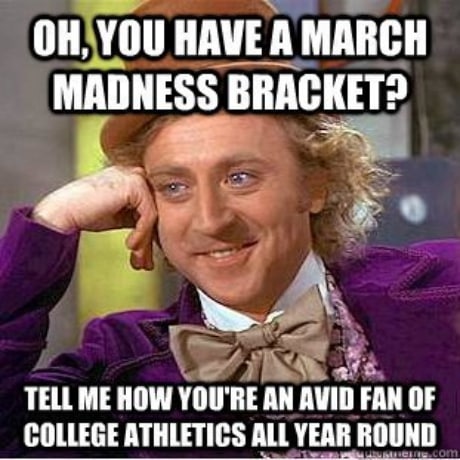 With that being said, here are the things I can really get into when it comes to March Madness.
The gamble – I love taking chances on filling out a bracket with hopeful underdogs.
The excitement – I'm easily influenced by large cheering crowds at bars.
The Celebration – if there is a reason to throw a party or a theme to decorate around, I'm on board!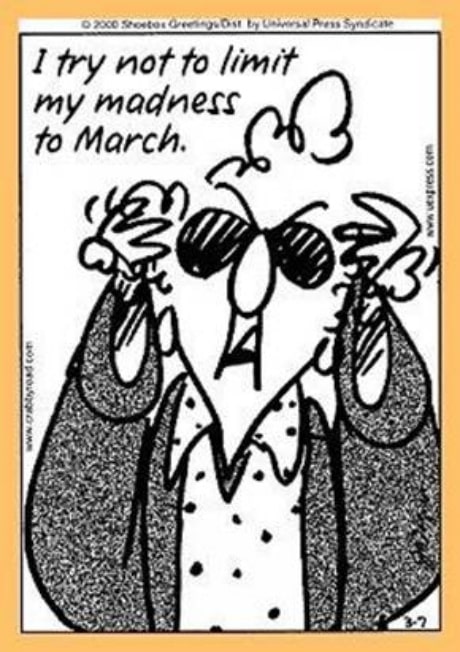 The best thing about having a March Madness Party…I don't have to:
plan for the entertainment since everyone will be tuned into the game, or
decide on a date and time… that is already decided by the NCAA!
That just leaves the invites, food, and decorations.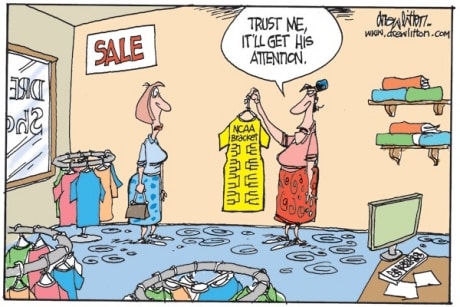 If you are planning a March Madness Party and need some March Madness Party Decorations, I've compiled a list of all the party supplies you'll need from Party City and Amazon.
This post contains affiliate links. Please see our Disclaimer Policy.
Decorating with Balloons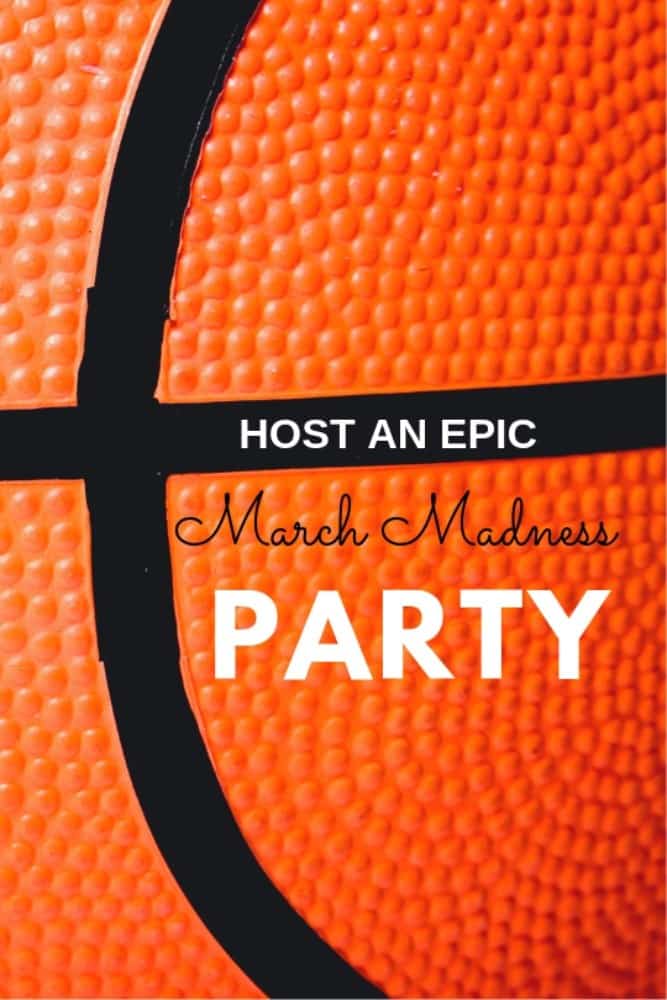 Balloons are a great way to showcase your favorite college basketball team colors. I like balloons because they can make a big party statement without taking up a bunch of table space. The more room for food the better! Here are some favorite ideas for balloons and other party décor to incorporate into your march madness viewing party.
Spalding Orange College Basketball Balloons
Cheer on your favorite players with Spalding Balloons! These officially licensed NBA balloons feature a white outline of a basketball with the Spalding logo. They're a great addition to your sports-themed party.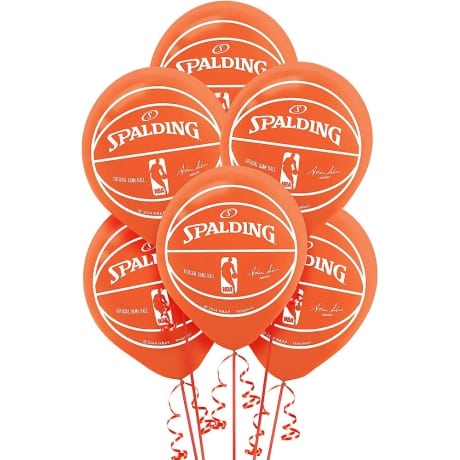 Spalding Balloons product details:
6 per package
12in tall when fully inflated
Latex
Officially licensed ©NBA product
Large Basketball and Hoop Foil Balloon
Swish! Complete your basketball viewing party with an NBA Basketball Hoop Balloon! The foil balloon looks like a basketball going into a hoop.
Pair this basketball hoop balloon with other basketball-themed balloons and decorations for your viewing party.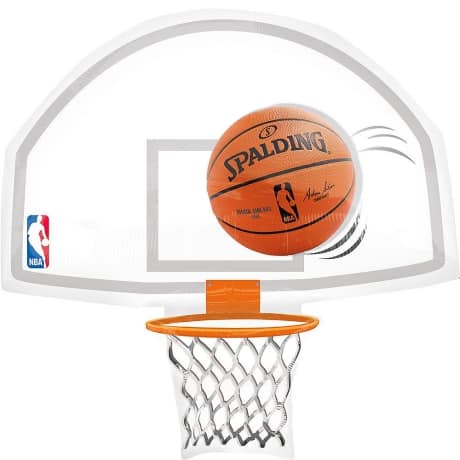 NBA Basketball Hoop Balloon product details:
26in wide x 26in tall
FoilSelf-sealing
Reusable
Number Balloon for NCAA Final Four Tournament Party
A black (or other color) balloon represents the Final 4 for your tournament party! The metallic finish of this foil balloon makes it an eye-catching addition to your event.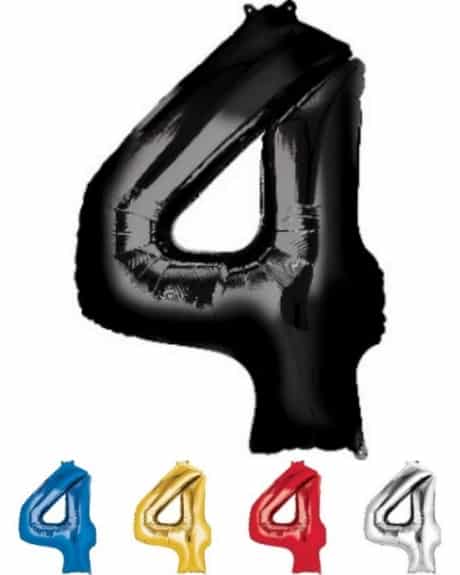 34 inch black number 4 balloon product details:
24in wide x 36in tall.
FoilSelf-sealing
Rusable balloons arrive uninflated
Basketball Sneakers Mylar Balloon (Amazon)
These sneakers resemble basketball shoes and can add a little color variation to your decorating. Note: They do say "Baby Boy" on them. But, if you float them high enough, you shouldn't see it. However, if you hang with friends who are 6'5″, you should be prepared to take the jab about who's having a boy? Just be ready with a good comeback!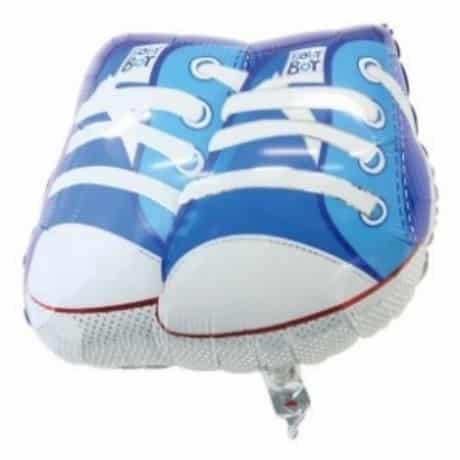 Decorating Your Space
If you are hosting your March Madness Party inside your home it would be too time consuming and expensive to attempt to decorate every single area of the house. Instead spend your time making one wall, table or area beautifully decorated. It's sure to get some appreciation!
Doorway Polka Dot Decoration
Add some glitz and glam to your decor with Glitter Orange Polka Dot String Decorations. These orange polka dot decorations feature round double-sided orange cutouts strung along an invisible plastic string. Half of the polka dots are metallic orange and the other half are covered in orange glitter. At 7ft long these orange string decorations can be hung vertically in an entryway or doorway or draped horizontally across mantels and walls!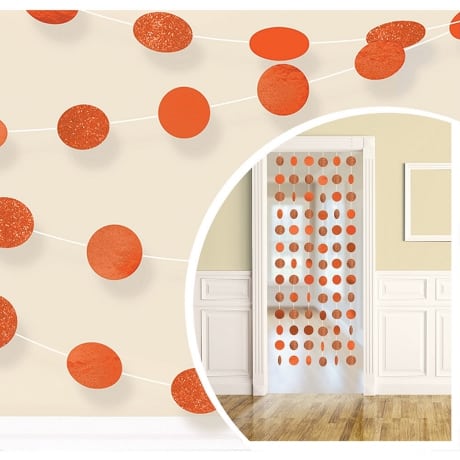 Glitter Orange Polka Dot Decorations product details:
6 per package
7ft long
Cutouts 2-3/8 in diameter
Plastic
Adult March Madness Party Banner
Decorate the room with a Cheers & Beers Letter Banner before you celebrate! This fun banner features cardstock letter cutouts that spell out Cheers & Beers. Each letter is printed to look like rustic wood siding for a manly birthday decoration. This beer-themed decoration is perfect for your friend's birthday bachelor party or a beer tasting event. Easily hang this banner with the attached twine string to add to your other party decorations.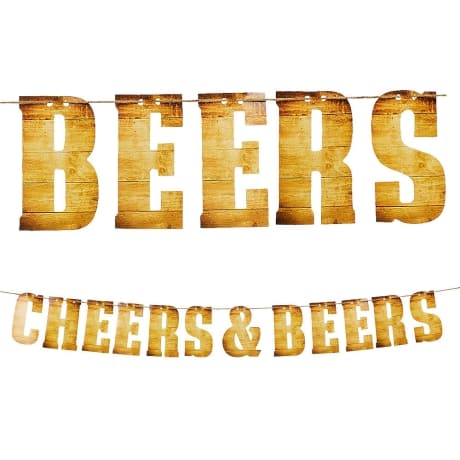 Cheers & Beers Letter Banner product details:
6-1/2ft wide x 6in tall
12 cutouts
Cardstock
Twine
Crepe Paper Fringe Streamer
Decorate your next party with this Black Fringe Streamer! This black crepe paper streamer features a 2-ply design with fringe. Twist it twirl it and drape it from your banisters mantel ceiling and anywhere else you need a pop of color to add to your decor.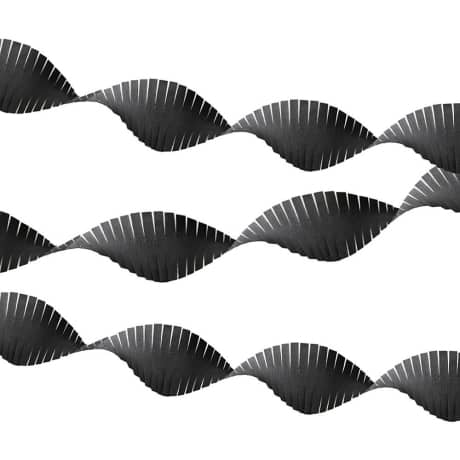 Black Fringe Streamer product details:
30ft long x 4-1/2in wide
Crepe paper
Fringe Decoration
Accentuate your March Madness Tournament party decorations using this Black & Orange Fringe Decoration! This fringe decoration features long strands of black and orange plastic layered on top of each other. You can use this fringe as a table skirt at your party. Combine it with other solid color fringes to create your own unique decoration. Bonus! Save it, and add some color to your next Halloween party!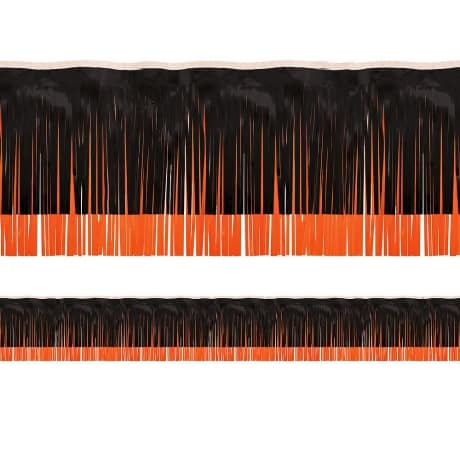 Black & Orange Fringe Decoration product details:
10ft long x 15in tall
Plastic
Solid Color Ball Decoration
Decorate your home for a March Madness Basketball Tournament party with an Orange Honeycomb Ball with Tail. This solid orange honeycomb decoration features a tissue paper ball (resembling a basketball) with a metallic fringe tail.
Simply unfold the paper ball to create the 3D effect then fluff up the tail for an elegant look.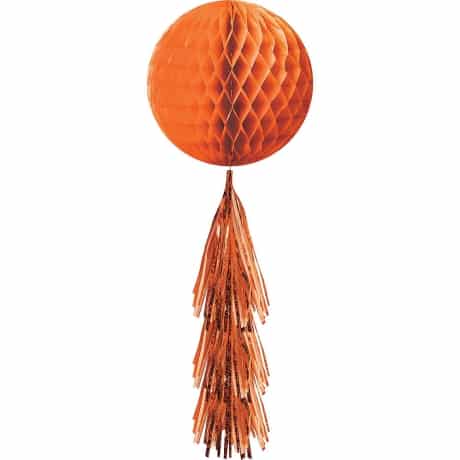 Orange Honeycomb Ball with Tail product details:
Honeycomb ball
11-1/2in diameter Tail
16in long
Includes string for hanging
Arrives flat
Simple assembly required
Fitted Basketball Table Cover
What time is it? Game time & and dinner time! This round Fitted Basketball Table Cover is printed like a giant orange basketball and fits snuggly on your round table! Whether your basketball party is indoors or out this plastic table cover is definitely a slam dunk!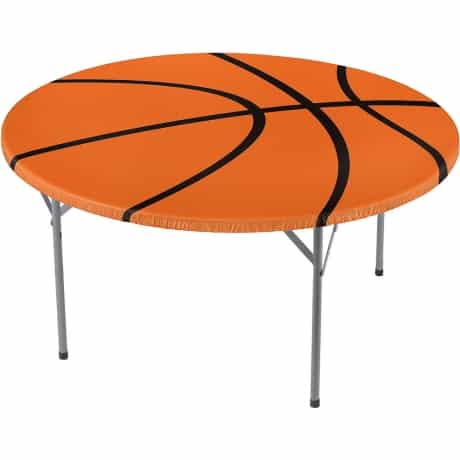 Fitted Basketball Table Cover product details:
70in diameter
Fits up to 60 inch round table
Plastic
Reusable
Suitable for indoor or outdoor use
Plastic Basketball Court Floor Covering
Forget that fancy accent wall; get back to the basics with this Wood Grain Scene Setter that you can use as a basketball court background! Featuring a six-foot tall plastic poster printed as light wood siding this scene setter, you can add orange or black washi or electrical tape to draw the court.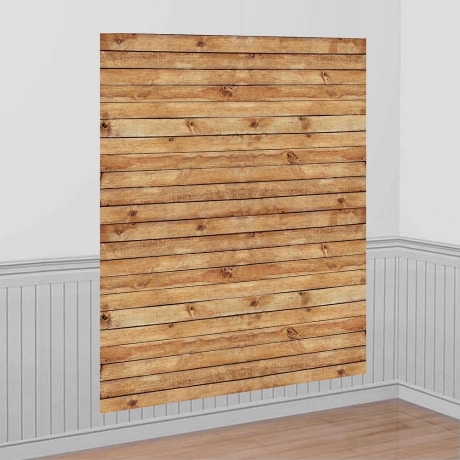 Wood Grain Scene Setter product details:
54in wide x 72in tall
Plastic
Suitable for indoor and outdoor use
Reusable
Basketball Food Accessories
If you are serving appetizers or a full meal at your March Madness Party, consider having the right food accessories–it makes everything look and taste better. If you need some help on finding the perfect party appetizers, just check out our Easy Dips and Finger foods Pinterest board.
Referee Striped Food Basket Liners
You worked hard on your food, so dress it up when you're done with these Black & White Striped Basket Liners! These grease-proof paper liners feature black and white stripes printed on them and resemble a referee's uniform.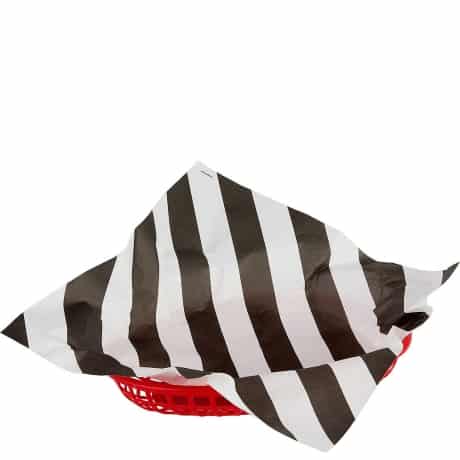 Black & White Striped Basket Liners product details:
16 per package
11in x 11in Paper
Beer Themed Snack and Treat Cups
Don't drink on an empty stomach! Serve up some snacks in these Cheers & Beers Treat Cups. Featuring a wraparound print of beer glasses bottles and mugs against a striped background these snack cups are perfect to fill with popcorn peanuts and pretzels! Use these small paper cups at your adult tournament party.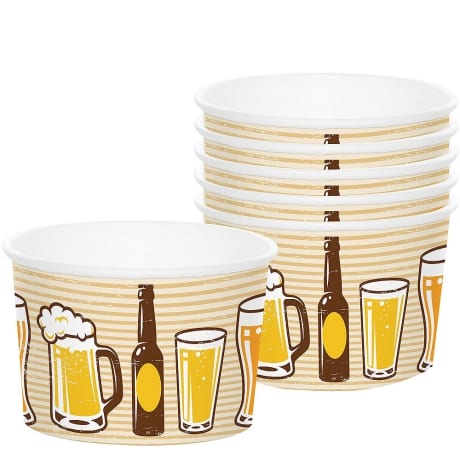 Cheers & Beers Treat Cups product details:
6 per package
9oz capacity
3-1/4in diameter x 2 1-2in tall
Paper
Basketball Appetizer or Dessert Plates
Create a winning table setting with Spalding Basketball Dessert Plates! These round paper plates feature a basketball background, the Spalding logo, and the official NBA logo. They're great for game day, barbeques, sports-themed parties and birthdays!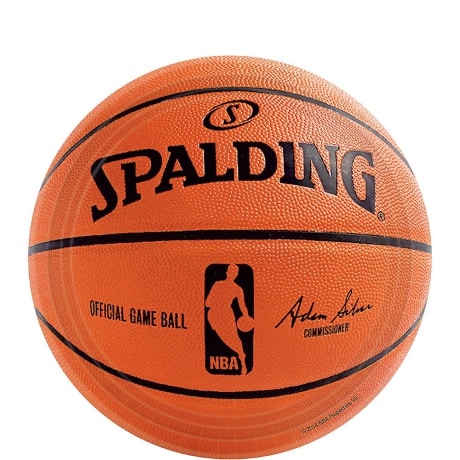 Spalding Basketball Dessert Plates product details:
18 per package
7 in diameter
Paper
Officially licensed© NBA product
Hard Plastic Dishwasher Safe Basketball Favor Cup
Create a winning party with a Basketball Favor Cup! This plastic cup features a wraparound print of an orange basketball. Fill this reusable cup with candy party favors or cool beverages at your March Madness Tournament party.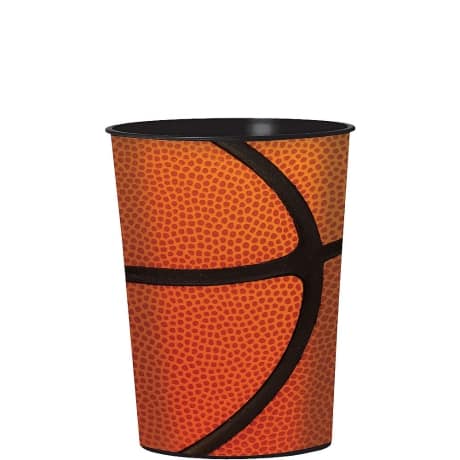 Basketball Favor Cup product details:
16oz capacity
3-1/2in diameter x 4-1/2in tall
BPA-free plastic
Reusable
Top-rack dishwasher-safe
Not suitable for boiling hot liquids or microwave use
Basketball 14 oz Snack or Beverage Cup
Get a three-point thirst quench with Basketball Plastic Cups. Featuring all over basketball prints these plastic cups are perfect for any basketball-themed game day party.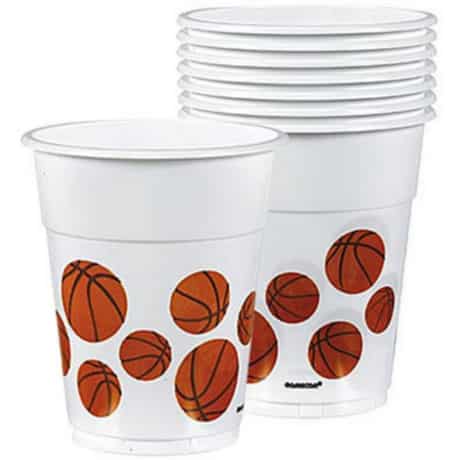 Basketball Plastic Cups product details:
8 per package
3-3/4in diameter x 4-1/4in tall
14 oz capacity
BPA-free plastic
Not suitable for boiling hot liquids or microwave use
Funny Tear-off Cotton Cocktail Napkins (Amazon)
Keep your adults guests laughing throughout your March Madness Tournament party with these humorous quotes. Tear off these clever napkins from a roll of 50.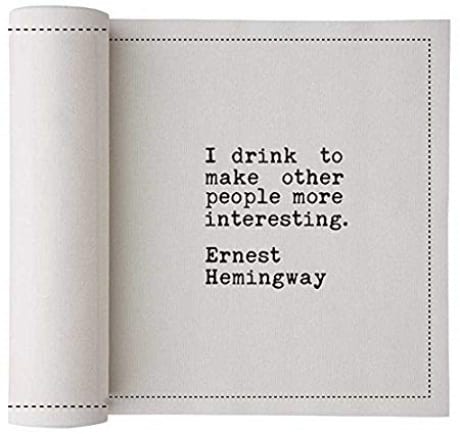 Cotton Cocktail Napkin details:
100% cotton

Perforated on a roll

Tear off as needed

Wash and reuse up to six times
$100 Bets on the Table Napkins
Let your guests participate in some fun betting on the games during your adult March Madness Tournament party. Let them play around with these hundred dollar bill printed napkins.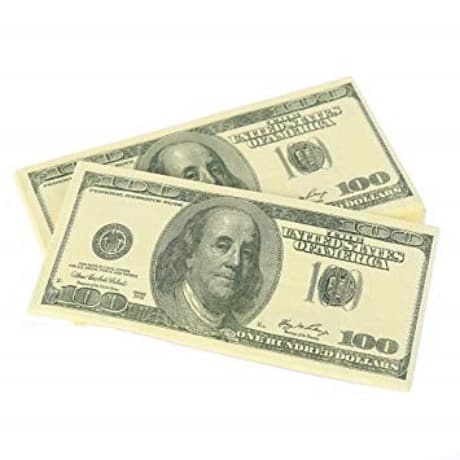 Warmtree $100 Dollars Bill Funny Money Napkin details:
Material: Soft Enviormental Paper

Paper Size:330mm×330mm(13″*13″)

Triple Ply for extra absorption

4 pack
40 napkins total
March Madness Party Favors
Even if the favored team sadly loses at your March Madness Party, you can still send your guest home feeling good at the end of the night with fun party favors to remember your Slam dunk party! Some of my favorite ideas for party favors include Skor candy bars, Gatorade, and basketball whistles but there are lots of homemade DIY basketball favor ideas you could "take a shot" at making yourself.
Check out the party favors from Invite and Delight. You'll find great information on their site, including details on all aspects of their March Madness party!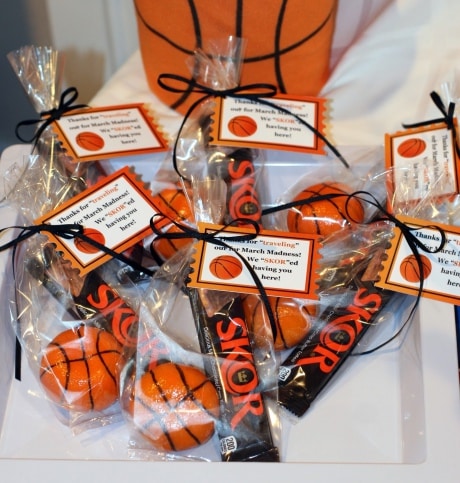 Basketball Whistles are a slam dunk for March Madness party planning success! They make great party favors! These plastic whistles look like mini basketballs and come on a black lanyard to wear around the neck.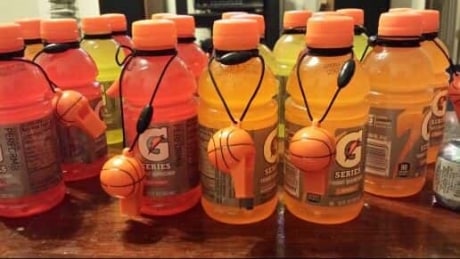 Basketball Whistles product details:
12 per package
1-1/4 in diameter x 2-1/4 in long
Plastic
Include lanyards
Cake Pop Basketball in Hoop
If you are considering making your dessert, try out these cake balls. They are sure to be a hit!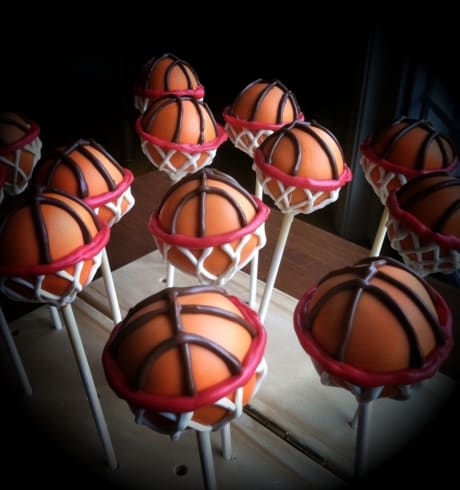 Noise Makers (30 count)
These metallic Black & White Fringe Squawkers sound and look like a celebration! Blow through the plastic mouthpiece to make the long foil fringe flutter and release a loud party noise. Get the crowd rev'ed up!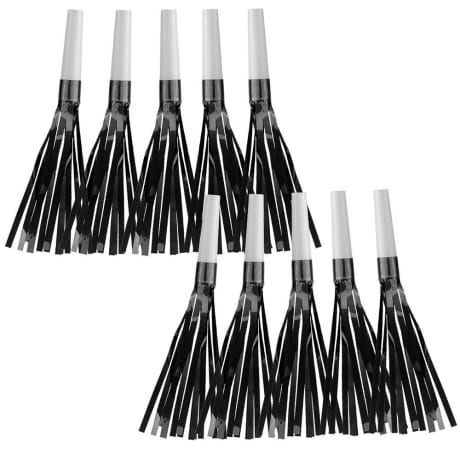 Black & White Fringe Squawkers product details:
30 per package
Each measures 6-3/4in long
2 assorted colors
Foil and plastic
Basketball Whistles (12 count)
Basketball Whistles are a slam dunk for party planning success! They make great party favors game prizes and team participation awards. These plastic whistles look like mini basketballs and come on a black lanyard to wear around the neck.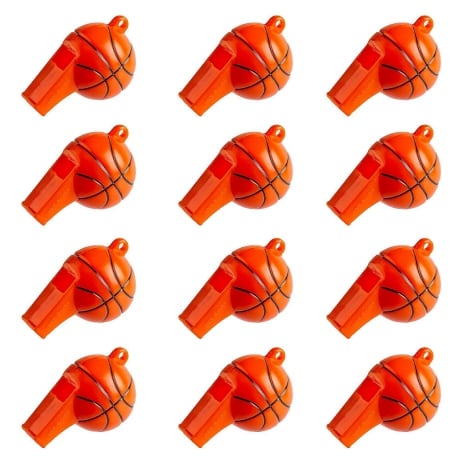 Basketball Whistles product details:
12 per package
1-1/4in diameter x 2-1/4in long
Plastic
Include lanyards
Basketball Palmer Chocolates (450 count)
Score a three-pointer at your basketball party with Palmer Chocolate Basketballs. Each solid chocolate ball is wrapped in foil to look like a basketball. With 450 basketball chocolates this large 5lb bag has enough for the whole team the guests at your basketball or NBA party or any basketball fan with a sweet tooth!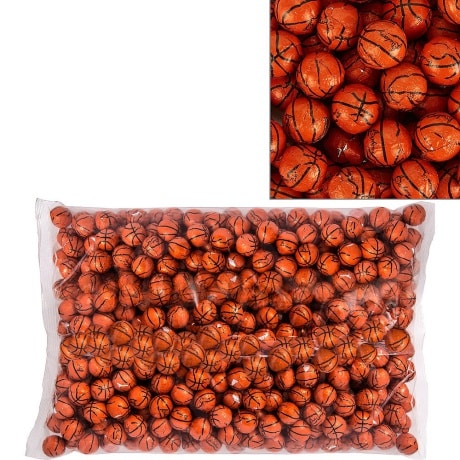 Palmer Chocolate Basketballs product details:
Approximately 450 per package
3/4in diameter
Individually wrapped
80oz (5lb) package net weight
Certified Kosher
Contains dairy and soy
Manufactured on equipment which processes wheat peanut butter and almonds
Shipping & Return Policy: Orders placed after 5pm on Thursday will not ship until Monday unless you choose Next Day Air Saturday as the ship method. We do our best to ensure chocolate arrives in good condition; however there is a possibility that the product could melt if left exposed to the sun for extended periods of time.
Party City cannot control if the package will be delivered for example on a front porch or outside in the elements. For that reason Party City suggests shipping your order to an address where the recipient will be available to receive the package. Delivery to P.O. boxes or military addresses is currently not available for this item.
This item is not returnable to Party City.
Basketball Wrapper Party Mints (50 count)
Keep some sweets courtside at your tourney party! These Basketball Pillow Mints have a creamy peppermint flavor and come in orange wrappers printed to look like basketballs. Place these mints in party favor bags for your fellow fans or display them in candy dishes to enjoy at your game viewing party!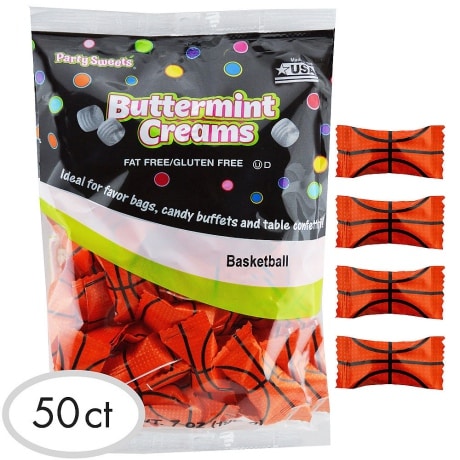 Basketball Pillow Mints product details:
50 per package
Peppermint flavor
Individually wrapped
0.14oz approximate individual net weight
7oz total package net weight
Certified Kosher
Contains milk and soy
Fat-free and gluten-free
Made in the USA
March Madness Party Invitations
Text your guests or give them something to hang on their refrigerator; just make sure you are letting them know about your party with a personalized invitation to your March Madness viewing. Also, don't forget to ask for an RSVP! That way, you'll know how much food to make!
Game Day Tickets – March Madness Party Invitation
You will instantly download, edit and print this basketball ticket invitation after your payment is complete. Personalize the editable text in a printable PDF using the Free Adobe Reader on your computer. Then, print & create as many times as you like.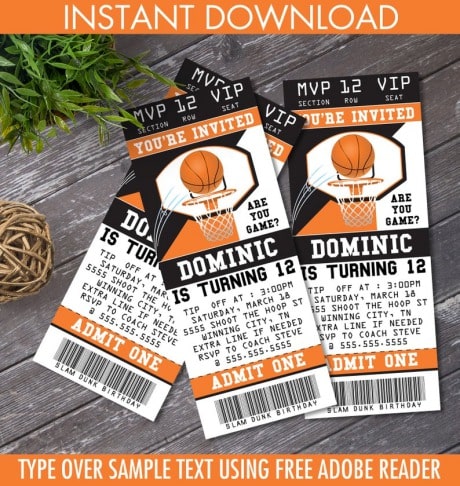 Game Day Tickets details:
NO physical item will be shipped!
This listing is an INSTANT DOWNLOAD item, so you can get crafty in a jiffy!
Classic Basketball Party Invitations
You can't start the game without all the players. Invite guests to your game day party with these folded invites. Invitations feature a close-up view of the ball on the front and plenty of room on the inside for the party details.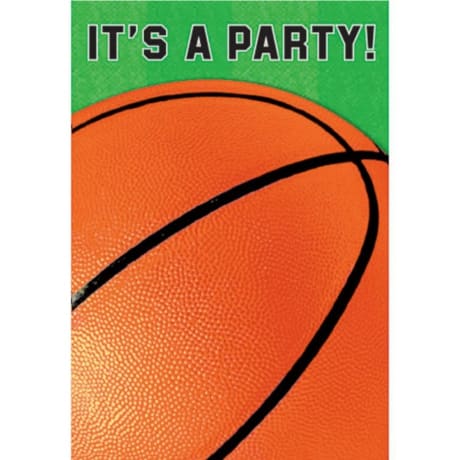 Basketball Invitations include:
8 folded invitations
4 in wide x 5-1/2 in tall
8 envelopes
Umpire Black and White Striped Invitations
Invite them to a March Madness party with referee inspired Black & White Striped Invitations. Each postcard-style invitation features a black and white striped border with gold text. Slide them into the gold envelopes for a winning invitation. With 50 invitations per package you're ready to throw a big celebration!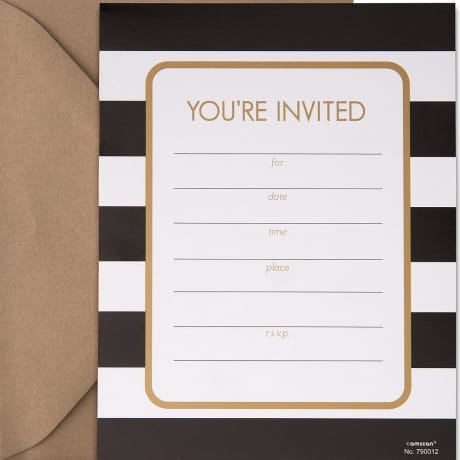 Black & White Striped Invitations product details:
50 postcard invitations
4-3/8 in wide x 5-5/8 in tall
50 envelopes
Take a Shot! March Madness Party Invitation
Customized with your information, this printed or digital (you print) invitation will be the perfect addition for a party. Make sure you read through all of the instructions!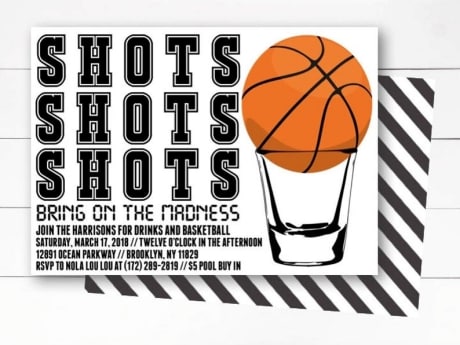 March Madness Party Conversation Topics
Part of hosting a March Madness party involves brushing up on some March Madness terms, so that you can participate in the conversation. If you are a "fair weather" March Madness tournament buff like me… you might want to tune into some of the hot topics I've listed for your below.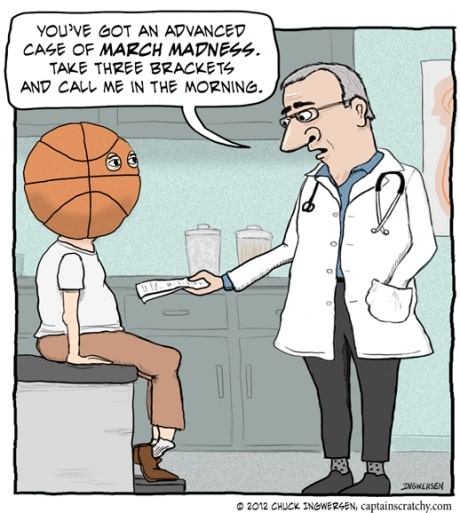 NCAA Bracket for 2019
Not only should your toilets be clean for a March Madness party; but you should also plan ahead by completing your own NCAA bracket and maybe have a few extra copies printed out in case anyone else needs to jot down their predictions.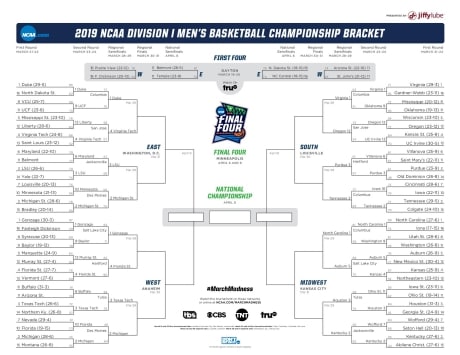 March Madness Cinderella Teams
So, I was unaware that "March Madness Cinderella" was a thing. But it most certainly an important phrase to know before hosting a March Madness Tournament Party. A Cinderella Team is a team that has "out-done" themselves. To be a March Madness Cinderella team they have to have showing themselves triumphant in achieving far greater against their competition then most people thought they would be able to accomplish.
I always thought this was considered the underdog, but if they are a March Madness Cinderella, then there is still the possibility they could "strike midnight" meaning they will turn into a pumpkin on the basketball court. Not really, but kind of– if they "strike midnight", the so-called March Madness Cinderella has met their match and no longer is proving themselves remarkable.
For the 2019 March Madness Final Four Cinderella picks, check out this article on CBS Sports. You can "bet", I'll definitely be pulling for these teams!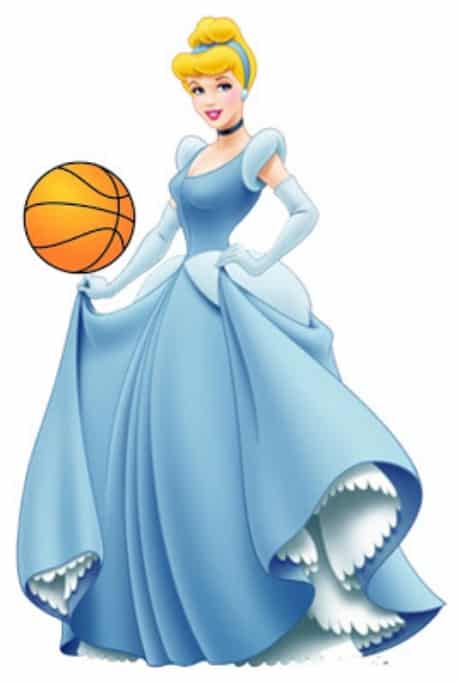 Bracketology
How will you determine your bracket picks? I'm not embarrassed to say that I have filled out my bracket based on favorite team names, best jersey colors, good looking basketball players and just plain randomness. But, if you actually want a chance at having a winning bracket combination, I highly suggest you don't use any of the above techniques. Of course, if you have a favorite team, you will want them to go all the way to the top, so some optimistic bracket placement can't hurt if you are superstitious.
Check out this NCAA ultimate guide to march madness bracketology if you want to impress your March Madness Party guests with some credible predictions.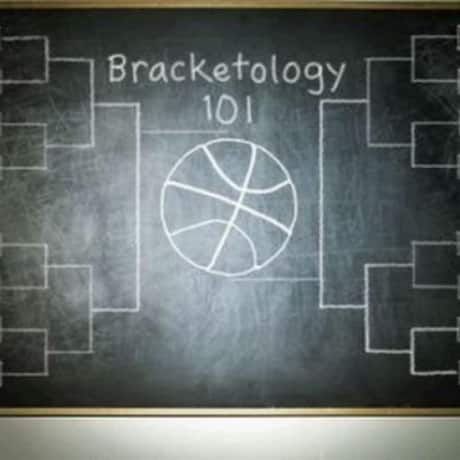 Winning Odds on a March Madness Bracket
So, what are the odds of predicting a Perfect March Madness Bracket? Well, they aren't good! If you are good at numbers and like to talk about odds, check out this dream crushing article on NCAA for the odds of having a dream bracket of perfect predictions. This is also great information if you are going to be playing any March Madness Party Games like March Madness Trivia.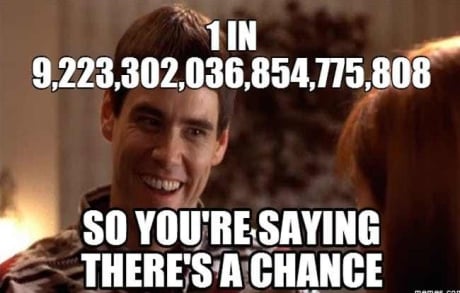 History of March Madness Championship Winners
Hey, remember when Duke pulled out all the stops and won the Championship? Well… um no. But, I'm sure it was a spectacular game! If you remember basketball games as well as I do (cough cough), you might need to do some history research on past final championship teams and outcomes before everyone at the party reminds you how truly little you pay attention to March Madness basketball.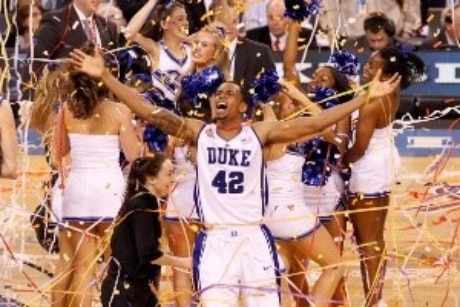 Get Inspired
From party food to favors, there are so many ways to have fun planning your March Madness Party. If you are designing your March Madness party around favorite team colors or just going with a NCAA basketball theme, then you'll get inspired by some of these excellent party bloggers' March Madness Party Decorations.
DIY Scoreboard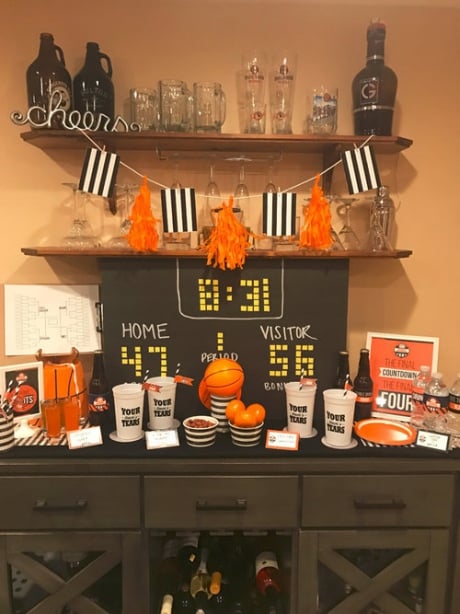 Game Play Slam Dunk Chalkboard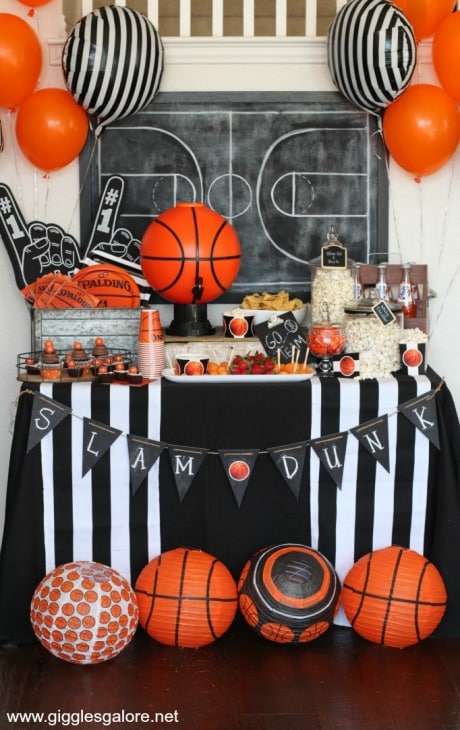 Large Printable March Madness Bracket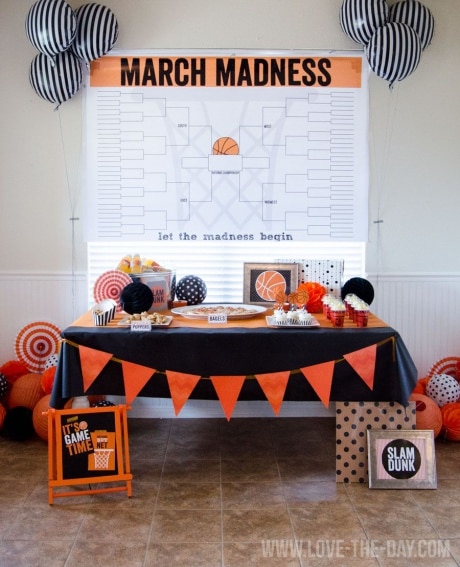 Take It To The Hoop!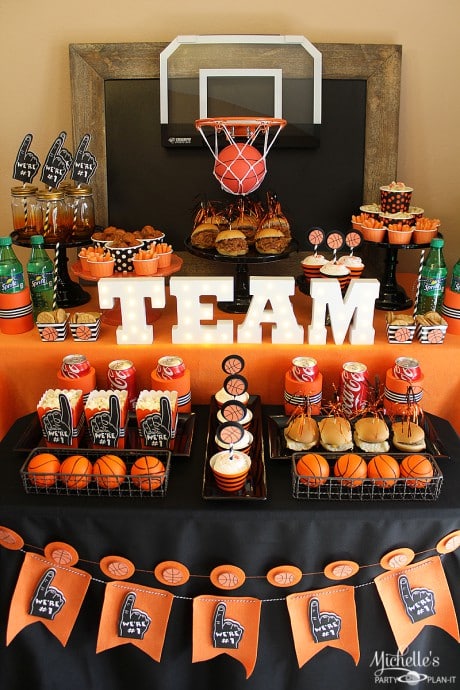 I'd love to know how your March Madness Party goes! Tell us about it [email protected]