Last Updated on November 4, 2022
Coffee, Coffee, Coffee…Cold Brew Coffee
How do you feel when you run out of coffee? Answer: Depresso! All jokes aside. When it comes to where I spend my money, I almost always try to spend my money locally. I would much rather support a small business and shop small rather than a big box store. That is what brings me to one of my favorite products, Coffee!
I recently walked through the doors of my local coffee shop, Mission Cup Coffee. It is there where I experienced my first cup of cold brew coffee and I was hooked! For those of you who have never tried cold brew, here are a few things to know…
Cold brew is different than iced coffee. Iced coffee is brewed hot and served cold. You chill hot coffee either by pouring it over ice or refrigerating it for a few hours before drinking. However, chilling your hot coffee with ice will dilute your brew, and hours old coffee is not going to taste very fresh.
Cold-brew coffee, however, is made by steeping coarsely ground coffee beans (preferably in a cheesecloth) in water for 12-24 hours. This will, in turn, require advanced planning. This is my absolute favorite way to drink coffee. I love having it on hand throughout the week. I am able to customize each cup to my liking and even sneak a few extra sips in (or extra cups) throughout the day.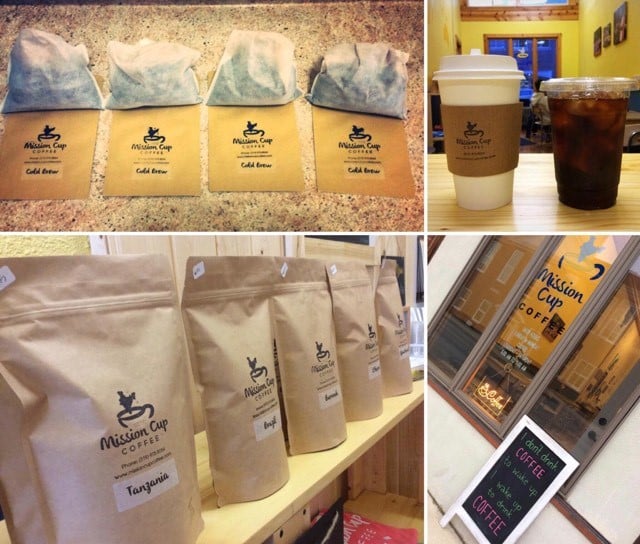 Best Local Coffee + With Purpose
Personally, I love the reason why the owners of Mission Cup Coffee, Freddie & Jenn Jones, started this wonderful venture. Together they created Mission Cup Coffee as a means of supporting others who were called to missions and to help ministries who were doing gospel work around the world. Check out my Q&A with Jenn below to learn more about this great cause.
Q&A: Take me back to 2015, what drove you to start Mission Cup Coffee?
When I started this whole thing – I never saw it going where it is now. I read a blog somewhere about how the writer learned how to roast his own coffee with a Whirly Pop Popcorn Popper. I loved coffee and I was amazed but the fact this could be done. So I proceeded to Google and YouTube my way to roasting my own coffee the same way. Friends and family enjoyed it and encouraged me to start selling. My husband had been on a mission trip to India earlier in the year, and I thought it would be a great way to help people go on missions (though at the time, I had no interest).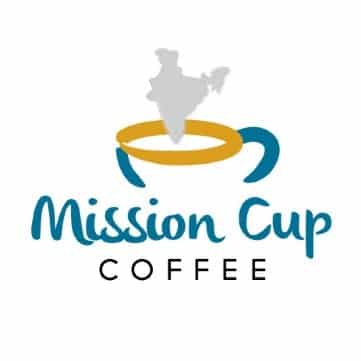 Q&A: What is the story behind your logo?
Originally our logo looked much different. I had designed the original logo with clip art in a Word document and it consisted of a coffee cup surrounded by beans and a world map in the center. At that time, our whole concept of gospel mission support was still being formulated. We hadn't focused on India at the time. It was after my first trip in 2016 to India that our focus narrowed in on India. Almost 90% of India's population of over 1 billion people has not heard the good news of salvation in Christ alone. Our hearts were deeply burdened by the need of the gospel in this nation which worships over 300 million different gods. On our logo, India is the steam coming out of the cup – showing our focus.
Q&A: How did you choose which coffee to highlight at your store?
Honestly, I choose coffees that I have loved from the beginning. My go-to coffees are Tanzania, Ethiopia, and Burundi. All African coffees that we have enjoyed since I started roasting. When we opened the shop, we featured different coffees in addition to these for the first 6 months. After getting feedback from customers, we added Brazil and Guatemala to our lineup. We will feature other coffees periodically as growing seasons will affect supply.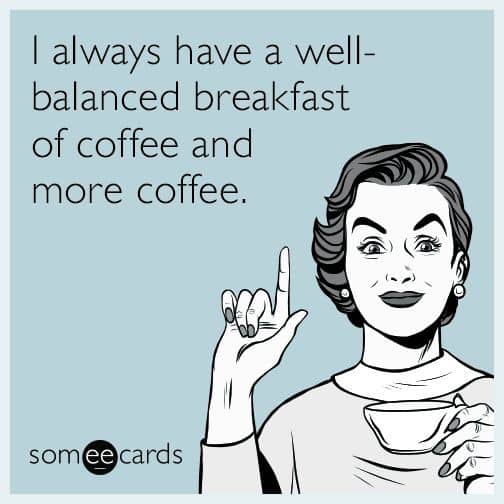 Q&A: How do I choose the best coffee fit for me? (Types of roasts)
Our coffees are all mostly medium roast. We don't dark roast any of our coffees because we want people to taste the individual coffees, not the roast. Most people don't even realize coffee can taste differently. Also, some are under the misconception that a darker roast coffee, because of its taste, must have more caffeine. However, actually lighter roasts contain more caffeine. Roasting the coffee dark actually cooks some of the caffeine out of it. My advice would be to just try any of them. Experiment. For example, if you want to sample them, we can package 4 oz. samples (which make a little over a pot of coffee) for you to try.
Q&A: Where can I go to purchase coffee?
You can purchase it at our shop. We offer 1 lb. bags currently but will be working in some 8 oz bags as well. We are currently "remodeling" our website and online store. Soon our coffees will be available online as well.
Q&A: What is Cold Brew and how do I make it?
Cold brew is a method of brewing coffee over a long period of time in cold water. We grind our coffee to a coarse texture and steeped in cold water for anywhere from 12-24 hours depending on how strong you want it. DIY Cold Brew bags are available at the shop. We grind the coffee then place it in a steeping bag – all you have to do is drop it in a gallon of water for the desired time (we suggest around 18 hours). At the end of the time, pull the bag out and discard it – and you have ready to drink cold brew. Serve it over ice – add cream and some sweetener if that is your thing, and you are good to go. The coffee is very smooth with this brewing method and less acidic.
Q&A: What do you like best about your line of work?
Everything. One of the best things about all of this has been watching God work in it all. He laid something on our hearts and made the way for it to come to fruition. I never considered myself a baker before I started this venture, but have found it to be something I enjoy. I love the people and getting to know our customers. One of the reasons I don't have a "serve yourself" type of setup is so that I can talk to customers, get to know their preferences, etc. And of course, I get to drink coffee all day – what beats that?
Q&A: So, what's next for Mission Cup?
Wherever and whatever the Lord leads us to. We set a portion of our profits aside to help the ministry in India to further the spread of the gospel there. We are planning our next trip in the fall of 2020. This has been His coffee business from the very first roasted bean. Staying true to what He has called us to do, doing it for His glory, and sharing the love of Christ in Monticello and the world – that's our focus.
One thing I have learned since this all started (and continue to learn more as we go) – I don't have control over the results of what we do here. All I can do is the next thing He sets before me and trust Him for the results. It has been a beautiful learning experience (and difficult at times). One thing we are praying about and looking ahead to is the possibility of a mobile coffee shop/coffee truck – in addition to the storefront. Not sure how or when that will happen, but we are trusting in the Lord for that direction and provision. We hope to outgrow our little space someday, but even if we don't we will continue to praise the One who gave it to us in the first place.
Final Thoughts from Katie
If you love supporting small businesses, supporting a wonderful cause and would like to experience some incredible coffee, visit Mission Cup Coffee's Facebook page. https://www.facebook.com/missioncupcoffee/ Check out Mission Cup Coffee's website and choose from a wide selection of brews, including Cold Brew packets. and they will gladly help your caffeine needs!
Cheers!
Katie