Last Updated on May 18, 2021
Creative and Easy Kitchen Organization Tips
Cooking, baking, and preparing food is a lot more enjoyable when you have an organized kitchen. Some of us don't have the luxury of a large and modern kitchen, but that doesn't mean we can't use a few affordable and easy little tricks to make our lives easier. Here are 12 easy and unique kitchen organization tips that don't require a lot of money, time, or effort!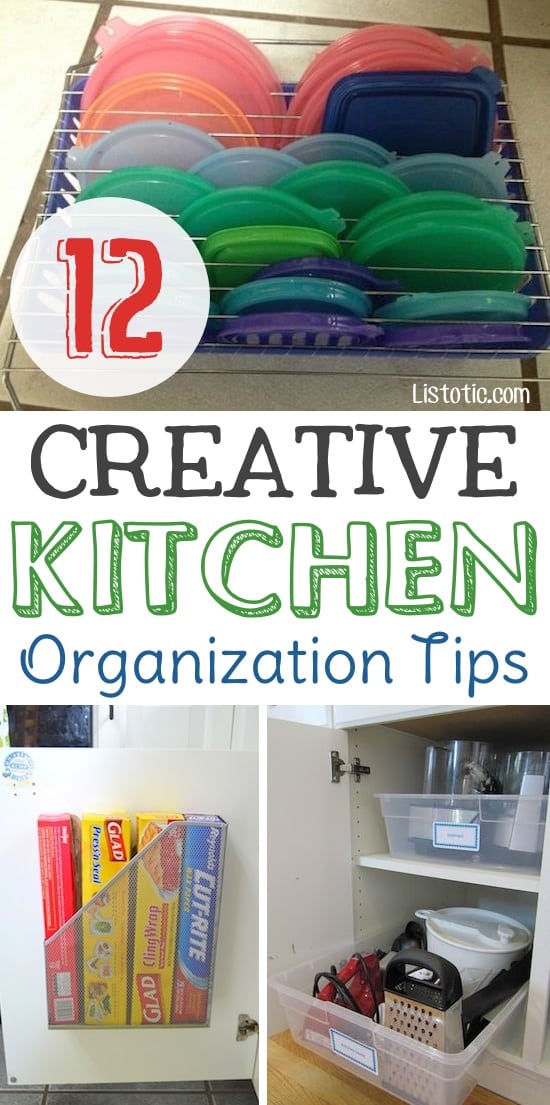 1. Pretend Pull-Outs
I have so many kitchen gadgets that get lost in the back of my deep cabinets that I forget I even have them! Here is a kitchen organization tip from Everyday Organizing: use plastic bins as pull-outs! Take it a step further and group your items into different categories and label each one. Smart thinking.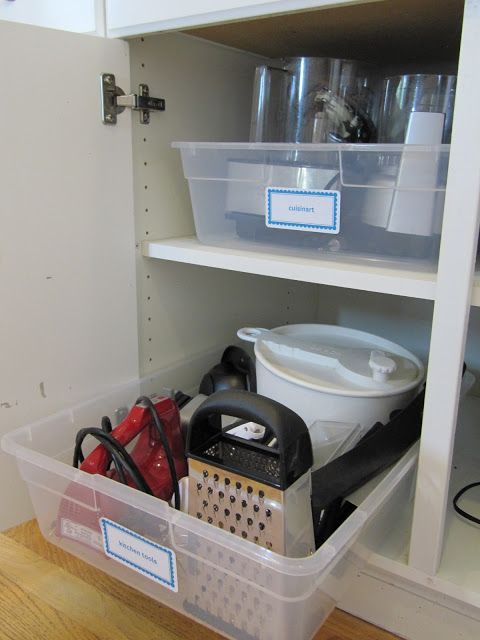 2. Tension Rod Dividers
Instead of stacking your cutting boards, oven trays, and platters, use those short tension rods to create dividers. Now you can place them upright for easy access and visibility, and completely customize the size of your slots.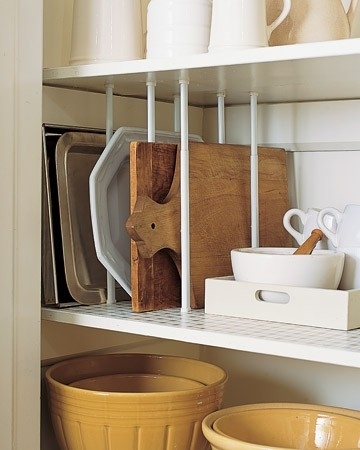 3. DIY Lid Storage Rack
Finding the matching tupperware lid is like finding a needle in a haystack sometimes. It's a huge problem in my kitchen! I found this DIY Lid Storage Rack on Pinterest (I believe it was uploaded directly because I can't find another source). The idea is to attach a basket to the bottom of a drying rack with twine or fishing wire — creative and useful little lid rack, if I don't say so myself.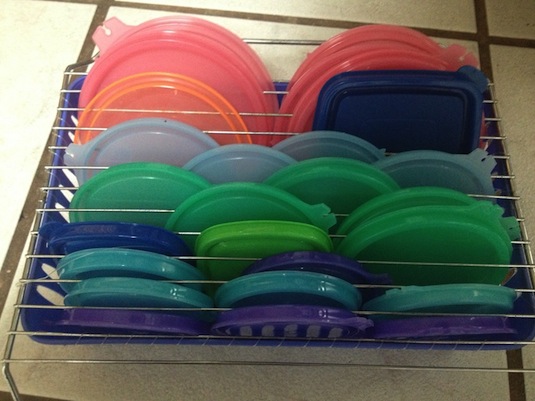 4. Pantry Wall Storage
You might as well use up all of that empty wall space! Attach sink caddies with velcro command strips to your pantry wall for all of your little kitchen items (spices, drink mixes, taco seasoning, soup mix, restaurant condiment packs, etc.). Check out the entire pantry makeover here.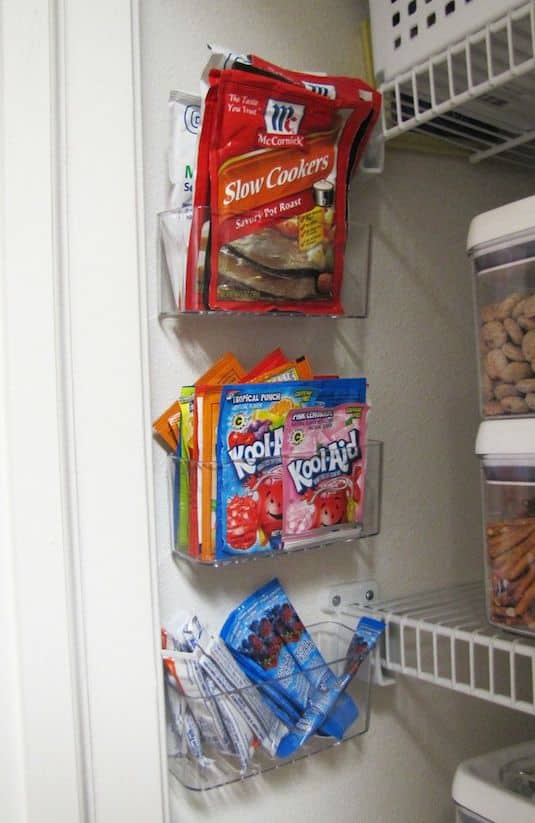 5. Re-purposed Magazine Rack
Those long boxes fit perfectly inside of a magazine rack! Attach one to the inside of a kitchen cupboard door to keep them hidden but easily accessible. This mesh metal one is perfect because you could drill short screws through the already existing holes.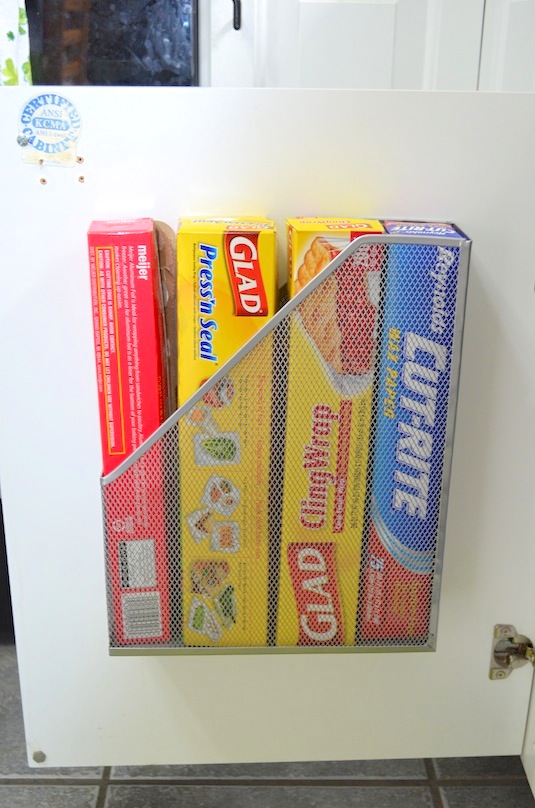 6. Stacking Shelves
Use up all of that vertical, empty space in your cabinets or pantry with stacking shelf organizers. What a great idea for tall cupboards or small kitchens! Some of them are even expandable so you can customize them to your shelf size.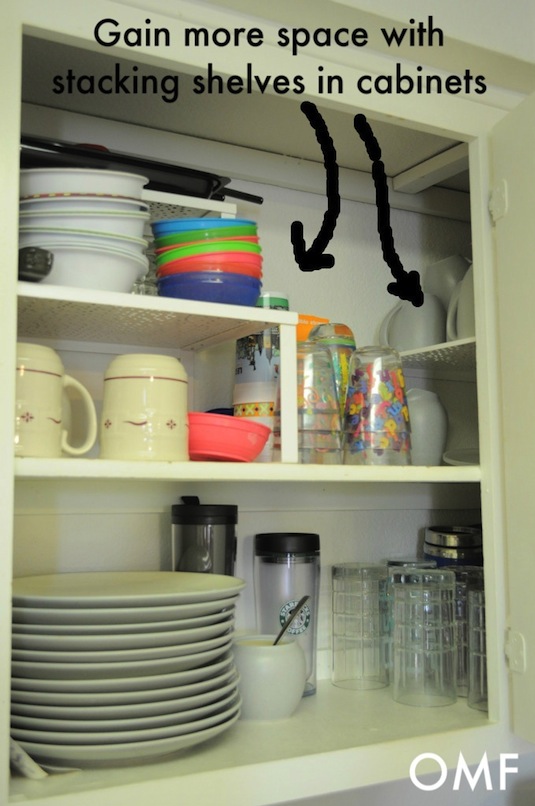 7. Hanging Shelf Dividers
Hanging shelf dividers are also useful in taking advantage of empty space. I love this idea for smaller and lighter items, such as tupperware lids, plastic plates, or things like foil or plastic wrap.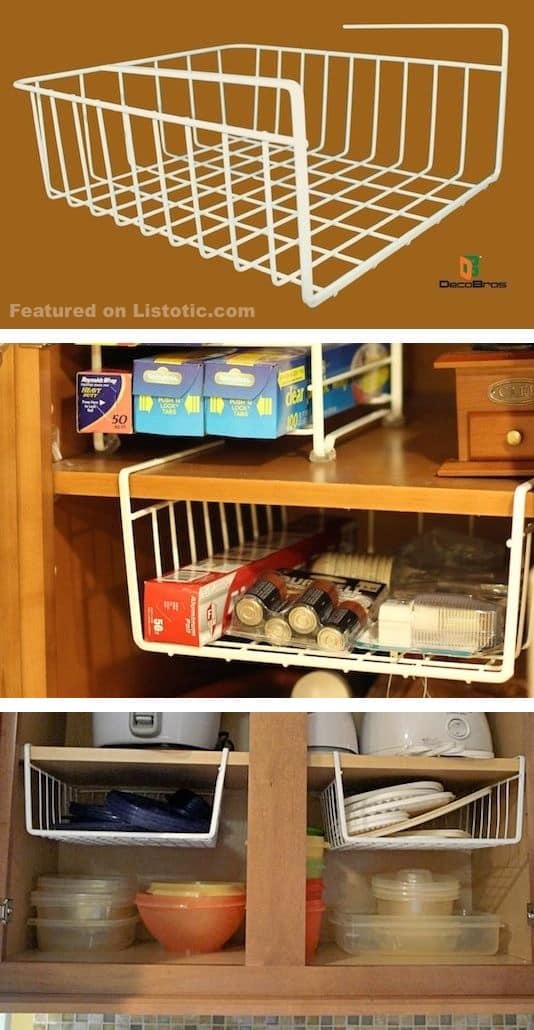 8. Pocket Organizer
This is kind of like the idea behind a hanging shoe rack, only made for items kept under the kitchen sink. It's a great way to keep your sponges and gloves out of sight to dry off. I also like this idea for the smaller items that tend to get lost under the sink, like the sink plug, small brushes, and Windex wipes.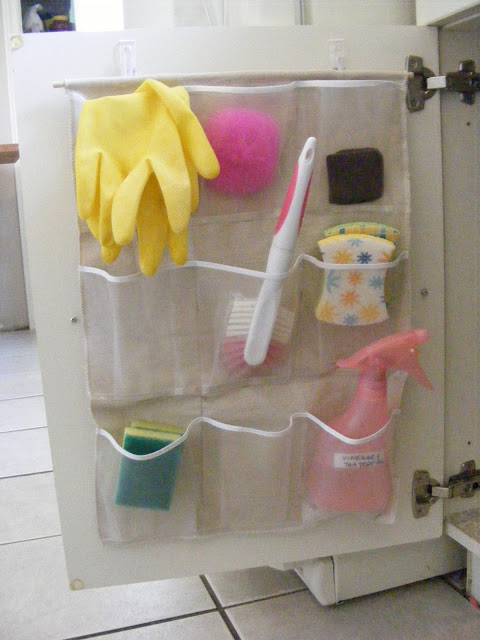 9. PVC Wine Rack
Create a custom wine rack using 4-inch PVC pipe found at a hardware store! This is great because you can make it to fit any space, and paint it to match your kitchen's decor.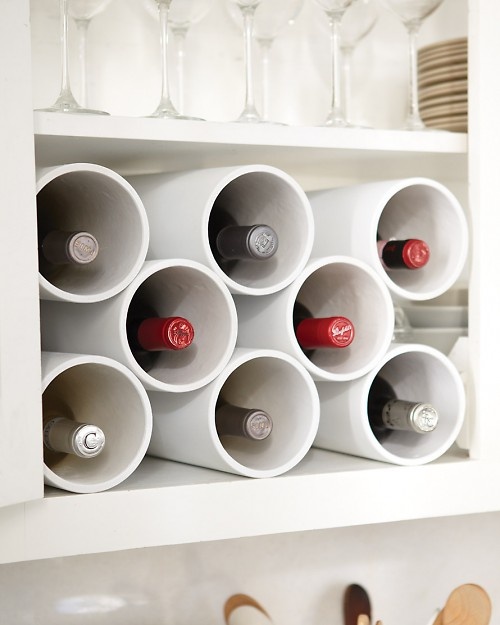 10. Drawer Dividers
Keep those drawers organized with drawer dividers. They're great for drawers containing smaller items like tea bags, coffee pods or medicine. I could use some of these for my junk drawer. I can't find anything in there!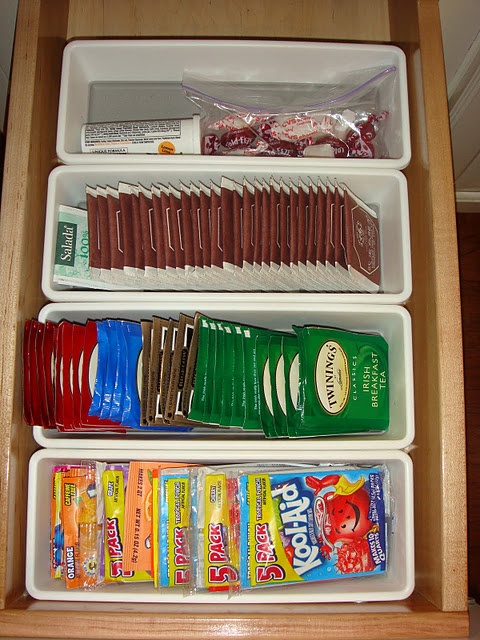 11. Interior Cork Board Cupboards
Attach cork (you can find cork rolls and squares on Amazon) to the inside of a cabinet door to pin recipes, a measurement converter, and hooks for hanging measuring spoons and cups. You just have to do a little planing to make sure it will close properly.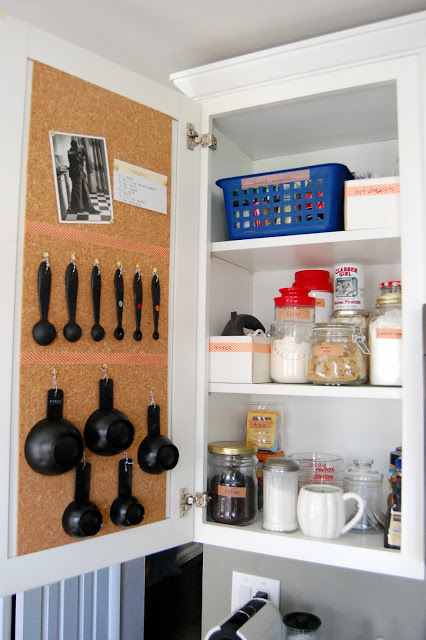 12. Under-Sink Rod
Help free up some space and give those spray bottles easy access by placing a tension rod under your kitchen sink! You could also hang your kitchen gloves on there so that they don't get lost in the chaos. Just be sure to measure the width of your cabinet before buying a tension rod to make sure it will fit properly.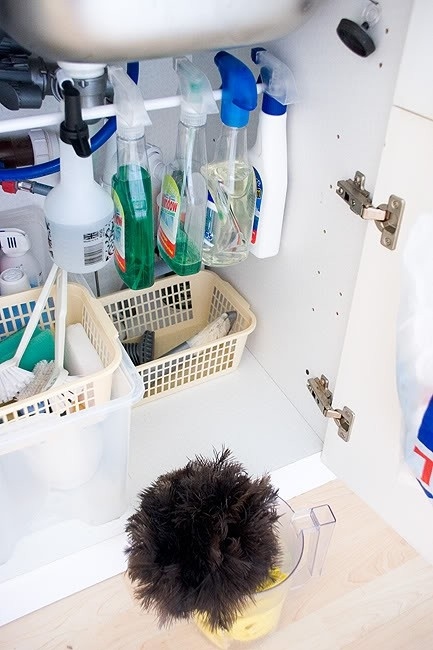 13. Under-Shelf Hooks
Take advantage of every square inch of cabinet space by adding small hooks to the bottom of your shelves to hang coffee mugs! This will also help them dry properly if they're put away wet. Go check out the full details over at Penelope's Oasis.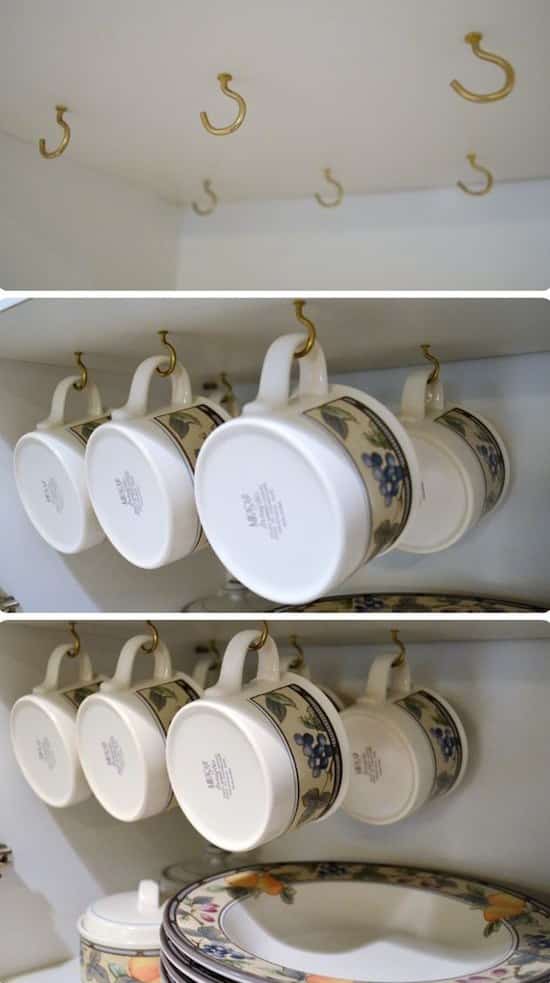 14. Hanging Clips
Keep those open chip bags out of the way but easy to see with these hanging pantry clips! I even like the idea of hanging bags that need to be eaten soon facing forward so that they don't get stale.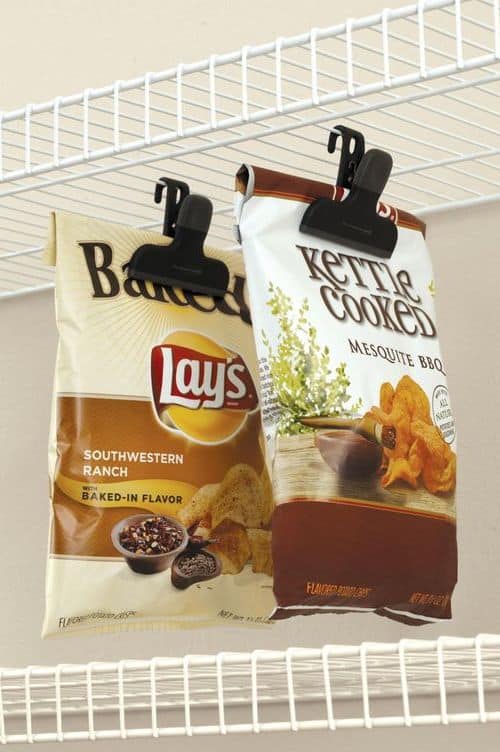 15. Hang up bananas
This is a cheap product that will keep your kitchen counters clean and free of clutter while also having healthy snacks easily accessible to the family. An under cupboard banana holder keeps bunches of bananas off of your precious working space. This Banana bungee has rave reviews (and I have one myself!) it holds a single banana or 5 bunches of bananas! When you go through bananas as quickly as we do at our house this little item helps save tons of countertop space thus making the kitchen look cleaner and more organized!