Last Updated on May 18, 2021
Like most of you, I love a good storage invention (or clever solution) that makes my life easier. This might be the reason I'm so addicted to Pinterest! Tips and tricks are like my calling in life. When I'm organized, I just feel like a million bucks!
I'm on a mission this spring to get my home as efficient and organized as possible, and this is what started my hunt for new storage inventions and ideas. A lot of my shopping is done on Amazon because I love the idea of a one-stop-shop– I'm not about to drive around to a dozen different stores to get exactly what I want, so Amazon solves this problem for me.
I gathered up a few of my favorite storage solutions while I was doing my shopping, and put them all in one convenient round-up! I am simply amazed at how innovative people can be, and I'm so grateful that I live in a country that allows us to make these things a possibility.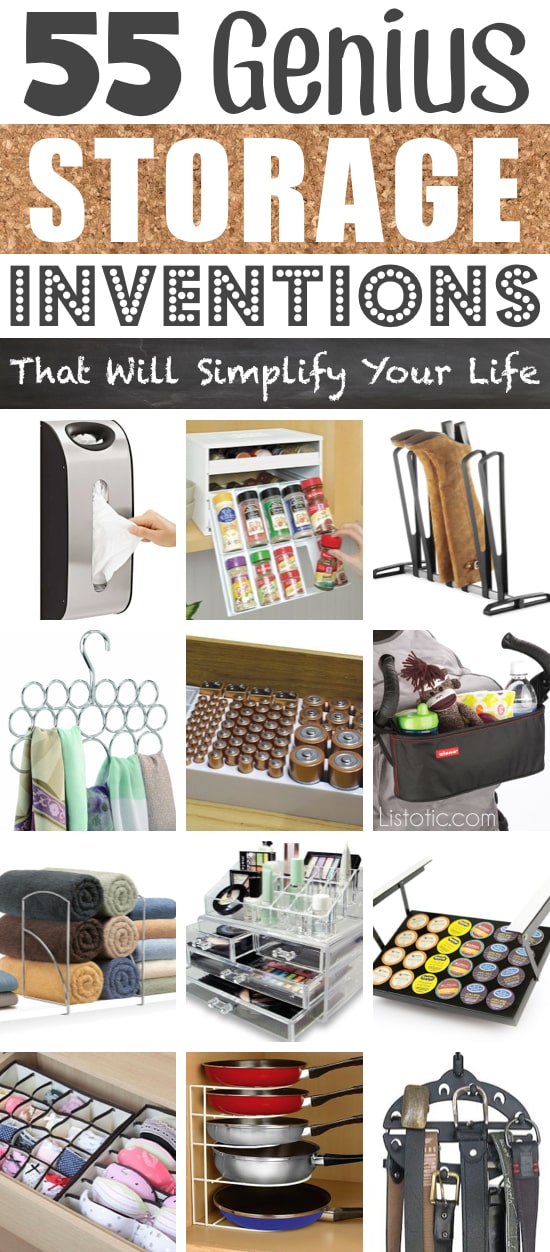 This post contains affiliate links. Please see our Disclaimer Policy.
1. Battery Organizer
I used to throw all of my batteries into a Ziplock baggie until I was informed that it was a fire hazard! This scared me enough to go on a search for an easy and convenient way to store all of the miscellaneous batteries that were crowding my junk drawer. Found it! This clever battery organizer also comes with a battery tester so you know which ones to toss and which ones to keep. Pick one up here on Amazon.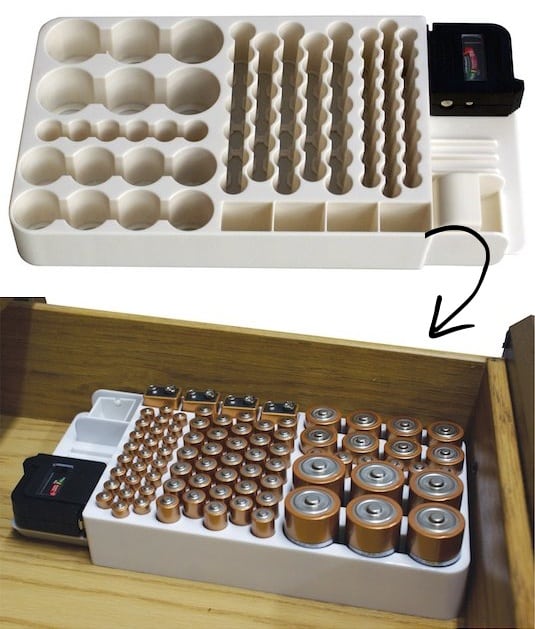 2. Curling Iron/Blowdryer Holder
This storage solution frees up a lot of counter and drawer space while utilizing wasted space. Smart! If you have a small bathroom, this might just be the best storage solution for your curling irons and blowdryer. Just be sure to break out your tape measure before ordering because it only fits vanity cabinets that are 24″ or larger in width. Pick one up here on Amazon.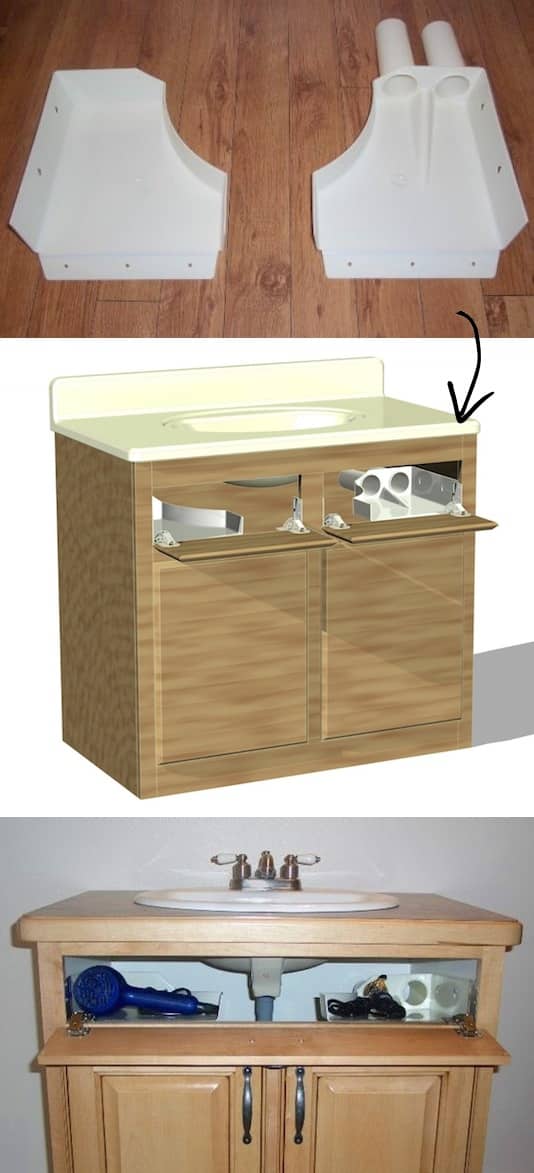 3. Clever Wrapping Paper Storage
Use a clear vinyl garment bag to hang and store all of those awkward and annoying rolls of wrapping paper! It's the perfect height to keep them safe and sound in a spare closet. If you like this idea, you can read more here, and pick up a garment back on Amazon here.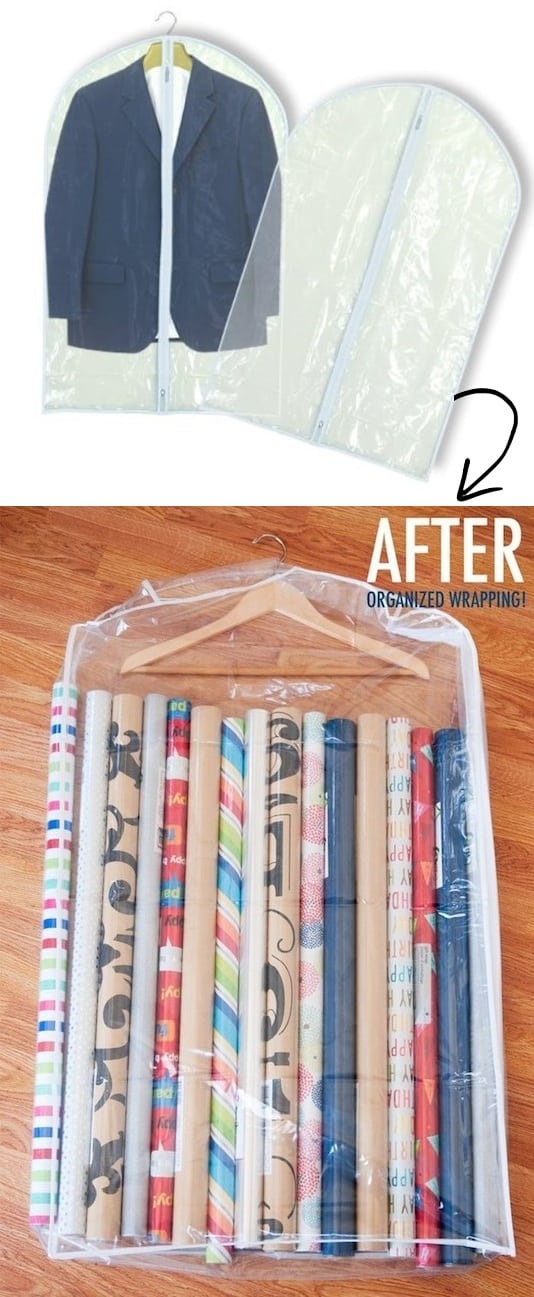 4. Spicy Shelf
This genius shelf expands and contracts to fit just about any cupboard space, and makes it so much easier to see all of your spices, nail polish colors, medicines, craft supplies or cosmetics. its perfect for small items! Pick one up here on Amazon.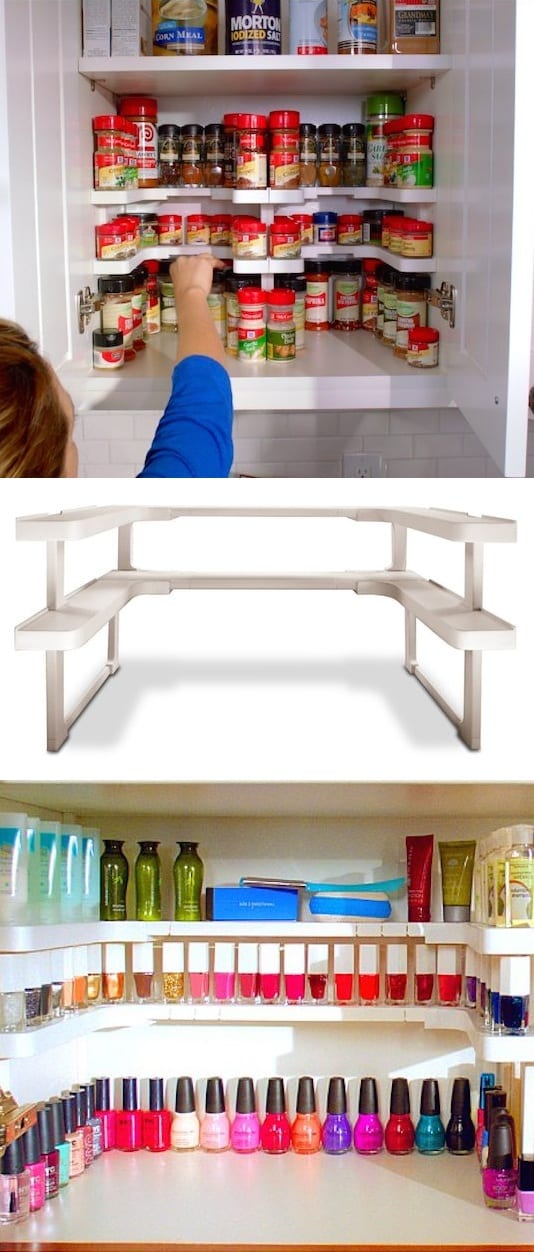 5. Cosmetic Organizer
Every girl needs this! I can't stand having all of my makeup piled up in a drawer where it's hard to find (sometimes impossible when it slides to the back). This cosmetic organizer comes in two separate pieces, so you can stack them or keep them separate if you'd like. I love how the transparent acrylic makes it easy to see everything! Pick one up here on Amazon.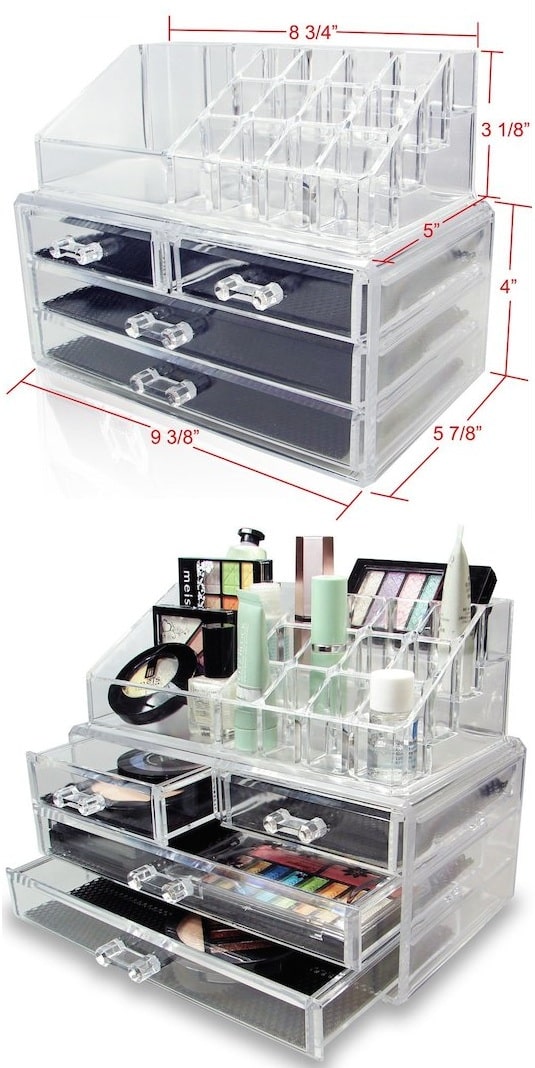 6. Buggy Buddy Stroller Organizer
Every parent knows how many little things have to be "brought along" when you have kids– the sippy cup, an emergency snack, tissue, a pacifier, wipes, beer. The Buggy Buddy makes it easier to keep all of those necessities handy with this clever stroller organizer! It even has a zippered pocket for valuables, as well as insulated drink holders.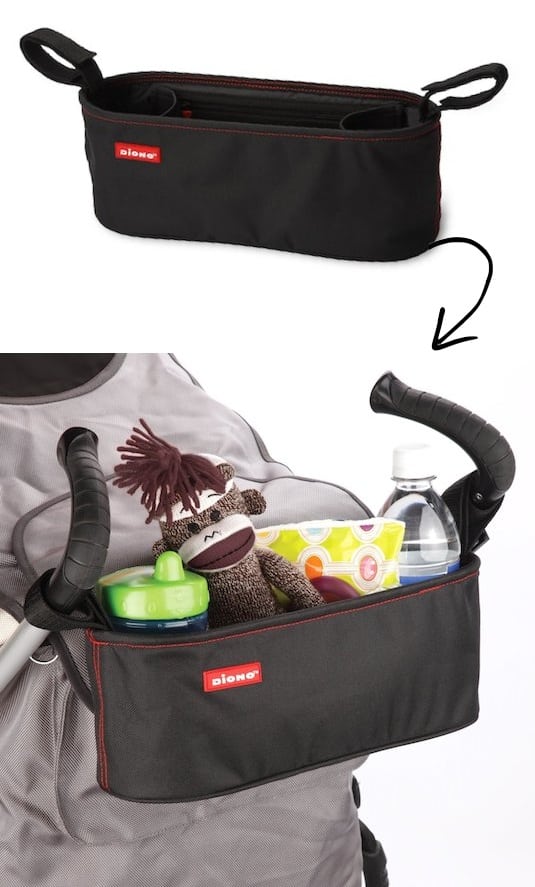 7. Kitchen Wrap Organizer Rack
This simple invention makes getting to your kitchen wrap a breeze while utilizing unused air space in your cupboards! This rack fits three standard size boxes in each row. Pick one up here on Amazon.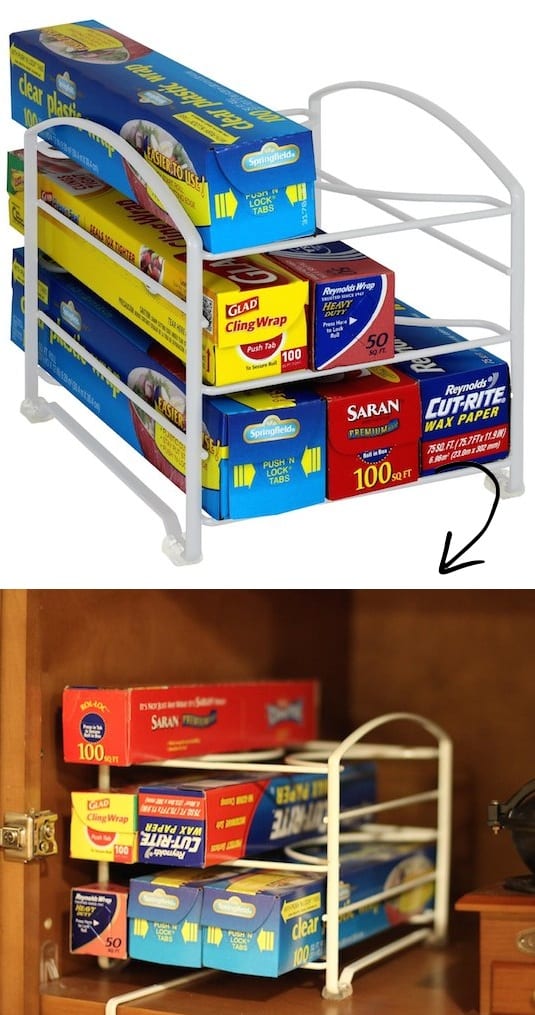 8. Vehicle Compartment Storage
Because this storage invention is flexible and foldable, it works for just about any vehicle (small or big) but it's ideal for vans and SUVs. The two end compartments are insulated for food storage– great for groceries or transporting party food! Pick one up here on Amazon.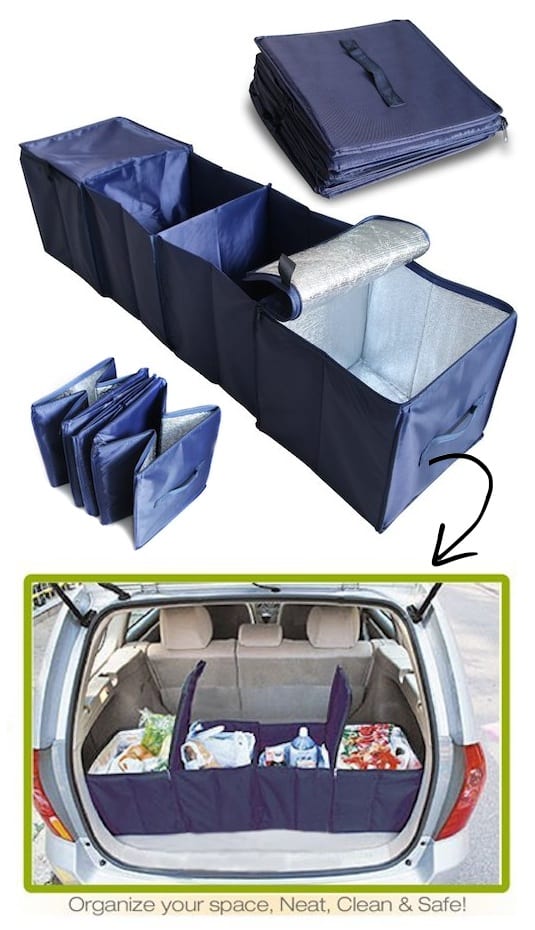 9. Under Cabinet K-Cup Holder
This unique K-cup holder keeps those coffee pods virtually out of site and takes up absolutely no counter space at all! If you have limited kitchen counter space, check out the reviews on Amazon for this product. This one seems like a keeper!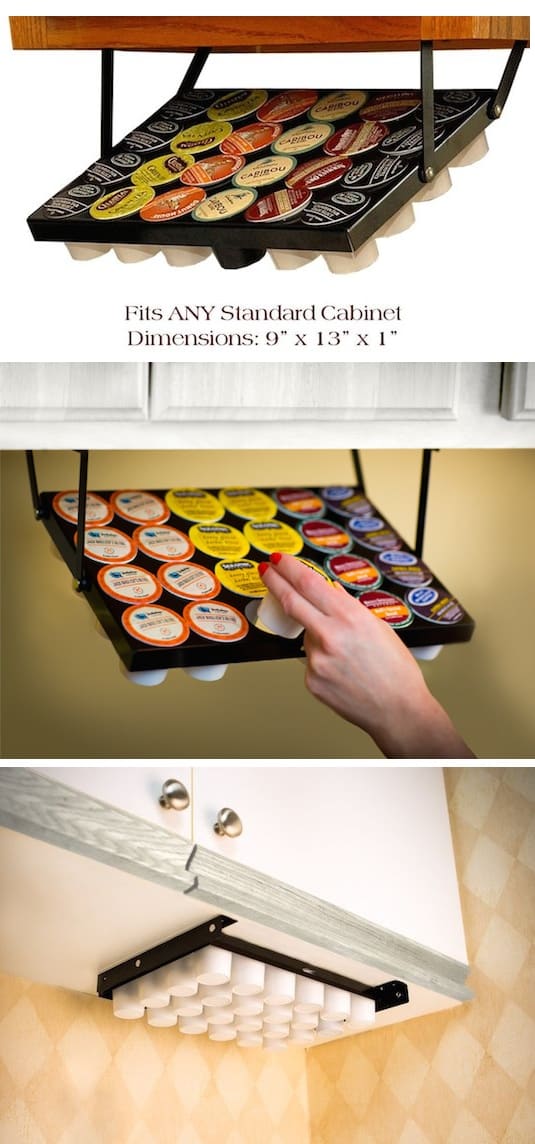 10. Nail Polish Organizer
This multi-level design makes it easy to see and access all of your nail polish, and keeps them organized all in one spot. The OCD side of me would have them all lined up by color, lightest shade to darkest. Pick one up here on Amazon.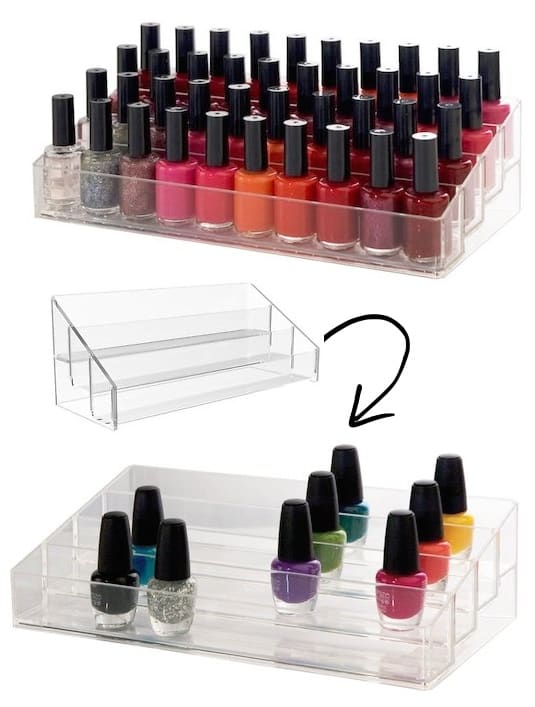 11. Spice Bottle Organizer
This organizer fits 30 full size or 60 half size spice bottles! It also includes labels so you can label each section on the outer panel. I love how it pulls out and down so you can easily see and remove the bottles. Get more information and pick one up here on Amazon.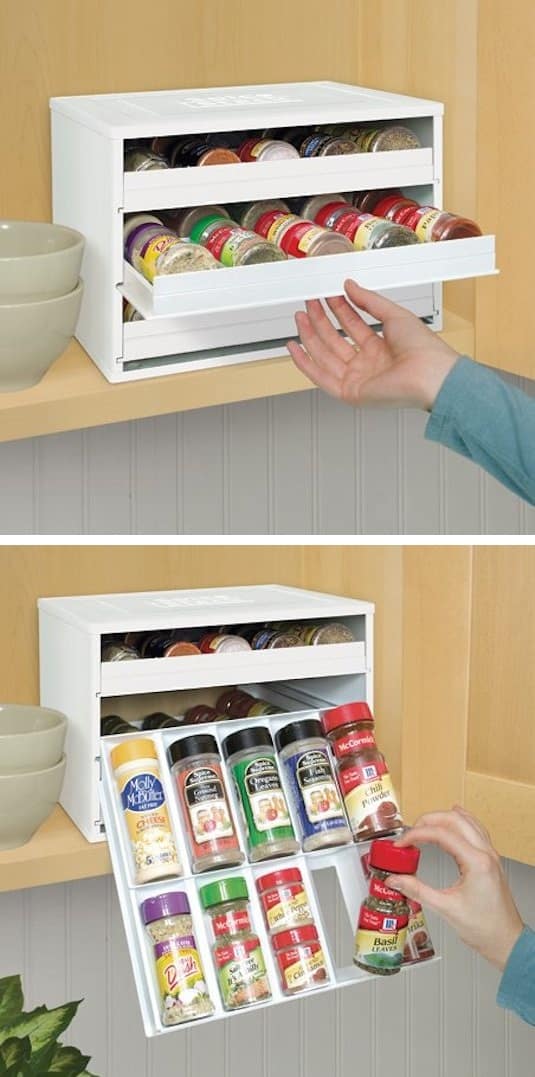 12. Bedside Caddy
Charge and store all of your gadgets while keeping them within an arm's reach on the side of your bed! It's big and sturdy enough to hold your Macbook, iPad and iPhone while keeping them charged with its hidden cable management. Get the details and pick one up here on Amazon.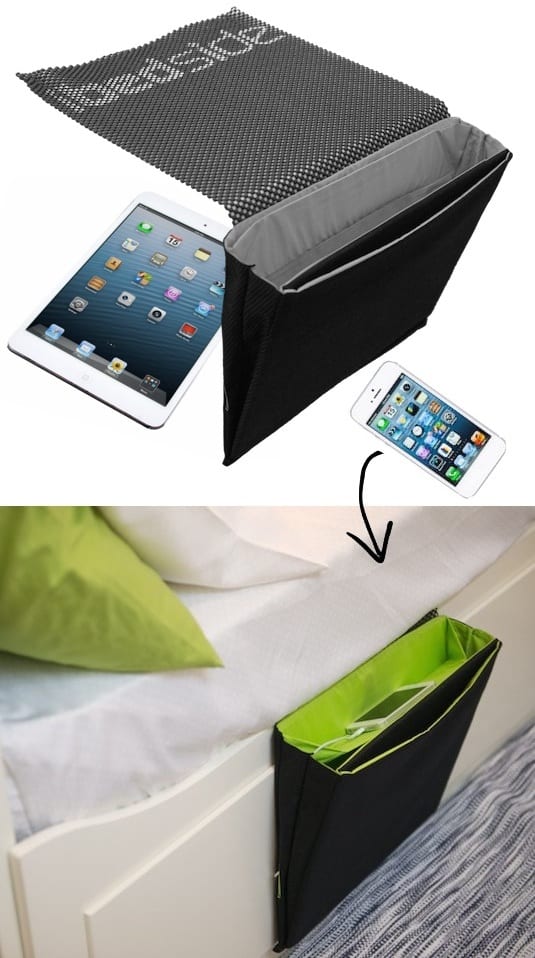 13. Boot Organizer
If you're anything like me, you have your boots flopped over on your closet floor hidden under your bottom rack of hanging clothes, lonely and waiting to be rediscovered and worn. Don't let this happen! If you have the floor space, I particularly like this boot organizer because it makes it so easy to safely store and keep them in view. Pick one up here on Amazon.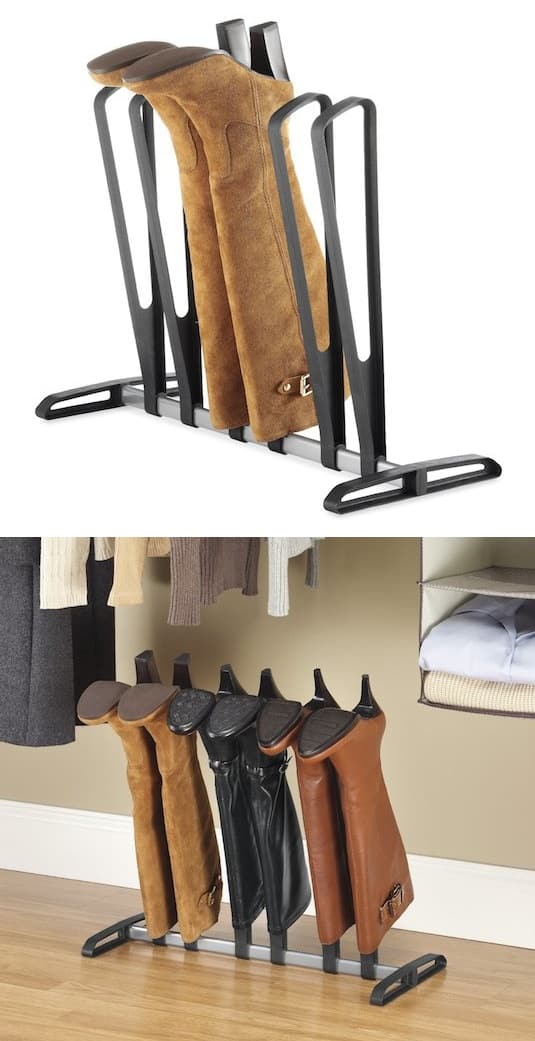 14. Kitchen Tray & Board Rack
You have probably seen this before, and for good reason! It's the best way to organize your cookie sheets and cutting boards without having to stack them on top of each other, making them difficult to see and remove from the cupboard. I have two of them in the cupboard above my stove that is too high for any other practical use. Pick one up here on Amazon.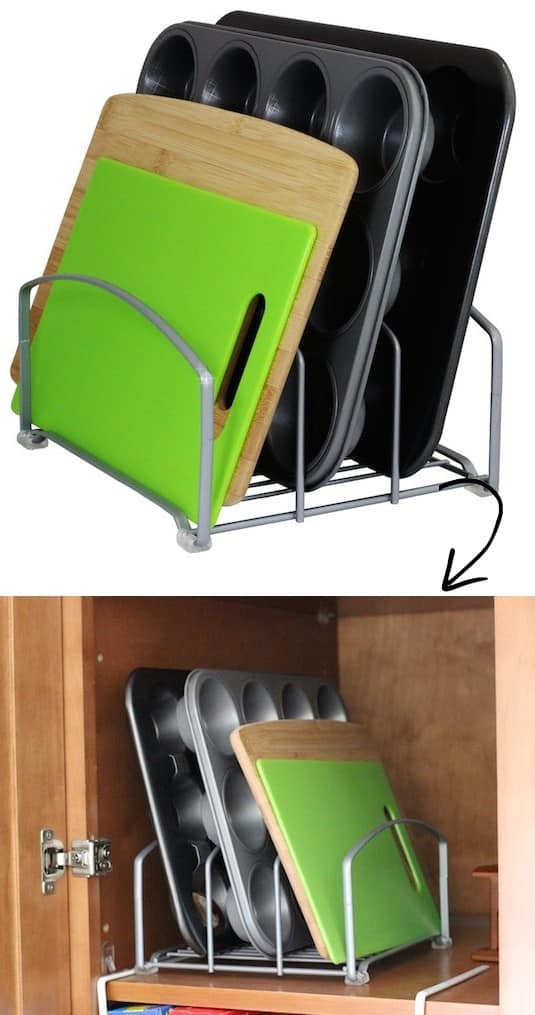 15. Wonder Hanger
This little gadget greatly increases your closet space without having to sacrifice any of your clothes! It literally holds five articles of clothing where you could normally only have one. I like the idea of using them to store different outfit combinations that you wear often (shirt, tank, skirt, vest, etc.). Pick them up here on Amazon.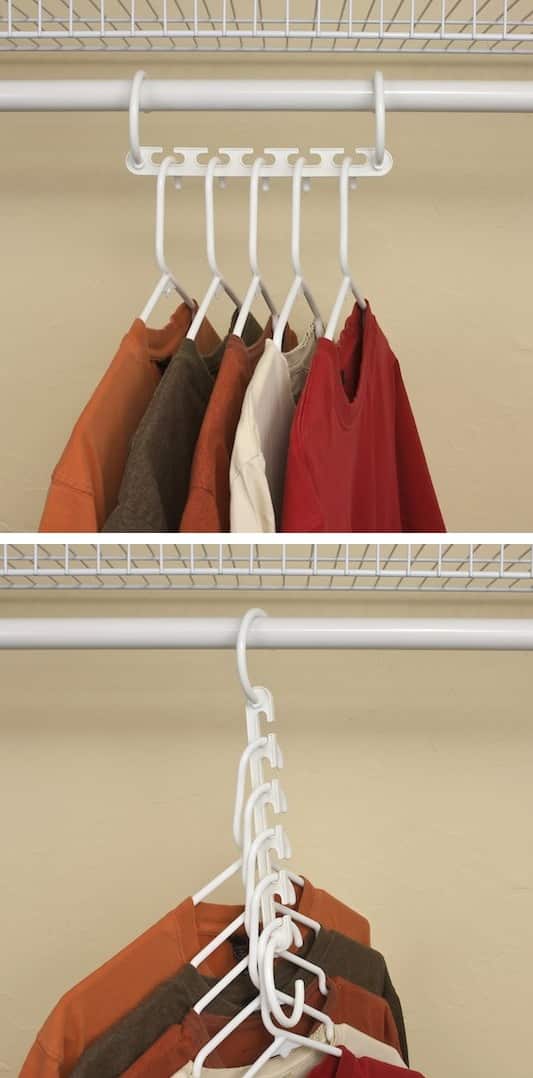 16. Bath Toy Organizer
When it comes to kids, a bath without toys is not a bath at all! Even my 9 year old likes to play with her Polly Pocket dolls in the bathtub. This clever bath organizer makes it easy to scoop them up and mount to the wall. The mesh fabric increases airflow helping them dry fast and prevent mildew. Check out the details and pick one up here on Amazon.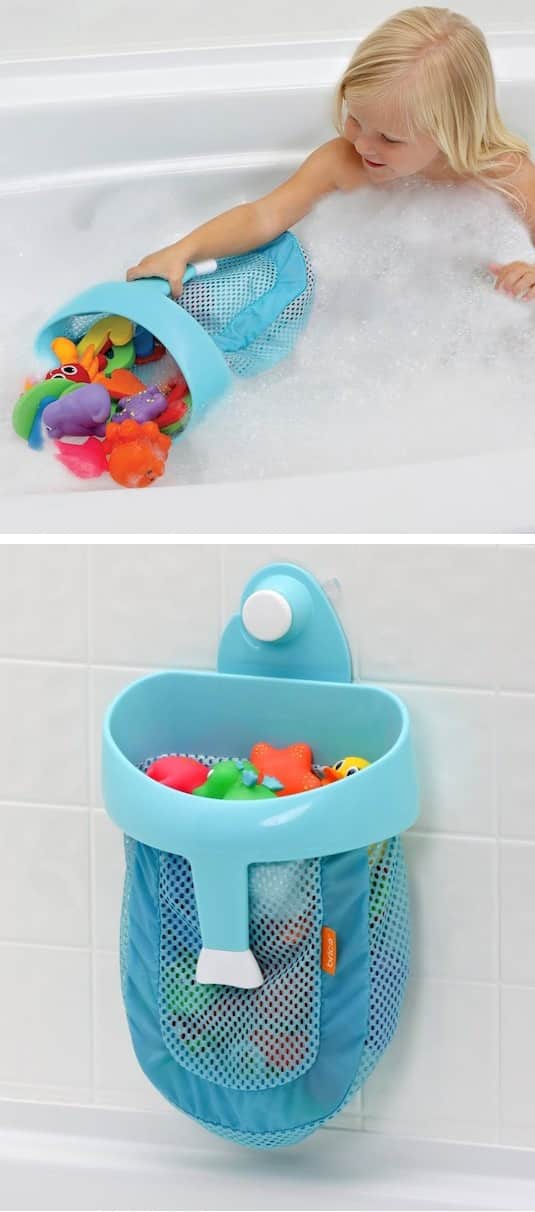 17. Car Caddy
You might as well utilize every space possible! This simple but clever invention keeps you from dropping items in between your seats, and doubles as storage for your phone, chap stick, pen, tissue, or anything else you like to keep handy! Pick one up here on Amazon.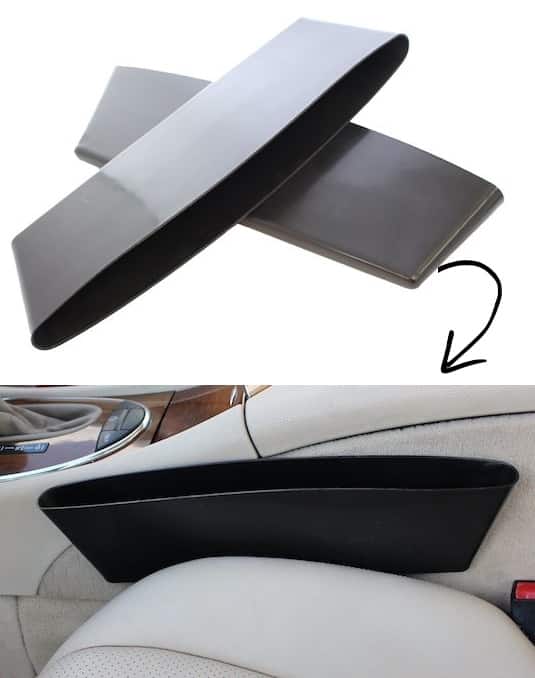 18. Hanging Shoe Storage
There are several shoe storage items like this available, but the reason I like this one in particular is because of the boot storage compartments. And, after reading the reviews, it turns out you can actually fit a pair of boots in each slot, making room for four pairs instead of two. This would be nice for a coat closet to keep everyone's shoes organized and off of the floor! Pick one up here on Amazon.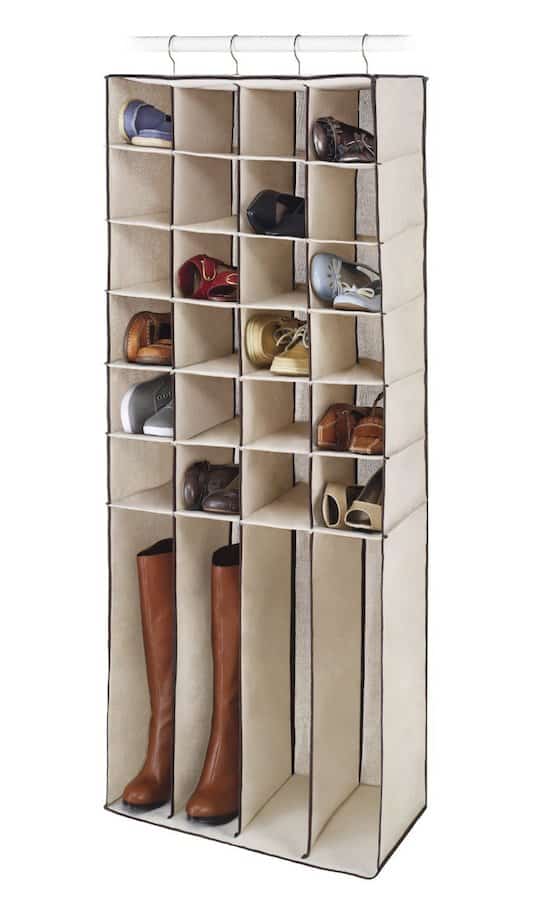 19. Door or Wall Wrap Rack
I have my rolls of foil, plastic wrap and wax paper all stuffed into a drawer in my kitchen but have been looking for a better solution to free up much needed drawer space. This rack is designed to hold them perfectly and comes with hardware to easily mount it behind a pantry door or cabinet. I would stack 2 or 3 of them behind my pantry door for plastic bags, spaghetti boxes, Pringles, or anything else long and narrow that would fit! Pick them up here on Amazon.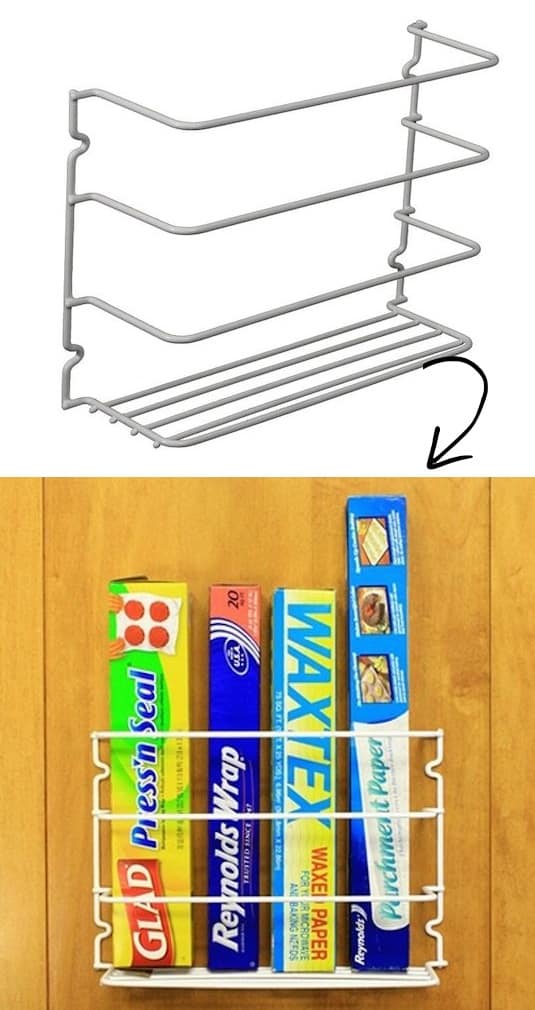 20. Mesh Shower Organizer
How smart is this!? It keeps all of your shower items in perfect reach and doesn't take up any extra space. Although it's made to get wet (even has rust proof metal grommets), I would hang it on the opposite side of the shower head so it's not constantly getting rained on. If you have several people sharing one shower, each one could claim their own pocket or two. Get the details and pick one up here on Amazon.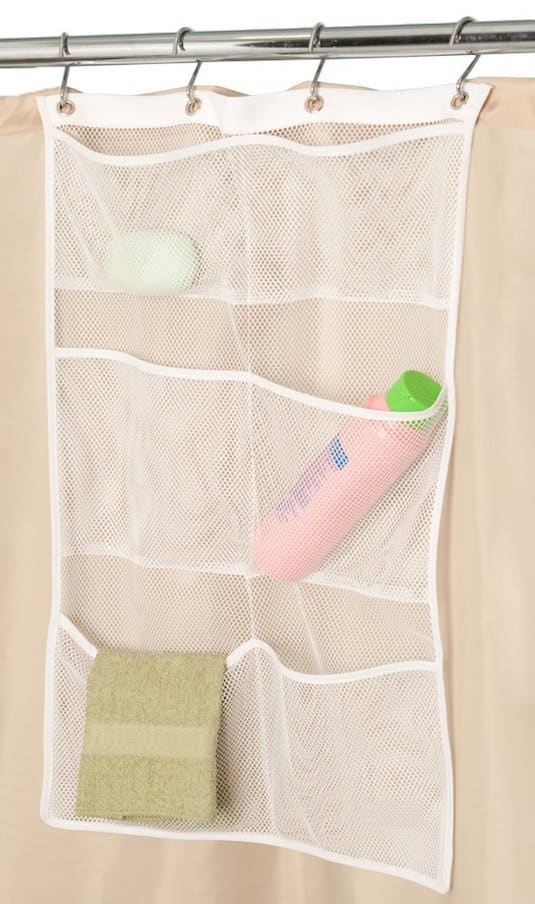 21. Under Shelf Basket
This basket helps utilize air space in your cabinets that would otherwise go empty! If you have a small kitchen or are just lacking cabinets space, this works nicely for wrap, tupperware lids, pasta boxes, and other misc. pantry items. I can also see this being used for paper in a craft or office closet. I'll bet you could even use it in your refrigerator! Pick one up here on Amazon.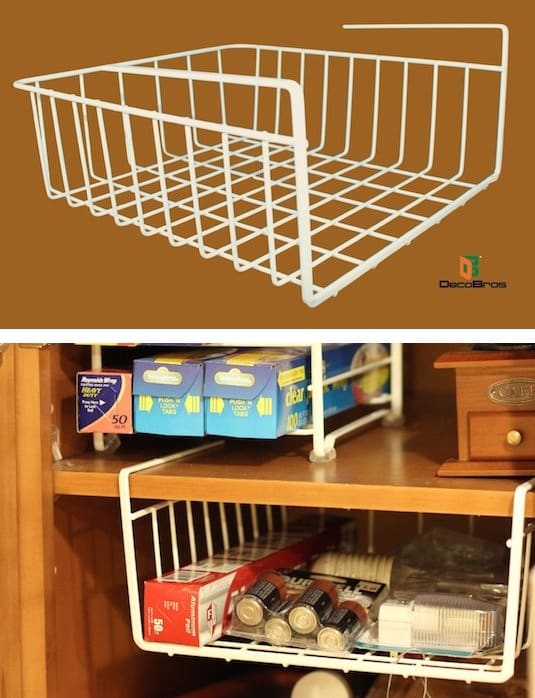 22. Trunk Organizer
Your trunk might not be a space you've even considered keeping neat and organized (I tend to just throw stuff in there), but how nice would it be to have a few compartments to store sports gear, auto supplies, tools, groceries and more without them rolling and moving all over the place?! Get more details and pick one up here on Amazon.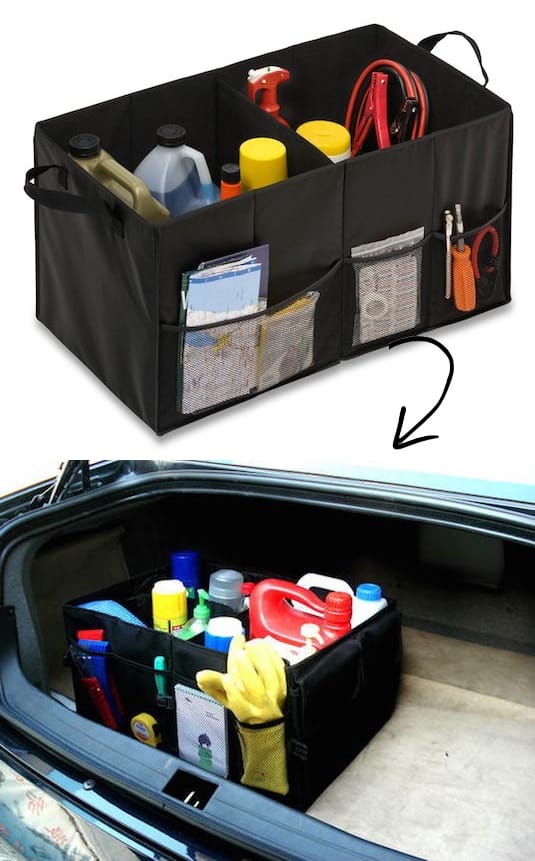 23. Shelf Dividers
I've found these to be very useful in my linen closet! Just like the picture, I use one compartment for rolled hand towels, and the others to separate my extra guest sheets and towels. I've also seen them used for purses and sweaters. Pick up a few here on Amazon.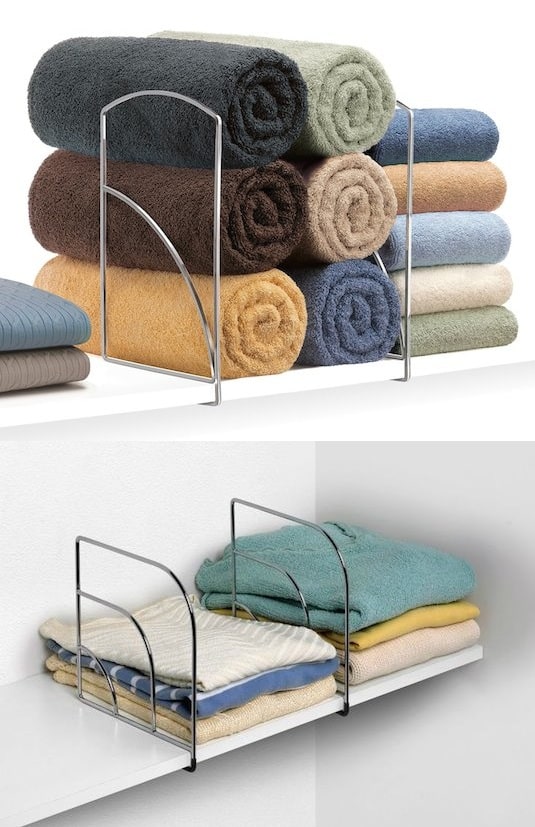 24. Grocery Bag Dispenser
This handy bag holder and dispenser holds up to 30 bags and couldn't be easier to install with doubled sided tape already adhered to the back, as well as screws if you want to mount it to a wall. For only $10 I'd buy two and keep one in the garage, too! You can buy them here on Amazon.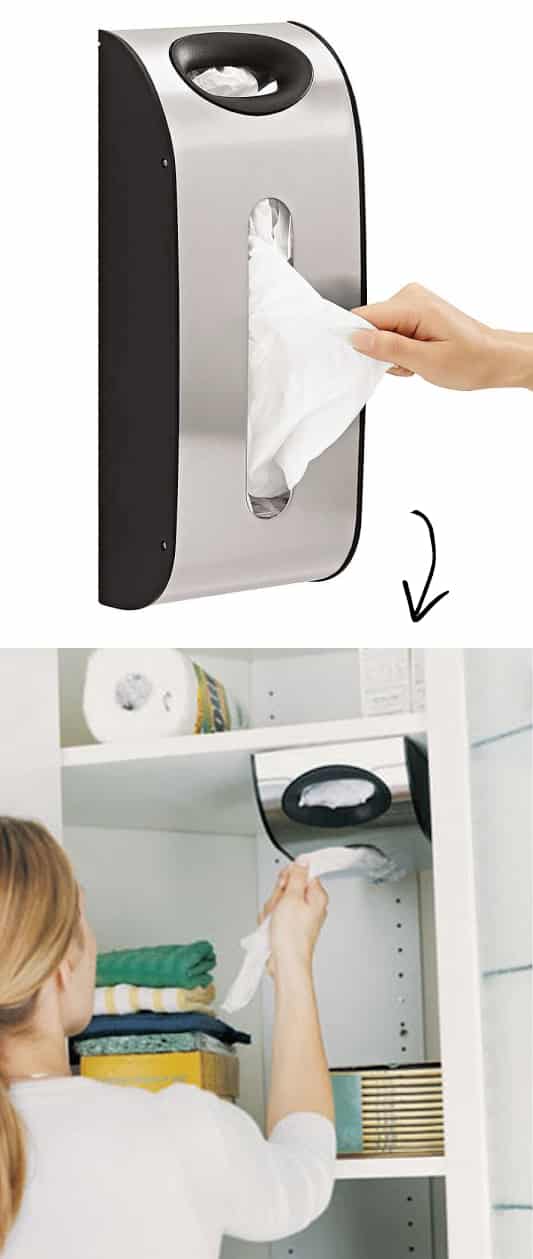 25. Kitchen Organizer
This simple kitchen (or office!) organizer is perfect for tupperware lids! It doesn't quite fit pot lids because of the protruding handles, but works well for anything thin enough to fit in the gaps– plates, cookie sheets, mail, file folders, etc. Pick one up here on Amazon.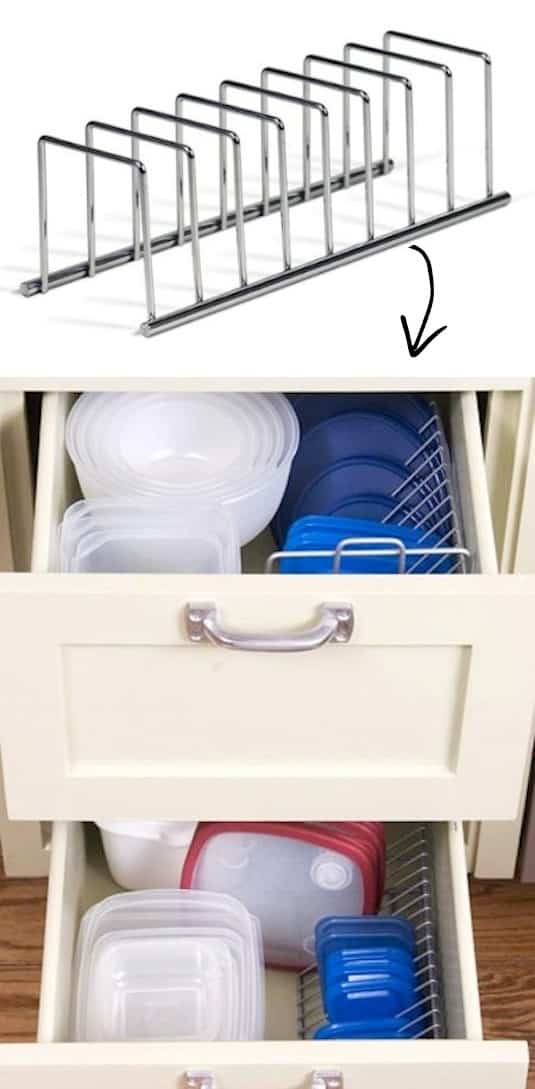 26. Drawer Organization Kit
I don't feel the need to organize my underwear, but I do like this idea for socks and bras! Sometimes I'll discover a pair of socks at the bottom of a drawer that I forgot I even had. Same thing for bras! I end up wearing the same one every day just because it's the one on top and easy to grab. Get the details and shop for them here on Amazon.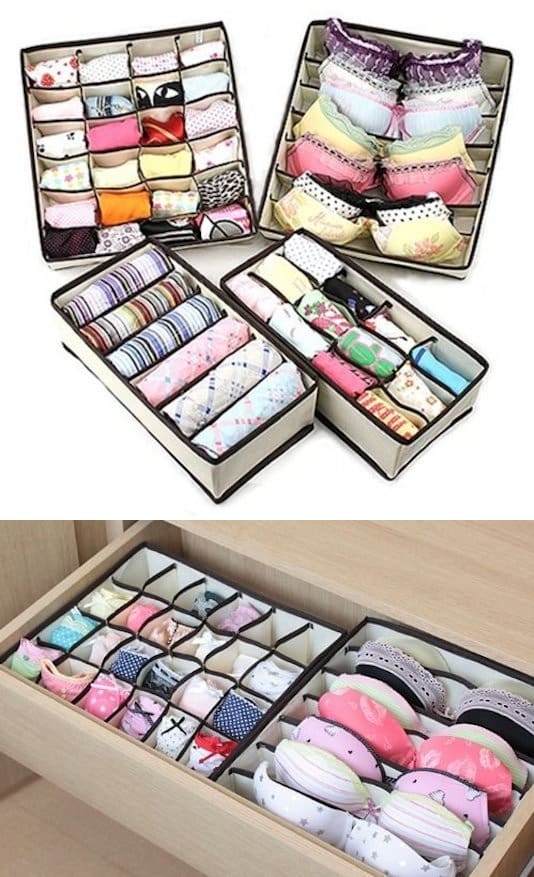 27. Boot Organizer & Shaper
For only 7 inches of closet rod space, this boot organizer is definitely worth the investment! It holds up to 5 pairs of boots (there is also a 3 pair option) and keeps them from flopping over and getting creased. I was a little confused at first on how to get the boots on and off, but as you can see from the illustration, each pair of boots would basically have its own hanger. Get all of the details and pick one up here on Amazon.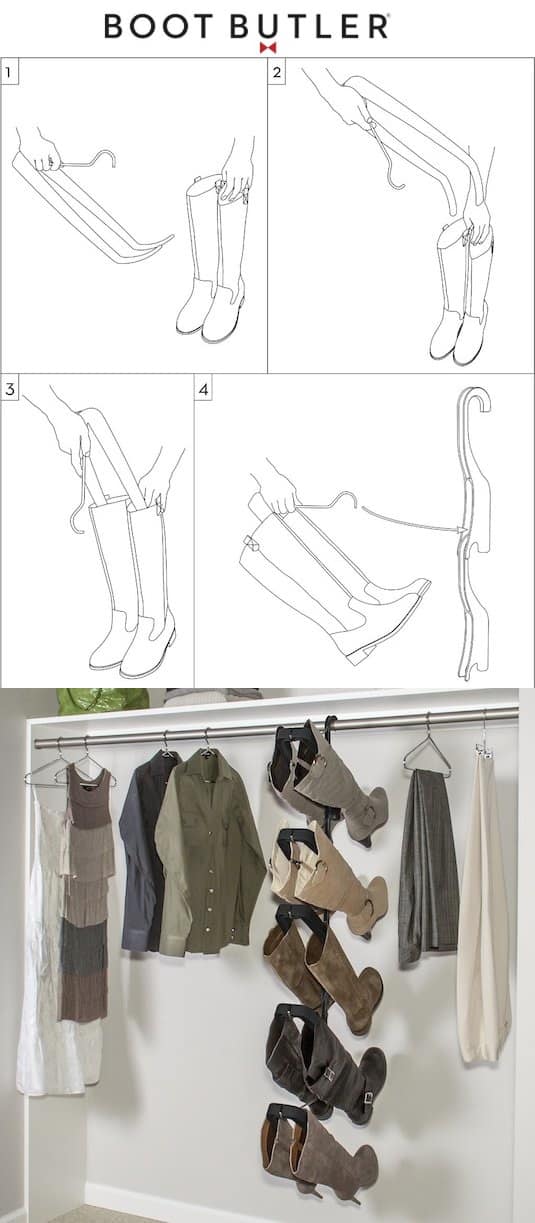 28. Belt Rack Hanger
This compact belt hanger takes up hardly any space at all but stores your belts where you can easily see and wear them. It's hard to tell from the picture, but it does rotate 360 degrees with hooks on both sides, making them easy to remove. It's great for necklaces, too! You can pick one up here on Amazon.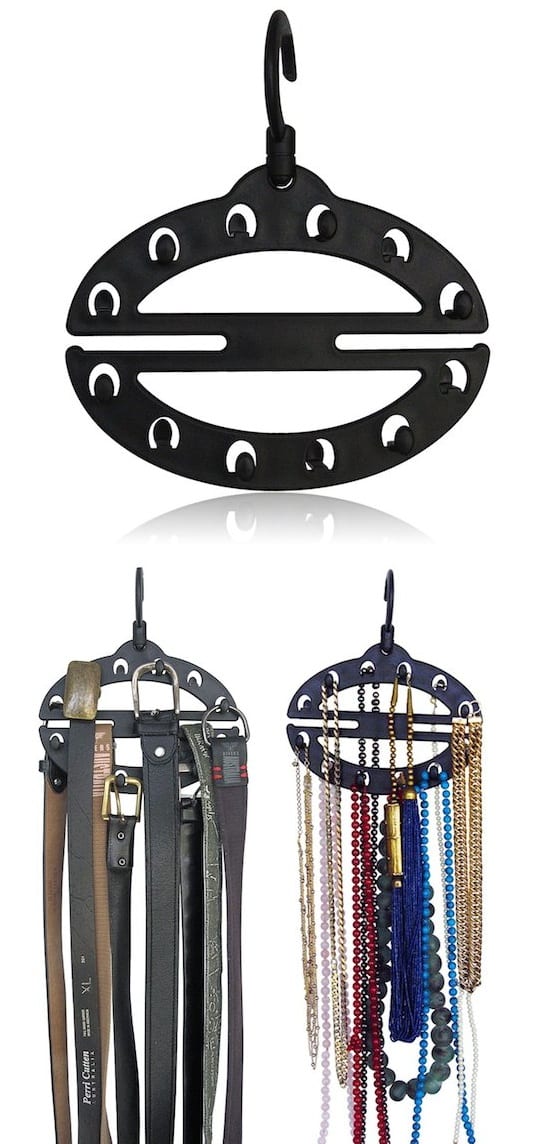 29. Slide-Out Storage Tower
Here's another small space saver! Don't let that gap in between your washer and dryer go to waste with this slim 3-tiered storage tower. It slides in and out with ease, and holds all of the essentials. It might also work in the kitchen in between the fridge and counter, or perhaps in the garage to fill up wasted space. Pick one up here on Amazon.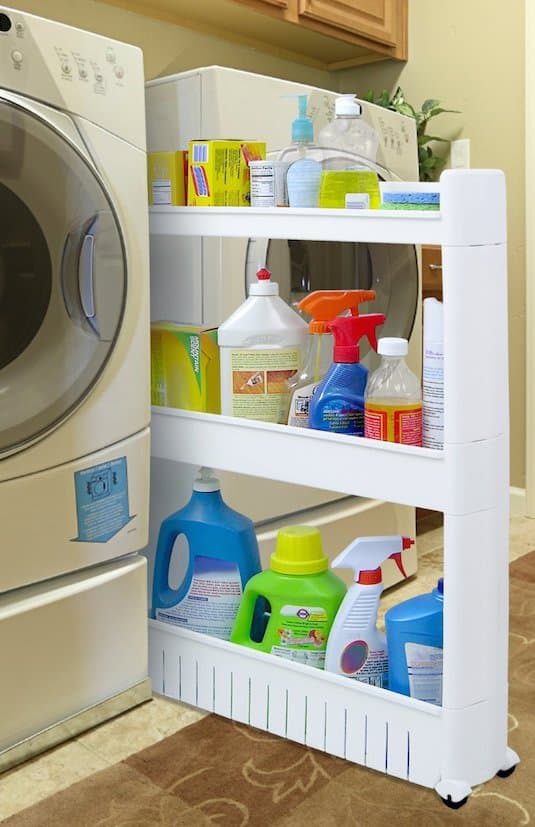 30. Pan Organizer Rack
Stop shifting heavy pans around to get to the one on the bottom! This simple rack not only saves space but also makes it easier to find and remove the pan you need. You can also mount the rack vertically, so that your pans are resting on their sides if it makes better use of your cabinet space. Pick one up here on Amazon.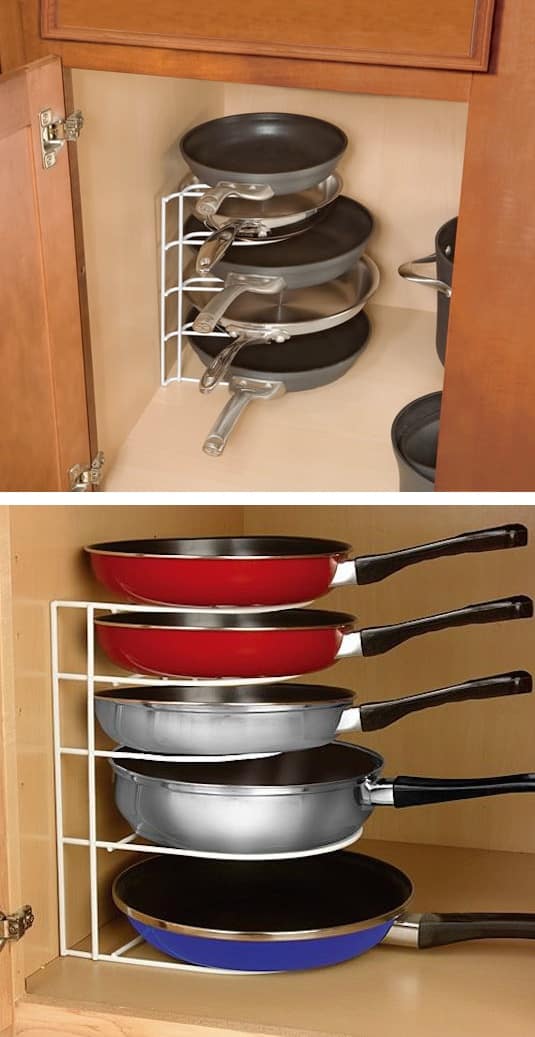 31. Packing Cubes
If you have ever been on a trip or vacation where you have multiple hotel stays, you know how frustrating it can be to have one huge bag that has to be packed and unpacked at every stop. This is where packing cubes come in really handy! Pack a different cube for every stop and take the stress out of it! This is also a good idea if you have two or more people sharing one bag (I do that with my daughter a lot for shorter trips). Read the reviews and purchase them here on Amazon.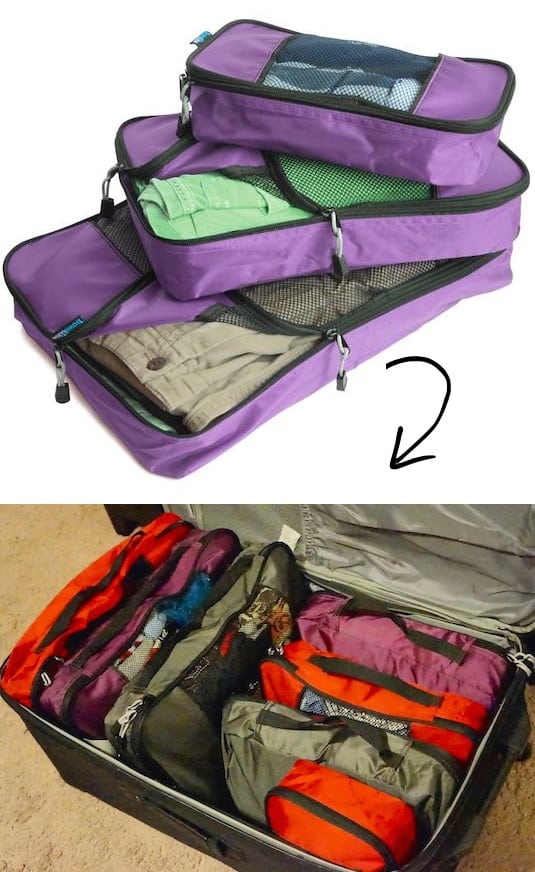 32. Pet Net
I had one of these as a kid, but never even considered it for my kids! My daughter has a huge collection of Beenie Boos (there's just something about their big adorable eyes that I can't resist so I've purchased way too many of them) and they are taking over her room! She might need one of these for every corner. You can pick up this deluxe pet net here on Amazon.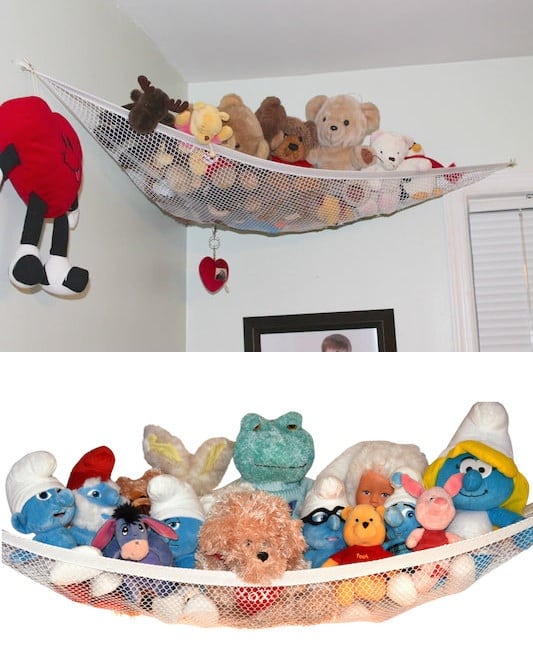 33. Magnetic Tool Bar
You have probably seen one of these used in a kitchen for knives, but they come in handy for garage tools, too! I could use one of these in the garage for my small gardening tools and scissors. What else could you put on there?! Bottle openers, measuring cups, screws, tweezers, and so much more. Pick one up here on Amazon.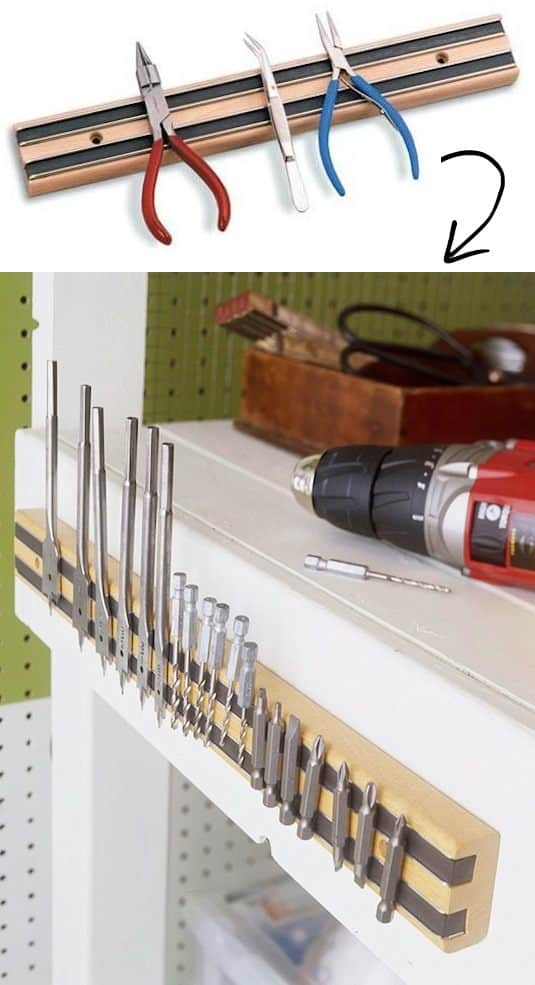 34. K-Cup Storage Drawer
I think this is my favorite K-Cup storage solution because it holds 36 pods, and if you put it under your Keurig, it doesn't take up any extra space! If you need more storage (for an office perhaps), you can buy more than one and stack them on top of each other. Read the reviews and pick one up here on Amazon.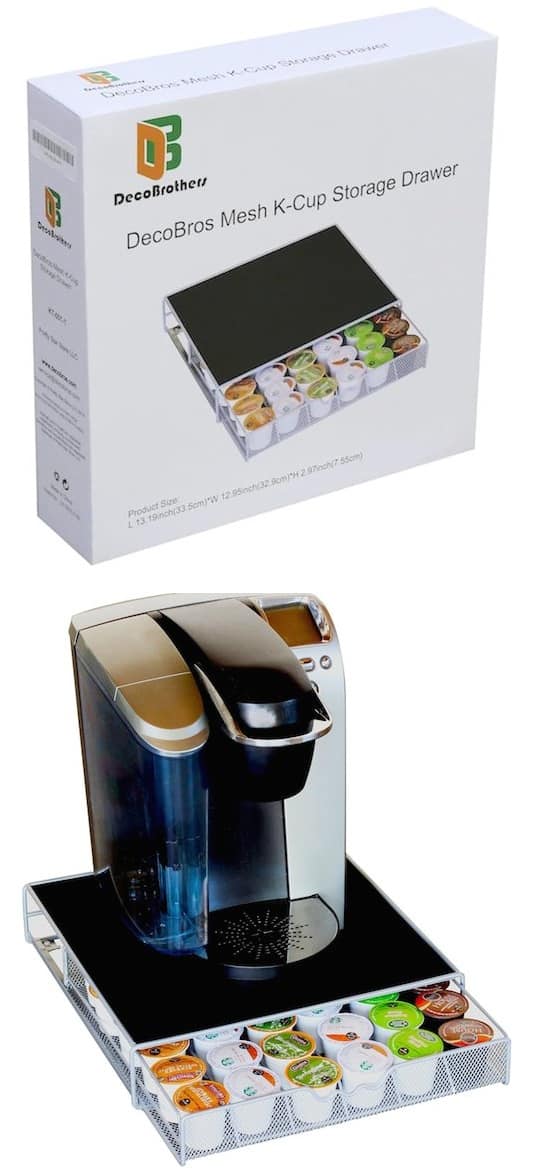 35. Stacking Storage Bins
I use these stacking bins in my craft closet for all of my miscellaneous supplies. They work great for small items! I imagine they would also work well under a bathroom sink for soap, cosmetics, lotion bottles, and more. You can buy them here on Amazon, but I'll bet you could pick up something similar at the Dollar Store!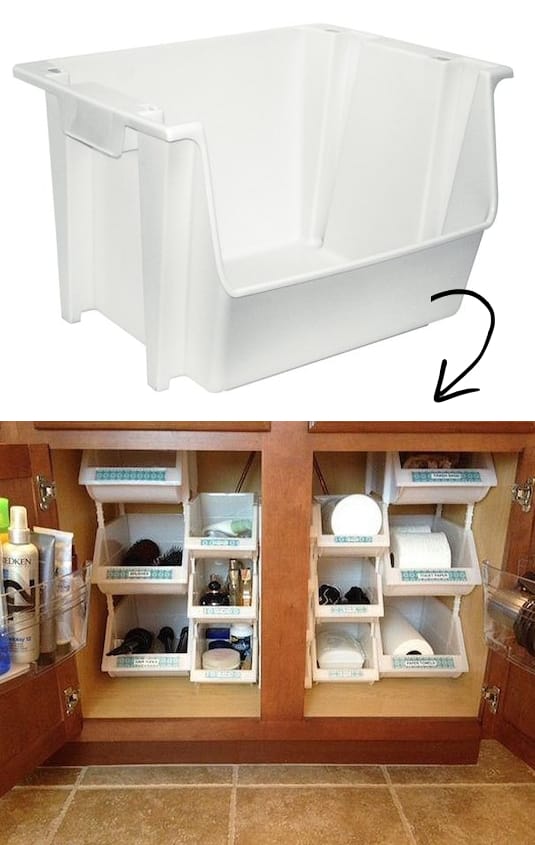 36. Cargo Net Trunk Organizer
This space-saving trunk organizer hangs easily from the back of an SUV or mini van, and doesn't take up any of your valuable floor space! The back of it is lined with velcro so that it doesn't move and slide all over the place. This would be a great place for the older kids to keep their sports equipment, drawing supplies, toys and more because they can easily reach around the back to grab what they need. Pick one up here on Amazon.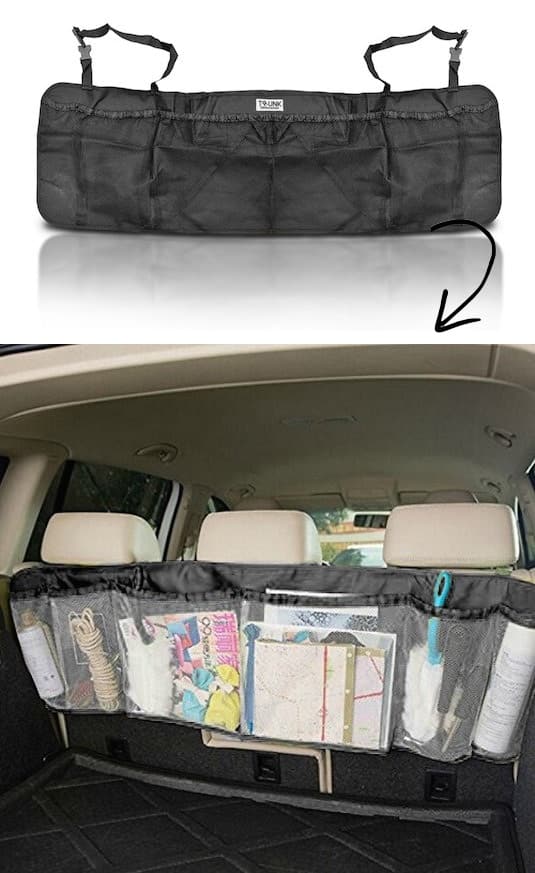 37. 2-Dowel Ribbon Organizer
If you're at all crafty, it's a possibility that you have an impulse to buy ribbon, and lots of it! I don't know what it is, but I especially get suckered into the holiday ribbon thinking that I'm going to find a cool craft project for it. I can't think of a better way to keep it all organized than this ribbon organizer from Amazon. It also comes with a couple of hooks for hanging scrap pieces of ribbon and scissors.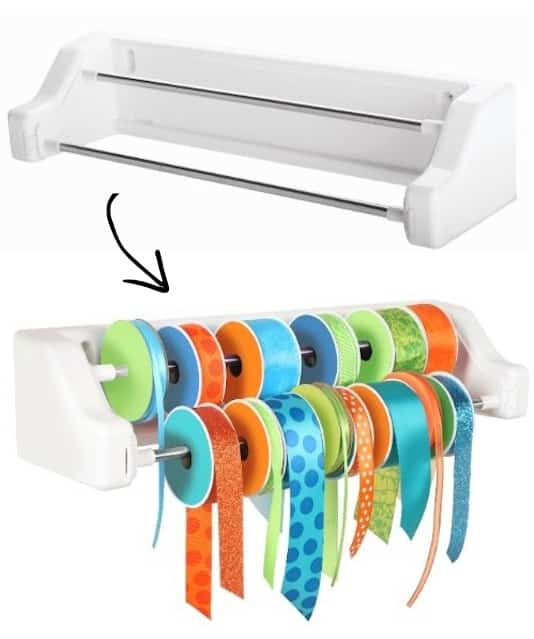 38. Tool Tower
Stores and organizes over 40 tools! It's also on wheels so you can roll it around the garage with ease. Now you just have to convince the husband to put them back where they belong when he's done so that you don't have to go on a hunt every time you need the broom. Read the reviews and pick one up here on Amazon.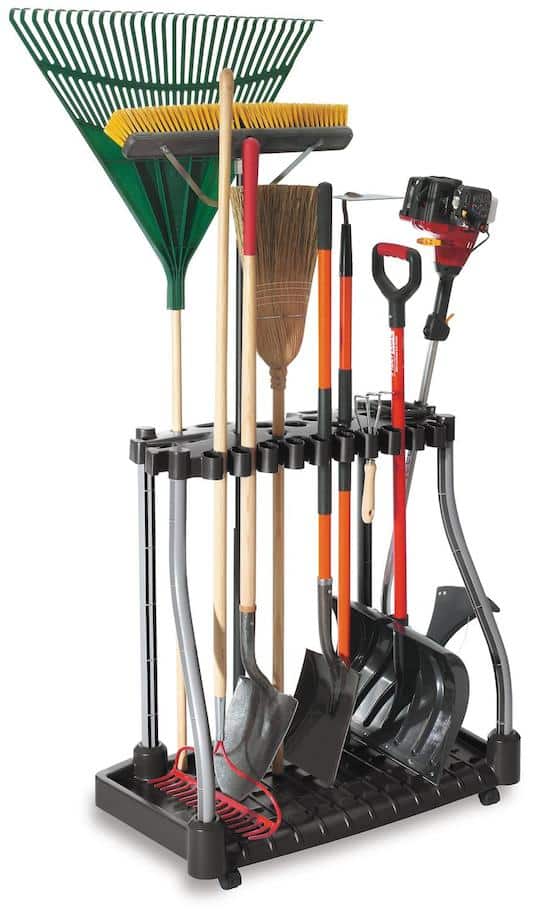 39. Over-The-Tank Tissue Holder
Why didn't I think of this!? It's a great space saver and doesn't require any tools or holes in the wall to install– perfect for renters! Although, consider which side of the tank you're going to have to put it on if your toilet is up next to a wall. If you are right handed, it would be an awkward reach-around to have it on the right side of you. Perfect if it's just for extra storage, though. Check it out on Amazon.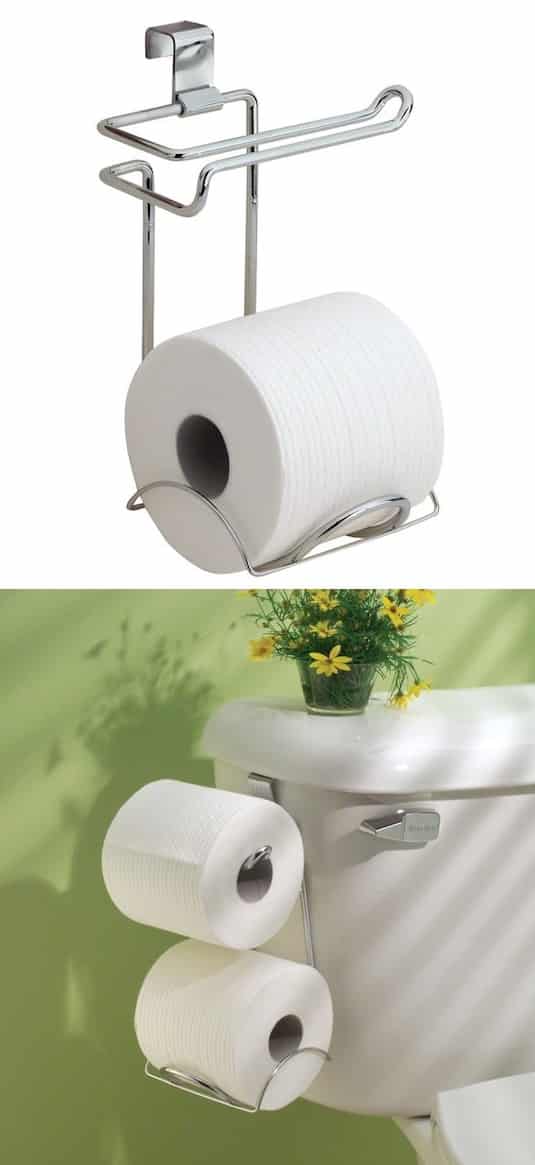 40. Snack & Play Travel Tray
Where was this when my kids were little?! This thing is awesome for coloring, puzzles, games AND eating! It also has handy built-in side pockets to store toys and books in. It has really good reviews and seems to be easy to take on and off (that was my biggest concern). Check it out here on Amazon.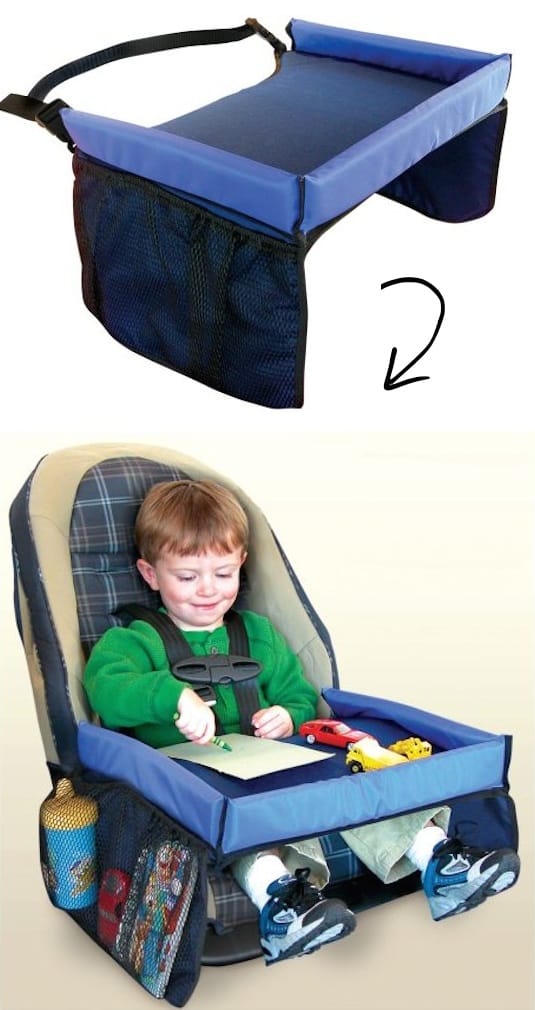 41. Multi-Purpose Car Hooks
These hooks are made to slide onto the back of your headrest to store purses, gym bags, jackets, groceries and more. I normally put my purse on the passenger seat, but if I have someone riding with me, I have to toss it in the back where I can't reach it. This would be a good investment even if just for that! Pick a few up here on Amazon.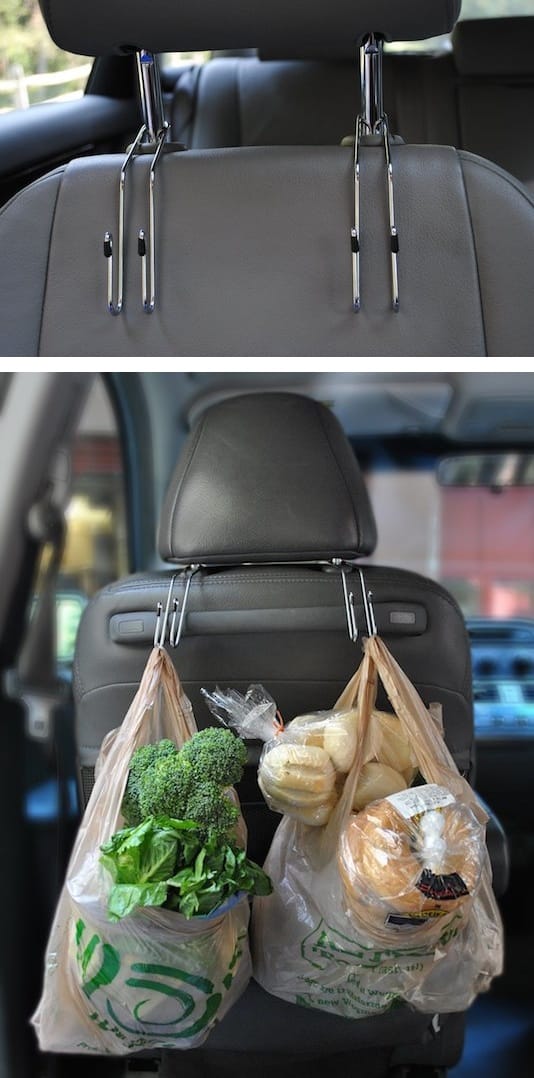 42. Purse Organizer
Like the iPhone, purses seem to be getting bigger and bigger every year. I understand the idea of a large purse because I have kids and I'm always on the go, but it can seem like an endless pit in there when you're trying to find something you need. This purse organizer/liner is made to fit snugly inside with lots of compartments to keep your stuff organized and easy to find! Read the reviews and check it out here on Amazon.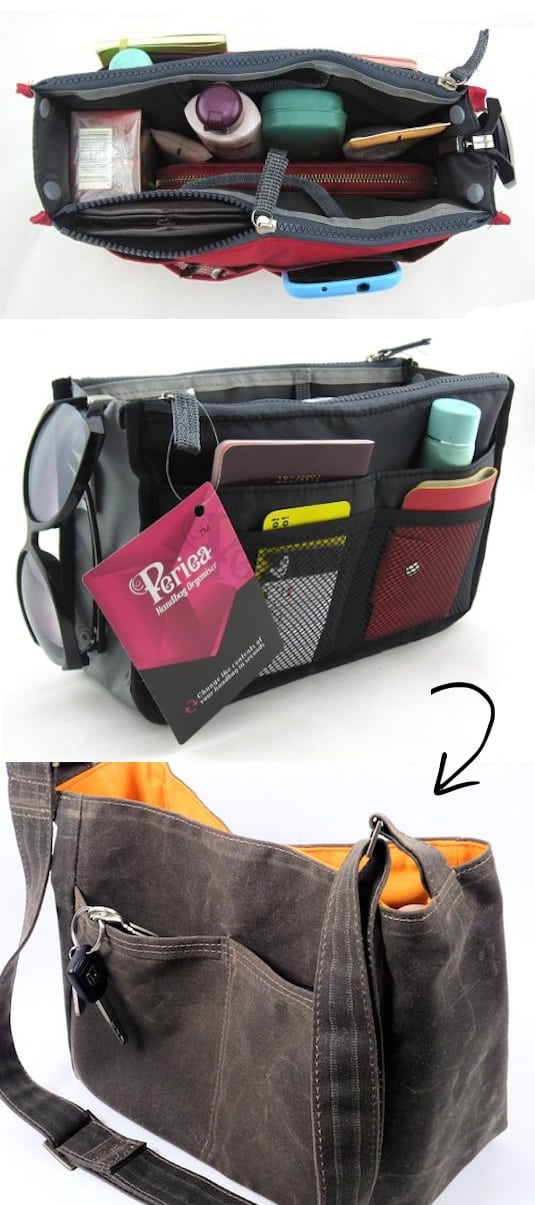 43. Back Seat Work Table
This is going to make your back seat passengers happy on a long drive! I can really only see my kids getting any use out of this as a desk for their iPad or for doing homework, but probably not for a computer. It does fold up and stay out of the way when you're not using it, though. Check out the details and pick one up here on Amazon.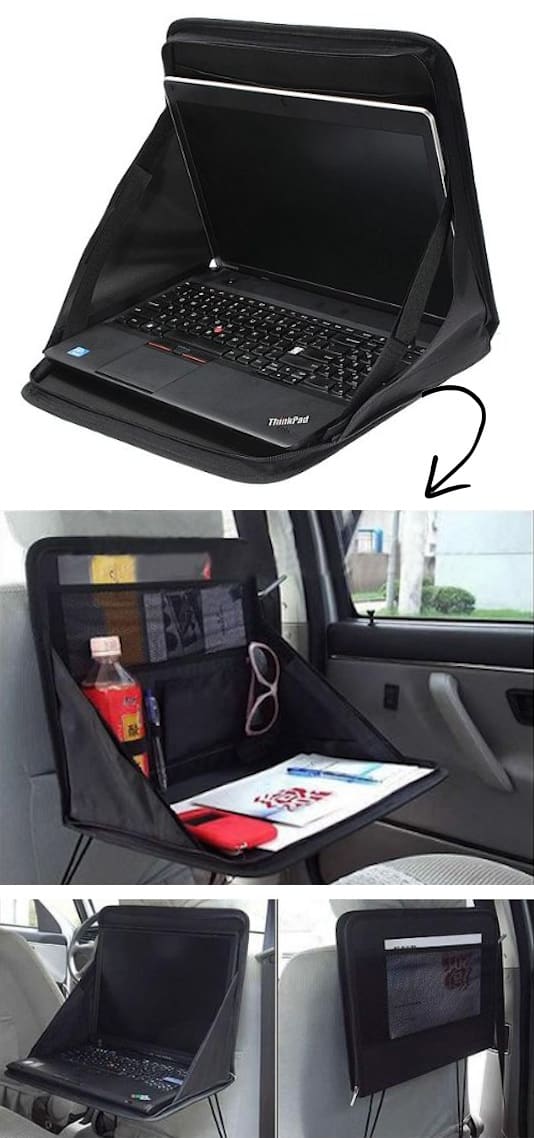 44. Loop Scarf Holder
I've seen many versions of this product (even a few homemade ones using shower curtain rings), but had to include it on the list because of how simple and useful it is! You can hang at least 2 dozen scarves (belts and ties, too) and it doesn't take up more than a couple of inches in the closet. Pick one up here on Amazon.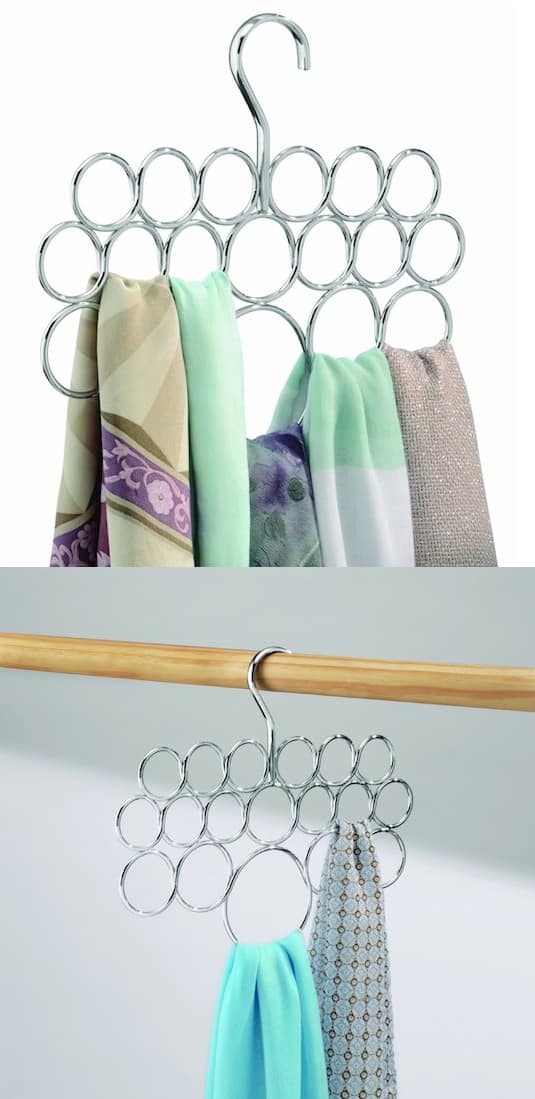 45. Backseat Organizer
Kids and their stuff– such high maintenance little booger! 🙂 This backseat organizer is definitely a great way to keep all of their essentials handy and organized while on-the-go. It sits flat enough against the back of the seat that it doesn't get in the way of other passengers. Pick one up here on Amazon.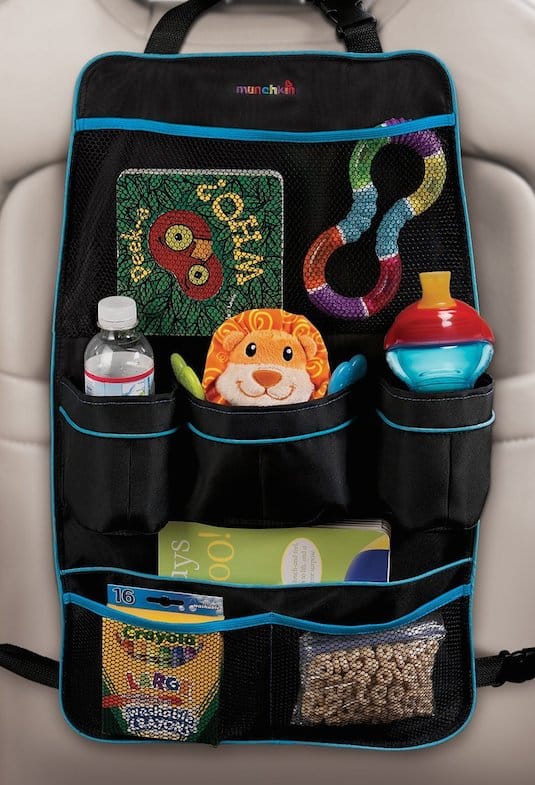 46. Mirrored Jewelry Cabinet
Doubles as a mirror and jewelry cabinet! This would look nice in the corner of a master bedroom (or large bathroom), and keeps your jewelry safe and organized inside. If you have a lot of jewelry, this might be a good solution!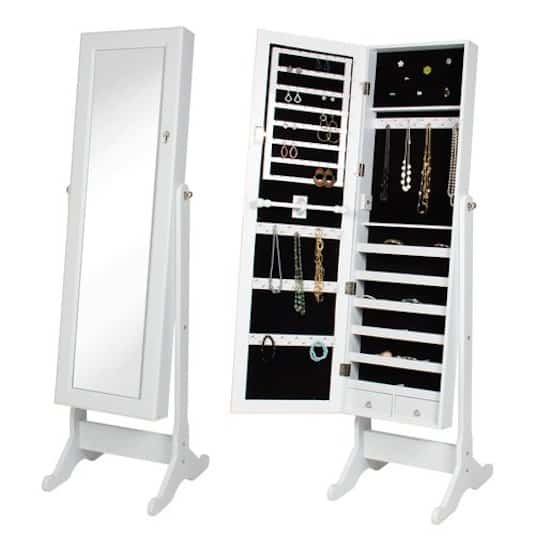 47. Hanging Closet Rod
If you have a closet with only high rods for hanging clothes, it can be a waste of space (unless you have long dresses), and is hard to reach for the little ones. This closet rod is adjustable so you can set the hanging height exactly to your preference. Read the reviews and pick one up here on Amazon.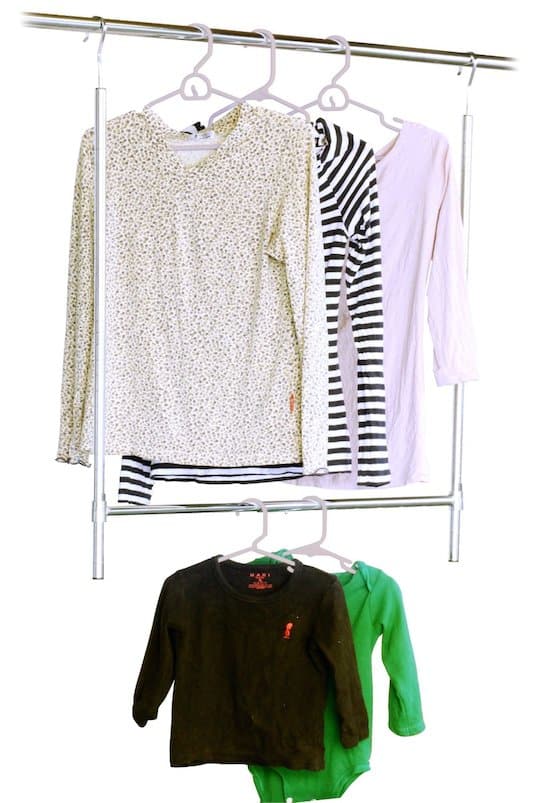 48. Stackable Can Organizer
These remind me of the soup organizers they have at the grocery store! I love how when you grab a can the next one rolls right into place. You can also stack them, so if you have a large space without shelving you could really store a lot of cans. Pick one up here on Amazon.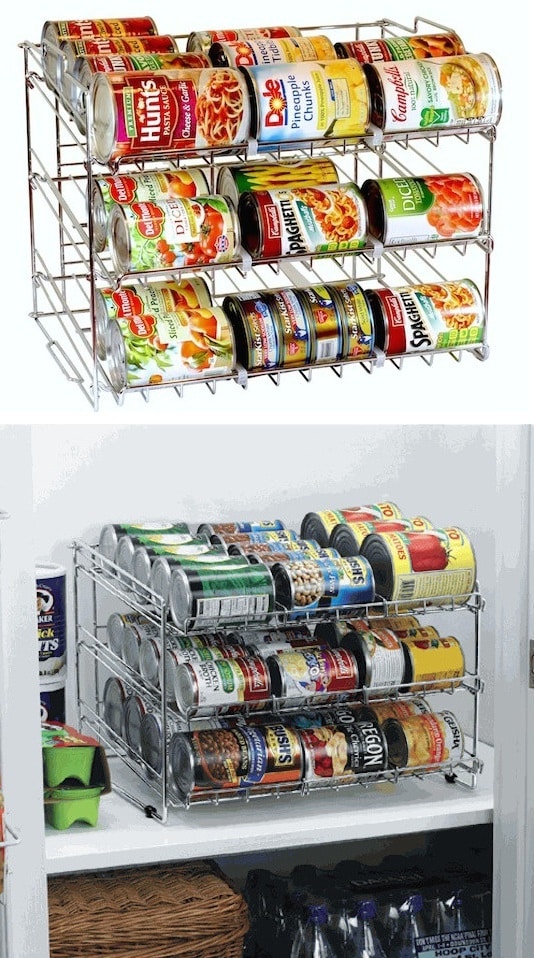 49. Dual-Sided Closet Organizer
Each side has 23 pockets and it snaps onto a hanger for easy storage in any closet. It's perfect for smaller items like pantyhose or socks, but I have a feeling my husband would love this for his electronic devices, although, he would need a dozen of them to fit all of his cords. Pick one up here on Amazon.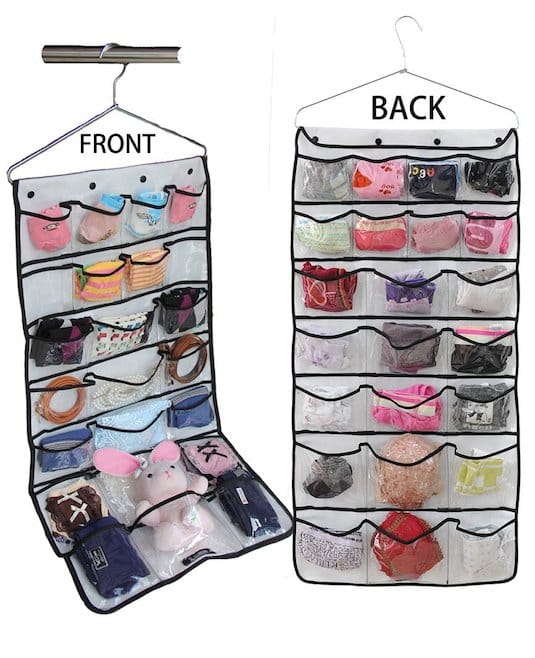 50. Closet Organizer Hanger
This unique closet hanger is great for anything with straps (tank tops, lingerie, camis), and only takes up the space of a single hanger. Perfect if you are limited on closet space! I found them here on Amazon, but I also found these tank top hangers that I thought might be a little more practical and maybe easier to remove your tank tops from.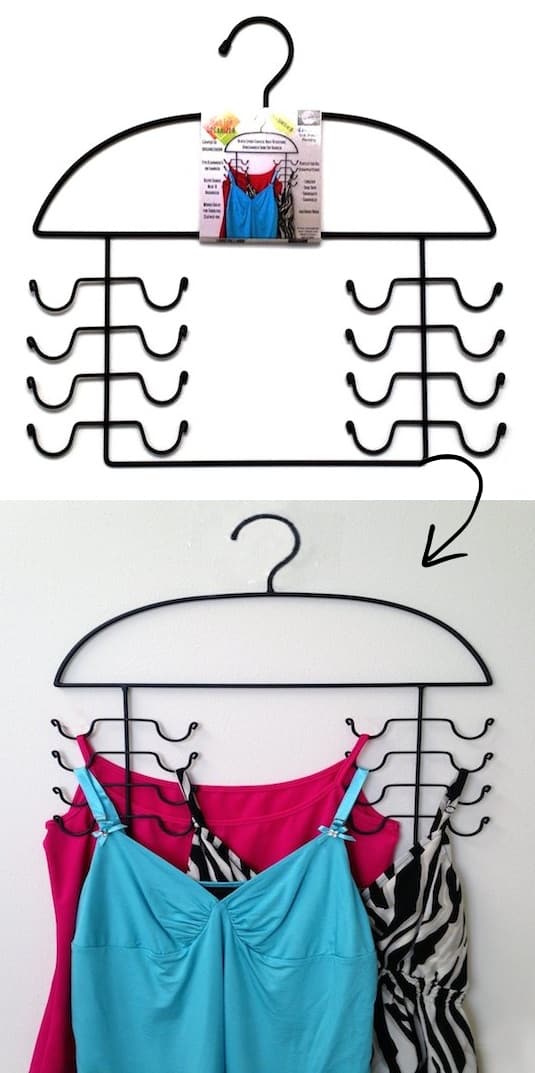 51. Adjustable Cabinet Shelf
These create a lot of additional storage space in your cabinets! Just think of all the empty air space you have in your tall cabinets with your short little coffee mugs. I purchased something similar to these at Ikea, but they weren't adjustable and I was a little disappointed in their size. Read the reviews and pick a few up here on Amazon.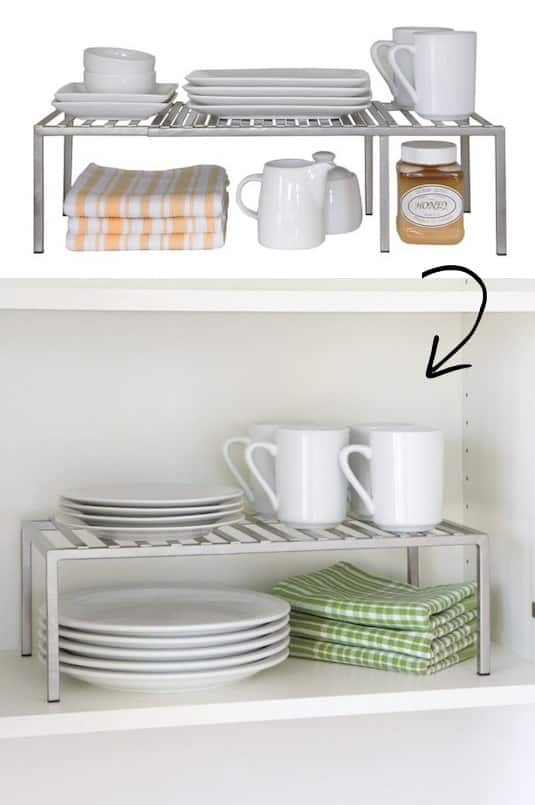 52. Carousel Organizer
I bought one of these last year for my hall closet to organize shoes, umbrellas, scarves and hats, and I love that it only takes up half of the closet space, but can fit so much stuff! The one downfall is that it really only fits children's and women's shoes. My husband has to put his in the larger center consoles, or as he prefers, piled up on the floor in the entryway. I can see how this would also be useful in the kids' bedroom closets for toys and stuffed animals. You can pick one up here on Amazon.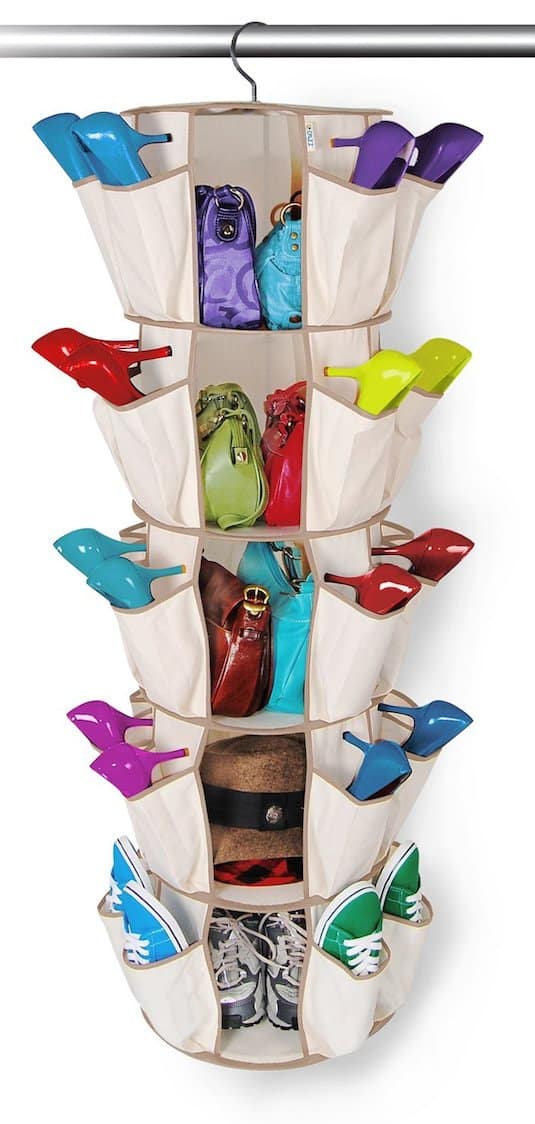 53. Hardware & Craft Cabinet
Why am I so fascinated with mini drawers? I think I just LOVE to be organized. This little cabinet is ideal for the garage or craft room. I'm thinking beads, pom poms, tacks, paper clips, screws, batteries, tape and a lot of other tiny things! Read the reviews and pick one up here on Amazon.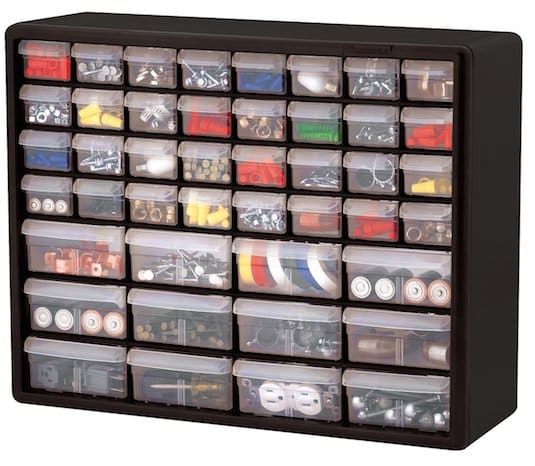 54. Gift Bag Organizer
I save just about every bag, bow, tag, piece of tissue paper and ribbon that usually comes along with the kids' birthday parties and holiday events, but to be honest, I don't end up recycling them because they are so unorganized and hard to find in the back of my spare closet, so you can see why I love the idea of this hanging gift organizer! It wouldn't take up hardly any space, however, because it so flat and meant for bags and paper, I can see how you still might need something to store your bows and other things that you don't want crushed. Check it out here on Amazon.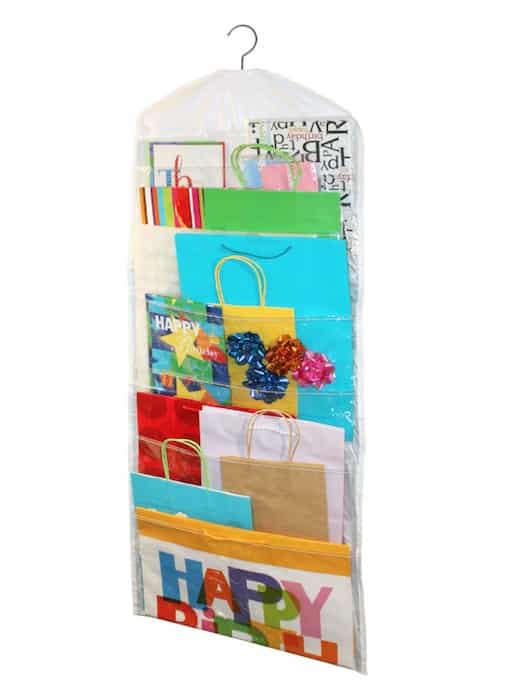 55. Packable Shelves
Mind blown! The idea of simply hanging up your luggage in a closet is just plain genius. If you travel a lot, this is a must– It's one less bag on the hotel room floor! You can pick one up from Rise Gear, or something similar (more of an insert for any bag) here on Amazon.