Updated on
Moving from one house to another can be stressful and exciting all at the same time. Staying organized, making lists, and planning ahead make the whole process a lot easier, but so does having a few handy packing tips and tricks up your sleeve!
Staying organized, making lists, and planning ahead makes the whole process a lot easier.
Because my family is planning a big move in the near future, I've spent the last week looking for ways to make the whole moving process more enjoyable. I'm really not one to obsess over the little things, but I do want to get our belongings from one place to the other in one piece. We've just purchased a few new furniture items and I don't want to risk any damage. These are the ones that were most helpful to me!
I've also included a checklist of non-packing essentials that should be planned in advanced. Hope they help! Plus, I found this great (very thorough) checklist from Art & Home for you to follow, from picking your move date to setting up your beds for your first night in your new home.
1. DIY Box Handles
Make picking up and lifting heavy boxes a little easier by cutting handholds in two sides of the box with a utility knife! Leave the top flaps of your triangular cut-outs attached and simply fold them in. I also find it helpful to reinforce your cut edges with a little packing tape so that they don't rip (especially the top corners).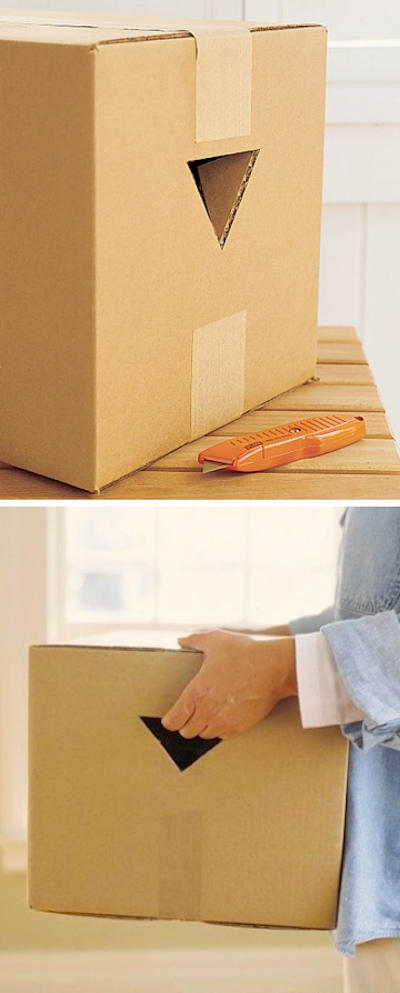 2. Padding & Space Fillers With Soft Items
Place stuffed animals, pillows, sheets, blankets, and other soft items in trash bags and use them as padding next to fragile items in the moving truck. It also helps fill up irregular empty space in the truck so your belongings won't shift around during the move.
Use pillows and stuffed animals to fill irregular empty space…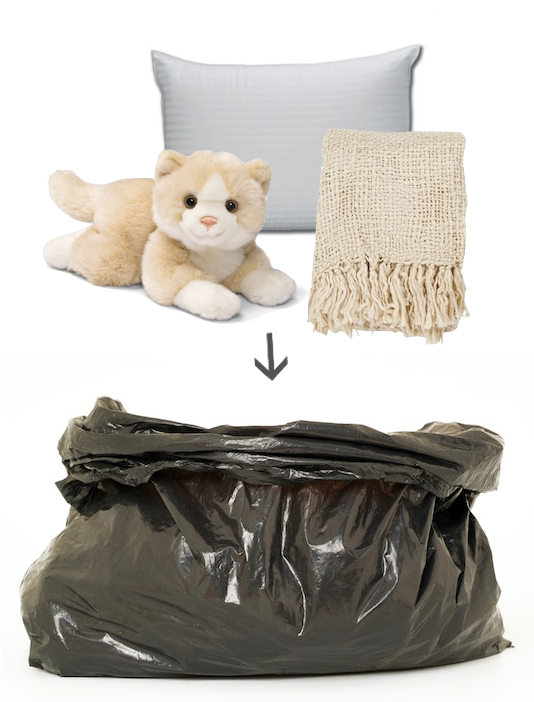 3. Defrost Your Refrigerator
Plan ahead! Don't forget to defrost, towel dry, and clean your refrigerator 24-48 hours before moving day. This will help prevent a stinky, wet mess.
If your refrigerator will be sitting for a while, it's important to clean it REALLY well. Otherwise all of the little food particles that are left behind start to stink. It will be a nice surprise for you when you go to open it up at the new house. 🙂
Also, if you're trying to save space for a long distance move, consider utilizing the empty space in your fridge for light weight items, and don't forget to pad the handles and the face of the fridge really well because they dent very easily.
Consider utilizing the empty space in your fridge for light weight items…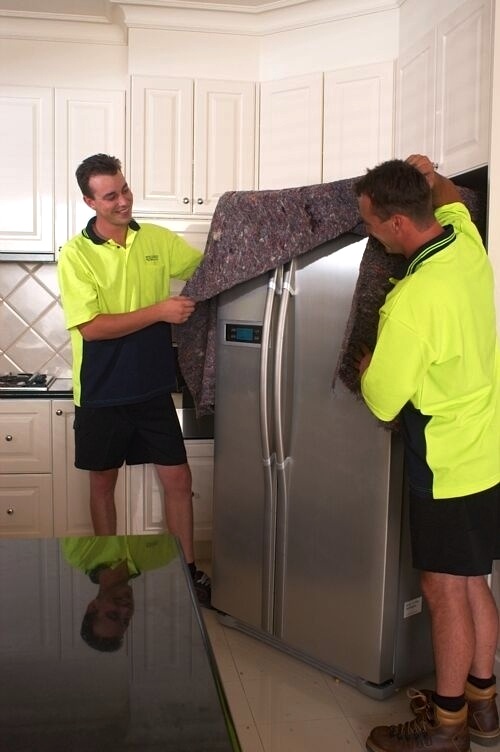 View the entire list of Helpful Moving Tips Everyone Should Know.
---