Last Updated on May 3, 2021
It's something we do every day — wear clothes! So, it somehow makes sense that we all have a few clothing tips and tricks up our sleeve. Everything from style and fashion to little tricks that help with all of the dilemmas we have with our bra straps, tight jeans, and uncomfortable shoes. These are all clothing tips that made me think "Why didn't I think of that?!". So, I thought I'd pass the wisdom on for other people that wear clothes. I figured there were a lot of you, so here we go!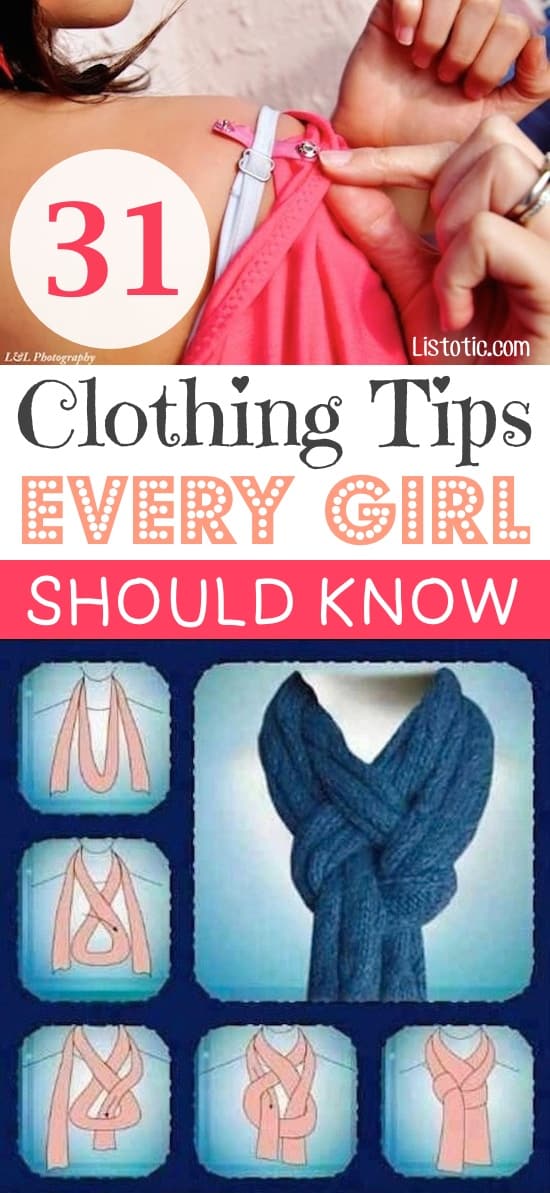 1. Tucking Jeans Into Boots
No more fat ankles!! Most of my jeans are boot cut or straight leg (guess I'm just not a skinny jean kind of girl). This poses a problem when it comes to wearing boots — not only does it make it hard to zip them up, but I'm sometimes left with bunched up fabric that is uncomfortable and unflattering! If you have a similar problem, here is a nice little trick to tucking those non-skinny jeans into your boots.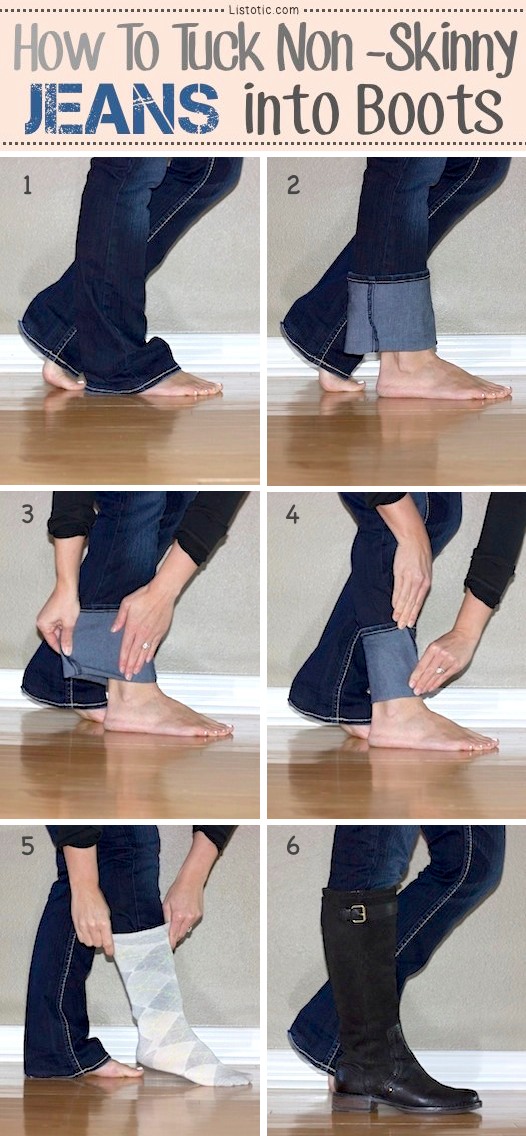 2. DIY Bra Strap Concealer
This clever clothing trick not only keeps your bra strap concealed, but also keeps your wide neck shirts from falling off of your shoulder. Smart! All it takes are a few thin strips of fabric and sew-on press studs. Check it out here.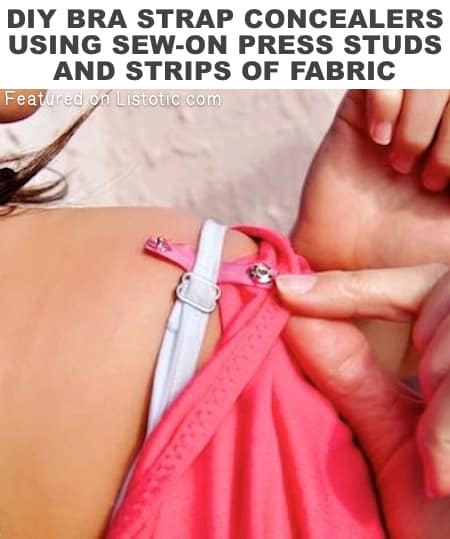 3. Clever Zipper Solution
I have a few pairs of jeans that do this (too tight perhaps?). I'm not sure, but here's an easy trick to help keep that pesky zipper up! Slide a key chain ring onto the loop of your zipper, and then loop it around the button. The ring stays concealed under the denim and ensures that you don't get caught with your fly down.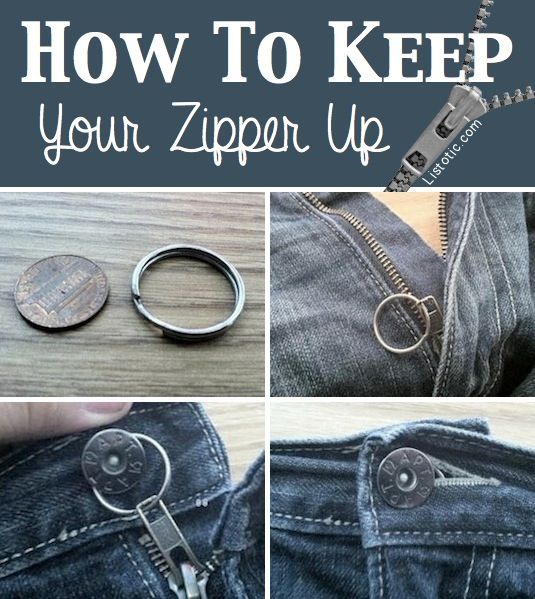 4. How To "Unshrink" Your Clothes
Not all clothes can handle the dryer, but in the jumbled up mess of the laundry, those sneaky clothes somehow manage to make it in there anyway. I had a sweater once (that fit), and could now nicely fit into the wardrobe of my daughter's American Girl doll, Gabby. Oops! Lessoned learned — don't buy clothes that can't handle my laundry skills. Hey, but did you know there is an easy way to "unshrink" them?! It doesn't require going out and buying some special product, either. Go get the instructions here!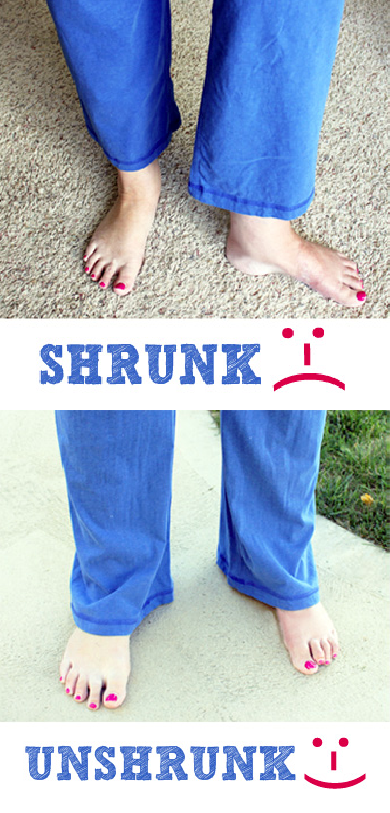 5. Double The Layers, Half The Frump
A slimming trick! Just about every girl could use this. Wear a form fitting tank top between your sweater and button-up shirt to keep your mid section from looking frumpy. This is especially helpful if the button-up is a bit baggy, as the tank will press and flatten it against your torso, hiding bunched up fabric and the outlines of the buttons.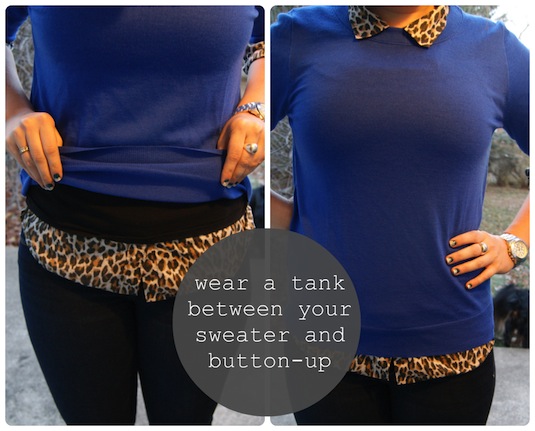 6. Stretching Jeans To Fit
Ok, so you've maybe gained a few pounds, your jeans are getting tight, but not enough so that you need to go out and buy a whole new wardrobe. Been there, done that! You can't stretch them several sizes, but you CAN stretch them enough to make them fit comfortably.
*Instructions: First, get your jeans damp. You can even put them on and then sit in the tub for a few minutes. This eliminates the process of trying to get them on while they're wet. Or, give the areas that are too tight a good spray with a spray bottle. Now wear them around the house for about 30 minutes doing lots of stretching, lunges, squats and perhaps some yoga poses. Now that you've gotten a good work out in (that's just a bonus), take them off and let them hang dry. Repeat that process again once they are dry. You should now be able to breath a little easier!
*Stretching Them Length Wise: If you want to stretch them length wise, get them damp, lay them on the floor, put your foot down on the waist side to hold them down, and then grab the bottom of one of the legs and pull it firmly towards your body about 10 times. Repeat this process for the other leg.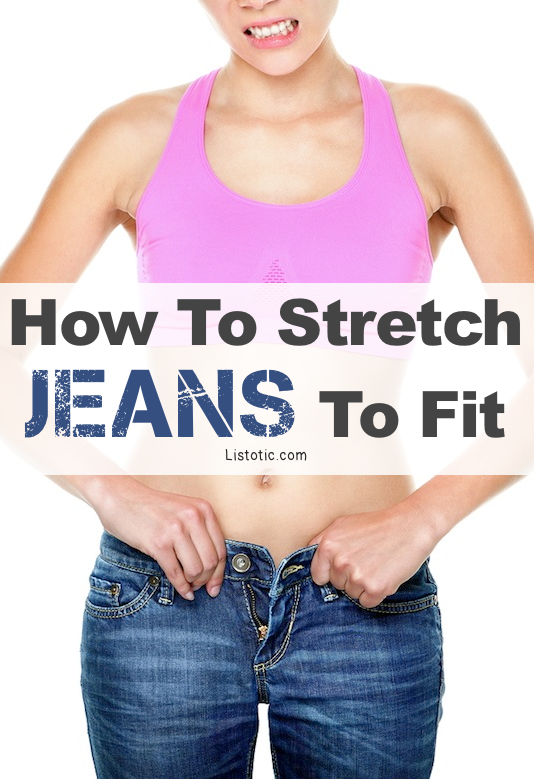 7. Choosing Necklaces For Necklines
I've never really given this much thought, but pairing your jewelry with your neckline certainly makes a difference! Your necklace choice should compliment your outfit; the neckline of your shirt or dress being the most important thing to consider. Check out Inside Out Style for more details!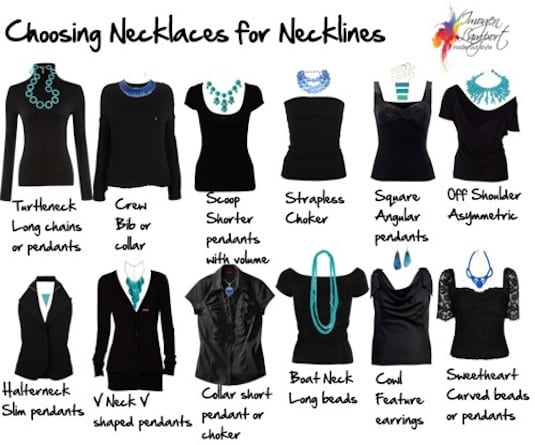 8. Removing Deodorant Stains
This happens ALL the time! I've learned that there is an art to putting on a shirt if you've already put your deodorant on — very, very carefully. Unfortunately for me, black makes up 80% of my wardrobe, so this is just unavoidable sometimes. Baby wipes are handy for so many things, which is why you should keep a pack near your closet to remove those evil white deodorant marks!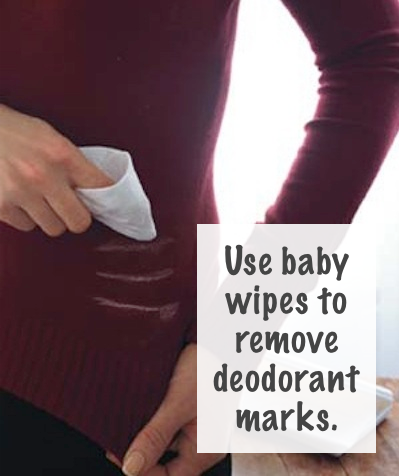 9. Folding T-Shirts In Horizontal Rows
Well, this makes sense. Folding and organizing your shirts in rows makes it easy to see and easily find the t-shirt you want. Brilliant! It also takes up a lot less drawer space. You just have to be sure to fold your shirts with the print facing up. This way you can easily identify each shirt once they're organized in the drawer.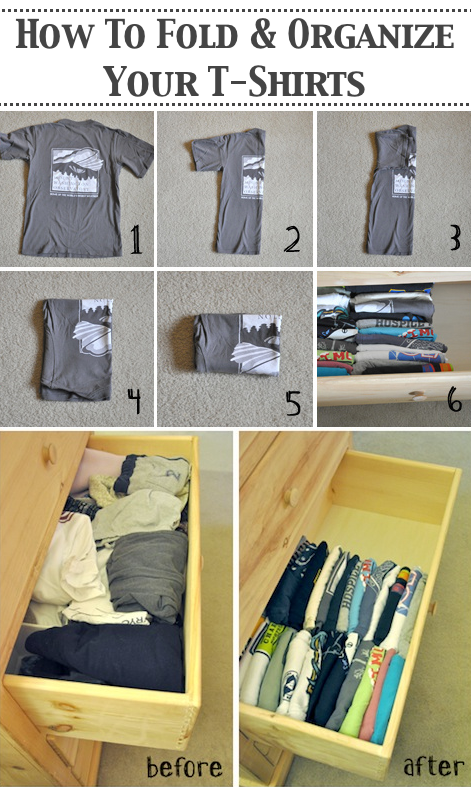 10. Stretching Shoes The Easy Way
A cute pair of shoes are worthless if you can't actually wear them! I'm definitely guilty of that; I have a closet full of shoes that I rarely ever wear. I suppose comfort always triumphs over style. My feet seem to be a little bit on the wider side, and this is probably the main cause of discomfort in a lot of my shoes. Here's an easy trick to stretch out your shoes a bit! Fill a couple of good quality zip lock baggies half full with water, seal them with most of the air out, and then place them in your shoes over night in the freezer. Repeat if needed. Too cool!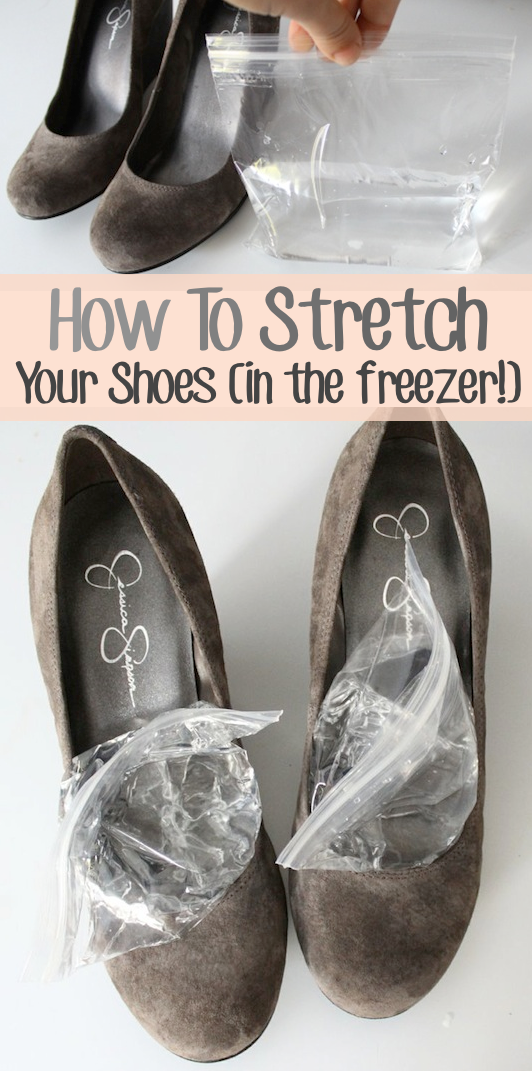 11. Repurpose An Old Sweater
Sure, you can buy boot warmers. Or, you can get creative with an old sweater and make your own! It could be as simple as cutting off part of the sleeves. This way there's no sewing required. My husband might be mysteriously missing a few of his sweaters if it doesn't start getting warm around here.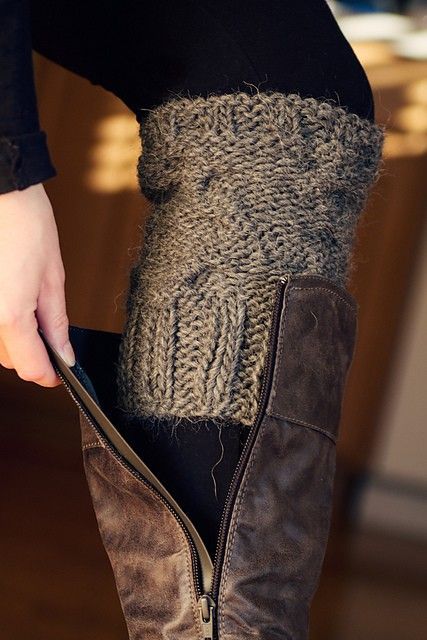 12. Eliminate Yellow Sweat Stains
That nasty yellowing in the armpits of your white shirts — you're not the only one. I don't even notice that I sweat, and I still get them! Keep a water bottle handy in your laundry room full of lemon juice and spray any areas of your white clothes that are prone to sweat stains before you put them in the wash. This stuff works miracles.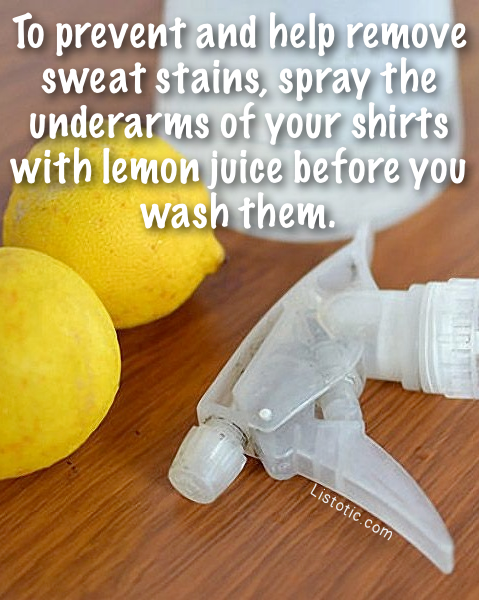 13. Think Outside Of The Belt
On a scale from 1 to 10, my sense of fashion hovers somewhere around maybe a 5 (on a good day). I'm mostly just a jeans and t-shirt kind of girl, but I do for some reason unknown to me have a lot of belts and other accessories that I never wear. I think a few of the belts came with a shirt or sweater that I've purchased in the past. But, even with my lack of style, I'm really digging these belt knots! What a subtle way to add a bit of character to any outfit.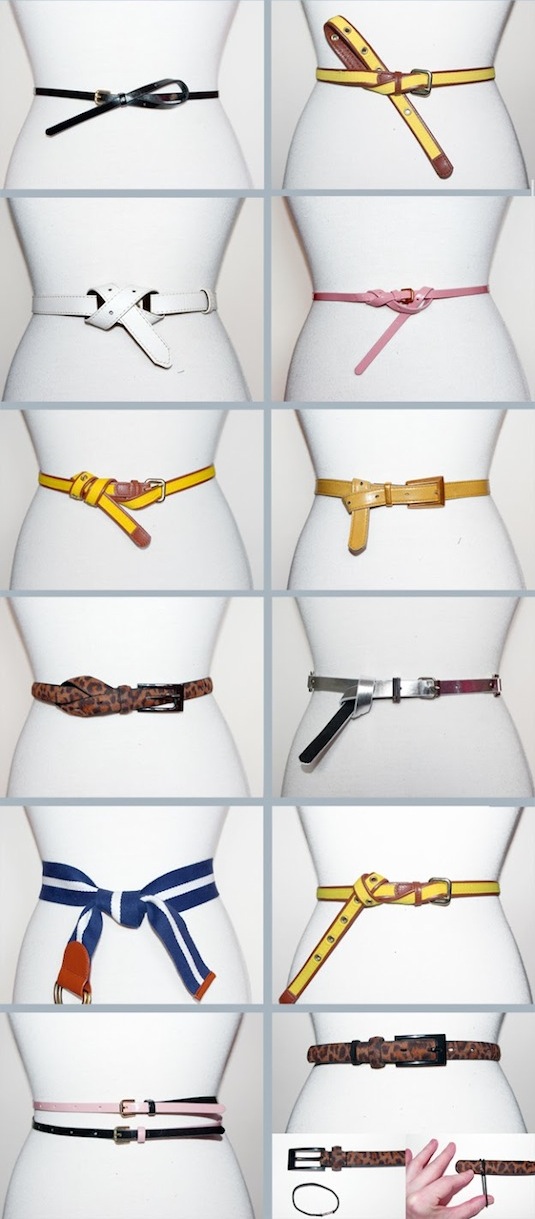 14. Soften Your T-Shirts With Salt
No way! This technique takes a little bit of time and patience, but very little effort. Just submerge and soak a cotton t-shirt in a salt water solution for about 3 days, wash like normal, and then say goodbye to stiffness!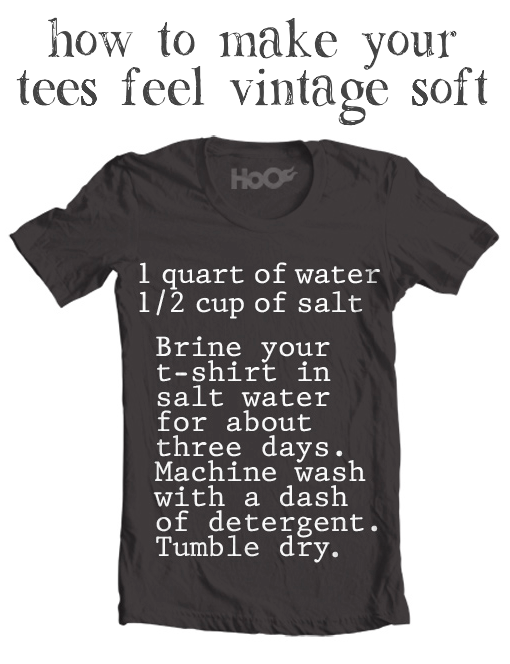 15. Make Your Own Cap Toe Shoes
This is just too easy to actually go out and buy an expensive pair of cap toe shoes, and this way you can completely customize them with any color and any shoe you'd like! The only thing I'd do different is use newspaper or something under the tape to cover up the rest of the shoe in case of over spray, but I think the metallic gold looks awesome with those brown flats!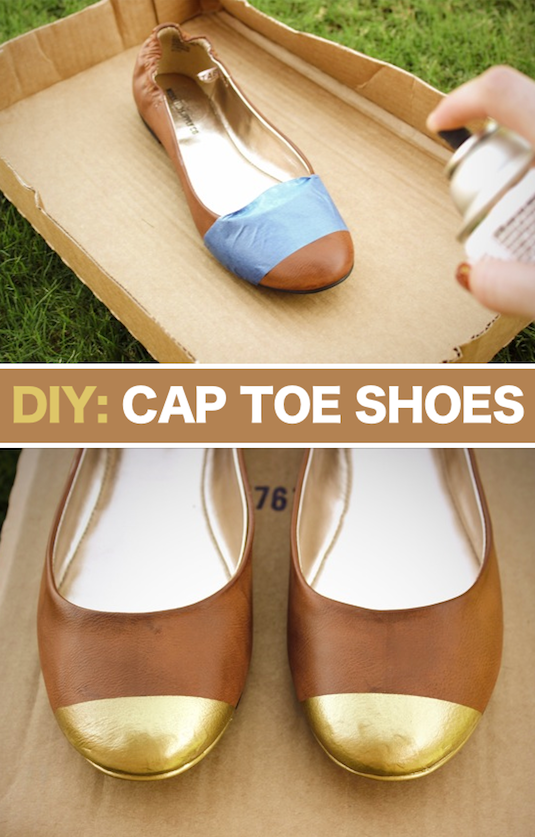 16. The Smart Way To Fold Lingerie
Yeah, I have a few of these fancy pieces of lingerie that I will never wear. I have them hanging in my closet! How stupid am I? They are just so awkward; I've never even considered trying to fold one. Turns out there is a really clever way to fold them to fit in a drawer quite nicely.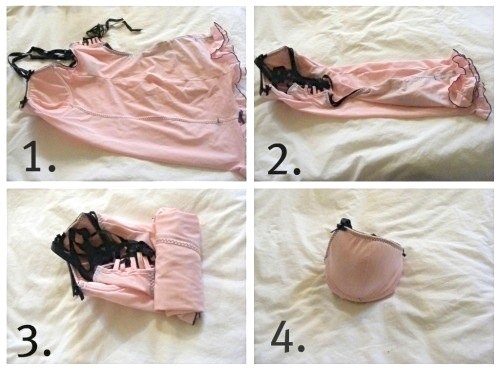 17. Waterproof Your Shoes With Beeswax
I love canvas shoes because they are so light and breathable! But this also means that they don't have any protection from the elements. Here is a simple trick using beeswax that will waterproof your shoes. Now you can wear them even on a rainy day! My daughter has a collection of Toms that could use this.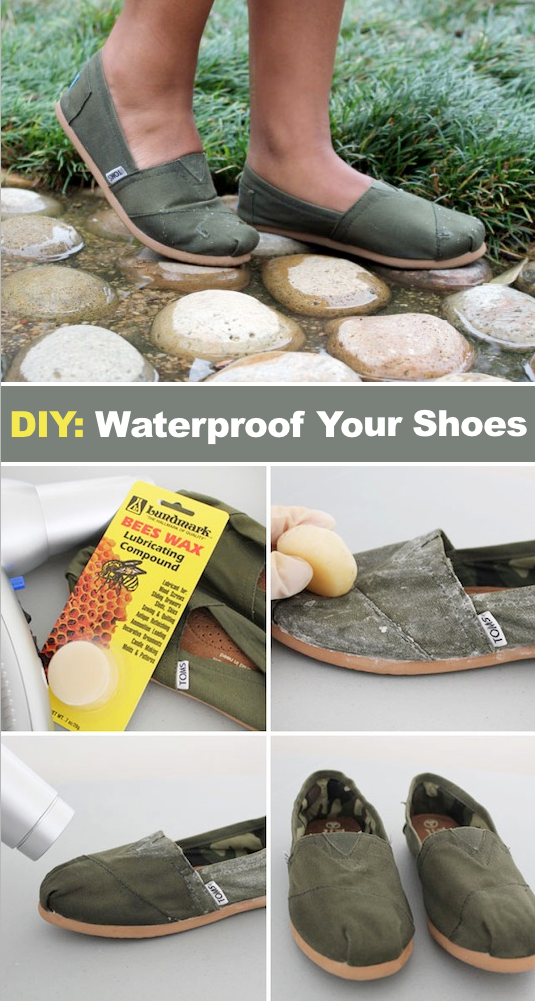 18. DIY Double Clothes Hangers
Be sure to save those little tabs from your soda cans. Hard to believe, but my collection is getting bigger than my stash of wine corks. You can use them to create double clothes hangers. I like this idea for my daughters clothes so I can pair outfits together for the week. This way she already has them planned out (by me because she couldn't pick out a matching outfit to save her life). It also saves on closet space!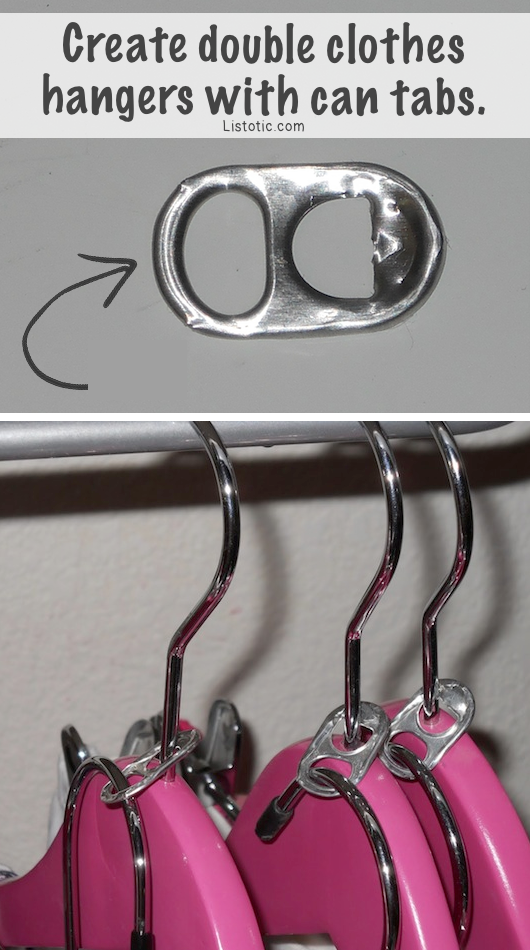 19. Hosiery & Hairspray
Yep! You probably already know that you can stop a run in a pair of pantyhose with clear nail polish, but why not just prevent the runs in the first place with hairspray? Give them a quick spray with an aerosol can, paying special attention to the areas that are prone to runs.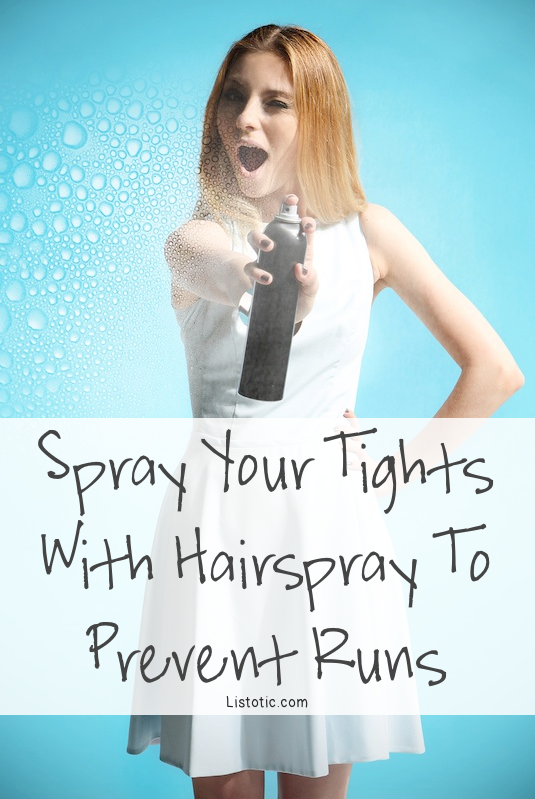 20. Clever Patchwork
This makes me want to go and rip a few holes in my daughter's jeans! How adorable is this? Get creative with your patchwork and turn a rip into something unique and charming. You can use Heat n' Bond to attach the patch, and then a bit of embroidery floss to not only help keep the patch in place, but make a cool design. See more details here.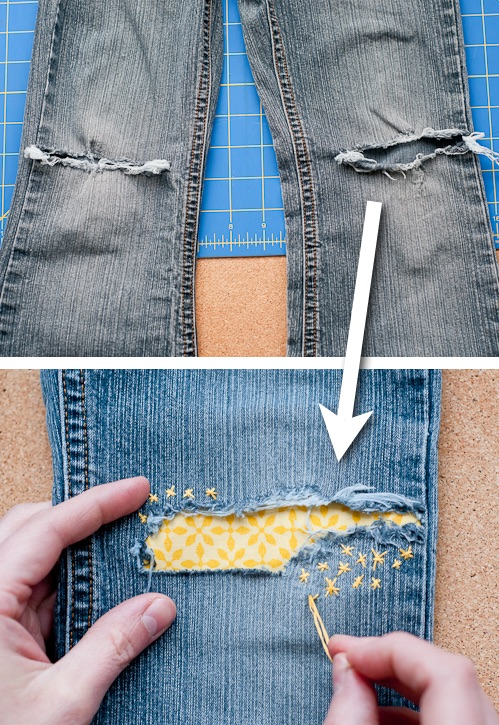 21. Chewing Gum Catastrophe 
Its been a long time since I've had a chewing gum casualty (stuck in my hair once in 3rd grade), but just knowing that it could strike at any time is a good reason to know this tip on how to easily remove it from clothes and other fabric — ICE! The idea is to get the gum as cold as possible. This hardens it and makes it easier to just scrape off. This trick also works for furniture and hair. Good to know!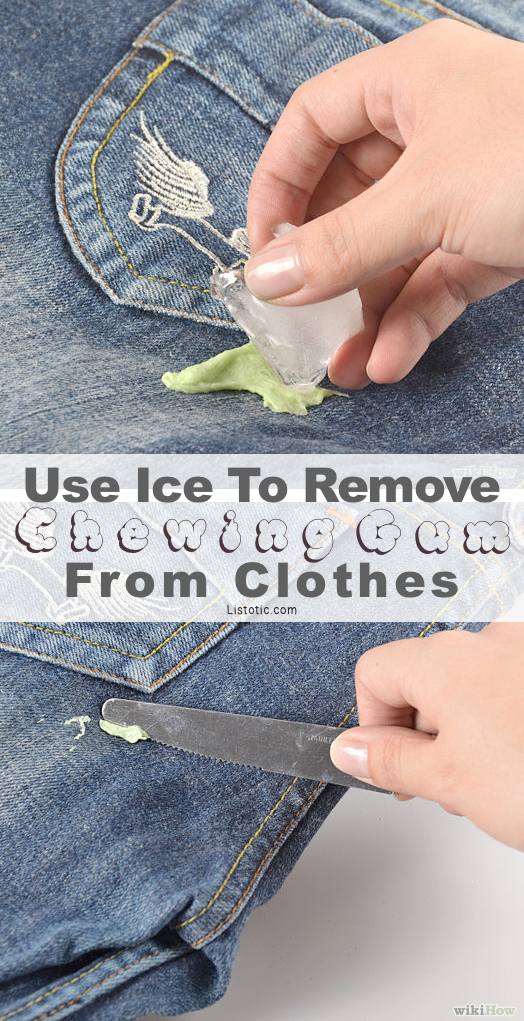 22. Moleskin To The Rescue
I'm excited to say that I actually have a box of this stuff! I think I purchased a box of Moleskin during my insane running days to cover up a few blisters, but it hasn't been touched since. It's basically like a soft fabric with one sticky side– what a great temporary fix for a protruding underwire! It probably won't last through a wash, but who washes their bras anyway? Wait, am I suppose to do that? See more details here.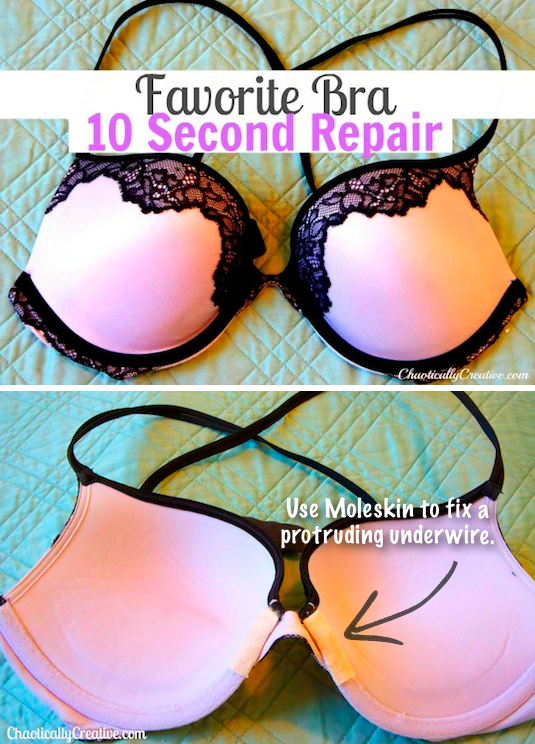 23. Tights Under Ripped Jeans
How pretty! Not to mention a great way to stay warm in the winter. You could do this with any pair of tights depending on your style, but I do love the lace. For a more casual look, perhaps just a pair of plain tights would do.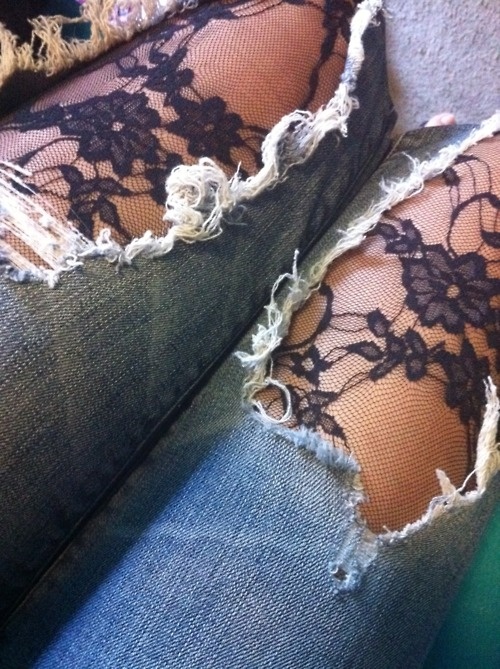 24. Lint Ball Take Down
Those little balls of loose fabric seem to really collect around the underarms, or where the bottom of my arms rub against the side of my sweaters. So what I do is leave them on the hanger and never wear them because I'm lazy. Mostly because I didn't know how easy they were to remove! Just rub your pill infested sweater with a pumice stone, and then use a lint roller to pick them up. A disposable razor also works well on tighter knit fabrics.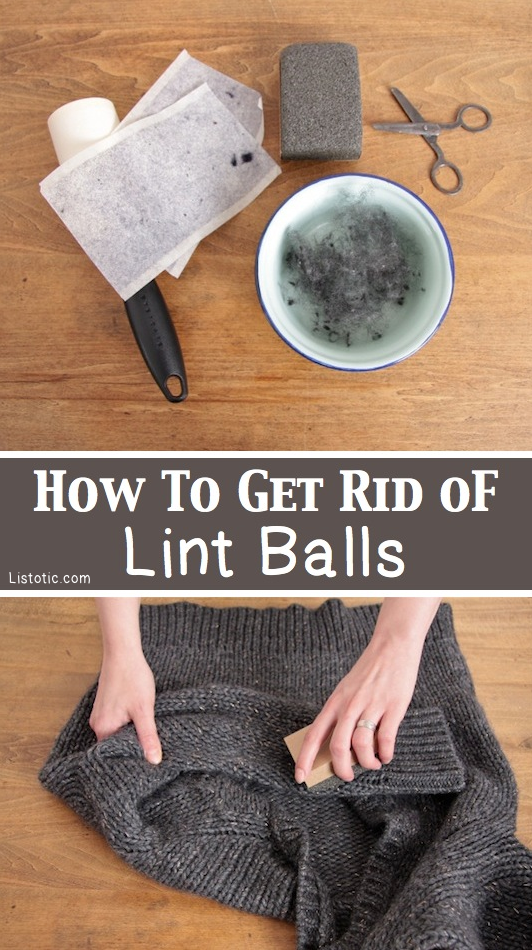 25. Revamping Your Leather Boots
Those white marks on your boots, turns out those are salt stains! This is a problem if you live in the north where the roads and walkways are covered in salt. With just a couple of ingredients you probably already have at home, you can make them look as good as new! Check it out here.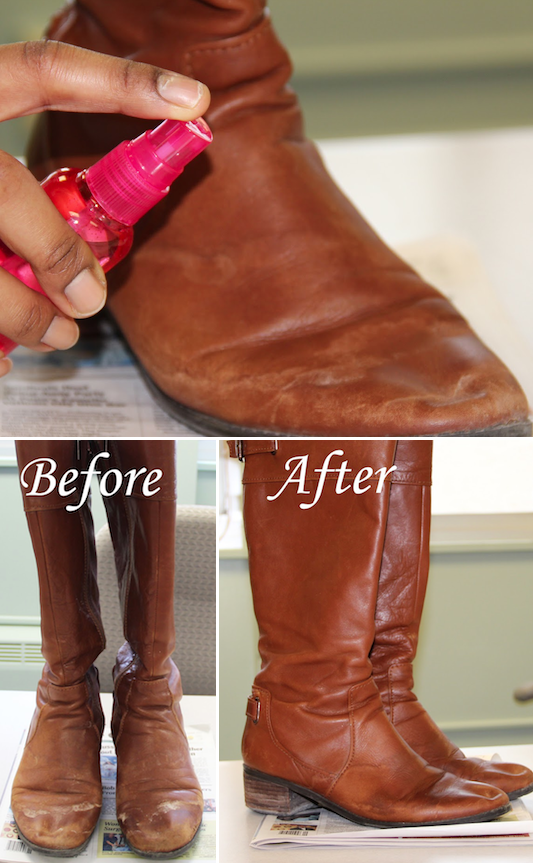 26. Scarf Tying Tip
There are maybe hundreds of ways you could potentially tie a scarf, but let's be honest, you only need a few of your favs. I love this one because it's easy but looks like you actually have a sense of style, AND it stays put! Just try it once and you will always tie your scarves like this.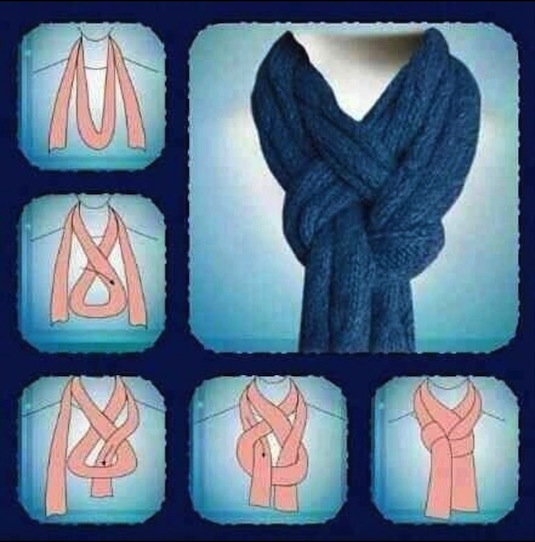 27. Removing A Red Wine Stain
Seems like such a waste because I can and will drink every last drop out of a bottle of sauvignon blanc, but when you're out at the wine bar and didn't take my advice here on how to be a classy drunk (you wore a white shirt, dummy), and you are on your 3rd glass of red wine when it jumps out of your glass and onto your shirt, you need a quick way to neutralize the stain. Just pour a little bit of white wine on there so the red wine doesn't set in.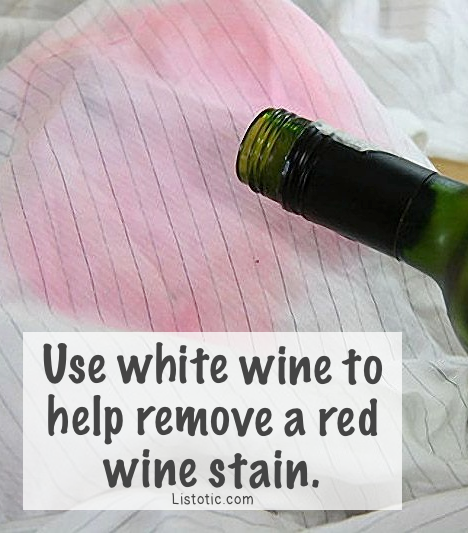 28. Hang Clothes Like A Smart Person
It's such a good feeling when you realize you've been doing a basic chore wrong your entire life. If I were to add up all of the time I've spent hanging up clothes versus how much time I could have spent hanging up clothes, I'm certain that number is somewhere around 3,000 hours (give or take a lot of numbers). If you're like me and you don't get what's going on in the photos, just go check out the video. I'm going to start doing this just because it looks like so much fun.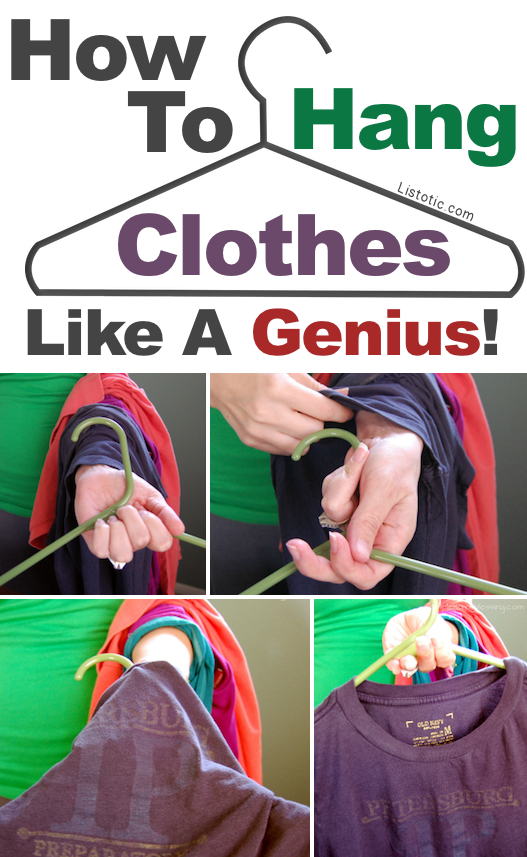 29. Secret Trick For Cuffed Sleeves
Fold, roll, tug and scrunch. That's if you want the J. Crew look — you know, effortless looking but awesome. Although I wouldn't button up my shirt all the way to the neck and wear a denim shirt with jeans, but remember, I'm only a 5 when it comes to style and fashion.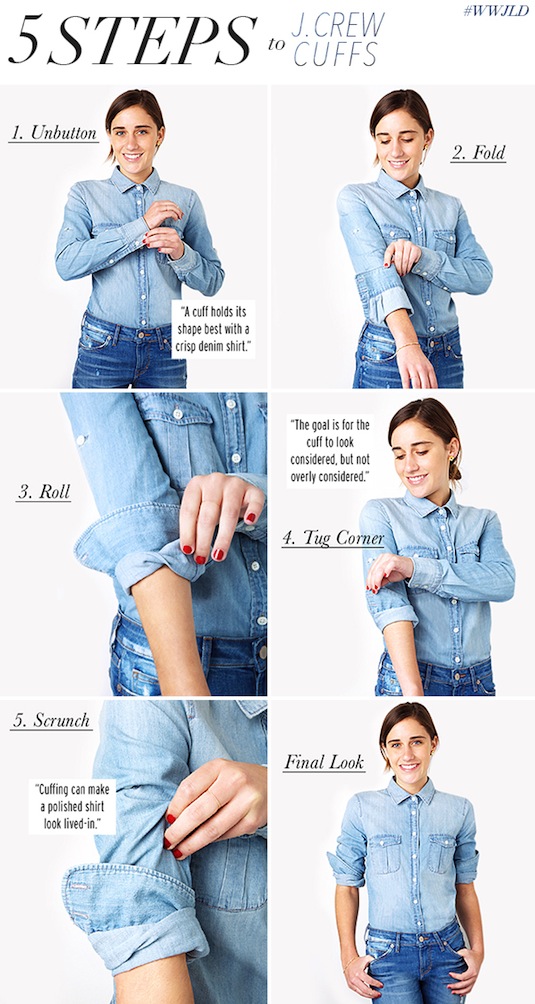 30. Hoodie Strings Gone Astray
I've lost more hoodie strings than I can count on one hand. This is why in my wise old age I have discovered that if you make a few knots in the ends of the string, it's less likely to get lost through those holes. But, let's just say you didn't do that, and one get's sucked in there. There are a few ways to rescue it!
If it falls all the way out (if it doesn't, pull it out), you can push one end of the string through a straw, staple it on, and then push it back through the narrow tunnel of your hoodie.  You can also attach a safety pin to one end (gives you something hard to grip through the fabric), and use your fingers to guide it though the channel.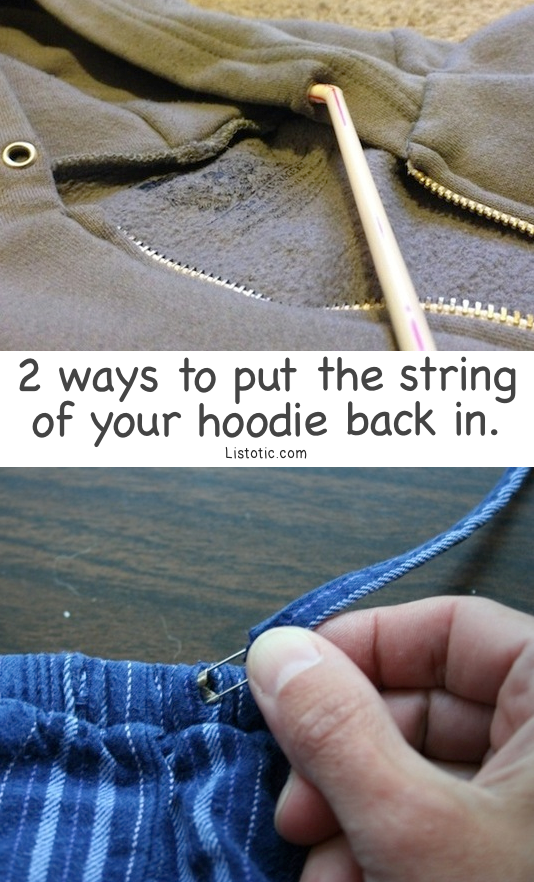 31. Hang Your Pants Like A Pro
For whatever reason, this is called the savile row fold, and is a smart way to hang your pants if you have a problem with them slipping off of the hanger. Just straddle the hanger with your pants upside-down, and fold one leg at a time through the hanger so that the second leg is resting on top of the first.