Last Updated on August 21, 2023
Small Space Hacks to Make Use of Every Possible Space Without Looking Crowded
DIY storage ideas for small spaces, small homes, college dorms, tiny homes, campers, lofts, and apartments. Even solutions for small bedroom storage ideas! Fitting all your belongings in a small space is hard. But just because you live in a small space, doesn't mean you have to feel like you do! Not with a few tips and hacks up your sleeve like these small space living ideas. 🙂
Staying organized and finding room for all of your stuff in a small home can seem almost impossible, but if you get creative with how you configure your furniture, utilize all of the empty vertical space, and invest in a few helpful products, you might just discover that you need less space than you think with these clever small space hacks. See all the budget-friendly DIY storage ideas for small spaces below.
"The greatest wealth is to live content with little."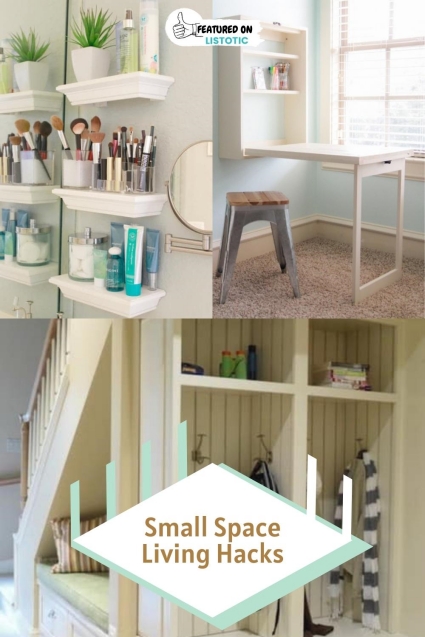 This post may contain affiliate links. Please see our Disclaimer Policy.
1. Ceiling Shelves Small Space Hack
The vertical space above your furniture can be cleverly utilized with built-in shelves that hang down from the ceiling for your books, frames, and other items that don't need to be used on a daily basis. All of that shelving without taking up any needed space! This can be done in just about any room of the house. Clever small space hack idea!
High shelving utilizes vertical space that would otherwise go unused…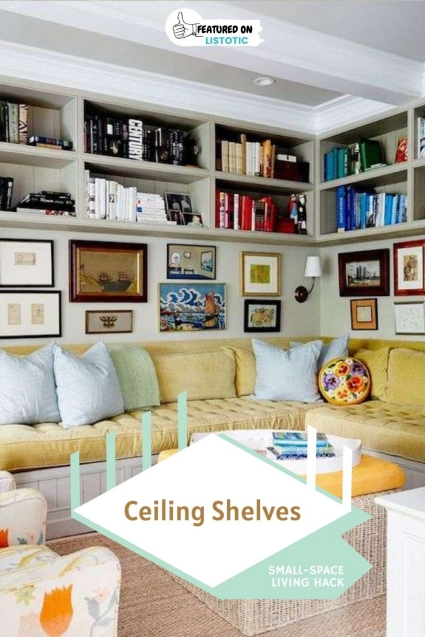 2. Small Space Dining
No room for a dining room table? Use a console table at the end of a couch in a living area that's next to the kitchen. It doubles as a place to eat, craft, rest, and work! This would also be a convenient place to set a drink down while you're on the couch. You can find more information about this table here.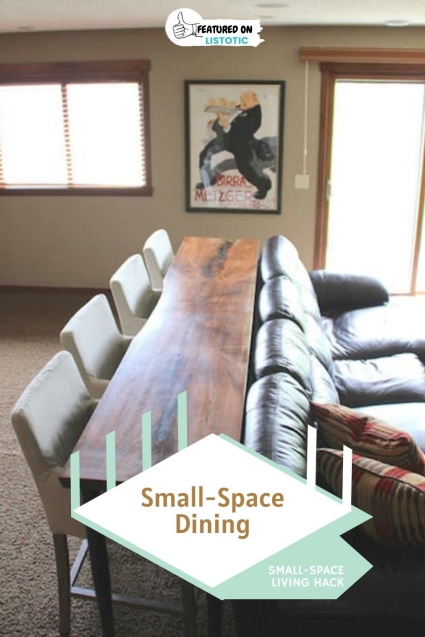 3. Between the Studs – Small Space Hack
Small homes and apartments don't typically have a lot of storage space. Even finding a place for the broom can be challenging! This is where taking advantage of the wall space in between the studs in your walls comes in handy. I've seen this done in closets for jewelry, bathrooms for small toiletries, kitchens for spices, and laundry rooms for brooms and mops. Check out the details of this small space hack here.
In between the studs cabinet is one of the most clever DIY storage ideas for small spaces I've ever seen!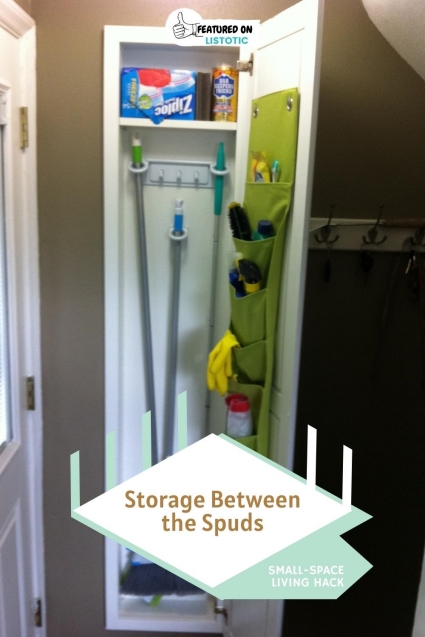 4. Corner Shelving
If you look around your home, you may be shocked to see all of the corner space that is not being used to its full potential. Installing floating shelves will not only create extra storage space, it will also become a visually appealing spot for your little knick-knacks and decorations.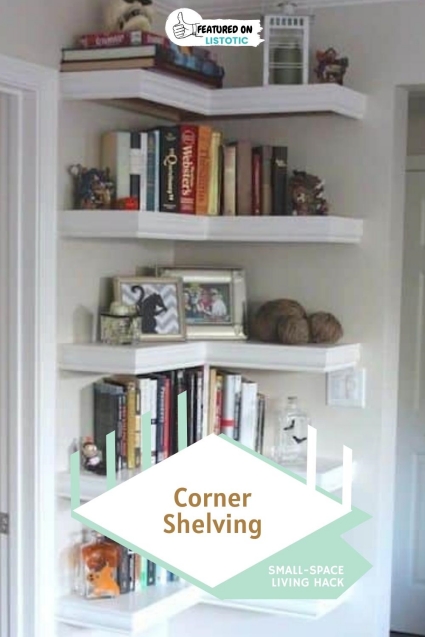 5. Behind-The-Door Towel Rods
Don't forget about the tiny space behind your doors! It's a perfect small space hack for hanging towels without taking up any of the space on your walls. How's that for a tiny bathroom hack!? I do feel that you would need a door catcher, though, to prevent the rods from banging up against the wall. Check out the details for this project here.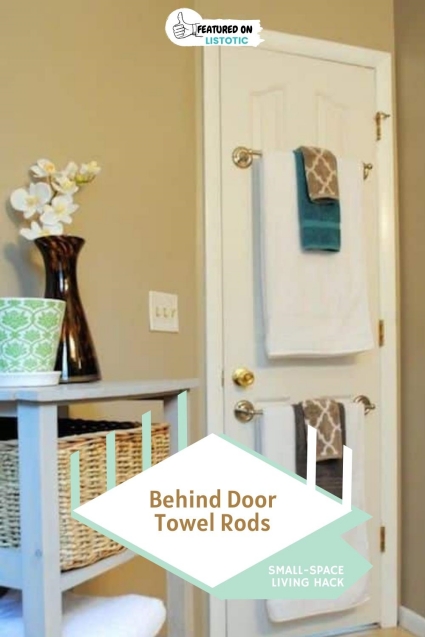 6. Large Mirrors
Another trick for small bedroom storage ideas! No matter the space (big or small), mirrors can completely transform a room. Not only do they create more light, they also give the illusion that the room is much larger than it really is. It's also a fabulous way to decorate!
Mirrors create the illusion of a larger space…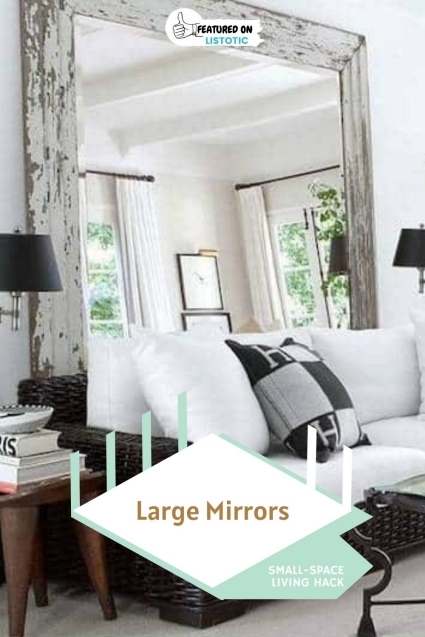 7. Corner Nightstand – Small Bedroom Storage Ideas
You might not have room for a nightstand, but a small corner shelf can at least give you a place to put a small lamp, store a book or two, keep your ChapStick nearby, and charge your phone or tablet.
A small space hack for the perfect spot to charge a phone or set down a drink…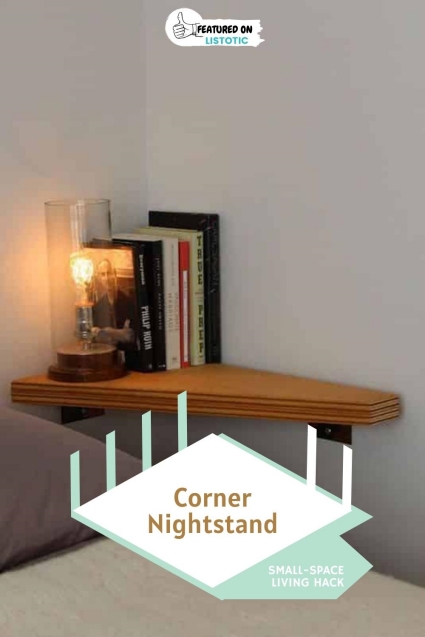 8. Above-The-Door Shelf
And this is how you make a tiny bathroom work– by getting crafty with the unused vertical space above the door. I like this DIY storage idea for small spaces like the guest bathroom. Store towels that you don't want the kids using (because they can't reach! Mwahahaha). Get the details and instructions for this project here.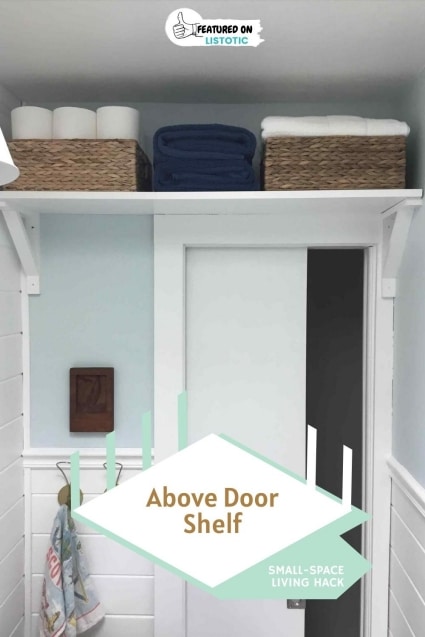 9. Under Bed Storage
Using the space under your bed for storage is a no-brainer, but what if you could make your very own rolling bed drawers to make getting to your things a little easier! It's one of the cheapest DIY storage ideas for small spaces. Just be sure to get plastic bins that are at least 2 inches shorter than the bottom of your bed frame.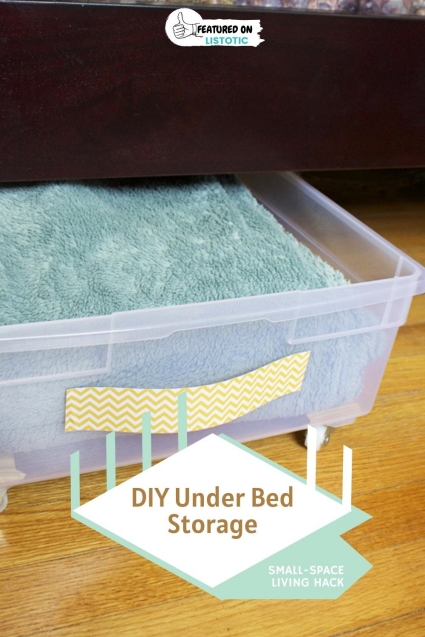 10. Ottoman Bed
This is one of the most creative small space hacks I think I've ever seen! When it comes to small bedroom storage ideas you can't forget the bed! Even if you're not hurting for space, this would come in so handy when you have more guests than you could otherwise sleep. This convertible ottoman simply has a slipcover in 8 different color choices that go over the bed when it's not in use. Clever!
A hidden bed in an ottoman is the perfect small space solution for guests.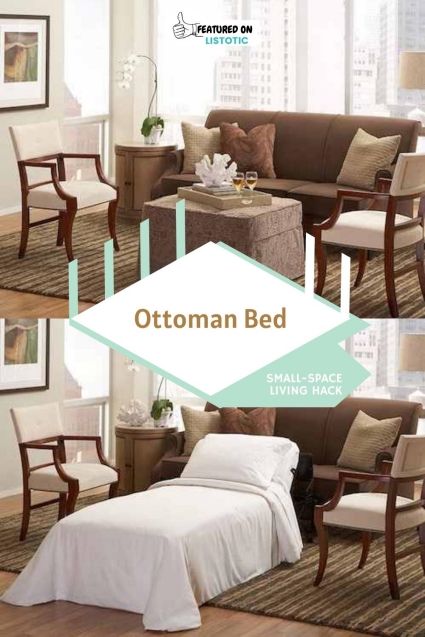 11. Under-The-Stairs Conversion – Small Space Hack
Although not always easy to get to, the storage space that is usually under the stairs is nice, but what if you could convert that space into something useful like a mini mud room, desk, or reading nook!? As long as you have some drawers and hooks for backpacks, scarves, umbrellas, etc., I think this would be more valuable than a dark storage space that you have to get down on all fours to get to.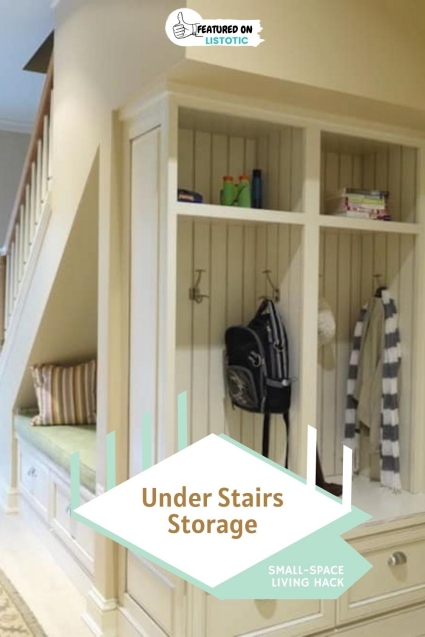 12. Sliding Walls
Too many walls in a small home can make it seem even smaller, but what if you had the versatility of a wall that you could slide open or closed based on your needs? Keep it shut when you need the privacy or quiet time, but then simply slide it open to create a larger, open space for entertaining.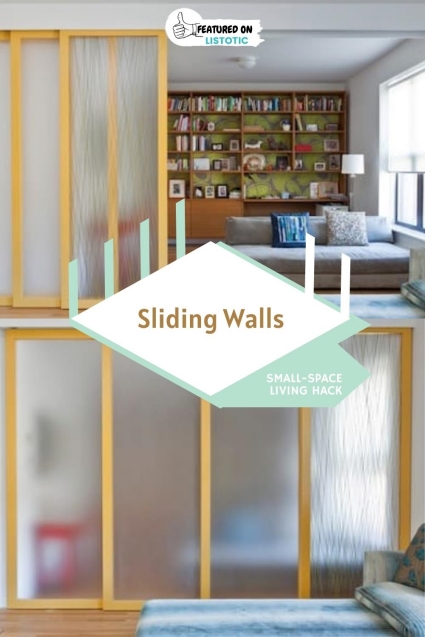 13. Closet Space for Furniture
If you have a room that isn't big enough for your furniture, consider using the closet space for the extra square footage needed. This is just one of the small bedroom storage ideas I think would work great for a small nursery room. Perhaps a changing table, desk, or dresser. Just remove the doors and use the top half for storage.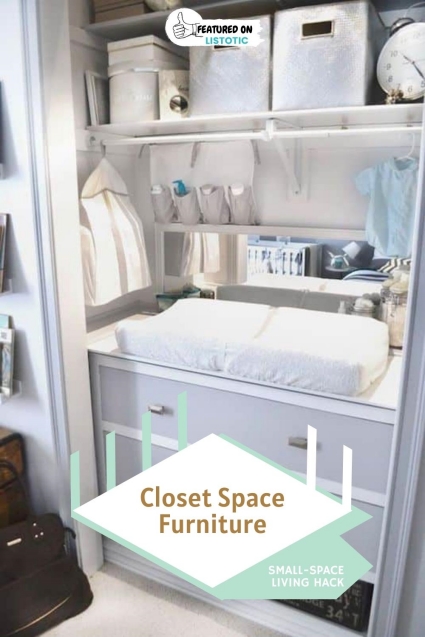 14. Wall Storage – Small Space Hack
When it comes to small spaces, you can't let any wall space go unused, especially in the bathroom where sometimes the only place to store towels is under the dirty sink. For a quick, easy, and lightweight shelf idea, consider using baskets instead of traditional shelving.
See more pictures of small bedroom storage ideas and get the details for this DIY storage idea over at Making Lemonade. I also went on a hunt for similar baskets (if not the same exact ones) and found them here.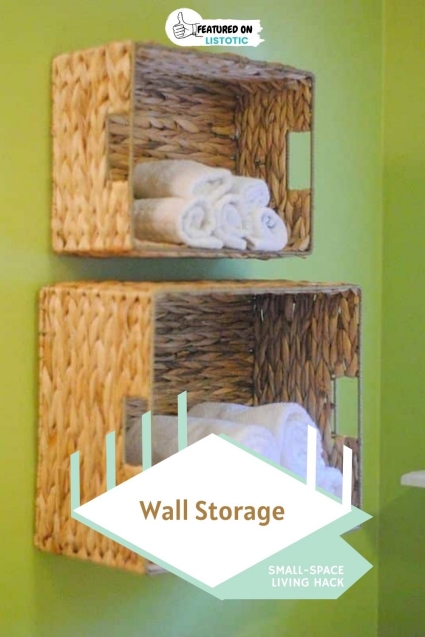 15. Pull-Down Desk
Most people need a desk or craft table of some sort in their home, but don't necessarily have the room for something that is only used a couple of times a week. I'm not sure that I'm digging this idea for a desk (no way I'm putting my computer and office supplies away to fold it up!), but it would be perfect as an extra craft table, especially for the kids' school or lego projects. Check out the details and instructions for this small bedroom storage ideas over at Shanty 2 Chic.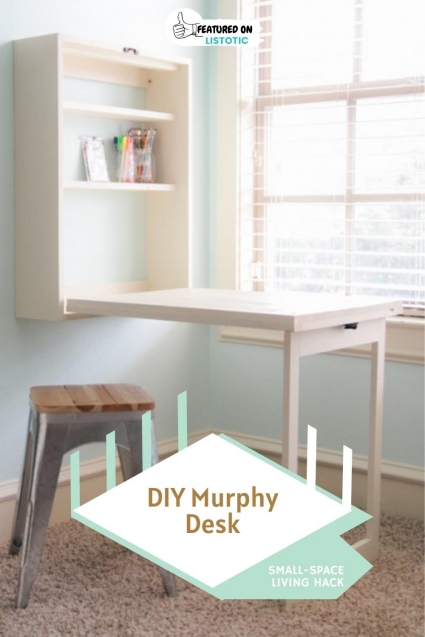 16. Small Spack Hack -Clever Spice Shelves
This is the question in most kitchens– where to put the spices?! Ideally, you want them near the stove where you'll be using them, but that is not always an option. But this small space hack gets them off the counter and hidden away.
Ashley from Domestic Imperfection, came up with this brilliant idea using the empty wall space in the pantry! Check out the entire pantry reveal here. Talk about DIY storage ideas for small spaces! It's hard to believe, but she used mesh drawer organizers for this clever project.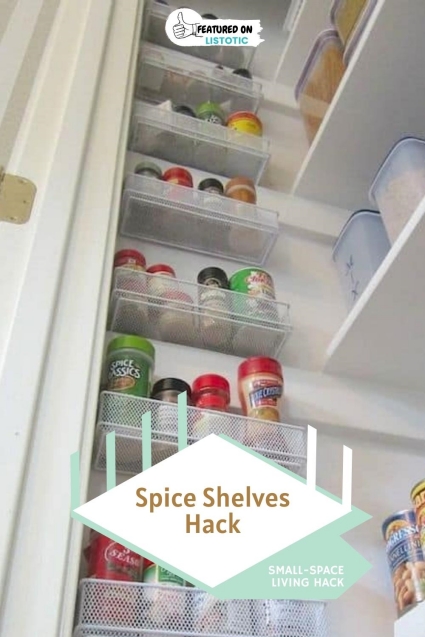 17. Tiered Counter Storage
Just like with homes and buildings (where there isn't a big footprint), consider building up! For small bathroom or kitchen counters, consider a tiered tray to hold all of the essentials without taking up as much room on the counter.
I found this tray for sale here on Amazon. About $110, though! Yowzers. But I did find a very similar one for my bathroom here for much less. I also have this one in my kitchen, and I love it! I use it for small plates, dipping bowls, fruit, veggies, nuts, and other healthy food choices that I want to be easily seen and accessible.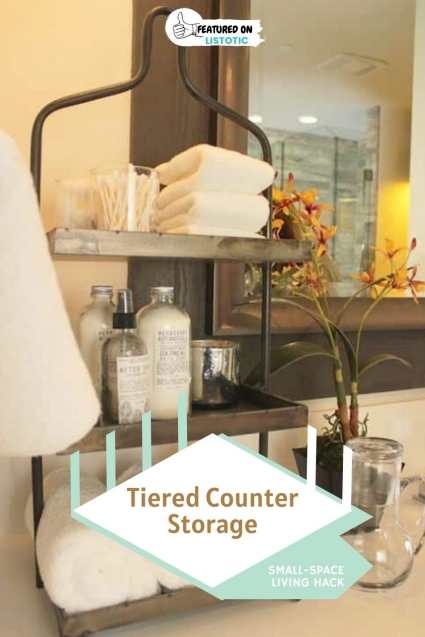 18. DIY Slide-Out Cabinet
If you have any narrow spaces in your kitchen that aren't being lived up to their full potential, consider a DIY pull-out cabinet that will keep your kitchen essentials convenient without taking much space! Look at how many cans, jars, and spices this one holds– almost an entire pantry's worth!
A sliding hidden pantry is the perfect solution for small kitchen storage…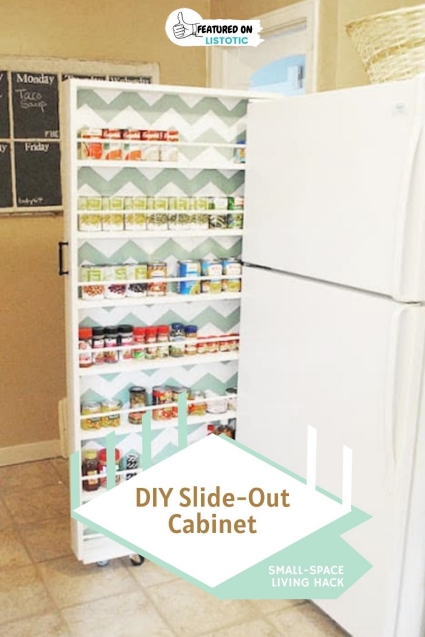 19. Small Space Hack – Command Center
Having a centralized spot in the home where everyone can go to check the calendar, see what's for dinner, or make notes is a great way for a family to stay organized. It really doesn't require a lot of space either, that's all you need is a small wall or corner of the home.
I love the way this command center was done by Jenna Burger over at BHG.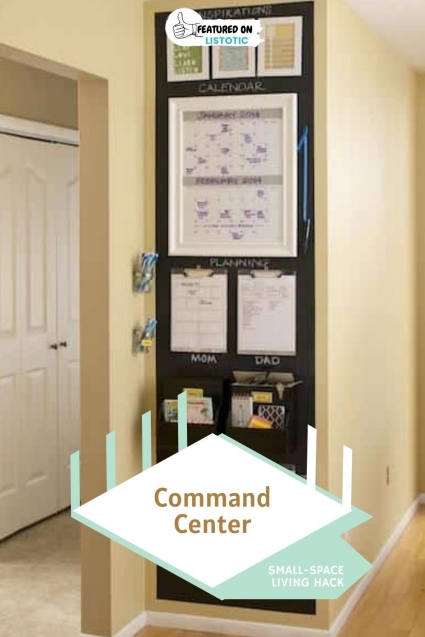 20. Skinny Sofa Table – DIY storage ideas for small spaces
Coffee tables are great for setting a drink down, but not really worth it if you don't have the floor space. The best way to gain table space without taking up any room is with a skinny sofa table like this one over at Always Never Done (full tutorial there). Not only does it add visual interest and charm to this living area with the addition of lamps and decorations, but it's also a convenient place to set down a glass of wine!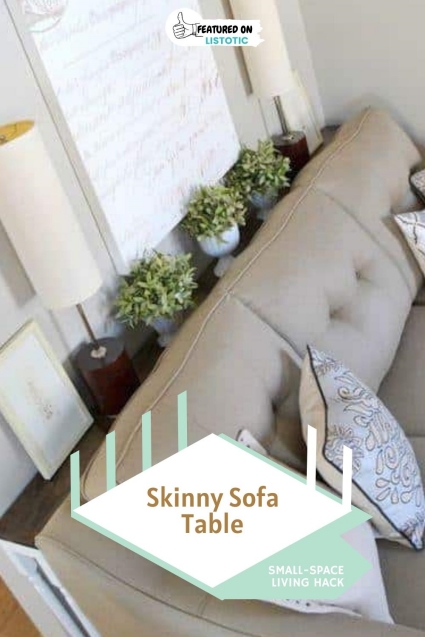 Even more storage ideas for small spaces! Check out this sofa table with a built-in outlet tutorial from Turtles & Tails! This not only provides extra shelf space, but also makes the outlet easy to access for charging your phone or laptop. Pretty darn creative for this living room or small bedroom storage idea!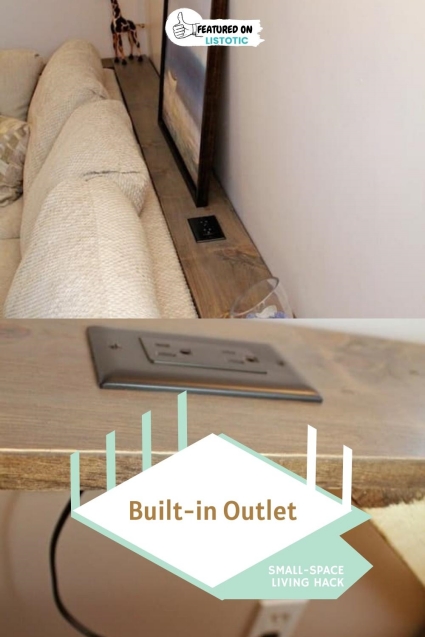 21. Curtain Separation
For siblings that share a room, consider using curtains to separate their space while still leaving a nice open feel. This also looks nice in a studio apartment to separate the living area from the bed. This is an easy room divider solution, especially if you can't do any construction as a renter. So, for sharing a room this small bedroom storage idea takes the cake on breaking up disputes.
You can purchase these in 8-9ft tall lengths on Amazon, but the ceiling mount hardware comes separately.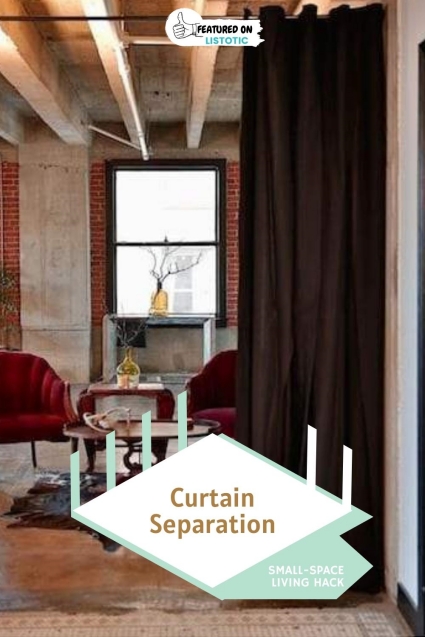 22. DIY Kitchen Organizer
Use the space behind your pantry door to store all of your small pantry goodies like spices, foil, and plastic wrap. It is the perfect DIY storage solution for small spaces. I've seen this done with something as simple as a hanging door shoe rack, but I love this DIY kitchen organizer and spice rack because it looks so much nicer! It really looks like it was an original addition to the pantry.
Utilize the space behind your pantry door for convenient extra storage.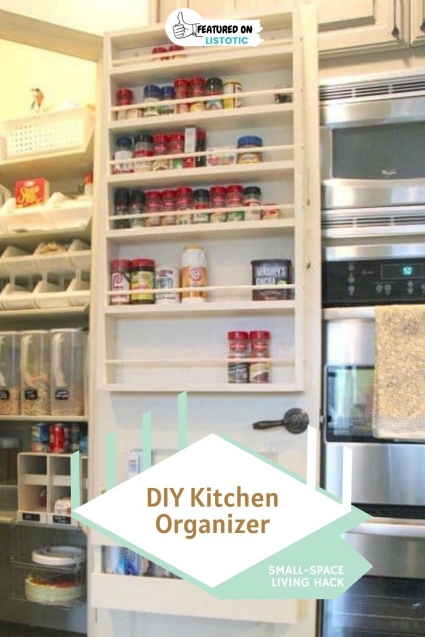 23. Over-The-Cabinet Basket
No hardware needed! Just place this basket over a cabinet door and use it as a garbage bin in the bathroom or for extra storage in the kitchen (or any room). Now, this is my kind of DIY storage idea for small spaces. This might also be the perfect solution for a travel trailer or boat where space is really limited!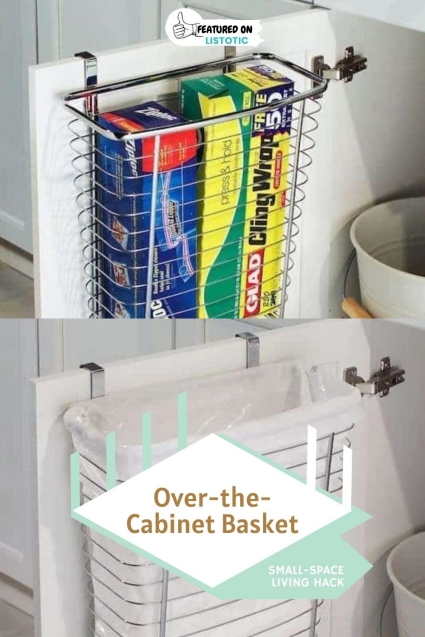 24. Tank Top Space Saver
Small bedroom storage ideas aren't always inexpensive but this one sure is! If you own as many tank tops as me, you may already know how many hangers they take up, not to mention how much rod space! With just a few shower curtains rings and a velvet hanger (to keep them from sliding), you can store those bad boys all on ONE hanger. It is one of the most brilliant DIY storage ideas for small spaces! I wouldn't do this with tanks that wrinkle, but the cotton, long and lean type are perfect for this contraption.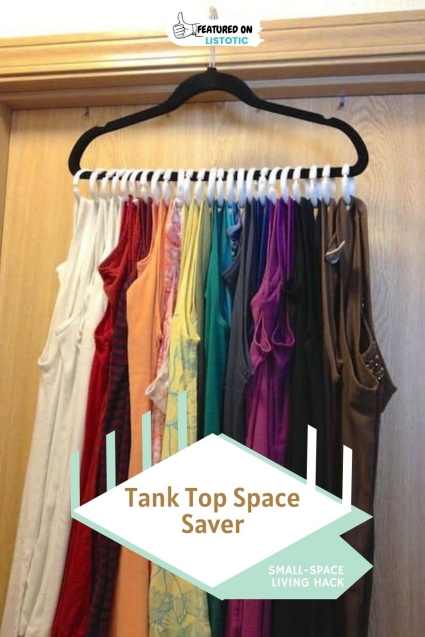 25. Backsplash Storage
Instead of placing everything (coffee can, sugar, butter, salt & pepper, cork screw, etc.) on the counter, keep the space free and use your backsplash as storage! This idea was found over at No.29 Design by Christina. Go check out her before and after pictures, as well as where she got the hardware for this project.
Use your kitchen backsplash to store items that you use regularly.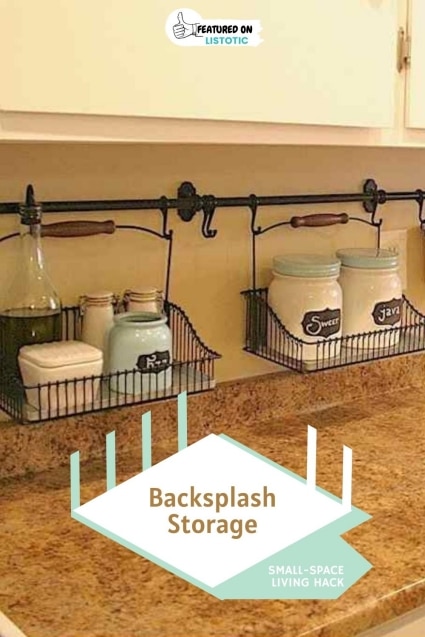 26. Floating Vanity Shelves
Small counters and limited drawer space seem to be THE biggest problem in a small bathroom. Where are we supposed to put all of our brushes, lotions, and q-tips?? Seriously use that wall space when you are looking for small bedroom storage ideas and ideas for small bathrooms.
Take advantage of the wall space next to your vanity with floating shelves for all of the items you use often. Check out the details over at Graceful Order.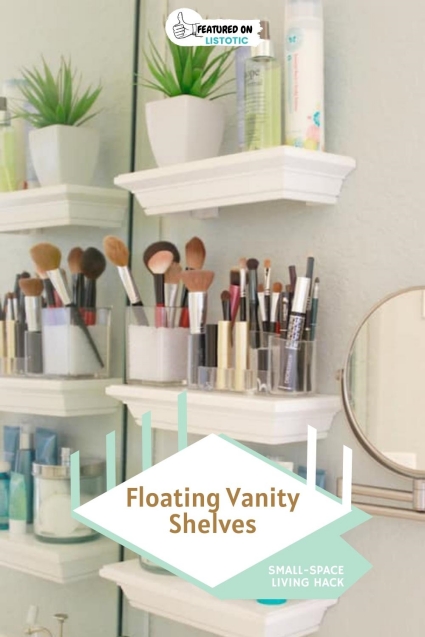 27. Tilt-Out Trash Small Space Hack
No room under the sink for your ugly garbage can? No problem! Build one of these tilt-out trash cans that doubles as a cutting board! It takes up hardly any space at all, but provides a little extra counter space, and more importantly, keeps the garbage can out of site.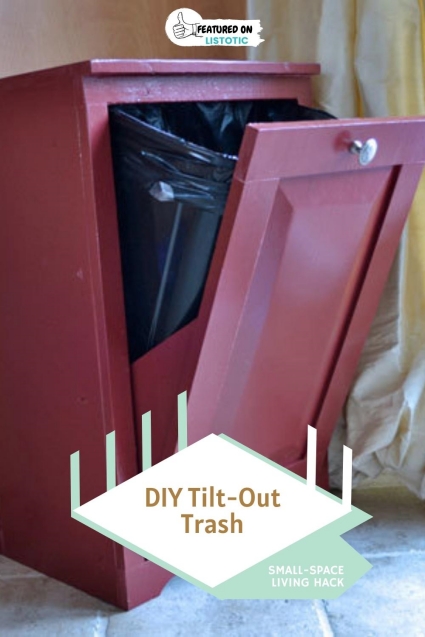 28. Over-The-Faucet Shelf – Small Space Hack
I'm starting to think that there is a shelf made for everything! Even something as simple as using the air space over your faucet might just provide the extra counter space you need. You can find a variety of styles and sizes on Amazon.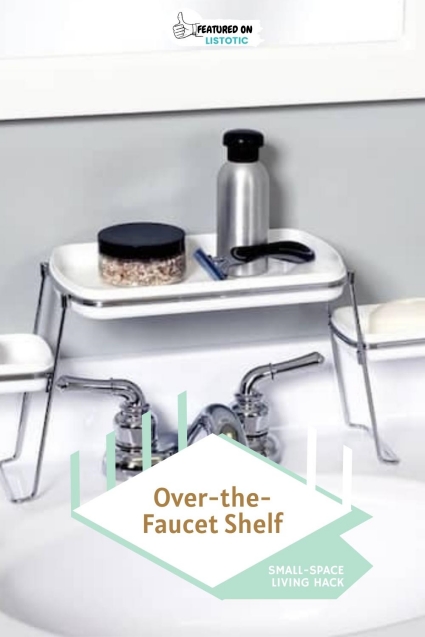 29. DIY Over-The-Sink Storage Small Space Hack
Limited on drawer and counter space? Try this DIY storage idea for small spaces. Place a cubby shelf over your sink (or the wall next to the vanity) to keep your toiletries handy but out of the way! I couldn't find a tutorial for this, but it looks like it was made out of recycled pallets. You'd probably just want to make sure you put a good sealant on there to keep it protected from the moisture.