Last Updated on January 10, 2022
Making your own Valentine's Day gifts is a great way to show someone you really care about them. From diy kids valentines using slime, glitter, rocks and more, to teacher gifts, to special valentine candy paper heart pouches. You're sure to find a diy Valentine's Day gift idea to suit your needs.
I've included a few that I've done with my grandkids as well as others that I found really special, including the painted mason jar vase. I hope you find something you'll enjoy making for that special someone.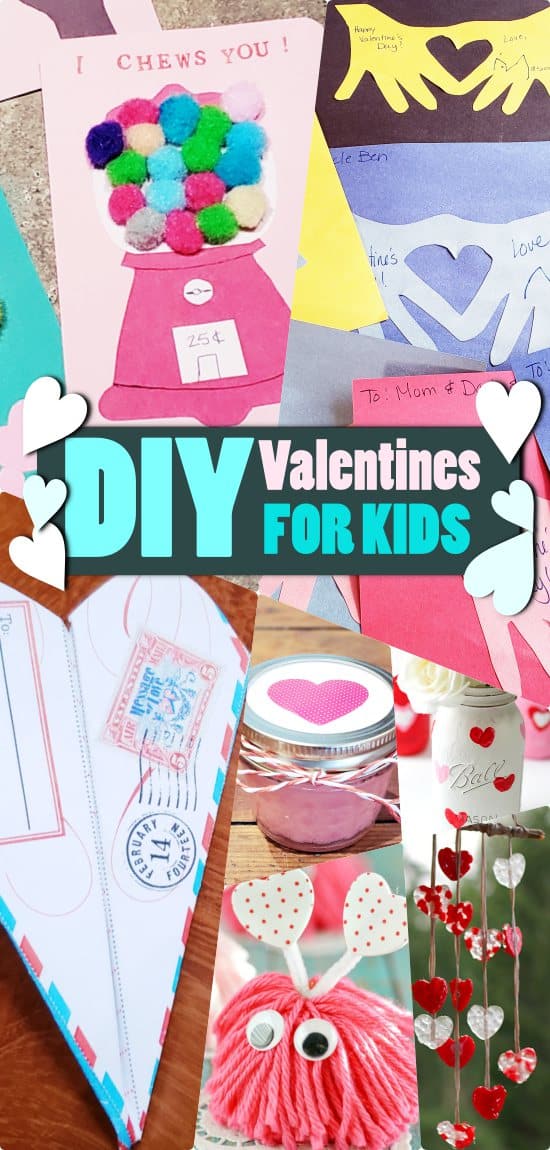 This post may contain affiliate links. Please read our disclaimer policy.
1. Handprints
This is one of my favorites to receive as a grandparent. The double handprint captures their little hands in a snapshot of time and is a very personalized valentine. All you need is some construction paper, markers and glue. We made several different versions.
My grandson and I made these valentines for his Mom & Dad and brother, his other Grandma & Grandpa, a Great Grandma & Great Grandpa, and one for each of his Aunts and Uncles.
I had him put both hands on the construction paper, touching his first fingers and his thumbs. I drew around them. When I got to his thumbs, I rounded it a little to get the heart shape I desired. Then, cut them out, and we glued them on another piece of construction paper. It was quick and easy! And, I love mine. It's on my frig!
2. Send a Hug
For those of us who have loved ones who live far away, receiving a great big hug always brightens our day! Here's a quick valentine for your far-away relatives and friends. All you need is a long piece of wrapping paper, and a pencil and crayons/markers. For more details check out Paging Super Mom.
3. Valentine Heart Pencils
What a great valentine for kids to give to their teachers! Jamie at Simply J Studio provides great instructions. All you need is some yellow cardstock, pink cardstock, aluminum foil, ribbon, a pack of Rolo's, and a Hershey's Kiss for each pencil.
Jamie's printable download isn't working, but I found one with clever writing messages from Leanne at Organize and Decorate Everything.

4. Folding Envelope Hearts
What a secret way to send a valentine! Plus, you can add a secret note inside the envelope to make your valentine feel extra special. The instructions from Martha Stewart show you how to take a heart cut out of patterned paper and make it into a lovely envelope. What could be better than a valentine that acts as your envelope?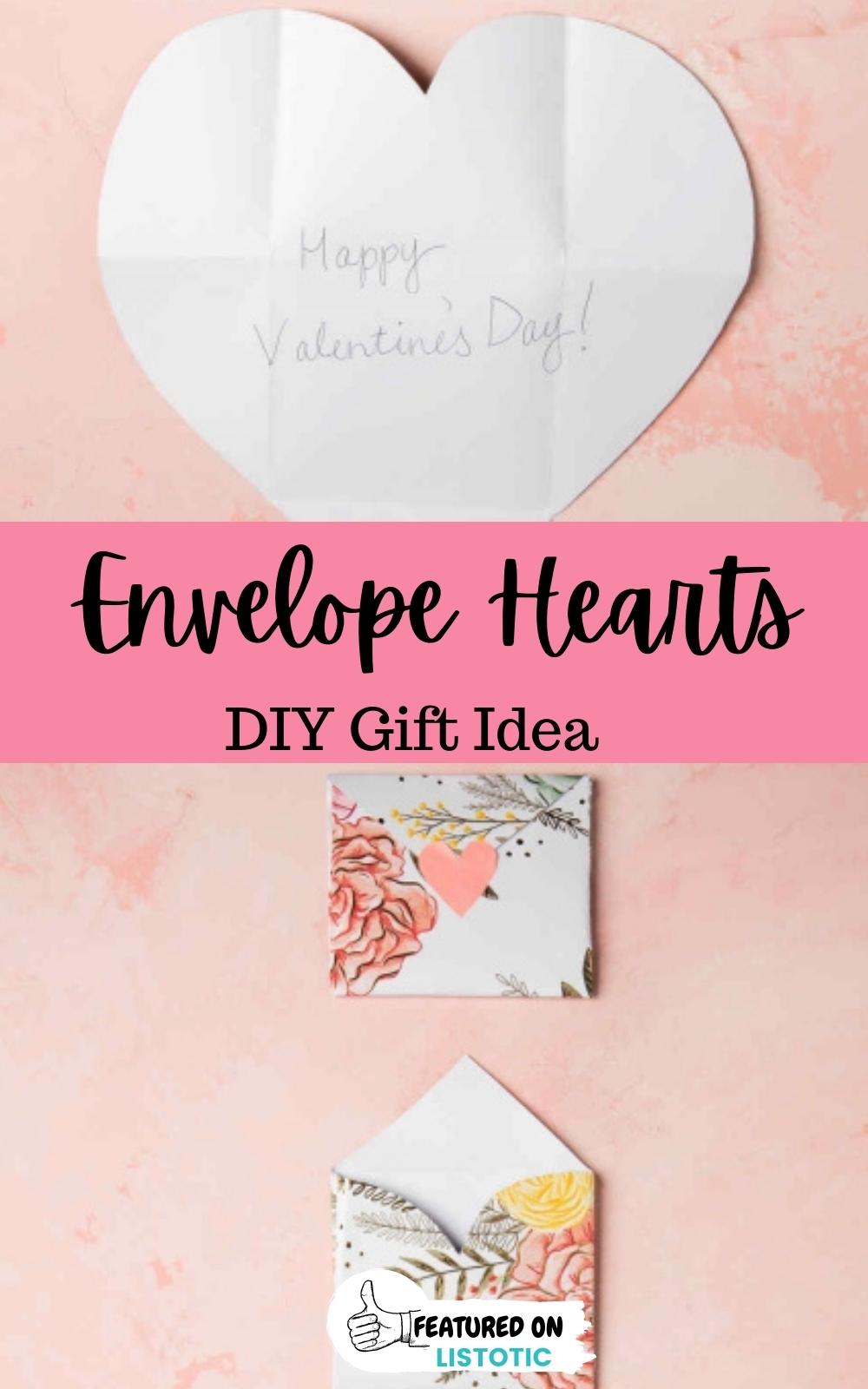 5. Slime Valentine
What kid doesn't love slime? These valentines are fun for every age. Check out our awesome 2 ingredient slime recipe. Once you have it made, then place in airtight containers. I like to use 4 oz jelly jars with lids, but if you are giving them away at school, you might want to use plastic containers you can find on Amazon.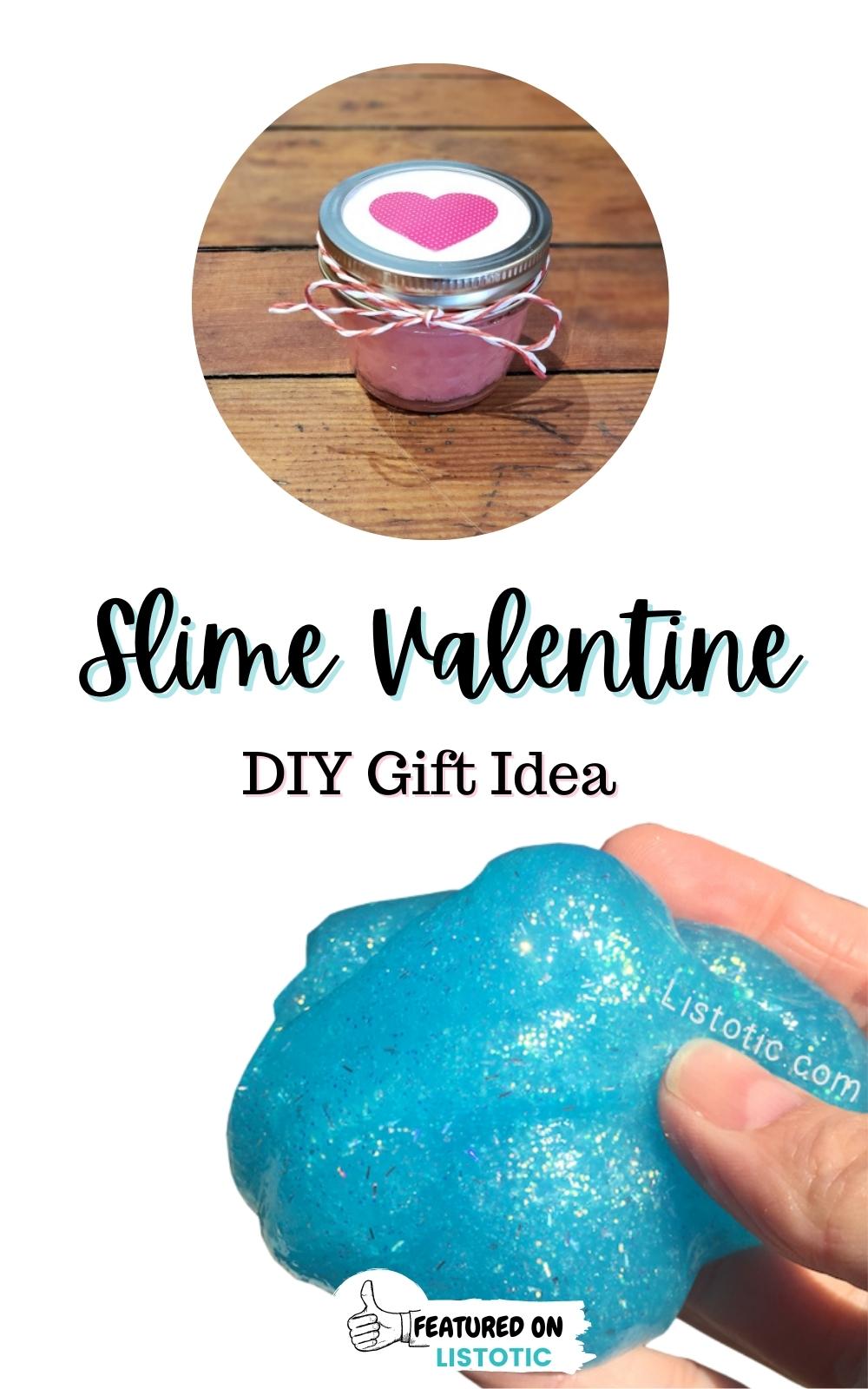 You can also dress them up with heart stickers or some colored twine.
6. Glitter Rocks
Another hit with younger kids. Rocks, glue, and glitter!! Check out the article from Artful Parent to gain some inspiration.

7. DIY Heart Tote Bag
I just couldn't pass this one up. I'm am a bag hoarder myself. In fact, my husband often refers to me as the "bag lady". While some may take offense to that. It's no problem for me — I own it! Here's a quick and easy valentine craft that is sure to please the "bag lady" in all of us.
Check out the step-by-step from Clumsy Crafter.

8. Valentine Man Craft for kids
This craft is sure to keep little fingers busy, and what a cool-looking guy with springy arms and legs! It's amazing just how many uses there are for a red solo cup. In fact, we have an article on Listotic explaining what the lines represent on a solo cup.
For details on making this creative and fun Valentine man, check out Crafty Morning.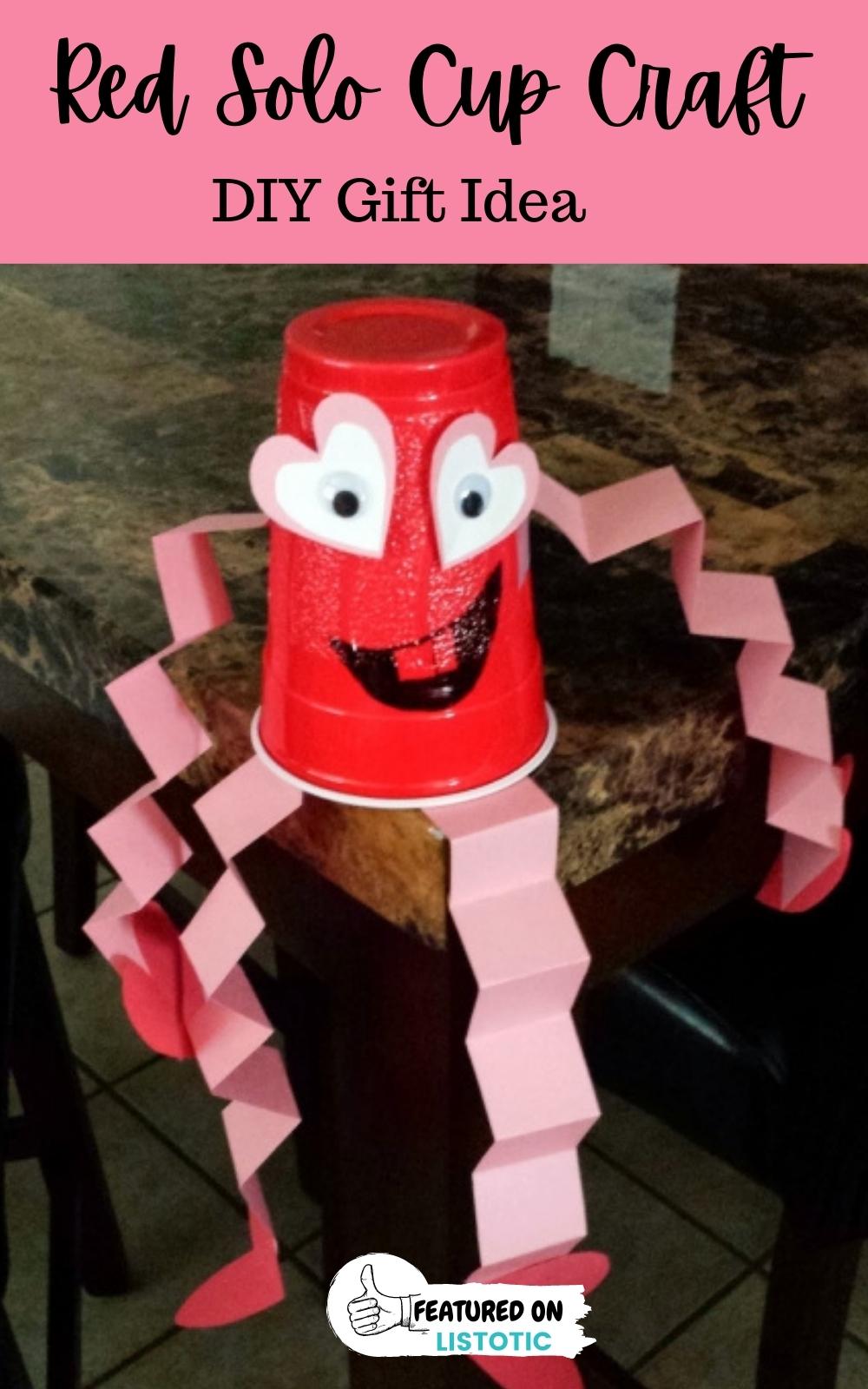 9. Paper Valentine Candy Filled Hearts
For those who are sewers, here is a fun way to make valentines. These little paper hearts remind me of a piñata where you have to break open the heart to get the goodies inside. Diane at In My Own Style will step you through making these creative valentines.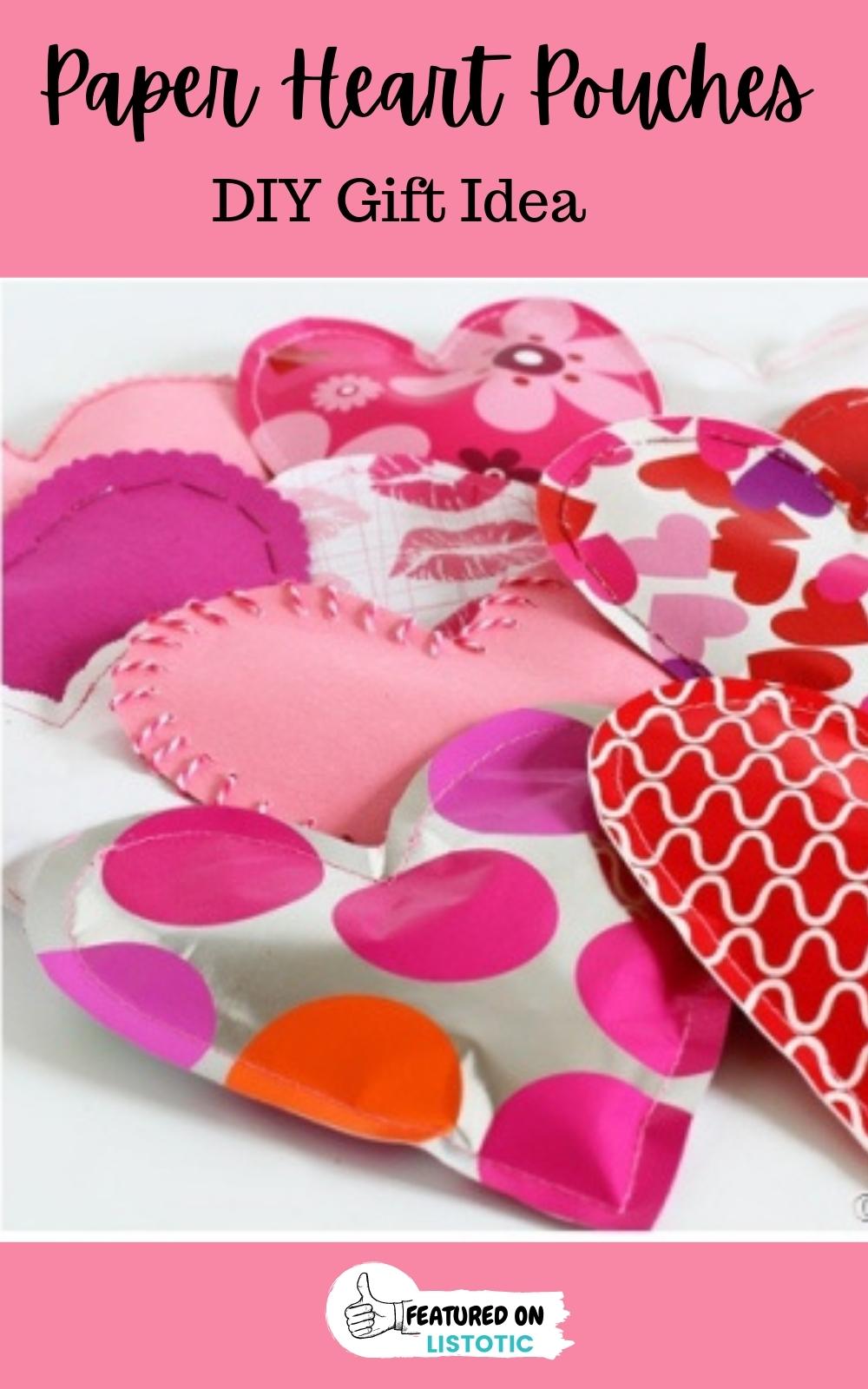 10. Stitched Heart Bookmarks
Do you have Valentines who are avid readers? Hand-stitched heart bookmarks give a real personal touch and are sure to put a smile on your book reading Valentine. Check out the instructions and printable cards from Thirty Handmade Days.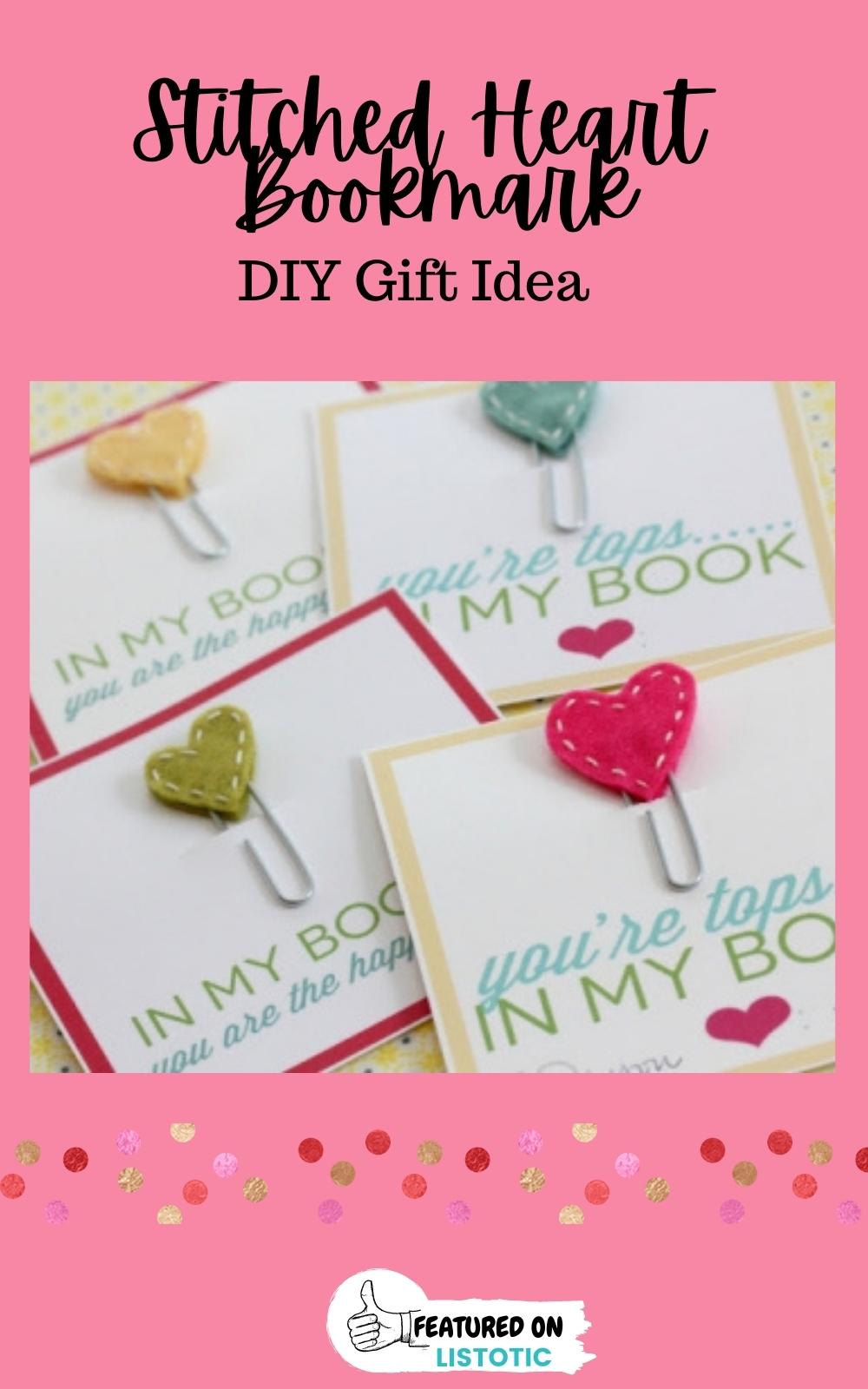 11. Valentine Thumbprint Heart Jars
This painted mason jar with tiny thumbprints from your little ones is sure to be a favorite. Let your kids make hearts with their tiny thumbprints on a painted mason jar. Gift with flowers or candies. Your loved ones will cherish the vase with the thumbprint hearts for years to come. You can find full instructions over at It All Started with Paint.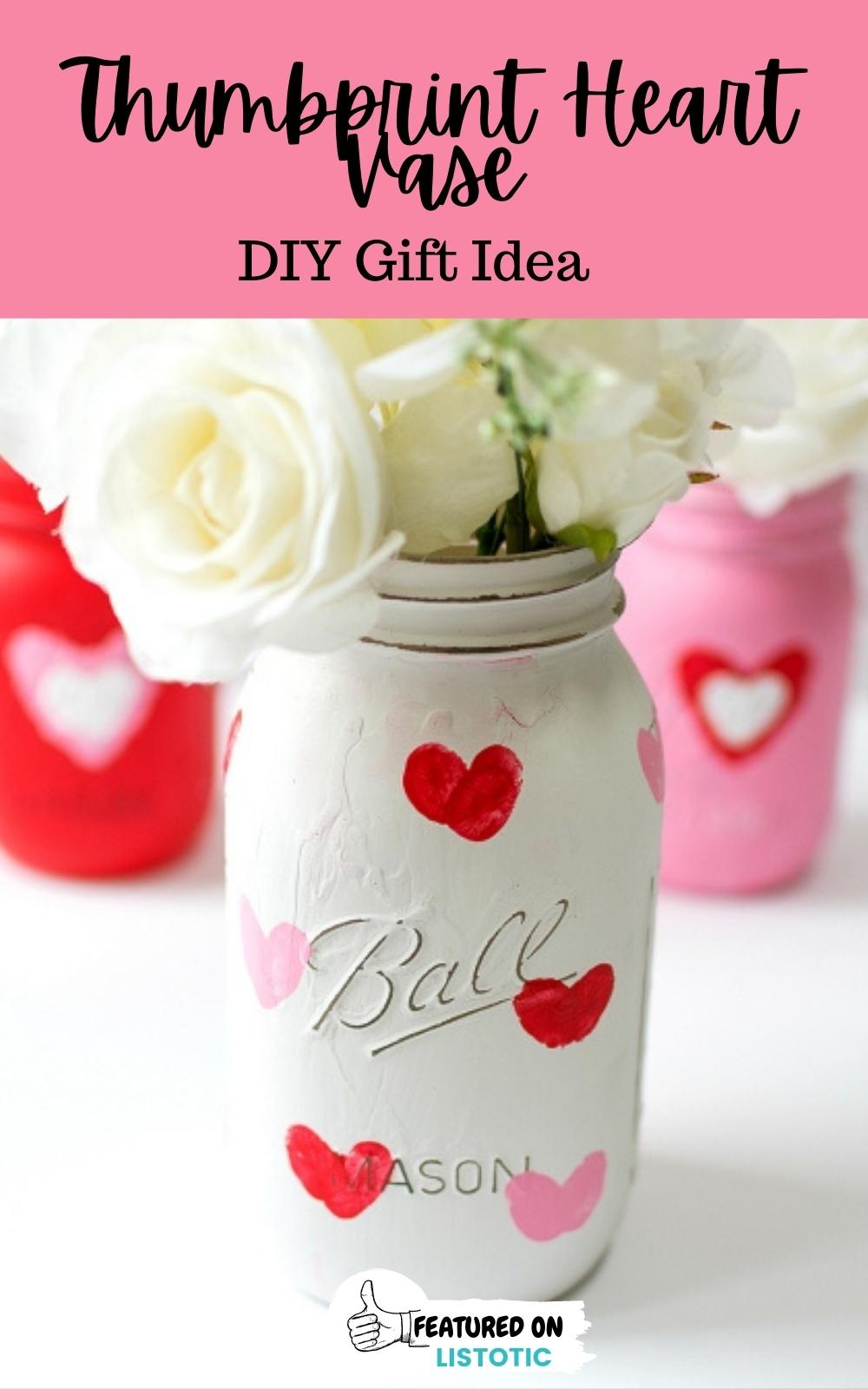 12. Pom Pom Valentine Craft Monsters
Do your kids fear monsters under the bed? In the closet? Well, these little pom valentine monsters are so cute, the kids will adore them. I made my first yarn pom-poms this Christmas when I was wrapping presents. Here's a link to that post. Check out the instructions for these valentine's monsters on Consumer Crafts.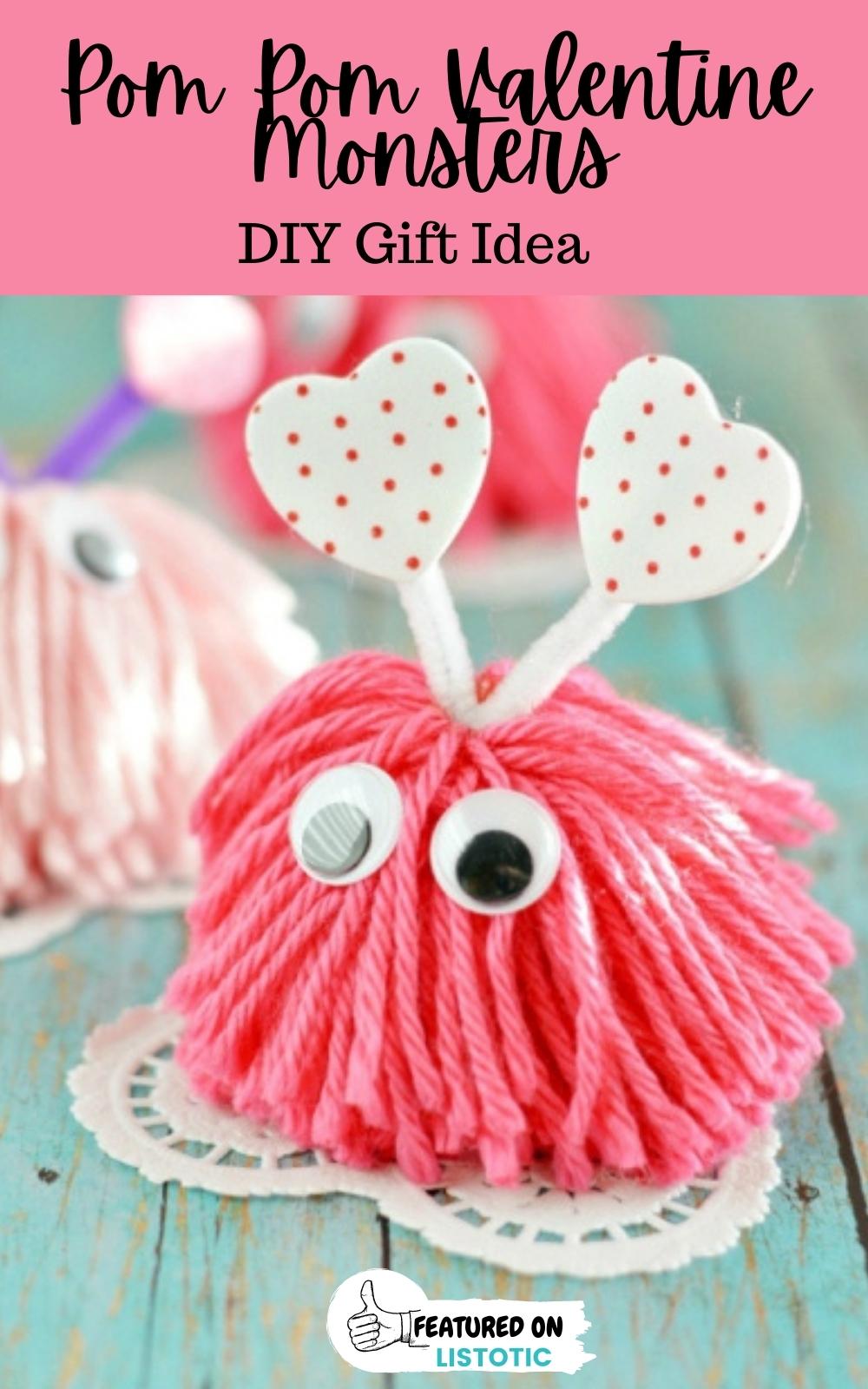 13. Melted Bead Wind Chime
Not only is this a beautiful valentine and message of love, but it makes music besides. Allison over at No Time For Flashcards turned a craft fail into this beautiful wind chime. Check out her experience, and try it out for yourself. Note: there were fumes from the beads, so take note of her precautions. We don't want anyone to experience a health risk.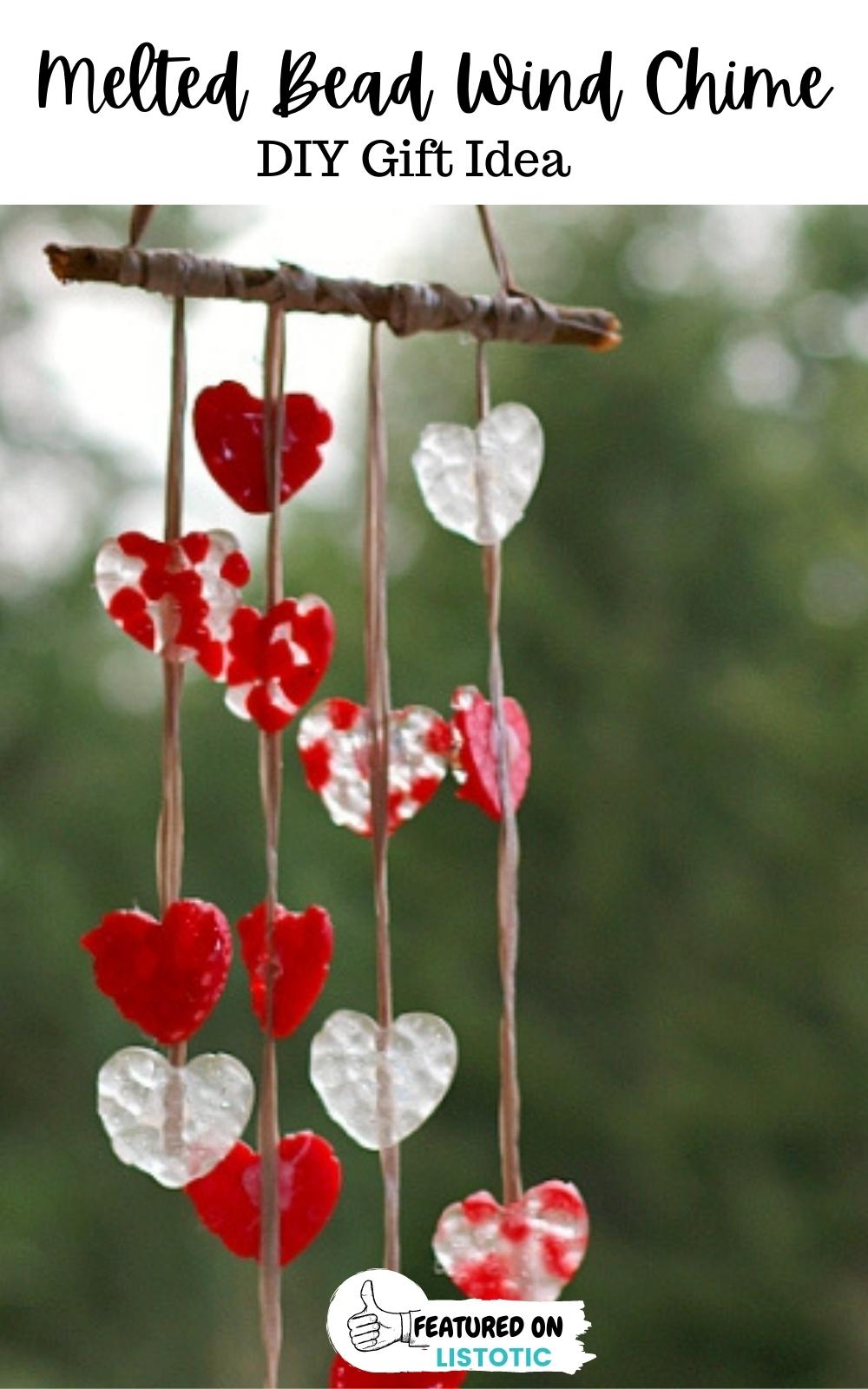 14. Paper airplane love note printable.
Paper airplanes are such a hit with kids. I can't say how many paper airplanes I've made with my boys. I can only imagine the fun and chaos with the kids sending paper airplane valentines to everyone's valentine in a class of 25 kids! 😉 Sorry teachers!
I found this really cool printable by Cathey Holden. The website can't be found, but the pdf still works. I also saw a twist on this, where you round the wings to look like a heart. I tried it and I like it even better.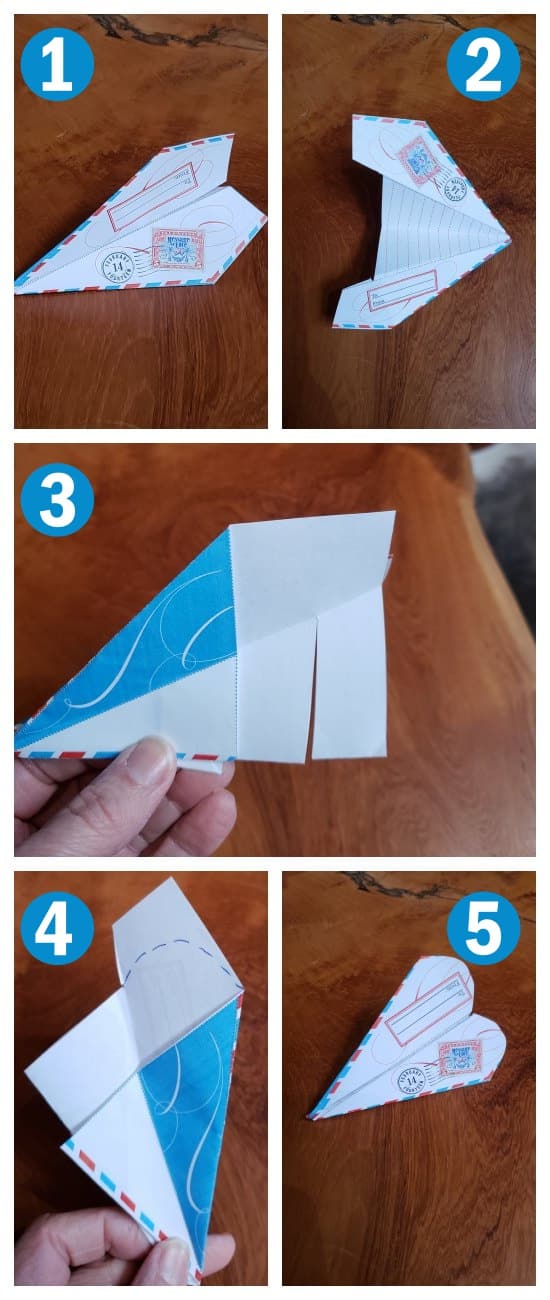 Per the instructions, this is what it looks like. Pretty cool!
When you open the airplane, you have space to write a note to your special someone.
I modified it to round the ends and make a heart. In this step, you have to trim a piece off the end. Cut a slit about an inch of extra paper on the underside of the airplane. Don't cut into the wings, just the under side, where you hold the plane. You can see the slit I cut in my plane. Then trim it along the creases of the wings to get rid of it.
Draw a line to create the rounded tops of a heart, and cut the excess off.
Now, you have an airplane that looks like a heart. 😊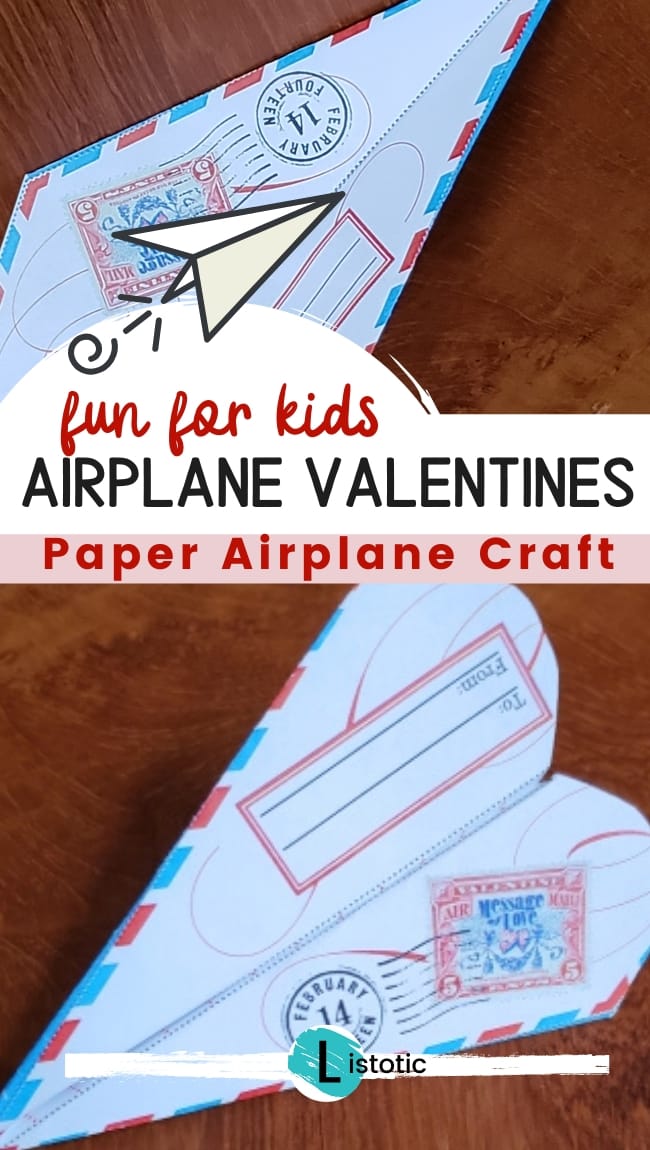 15. Pom Pom Valentines for Kids
Yeah!!! Pom-poms! It was a few decades ago, but I was a cheerleader in high school, and I can't seem to shake the excitement of cheering for the things in life that I'm passionate about. So, it's no wonder I love pom poms!
I created these Pom Pom-inspired cards for my 2 grands in Arizona, and an extra one. I love the worm, but am having a hard time picking someone to tell them "You don't bug me." I guess I could sign my family's signature "love, love, love" and that might make it better!?!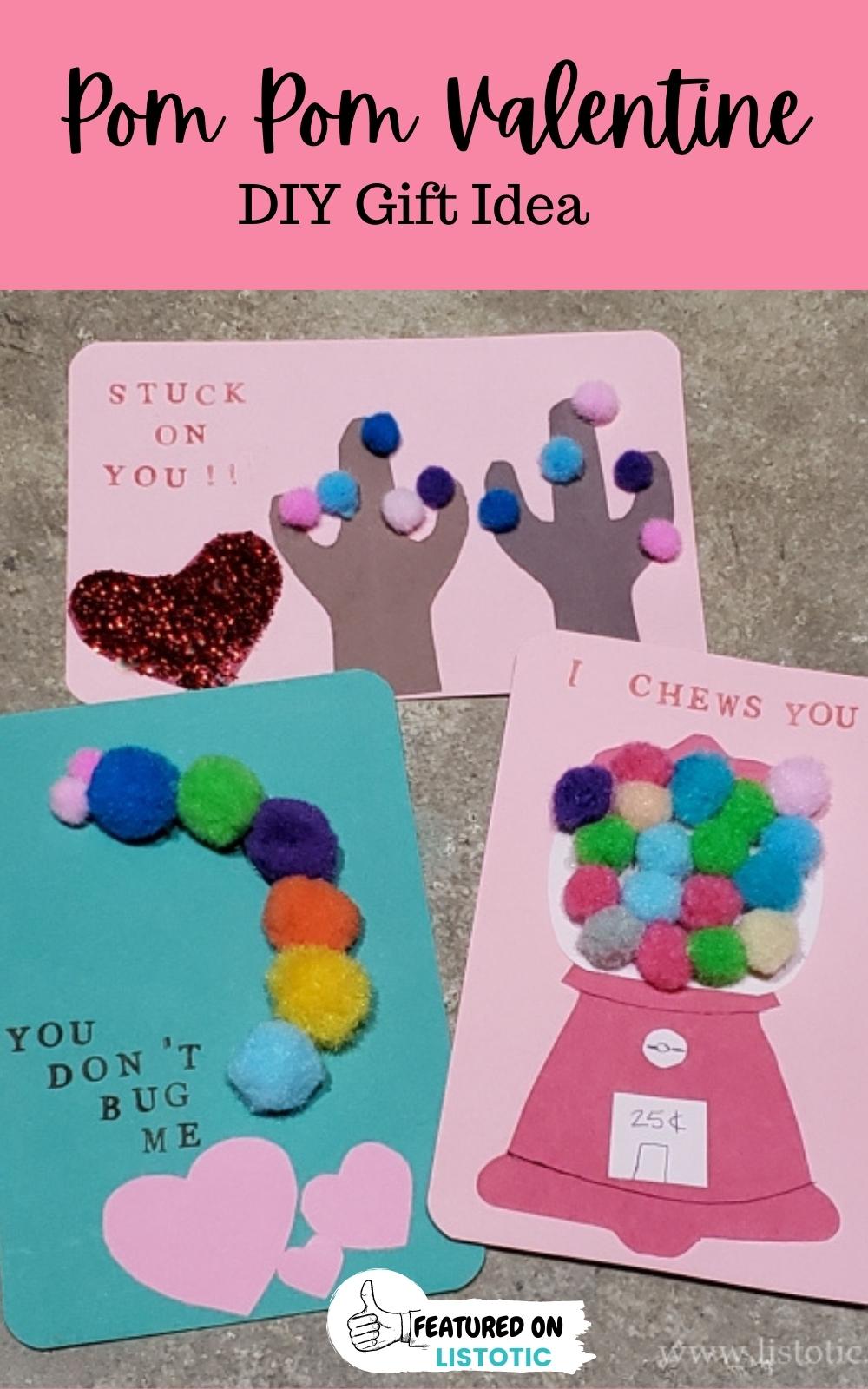 16. Origami hearts
I have always loved to read books. And, my favorite place to read is in a cozy spot with lots of pillows, blankets, etc… wrapped around me.
Because I love to read, this Origami heart book mark caught my eye. Amy over at The Idea Room has full instructions. I just had to make one, too! My suggestion, follow the video. The written instructions had me scratching my head.
17. Candy Cane Valentine
Here's a very easy and low-cost way to give a tasty valentine! Andrea shares some ideas on how to save money on this craft. Check out her post on You Cane Save Money On Valentines.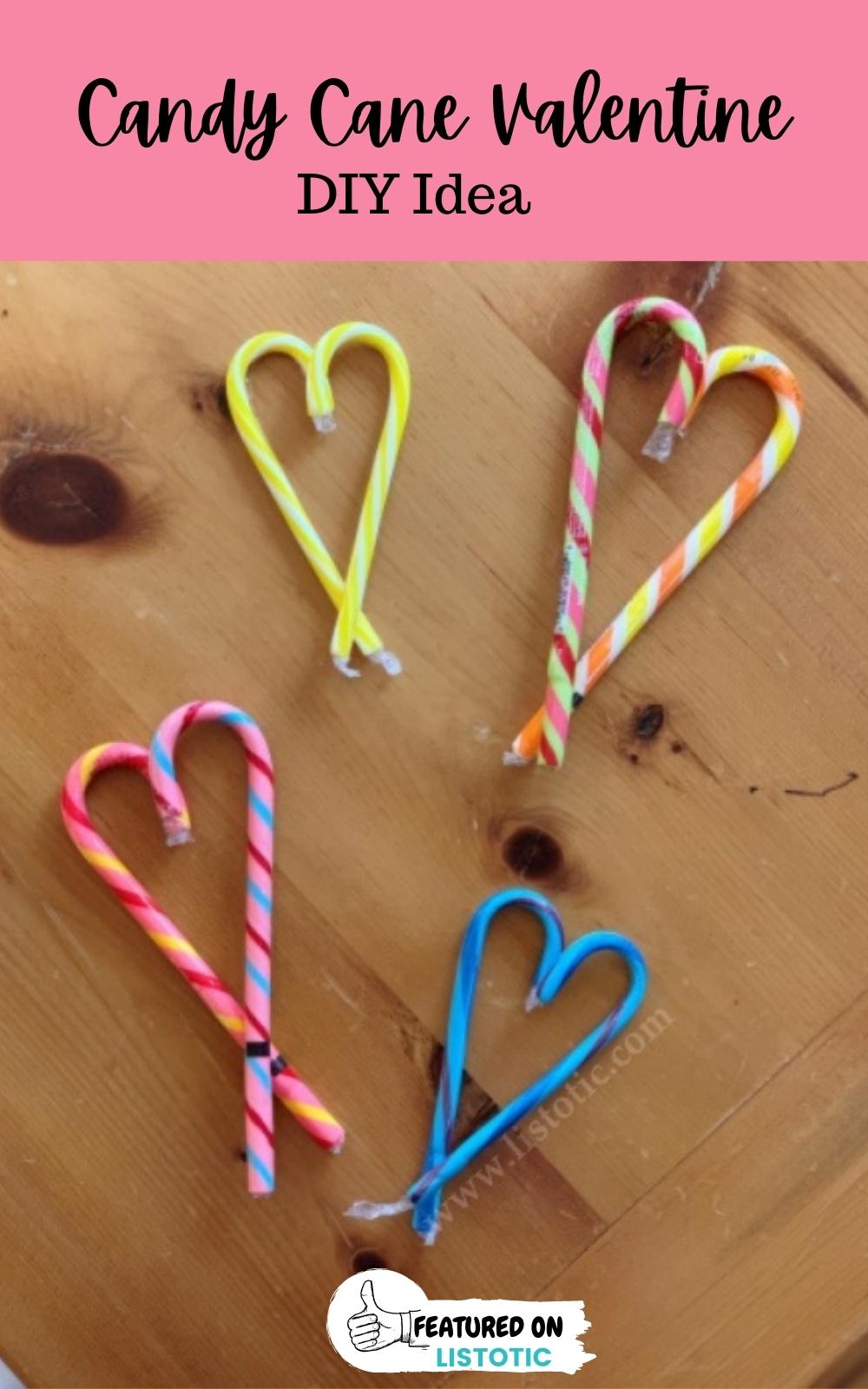 18. Lunch Box Love Notes
Letting someone know they are special is one of the greatest gifts you can give. A great way to do just that is to send love notes in your spouse's, kids', and significant other's lunch boxes. I've found a couple of options for you to choose from.
Heidi's free printable from Happiness is Homemade will work for both adults and kids.
Jackie's lunch box love notes from I Heart Arts n Crafts are more appropriate for kids. Although I'm sure you know some adults that are just big kids! I'll let you decide.