Last Updated on May 7, 2021
Repurposing old furniture into something that is not only practical but also unique and modern is the ultimate way to recycle. With a little bit of creativity, there are so many clever ways to use broken appliances, old furniture, or even everyday household items. What once was garbage (ready to fill the landfill), can be turned into unique home decor instead. Check out these unique and easy DIY furniture hacks to get inspired!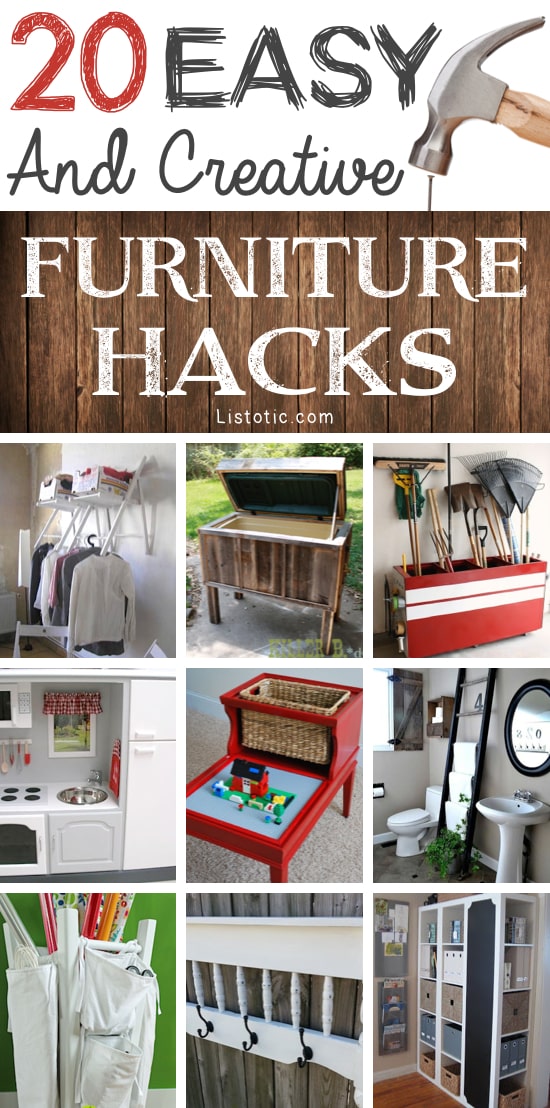 1. Dining Room Chair Bench
Instead of tossing those old or broken dining room chairs, turn them into a cozy indoor or outdoor bench. I can't think of a better way to repurpose dated furniture! The paint alone gives them a fresh new look. Go get the details and instructions here.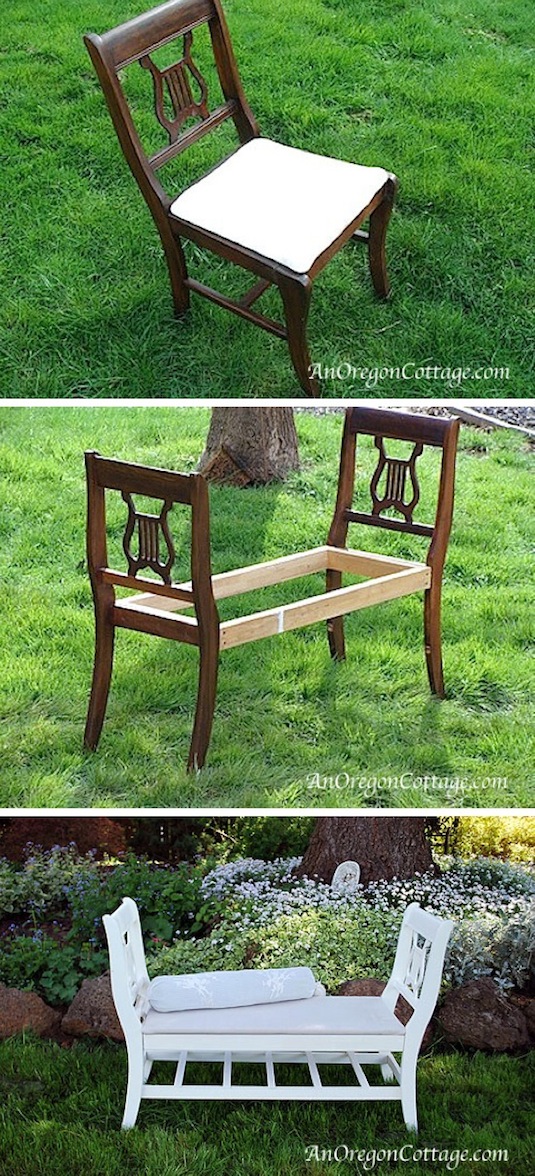 2. File Cabinet To Garage Storage
I think just about everyone has had one of these metal file cabinets at some point– dents and all! Take out the drawers and turn that huge hunk of metal onto its side to create garage storage space for your brooms, rakes, shovels, and much more! Even the sides have gotten a makeover with peg boards for other miscellaneous garage items. You will find a full tutorial for this project here.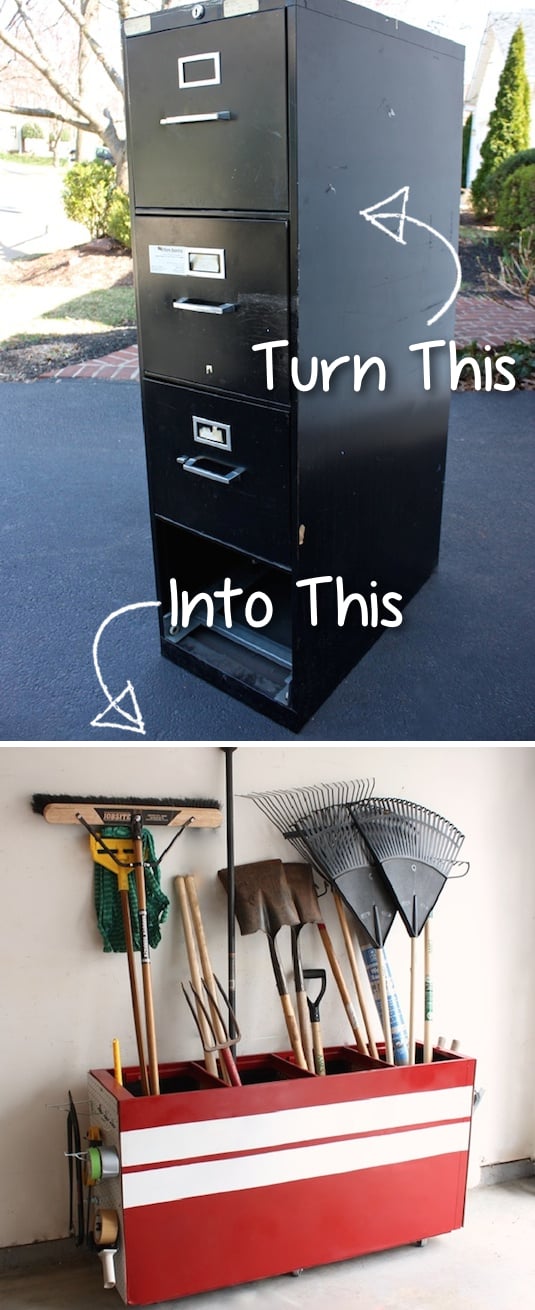 3. Kids' Craft Table From A Crib
My daughter would love this! Turn an old crib into something useful like a craft table by simply removing one side, painting the "table top" with chalk board paint, and installing a few hooks for supplies. Check out the full details and instructions over at A Little Learning For Two.

4. Hutch From An Old TV
This antique TV has been cleverly turned into a cute living room hutch. That is some serious trash to treasure! I've also seen one of these antique TVs turned into a pet bed. I do remember reading somewhere that taking apart these old televisions can be dangerous, so do your research first just to be safe. Check out the details for this project here.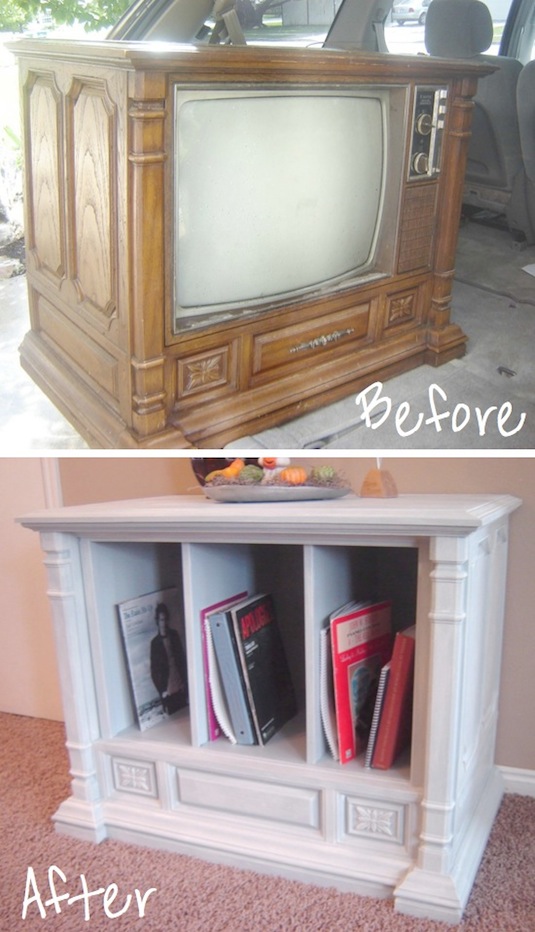 5. Bookshelf Storage Bench
Aside from making the seat cushion, this is probably one of the easiest furniture hacks! You've got to love Ikea for this reason alone. I really like the idea of turning a simple bookshelf on its side to create a storage bench seat. This shelving unit from Ikea is perfect! The compartments are the ideal size for baskets. Also, check out this detailed tutorial here including instructions for the seat cushion.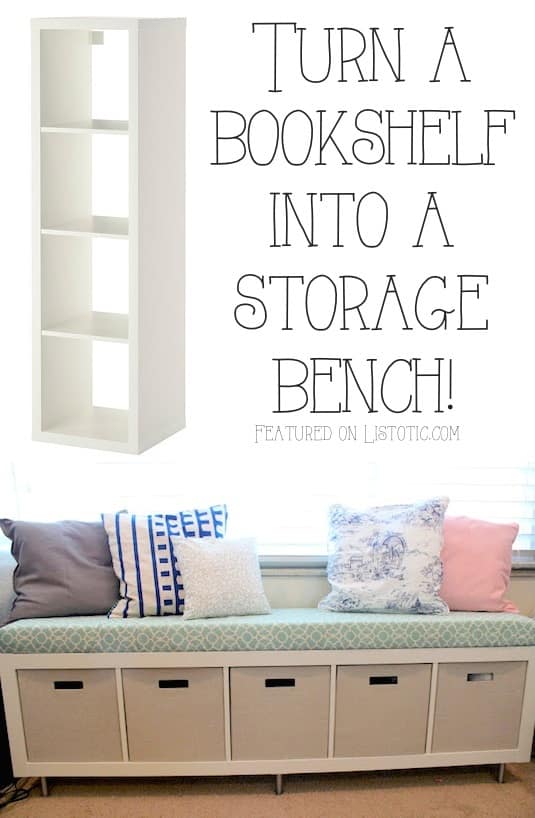 6. Clever Lego Table
If you love Legos as much I do, then you will really appreciate this DIY lego table made out of a dated piece of furniture. This is exactly what thrift stores are for– turning trash to treasure! You just have to be open minded and creative. Go get the detailed instructions for this project here.

7. Play Kitchen From A TV Unit
This is so much better than what you could buy at the store because you can customize it however you'd like– just look at that view from the "window". Adorable! You are going to need a good sander and some creativity, but this is definitely a fun weekend project that any kid would adore. Go get the full instructions here.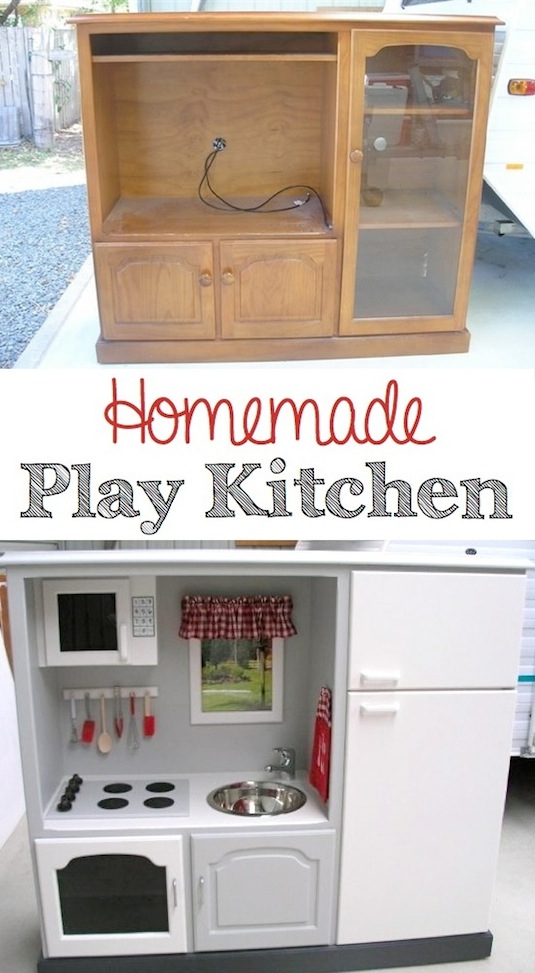 8. Dresser Flip
This project has given me a completely new set of eyes when it comes to old furniture. What a difference! Removing some of the old trim, replacing the hardware, and a little paint are all it took to turn this dresser into a gorgeous TV stand (or buffet/entry table). Go get all of the details and instructions here.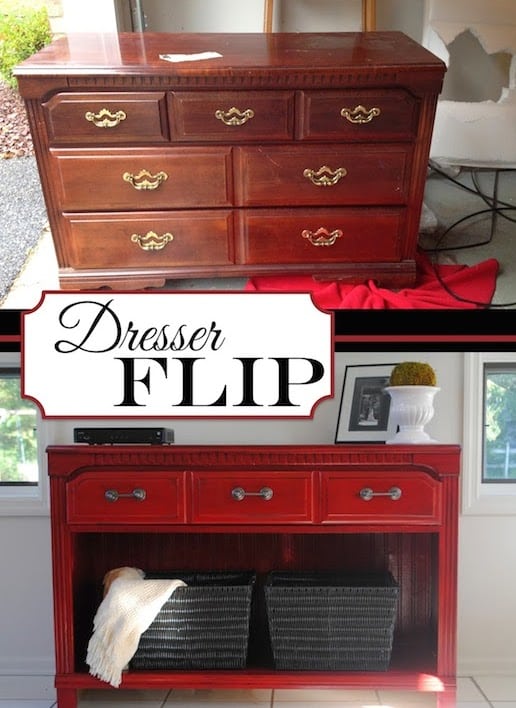 9. Bunk Bed To Coat Rack
Paint those babies and add a few hooks! This would be perfect for a mud room or entry way. I'm thinking that you could also add a wider board to the top to create shelf space. Go get all of the details and instructions here.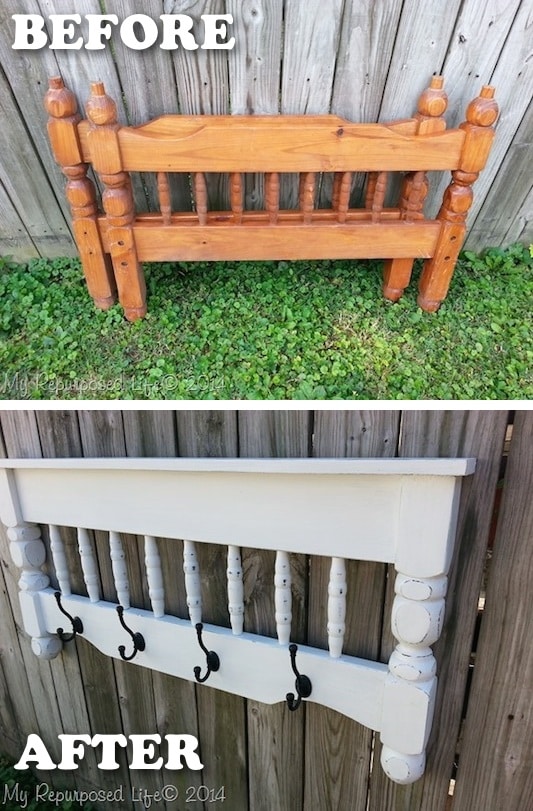 10. Ice Chest Makeover
Isn't this gorgeous!? Not only does this create less of an eyesore for outdoor parties, but the added legs makes it a lot easier to grab a frosty beverage without killing your back. This tutorial even includes a drain hole to make it easy to empty the melted ice.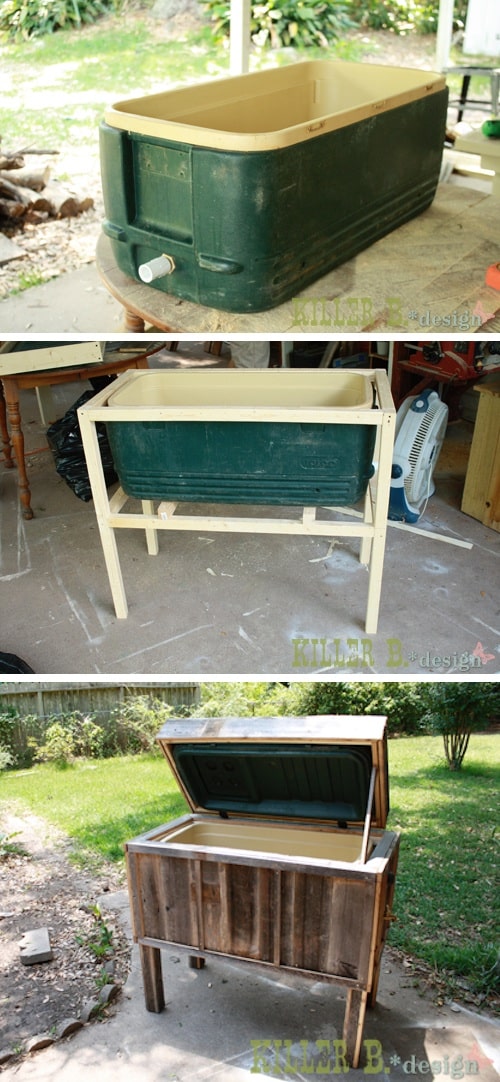 11. Grand Piano Bookshelf
The ultimate bookshelf for any piano player or music lover, wouldn't you say? I can't image that this was easy (and don't worry the Piano wasn't in working condition), but totally worth the effort! You'd be the only one on the block with this unique bookshelf. Check out the instructions here.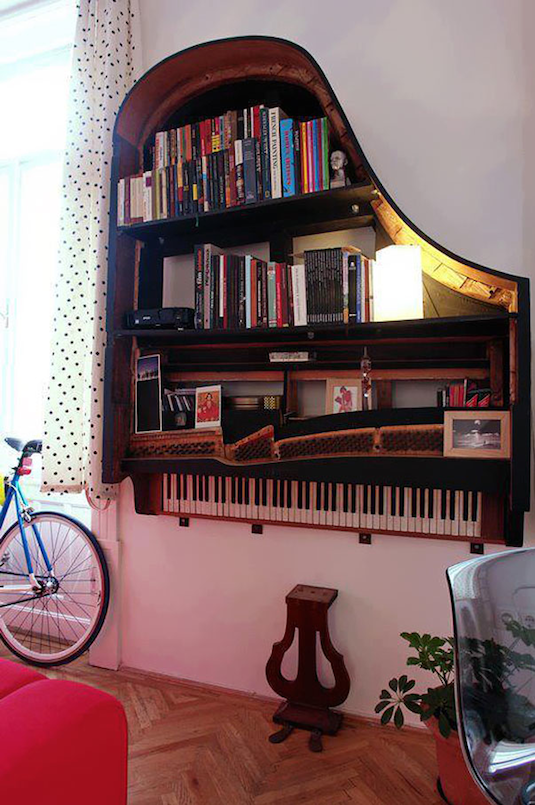 12. Crib To Toddler Bed
If you thought the repurposed crib to craft desk was cool, check out this crib makeover! They are going to grow out of that crib eventually, and when they do, you might as well turn it into an adorable toddler loft bed! It's a great step up from the crib without having to actually purchase something new (and they still have the comfort of their old bed). Get the details and instructions here.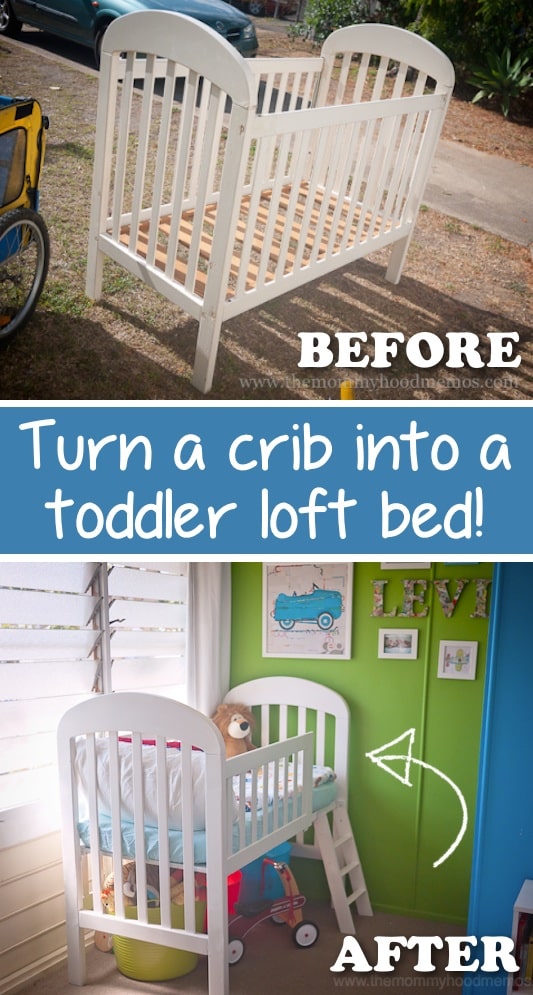 13. Ladder Towel Rack
With a little bit of sandpaper and paint, you can turn an old ladder into a functional and cute towel rack for the bathroom. And, if you have as many throws as I do in my living room, it's perfect for tossing blankets over, too! Go check out the details here.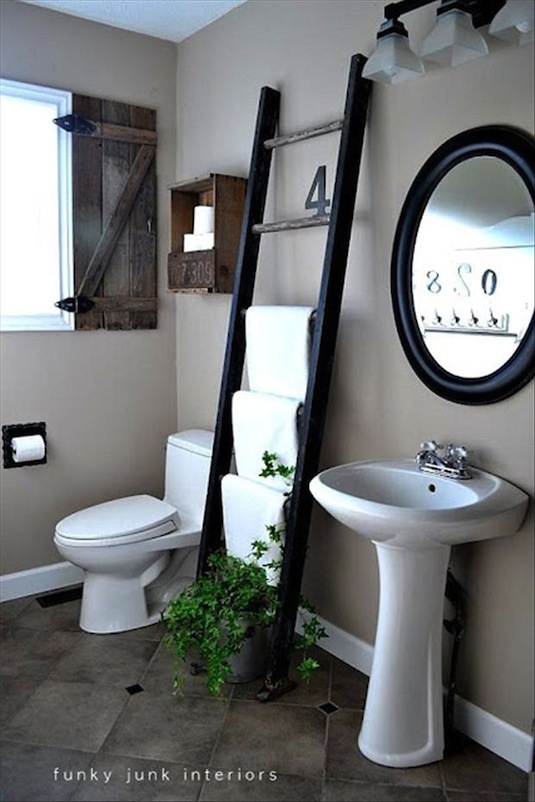 14. Bicycle Sink
I can only imagine the thought that went into this beautifully hand-crafted sink and vanity– some creative plumbing, for sure! It's even complete with a hand towel basket! I didn't find instructions for this, but it certainly got my wheels spinning when it comes to home decor and design. Think outside of the box.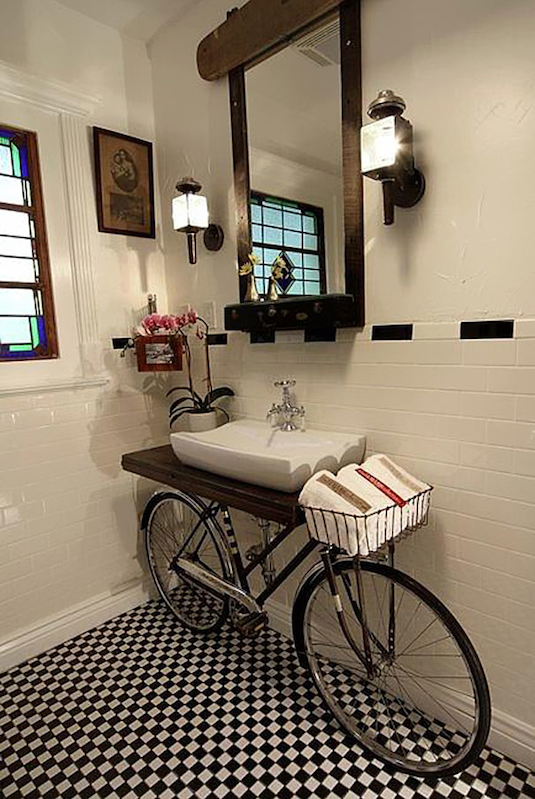 15. Repurposed Stool
For those of you who lose their wrapping paper and craft supplies in the back of the closet or cabinet, this is the project for you! I love how it's even on wheels for easy mobility. This does take some sewing skills, but the frame is already built! Get the details and instructions here.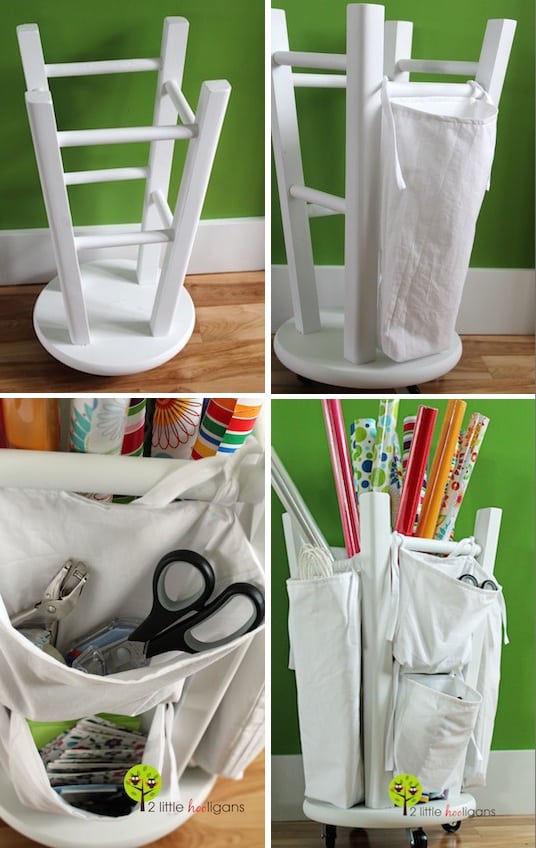 16. Hanging Chair Closet Organizer
Other than lofts that don't have enough closets or storage space, I was just thinking you could also use this for the laundry room! Even just one chair would provide enough space for drying clothes and a little extra storage shelf.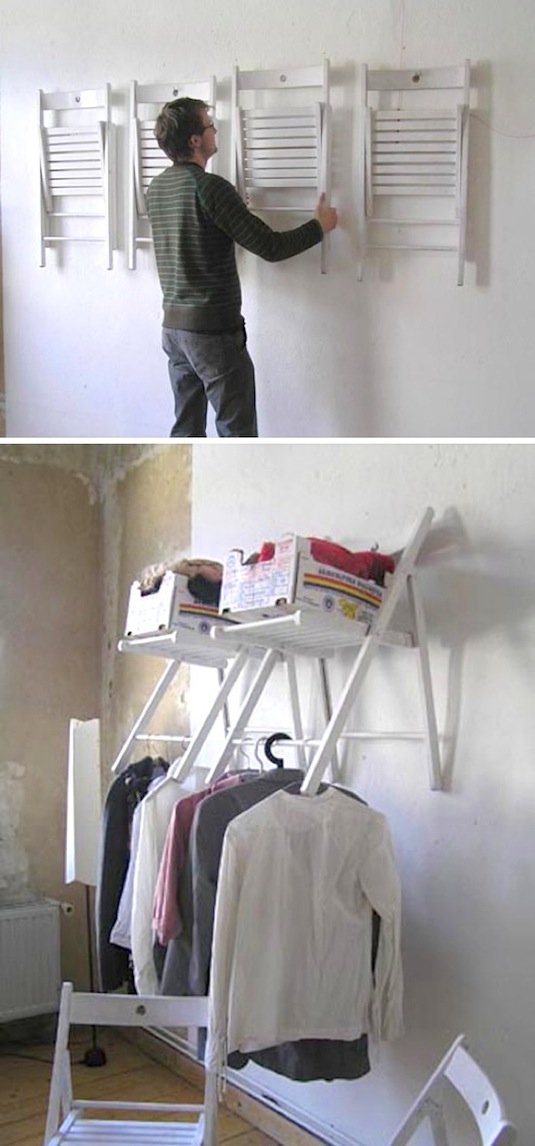 17. Mini Office Chest
This chest turned into a mini office is perfect for small spaces! If you don't have the luxury of your own home office, this is an easy solution for storing your files and little office goodies. It also doubles as extra seating when closed! 🙂 Get all of the details and instructions here.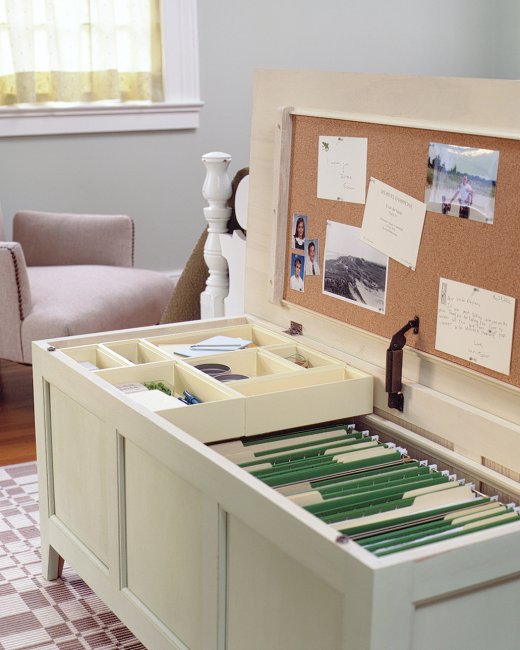 18. Bookshelf Turned Locker
This bookshelf makeover would make for a fabulous addition to an entry-way or mud room! It gives the kids a place to hang their backpack and store their coat, shoes, umbrella, etc. I would even add a few baskets on top for extra storage. Although I found this project over at My Creative Days, the tutorial appears to be gone. It does seem pretty self explanatory, though.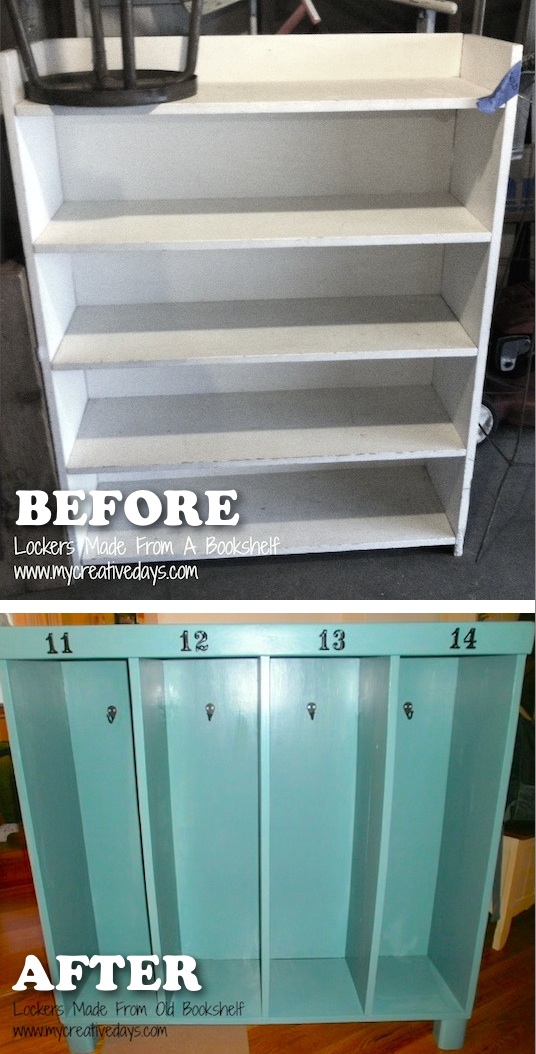 19. Magazine Rack Wall Shelf
I like this shelf idea for a small entrance where you can set your phone and keys; maybe even add a hook or two on the bottom to hang a purse or umbrella! Or, if you don't have room for a nightstand, this is a doable alternative.
20. Bookshelf Command Center
By simply turning one of these bookshelves to the side, it creates a unique piece of furniture! You would need to have the right space for it, but this would be a nice addition for extra storage and organization. I really like the chalkboard paint idea for writing notes or keeping a calendar! Go get the details and instructions here. The shelving units that were used for this particular project are no longer available but you can buy similar shelving units from Ikea here.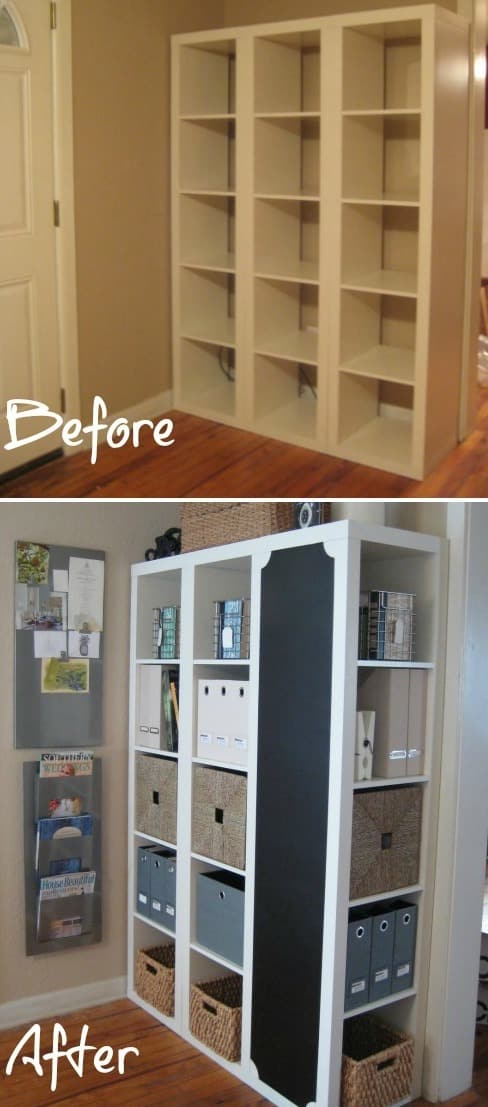 21. DIY Rustic Wall Shelf
If you love the farmhouse style of home decor as much as I do, then you are going to love this homemade wall shelf! I think it would look fabulous in a kitchen or entryway. Simply throw a few S hooks on there to hang coats, hats, towels, dishes or anything else you would like. Just hop on over to Hometalk for the full instructions, including a link to where you can buy these exact shelves in case you're not much of a do-it-yourselfer.

22. DIY Folding Table Topper
Genius! Party planners everywhere struggle with the task of decorating boring folding tables. I love this table topper idea! You can have the convenience of a collapsible folding table but with an upscale party table look. This DIY reusable folding table topper makeover idea is sure to dress up your holidays. Use it every season for years and years. Probably heavy to move around solo, but nothing some extra hands can't help with. Get the full DIY instructions at Living Rich with Coupons. See ya ugly plastic table cloths! Hello stylish folding table toppers!