Last Updated on May 7, 2021
I have to say, I normally get very intimidated when it comes to projects that involve sewing. I tend to steer away from them, but after my hunt for different ways to customize your clothes, I am really quite inspired! Most of these are very easy, in fact, a lot of them don't even require a needle or thread; just a few creative folds, knots, and cuts. I'm anxious to go through my closet and see what I can make out of some of my old things. My husband may also be missing a few shirts once I'm done, but I doubt he'll notice. Maybe you'll find inspiration with these clever ways to refashion your clothes.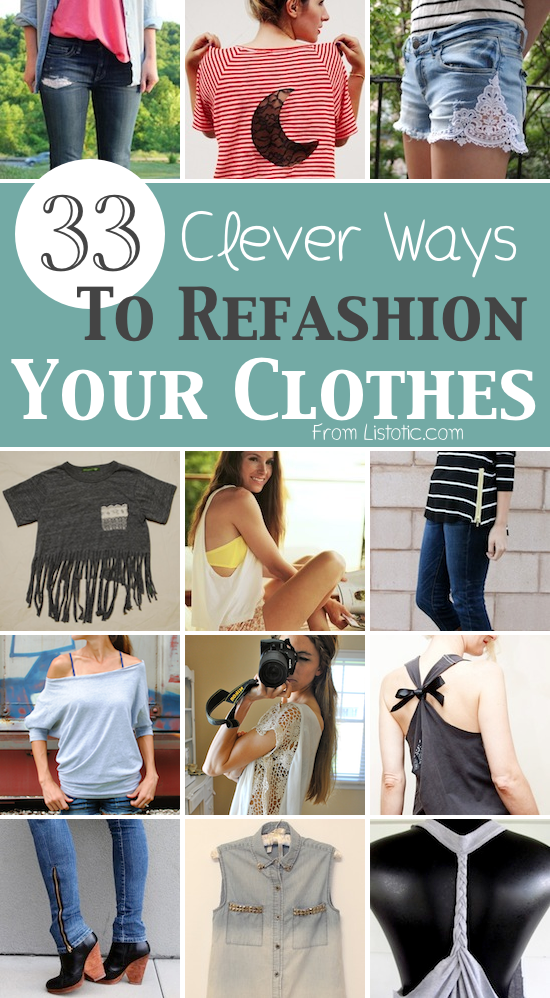 1. The 8 Second Shirt To Skirt
You won't believe how easy this is! Now you can use those long sleeve winter tops during the summer as a cute skirt with a bow. It really is quite flattering, too!

2. Add Lace To Your Cut-Offs
This easy sewing project adds a feminine and unique touch to just about any pair of jean shorts. Bonus: You can slightly alter the shorts in the process to make them a bit larger in the thigh area if needed.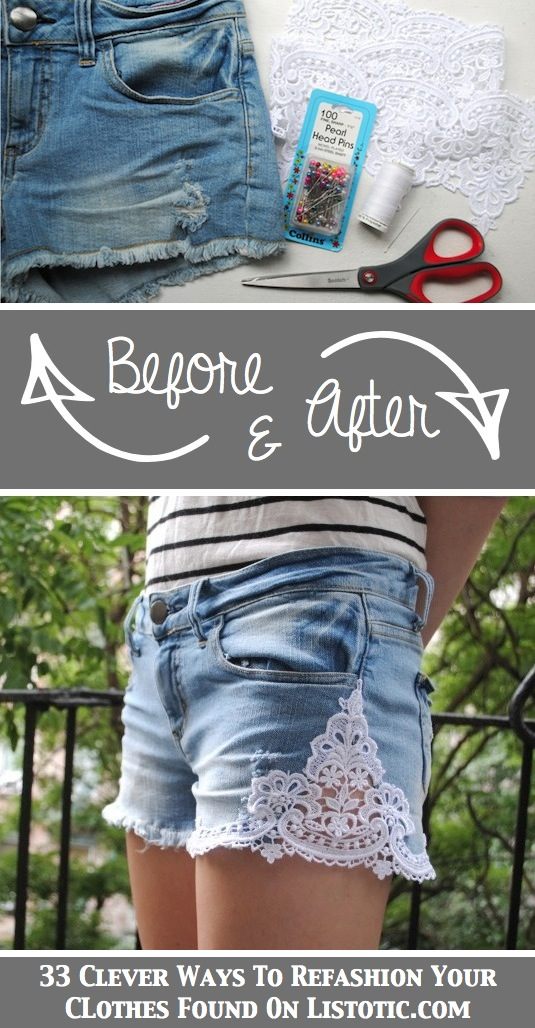 3. Add Lace Sleeves To A Tank Top
With a little bit of lace trim and your handy needle and thread, you can turn a basic spaghetti strap tank into a stylish lace top. No sewing machine required!

4. Men's Dress Shirt Apron
Isn't she adorable?! I love the vintage feel of this apron made from a men's dress shirt. It's easier than it looks, too. I'm sorry to all of the husbands and boyfriends who are now missing one or more of their long sleeve collared shirts. Just know that it went to good use!

5. DIY Elbow Patches
I've seen this done a few ways, but a heart elbow patch is probably my favorite. You could do this with just about any fabric, even lace! It certainly adds character to an otherwise boring cardigan or sweater.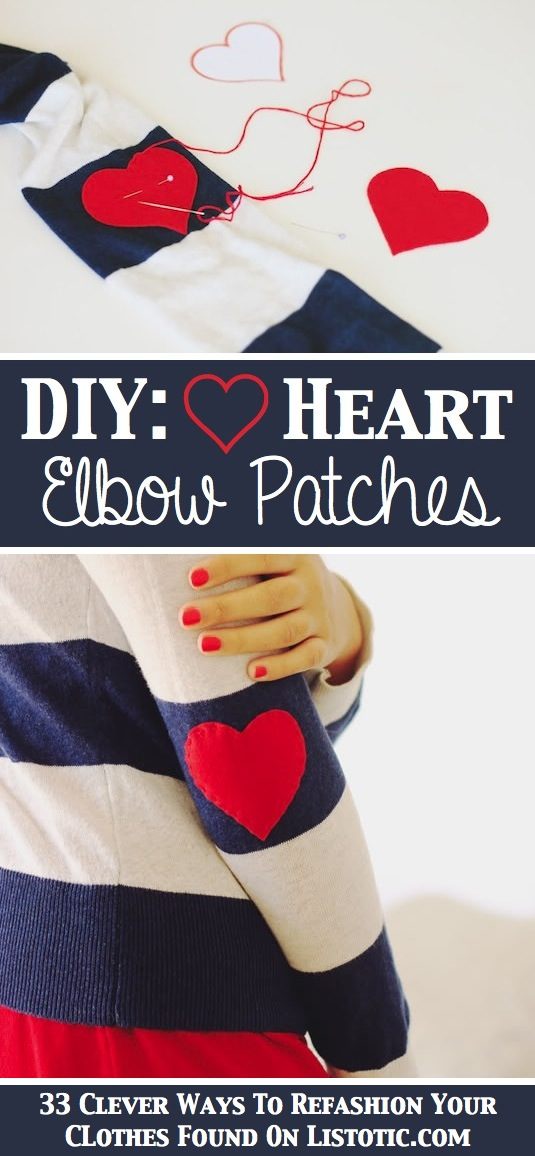 6. Scarf Turned Racerback
That's right, no sewing! With just a few clever folds and knots you can turn any large scarf into a cute little racerback vest. This would be cute over a tank to add a little personality and coverage.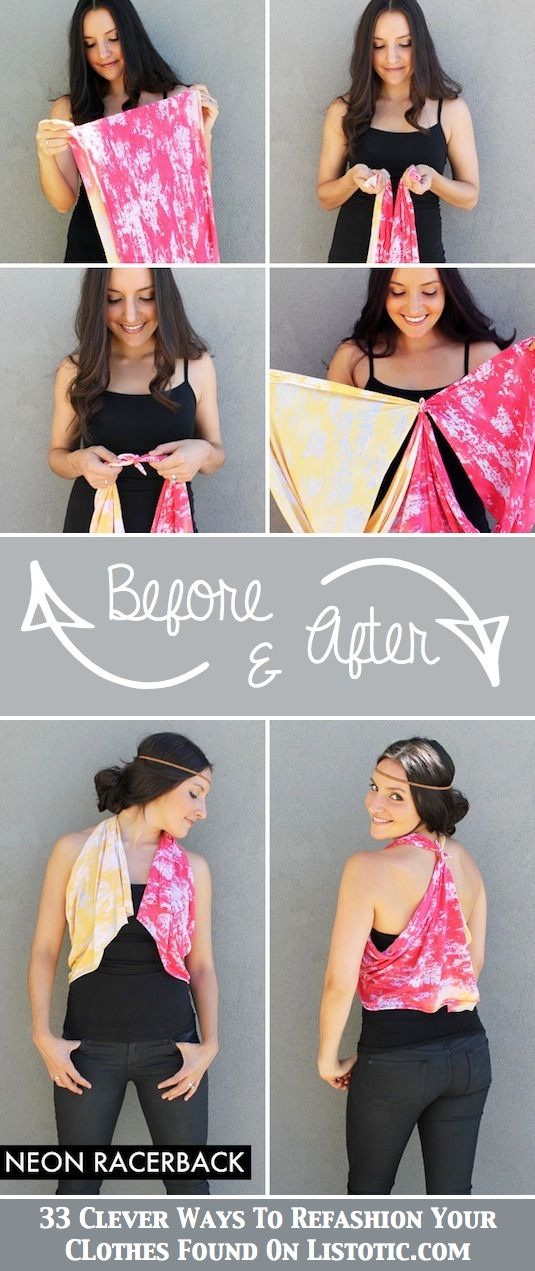 7. The Five Minute Draped Vest
I love the back on this one just as much as the front! This is something I would wear quite often over a tank in the summer. It provides the right amount of coverage while still showing off those arms. You could even use a printed t-shirt to create something a little more fun and unique.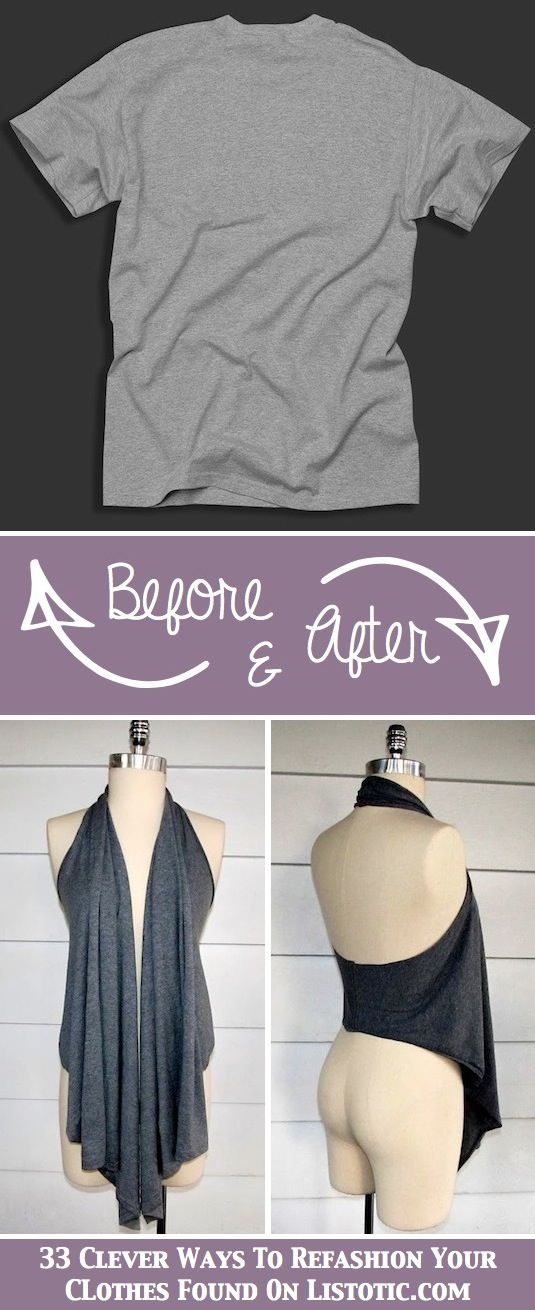 8. No-Sew Crop Top
It doesn't get much easier than this! You can wear it over your sports bra at the gym, swimsuit at the beach, or layer it over a fitted tank top for everyday wear. And, customize it however you'd like by making the cut-outs as big or as small as you are comfortable showing. Same goes for the length; you could even skip step 3 for a longer tank.

9. DIY Lace Inset Jeans
Have a rip or tear in your jeans? Patch it up with lace! Or, to get this look, use scissors to create a horizontal rip. There's very little sewing required, and instead of using a sewing machine, you could even create a sewing pattern by hand that would look really nice with the lace.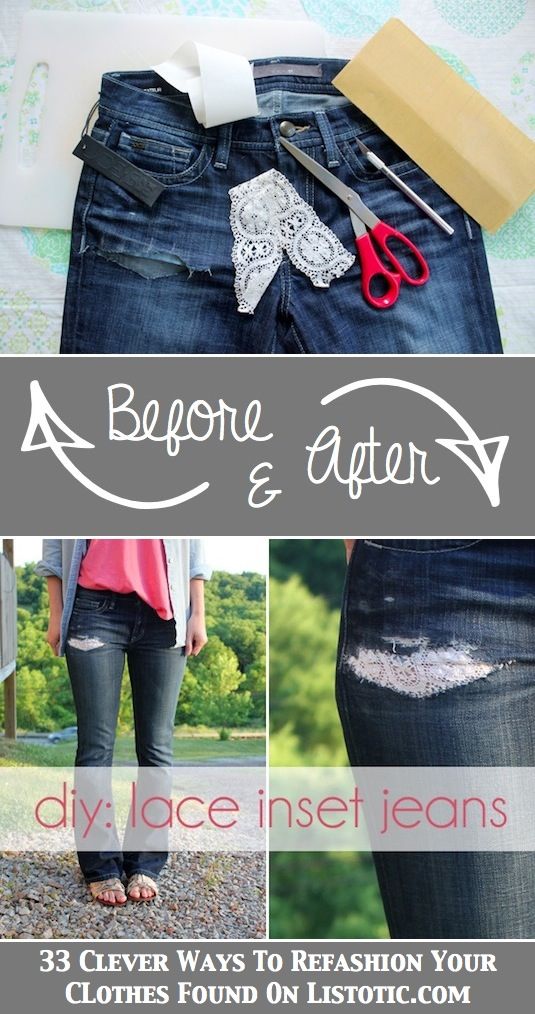 10. Turn Boot Cut Jeans Into Skinny Jeans
This one requires a sewing machine and little bit of skill, but it might just turn those boot cut jeans that you never wear into your new favorite pair. I have a stack of boot cut jeans just like this in my closet that I could use this for! The zipper is a nice touch, too.

11. DIY Lace Insert
You can update just about any shirt with this method! And, guess what? There's no sewing required for this one. You can make your cut-out in just about any shape (I'm thinking a heart or star), and then use hem tape to secure the lace to the inside of your shirt.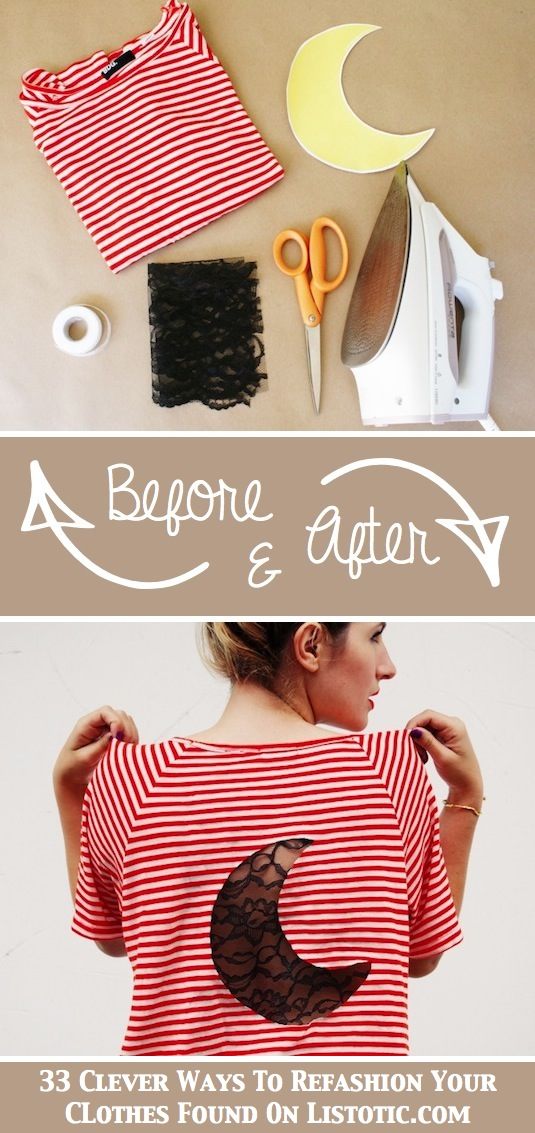 12. DIY Swimsuit Coverup From A T-Shirt
This reminds me of the swimsuit covers I bought from Victoria's Secret this year, only this would cost very little and you can completely customize it! You're mostly going to do a lot of cutting, and then just a little hand sewing to attach it back together.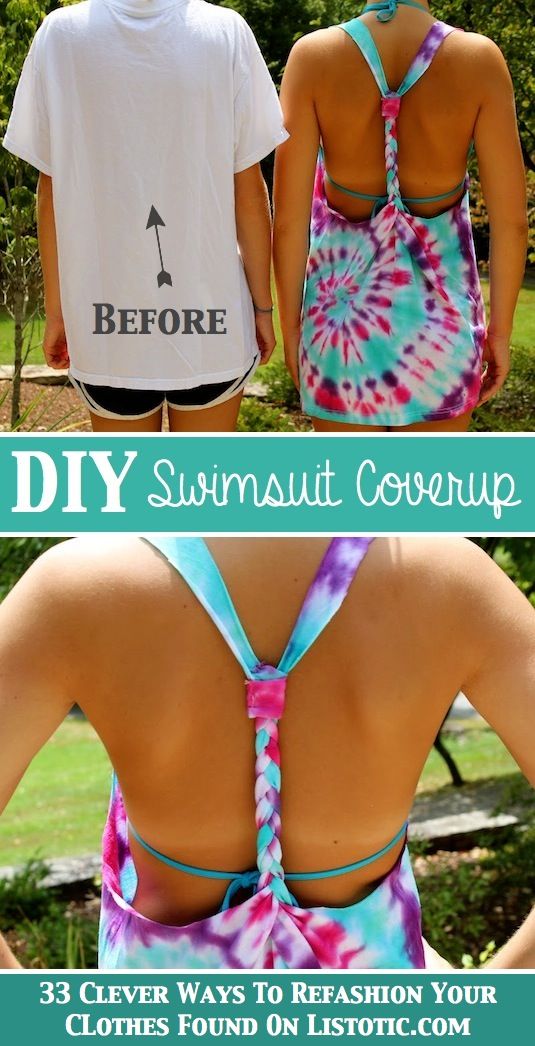 13. DIY Studded Ombre Denim
Hard to believe that's even the same shirt! The makeover on this one is stunning. Because the sleeves are already hemmed at the shoulders, there's no sewing needed. And, the ombre effect was created with just plain old bleach! This is the first time I think I've ever wanted to go clothes shopping at a thrift store.
You can get the tutorial for the ombre effect here on YouTube. And the stud application here.

14. DIY T-Shirt Maxidress
Am I the only one that get's those tiny little holes in the bottom of all of my t-shirts and tanks? I think it's from rubbing up against the button of my jeans or something. I have yet to figure that out, but I really like this project for all of my great fitting tees that are no longer wearable because of my unfortunate hole problem. And, the skirt portion can be made from large men's shirts; pick them up at a thrift store for just pennies!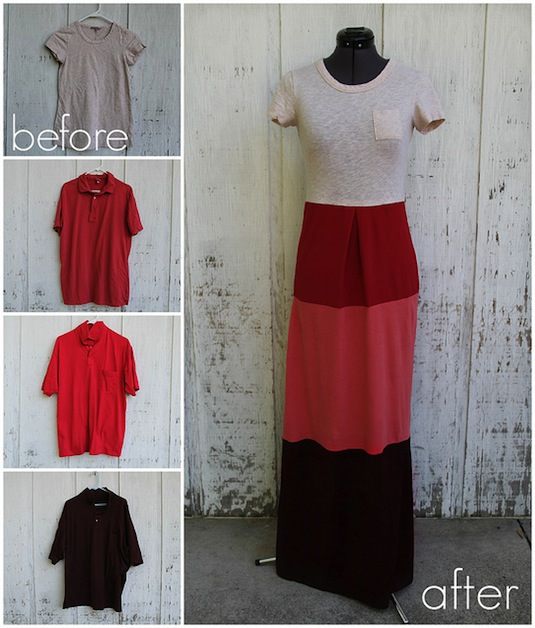 15. DIY Cut Out Back
An easy and fun way to refashion one of your t-shirts! Wear it over a tank top, or even as a swimsuit cover. There's no hemming required, just a needle and thread to created bows for each sliced section.

16. Add A Zipper
Not only does it add personality to just about any top, but it can also be functional; especially for a tight shirt that is hard to get on and off. I like the idea of placing a zipper on the back of the neckline.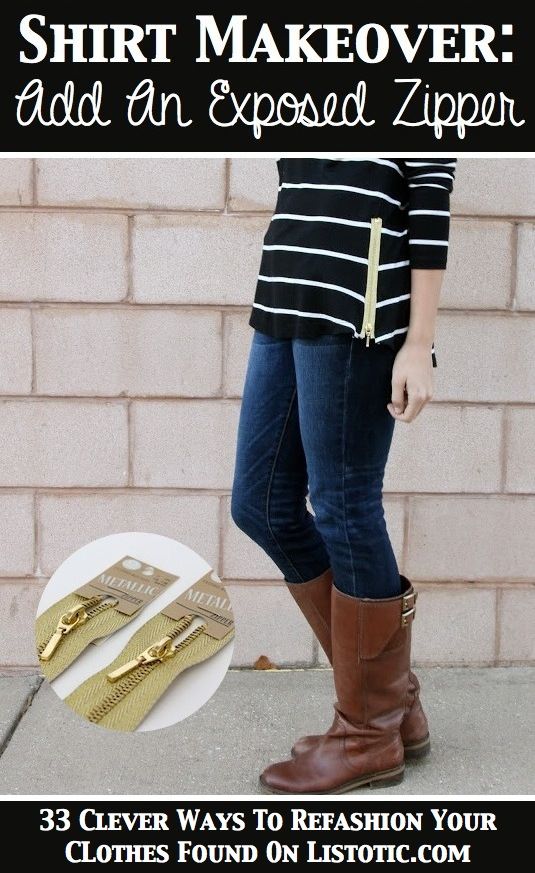 17. DIY Shirt Expand
What a great way to expand a shirt or tank top into a loose fitting shirt for layering! Just cut off the sides and sew on a crochet trim. I have so many shirts I could do this with. You could also make it sleeveless and only sew on sides for the lower portion (with lace or other fabric, too), leaving a gap for the arm holes.

18. Refashion An Old T-Shirt
You could literally create an entirely new wardrobe without doing any shopping at all! Turn an old t-shirt into a cute top for summer with a few simple careful cuts. I'm digging the rocker vibe on this one, too.

19. Men's Shirt Dress
Yet another fabulous way to turn an oversized men's shirt into a chic shirt that's just right for you! I love the one with the shoulders cut out; just accessorize it with a belt and you're set to go.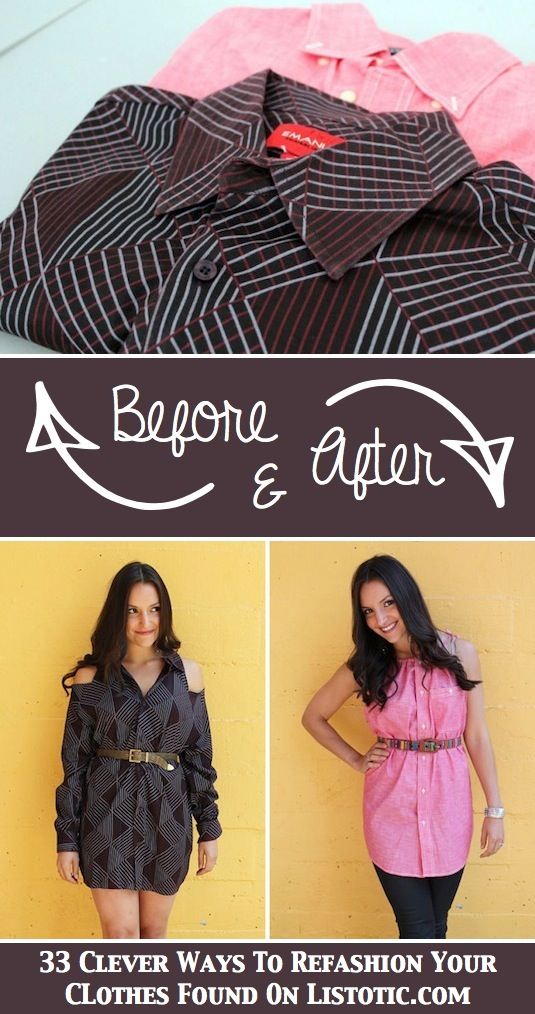 20. DIY Braided Racerback
What a cute DIY shirt idea for layering, or even as a swimsuit cover! After trimming a t-shirt, cut three strips out of the back, braid, and then sew the end of the braid back onto the neck collar.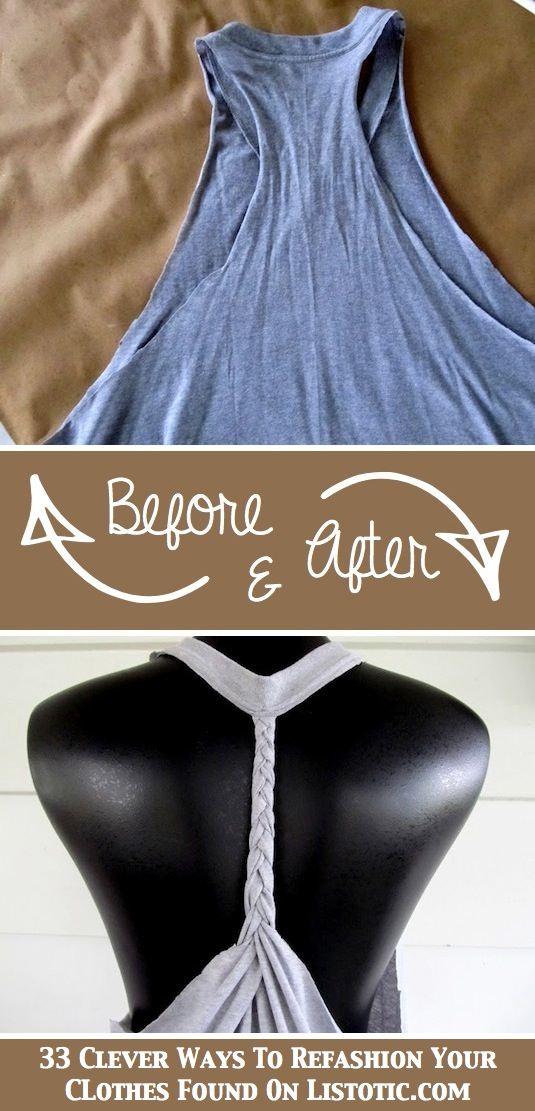 21. DIY Fringe T-Shirt
Every girl needs a cute fringe top in her wardrobe, right? Why buy one when you can easily make your own and customize it to your liking! This would also be pretty on a loose fitting tank top or racerback. Get the full instructions here.
22. DIY Painted Jeans
It has never dawned on me to use fabric paint, but I think I'm going to have to try this on a few of my daughter's clothes! You could use any stencil you'd like, and either make a pattern with it, or maybe even just do one larger stencil on a shirt or pants pocket.

23. DIY Dolman Tee
At first glance of this before-and-after, I thought "Way to hard!". But if you check out the instructions, it's actually pretty basic stuff. The shirt has to be a couple of sizes too big for it to work, but the results are nothing less than awesome!

24. DIY Belted Scarf Vest
After removing the buckle, use a cloth belt as your trim for a scarf turned vest. What a neat idea! For whatever reason, I've purchased a lot of scarves over the years, but honestly never wear them; they just seem like an accessory to me that gets in the way. I would love to turn a few of them into cute cover-ups like this one!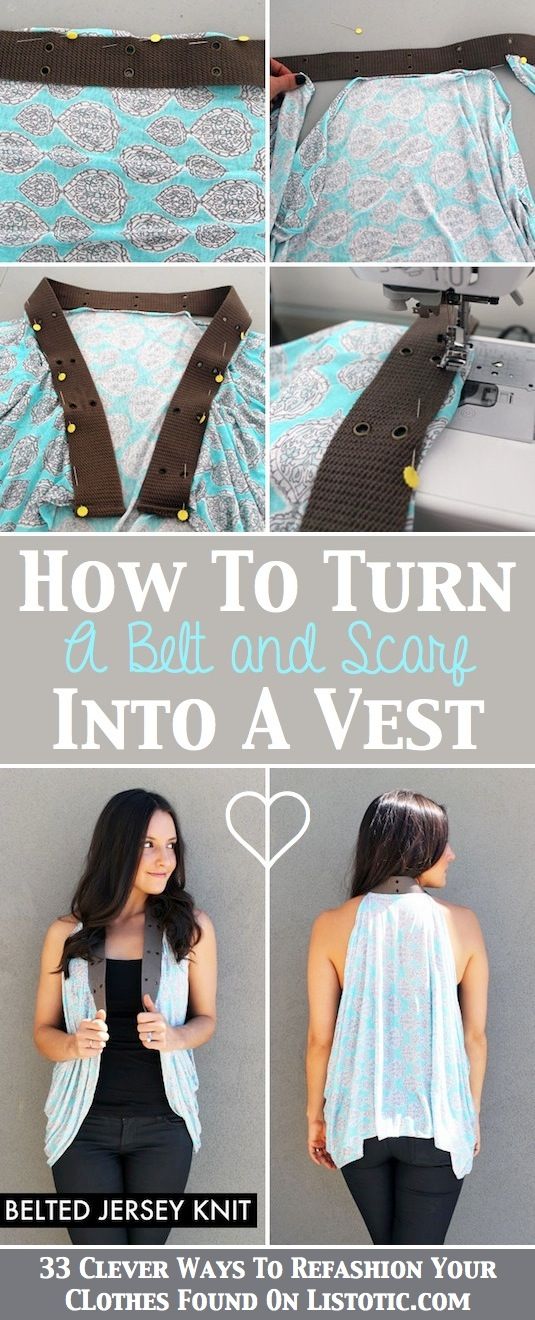 25. DIY Cropped Tank
Cropped and Chopped! Literally. Break out your scissors and turn an old t-shirt into a lovely cropped tank. It's a little over sized and perfect for layering over a fitted shirt or tank.

26. DIY Star Shorts
Turn a boring pair of cut-offs into something stylish for Independence Day! Or, any day, really. I saw shorts just like this for $65 at a department store a few months back. Who knew you could easily just make them yourself!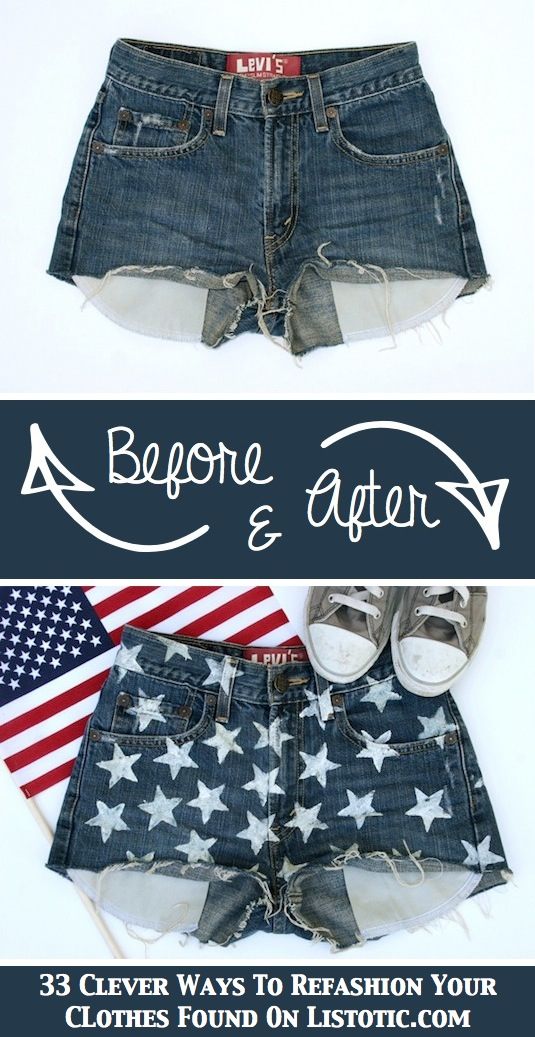 27. DIY Bleach Art Shirt
Use a clorox bleach pen to write a special name, word, or saying on a plain colored tank, t-shirt, or sweater. If you're artistic, I suppose you could also draw a simple shape or picture.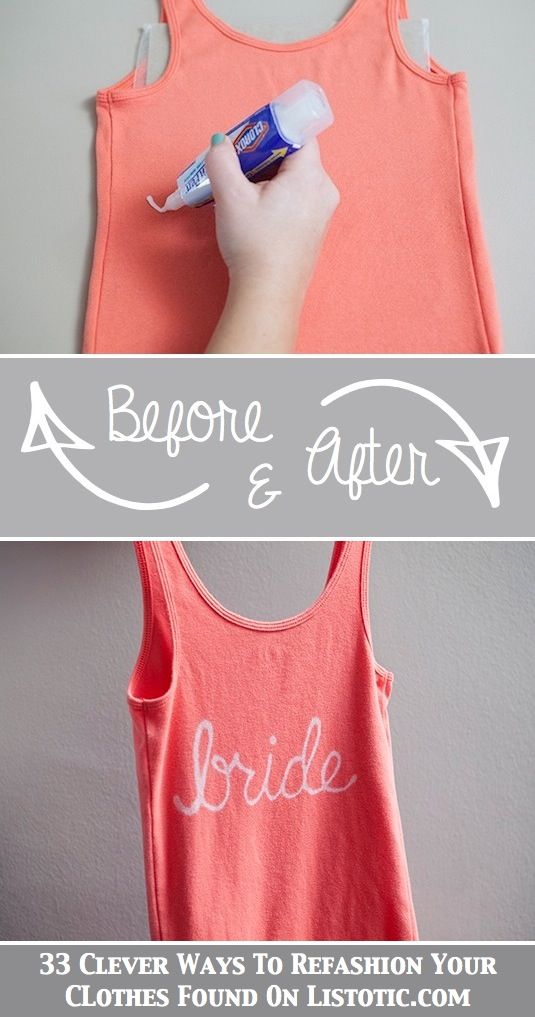 28. DIY Tie-Dye Shorts
I'm sure you could buy tie-dye shorts at just about every department store these days (and you'll pay for them, too!), but you can also easily customize your own from home with a pair of white denim shorts.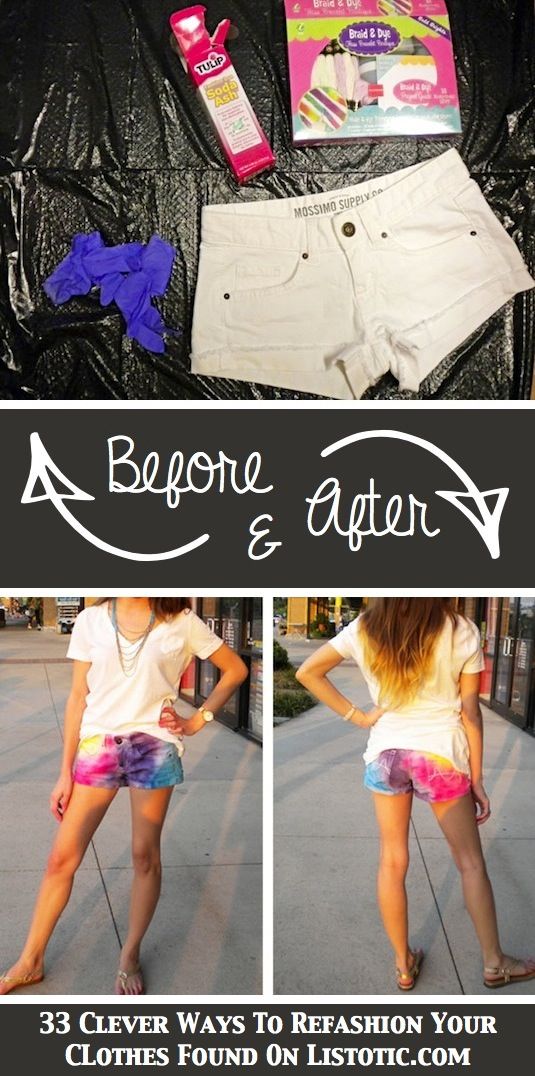 29. No-Sew Tee Shirt Halter
This adorable t-shirt turned halter was made with a few snips of the scissors and clever tying. It can also be worn several ways with different tying methods. Love it! My husband isn't going to have any tees left by the time I get done ransacking the closet.

30. Add A Chic Bow To A Sweater
This is so pretty! It can be done with just about any open back sweater, but there are also detailed instructions on Maegan's site on how to lower the back if needed.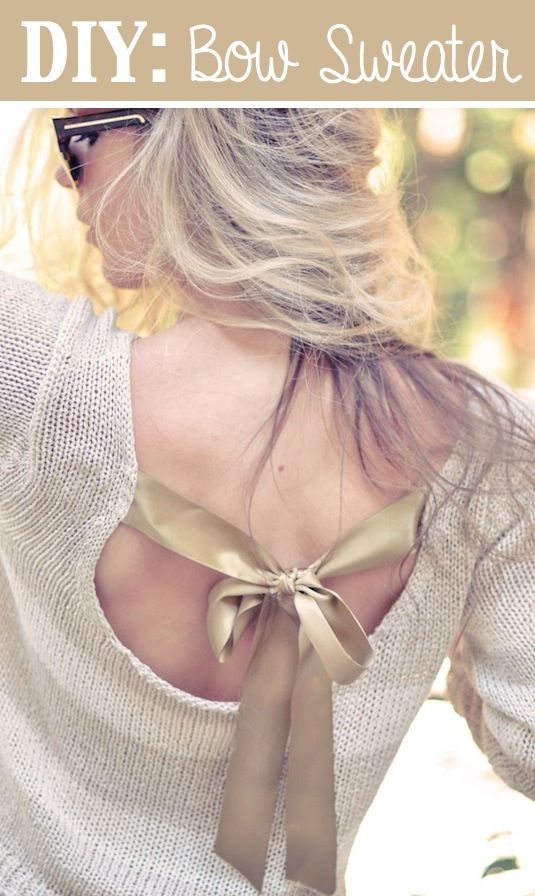 31. DIY Candy Corn Shirt
My favorite candy, and just in time for Halloween! You could do this with a tank top, too, although I really like this idea for the kids. My daughter has a white tank that I would like to try it on. It would look really cute under one of her cardigans!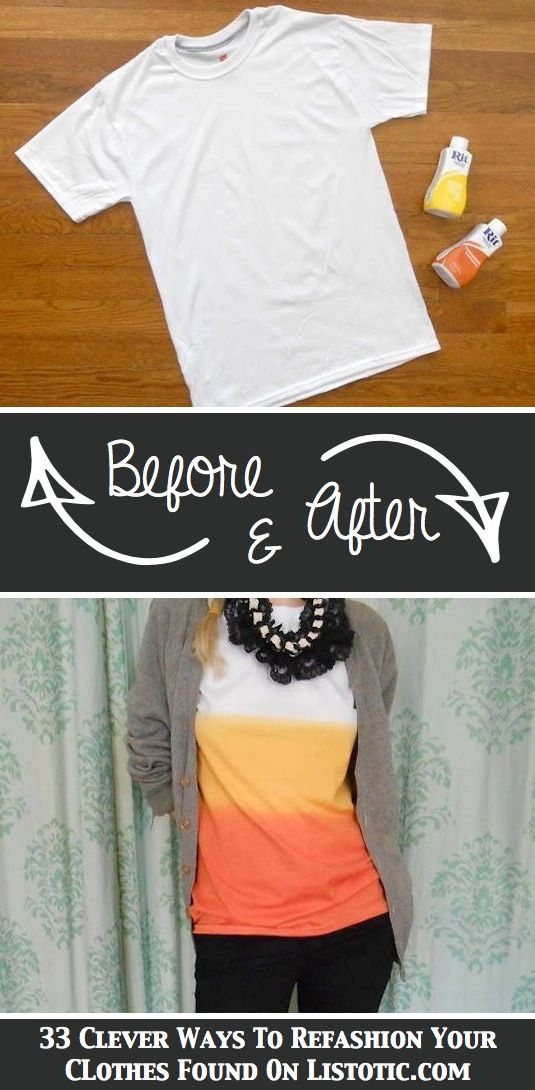 32. Add A Giant Bow
This would work on a v-neck or scoop neck. You can make the bow as big or as little as you would prefer, and then sew it in place! It might even be fun if the bow were made with a different fabric and color.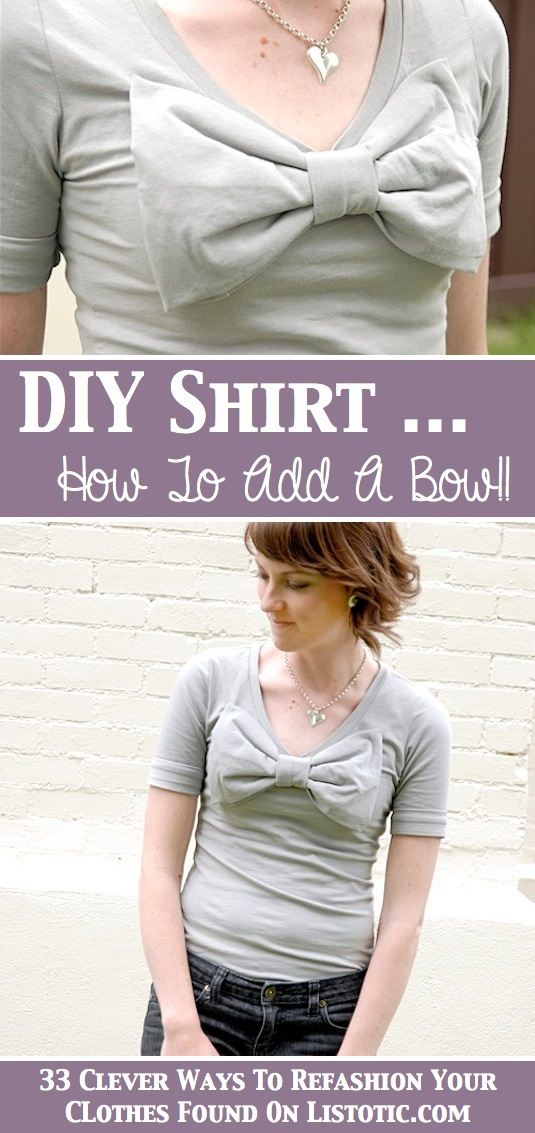 33. Upcycled T-shirt Dress
Let's not forget about the little ones! It would be really fun to play around with some of their old clothes and see what we can come up with, after all, they grown out of them so fast! This darling little girl's dress was made with old t-shirts all sewn together. She also used foam stamps and fabric paint to dress it up a bit. Lovely!