Last Updated on November 26, 2021
I don't think anyone likes to waste food, but unfortunately, sometimes leftovers get either forgotten about or are just plain unappealing (who wants to eat the same thing two to three days in a row!?). If you tend to make spaghetti for 17 people to feed your family of four like me, then you may just find that there are some creative and exciting ways to use that leftover pasta! Not to mention, a variety of other leftovers, too!
Moreover, here are a few of my favorite clever and easy ways to use leftovers that you probably never thought of. Above all, now you can turn one meal into several different exciting meal ideas!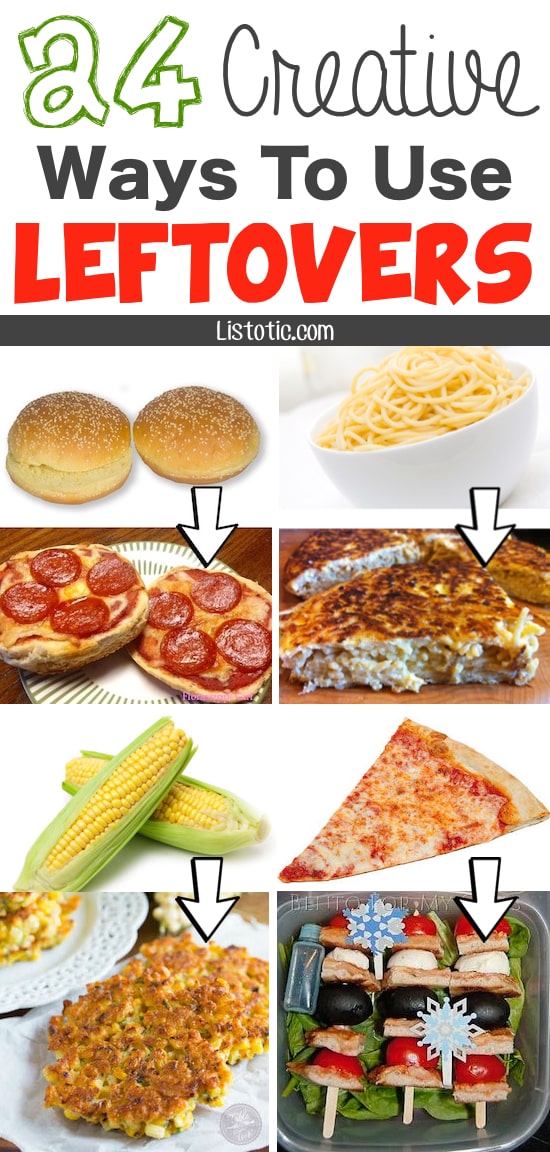 1. Cheesy Mashed Potato Cakes
I would say that most people have at least 12 pounds of leftover mashed potatoes just about every Thanksgiving, and if you would like a way to spruce them up the next day for brunch, go check out these cheesy mashed potato cakes from Just A Taste! You might also like these leftover mashed potato waffles, and so many of Kelly's other unique leftover recipes!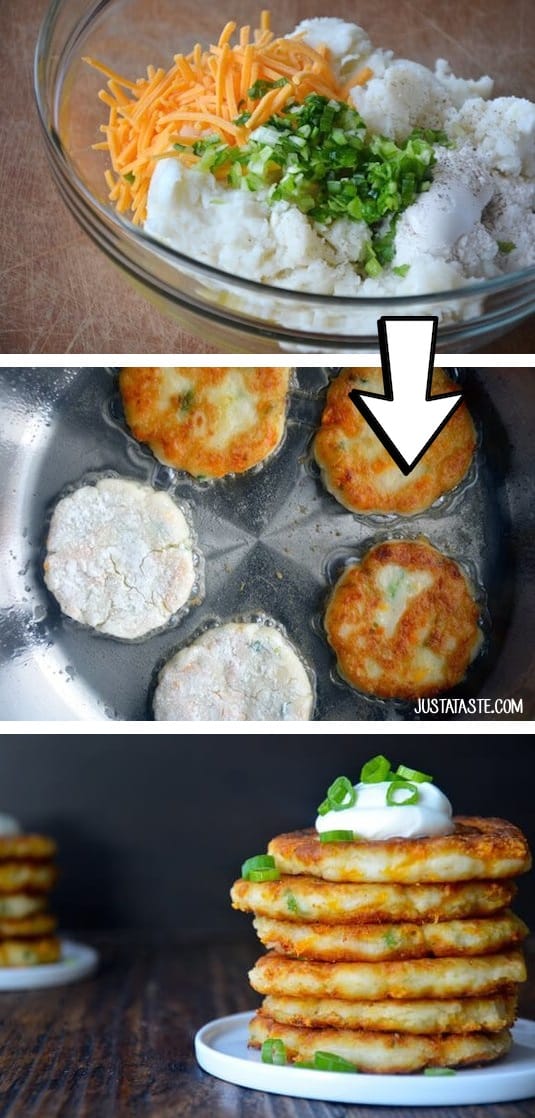 2. Hamburger Bun Mini Pizzas
It seems as though there are always leftover hamburger buns after every barbecue. Instead of letting them get moldy in the pantry and then tossing them out after you've realized you forgot about them, use them as mini pizza crusts! A sandwich would also suffice, but who doesn't love pizza!? Check out Samantha's instructions here.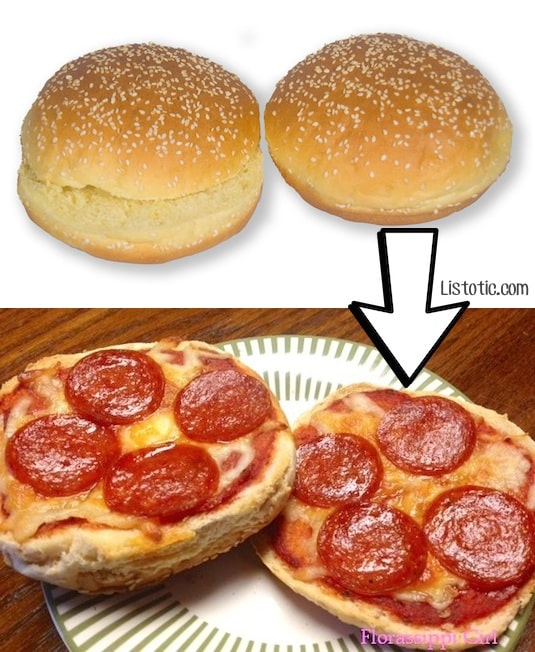 3. Leftover Ground Beef Mexican Dip
Tacos and burritos are my family's favorite choice for dinner because they always turn out good, and they're incredibly easy, but we always have leftover taco seasoned ground beef. What to do with it? Use it in this easy creamy mexican dip recipe! I'm thinking lunch the next day.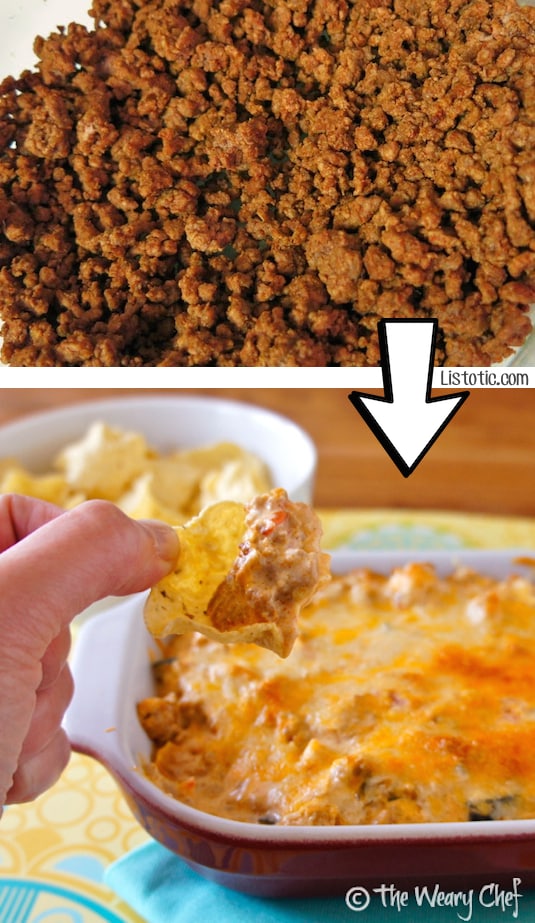 4. Leftover Halloween Candy Brownies
If you're wondering why anyone would have leftover Halloween candy that they don't plan on eating, well, I don't have a clue. My family just spends the entire month of November eating candy, but if you don't like having all that sugar laying around, chop it up and bake it into your favorite brownie or cookie recipe, and then give them away at work, church, or the next get-together with friends. Check out this idea here.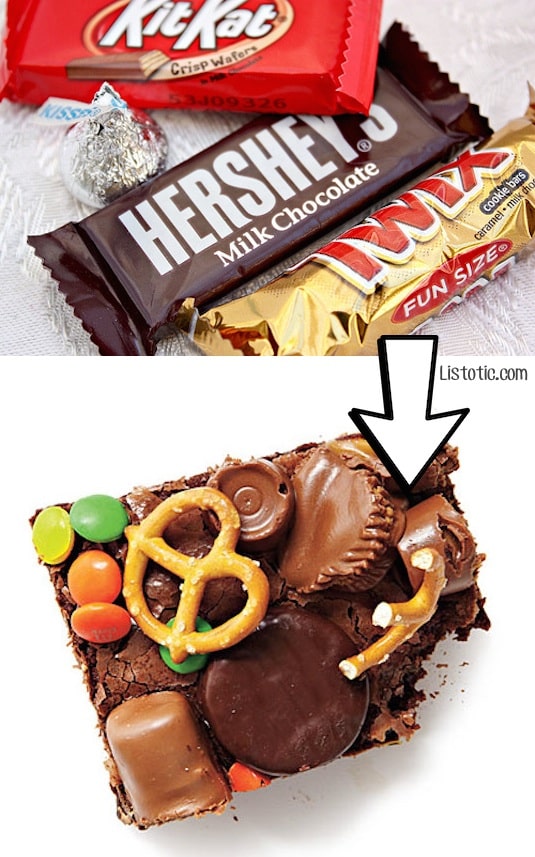 5. Single Portioned Leftover Soup
Leftover soup? Of course! There is always leftover soup. Instead of trying to eat it all in one week, consider freezing it into individual sized portions so that you can enjoy a bowl throughout the year. Clever! Go check out the instructions for this along with a delicious soup recipe!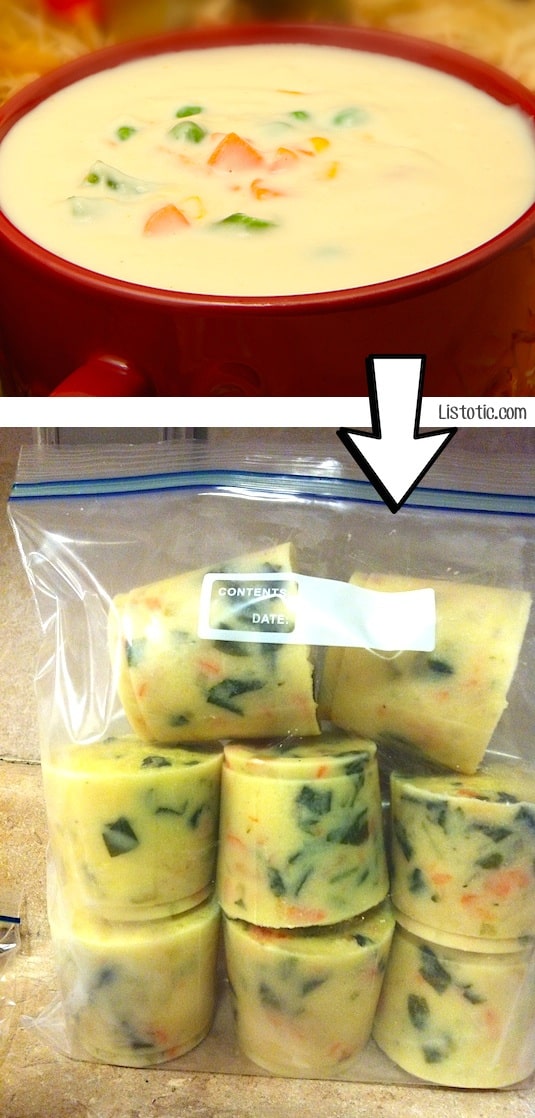 6. Leftover Baked Spaghetti
Did you just make spaghetti to feed an army for your family of 4? Try jazzing it up the next day into a spaghetti bake! By adding in a few ingredients to the mix to help keep the spaghetti mixture together, you have what almost looks like lasagna. This is like getting 2 meals out of just one! I think this keeps things a little more exciting, especially if you have picky eaters.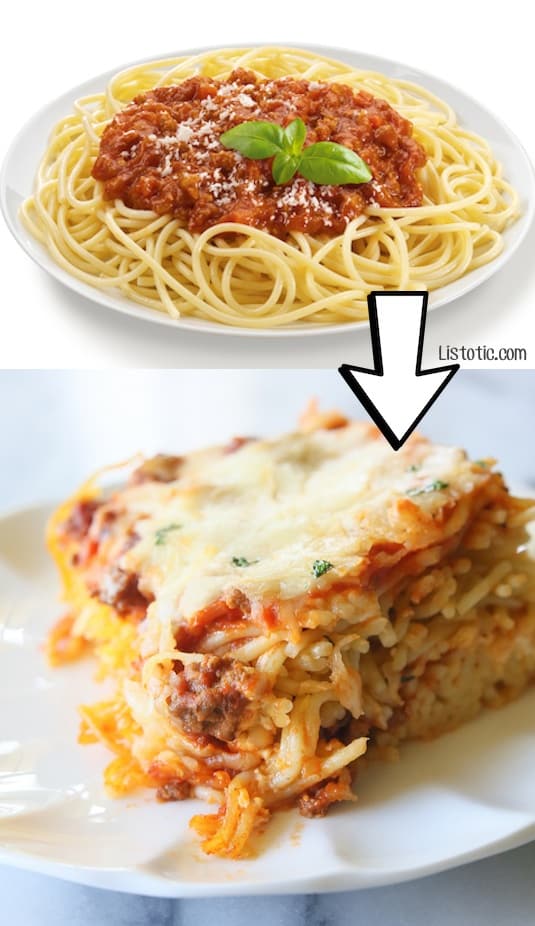 7. Leftover Pizza Kabobs
I think part of the reason pizza is so popular is because it tastes great leftover, but I love the idea of incorporating it into a school lunch. It's so hard to keep school lunches exciting as we get further and further into the year– sandwiches get boring! Use leftover pizza to make kabobs by adding in a few of their other favorite fresh ingredients (tomatoes, olives, basil leaves, ham, cheese, pineapple, etc.).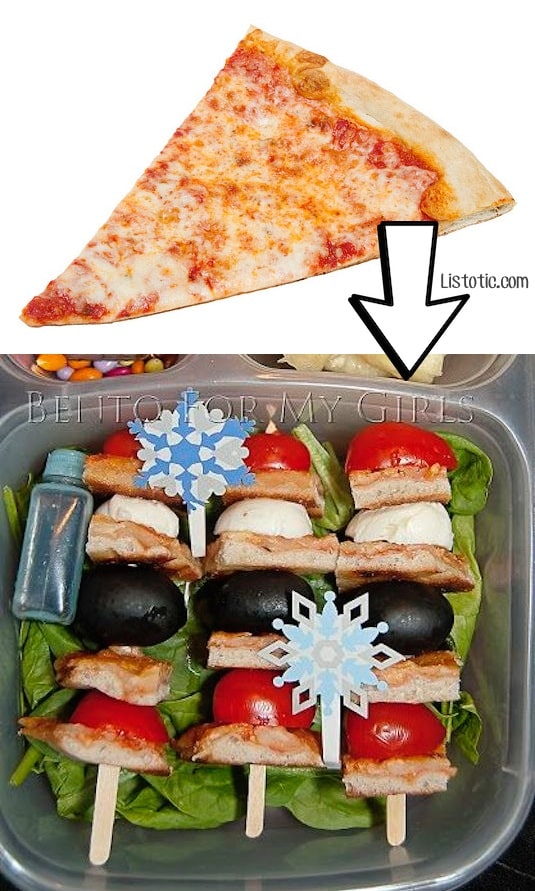 8. Leftover Corn Fritters
I don't think I've ever had a grilled corn fritter in my entire life, and I'm starting to feel like I've been missing out on something amazing. The next time you have leftover corn, don't let it go to waste! Use it to make these easy and delicious corn fritters! Corn just got taken to a whole new level.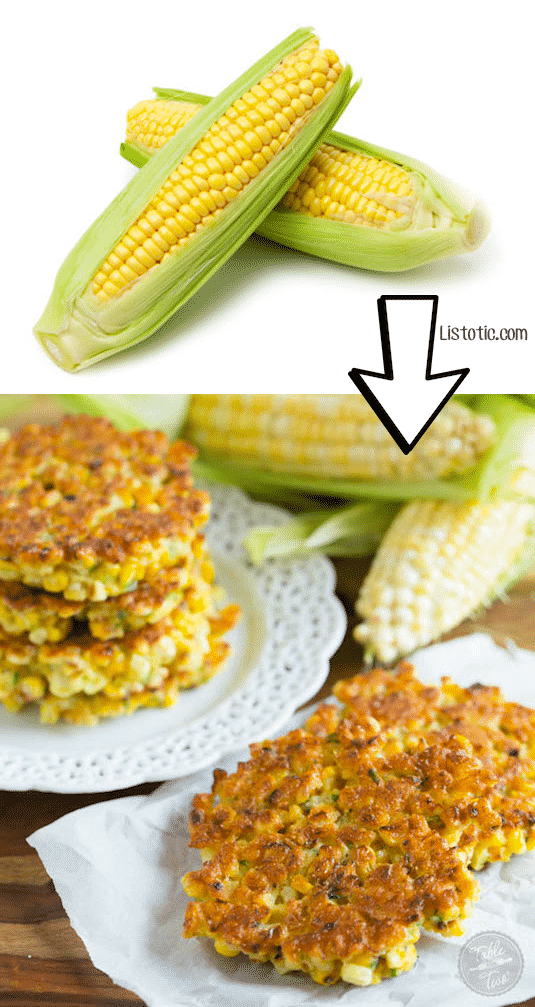 9. Spaghetti Sandwiches
Leftover spaghetti and meatballs? Great! Turn that pasta into a heavenly spaghetti sandwich! There's nothing wrong with doubling up the carbs, not when it tastes this good. I say the more added cheese, the better. Maybe even throw in a few basil leaves for added flavor.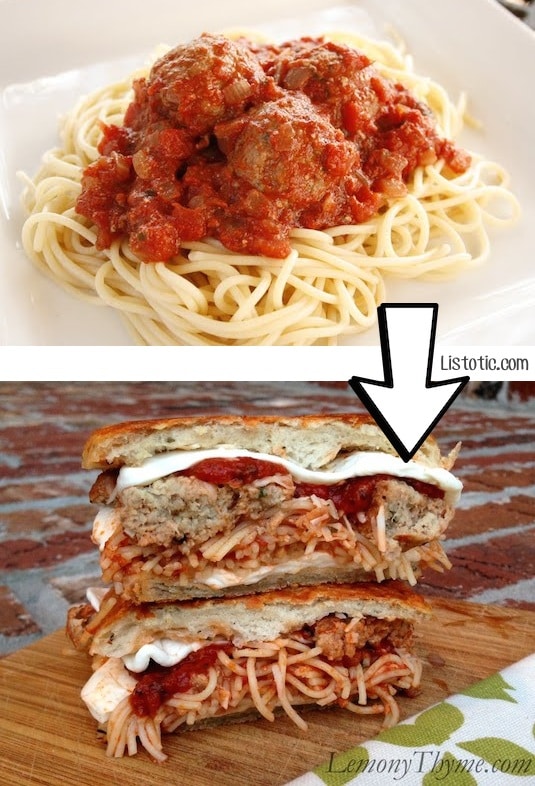 10. Hotdog Bun Sandwich Melt
Turn those leftover hotdog buns into a yummy Italian Melt! For whatever reason, I think we have it programed in our brains that hotdog buns can only be used for hotdogs, but come on! Why not make a skinny sandwich out of it?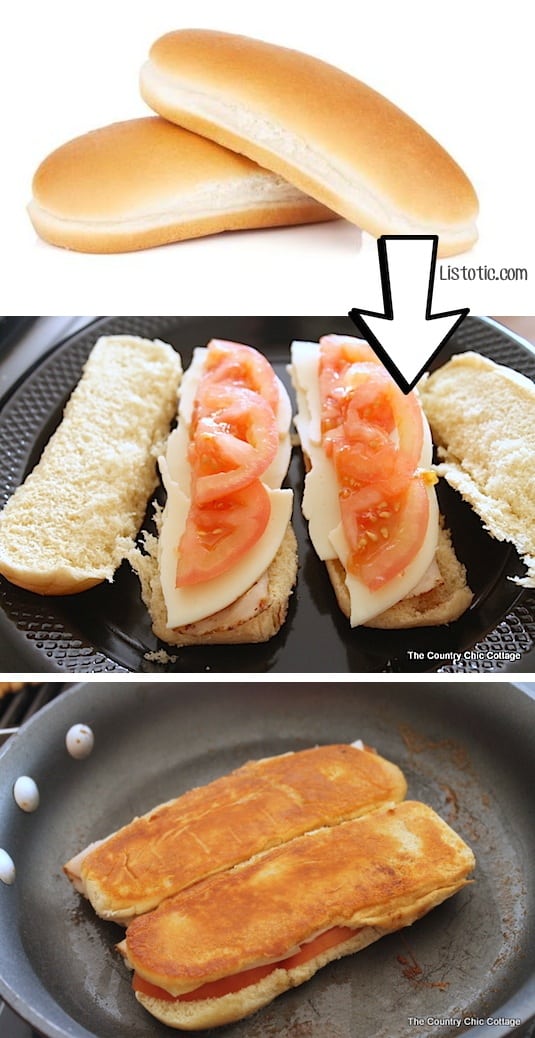 11. Leftover Coffee Ice Cubes
Use what's left in your morning pot of coffee to make coffee cubes! They make the perfect iced coffee and have many other uses. Drop a cube or two in your morning coffee to cool it down enough to drink, use them in baking recipes in place of water for a richer flavor, use them in place of regular ice cubes when drinking creamed liquors (Bailey's, etc.), or use them to make a homemade frappuccino, smoothie or milkshake.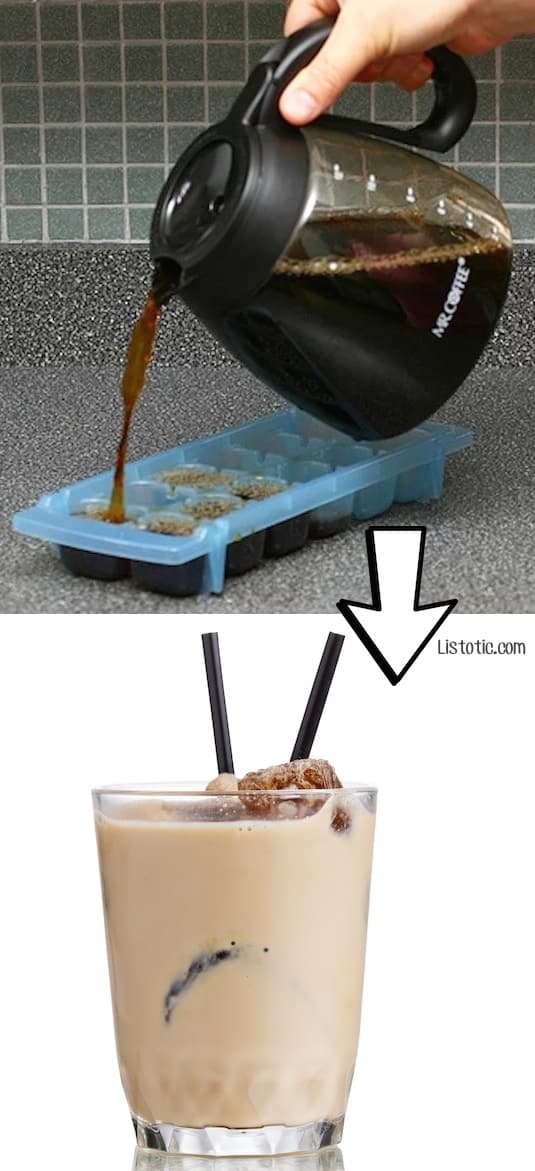 12. Leftover Pumpkin Puree Oatmeal
Use leftover pumpkin puree to spice up your morning oatmeal, make a fall smoothie, make a dip, jazz up macaroni and cheese, use in pancakes, add to your favorite chili, or freeze for later! Even just a little bit can go a long way.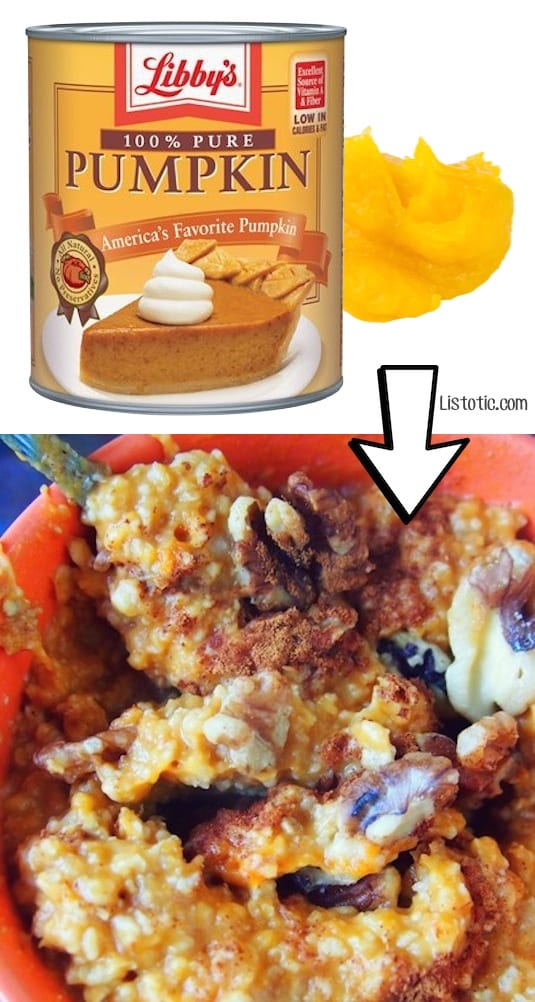 13. Leftover Chili Baked Potatoes
If you're going to go through the trouble of making homemade chili, you might as well make a huge pot! Use the leftovers to top a baked potato (check out this recipe) or to make chili dogs! Whatever you can't use in a few days, freeze in individual portions to eat later.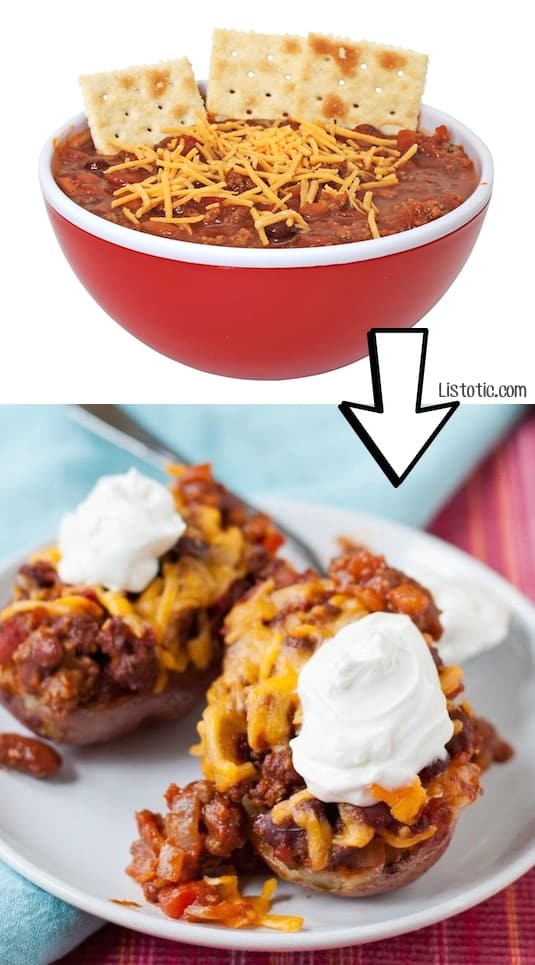 14. Thanksgiving Dinner Casserole
If you've had your fill of turkey sandwiches the day after Thanksgiving, consider throwing all of your leftovers (turkey, mashed potatoes, gravy, stuffing, cranberry sauce, and green beans) together into a tasty casserole instead! I love to eat my food mixed all together, so this recipe is definitely for me.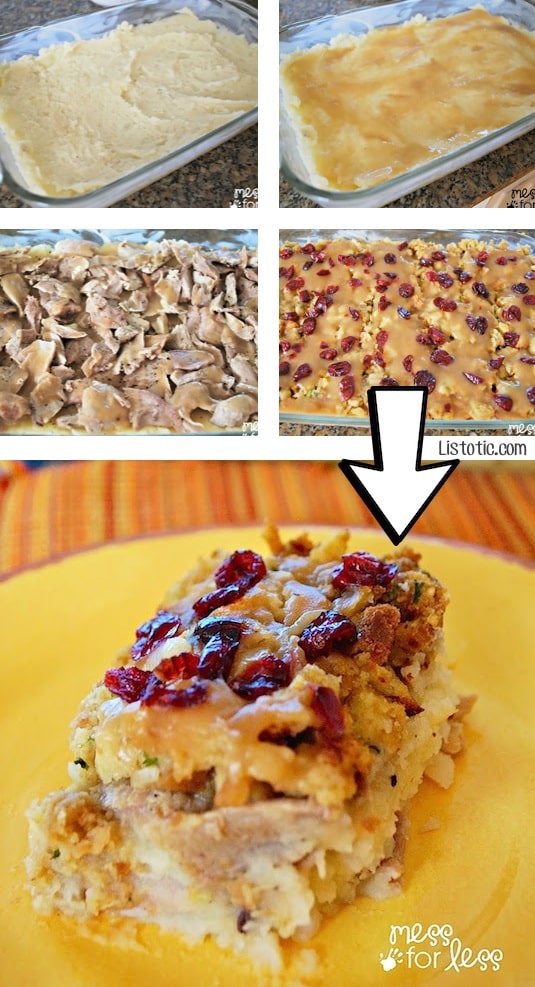 15. Leftover Steak Sandwiches
I've never been a fan of leftover steak, so it usually gets tossed, but I do like the idea of using it in a sandwich! Just toss in a few grilled onions, melted cheese, and bbq sauce, and you have an entirely different meal altogether.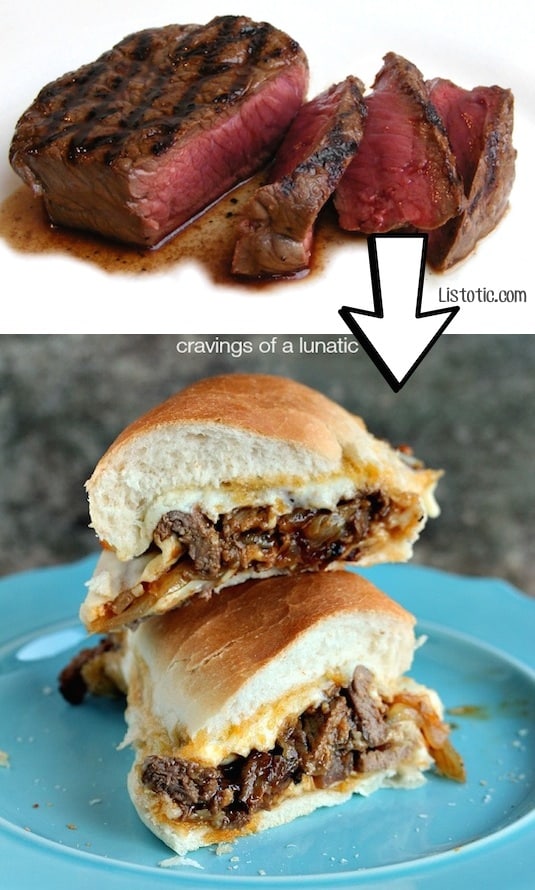 16. Leftover Chicken BBQ Sandwiches
Grilled chicken is a staple in my house, and there always seems to be leftovers. Chop it up, smother it in bbq sauce, and top it with cheese to make a scrumptious bbq sandwich for lunch the next day! It is also good leftover sliced up on your favorite salad.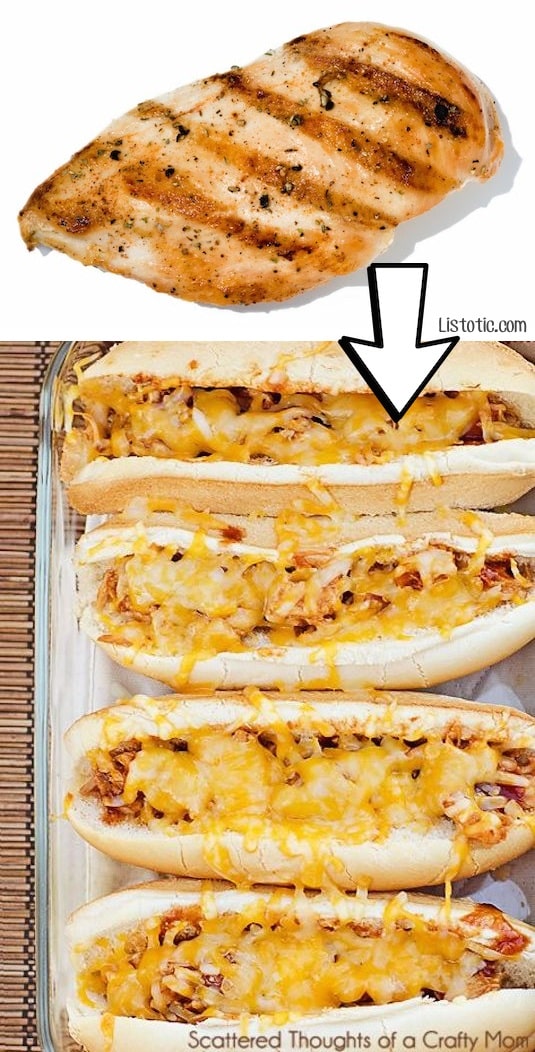 17. Cake Balls from Leftover Cake
I love a good slice of cake on special occasions, but I DON'T like leftover cake sitting on my kitchen counter for a week, tempting me every time I'm in the kitchen. Instead, make these easy cake balls and give them away to your neighbors and friends! It's so easy, and they make for adorable little gifts if you package them up in a little box.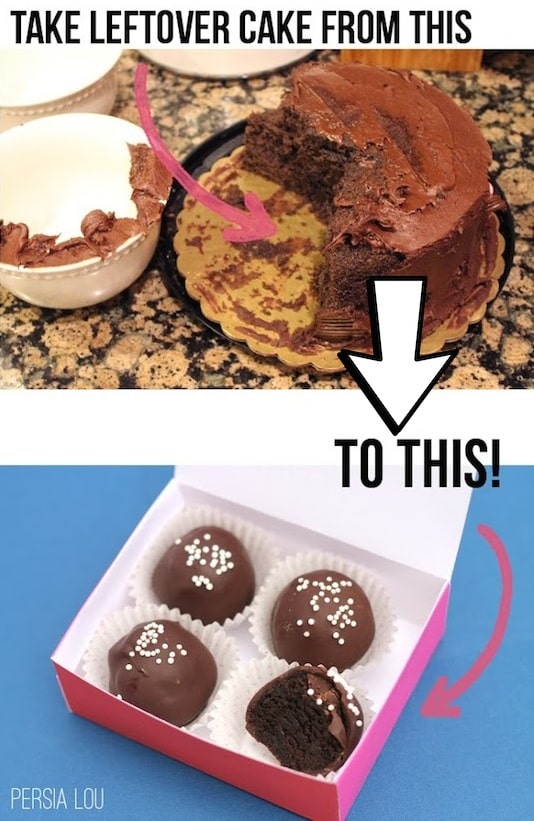 18. Leftover Thanksgiving Dinner Soup
Throw your Thanksgiving leftovers (along with a few other ingredients) into the slow cooker and enjoy this delicious turkey & mashed potato chowder the next day! I love turning Thanksgiving dinner into something other than a boring turkey sandwich, don't you?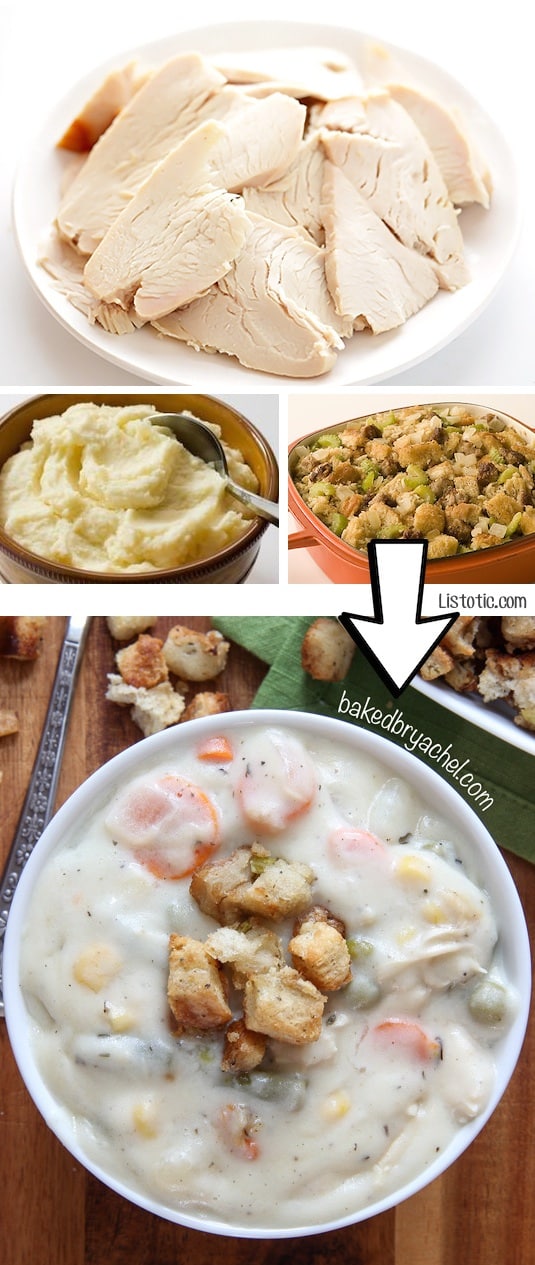 19. Leftover Rice Patties
There is always leftover rice! It's worse than pasta– you make enough to feed your entire neighborhood. Throw some eggs, chopped veggies, and cheese into the mix to make tasty rice patties the next day! I could just eat these alone as a meal, but they would also be wonderful as a side dish served with grilled chicken or steak.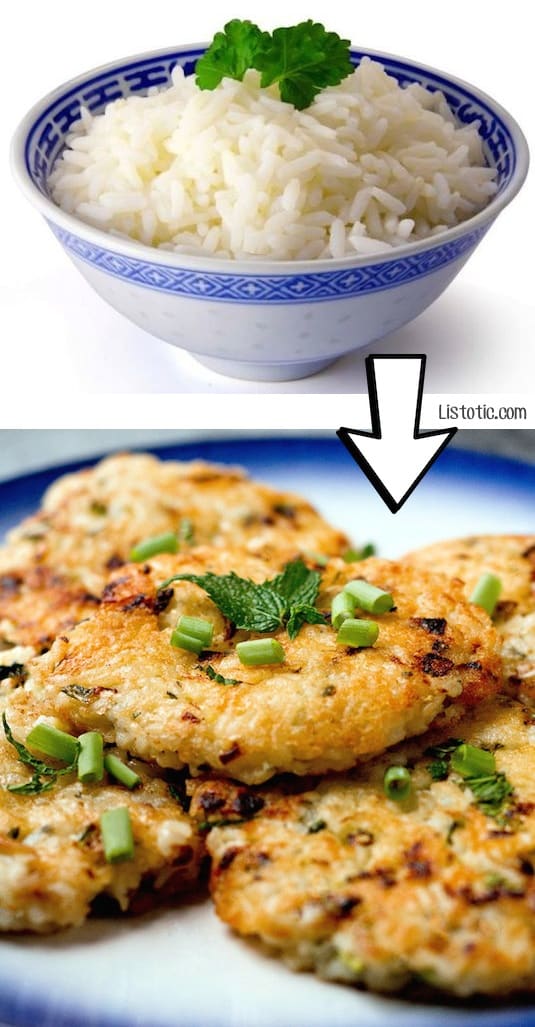 20. Leftover Pasta Salad Wrap
Take all of that leftover pasta salad (this is an amazing recipe made with chicken and grapes) that's leftover from a potluck or neighborhood bbq, and make wraps out of it for days to come. Just throw in some lettuce and maybe a few roasted almonds for added crunch.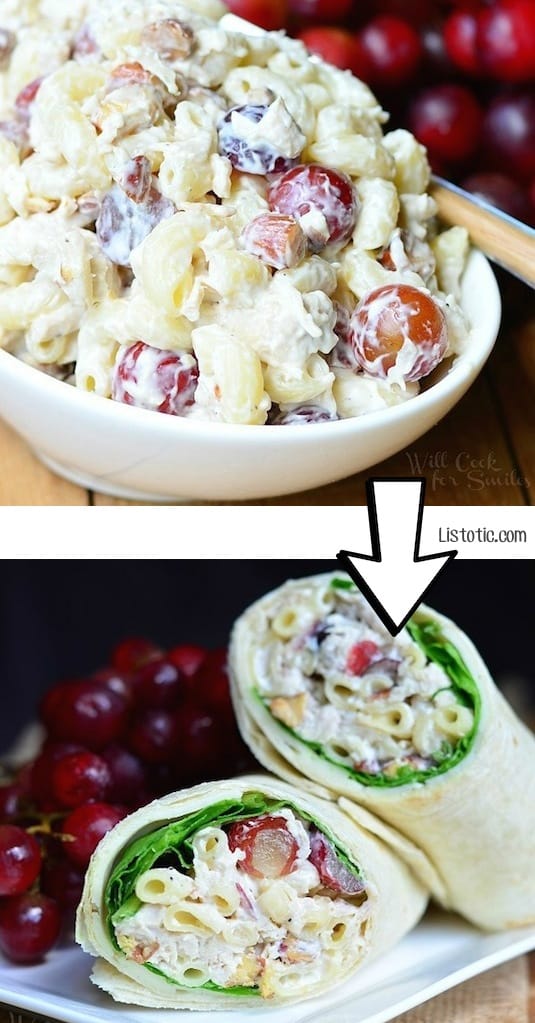 21. Freeze Leftover Pancakes
Make too many pancakes? Good! Make a habit out of it because you can easily freeze them for later use (get the instructions here). If you are going to go through the trouble of making them, you might as well make a big batch that lasts you the entire month! And, you can make them healthier than the one's you can find frozen in the store.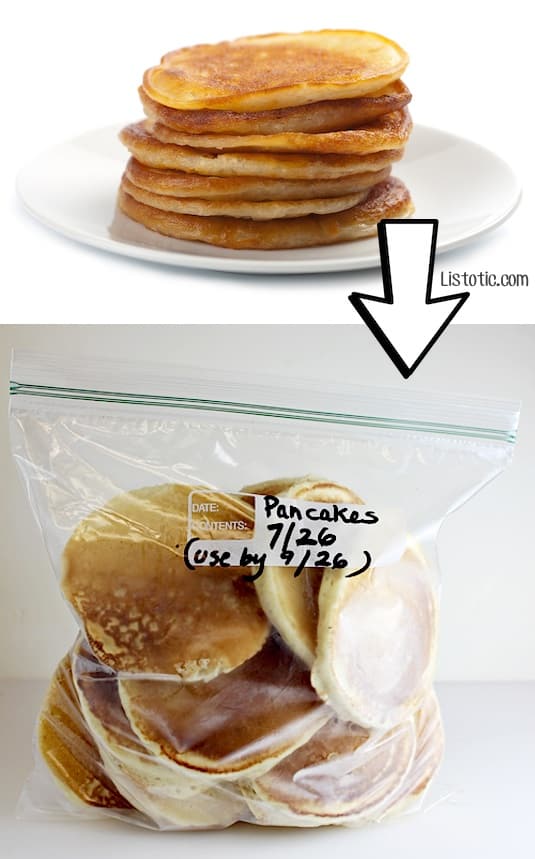 22. Leftover Spaghetti Braid
Why not combine buttery garlic bread with leftover pasta into something you can eat with your hands! Just add in some cheese to your leftover spaghetti to easily make this spaghetti braid using pre-made frozen dough. This little trick makes leftovers so much more exciting!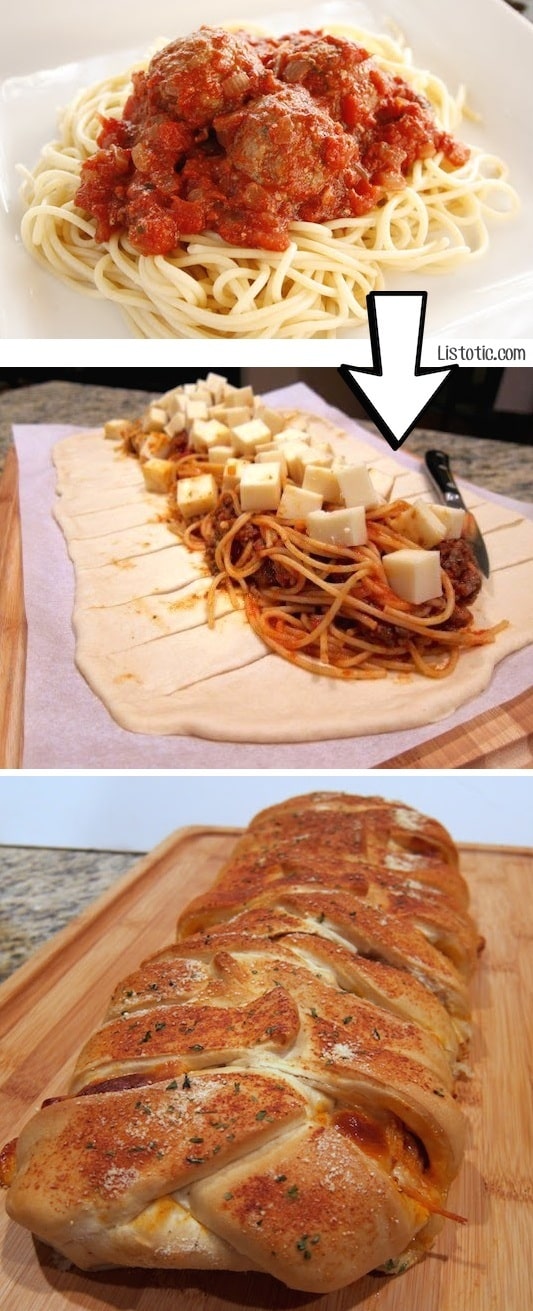 23. Thanksgiving Dinner Crescent Rolls
Another fabulous idea for Thanksgiving leftovers! Combine small portions of your leftovers into a pastry (store-bought is easy!) to make these Thanksgiving stuffed croissants for brunch the next day. A step up from the usual turkey sandwich, I think.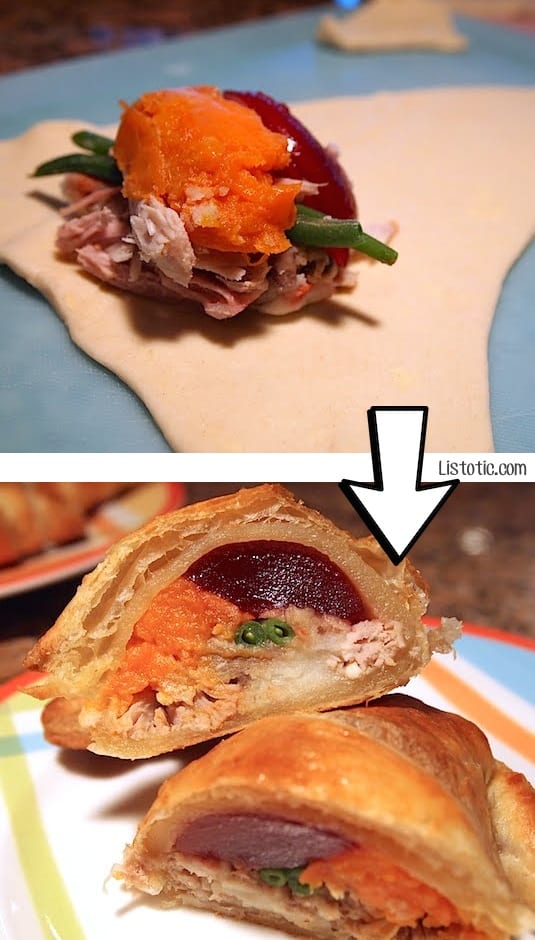 24. Leftover Spaghetti Pasta Pie
This recipe is perfect if you have leftover spaghetti noodles but no sauce– just make it into a cheesy pasta pie! DELISH. The ingredients for this are mostly things you would already have on hand, too (eggs, cheese, milk, etc.). Go check out the recipe and instructions for this creative dish.