10. Finger Cookies
Finger cookies are a must for every Halloween party! But for the most realistic looking fingers, you should try to use a shortbread cookie recipe NOT a sugar cookie recipe, unless you want round, blobby fingers. I used a store-bought sugar cookie dough and added a bit of flour to the dough. They turned out OK, but not super realistic.
Roll your dough into finger shapes (you can even go as far as shaping them with knuckles, and slashing them with a knife to create the knuckle wrinkles), and then place a whole almond or almond sliver into the dough where the nail should be. ***If you're taking your time making the fingers, you may need to leave some of the shortbread dough in the fridge to keep it from getting too soft, and also place your dough that has already been shaped into fingers back in the fridge until they're ready for the oven.*** Bake them according to your recipe instructions.
That's it! But, if you want to take it a step further, try putting a little red decorating gel on the ends of the finger cookies to make it look like the fingers were sliced off. Gross! If you want to make witch finger cookies, just add a bit of green food coloring to the dough.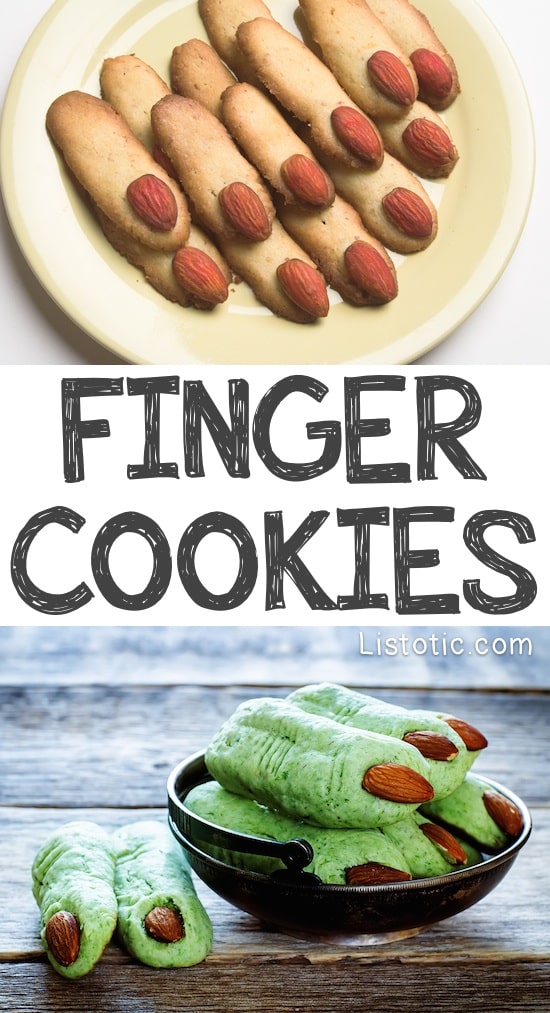 11. Halloween Bark
Chocolate bark is the easiest way to make a holiday themed candy, especially for Halloween! I love using candy eyes because they really give you the full effect. You will just need melting chocolate and an assortment of candy for this recipe.
INSTRUCTIONS:
Line a baking sheet with parchment paper.
Melt your chocolate in the microwave until smooth (you can use melting chocolate or chocolate chips).
Pour the chocolate onto the parchment paper, and use a spatula to smooth it out. It should be about a 1/4 inch thick.
Place the candy of your choice onto the chocolate: candy eyes, Reese's pieces, candy corn, pretzels, chopped Oreos, toffee bits, nuts, sea salt or any chopped candy bars.
Chill it in the refrigerator for about 45 minutes or until the chocolate has fully hardened.
Slide the bark onto a cutting board and then chop it up into random size pieces.

12. Candy Corn Butterfinger Fudge
You might find this to be a bit strange, but there isn't any ACTUAL Butterfinger in this fudge. So why is it called Butterfinger Fudge? Because it tastes just like it! Just like most fudge, it's super rich and extremely satisfying.
INGREDIENTS:
4 cups candy corn
1 cup creamy peanut butter
1 (14oz) can sweetened condensed milk
2 1/4 cup white chocolate chips
INSTRUCTIONS:
Line an 8×8 pan with foil and spray it with non-stick cooking spray. Set aside for later.
In a pan, combine 3 cups of the candy corn (set 1 cup aside for later) with your peanut butter. Set your burner on MEDIUM and cook until they are almost completely melted, stirring occasionally. After they are almost melted, add in the can of sweetened condensed milk, and stir.
Next, stir in the white chocolate chips until melted. At this point, it should be VERY thick.
Pour the mixture into your prepared baking pan and flatten with a spatula.
Let it cool on the counter for about 20 minutes, and then place the rest of your candy corn on top. You can push it down into the fudge a little bit if you want.
Chill in the fridge for 2 or more hours before cutting.



---