Last Updated on July 16, 2020
This post may contain affiliate links. Please see our Disclaimer Policy.
7. Pearl is SO pretty!
I'm a huge fan of pearl tile because it gives you a natural, from-the-earth appearance, but yet, is still shimmery and gorgeous! Even in a rustic setting you can get away with a pearl backsplash or trim. In my experience, I've found that most of these tiles are really thin and not meant for high traffic areas like counter tops or floors, but even just a small accent or back splash can make any room look exquisite. Most tile stores have a fairly large selection to choose from– even Amazon has quite a few with good reviews and customer photos.

8. Backsplash Grout Lines
Give your floors an interesting design by laying thin strips of small tiles in the grout lines of larger tiles. You're basically replacing a lot of the grout, so instead of having those soon-to-be dirty lines, they always sparkle! I think this would also look nice in a shower.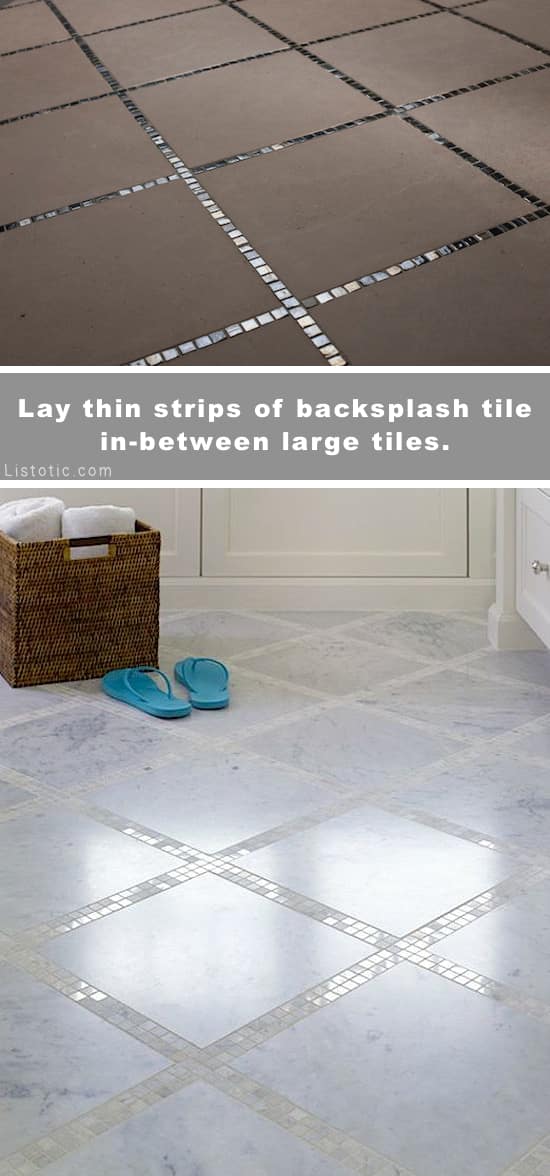 9. Mirror Tiles
A mirror is probably the last thing I'd think of when it comes to a kitchen back splash, but just look at how pretty this is! It would also make a small space seem much larger. But, because you would probably be able to see water spots and splatters on these tiles fairly easily, I would stick to only dry areas such as a home bar.
I'm certain that you could find mirrored tiles at most custom tile stores, but I also found these beveled, subway style tiles on Amazon. Yippee!

View the entire list of Stunning Tile Ideas For Your Home.
---