Last Updated on October 26, 2020
This post contains affiliate links.  Please see our Disclaimer Policy.
7. Homemade "Goo Gone"
One of my biggest pet peeves–I mean the one that really gets under my skin and causes smoke to blow out of my ears–is the sticker residue left behind from price tags! It is so frustrating to buy a picture frame only to have thick sticker residue left behind right in the middle of the glass cover! Arg!
The only thing I've found to make the process of getting it off not so daunting is Goo Gone, but it's unfortunate how much that stuff stinks. The entire house smells like gasoline when I'm done, not to mention you can never find the stuff when you need it. In a pinch, try mixing together vegetable oil and baking soda. The oil helps lift the sticky residue and the baking soda assists by making it abrasive. For a thicker paste, add a little more baking soda until you get the consistency you want.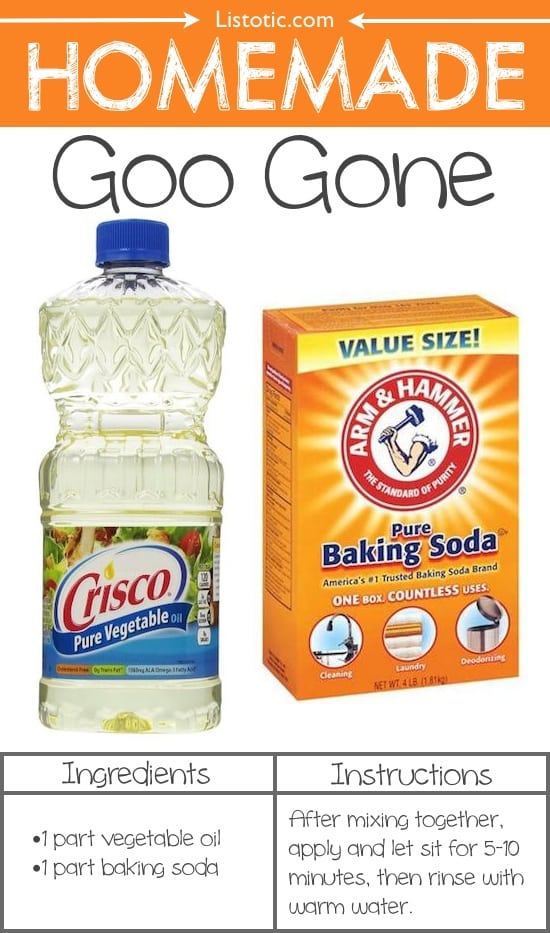 8. Homemade Detangle Spray
Duh, right?! I've never really thought about it before, but detangle spray is really just watered down conditioner (the cheap conditioners actually work better because they are usually not as concentrated). You can make a bottle of this stuff for less than a quarter!
Fill a good quality spray bottle about 1/4 full of conditioner (even less if you're using a more expensive brand or a thicker hair mask), and the rest with hot water. To get it mixed really well, only fill the bottle about half full of water, give it a good shake, fill the remaining space with more hot water, and then label it with tape or something a little nicer like these.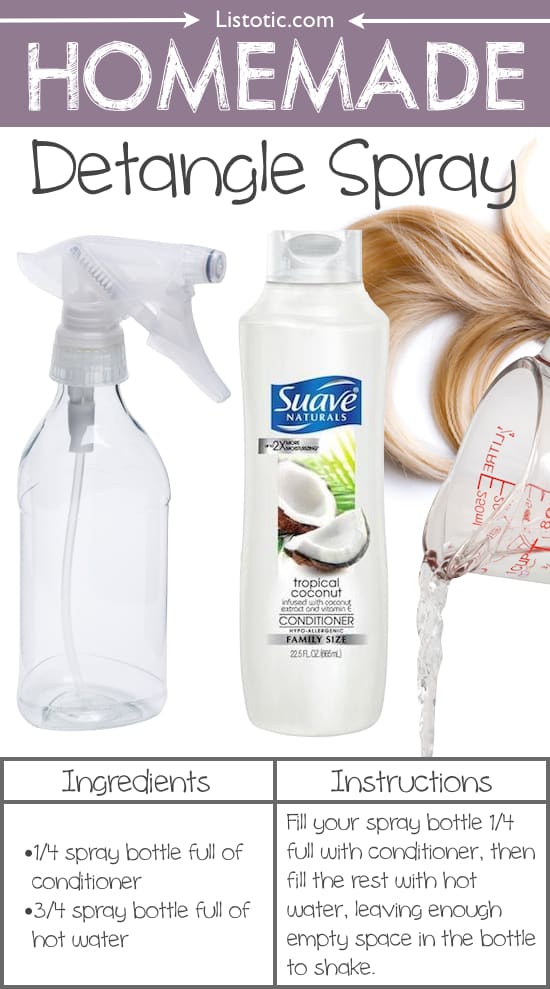 9. Homemade Ear Drops
To prevent swimmer's ear, put about 4 drops of this homemade ear drop solution (1 part vinegar to 1 part alcohol) in each ear after a day in the water. This is not for use if you already have an existing ear infection– the alcohol simply helps dry out your ears while the vinegar helps combat the build-up of bacteria. For more information, check out this article here.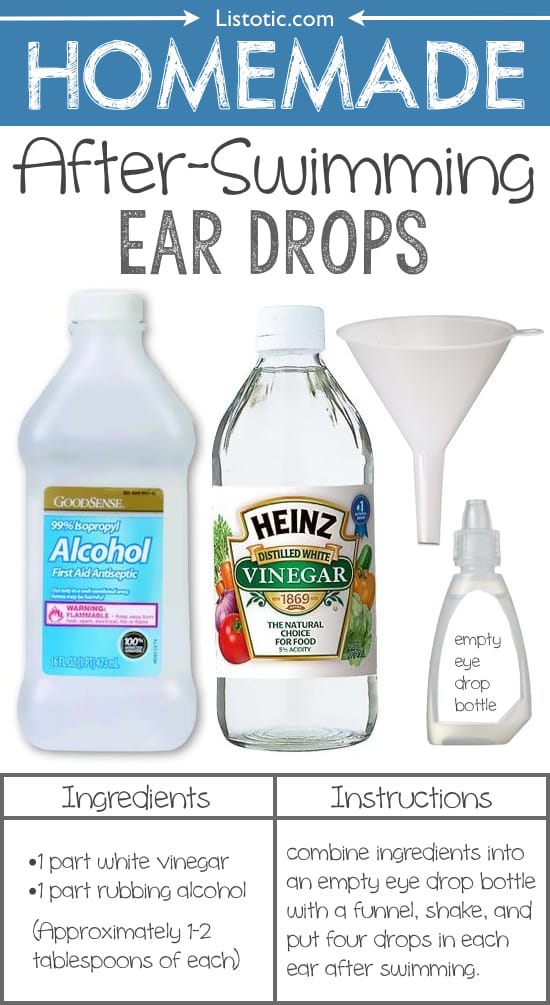 10. Homemade Carpet Powder
You may already know that baking soda works wonders in getting nasty smells out of carpet, rugs, and car upholstery, but the addition of essential oils leaves your home smelling fresh, just like the commercial carpet powders you can buy at the store, only cheaper and much better for you to be inhaling!
Mix several drops of essential oil in with a box of baking soda in the container you plan on storing it in (an empty parmesan container is a good choice!). Sprinkle the mixture onto the areas of your carpet that need odor control, let it sit for about 15 minutes, and then vacuum it up.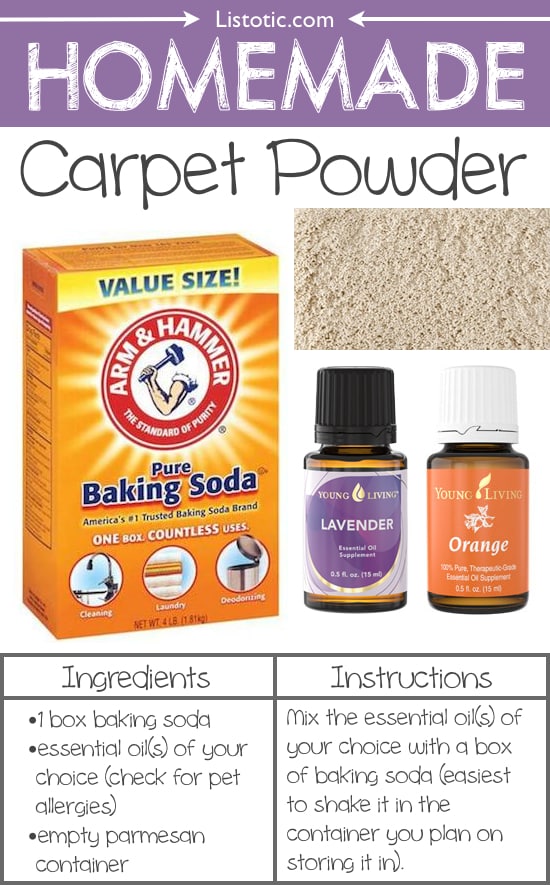 11. Homemade Glass Cleaner
These common household ingredients may seem strange to use as a glass cleaner, but if you think about it, the Dawn blue dish detergent helps eliminate grease, the alcohol helps it to dry a little faster so you don't have streaks, and the ammonia is an overall cleaner that helps with dust and other particles.
This recipe makes about a gallon, so you'll need an empty gallon container to store it. Either that or you can cut the recipe into about a 1/4 to fit into a large spray bottle. Fill your container about half full with water, pour in your other ingredients, and then top off with more water. Shake gently and use on windows and mirrors.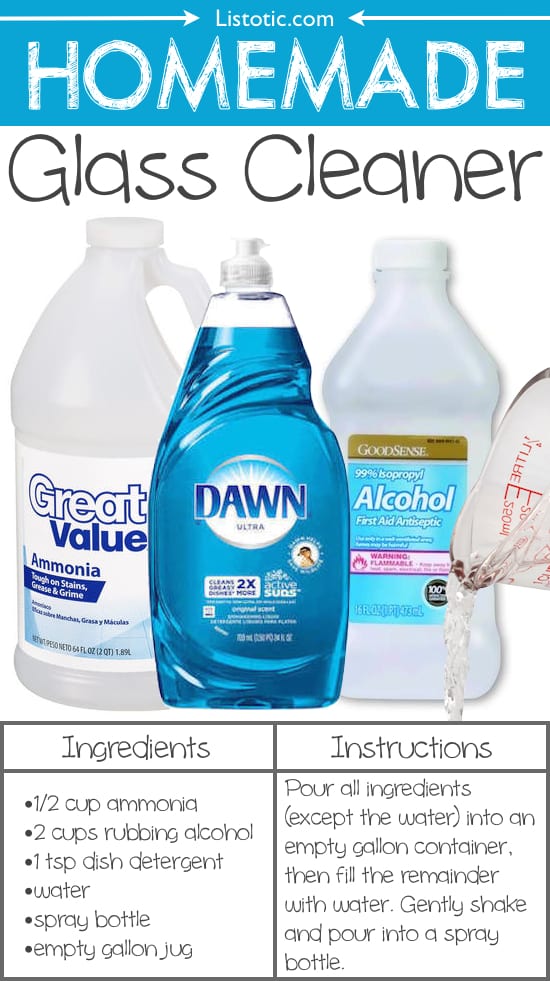 12. Homemade "Poo" Pourri
I've always thought this stuff was some sort of gag gift, but after some research, I've learned that "poo" pourri (love the name!) actually works better than any room deodorizer you could possibly buy. There is actually a little science behind it, too. You see, you spray it in your toilet BEFORE you go and the oils create a barrier on the top of the water that trap all of the odors below. This is starting to make sense now!
Simply fill a 3-4 ounce spray bottle like this one with 1tsp of alcohol, 30+ drops of essential oil (your choice– lavender, orange, rosemary, peppermint, lemongrass or a combination of several), and then fill the remainder of the bottle up with water. Spray your toilet bowl 3-5 times before you use the restroom. I've also seen a few recipes that put a few drops of blue food coloring in there for effect. This way you can see the oil barrier in your toilet bowl and feel better knowing your "force field" is there.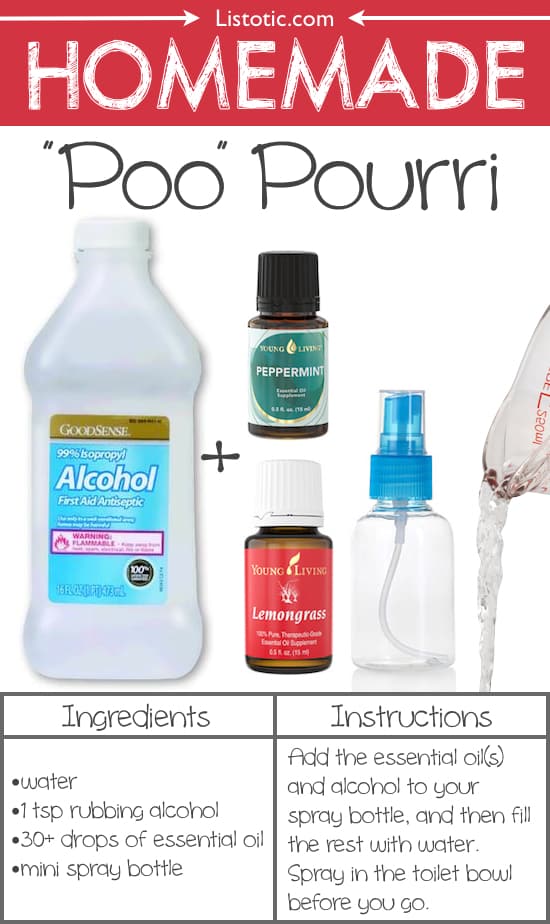 View the entire list of 22+ Everyday Products You Can Easily Make From Home.
---