Last Updated on June 11, 2020
16. Homemade Sugar Scrub
I think we all know by now that most exfoliating scrubs are made with sugar (sometimes salt) and some sort of oil to give it the right consistency, and boy, when you buy this stuff at the store it can be quite expensive! Making a homemade version couldn't possibly be any easier, and you can really customize it to your own liking.
Mix the sugar, baby oil, and baby wash together in a glass jar (or whatever container you plan on storing it in), and you're done! You can also substitute white sugar for brown, and baby oil for coconut or almond oil. Get creative and add in a few other extras, too: coffee grounds, essential oils, honey, cinnamon, chia mix, oatmeal, vanilla…. the list goes on and on! This sugar scrub also makes for awesome little gifts in short mason jars with these cute chalkboard labels.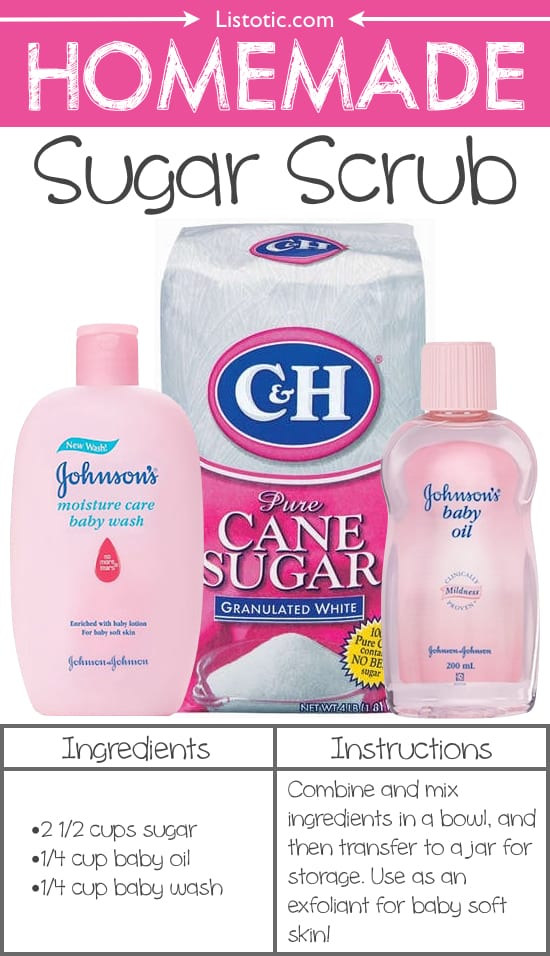 17. Homemade Ant Poison
When it rains– that's when the ants decide to come and vacation at my house! I've made the mistake of wiping them out in frustration, only to have them come right back. The key is to get them to carry poison back to their colony so that you don't continue to have the problem.
Mix together the sugar, borax, and warm water in a bowl, and then soak a cotton ball (or more if you need it) in the mixture, and then place it near the ants. It's best to place it on a piece of wax paper or something to make clean up easier. Let them devour the bait until there is no more sign of them.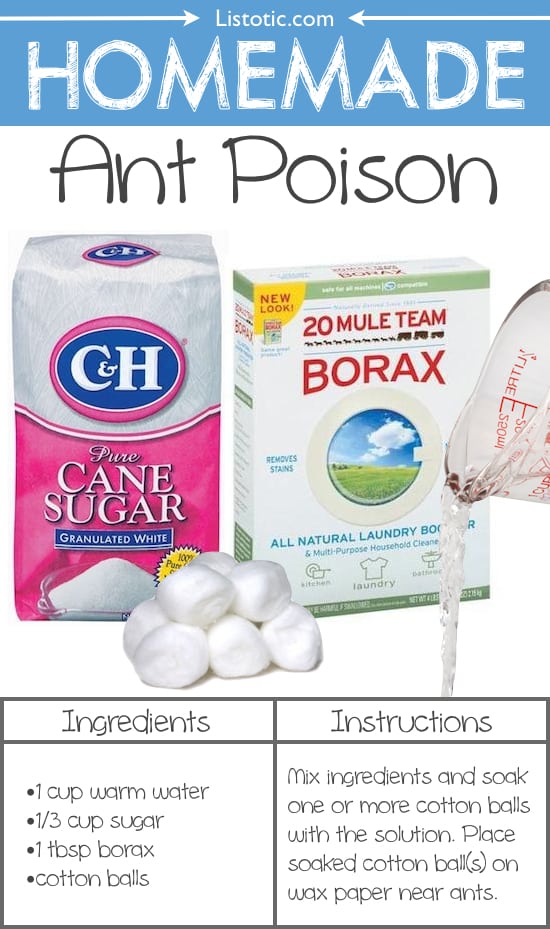 18. Homemade Dusting Spray
If you've seen the homemade wood scratch repair recipe, this is basically the same thing, only you're adding essential oils for a pleasant smell, and storing it in a convenient spray bottle. You'll never want to buy Pledge again! I'm telling you, this stuff works wonders on wood furniture. Not only does it hide small imperfections in the wood and give it a nice healthy shine, but it also works as a dust repellent, making your job a little easier.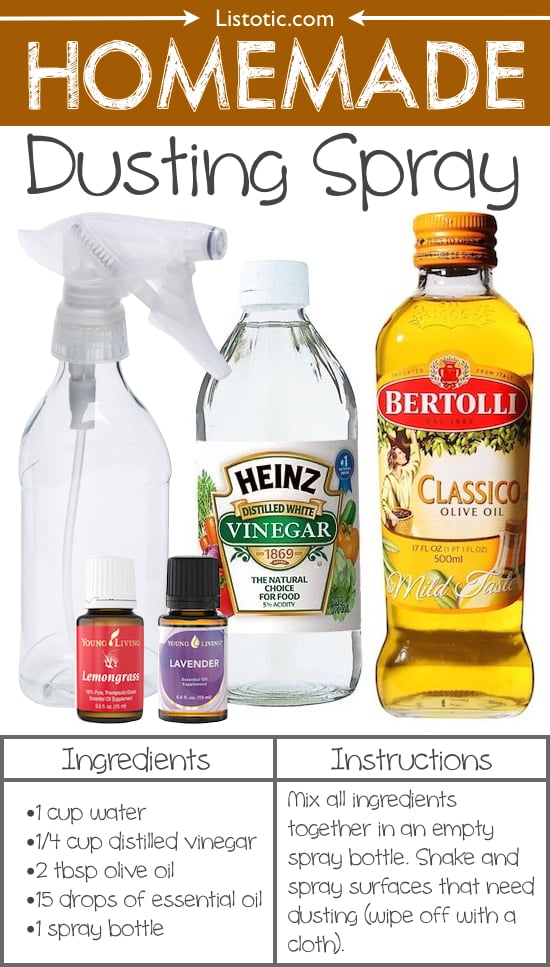 19. Homemade Weed Killer
Warning, this stuff actually works, so keep it away from your lawn, flowers, and other plants. It will kill them, too! It's best used for sidewalk cracks or mulchy areas. If you spray it when the sun is out, it has an even better effect. Goodbye, weeds!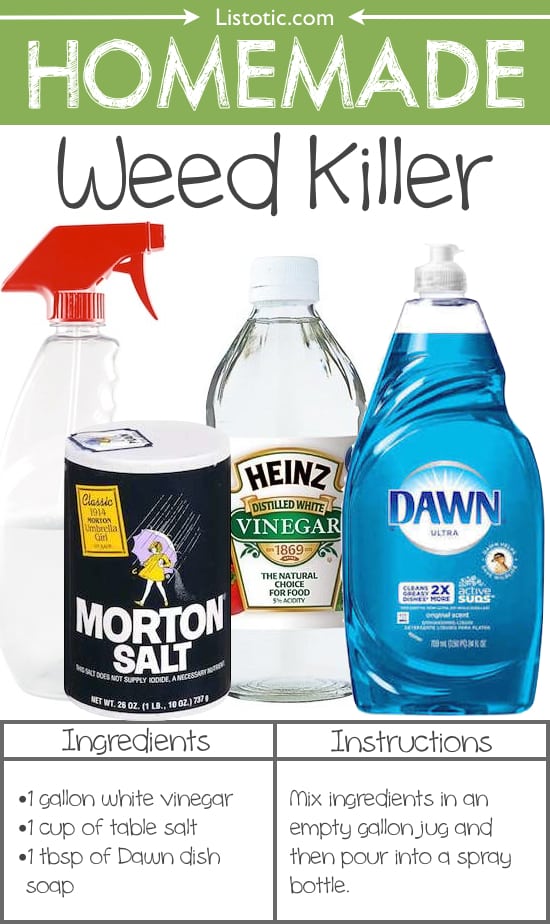 20. Homemade Cooking Spray
Over-priced cooking spray is a thing of the past! And have you read the ingredients on those cans? Propellant? That can't be good. If I had known homemade cooking spray was this easy, I would have done this years ago. It's so much healthier and cheaper than the store-bought stuff.
Mix together 1 part oil (canola or olive) and 5 parts water in a misting spray bottle, shake before each use, and then spray. You can also label the bottle if you'd like for the finishing touch.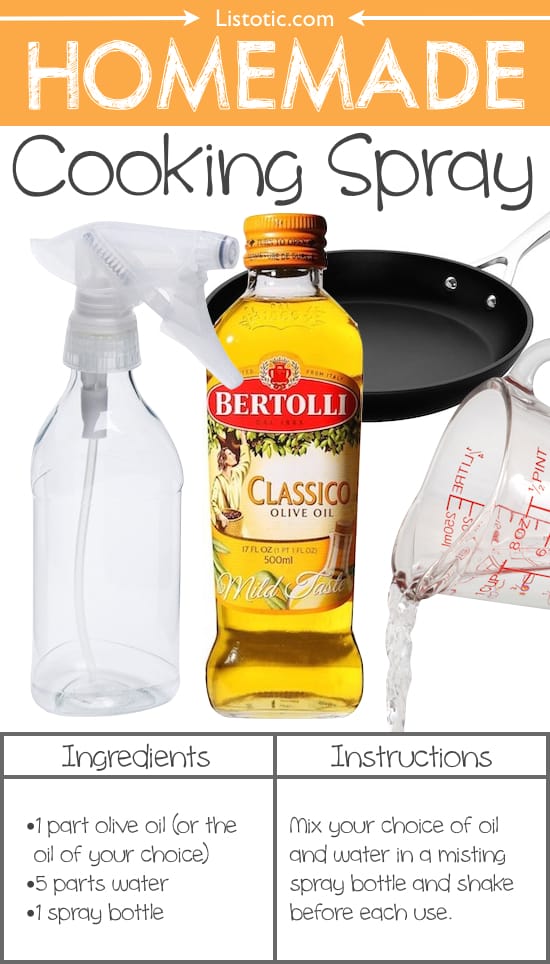 21. Homemade Foot Soak
There's nothing better than sitting down to relax after a long day, especially if you've been on your feet for countless hours, and you might as well soak your feet while you're at it! I've heard many great things about Epsom salt, but the idea behind this foot soak is that it draws impurities and toxins out of your body.
Mix the epsom salt, baking soda, and lavender essential oil together in a container you plan on storing it in, and use about 1/4 of the mixture in as warm of water as you can handle each time you soak. I like to use one of those disposable baking pans (although I reuse it over and over), and fill the bottom with marbles. Now that feels good! If you're making this as a gift, don't forget to give it a pretty label!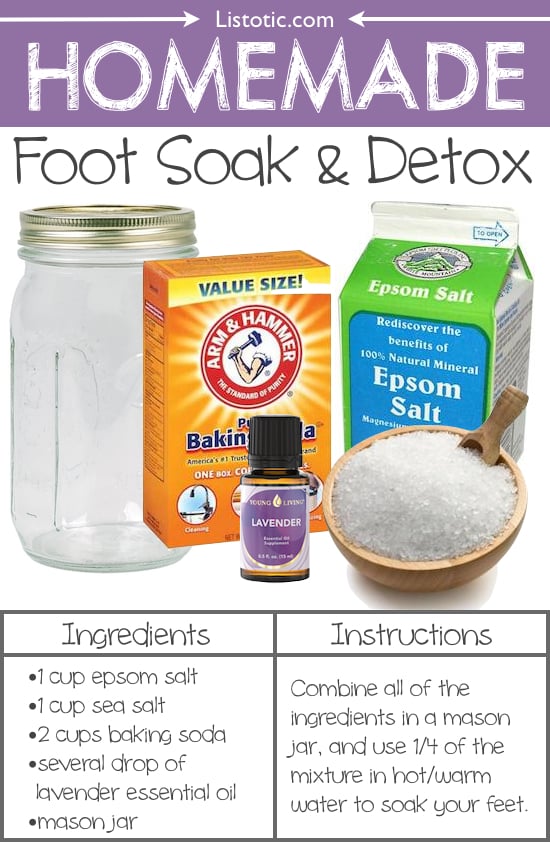 View the entire list of Easy Homemade Products You Can Make.
---