Last Updated on October 26, 2020
This post contains affiliate links.  Please see our Disclaimer Policy.
10. Homemade Carpet Powder
You may already know that baking soda works wonders in getting nasty smells out of carpet, rugs, and car upholstery, but the addition of essential oils leaves your home smelling fresh, just like the commercial carpet powders you can buy at the store, only cheaper and much better for you to be inhaling!
Mix several drops of essential oil in with a box of baking soda in the container you plan on storing it in (an empty parmesan container is a good choice!). Sprinkle the mixture onto the areas of your carpet that need odor control, let it sit for about 15 minutes, and then vacuum it up.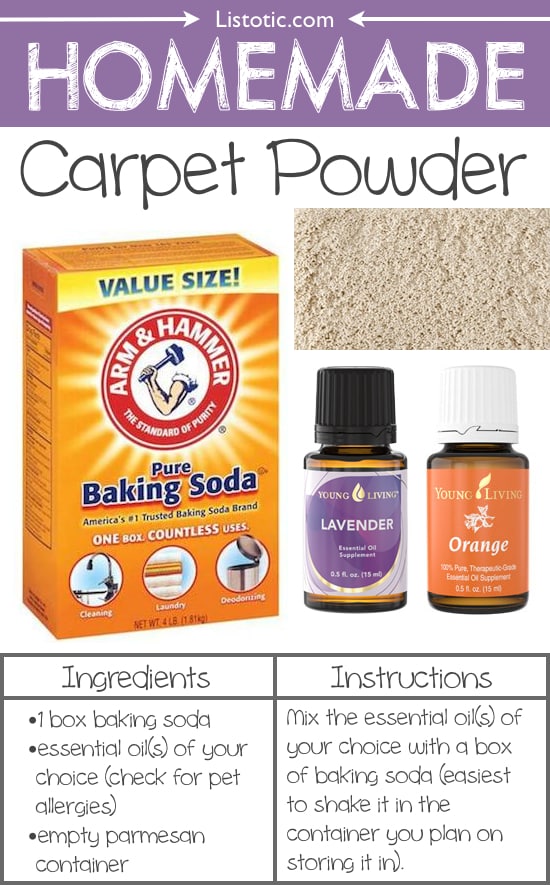 11. Homemade Glass Cleaner
These common household ingredients may seem strange to use as a glass cleaner, but if you think about it, the Dawn blue dish detergent helps eliminate grease, the alcohol helps it to dry a little faster so you don't have streaks, and the ammonia is an overall cleaner that helps with dust and other particles.
This recipe makes about a gallon, so you'll need an empty gallon container to store it. Either that or you can cut the recipe into about a 1/4 to fit into a large spray bottle. Fill your container about half full with water, pour in your other ingredients, and then top off with more water. Shake gently and use on windows and mirrors.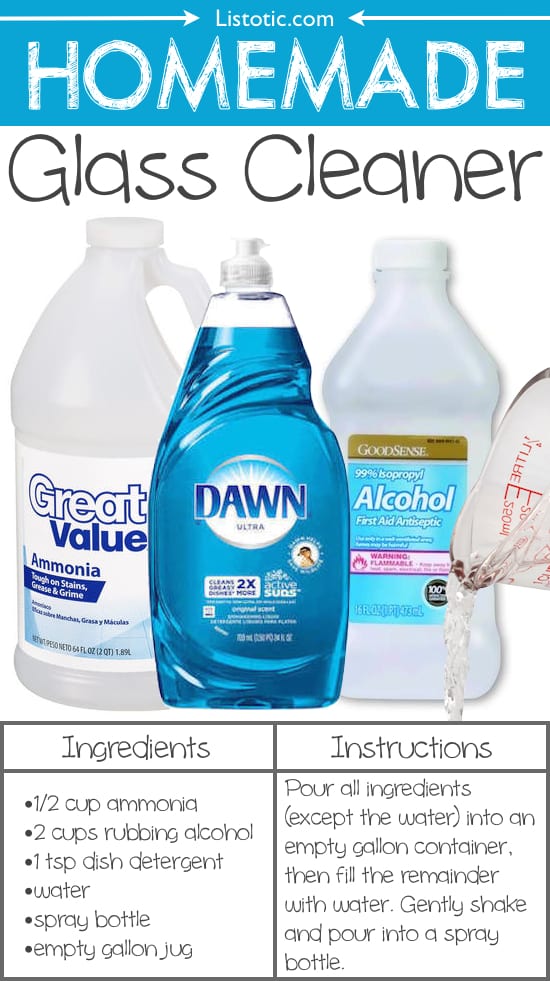 12. Homemade "Poo" Pourri
I've always thought this stuff was some sort of gag gift, but after some research, I've learned that "poo" pourri (love the name!) actually works better than any room deodorizer you could possibly buy. There is actually a little science behind it, too. You see, you spray it in your toilet BEFORE you go and the oils create a barrier on the top of the water that trap all of the odors below. This is starting to make sense now!
Simply fill a 3-4 ounce spray bottle like this one with 1tsp of alcohol, 30+ drops of essential oil (your choice– lavender, orange, rosemary, peppermint, lemongrass or a combination of several), and then fill the remainder of the bottle up with water. Spray your toilet bowl 3-5 times before you use the restroom. I've also seen a few recipes that put a few drops of blue food coloring in there for effect. This way you can see the oil barrier in your toilet bowl and feel better knowing your "force field" is there.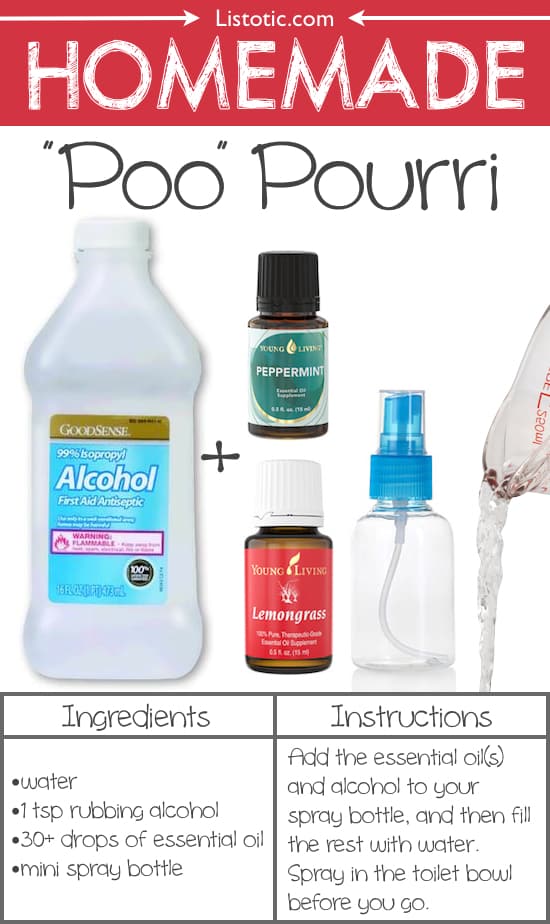 13. Homemade Bisquick Mix
Have you ever though about how simple the ingredients are in Bisquick Mix and other baking mixes? Why buy it when you can make it for less, not to mention it's healthier and tastes better, too!
Combine and mix all dry ingredients.
Chop or grate the butter.
Mix all ingredients in a food processor for about 3 minutes.
Place in an air tight container for up to 6 weeks.
PANCAKES: 2 Cups Mix, 1 Cup Milk, 2 Eggs
BISCUITS: 2 Cups Mix, 1 Cup Milk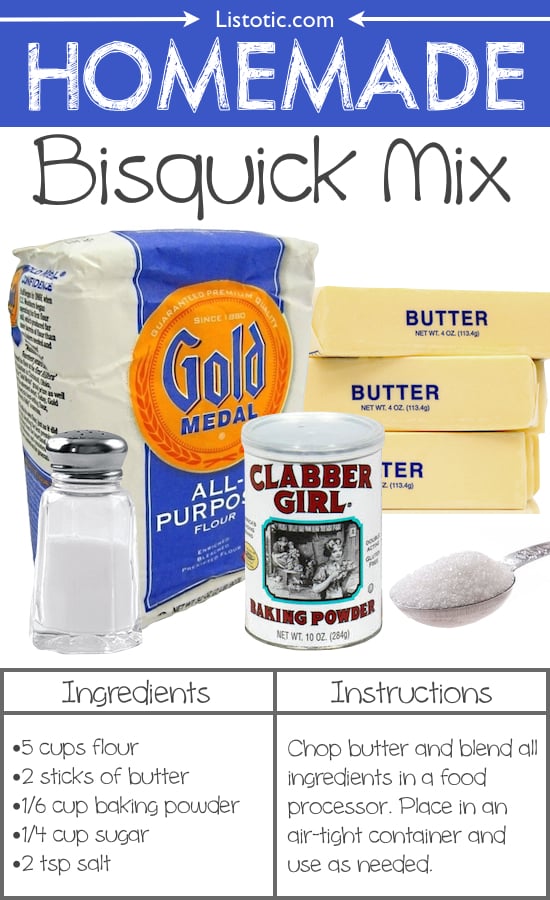 14. Homemade Stain Remover
A good stain remover is a must, especially if you have kids or do a lot of cooking (I always forget the apron– doh!). Believe it or not you can make your own stain remover that is not only cheaper than the commercial products like Shout, but works just as well, if not better. Just mix everything together in a spray bottle, shake, and spray! Let the mixture penetrate for 5-10 minutes, and then put a little elbow grease into it if you have a stubborn stain. Once removed, throw in the laundry machine with the rest of your clothes as usual.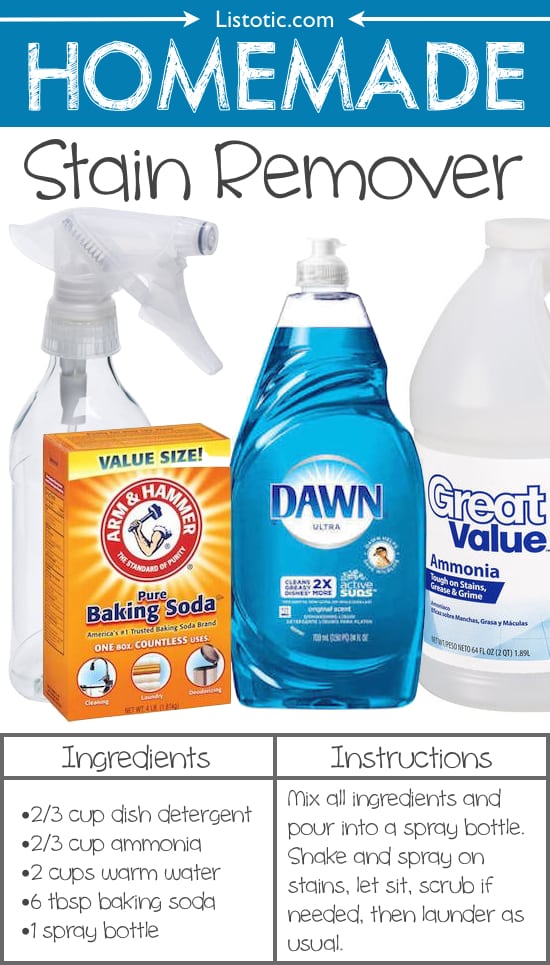 15. Homemade Makeup Remover
Just 3 ingredients! Tear-free baby shampoo, almond oil, and filtered water. Any skin-safe oil would do the job (coconut oil, olive oil, etc.), but almond oil is full of vitamin A, B and E, and isn't as greasy feeling as other oils. In fact, almond oil can also reduce the appearance of dark circles and delay signs of aging. It's the perfect oil for skin and hair!
Combine all ingredients in a small bottle and shake before each use. Use a cotton swab, ball, or pad to remove makeup, specifically around the eyes.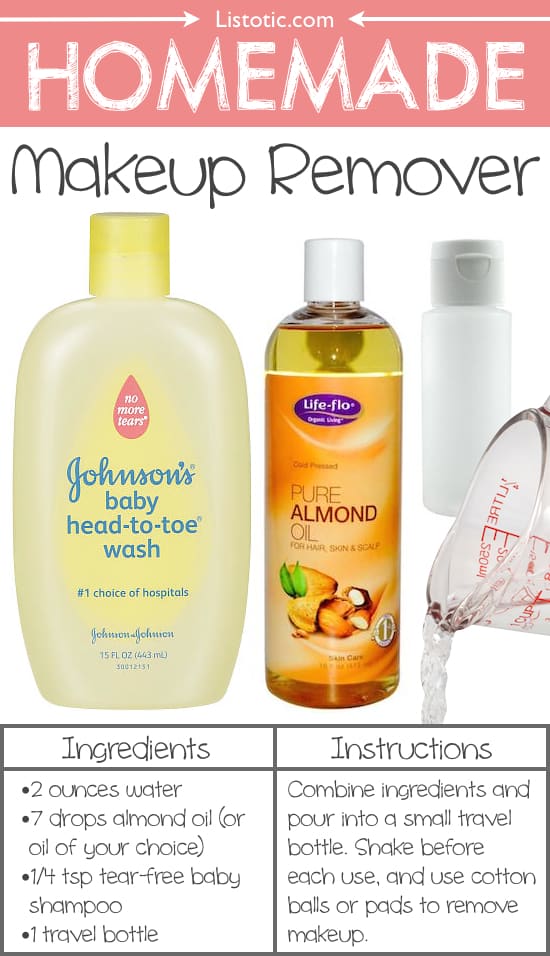 View the entire list of 22+ Everyday Products You Can Easily Make From Home.
---