Last Updated on June 25, 2021
More of My Favorite DIY Kids Halloween Costumes…
6. Baby Bamm Bamm
If you've got a little kiddo with super blonde, crazy hair, this costume is super easy to pull off! Mom and dad could be Barney and Betty to finish the look. I couldn't find the source for this but it looks relatively simple to make.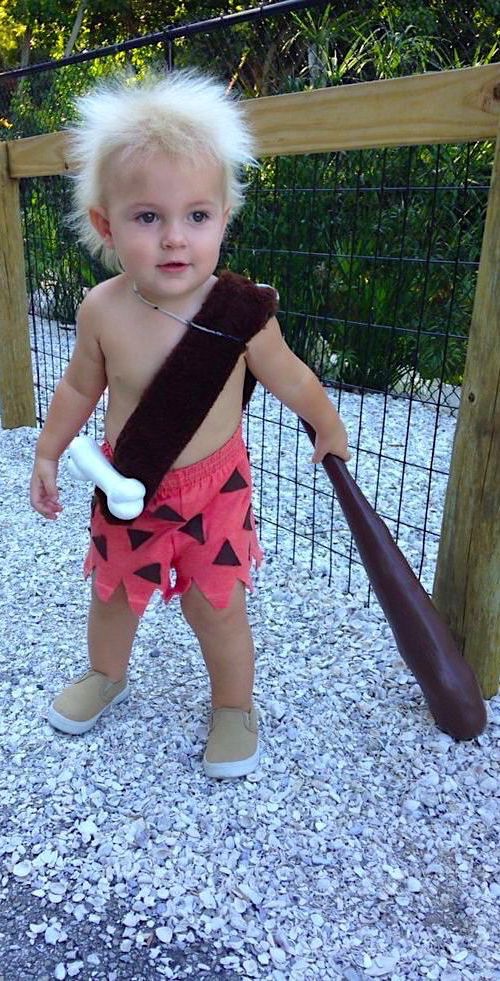 7. Minnie Mouse
This Minnie Mouse costume is adorable and Brandy at Gluesticks.com gives you several great tips on making this outfit and where to find accessories like mouse ears! You could mix it up a little with a pink and white polka dot dress as well.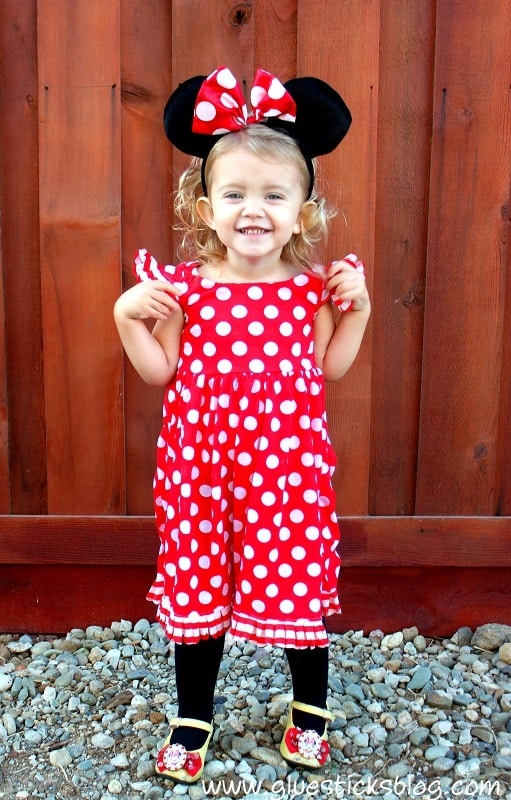 8. Oompa Loompa
I can't get the song out of my head now! The Oompa Loompas are my favorite part of Charlie and The Chocolate Factory, and for good reason. They're crazy funny and cute. I found the best tutorial for this simple costume over at You Are My Licorice. That yarn wig is awesome!


9. "I Love Lucy" Toddler Costume
I don't know if you ever watched this show, but I was a big fan! Lucy was quite the character, and makes for an adorable toddler costume. The key is in the bright red hair! Check out all of the details for this costume over at Coolest Homemade Costumes.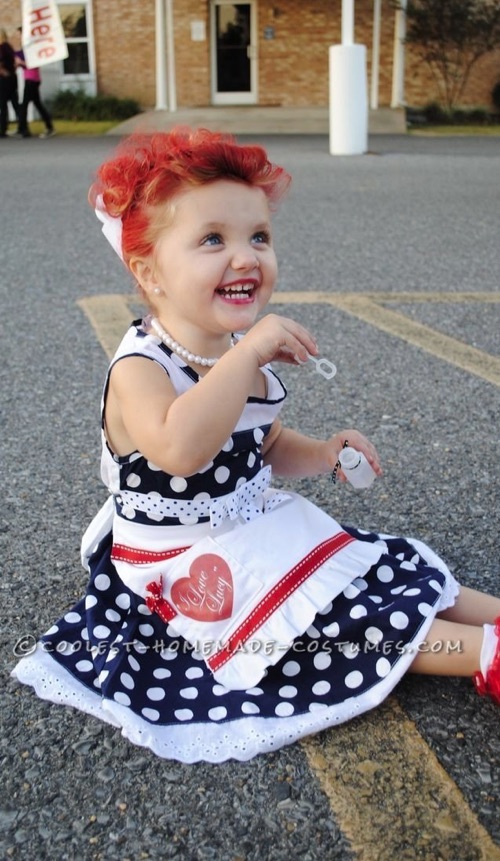 10. Raggedy Ann
Is this not the cutest little Raggedy Ann you've ever seen?! Hop on over to Pretty Little Life for the instructions and more pictures. That homemade yarn wig is the best.


More of My Favorite DIY Kids Halloween Costumes…
11. Classic Scarecrow
More cute than scary! I love every detail of this costume. Where The Smiles Have Been has created a tutorial on how to get the look, including that adorable hat! It's a simple project using felt and hot glue.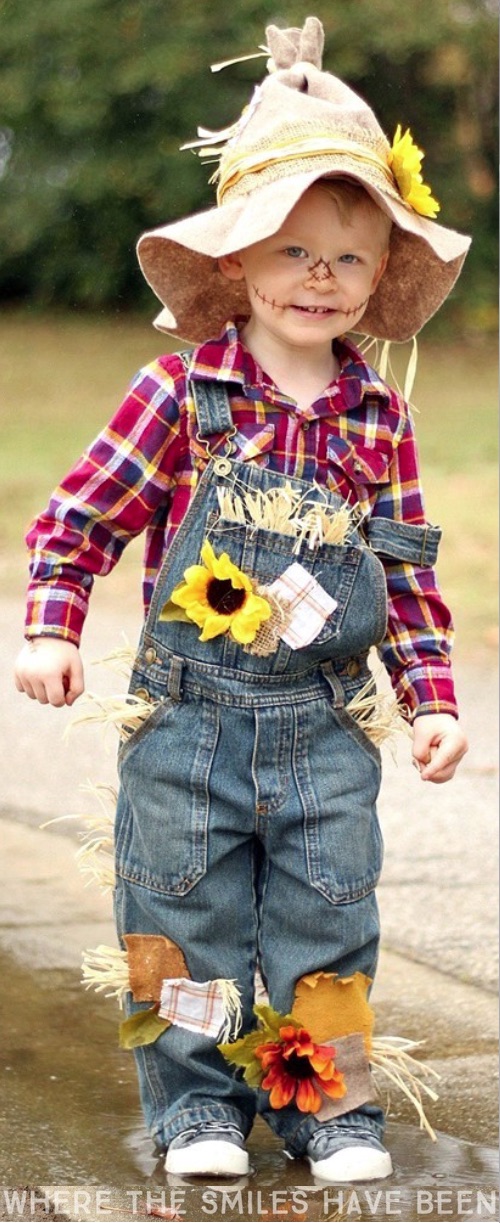 12. Spider & Web
These easy homemade spider and web costumes are perfect for siblings or besties! Check out the full instructions and a lot more pictures over at Pretty Plain Janes.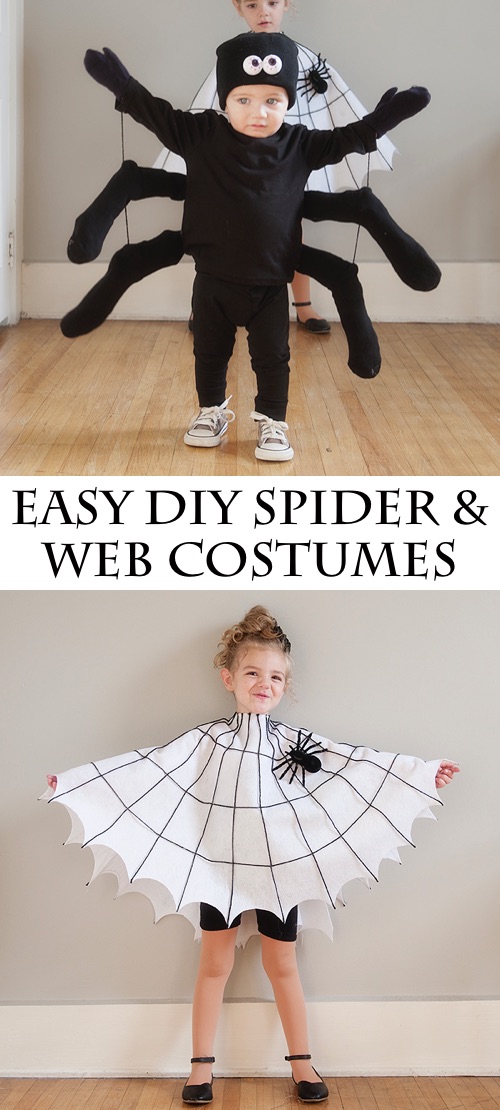 13. Mario & Luigi
These two cuties are dressed up as the famous Mario Brothers, and just look at how easy but effective the costumes are! With a few felt cut-outs you can transform a basic tee, cap and overalls into Mario and Luigi. Just don't forget the mustache! I absolutely love this idea for siblings. Check out more details here.


14. Teenage Mutant Ninja Turtle
The Ninja Turtles were my heroes growing up, and I still get a kick out of the idea of a masked turtle fighting a sewer rat. It's just awesome! Hop on over to A Night Owl Blog for the easiest homemade Ninja Turtle costume tutorial, ever! I love the shell idea.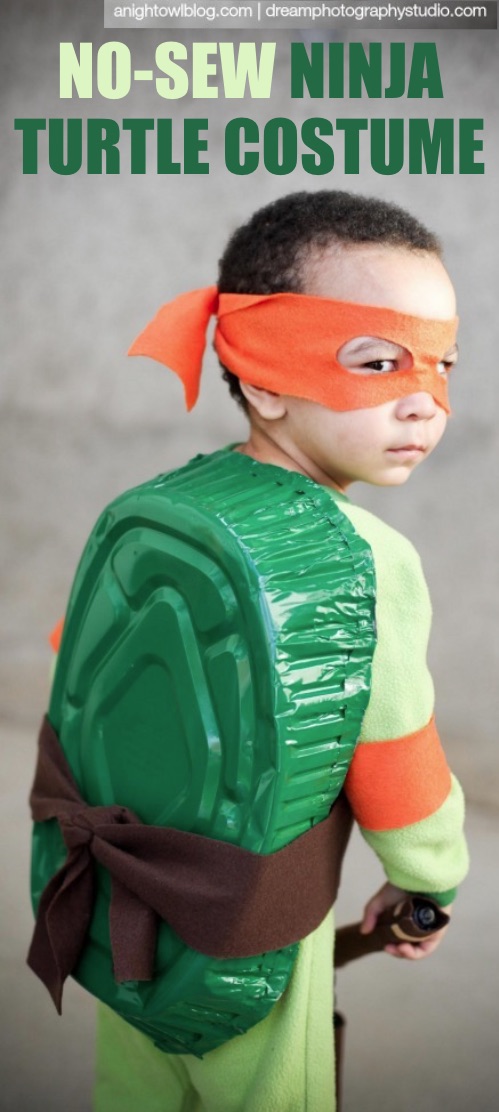 15. GumBall Machine
My daughter did the one last year, and it was a big hit! We used a red tutu, but I think the large red felt on this one looks more realistic. Check out all of the details and instruction over at A Casarella.


More of My Favorite DIY Kids Halloween Costumes…
16. Easy Mac
Super funny and cute! Costume Works has more details on this homemade costume. They spent months saving up toilet paper rolls, but you could also use yellow construction paper stapled together into rolls for last minute planning. This post has super detailed instructions on how to pull together the entire costume.


17. Colonel Sanders
I found this costume idea over at Costume Works and couldn't resist sharing. Plus you'd have an excuse to buy a bucket of fried chicken.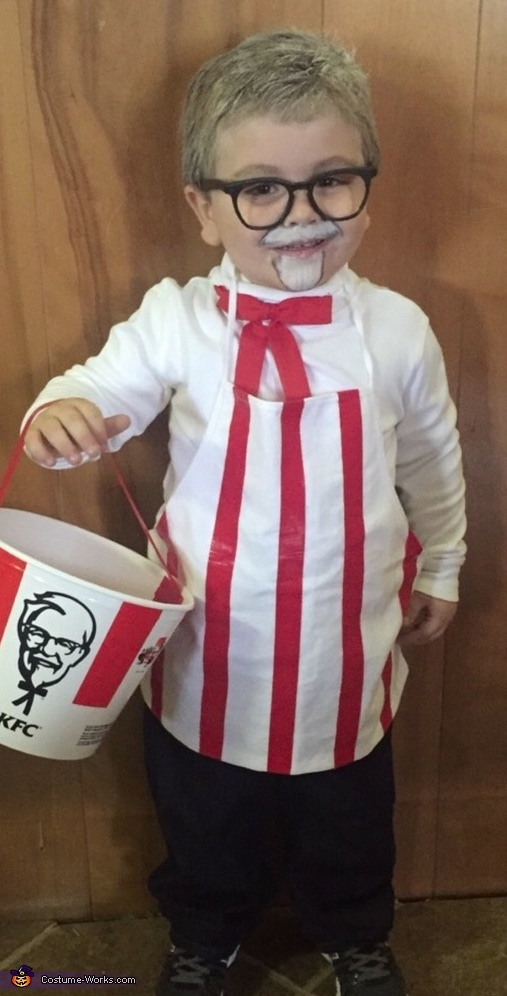 18. Cutest Cupcake
Everyone loves cupcakes! Especially when they're covered in sprinkles and topped with a cherry. Check out the easy tutorial for this homemade costume over at Coolest Homemade Costumes. The cupcake liner idea is really clever!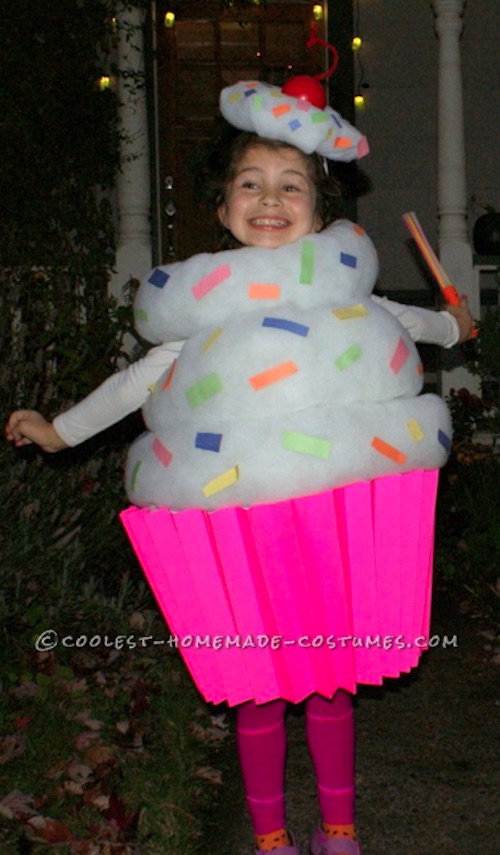 19. Cotton Candy
With a whole lot of pillow fill, a poster board, some glue and paint, you'll have one of the coolest and cutest Halloween costumes on the block! Check out the instructions and more details over at Costume Works.


20. Alvin and the Chipmunks
The three chipmunks Alvin, Simon & Theodore are all known for their musical talents. Their characters are easily identified by their specific Red, Blue and Green colored oversized shirts. To put this DIY kid Halloween costume together I found simple plain colored hoodie sweatshirts (plain t-shirts would have worked too).
For adding the large A – on Alvin's red shirt and hat I cut the letter out of yellow paper. I just used packing tape to adhere the paper letter and it held just fine.
Simon's round glasses were party favors from a Harry Potter birthday party. But you could certainly draw them on using eyeliner or face paint. With some Halloween makeup, I added two large white buck teeth and some whiskers on the boy's face. Some Inflatable guitars, saxophone, microphones, sneakers, and headphones for Simon completed the look.
Vol`a! Hands down favorite and possibly the easiest DIY kids Halloween costume I've ever done!
Bonus: I got to dress up along with my boys for Halloween and we each had a new hooded sweatshirt to wear in the upcoming winter.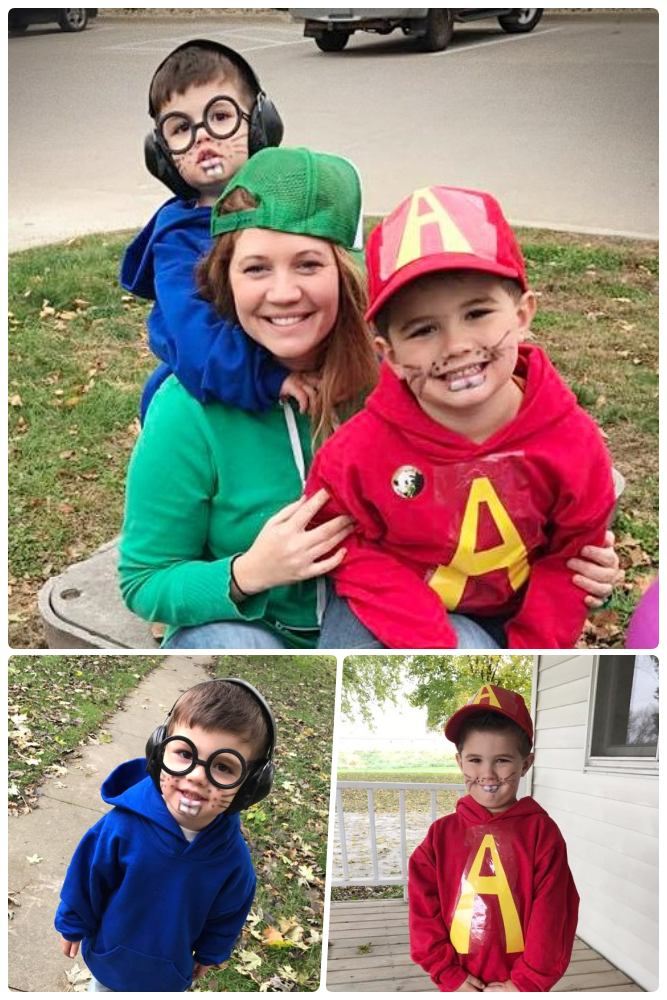 More of My Favorite DIY Kids Halloween Costumes…
21. Peter Pan
Yes, DIY kids Halloween costumes are doable for toddlers. This homemade costume is super adorable and easy to make! Check out more pictures and the detailed instructions over at Babble.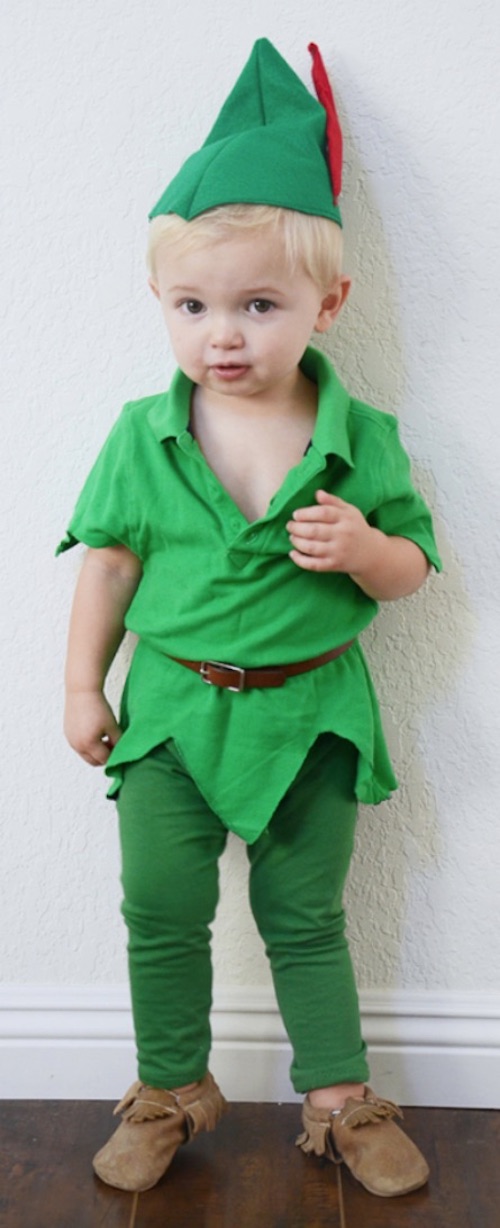 22. The Man in the Yellow Hat
This would be an easy costume to spot in the dark! That bright yellow color may be hard to find, but that's all you will need is a little fabric dye to get the look. Check out the list of supplies and full tutorial over at Haute Apple Pie.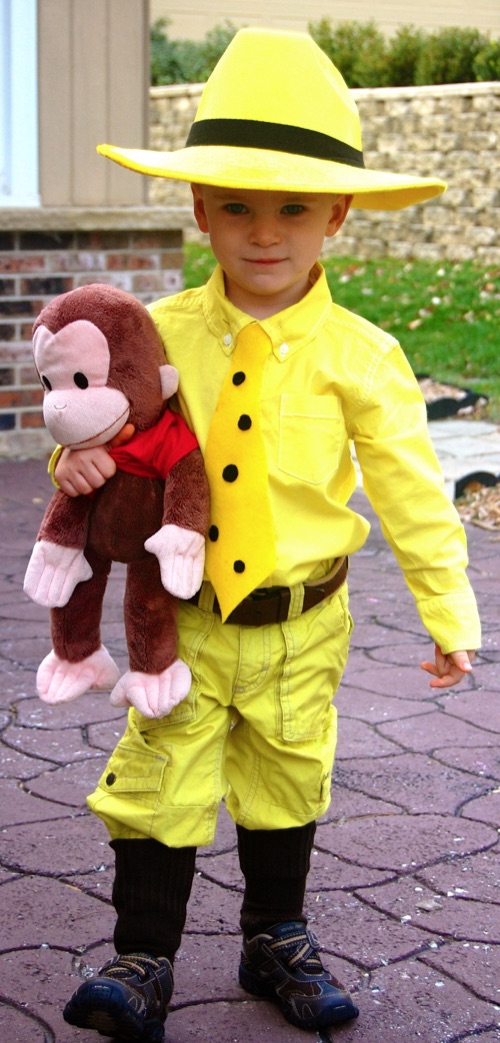 23. Funny Giraffe
I couldn't find the source or any instructions for this costume, but I think that a yellow poster board, construction paper and a little creativity would get you there. I would possibly glue large popsicle sticks or a paint stick onto the inside of the neck to give it more support. Also, the spots on the shirt would be easy to make with brown felt!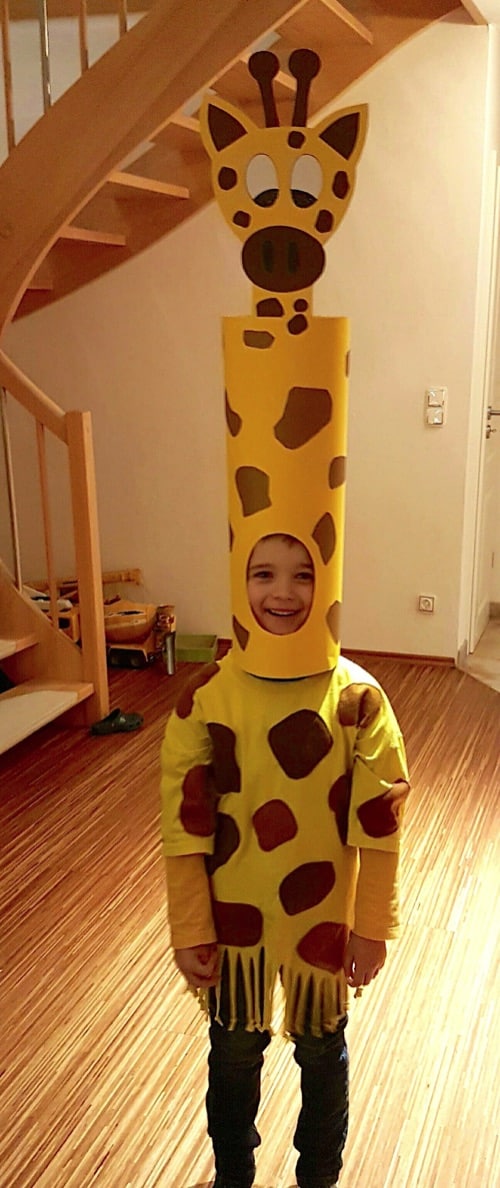 24. Old Lady Baby
Dressing your baby or toddler up as an old lady or man is sure to get some laughs! I've seen this costume done with a homemade PVC pipe walker (super funny), but that doesn't seem practical to carry around trick or treating. I really like the cane idea, though! The hair can be made with yarn or even cotton balls.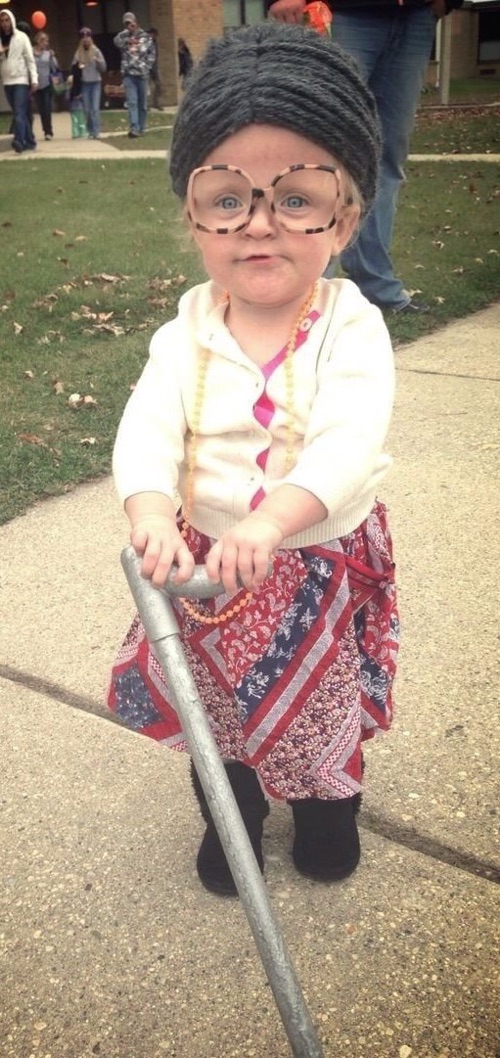 25. Crazy Cat Lady
Hop on over to Crafty Morning to see how to put together this hilarious costume! For instance, they've really pinned down the details on this one. I love the huge hair rollers.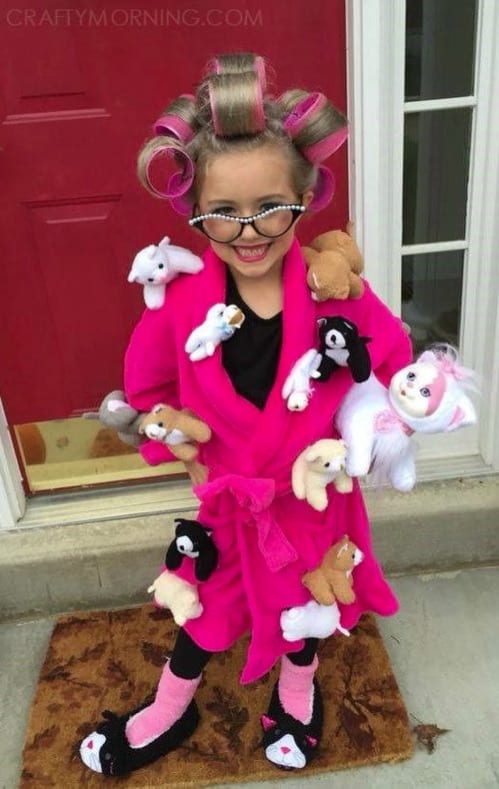 More of My Favorite DIY Kids Halloween Costumes…
26. Beetle Juice, Beetle Juice, Beetle Juice!
I feel like this kid was made for this costume. I'm loving his hair! Hop on over to Coolest Homemade Costumes for all of the details and more pictures. Also, if you can't find striped clothes, I'm sure that fabric paint would do the trick.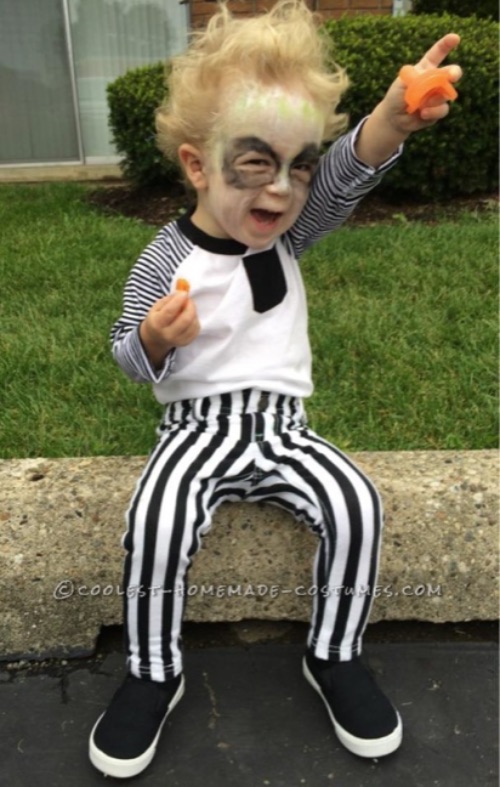 27. Last Minute Skeleton
This kid really knows how to pull of a good skeleton! Just look at the pose. 🙂 Hop on over to And We Play to see how to slap this costume together in just a few minutes. Kersey also has a good idea on how to make it glow in the dark!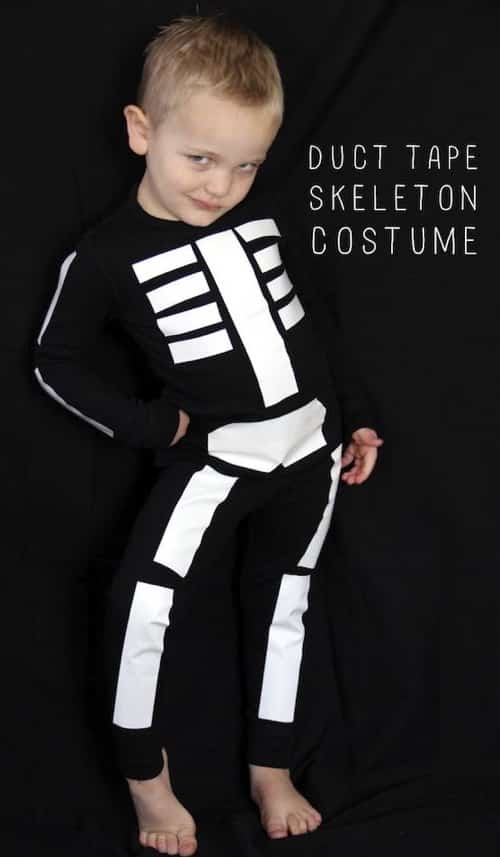 28. Edward Scissor Hands
This costume looks legit! Although it appears to be complicated, the trick to getting the look is a bunch of old studded belts. Check out the full tutorial plus lots more photos over at Instructables.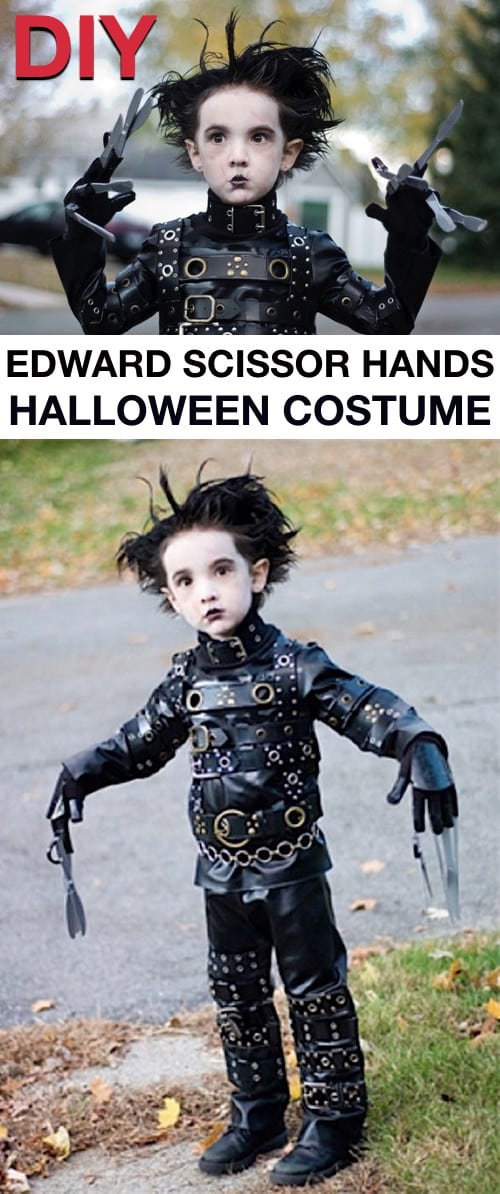 29. The Joker
This one was voted the scariest in a kids' Halloween costume contest. All you need to pull it off is a little makeup, hair dye and a few thrift shop clothes.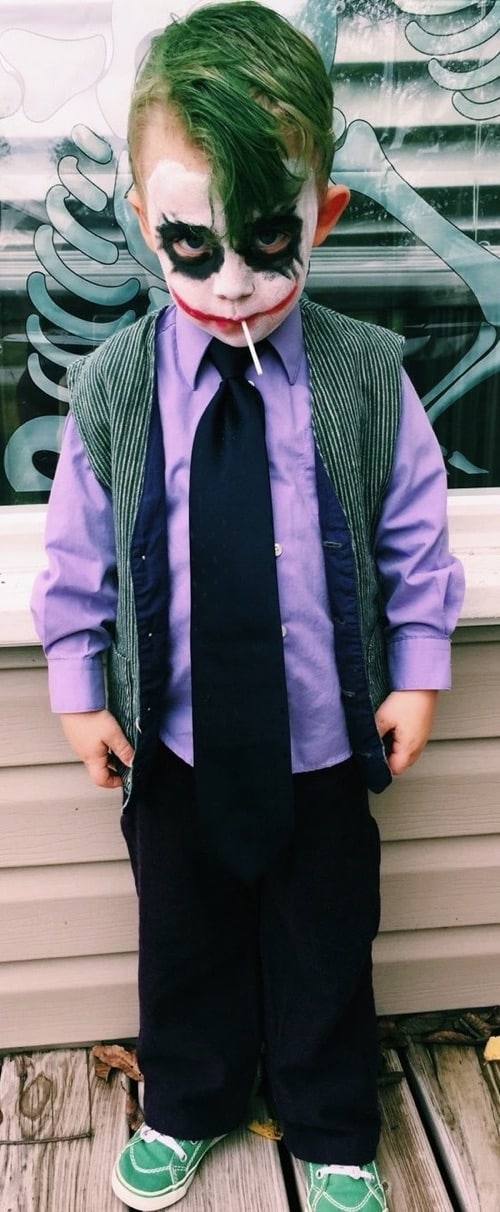 30. Baby Chucky
It doesn't get any creepier than this! Maybe because Chucky was an actual doll baby? If you can find a striped shirt and overalls, you're set. The rest is just creative makeup and hair dye.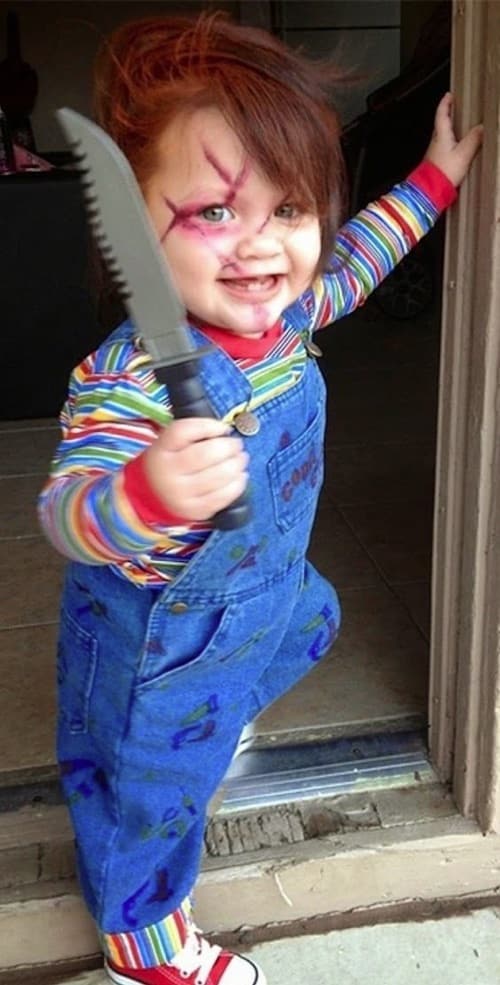 31. DIY Lego Costume
I'm a huge Lego fan, so this simple costume idea is one of my absolute favorites! Wine & Glue has cleverly created this costume with really cheap materials that you might already have on hand. Go check out the instructions here.