1. Clear Nail Polish To Secure Screws
2. Clear Nail Polish To Secure Buttons
3. Makeup Brush To Clean In Between Keys
4. Rubber Band Latch Stopper
5. Rubber Band Paint Scraper
6. Buttons As Earring Holders
7. Pool Noodles As Boot Stands
8. Pipe Cleaners As A No-Slip Aid
9. Binder Clip As A Money Clip / Keychain
10. Light Bulb Packaging As A Photo Protector
11. Bag Closures As Cord Labels
12. Muffin Wrapper As A Drip Catcher
13. Muffin Liner As A Jar Cover
14. Muffin Liner As A Jar Cover
15. Tape As A Scoop Scraper
16. Shower Hooks As Closet Organizers
17. Dryer Sheets To Clean Baseboards
18. Dryer Sheets To Clean Soap Scum
19. Tissue Box As Plastic Bag Storage
20. Hair Straightener As A Fabric Iron
21. Coffee Filter As A Flowerpot Liner
22. Lotion Bottle To Conceal Valuables
23. Colander As An Ice Bucket
24. Plastic Bottle As A Funnel
25. Wristband As A Coffee Sleeve
26. Lint Roller As A Purse Cleaner
27. Straw As A Stem Brace
28. Cooking Spray As A Snow Aid
29. Pool Noodle As A Bed Rail
30. Hair Clip As A Cord Organizer
31. Desk Organizer As A Dish Divider
32. Wine Glass As A Candle Holder
33. Twister Mat As A Table Cloth
34. Toothpaste As A Picture Guide
35. Straw As A Necklace Detangler
36. Baby Powder As A Jewelry Detangler
37. Paint Chip As A Place Card
38. Cardboard Tube As A Wrinkle Preventer
39. Cooking Spray For Door Hinges
40.  Silverware Tray As A Toothbrush Organizer
41. Lollipop As A Drink Stirrer
42. Colander As A Cake Pop Holder
43. Sunglass Case As A Manicure Kit
44. Soap Box As A Camera Case
45. Pill Box As A Earring Organizer
46. Toothbrush Stand As A Brush Stand
47. Wine Cork As A Pin Cushion
48. Ice Cube Tray As A Craft Organizer
49. Post-It As A Keyboard Cleaner
50.  Binder Clips As A Cable Organizer
51. Address Labels As Name Labels
52. Frozen Grapes As A Wine Chiller
53. Bundt Pan As A Corn Holder
54. Muffin Pan As An Ice Cream Server
55. Hanger Clasps As Bag Clips
56. Pringles Can As Spaghetti Storage
57. Soda Tab To Hang Pictures
58. Paper Tubes As Cord Organizers
59. Legos As A Key Holder
60. Skewers As A Knife Block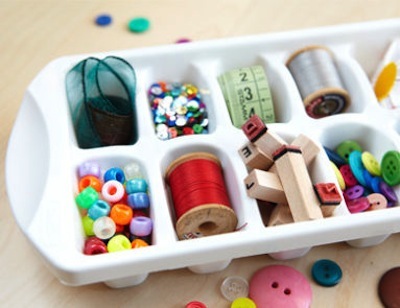 View the entire list of 60 New Uses For Everyday Items.
---