Last Updated on March 22, 2020
4. Repurposed Shirts
This project might just be worth making a trip to a thrift store (or raiding your husband's side of the closet– he'll never notice.)! You will find the step-by-step instructions for this clever idea over at The Thrifty Quilter. I'm not much of a seamstress, but I think even I could tackle this project.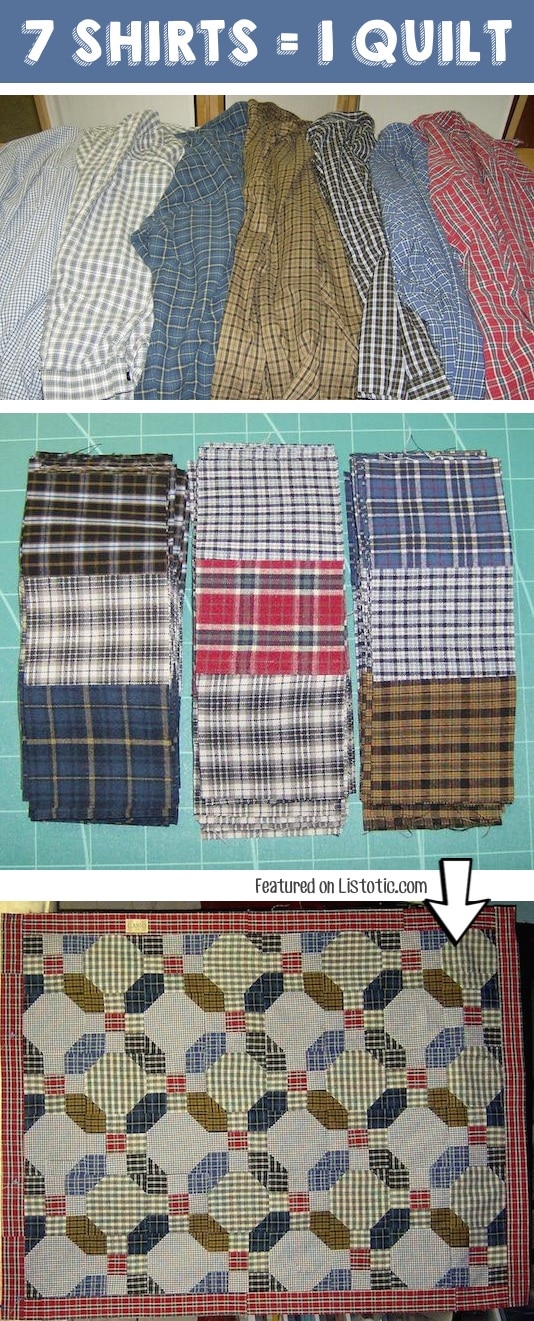 5. Homemade Charging Station
Keep those cords and power strips hidden with your very own charging station made out of a ribbon dispenser box. Use a utility knife to cut a hole for your power strip cord to pass through, label the holes, and decorate the box!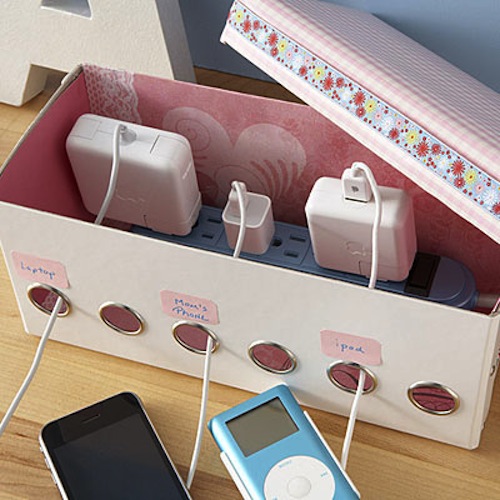 6.Wine Cork Garden Markers
Put that collection of wine corks to good use! Label your garden herbs and other plants in style with these homemade wine cork garden markers from Cambria Wines. I know that there are a lot of wine cork crafts out there, but I love how effortless this one is. You can find the full instructions here.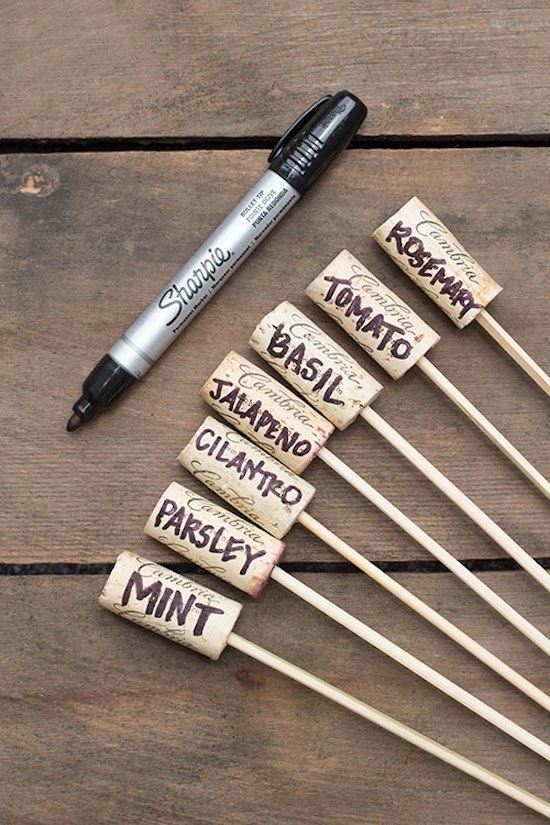 7. Ribbon Wreath Plates
Take what used to be an ordinary paper plate and turn it into a decorative and festive way to serve treats for parties, holidays, potlucks, bake sales and gifts! Simply use a hole punch and decorative ribbon. How clever is that? Check out the details here.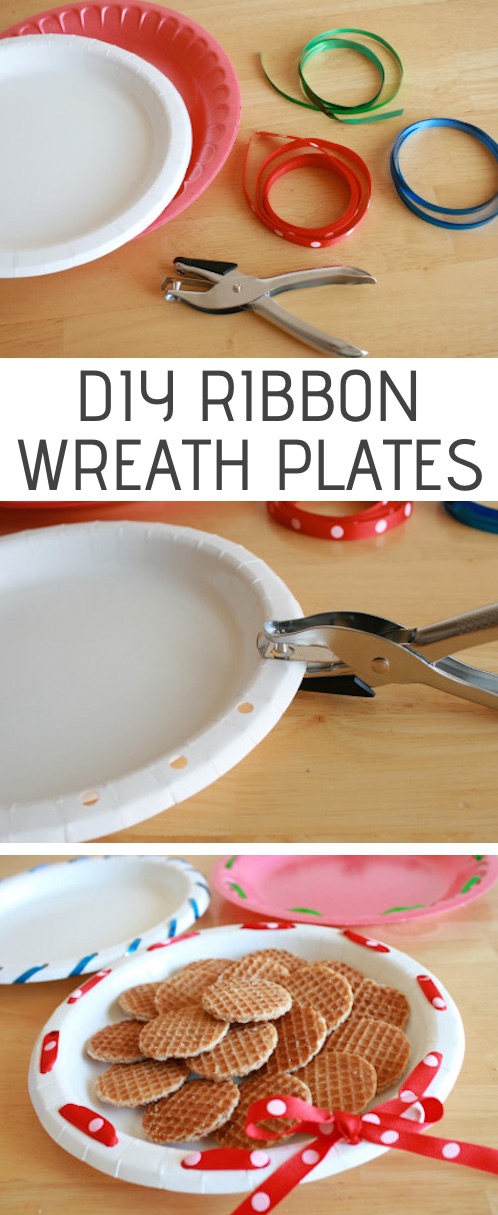 8. Gift Wrap Organizer
We could ALL use a better place to store those long tubes of wrapping paper and other gift supplies! Mine always just goes to waste– forgotten about and crumpled in the back of a closet somewhere. This is the coolest DIY gift wrap organizer I think I've ever laid eyes on! It's made using an upside down stool as it's base, so a lot of the work is already done before you even get started. It even has little wheels attached to the bottom for easy maneuvering. Awesome! Go check out the step-by-step instructions for this project over at 2 Little Hooligans.

9. Heart-Shaped Basket
This ingenious craft only requires cardboard, toothpicks, felt, and yarn! You can also embellish it with pretty ribbon or charms. I went on a long hunt for the source and original instructions for this project, so if you happen to know, please email me so I can give credit.
The picture itself is pretty explanatory, but here are the simple instructions:
First you will need to determine what size you want your heart to be, and then cut it out using thick cardboard (you can print off a perfectly shaped heart online to use as your template). While you're doing this, cut a piece of felt in the shape of your cardboard cut-out that is about a 1/4 inch smaller.
Personally, I would lay the felt down first, before attaching the toothpicks (not shown this way in the photo). This will eventually be the bottom of the inside of your basket, and I think you will get a cleaner look this way. Choose a felt color that coordinates with your yarn, and use a thin layer of glue to attach it to the cardboard.
Next attach toothpicks along the outer edge by inserting them into the cardboard, and then securing them with hot glue about every 1/2 inch.
Determine your starting point, and then tie a ball of yarn to one of the toothpicks– now get to weaving! Weave the yarn in and out of the toothpicks, pushing it down every once in a while so that you have a thick, secure wall of yarn.
Once you come to the end, cut the yarn and secure it with a dab of hot glue.
Use ribbon or other embellishments to trim the edges. The basket shown in the picture had pearl beads placed on the toothpicks half way through weaving, which I think looks really nice!
P.S. You can do this in any shape!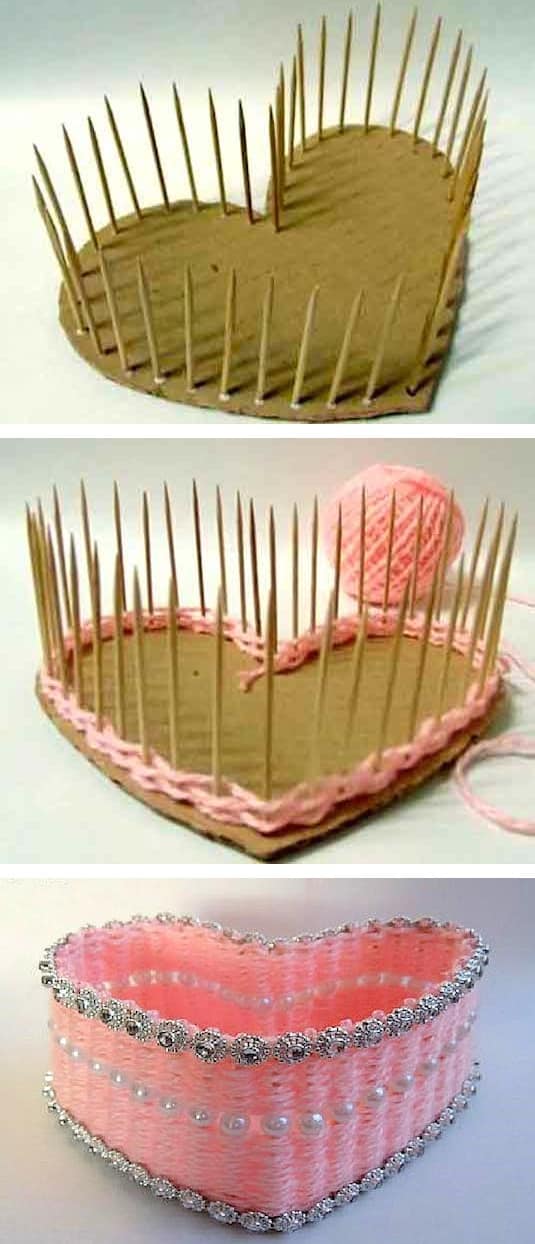 View the entire list of 25+ Creative Craft Ideas For Adults.
---