Last Updated on October 7, 2020
This post contains affiliate links.  Please see our Disclaimer Policy.
13. Mason Jar Desk Organizer
Stack and glue jars, and then use them to store your office or craft supplies. How clever and cute is this!? I like this idea for a shelf over a desk, so that your supplies are easy to grab. Check out the instructions over at It's Overflowing.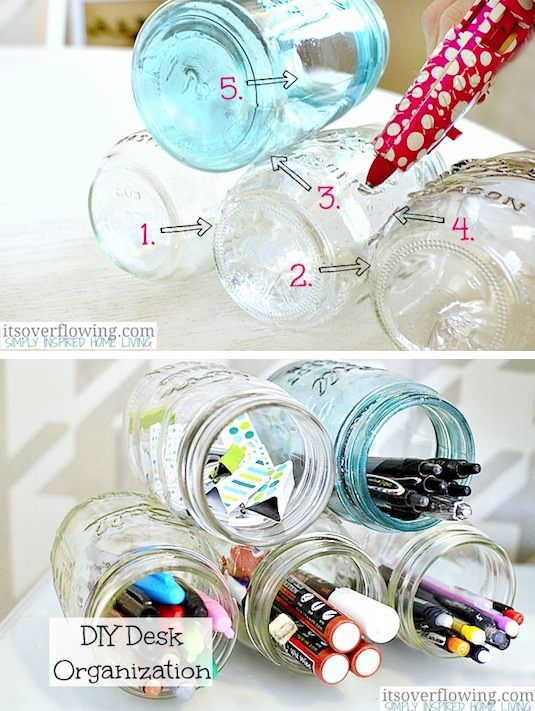 14. Mason Jar Lanterns
Use pliers and wire to turn mason jars into hanging lanterns. You could use just about any filler to make it fitting for the occasion. Top thisthem with a tea light, and hang them indoors or out. You could also simply fill them with flowers for pretty hanging bouquets. Check out the instructions for this mason jar craft over at Intimate Weddings.

15. Mason Jar Floating Centerpiece
Whether it is a wedding, outdoor party or just creating a little ambience, floating candles in mason jars can turn plain candles into a rustic centerpiece. Rustic weddings continue to be a hot trend whether it is the look or the unique ways you can keep costs down. One way to keep the costs down and rev up the look is to use mason jar floating candles. Add some simple burlap, leaf ribbon or jute ribbon to personalize your centerpieces.
You can also vary the amount of light and view of the candle by varying the depth of the water. Check out the variations below.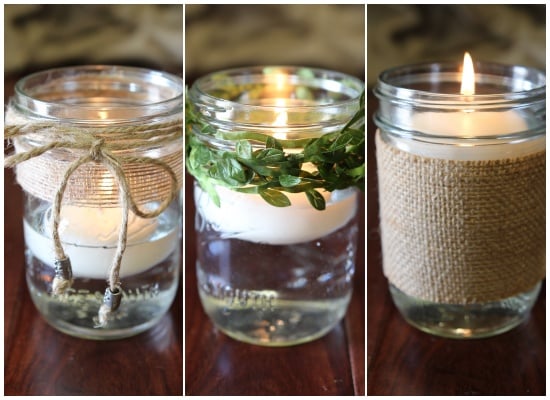 16. Mason Jar Under-Shelf Storage
Screw mason jar lids to the bottom of a shelf as a unique way to store craft supplies and other small knick knacks. I've seen this done in the garage for screws, nails and other small pieces, but I love this idea for little, hard-to-organize craft supplies even more. Check out the full instructions for this project here.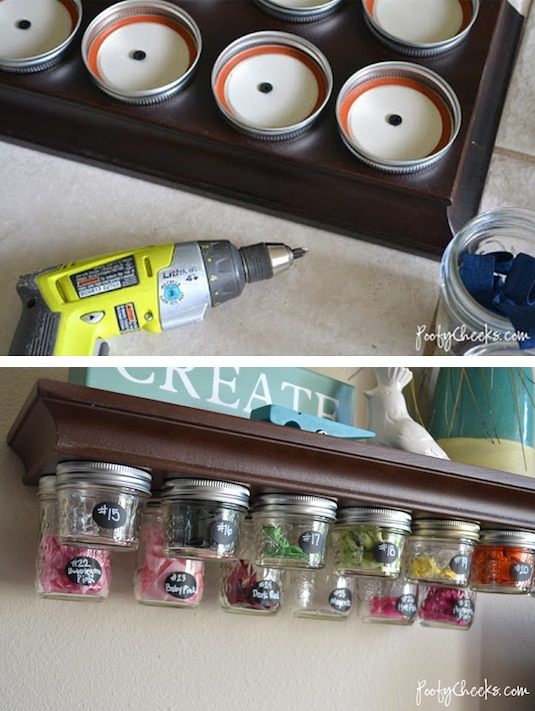 17. Mason Jar Lamp Base
I love this simple lamp idea! You could also fill it with anything you'd like that matches your decor. I'm thinking acorns, shells, pinecones, wine corks, photos or anything that suits your fancy. Check out the full details here.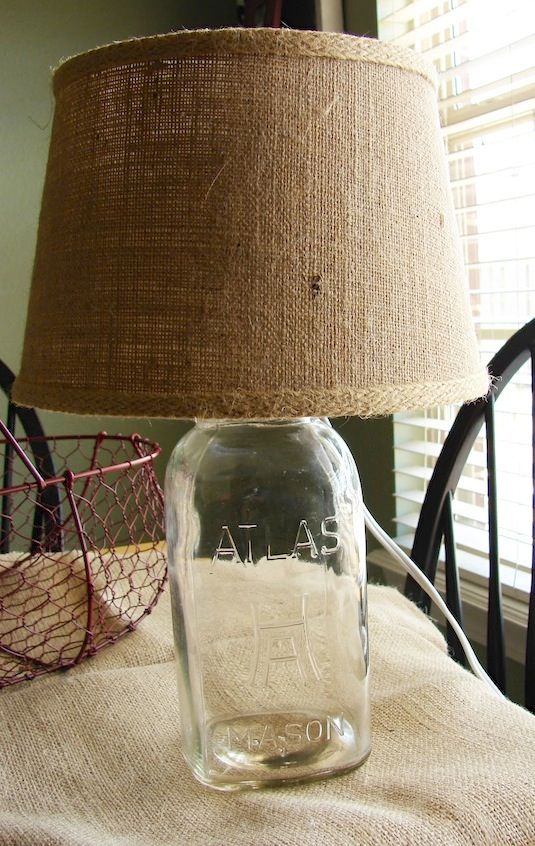 18. Mason Jar Light Makeover
Replace an outdated light cover with a large mason jar! These jars are proving to be pretty versatile. You will find a full video tutorial on YouTube on how to safely make mason jar lights and lanterns. It's important to make sure you create a hole either in the jar somewhere or in the fixture so that the heat can escape when the light is on.

View the entire list of 20 of the Best Mason Jar Projects.
---