Last Updated on September 17, 2020
17. Hair Tips for Easy Beach Waves
Dry your hair and get those pretty waves all in just one step! I LOVE this technique because it gives you a more natural wave. I don't like to look like I've spent hours in front of the mirror curling and perfecting my waves. The Barbie look is OUT.
All you have to do is blow dry (or air dry) your hair like usual until it's about 80% dry, and then twist small sections of your hair from root to tip, and blow dry the twisted sections one at a time until they're mostly dry. The heat helps tame frizz and fly-aways, as well as lock in the natural wave created from the twist.
To save time, I usually prefer to scrunch my hair while it's wet and let it air dry for about an hour (if I'm home and have the time), and then only apply this twisting technique to the top of my hair where I have the most frizz. If some of the sections of your hair become too dry, simply mist them lightly with a spray bottle before twisting and drying.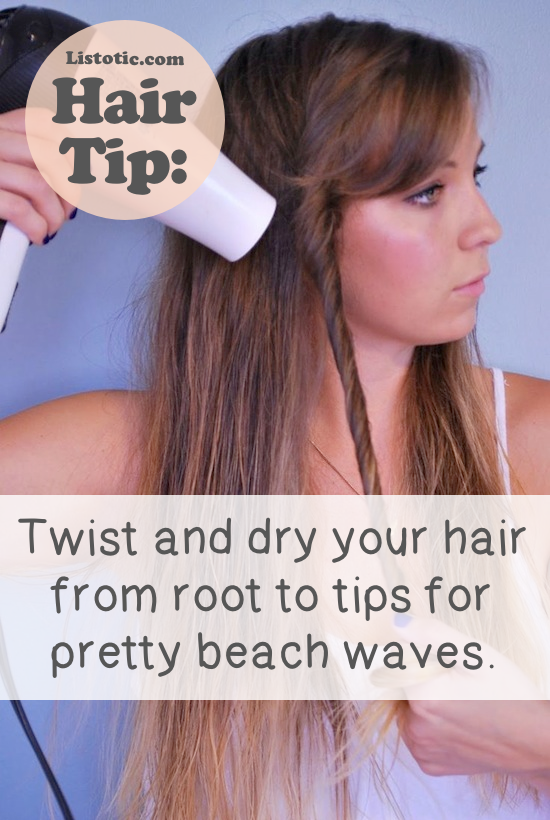 18. Dry Before You Style
When you place a heating tool on wet or damp hair, it creates very hot steam, and causes slow but inevitable damage. Before you break out your curling iron or flat iron, play it safe and make sure your hair is completely dry.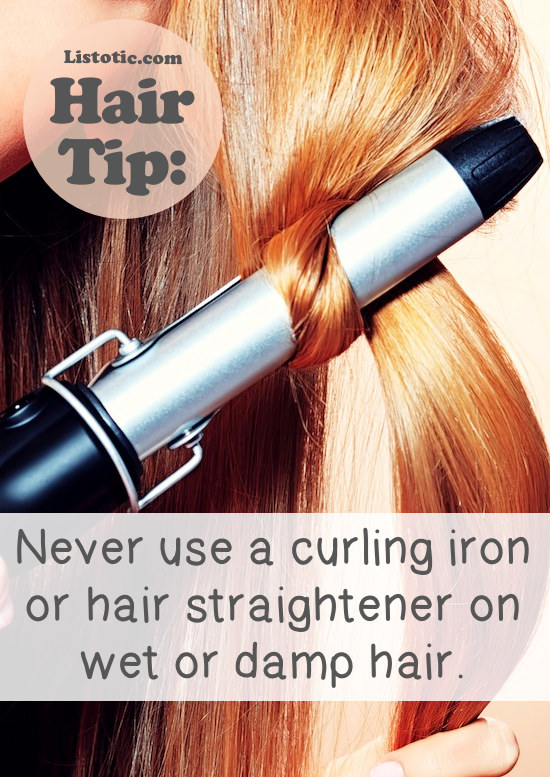 19. Put An End To Split Ends
Split ends have never been considered attractive because they are a sign of over processed, damaged and unhealthy hair. Yeah, you can snip those ends off, but that sure does make it hard to grow out your hair!
The good news: there are a few DIY hair masks made from simple ingredients (you probably already have these in your kitchen) that you can apply regularly without spending the big bucks on salon products. Hair is made up of a protein called keratin, so be sure to include plenty of protein in your diet to prevent the ends from splitting in the first place.
Here is my favorite all-natural "split ender". Mix together one egg yolk, 3 tbsp of olive oil, and 1 tbsp of honey. Apply this mixture to your ends (or any damaged hair), and then cover it with plastic wrap to really lock it in, as well as help keep it off of your clothes and furniture. Let it sit for at least an hour, and then wash as usual. Do this once a week before washing to keep your ends softer and stronger than ever.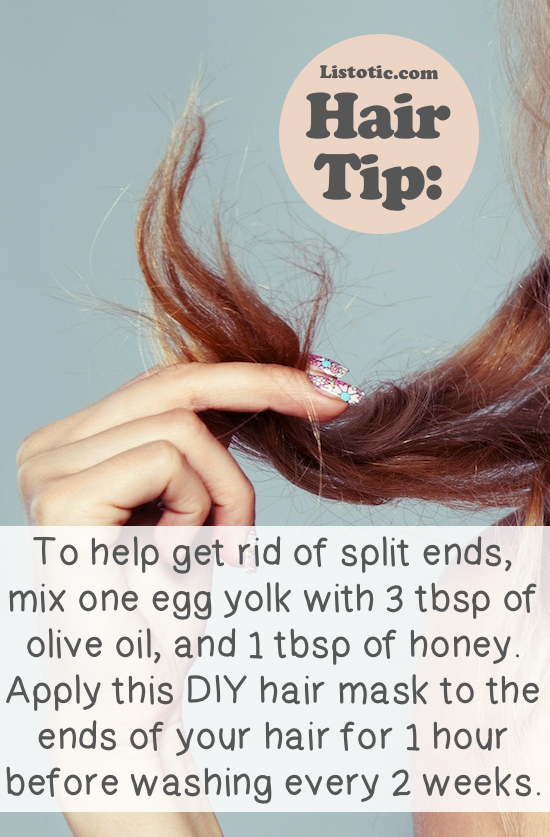 View the entire list of The Best Hair Tips You'll Ever Read.
---